Disclaimer: We love Mo Willems books and are so excited to be sponsored by Disney-Hyperion for the #ReadMo Ambassador program!
We Are in an ART-ivity Book! by Mo Willems
Released September 5th, 2017
Recommended for ages 4- 8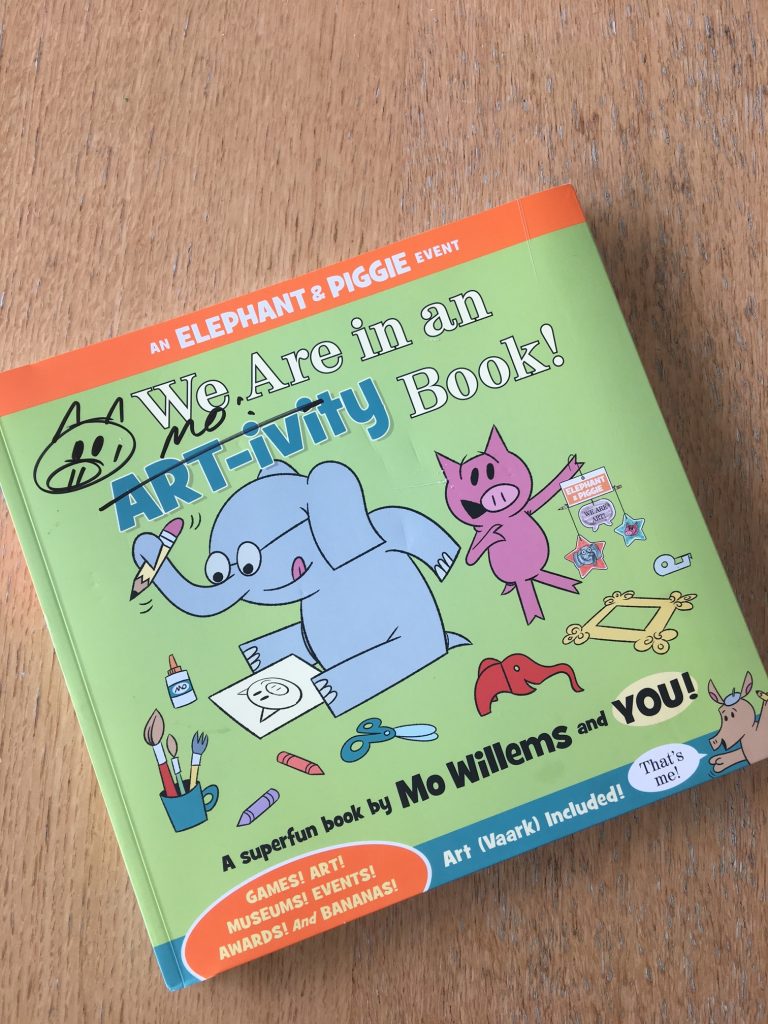 About the Book
Drawing! Coloring! Sculpting! Gaming! Puzzling! LOLing! It's all here in the first-ever Elephant & Piggie ART-ivity book.
Elephant & Piggie are joined by a new face too: Art Vaark. Art the aardvark introduces Elephant, Piggie (and kids) to an incredible span of artistic styles: a "banana" still life; a color-by-number Piggie "Scream" painting; a scrap-paper collage (for which you earn an official "Collage Diploma"); and so much more.
Created by the same team behind Don't Let the Pigeon Finish This Activity Book!, this fun-filled, hands-on book features an interactive narrative that invites kids into an exciting, original Elephant & Piggie adventure!
Reflection
We've been working our way through our ART-ivity book one activity at a time for the past few weeks.  I like the variety it offers: drawing, coloring, games, puzzles and more.  The coloring projects have been great for helping to strengthen fine motor skills and the drawing projects are helping the kids to be more creative even if some of their drawings don't look exactly like the picture in the book.  That's ok, right?  That's what art is all about!
Although this book is recommended for ages 4 to 8, I'd probably recommend if for ages 5 and up simply because some of the activities require slightly more advanced skills (draw a self portrait, cut and paste, mazes, puzzles) than a typical four year-old can handle independently.  Depending on each child's abilities, adult supervision may be necessary while working on some of the activities in this book.
I love organization so I really LOVE the index in this book that lists various art masterpieces that inspired some of the crafts listed in the book.  The index tells you the name of the artwork, the artist who created it along with the year it was created and where you can find it.  This in itself would make for a great open art discussion with older readers or perhaps inspire you to take a field trip to see one of the art exhibits in person.
The book also has a handy pocket where kids can store all of the art projects and perforated pages that makes it easy to take out of the book.  Helpful icons are displayed on pages throughout the book at the bottom of each page to help kids know what's needed for each art project.  For example: there is an icon of a pencil, crayons, tape, scissors, paper, etc.  Once the art-ivity book has been completed, there is a certificate for children to write their name(s) on.
Meeting Mo Willems + An ART-ivity!
Last weekend I decided to take our ART-ivity book with us on a field trip to the Eric Carle Museum in Amherst, MA.  We attended the Inspiration Day at the Carle event and guess who was there?  Mr. Mo Willems himself!  Even though I only chatted with him for a brief moment he was just as funny and as personable as you would expect.  I was more excited than the kids were to meet him!
In addition to meeting Mo and having him sign our books, we also created our own paper sculptures in the art studio. My daughter even got creative and turned her paper sculpture into a piece of wearable art!  Check out some of the highlights below.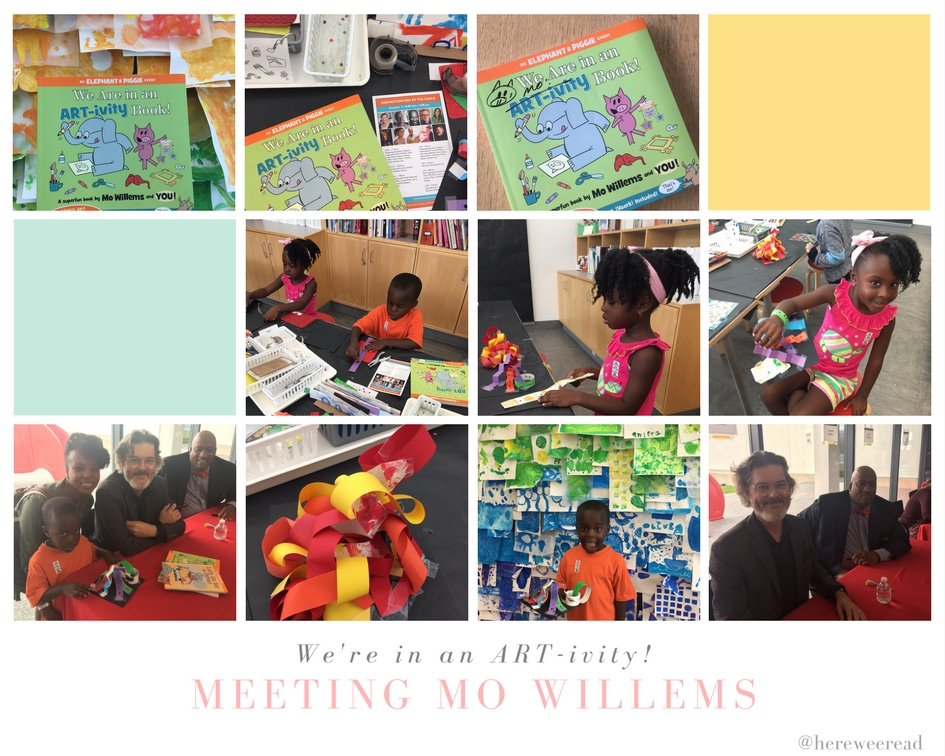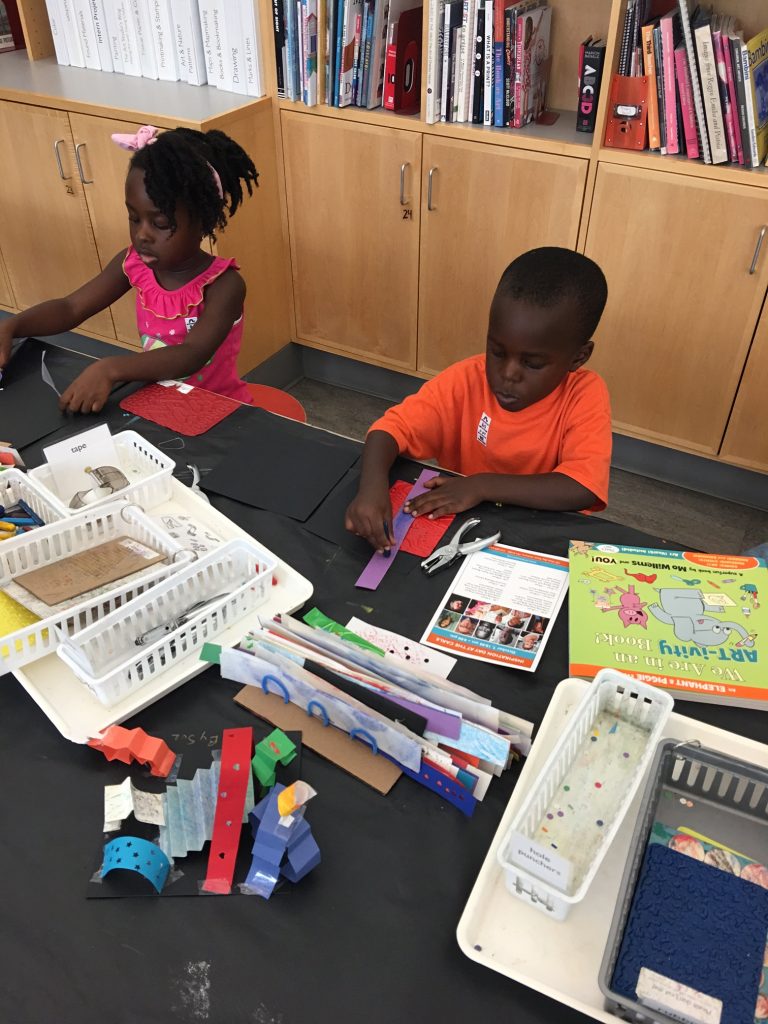 Shhhh…little artists at work!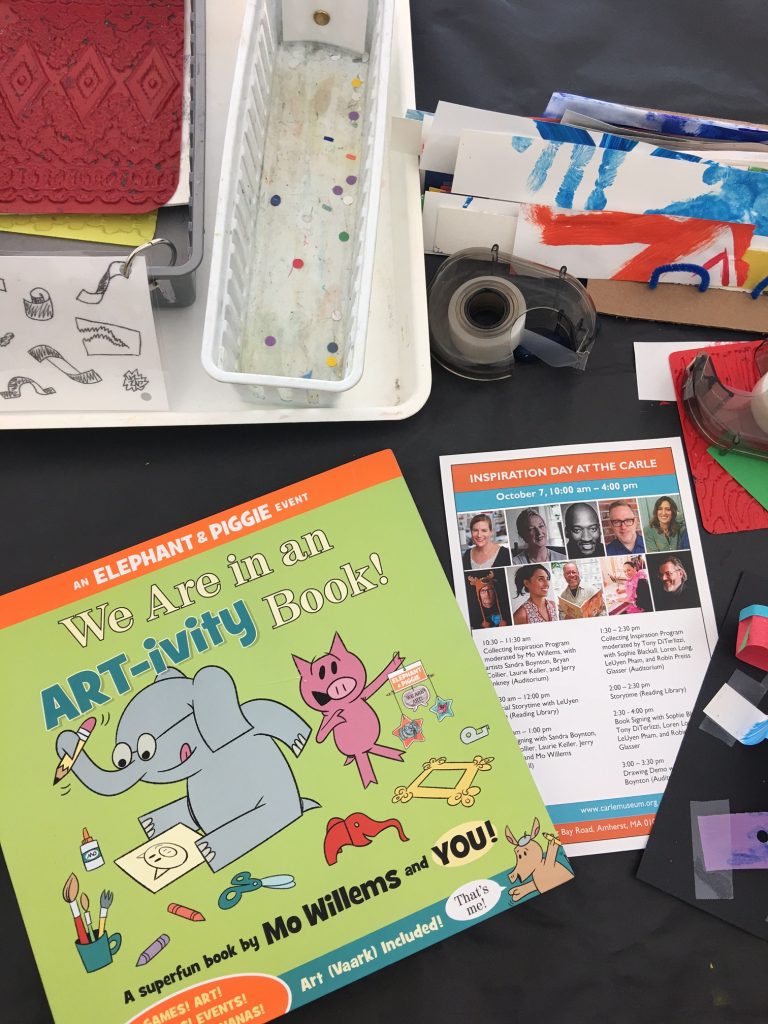 Inspiration Day at the Carle with Mo Willems and art-ivities!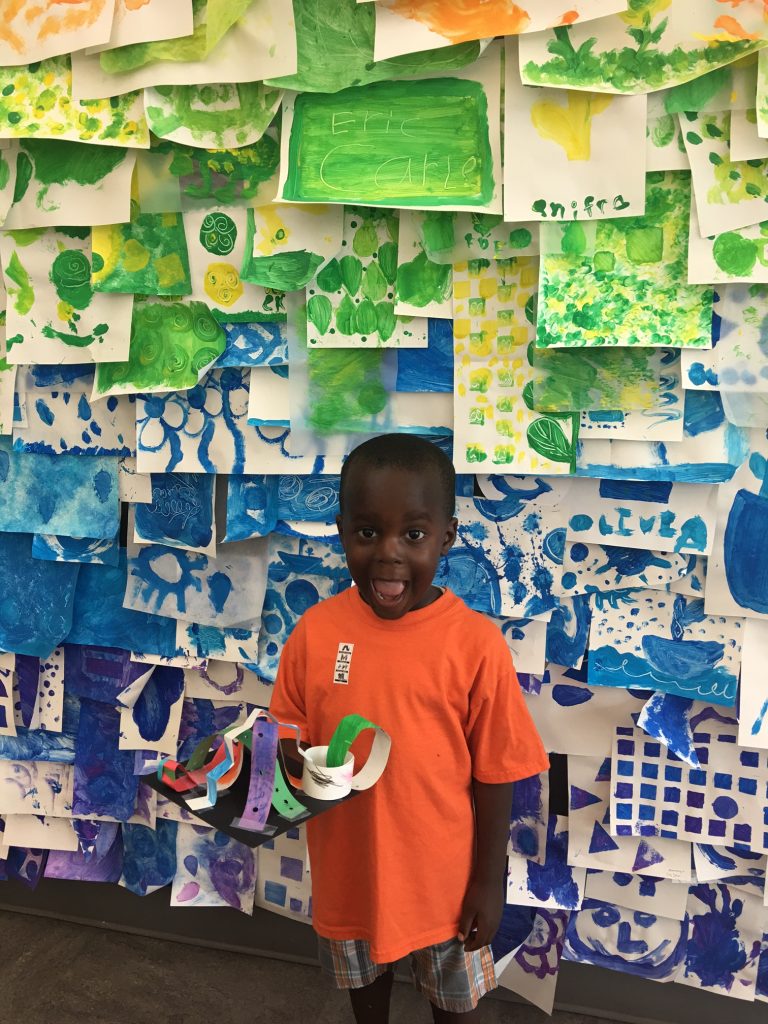 Finished paper sculpture #1

Finished paper sculpture #2 – it's wearable art!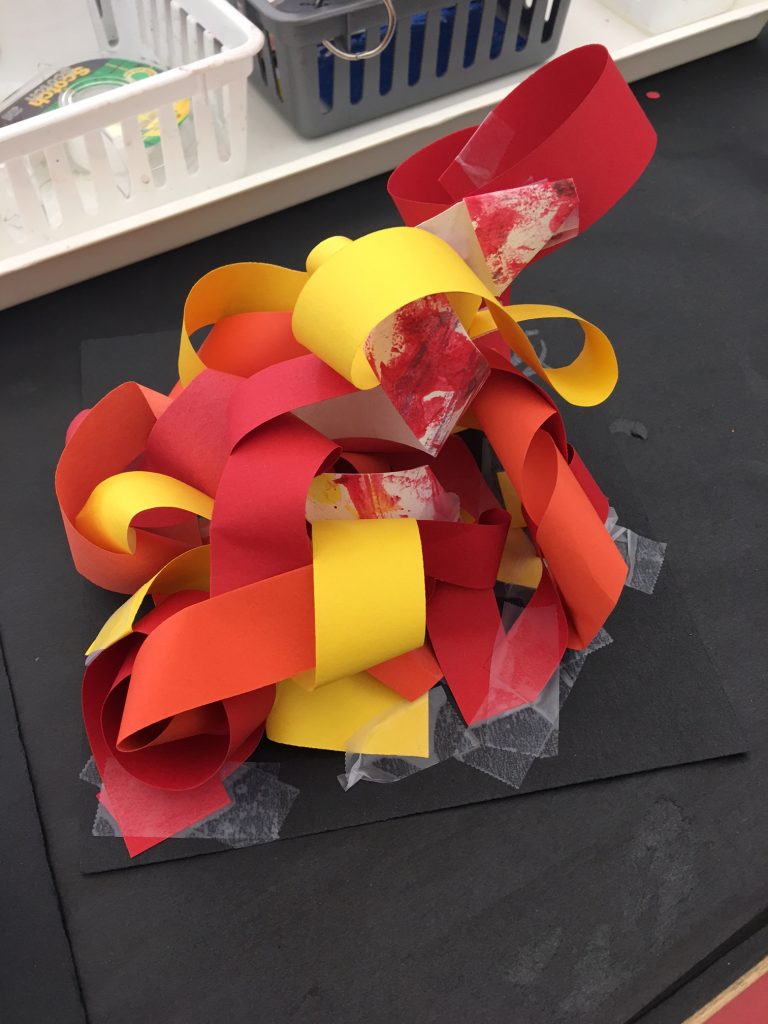 Finished paper sculpture #3 (by Mom)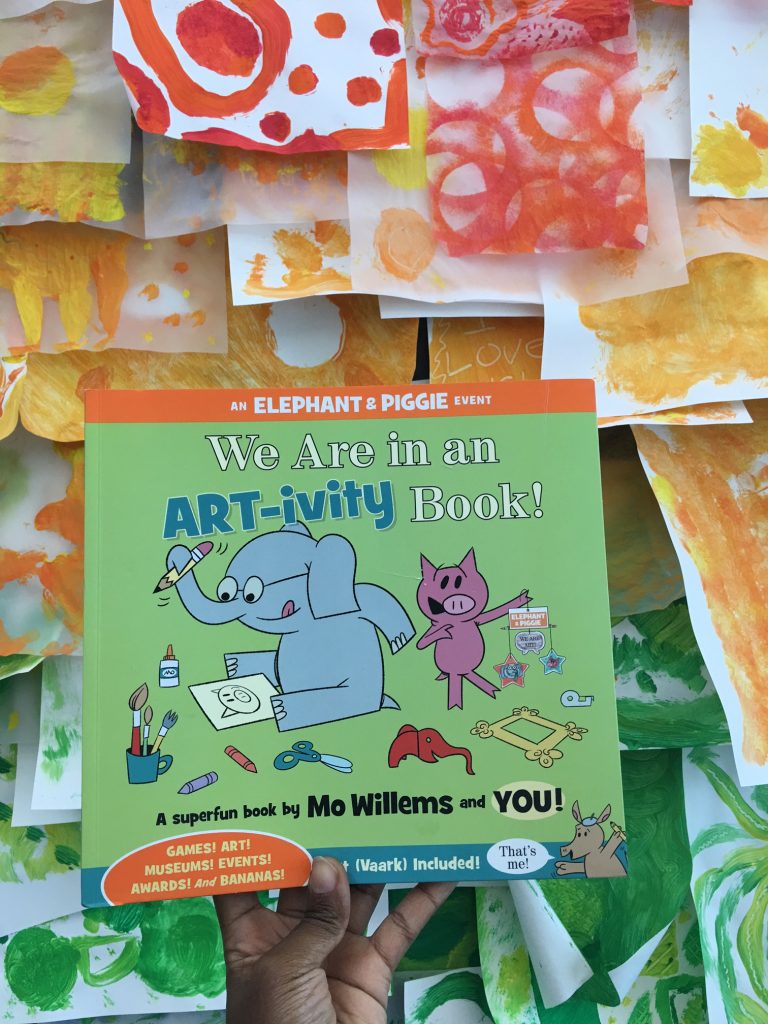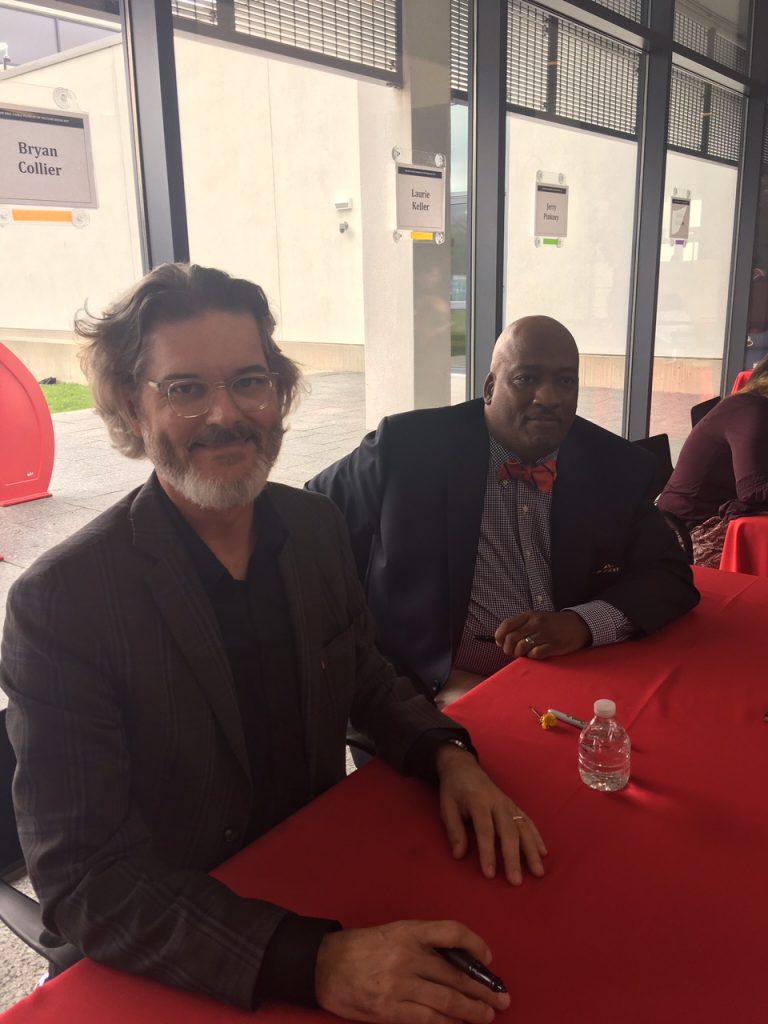 Mo Willems and Bryan Collier
About the Author
Mo Willems (www.pigeonpresents.com), a number one New York Times best-selling author and illustrator, has been awarded a Caldecott Honor on three occasions, for Don't Let the Pigeon Drive the Bus!, Knuffle Bunny: A Cautionary Tale, and Knuffle Bunny Too: A Case of Mistaken Identity. The celebrated Elephant & Piggie early-reader series has been awarded the Theodor Seuss Geisel Medal on two occasions (for There Is a Bird on Your Head! and Are You Ready to Play Outside?) as well as garnering five Geisel Honors (for We Are in a Book!, I Broke My Trunk!, Let's Go for a Drive!, A Big Guy Took My Ball! and Waiting Is Not Easy!).
Connect with Disney Books!
Visit the Official Website
Follow Disney-Hyperion on Twitter
Check out Disney Books on Facebook and Instagram

Your turn: What are some of your favorite types of art projects to do with kids?  Have you ever met Mo Willems or any other author/illustrator?  Feel free to share in the comments.