Disclaimer: We are celebrating a new book release from the creator of Goodnight Moon thanks to our sponsor HarperCollins!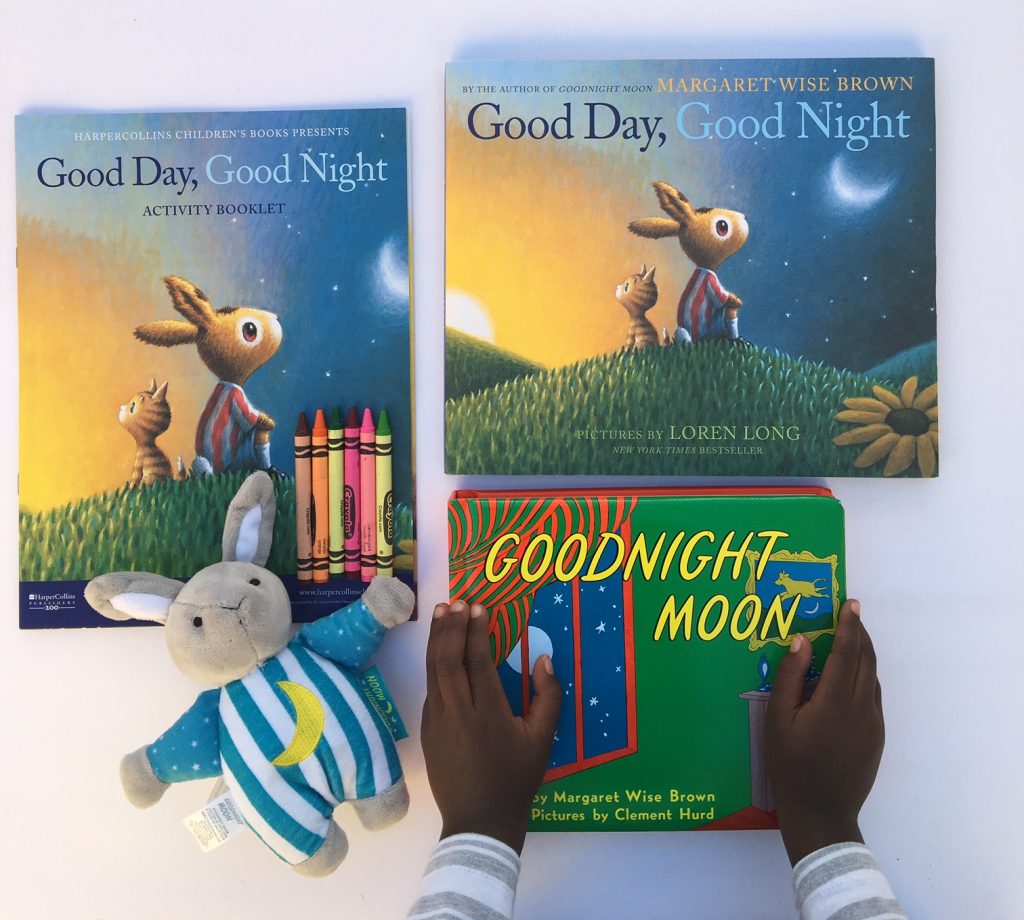 5 Tips On Getting Energetic Kids to Fall Asleep for Bedtime
Let's talk about sleep.  Bedtime shouldn't be a battle, right?  But for many children and parents bedtime can be one of the most stressful times of the day especially if you have energetic children who have trouble falling asleep.
One of our favorite bedtime rituals is reading time! We've long been fans of Goodnight Moon by Margaret Wise Brown and illustrated by Clement Hurd. This classic picture book was originally released 70 years ago but a new padded board book edition just came out in June of this year. We were so excited to also learn about a previously unpublished book from Margaret Wise Brown that just came out October 3rd.  Good Day, Good Night uses the same signature word pattern as Goodnight Moon and is paired with beautiful illustrations by Loren Long. The little bunny returns to delight at hidden surprises of both the nighttime and the daytime! It's quickly become a new favorite for bedtime reads.
Before having children I used to know the importance of getting a good night's sleep, but I didn't appreciate it nearly as much as I do now. Sleep is critical to a child's development.  That's why it's important to establish and maintain consistent bedtime routines starting at an early age.  Once you get past the middle-of-the-night feedings and diaper changes phase, consider storytime and these other simple strategies I use to put bedtime problems to rest.
1. Create an inviting environment for sleeping
I once read the keys to making people feel welcome is all about focusing on sight, sound and smell.  If something is appealing to the eyes, the ears and the nose, people are more likely to be attracted to it and feel comfortable with it.  To implement this at bedtime I simply fluff up my kid's pillows, dim the lights, arrange all of their stuffed toys, pull down the covers, light a lavender candle in their room and play some soothing music.  I also make sure their room is neat and tidy with no toys or other objects lying around on the floor.  Once they're out of the bath, they walk into their room relaxed, clean and ready for storytime.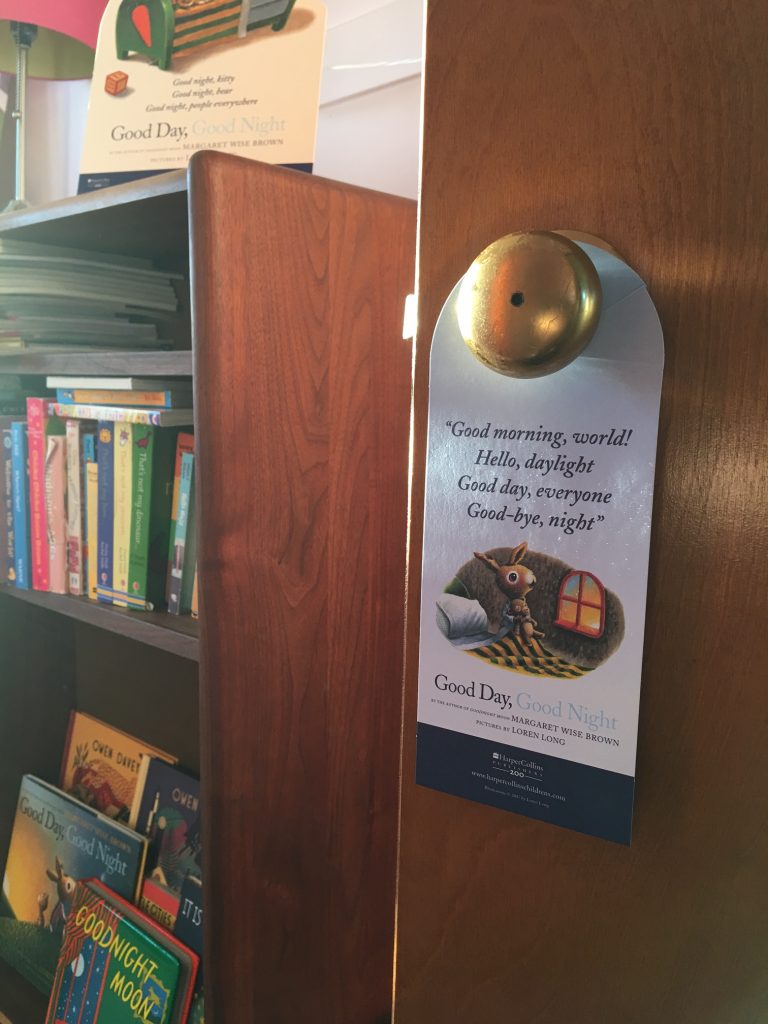 2. Read books
This one is pretty simple and straightforward.  We read a variety of things before bed: board books, picture books, early chapter books (read alouds) and children's magazines.  We typically read for at least 15 – 30 minutes before bed.  Storytime is also great for snuggling and bonding with your child at the end of the day.  One of our classic bedtime favorites is Goodnight Moon and we are loving adding Good Day, Good Night into the reading rotation.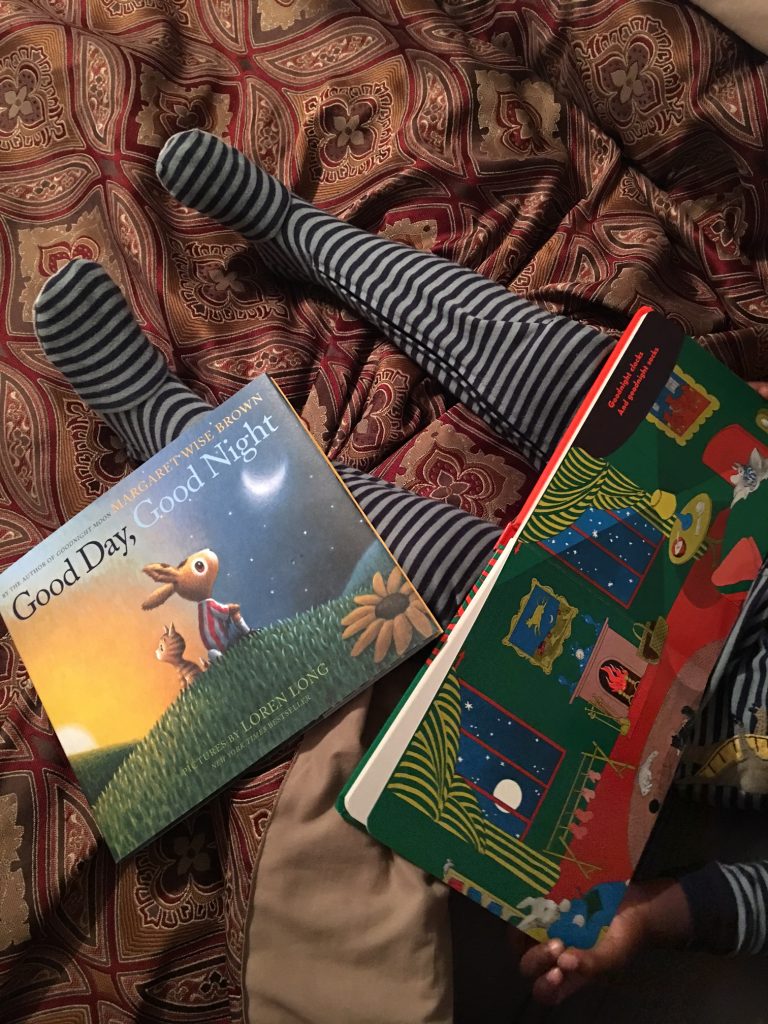 3. Ban screen time one hour before bed
To ease the transition to bedtime, keep things quiet during the hour before bedtime. Put away mobile devices, video games and toys. Turn off the TV and any computers. Limit children to quiet activities, such as reading, coloring or doing puzzles. Sleep may be more appealing if kids slows down before bedtime.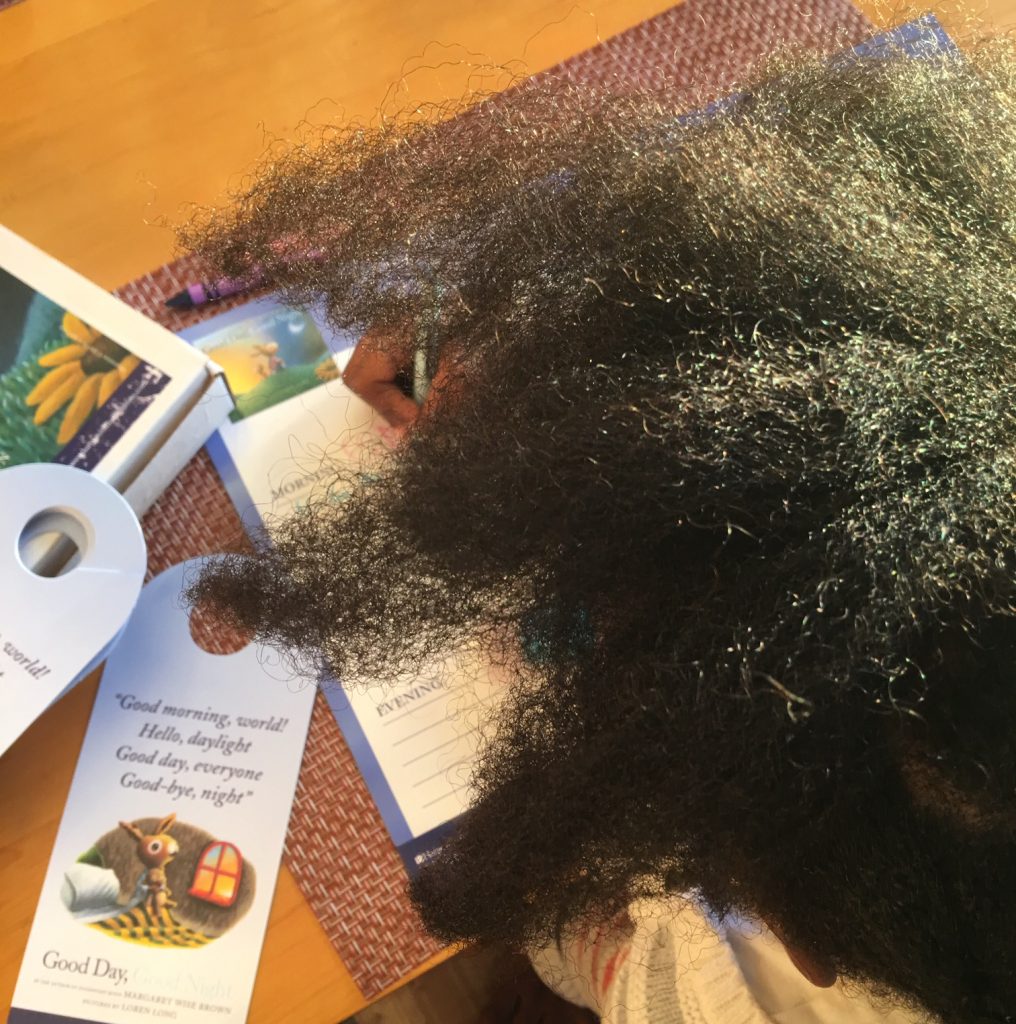 4. Get the wiggles and giggles out
Sometimes we like to wind down by doing stretching and a few yoga poses.  Another trick I learned from another mommy blogger I follow is to practice deep breathing in a hugging position with your child.  It really seems to work!  I set a timer for about two minutes and we do it together sitting on the floor.  All you do is hug your child and then you start deep breathing.  Most children will automatically start deep breathing too, but if they don't ask them to join you in taking a few deep breaths.  Give it a try!
5. Don't let weekends throw you off.
Sleeping in on the weekends doesn't help anyone catch up on sleep and can, instead, throw off our internal clocks. A policy of staying up late "because it's the weekend" could jeopardize your child's sleep the following week, so try to avoid that if you can.
Bottom line is to make bedtime a priority. A predictable, calming bedtime routine is often the key to a good night's sleep.  What the bedtime routine involves is up to you.  Experiment to find what works best for you — but once you settle on a routine, follow it consistently every night.
Your turn: What are your tips and tricks to getting kids to fall asleep?  Feel free to share in the comments. And keep reading for more about the creative team for Goodnight Moon and Good Day, Good Night – plus a giveaway!
About Good Day, Good Night
This previously unpublished picture book by beloved children's book author Margaret Wise Brown uses her signature word pattern from the classic Goodnight Moon that has soothed generations of children to sleep. Paired with Loren Long's gorgeous illustrations, readers will take comfort in the reassuring world of the little bunny and delight at the attention to detail and hidden surprises on every page.
About Goodnight Moon
In a great green room, tucked away in bed, is a little bunny. "Goodnight room, goodnight moon." And to all the familiar things in the softly lit room—to the picture of the three little bears sitting on chairs, to the clocks and his socks, to the mittens and the kittens, to everything one by one—the little bunny says goodnight. In this classic of children's literature, beloved by generations of readers, the quiet poetry of the words and the gentle, lulling illustrations combine to make a perfect book for the end of the day, complete with a soft, padded cover and sturdy board book pages.
About Margaret Wise Brown
Margaret Wise Brown, cherished for her unique ability to convey a child's experience and perspective of the world, transformed the landscape of children's literature with such beloved classics as Goodnight Moon and The Runaway Bunny. Other perennial favorites by Ms. Brown include Nibble Nibble, My World, Where Have You Been?, Christmas in the Barn, The Dead Bird, and Sneakers, the Seaside Cat.
About Loren Long (illustrator of Good Day, Good Night)
Loren Long is the author and illustrator of the New York Times bestselling picture books Otis, Otis and the Tornado, Otis and the Puppy, An Otis Christmas, and Otis and the Scarecrow. He is the #1 New York Times bestselling illustrator of President Barack Obama's picture book Of Thee I Sing and the re-illustrated edition of The Little Engine That Could by Watty Piper. He lives in Ohio. To learn more, please visit www.lorenlong.com.
About Clement Hurd (illustrator of Goodnight Moon)
Clement Hurd (1908–1988) is best known for illustrating Goodnight Moon and The Runaway Bunny, the classic picture books by Margaret Wise Brown. He studied painting in Paris with Fernand Léger and others in the early 1930s. After his return to the United States in 1935, he began to work in children's books. He illustrated more than one hundred books, many of them with his wife, Edith Thacher Hurd, including the Johnny Lion books, The Day the Sun Danced, and The Merry Chase. A native of New York City, he lived most of his life in Vermont and California.
Connect with Harper Collins!
Learn more about Good Day, Good Night on HarperCollins.com
Learn more about the new edition of Goodnight Moon on HarperCollins.com
Follow the official Goodnight Moon Facebook page
Follow HarperCollins Children's Books on Twitter | Facebook | Instagram
Watch the Good Day, Good Night book trailer and download the activity booklet to use at home with your kids!
The Giveaway!
One (1) winner will receive:
Copies of Good Day, Good Night and Goodnight Moon
Good Day, Good Night- themed event kit
Branded bunny rattle provided by KidsPreferred.
Giveaway open to US addresses only.
Prizing provided by HarperCollins and KidsPreferred.