What books are you and your kids looking forward to reading in 2021?  We're entering this new year with another epic list of diverse reads to share with you.  Ready?
Most of the books listed here are recommended either for infants, toddlers, preschoolers, and early elementary readers since my children fall within those groups and so do the little readers in my core target audience. However, I've also included a few middle grade and young adult books for slightly older readers to enjoy as well.  The best part is all of these books are available for pre-order now so you can get a head start on your shopping.
Rest assured, I've selected what I think will be the "best of the best" in terms of diverse books.  I know other amazing books will be released throughout the year, but these are the ones that were on my radar right now.  As other books are released, I will come back and make changes to this post throughout the year so be sure to check it periodically or bookmark it to read later.
I'm definitely looking forward to sharing most (if not all) of these books with my little readers.  As always, I tried to target books that will likely have: stunning illustrations, read aloud appeal, a kid-friendly theme – or all three!  Enjoy!
Note: ** Since other countries have different release dates, some of these books may be released earlier or later internationally than the months I have listed as publication dates do sometimes change. **
Check out our lists from previous years: 2020, 2019, 2018, 2017, 2016
January
The Scrumptious Life of Azaleah Lane by Nikki Shannon Smith, Gloria Felix Ages 7 – 9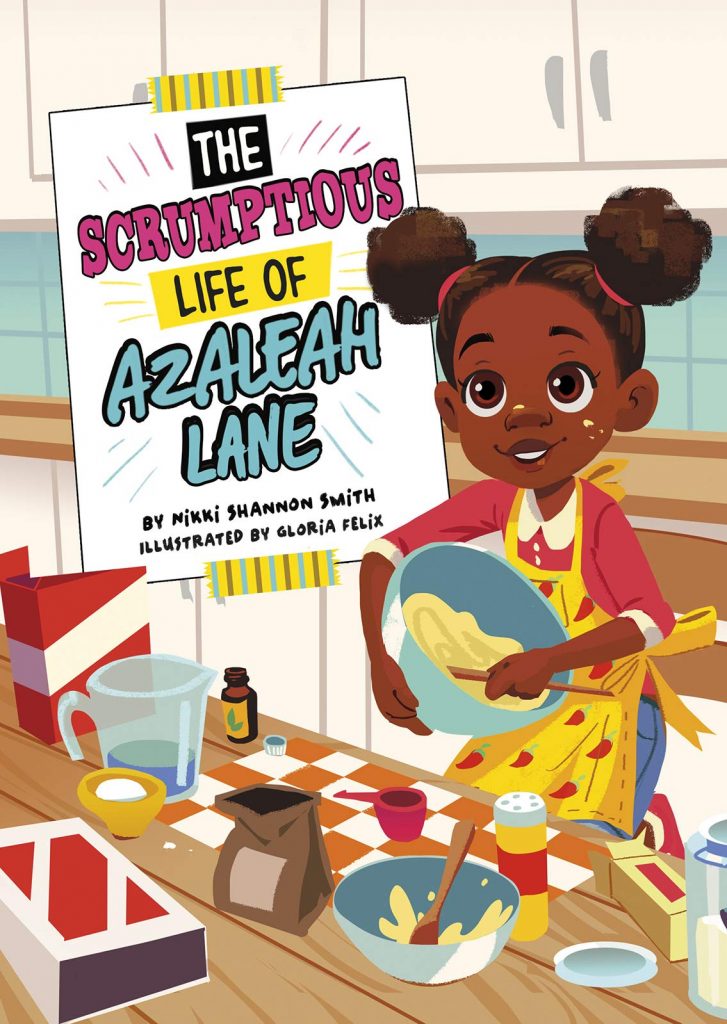 Mama and Daddy are heading out of town, which means Azaleah and her sisters get to spend the weekend at Auntie Sam's. The girls can't wait for their special weekend! Azaleah even decides to bake cookies to surprise her parents when they return. After all, as Mama says, "Cooking for someone is like giving them a gift." But the cookies are a disaster! Azaleah is stumped. She's sure she did everything right. Can Azaleah get to the bottom of the cookie catastrophe before Mama and Daddy get back?
Martin's Dream (Ana & Andrew) by Christine Platt Ages 5 – 7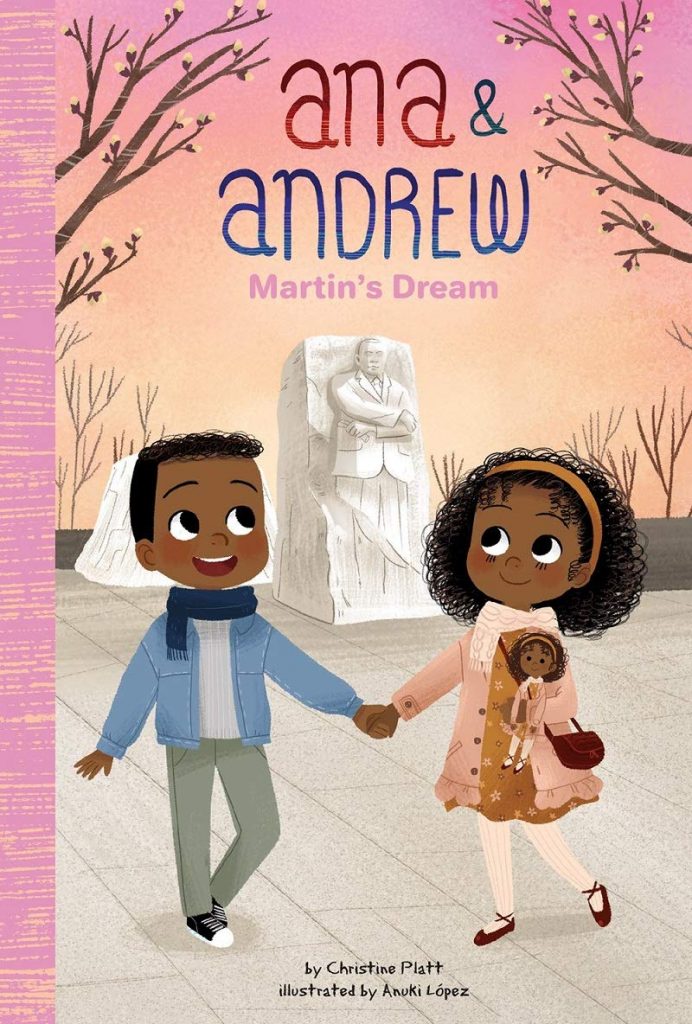 For Black History Month, Ana & Andrew join a research group at the Community Center. They learn many interesting things about Martin Luther King Jr.! Later, with the help of some other children, they make one of Martins famous dreams come true. Aligned to Common Core standards and correlated to state standards.
The Story of John Lewis: A Biography for Young Readers by Tonya Leslie Ages 6 – 9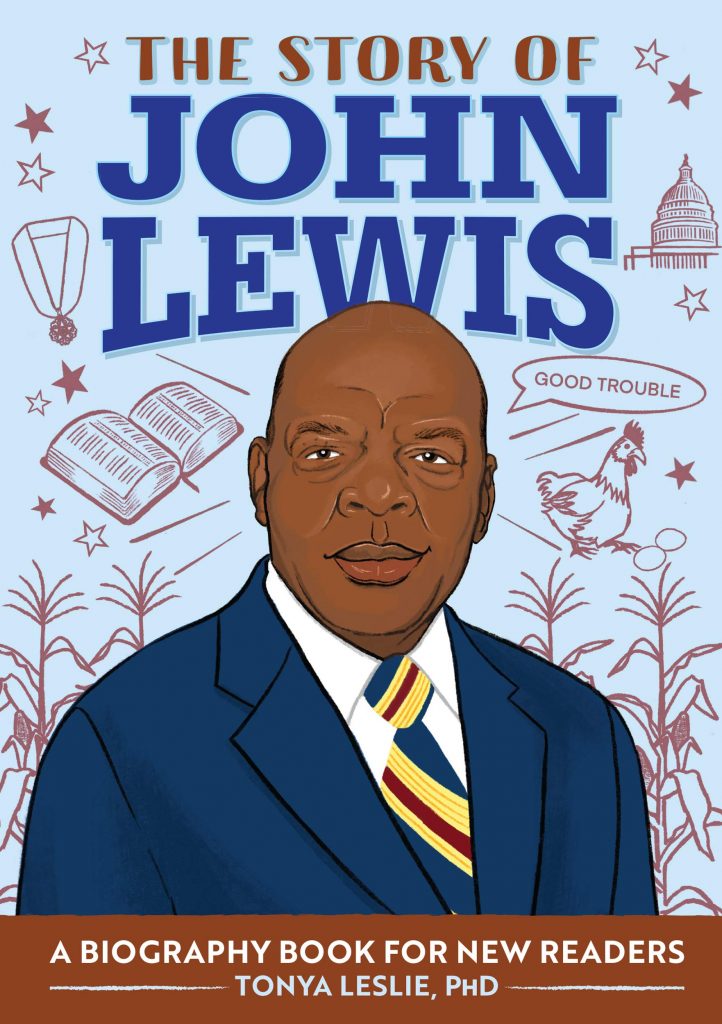 John Lewis was a civil rights leader and United States congressman who never stopped speaking up for justice, equality, and peace. Before he marched with Martin Luther King Jr. during the civil rights movement, John was a thoughtful kid who loved learning but wasn't able to go to a good school because of segregation.
Baby Yoga: An ABC of First Poses by Isabel Serna, Jennifer Eckford Ages 0 – 3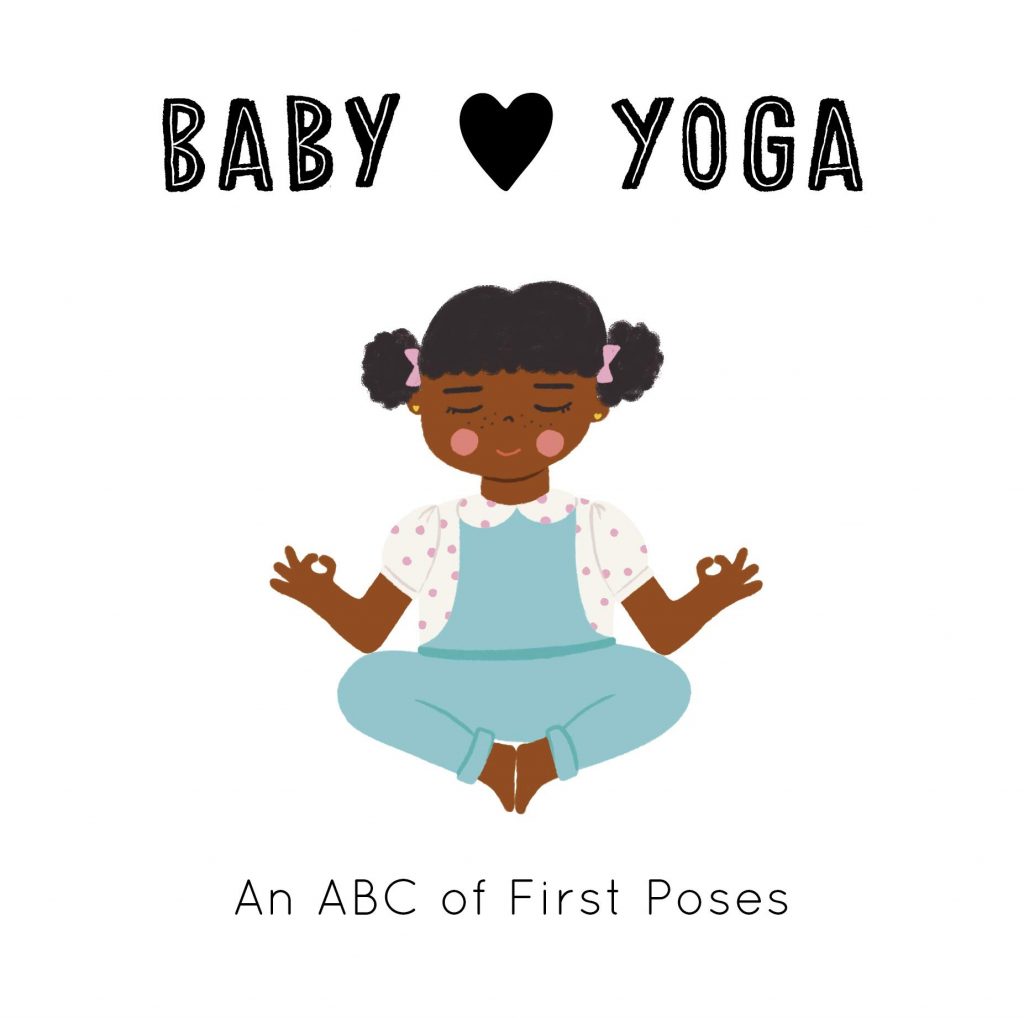 B is for Breathe, C is for Cat pose, and D is for Downward dog in this beautiful ABC book designed to teach very young children the basic concepts of yoga.
Baby Loves is a new range of giftable preschool ABC books that taps into the trends that matter. Stunningly illustrated with a cut-to-white aesthetic, each pocket-sized book is a perfect introduction to a key topic for babies.
Outside Inside by LeUyen Pham Ages 3 – 6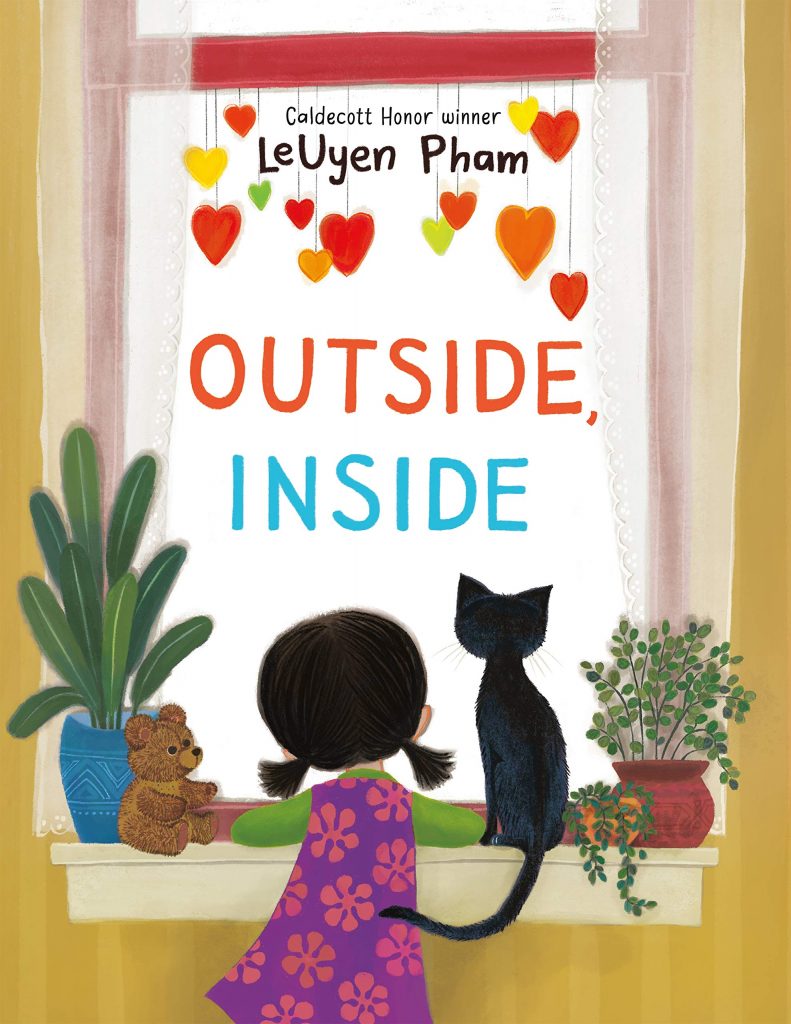 Something strange happened on an unremarkable day just before the season changed.
Everybody who was outside . . .
. . . went inside.
Outside, it was quieter, wilder, and different. Inside, we laughed, we cried, and we grew.
We remembered to protect the ones we love and love the ones who protect us.
While the world changed outside, we became stronger on the inside and believed that someday soon spring would come again.
Little People Big Dreams: Prince by Maria Isabel Sanchez Vegara, illustrated by CACHETEJACK Ages 4 – 7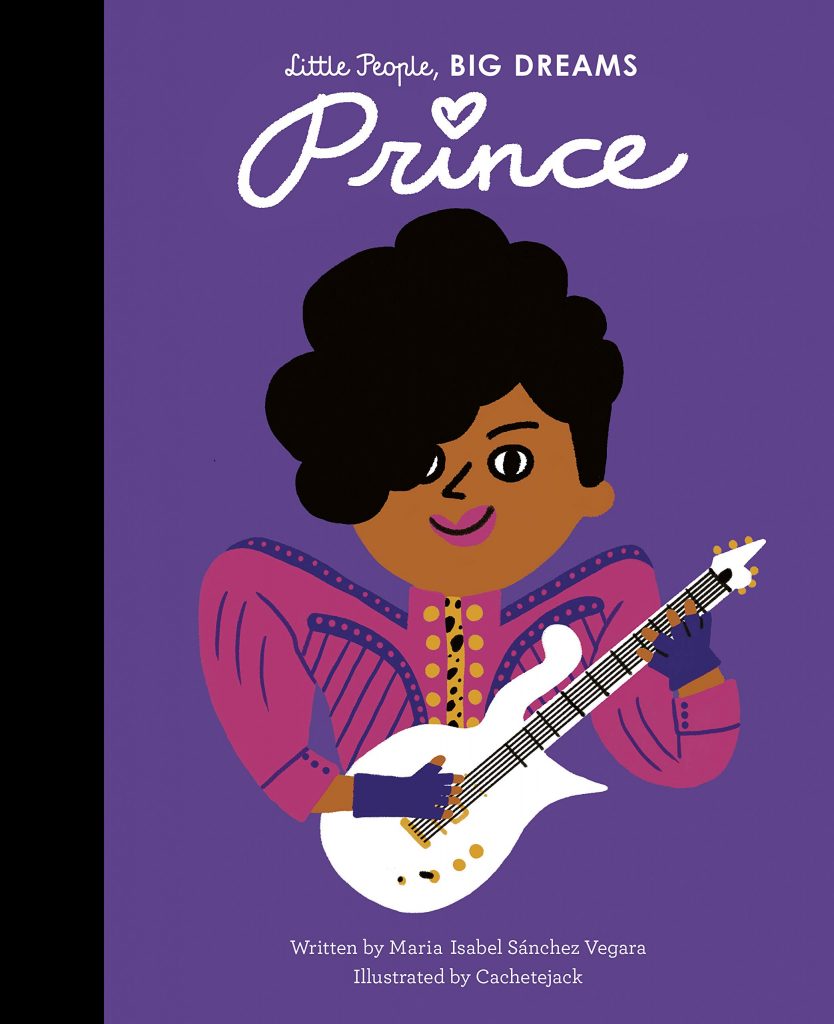 From a young age, Prince was obsessed with music. Even though he couldn't read it, his talent—whether on piano, drums, guitar, or vocals—turned him into an icon. Combining funk, disco, soul, and almost every other genre out there, his songs are some of the best-loved all around the world. Prince knew that he didn't have to be like anyone else to be a star—and there was no one quite like Prince. This inspiring book features stylish and quirky illustrations and extra facts at the back, including a biographical timeline with historical photos and a detailed profile of the music legend's life.
Jump at the Sun: The True Life Tale of Unstoppable Storycatcher Zora Neale Hurston by Alicia D. Williams Ages 4 – 8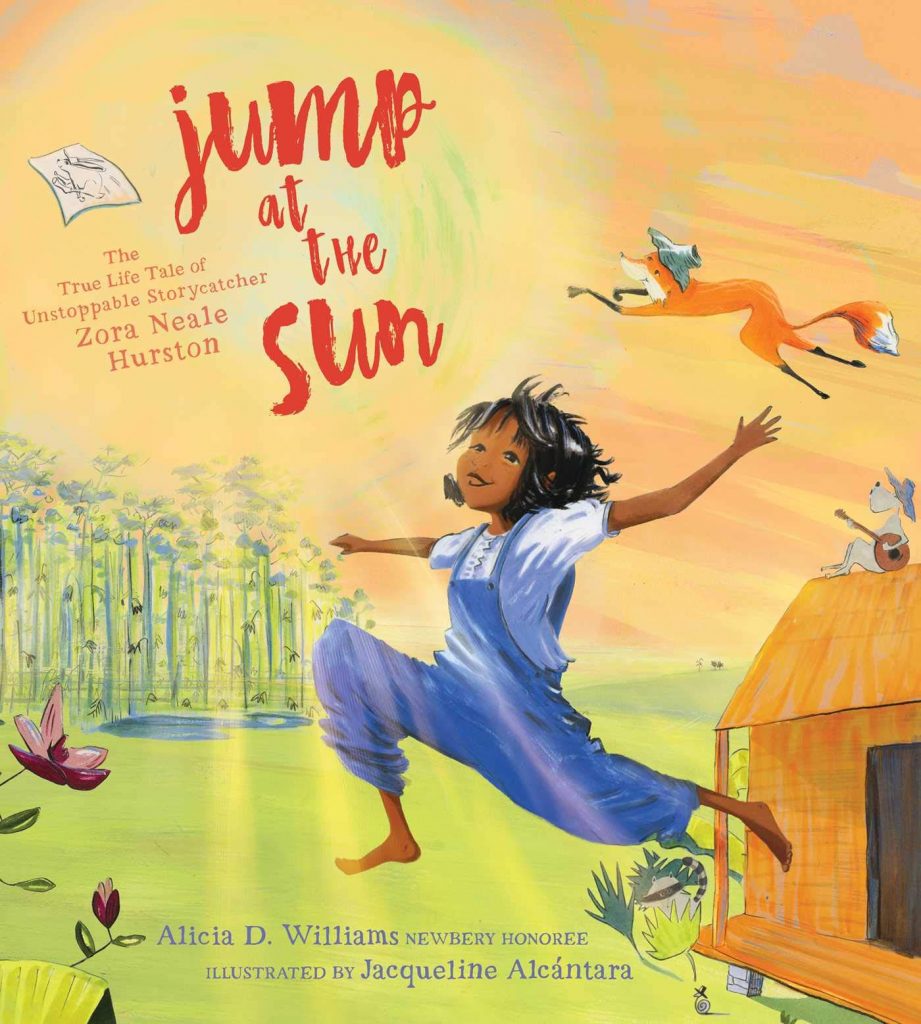 Zora was a girl who hankered for tales like bees for honey. Now, her mama always told her that if she wanted something, "to jump at de sun", because even though you might not land quite that high, at least you'd get off the ground. So Zora jumped from place to place, from the porch of the general store where she listened to folktales, to Howard University, to Harlem. And everywhere she jumped, she shined sunlight on the tales most people hadn't been bothered to listen to until Zora. The tales no one had written down until Zora. Tales on a whole culture of literature overlooked…until Zora. Until Zora jumped.
We Are the Supremes by Zoë Tucker, Salini Perera Ages 4 – 7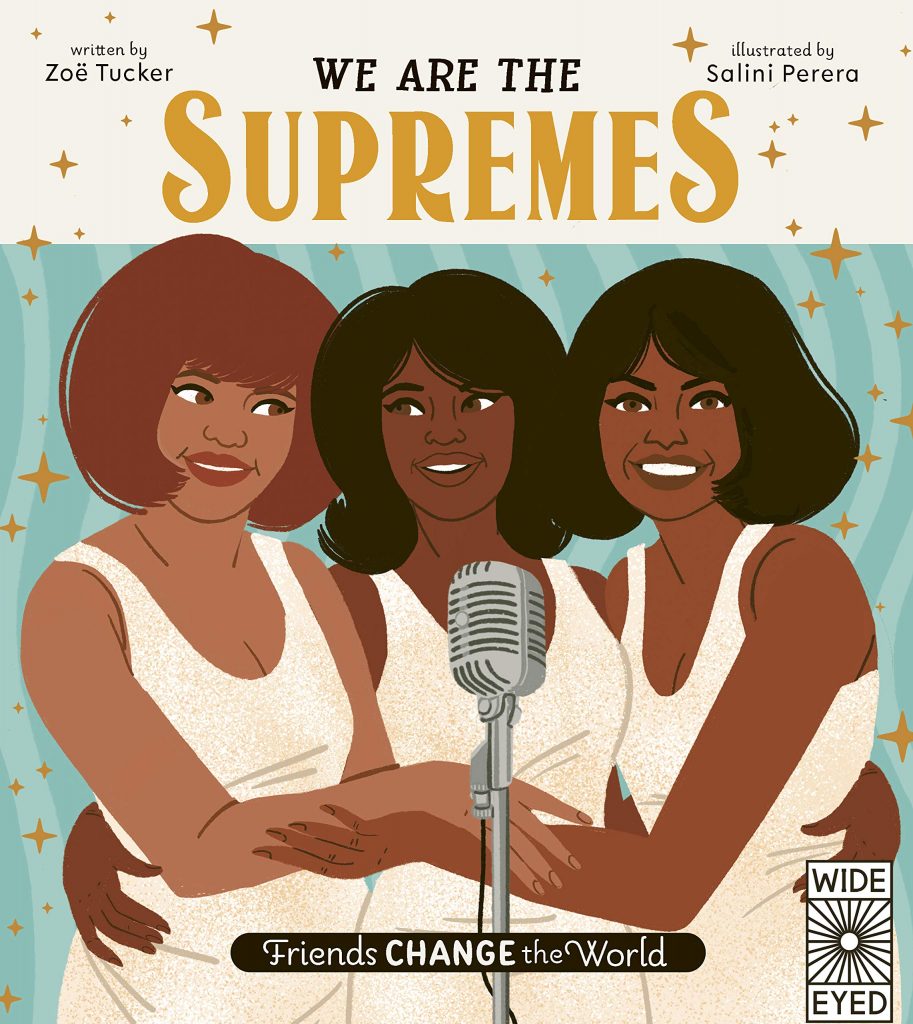 This inspiring picture book tells the story of the friendship between Flo, Mary, and Diana, and how by supporting each other they overcame hardship to become international superstars.
It's 1960, and Flo, Mary, and Diana are three friends with big ambitions. They want to be superstars But 1960s America was not the easiest place for young black girls from the projects to make it big. They audition for the new Motown Records label, but the manager says NO. Not to be put off, the girls try again, and this time, they succeed. They become…The Supremes
We Wait for the Sun by Katie McCabe illustrated by Raissa Figueroa Ages 4 – 8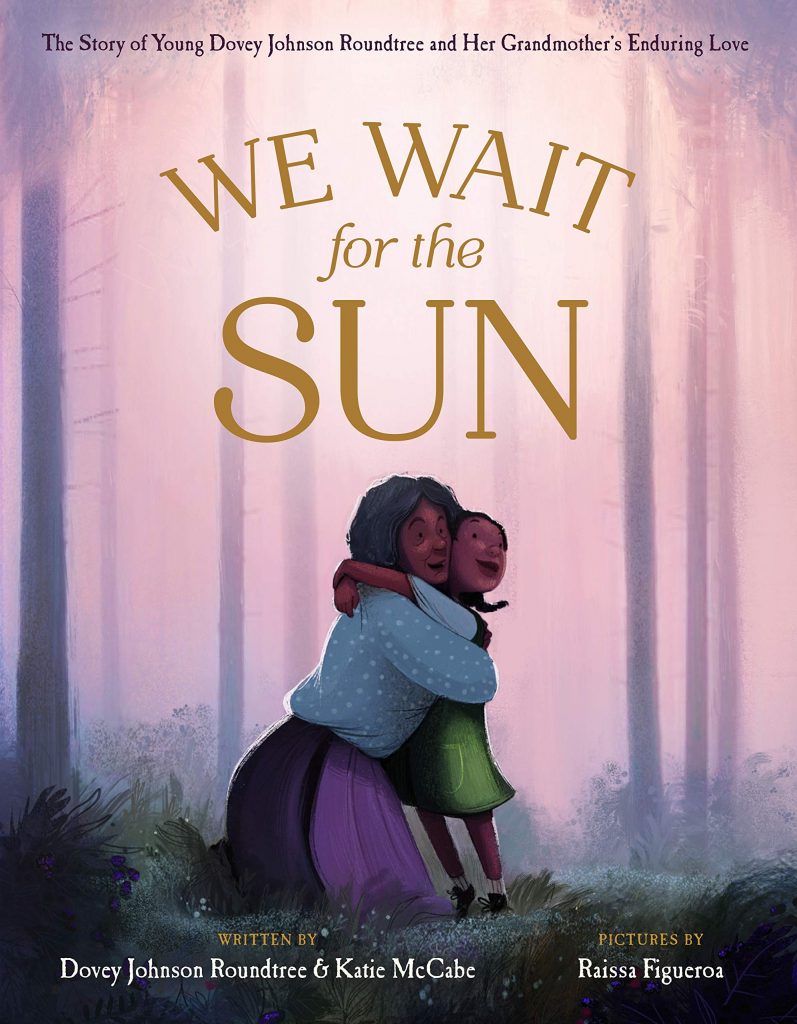 A beautiful and uplifting non-fiction picture book from trailblazing civil rights lawyer and activist Dovey Johnson Roundtree.
Sprouting Wings: The True Story of James Herman Banning, the First African American Pilot to Fly Across the United States by Louisa Jaggar & Shari Becker, illustrated by Floyd Cooper Ages 5 – 7 and up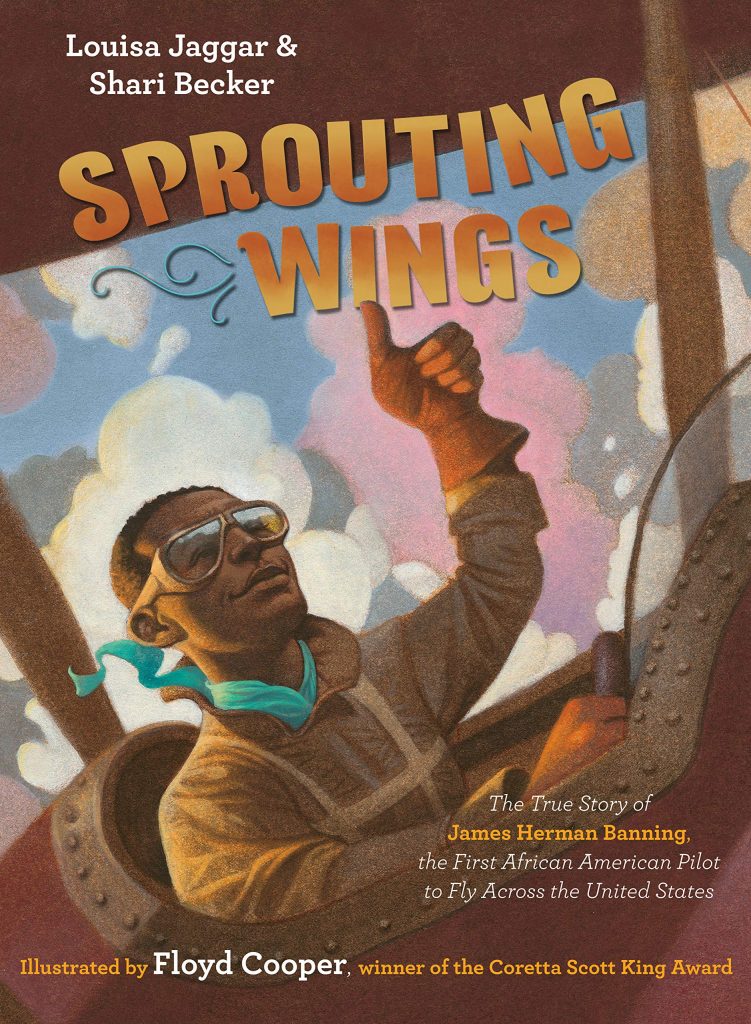 James Herman Banning always dreamed of touching the sky. But how could a farm boy from Oklahoma find a plane? And how would he learn to fly it? None of the other pilots looked like him.

In a journey that would span 3,300 miles, take twenty-one days, and inspire a nation, James Herman Banning proved that you can't put barriers on dreams. 
Baby, Young Gifted and Black: With a Mirror! by Jamia Wilson, illustrated by Andrea Pippins Ages 0 – 3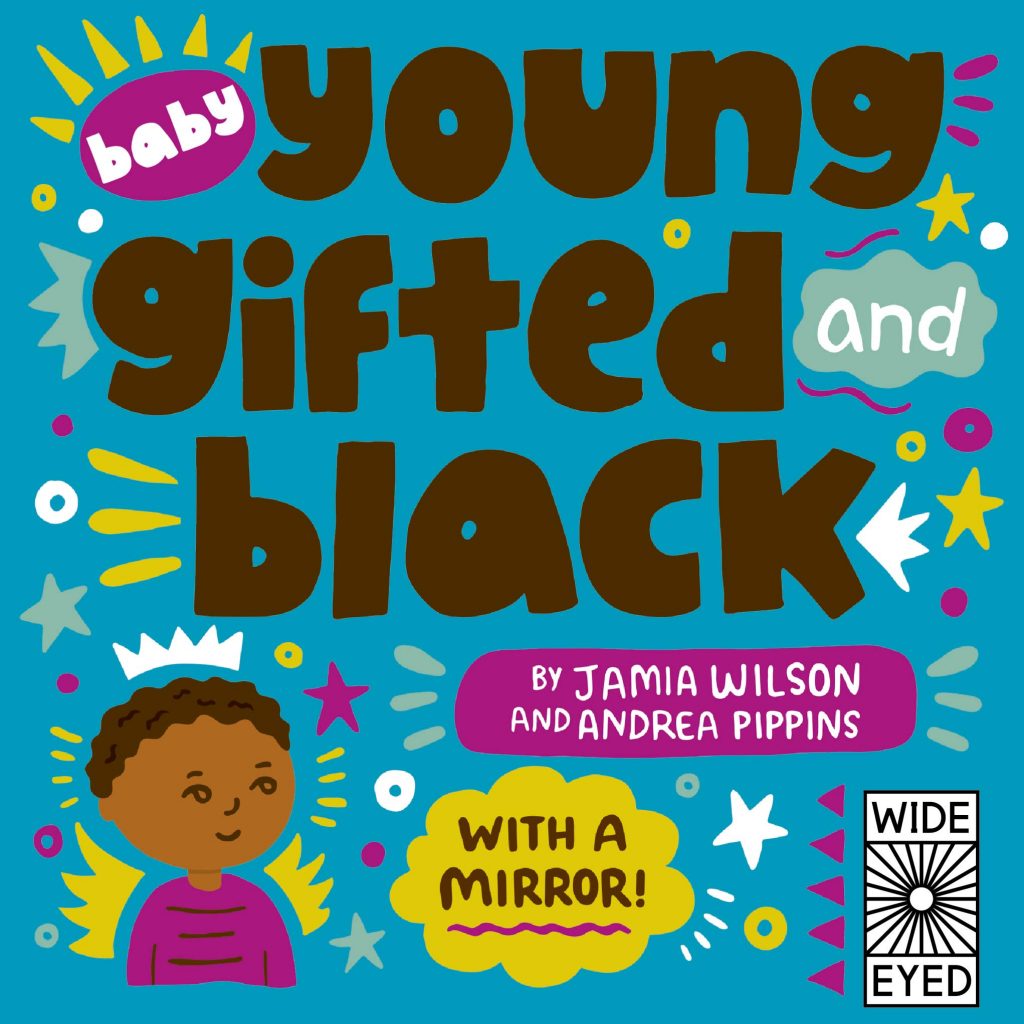 Meet icons of color from past and present in this baby board book celebration of inspirational achievement. A collection of positive, yet simple, affirmations to encourage the next generation. Highlighting the talent of Black leaders and changemakers from around the world, young dreamers will develop confidence, self-assurance, and self-belief.
 
Created in the spirit of Nina Simone's song "To Be Young, Gifted, and Black," meet figureheads, leaders and pioneers such as Martin Luther King Jr. and Rosa Parks, as well as cultural trailblazers like Zadie Smith and athletes like Serena Williams.
Runaway: The Daring Escape of Ona Judge by Ray Anthony Shepard, illustrated by Keith Mallett Ages 4 – 8 and up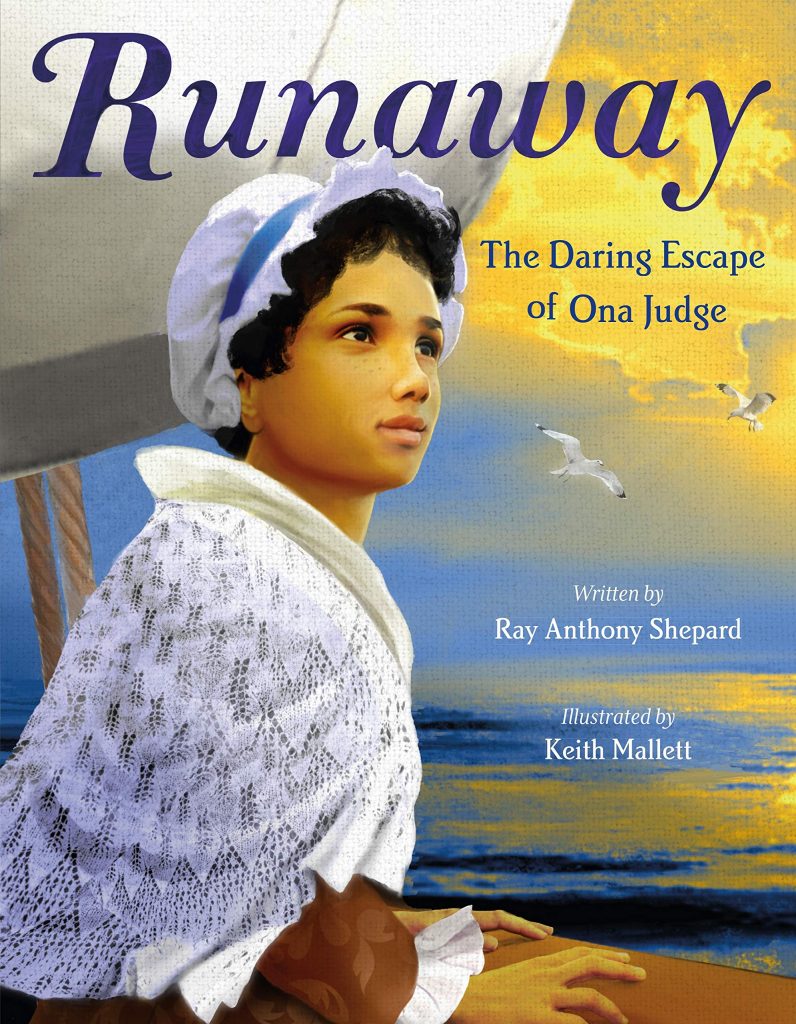 Ona Judge was enslaved by the Washingtons, and served the President's wife, Martha. Ona was widely known for her excellent skills as a seamstress, and was raised alongside Washington's grandchildren. Indeed, she was frequently mistaken for his granddaughter. This biography follows her childhood and adolescence until she decides to run away.
This book doesn't shy away from the horrors of slavery, nor the complex role of house servants. Author Ray Anthony Shepard implicates the reader in Ona's decision to emancipate herself by using a rhetorical refrain, "Why you run, Ona Judge?" This haunting meditation welcomes meaningful and necessary conversation among readers. Illustrator Keith Mallett's rich paintings include fabric collage and add further feeling and majesty to Ona's daring escape.
A Sled for Gabo by Emma Otheguy, illustrated by Ana Ramirez Gonzalez Ages 4 – 8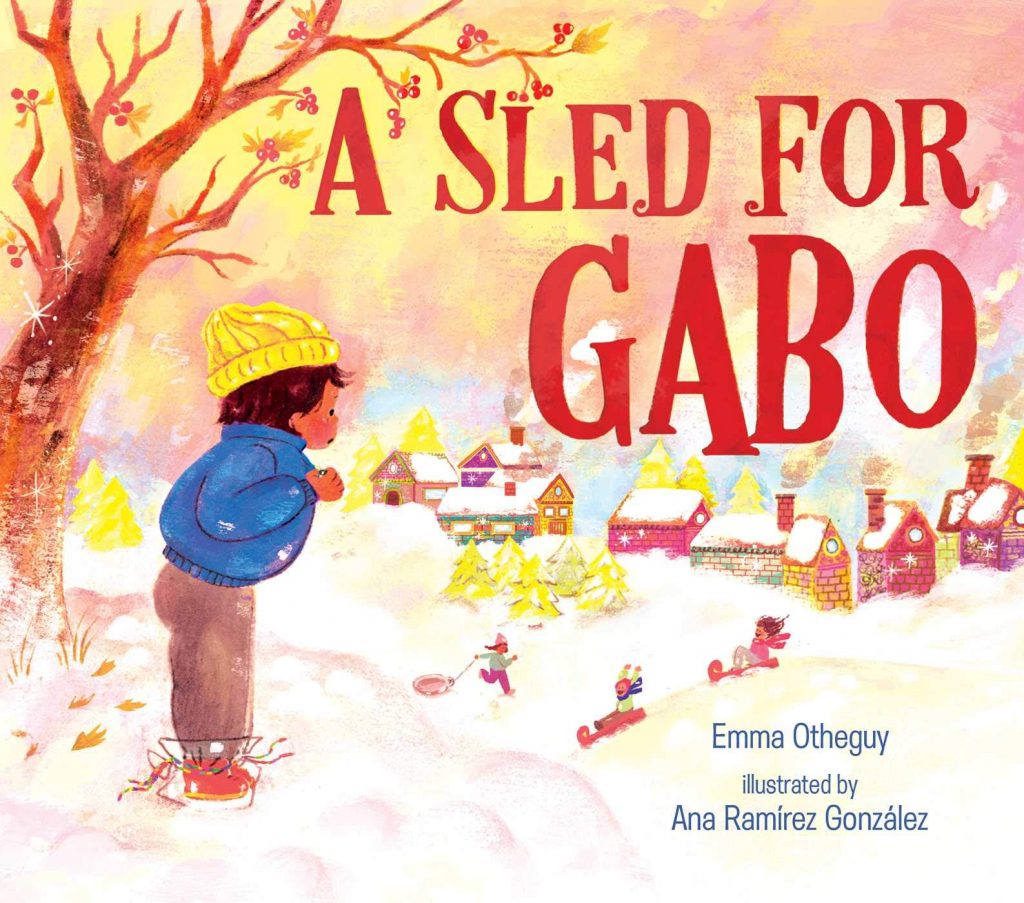 On the day it snows, Gabo sees kids tugging sleds up the hill, then coasting down, whooping all the while. Gabo wishes he could join them, but his hat is too small, and he doesn't have boots or a sled.
But he does have warm and welcoming neighbors in his new town who help him solve the problem in the sweetest way possible!
Maryam's Magic: The Story of Mathematician Maryam Mirzakhani by Megan Reid, illustrated by Aaliya Jaleel Ages 4 -8 and up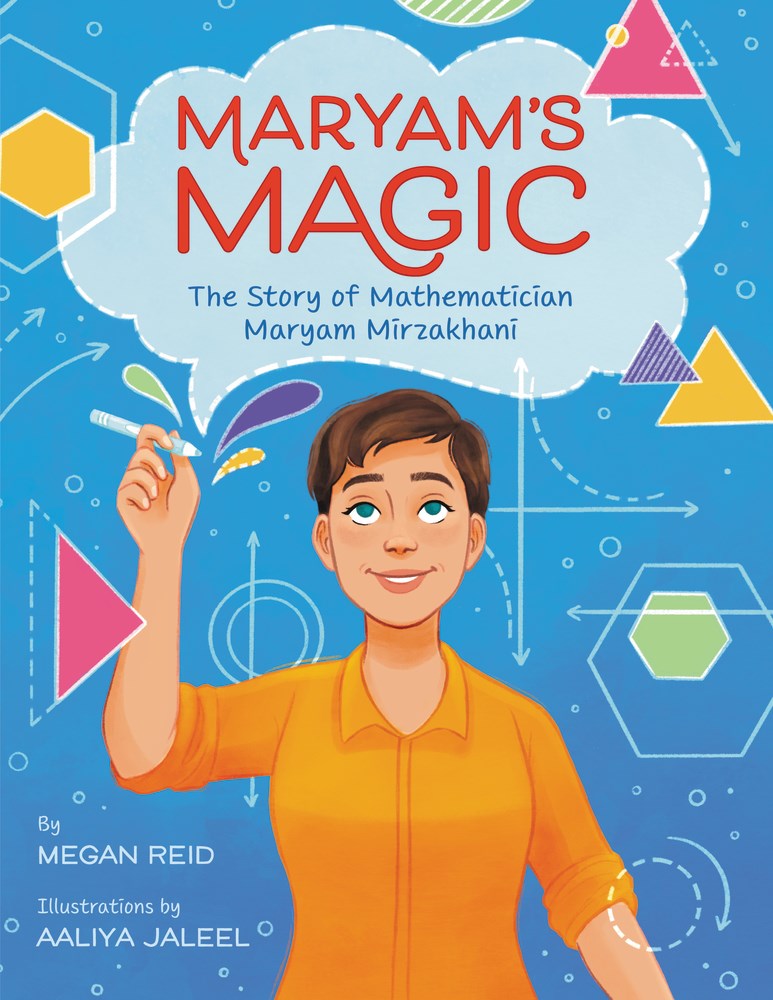 From Althea Gibson author Megan Reid and rising star artist Aaliya Jaleel, illustrator of Under My Hijab, comes the first picture book about trailblazing mathematician Maryam Mirzakhani, the first woman and the first Iranian to win the world's most prestigious honor in mathematics. Perfect for fans of Hidden Figures and Mae Among the Stars.
Eyes That Kiss in the Corners by Joanna Ho, illustrated by Dung Ho Ages 4 – 8 and up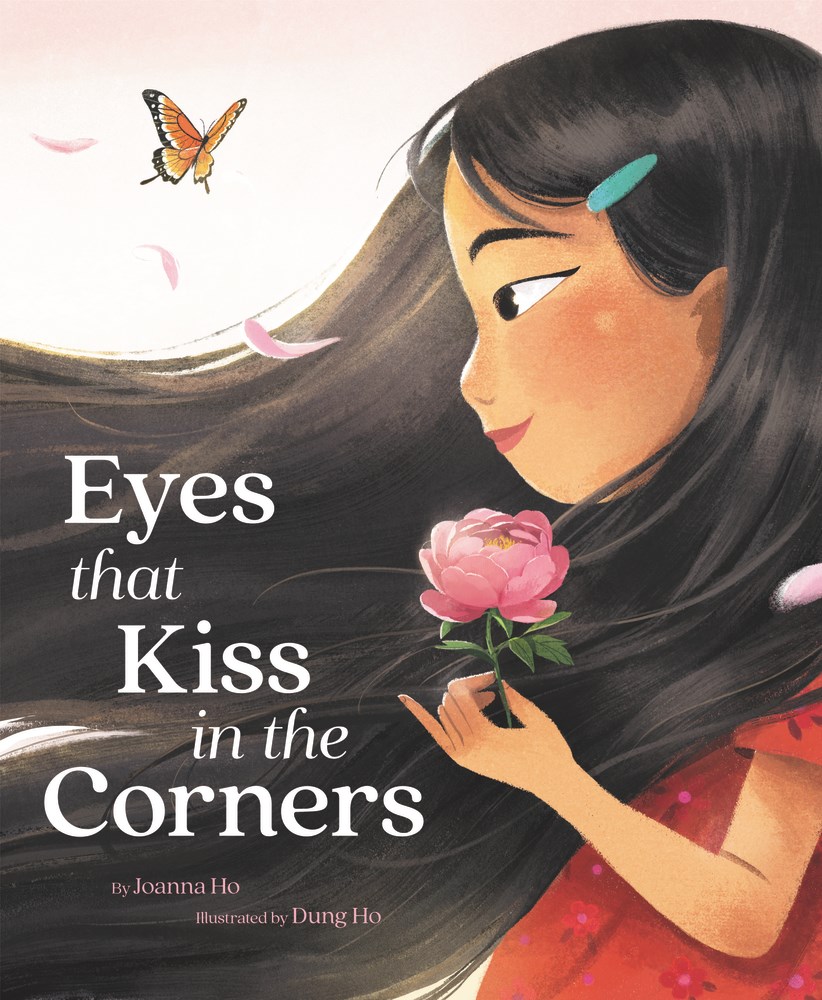 A young Asian girl notices that her eyes look different from her peers'. They have big, round eyes and long lashes. She realizes that her eyes are like her mother's, her grandmother's, and her little sister's. They have eyes that kiss in the corners and glow like warm tea, crinkle into crescent moons, and are filled with stories of the past and hope for the future.
Drawing from the strength of these powerful women in her life, she recognizes her own beauty and discovers a path to self love and empowerment.
Concrete Rose by Angie Thomas Ages 14 – 17 and up
If there's one thing seventeen-year-old Maverick Carter knows, it's that a real man takes care of his family. As the son of a former gang legend, Mav does that the only way he knows how: dealing for the King Lords. With this money he can help his mom, who works two jobs while his dad's in prison.
Life's not perfect, but with a fly girlfriend and a cousin who always has his back, Mav's got everything under control.
Until, that is, Maverick finds out he's a father.
The Highest Tribute: Thurgood Marshall's Life, Leadership, and Legacy by Kekla Magoon, illustrated by Laura Freeman Ages 4 – 8 and up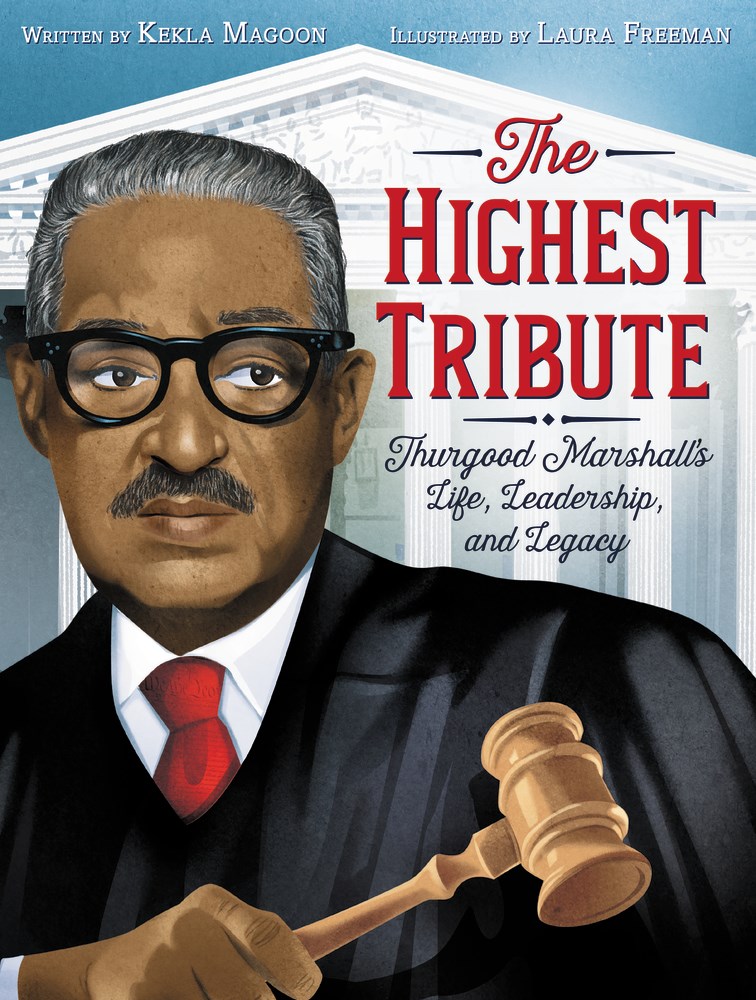 Growing up in Baltimore, Thurgood Marshall could see that things weren't fair. The laws said that Black and white people couldn't use the same schools, parks, or water fountains.
When Thurgood had to read the Constitution as punishment for a prank at school, his eyes were opened. It was clear to him that Jim Crow laws were wrong, and he was willing to do whatever it took to change them.
His determination to make sure all Americans were treated equally led him to law school and then the NAACP, where he argued cases like Brown v. Board of Education in front of the Supreme Court. But to become a Justice on the highest court in the land, Thurgood had to make space for himself every step of the way.
Rise Up and Write It: With Real Mail, Posters, and More! by Nandini Ahuja, illustrated by Anoosha Syed Ages 4 – 8 and up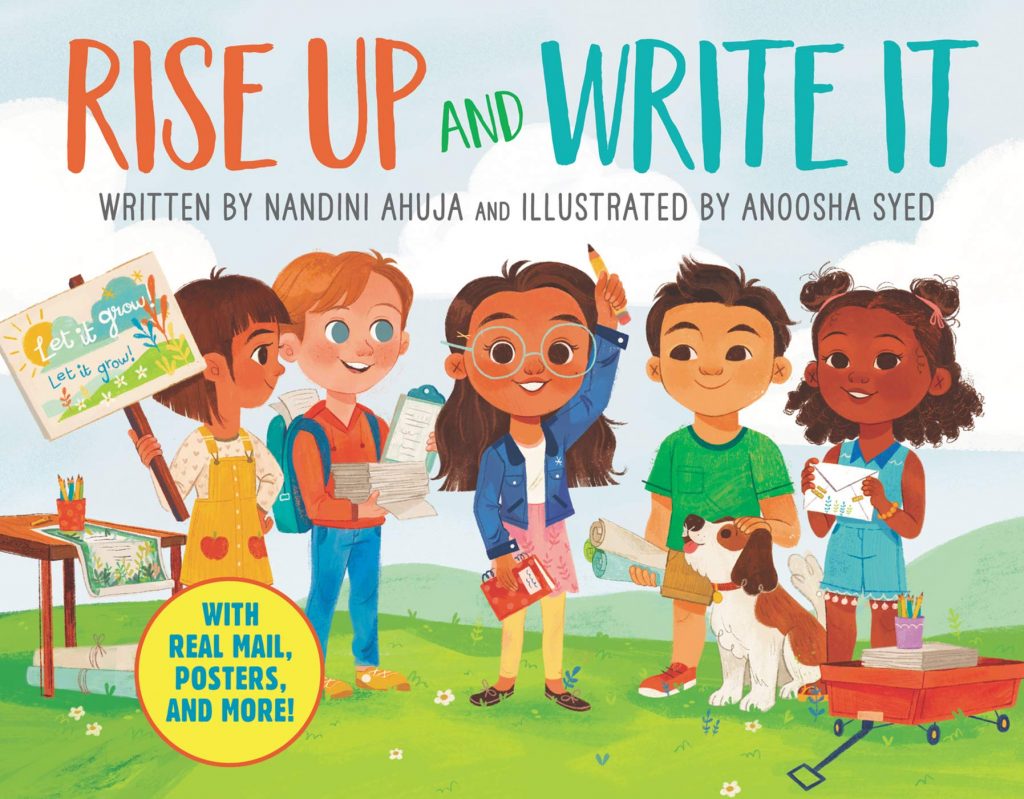 The book comes complete with a pull-out letter to the mayor, a ready-to-sign petition, a community meeting poster, a protest sign–and more!
When Farah Patel realizes that the butterflies have disappeared from her neighborhood, she discovers that it's likely because there aren't enough flowers to attract them. She can't help but think, "This isn't right."
Luckily enough, Grove Hills is looking for ideas on what to do with the empty lot next door. And Farah has the perfect one–make it into a community garden to bring back a little green to their block! But when Farah finds out that she isn't the only one with a plan for the future of Grove Hills, she'll have to turn to her community for help.
Open the six envelopes inside to follow along with the story Farah as she rises up and brings her neighborhood together.
My Friend! by Taye Diggs, illustrated by Shane Evans Ages 4 – 8 and up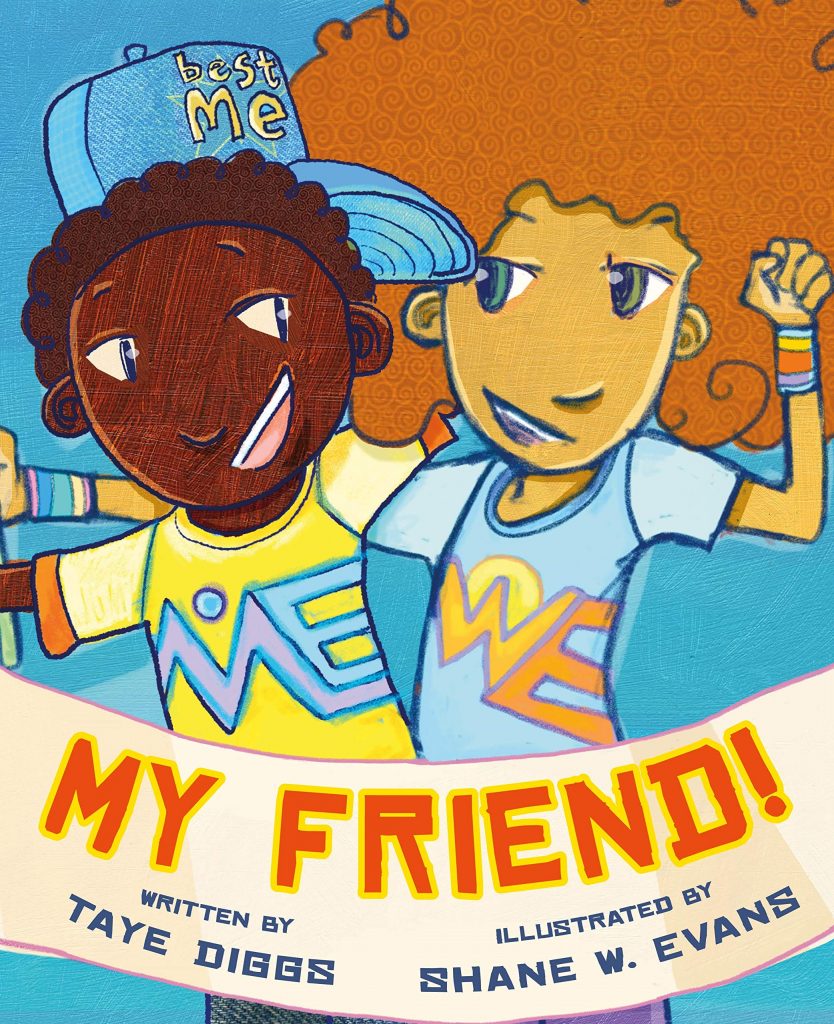 A picture book about what it means to be a friend from Taye Diggs and Shane W. Evans, the writer/artist team that brought us Chocolate Me! and Mixed Me.

Two best friends do almost everything together. They have each other's backs. But when one friend sees the other treating someone unkindly, he steps in to show that everyone wants to be treated as they would treat others.
Song in a Rainstorm: The Story of Musical Prodigy Thomas Blind Tom Wiggins  by Glenda Armand, illustrated by Brittany Jackson Ages 4 – 8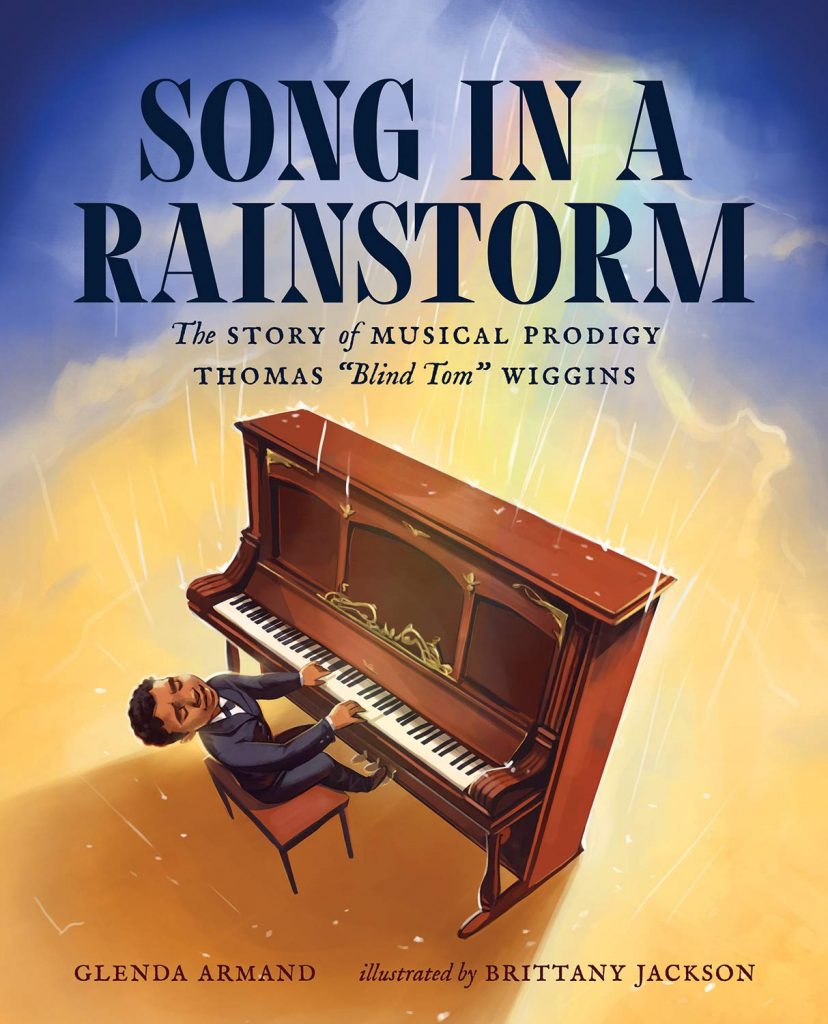 Born blind into a life of slavery, Thomas Wiggins was dismissed as a "useless burden." But through the loving protection of his family, he went on to become one of the greatest musicians of his time. From Tom's childhood on a plantation to his performances in the concert halls of Europe, Glenda Armand shares the beautiful and at times heartbreaking story of a long-overlooked musical great, the love that supported him, and the struggle for freedom.
C Is for Country by Lil Nas X, illustrated by Theodore Taylor III Ages 3 – 7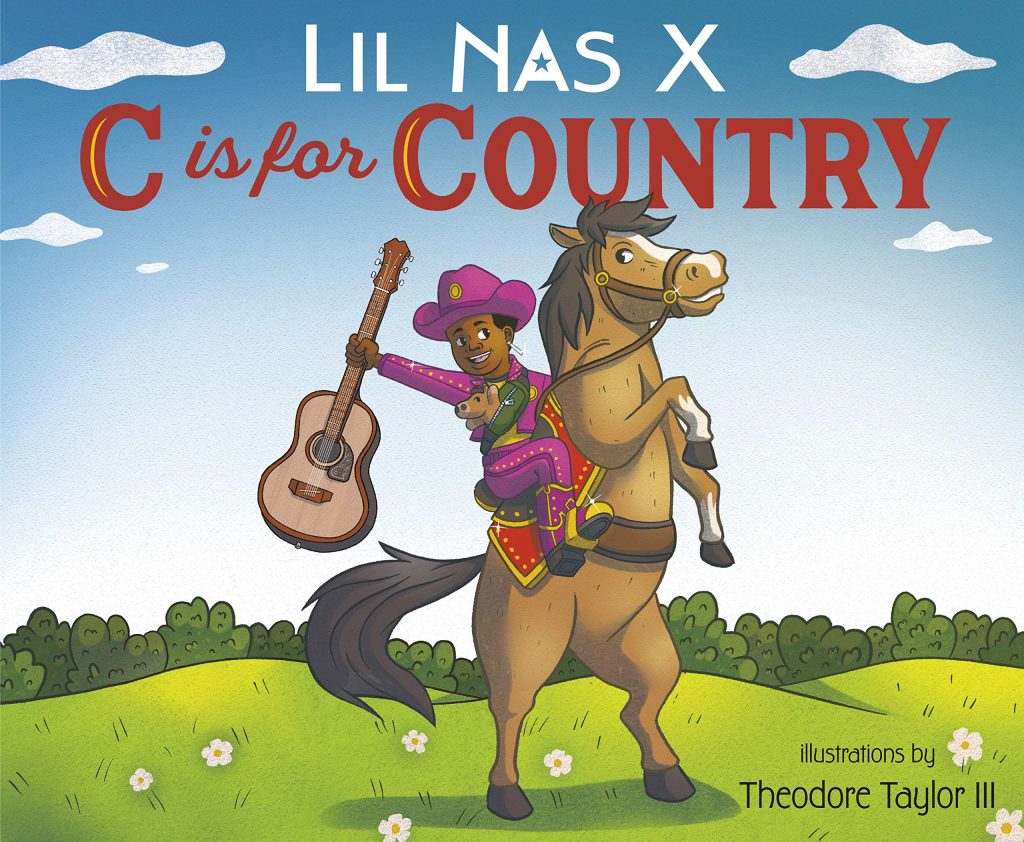 Join superstar Lil Nas X—who boasts the longest-running #1 song in history—and Panini the pony on a joyous journey through the alphabet from sunup to sundown. Experience wide-open pastures, farm animals, guitar music, cowboy hats, and all things country in this debut picture book that's perfect for music lovers learning their ABCs and for anyone who loves Nas's signature genre-blending style. 
One Step Further: My Story of Math, the Moon, and a Mission by Katherine Johnson Katherine Moore, illustrated by Charnelle Pinkney Barlow Ages 4 – 8 and up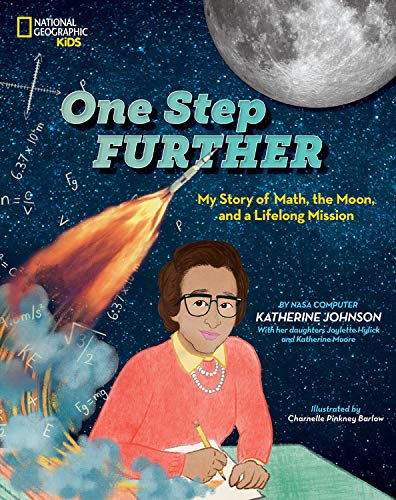 This inspirational picture book reveals what is was like for a young black mother of three to navigate the difficult world of the 1950s and 60s and to succeed in an unwelcoming industry to become one of the now legendary "hidden figures" of NASA computing and space research.

Johnson's own empowering narrative is complemented by the recollections of her two daughters about their mother's work and insights about how she illuminated their paths, including one daughter's fight for civil rights and another's journey to become a NASA mathematician herself. The narrative gracefully weaves together Johnson's personal story, her influence on her daughters' formative years, her and her daughters' fight for civil rights, and her lasting impact on NASA and space exploration.

Stella's Stellar Hair by Yesenia Moises Ages 4 – 8 and up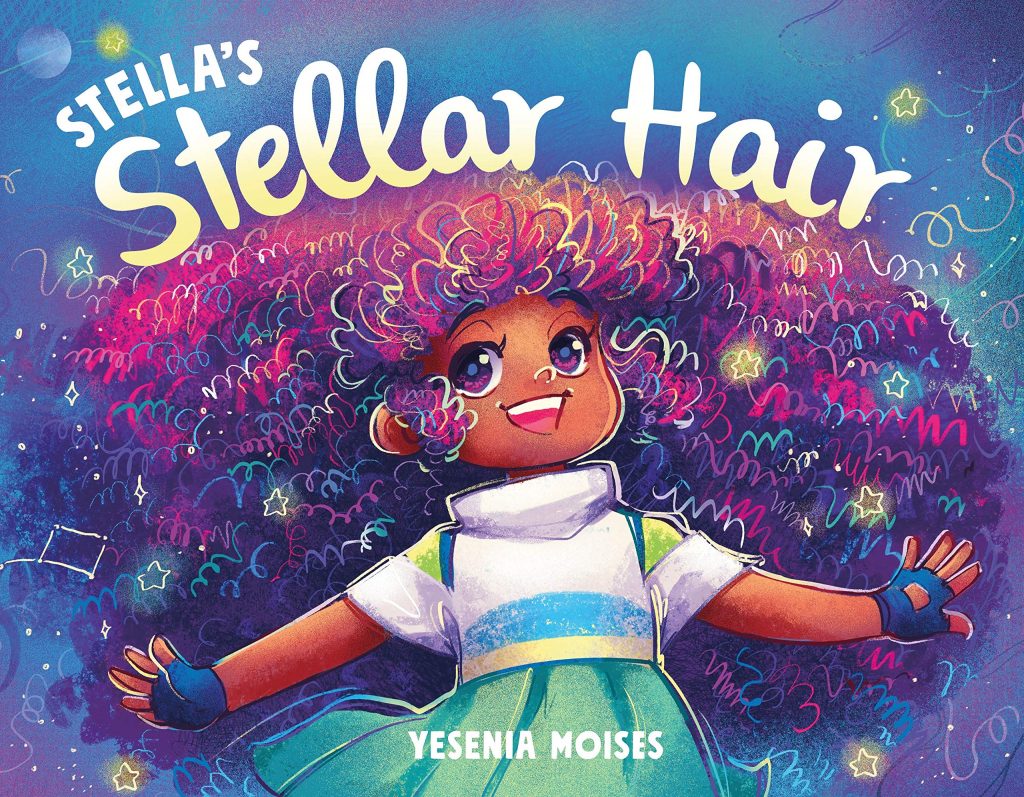 It's the day of the Big Star Little Gala, and Stella's hair just isn't acting right! What's a girl to do?
Simple! Just hop on her hoverboard, visit each of her fabulous aunties across the solar system, and find the perfect hairdo along the way.
Stella's Stellar Hair celebrates the joy of self-empowerment, shows off our solar system, and beautifully illustrates a variety of hairstyles from the African diaspora. Backmatter provides more information about each style and each planet.
Off to See the Sea by Nikki Grimes, illustrated by Elizabeth Zunon Ages 4 – 8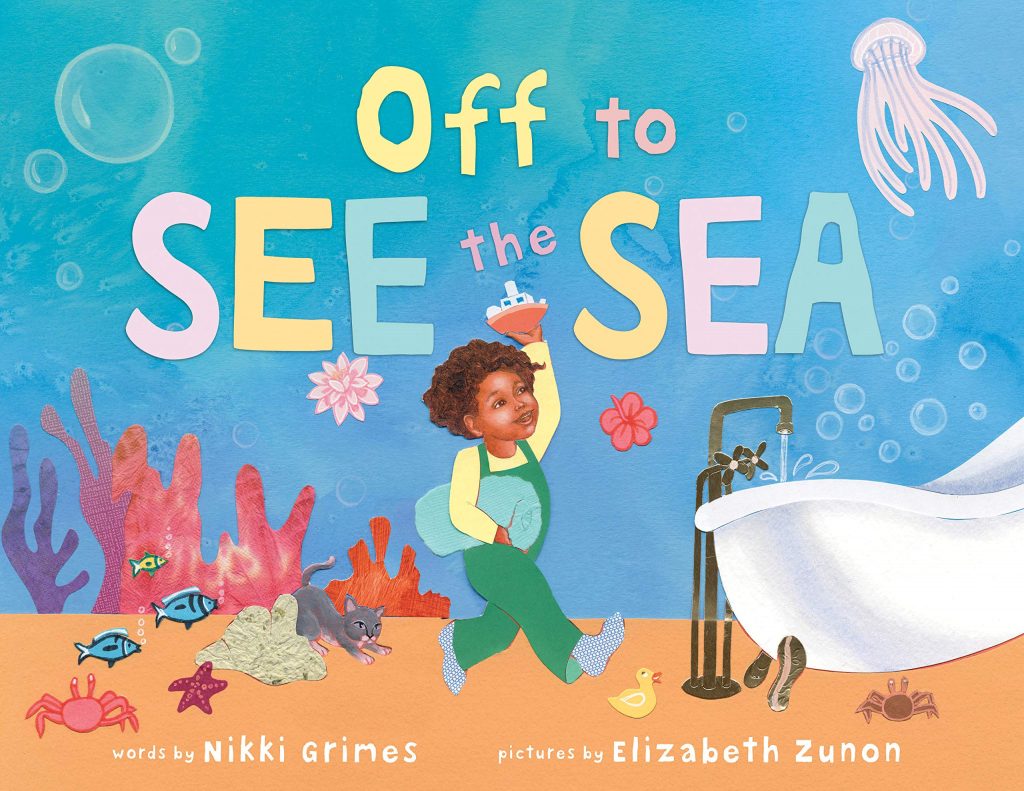 Bath time is full of magic.
The faucet flows like a waterfall, the bathroom floor is a distant shore, toy boats sail against the waves. An imagination-fueled adventure on the high seas is just what it takes to get little one clean.
Watch Me: A Story of Immigration and Inspiration by Doyin Richards, illustrated by Joe Cepeda Ages 4 – 8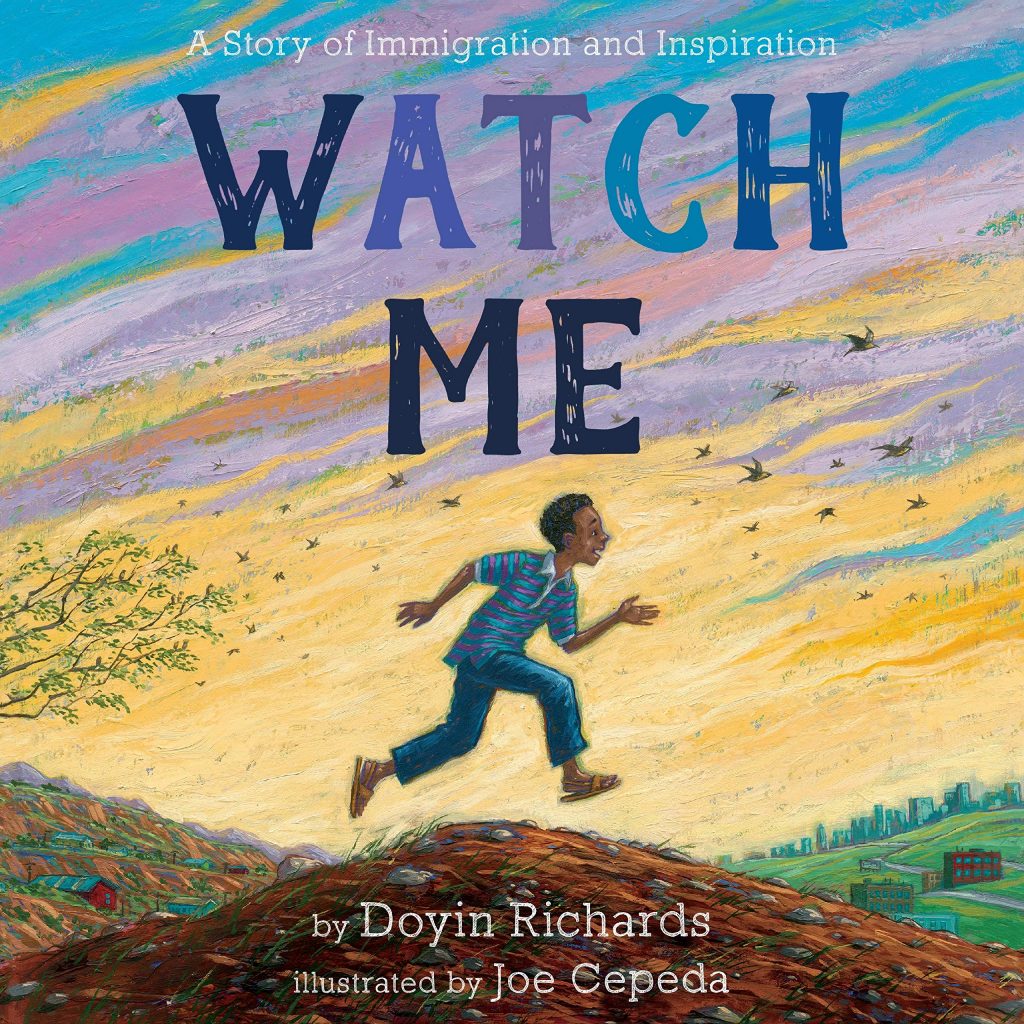 A picture book about immigration, Watch Me is based on the author's father's own story. Joe came to America from Africa when he was young. He worked hard in school, made friends, and embraced his new home. Like so many immigrants before and after him, Joe succeeded when many thought he would fail. In telling the story of how his father came to America, Doyin Richards tells the story of many immigrants, and opens the experience up to readers of all backgrounds. 
I Dream of Popo by Livia Blackburne, illustrated by Julia Kuo Ages 3 – 6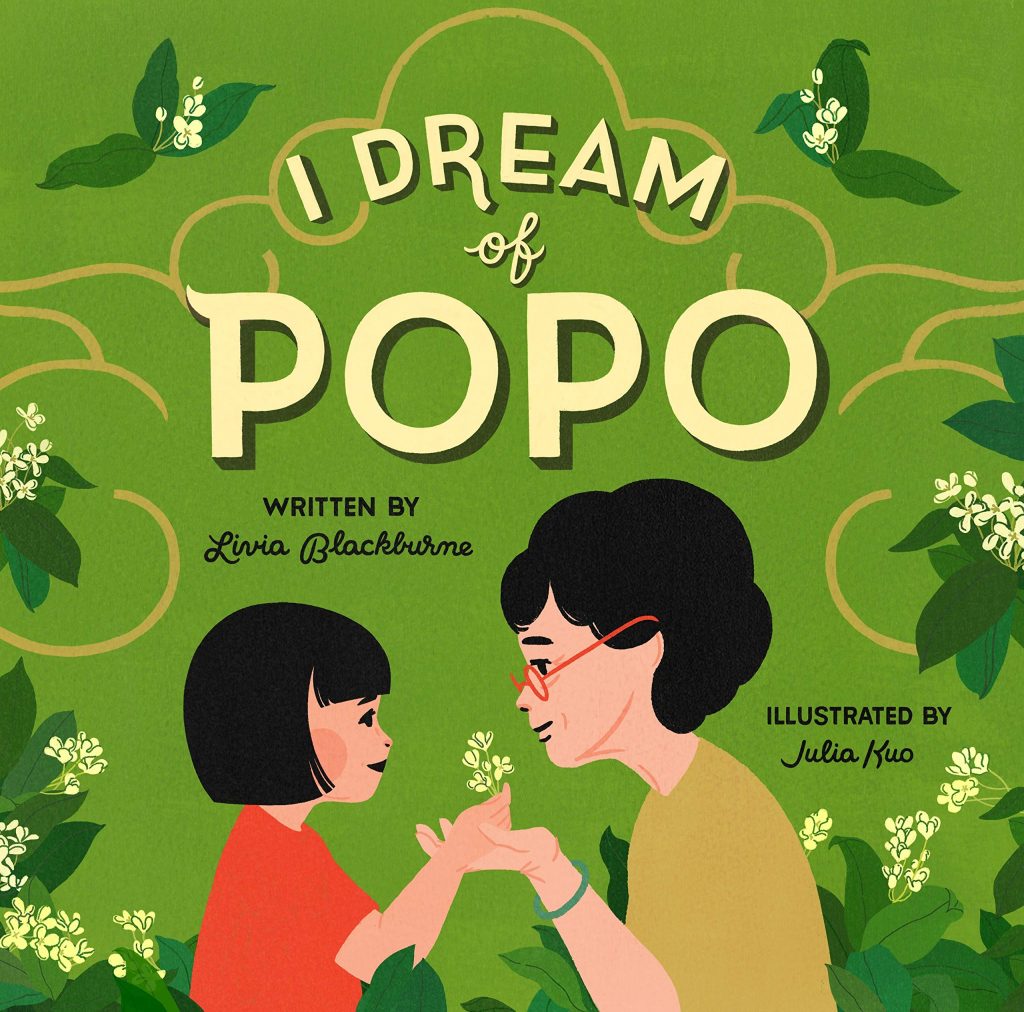 This delicate, emotionally rich picture book celebrates a special connection that crosses time zones and oceans as Popo and her granddaughter hold each other in their hearts forever.
When a young girl and her family emigrate from Taiwan to America, she leaves behind her beloved popo, her grandmother. She misses her popo every day, but even if their visits are fleeting, their love is ever true and strong.
Amari and the Night Brothers by B.B. Alston Ages 8 – 12
Amari Peters has never stopped believing her missing brother, Quinton, is alive. Not even when the police told her otherwise, or when she got in trouble for standing up to bullies who said he was gone for good.
So when she finds a ticking briefcase in his closet, containing a nomination for a summer tryout at the Bureau of Supernatural Affairs, she's certain the secretive organization holds the key to locating Quinton—if only she can wrap her head around the idea of magicians, fairies, aliens, and other supernatural creatures all being real.
The Beautiful Struggle (Adapted for Young Adults) by Ta-Nehisi Coates Ages 12 – 17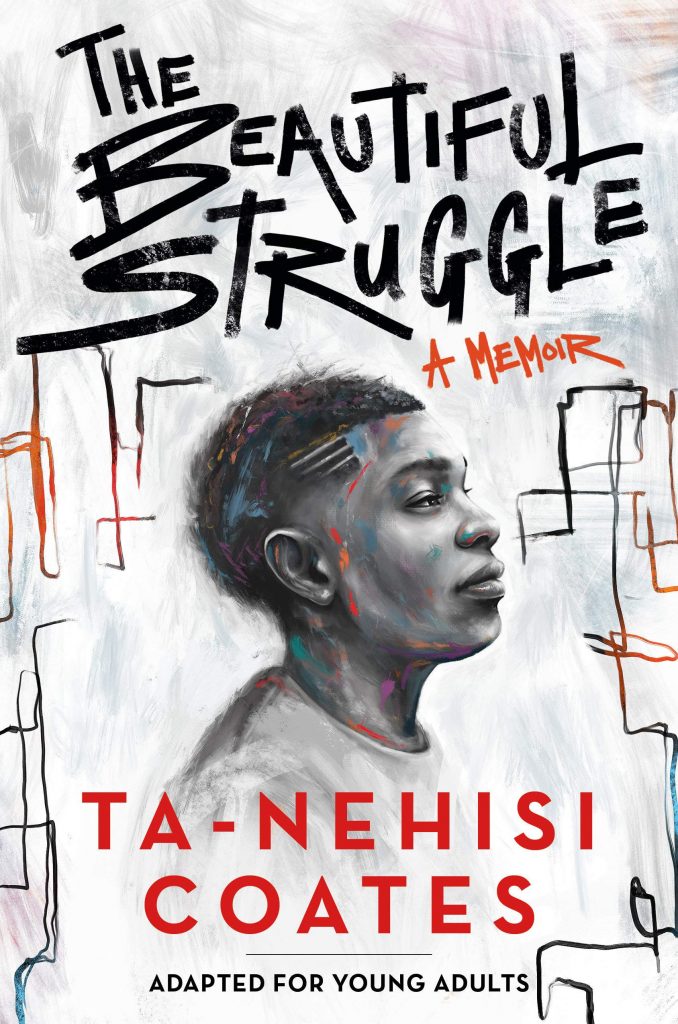 Adapted from the adult memoir by the #1 New York Times bestselling author of The Water Dancer and Between the World and Me, this father-son story explores how boys become men, and quite specifically, how Ta-Nehisi Coates became Ta-Nehisi Coates.
As a child, Ta-Nehisi Coates was seen by his father, Paul, as too sensitive and lacking focus. Paul Coates was a Vietnam vet who'd been part of the Black Panthers and was dedicated to reading and publishing the history of African civilization. When it came to his sons, he was committed to raising proud Black men equipped to deal with a racist society, during a turbulent period in the collapsing city of Baltimore where they lived.
Take Back the Block by Chrystal D. Giles Ages 8 – 12 and up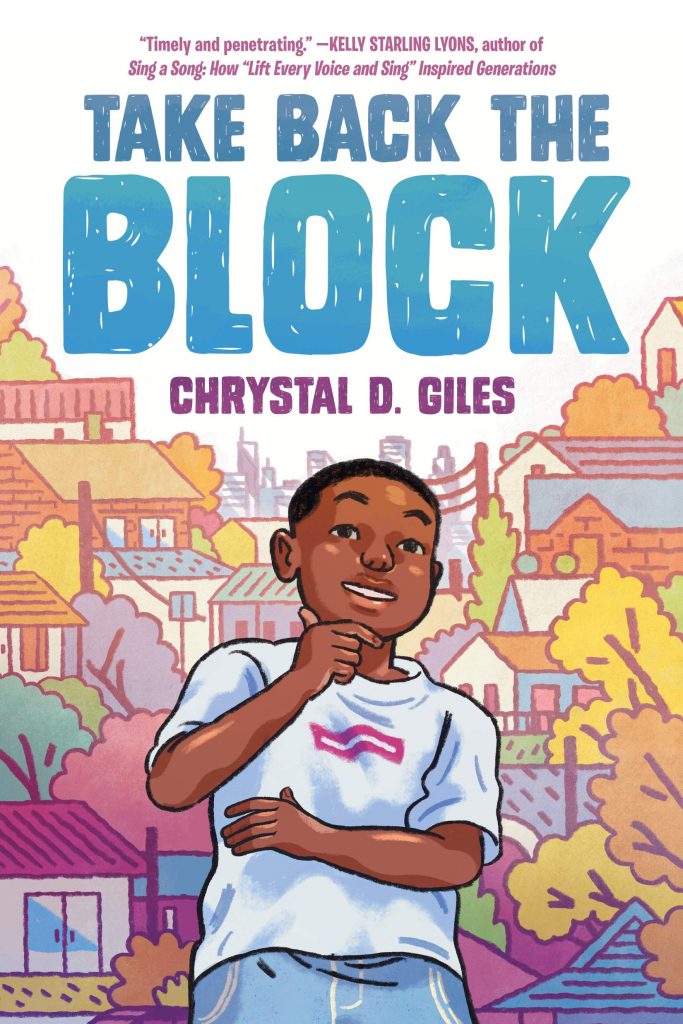 Wes Henderson has the best style in sixth grade. That–and hanging out with his crew (his best friends since little-kid days) and playing video games–is what he wants to be thinking about at the start of the school year, not the protests his parents are always dragging him to.
But when a real estate developer makes an offer to buy Kensington Oaks, the neighborhood Wes has lived his whole life, everything changes. The grownups are supposed to have all the answers, but all they're doing is arguing. Even Wes's best friends are fighting. And some of them may be moving. Wes isn't about to give up the only home he's ever known. Wes has always been good at puzzles, and he knows there has to be a missing piece that will solve this puzzle and save the Oaks. But can he find it . . . before it's too late?
Time for Kenny by Brian Pinkney Ages 4 – 6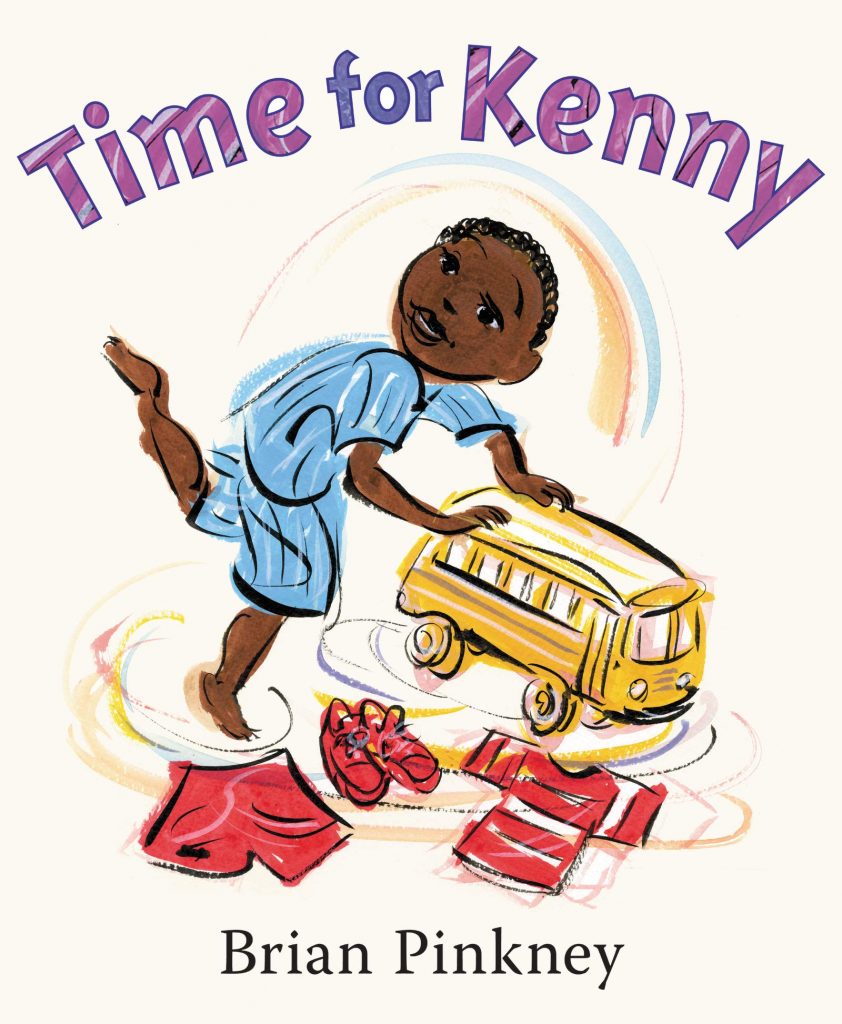 Time for Kenny to get up and enjoy the day with his family! In four deceptively simple stories, Brian Pinkney guides readers through a young child's day. First, Kenny must get dressed. Maybe he can wear his mom's shoes? And his grandpa's hat seems to fit perfectly on his head. Luckily, with the help of his family, Kenny is finally set to go. Then he must overcome his fear of the monstrous vacuum cleaner, learn to play soccer with his big sister, and—after all that fun—get ready for bedtime.
Ambitious Girl by Meena Harris, Marissa Valdez Ages 4 – 8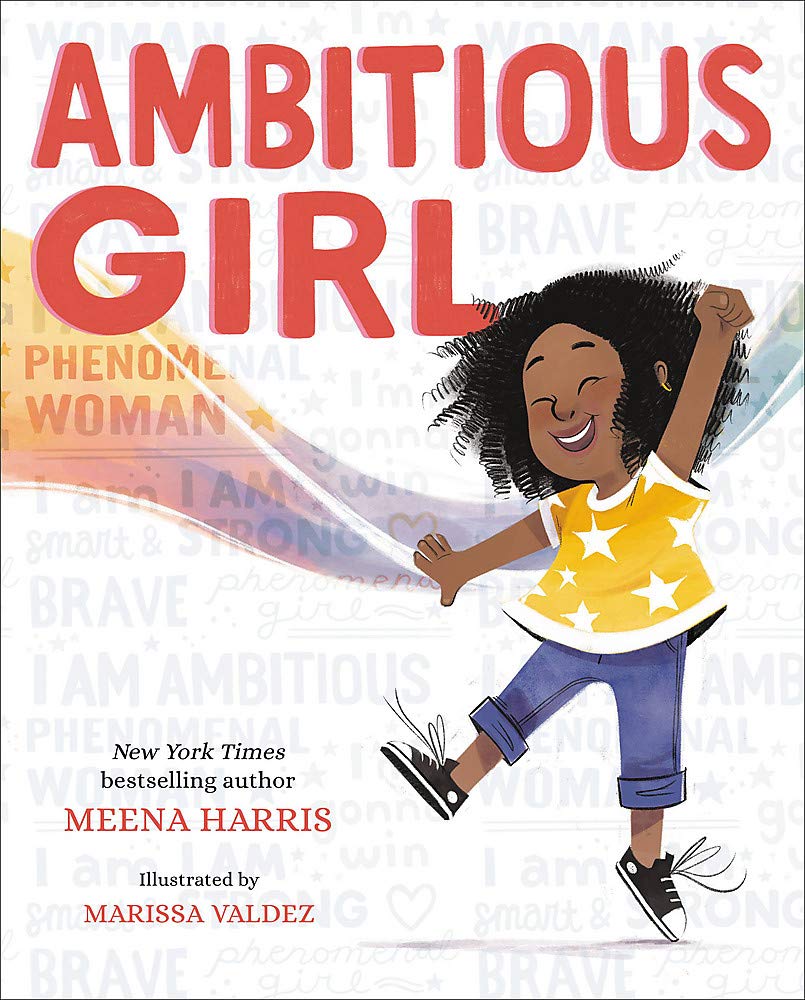 When a young girl sees a strong woman on TV labeled as "too assertive" and "too ambitious," it sends her on a journey of discovery through past, present, and future about the challenges faced by women and girls and the ways in which they can reframe, redefine, and reclaim words meant to knock them down.
Baseball's Leading Lady: Effa Manley and the Rise and Fall of the Negro Leagues by Andrea Williams Ages 10 – 14 and up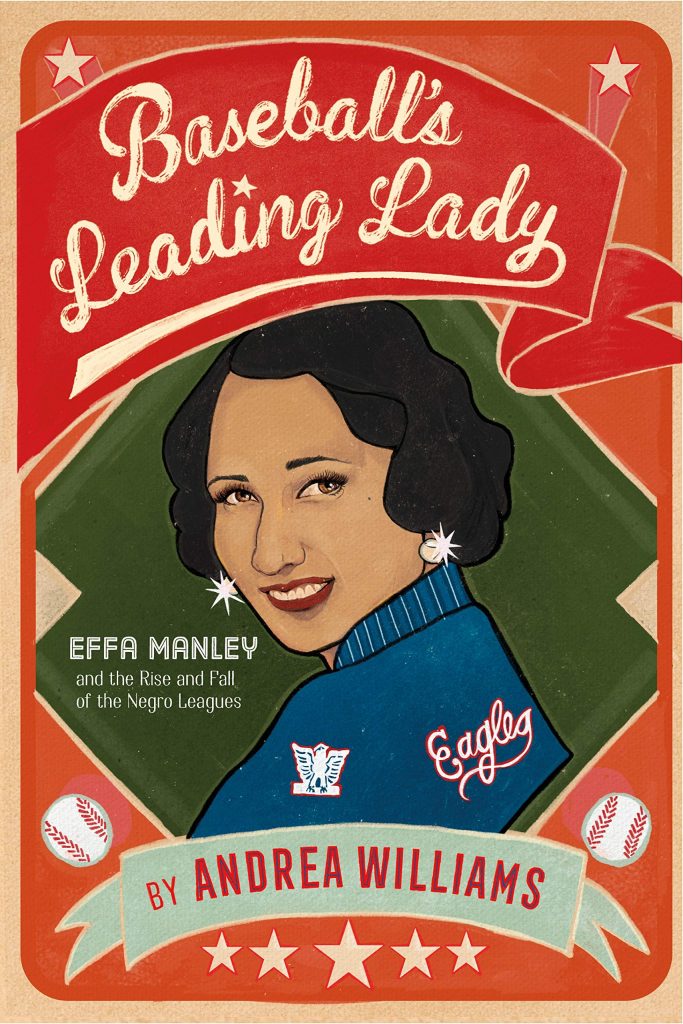 Before Jackie Robinson broke Major League Baseball's color barrier in 1947, Black athletes played in the Negro Leagues–on teams coached by Black managers, cheered on by Black fans, and often run by Black owners.
Here is the riveting true story of the woman at the center of the Black baseball world: Effa Manley, co-owner and business manager of the Newark Eagles. Elegant yet gutsy, she cultivated a powerhouse team. Yet just as her Eagles reached their pinnacle, so did calls to integrate baseball, a move that would all but extinguish the Negro Leagues.
Playing to Win: How Althea Gibson Broke Barriers and Changed Tennis Forever by Karen Deans, Elbrite Brown Ages 7 – 10 and up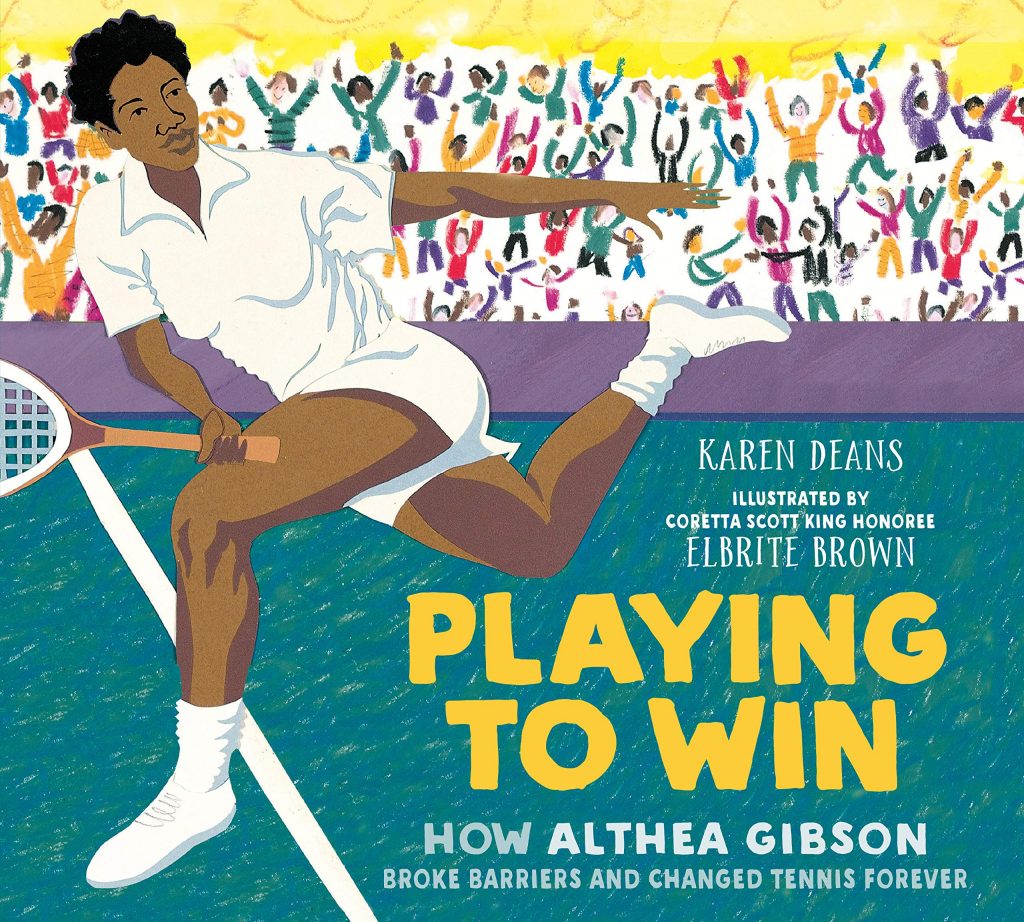 lthough stars like Serena Williams cite Althea Gibson as an inspiration, Gibson's story is not well-known to many young people today. Growing up tough and rebellious in Harlem, Althea took that fighting attitude and used it to go after her goals of being a tennis champion, and a time when tennis was a game played mostly by wealthy white people in country clubs that excluded African Americans.
In 1956, she became the first Black American to win a major championship when she won at The French Open. With determination and undeniable skill, Althea Gibson become a barrier-breaking, record-setting, and world-famous sportswoman. This new and updated edition of this inspirational biography contains recent information on the impact of Gibson's legacy.
Windows by Patrick Guest, Jonathan Bentley Ages 3 – 7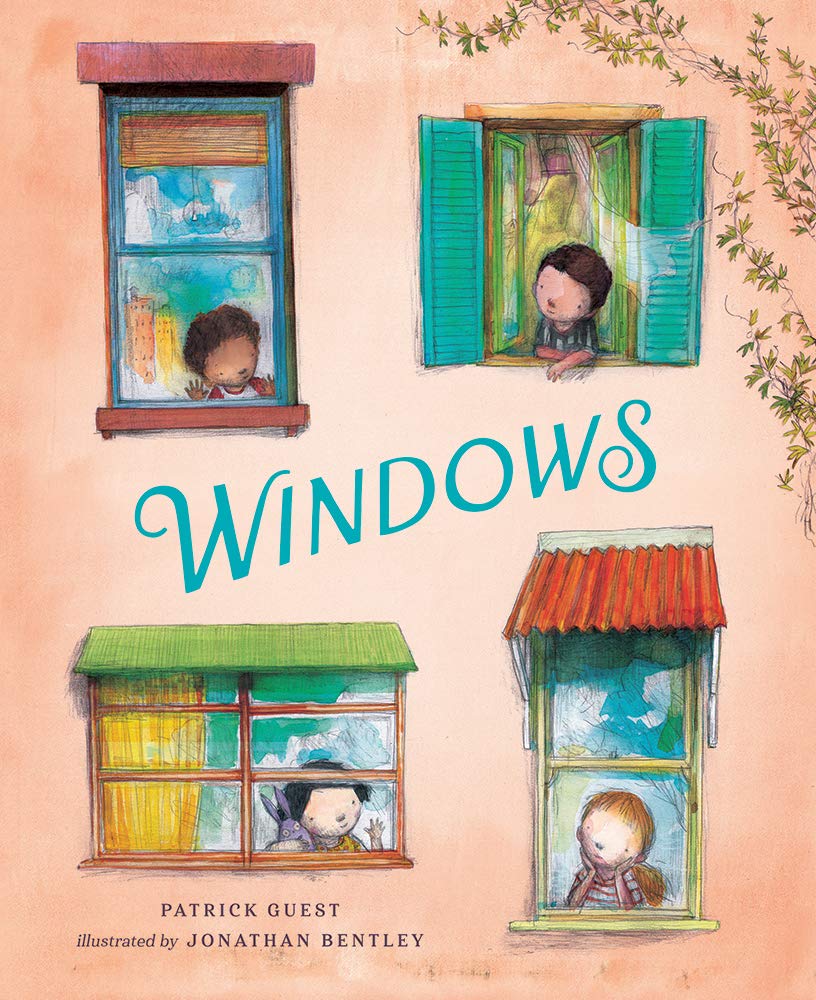 Inspired by the author's experience as a medical worker forced to isolate from his family, Windows is the heartfelt story of how we can all feel together even when we are far apart. Told through the voices―and windows―of children from around the world, this story's comforting message and bright illustrations bring hope into your home even as our world changes outside. When you look out your window, don't forget that we're all looking out―together.
Most Days by Michael Leannah, Megan Elizabeth Baratta Ages 3 – 5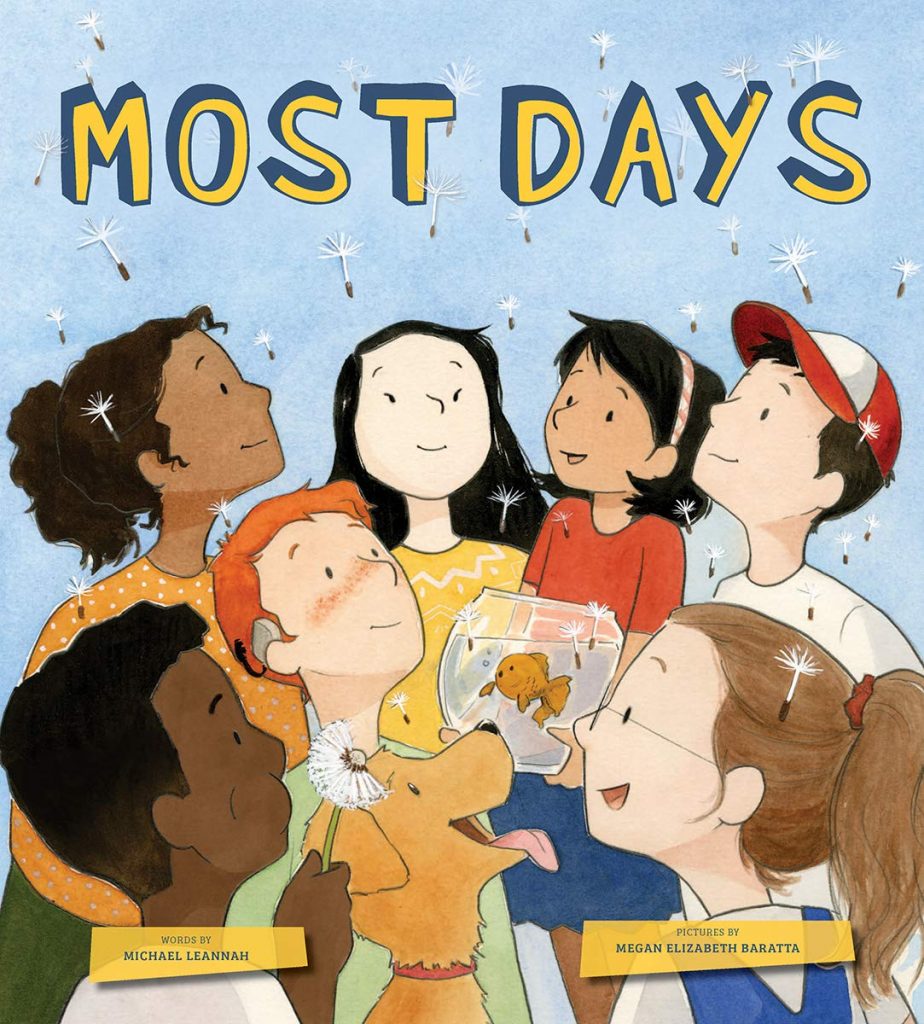 This is a book about mindfulness. About relishing the magic of the here and now. About enjoying the extraordinary unfoldings of an ordinary day. Moving from morning to night, the narrator becomes, by turns, boy or girl, of ever-changing ethnicity and ability, inhabiting city, country, or suburb. They are all children everywhere, opening themselves to the gift of time.
Chlorine Sky by Mahogany L. Browne Ages 9 – 12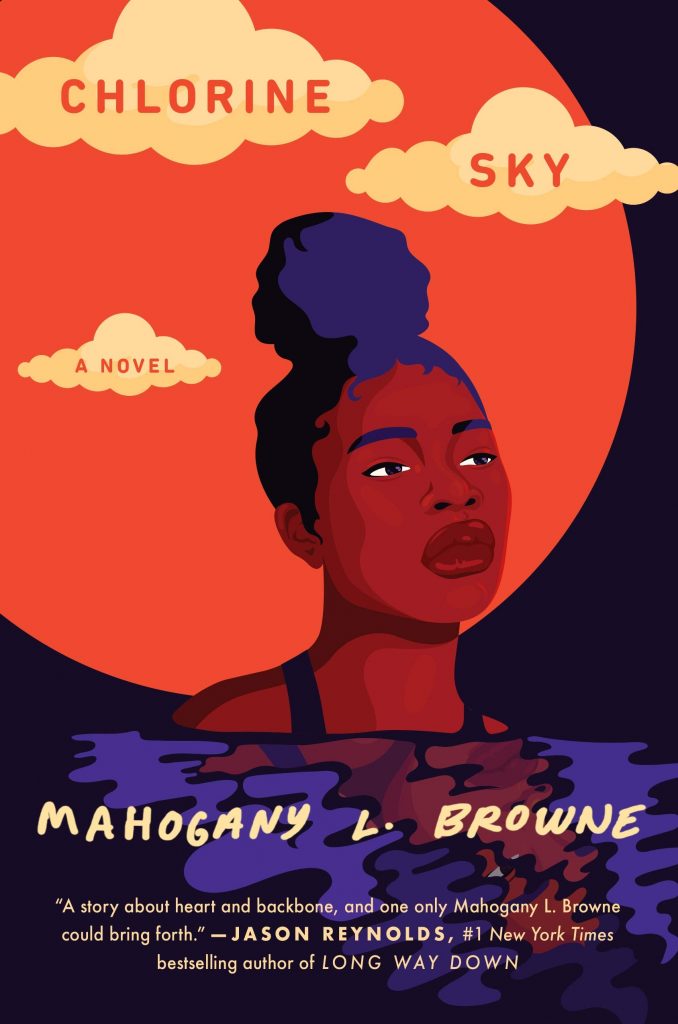 She looks me hard in my eyes
& my knees lock into tree trunks
My eyes don't dance like my heartbeat racing
They stare straight back hot daggers.
I remember things will never be the same.
I remember things.
With gritty and heartbreaking honesty, Mahogany L. Browne delivers a novel-in-verse about broken promises, fast rumors, and when growing up means growing apart from your best friend.
Happily Ever Afters by Elise Bryant Ages 14 – 17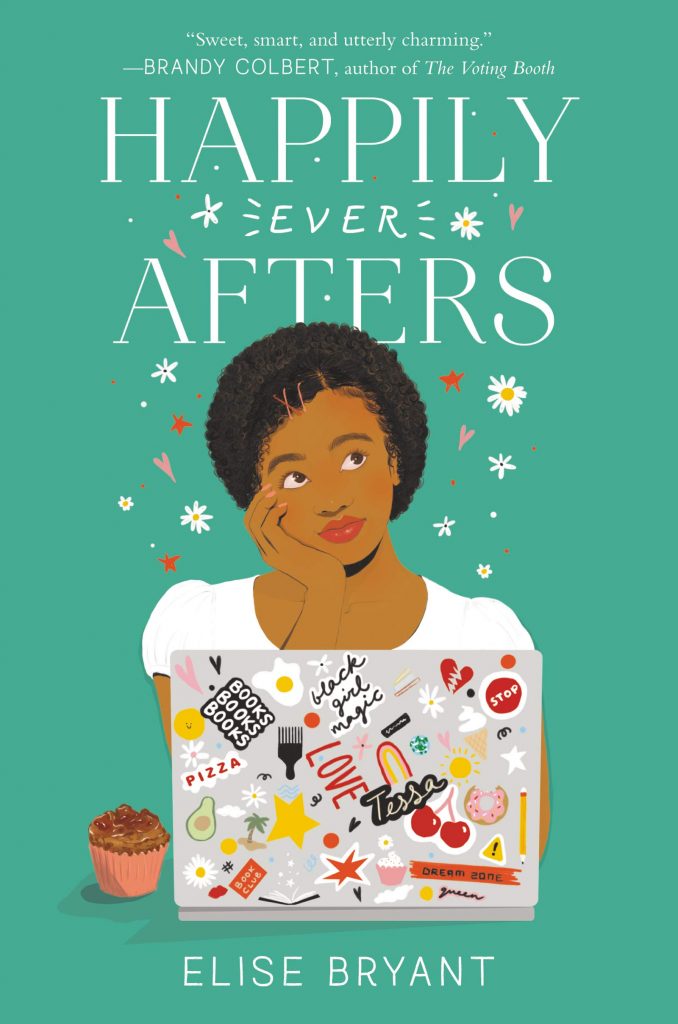 Sixteen-year-old Tessa Johnson has never felt like the protagonist in her own life. She's rarely seen herself reflected in the pages of the romance novels she loves. The only place she's a true leading lady is in her own writing—in the swoony love stories she shares only with Caroline, her best friend and #1 devoted reader.
When Tessa is accepted into the creative writing program of a prestigious art school, she's excited to finally let her stories shine. But when she goes to her first workshop, the words are just…gone. Fortunately, Caroline has a solution: Tessa just needs to find some inspiration in a real-life love story of her own. And she's ready with a list of romance novel-inspired steps to a happily ever after. Nico, the brooding artist who looks like he walked out of one of Tessa's stories, is cast as the perfect Prince Charming.
February
Stay This Way Forever by Linsey Davis, Lucy Fleming Ages 4 – 8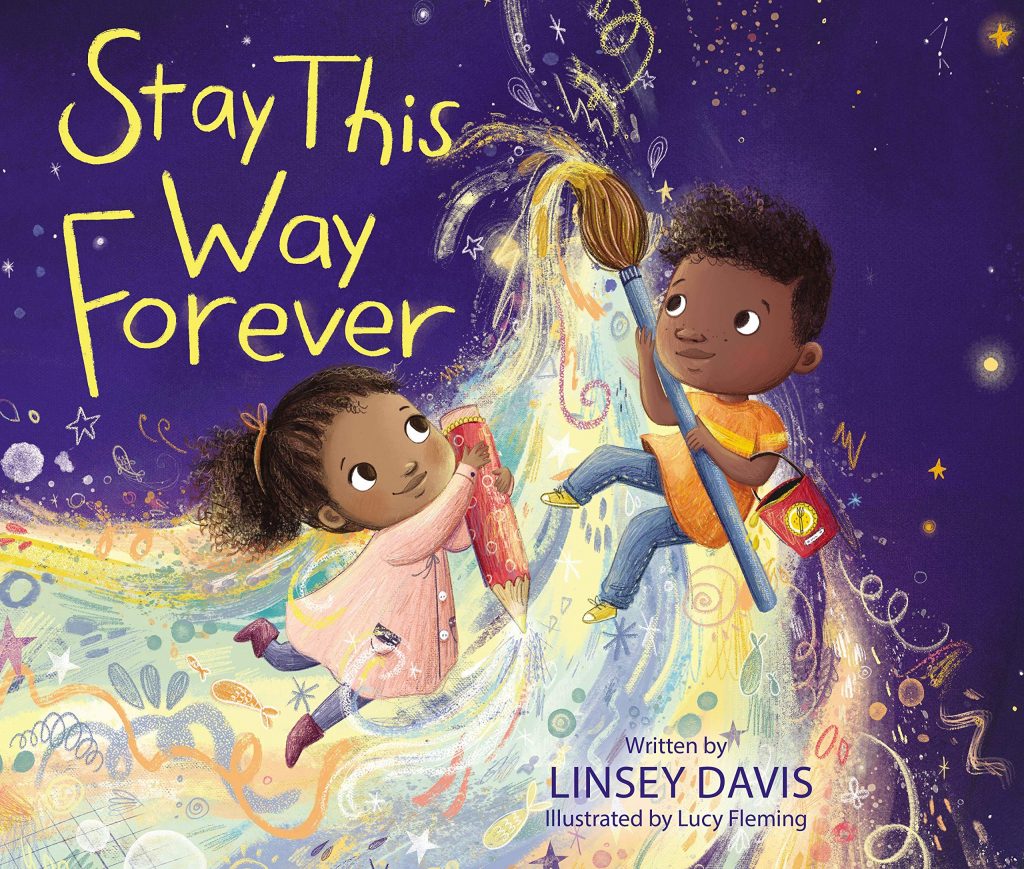 Inspired by the endearing qualities she sees in her own son, Linsey Davis, ABC News correspondent and bestselling author of The World Is Awake and One Big Heart, has written another beautiful book that parents and grandparents can share with their little ones to let them know how special they are. With charming illustrations from bestselling artist Lucy Fleming paired with playful and heartwarming read-aloud rhymes, this book can help make a lasting impact on young minds as they discover their own unique qualities.
Where Wonder Grows by Xelena González, Adriana M. Garcia Ages 3 – 7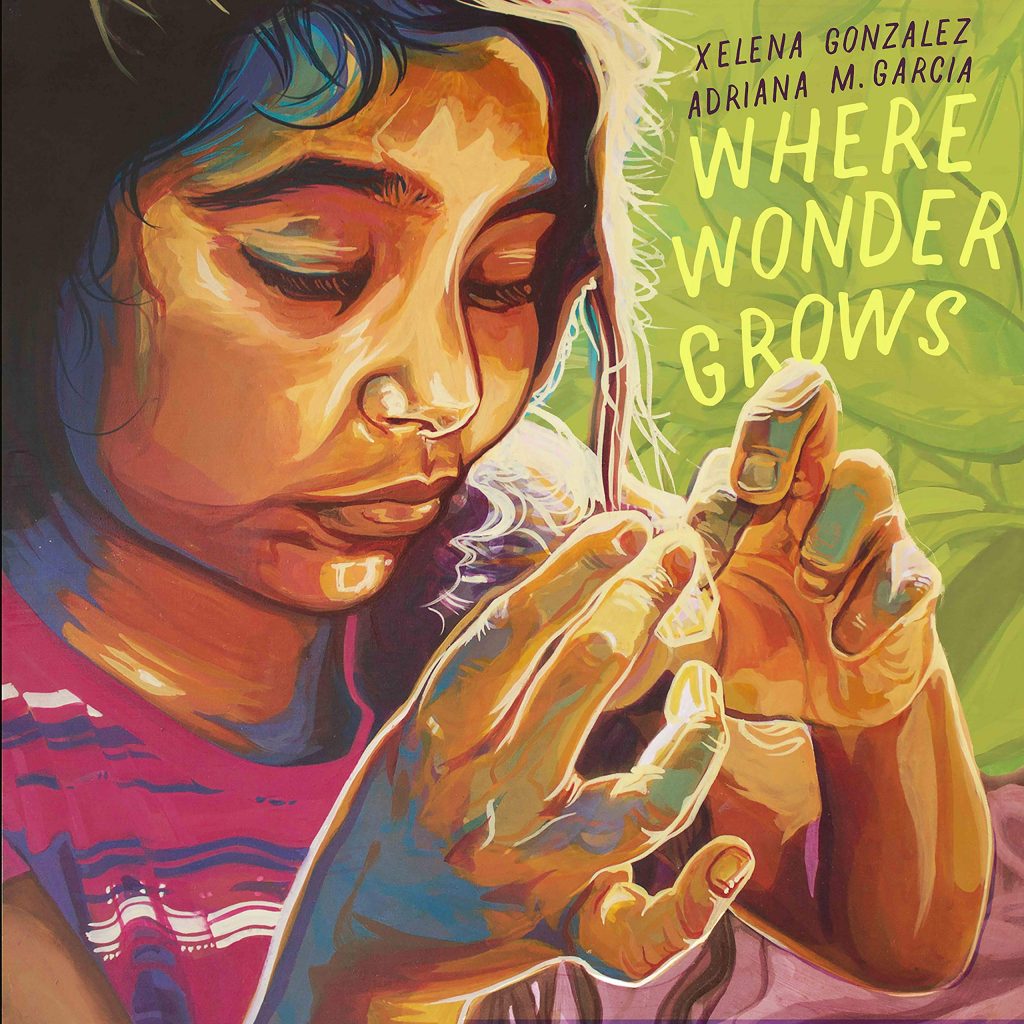 Grandma knows that there is wondrous knowledge to be found everywhere you can think to look. She takes her girls to their special garden, and asks them to look over their collection of rocks, crystals, seashells, and meteorites to see what marvels they have to show. "They were here long before us and know so much more about our world than we ever will," Grandma says. So they are called grandfathers. By taking a close look with an open mind, they see the strength of rocks shaped by volcanoes, the cleansing power of beautiful crystals, the oceans that housed their shells and shapes its environment, and the long journey meteorites took to find their way to them. Gathered together, Grandma and the girls let their surroundings spark their imaginations.
This is a wonderful book to foster a loving intergenerational family bond. With its dazzling illustrations and poetic text, it's also the perfect book to encourage the curiosity of little ones and cultivate an enthusiastic approach to learning.
Unspeakable: The Tulsa Massacre by Carole Boston Weatherford, Floyd Cooper Ages 5 and up
Celebrated author Carole Boston Weatherford and illustrator Floyd Cooper provide a powerful look at the Tulsa Race Massacre, one of the worst incidents of racial violence in our nation's history. The book traces the history of African Americans in Tulsa's Greenwood district and chronicles the devastation that occurred in 1921 when a white mob attacked the Black community.
News of what happened was largely suppressed, and no official investigation occurred for seventy-five years. This picture book sensitively introduces young readers to this tragedy and concludes with a call for a better future.
An Equal Shot: How the Law Title IX Changed America by Helaine Becker, illustrated by Dow Phumiruk Ages 4 – 8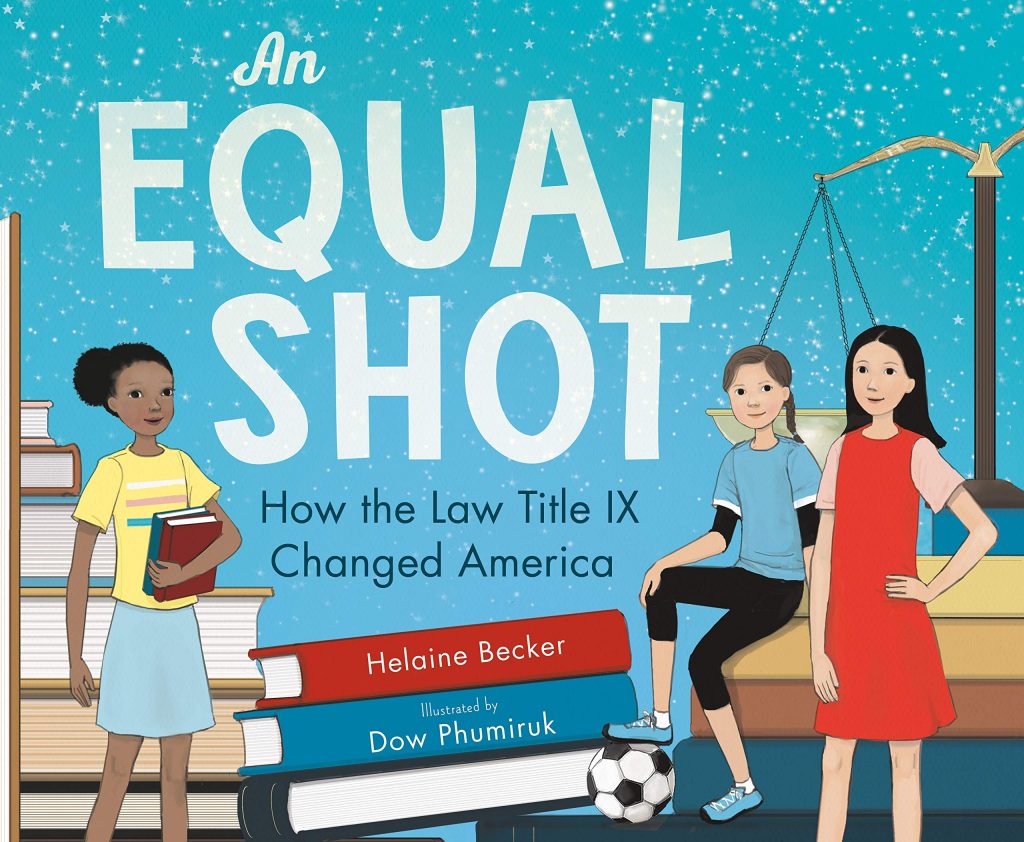 You've likely heard of the law Title IX. It protects the equal rights of students, athletes, and professionals in America regardless of gender. But do you know about the women who fought to enact this new law?
Here is the rousing account of how Title IX was shaped at the hands of brave politicians who took risks to secure women's dreams and their futures under the Constitution. From the creative team that brought you Counting on Katherine and told in simple, commanding prose, An Equal Shot celebrates the power of words to defend and unite vulnerable people.
The Fearless Flights of Hazel Ying Lee by Julie Leung, illustrated by Julie Kwon Ages 4 – 8 and up
Hazel Ying Lee was born fearless–she was not afraid of anything, and the moment she took her first airplane ride, she knew where she belonged. When people scoffed at her dreams of becoming a pilot, Hazel wouldn't take no for an answer. She joined the Women Airforce Service Pilots during World War II. It was a dangerous job, but Hazel flew with joy and boldness.
Standing on Her Shoulders by Monica Clark-Robinson, illustrated by Laura Freeman Ages 4 – 8 and up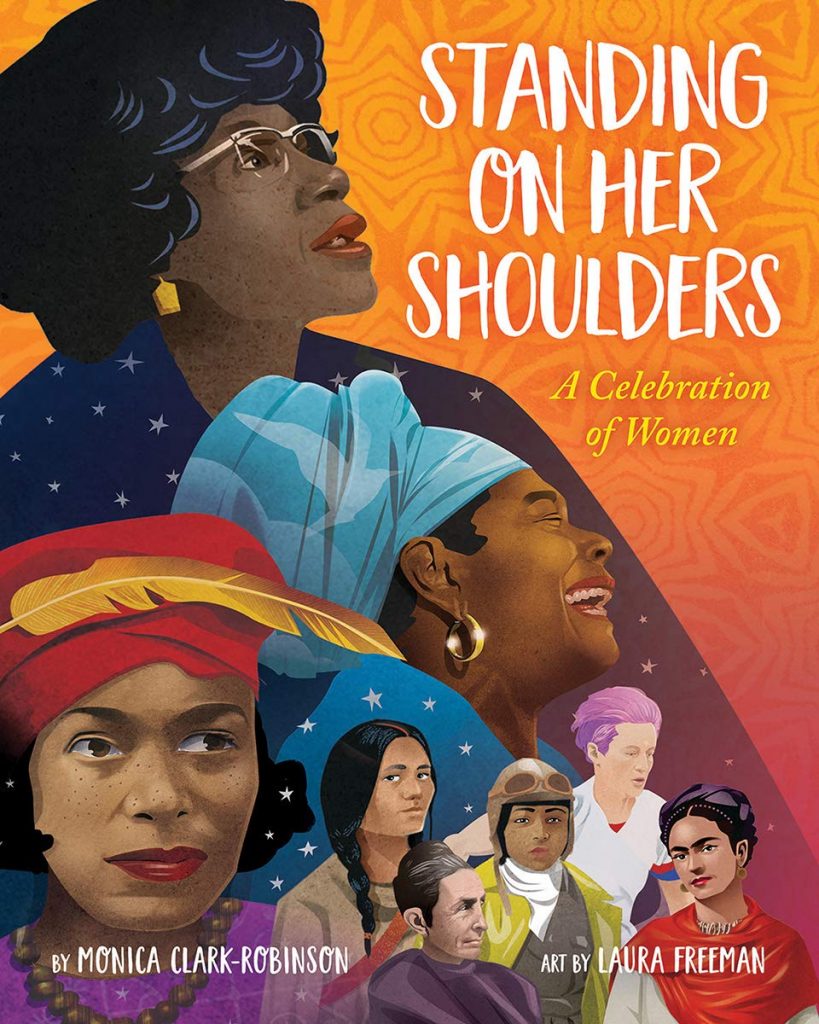 A stunning love letter to the important women who shape us — from our own mothers and grandmothers to the legends who paved the way for girls and women everywhere.
Standing on Her Shoulders is a celebration of the strong women who influence us — from our mothers, sisters, aunts, and grandmothers to the women who fought for equality and acceptance in the United States.
Osnat and Her Dove: The True Story of the World's First Female Rabbi by Sigal Samuel, illustrated by Vali Mintzi Ages 4 – 8
Osnat was born five hundred years ago – at a time when almost everyone believed in miracles. But very few believed that girls should learn to read.
Yet Osnat's father was a great scholar whose house was filled with books. And she convinced him to teach her. Then she in turn grew up to teach others, becoming a wise scholar in her own right, the world's first female rabbi!
Latinitas: Celebrating 40 Big Dreamers by Juliet Menendez Ages 8 – 12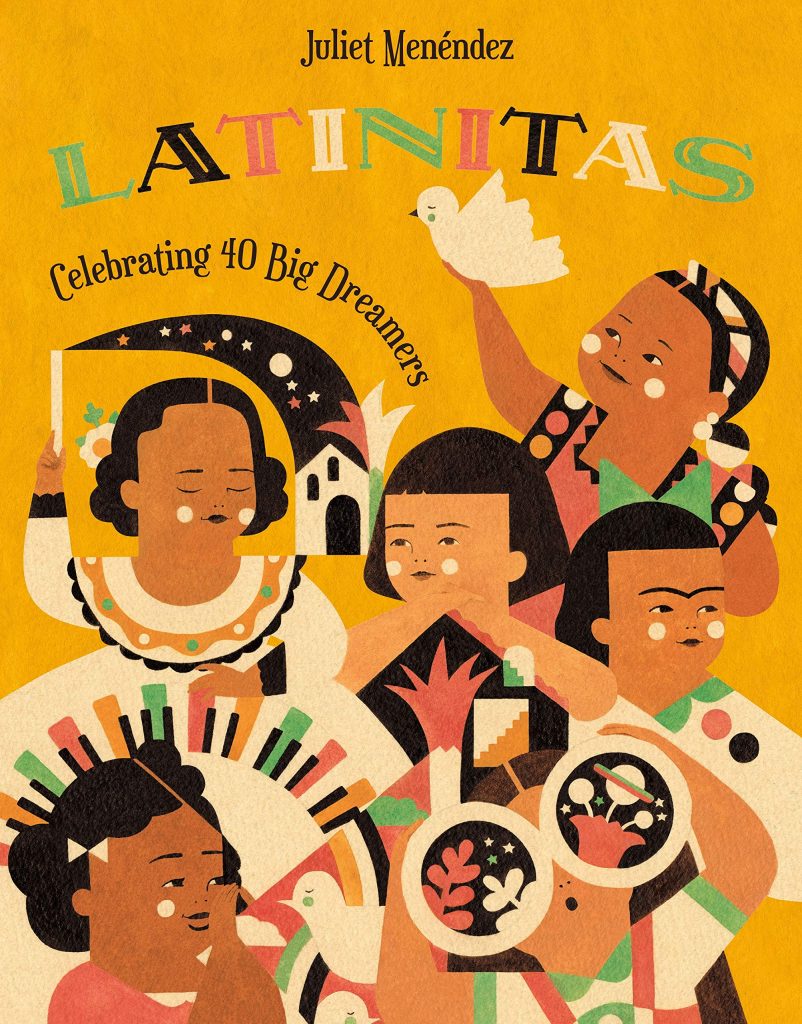 Discover how 40 influential Latinas became the women we celebrate today! In this collection of short biographies from all over Latin America and across the United States, Juliet Menéndez explores the first small steps that set the Latinitas off on their journeys. With gorgeous, hand-painted illustrations, Menéndez shines a spotlight on the power of childhood dreams.
From Supreme Court Justice Sonia Sotomayor to singer Selena Quintanilla to NASA's first virtual reality engineer, Evelyn Miralles, this is a book for aspiring artists, scientists, activists, and more. These women followed their dreams―and just might encourage you to follow yours!
G My Name is Girl: A Song of Celebration from Argentina to Zambia by Dawn Masi Ages 3 – 7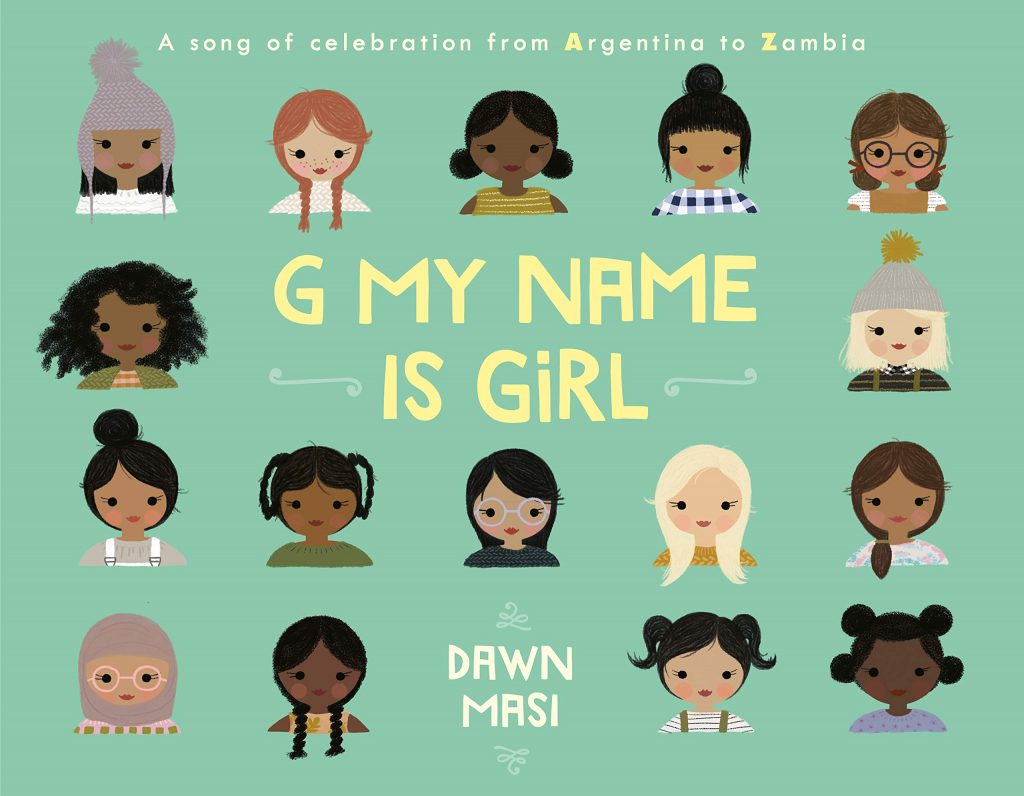 Girls from 26 different countries – Argentina to Zambia – are beautifully and thoughtfully represented in this A-to-Z tribute of global girlhood.

Children will enjoy reading about each girl's name, empowering character trait, and country, while learning how we are all connected. Globally-minded kids can also find the countries on a map at the back of the book and dream of places they'd like to visit. This kind-hearted and hopeful book will let girls feel inspired and loved.
What Are Little Girls Made Of? Nursery Rhymes to Empower Young Feminists by Jeanne Willis, Isabelle Follath Ages 7 – 10 and up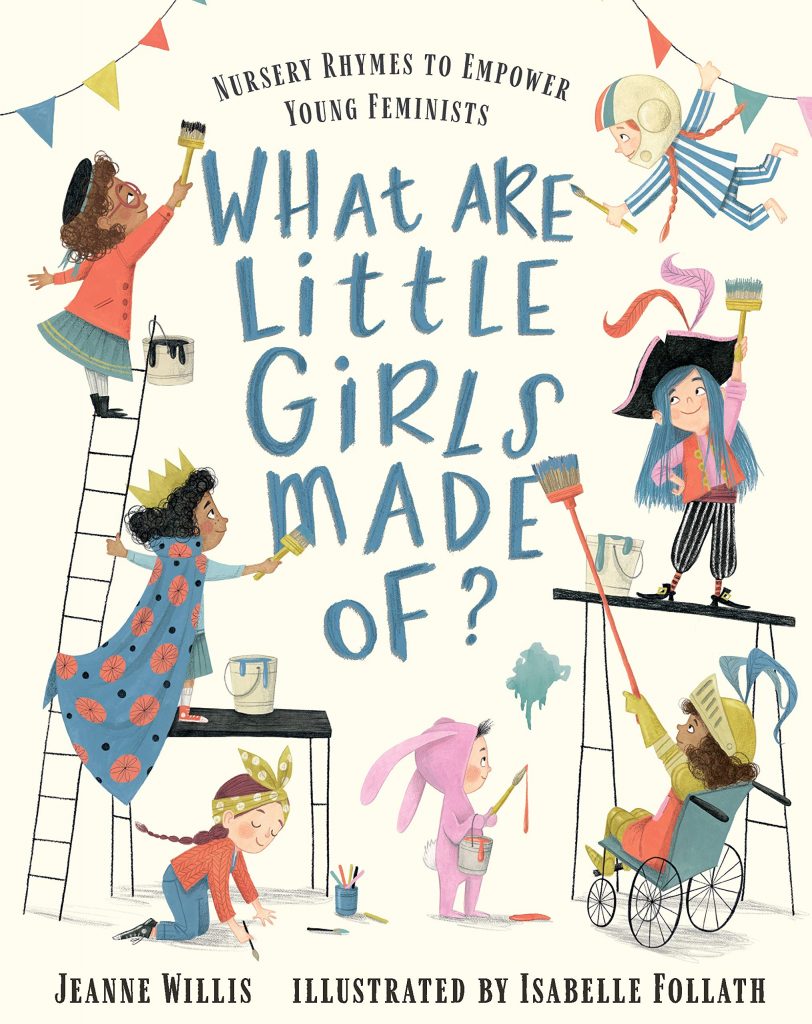 Think you know your nursery rhymes? Then think again! In this witty reworking of some nursery rhymes, Georgie Porgie doesn't dare to make the girls cry, Little Bo-Peep's sheep are all present and accounted for, thank you, and it's a female doctor, of course, who fixes Humpty Dumpty. With the combination of clever rhymes and charming, witty illustrations, this remixed nursery rhyme collection is the perfect gift book for any child (or adult!), to read aloud or enjoy alone.
Home is In Between by Mitali Perkins, illustrated by Lavanya Naidu Ages 3 – 6
Shanti misses the warm monsoon rains in India. Now in America, she watches fall leaves fly past her feet.
Still, her family's apartment feels like a village: Mama cooking luchi, funny stories in Bangla, and Baba's big laugh. But outside, everything is different – trick-or-treating, ballet class, and English books.
Back and forth, Shanti trudges between her two worlds. She remembers her village and learns her new town. She watches Bollywood movies at home and Hollywood movies with her friends. She is Indian. She is also American. How should she define home?
Little People Big Dreams: Stevie Wonder by Maria Isabel Sanchez Vegara, Melissa Lee Johnson Ages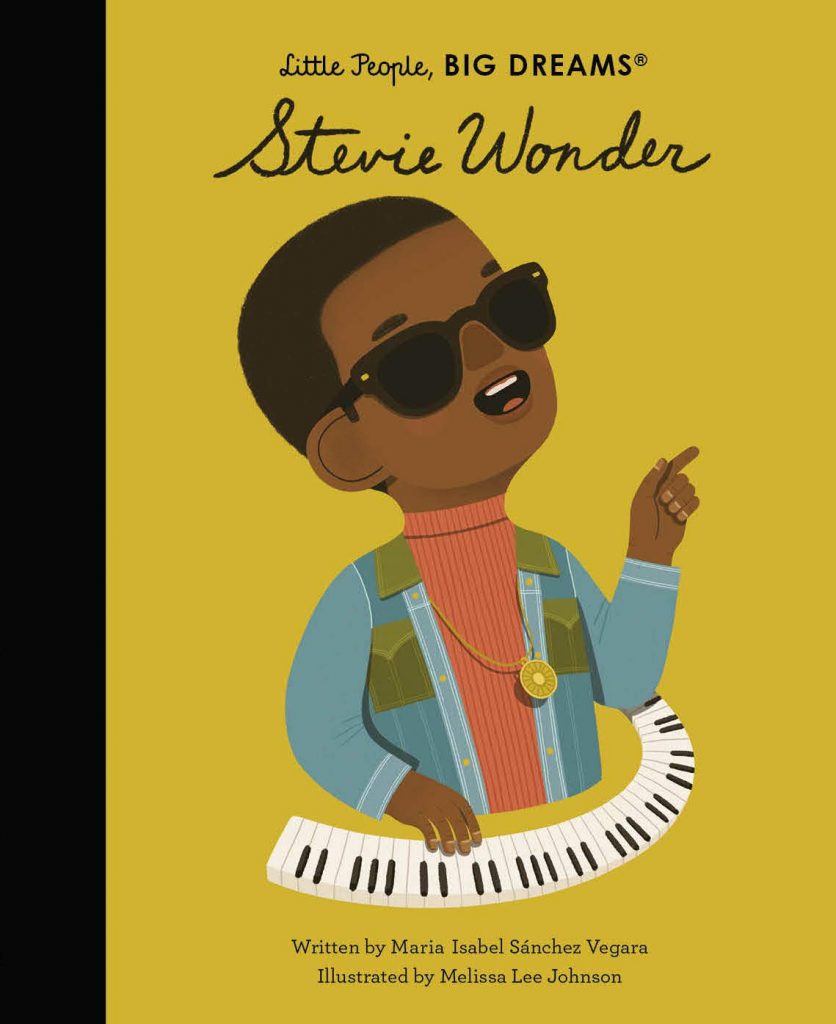 At just 8 years old, it was clear that Steveland Judkins was going to be a star. Renamed Stevie Wonder for his astonishing talent on the piano and other instruments, he wrote and performed some of the biggest hits of the 1970s. Stevie became known for his inventiveness, his soulful voice, and the social commentary in his lyrics. He is a UN Messenger of Peace and remains one of the music world's most iconic figures. This inspiring book features stylish and quirky illustrations and extra facts at the back, including a biographical timeline with historical photos and a detailed profile of the great musician's life.
March
Carpenter's Helper by Sybil Rosen & Camille Garoche Ages 3- 7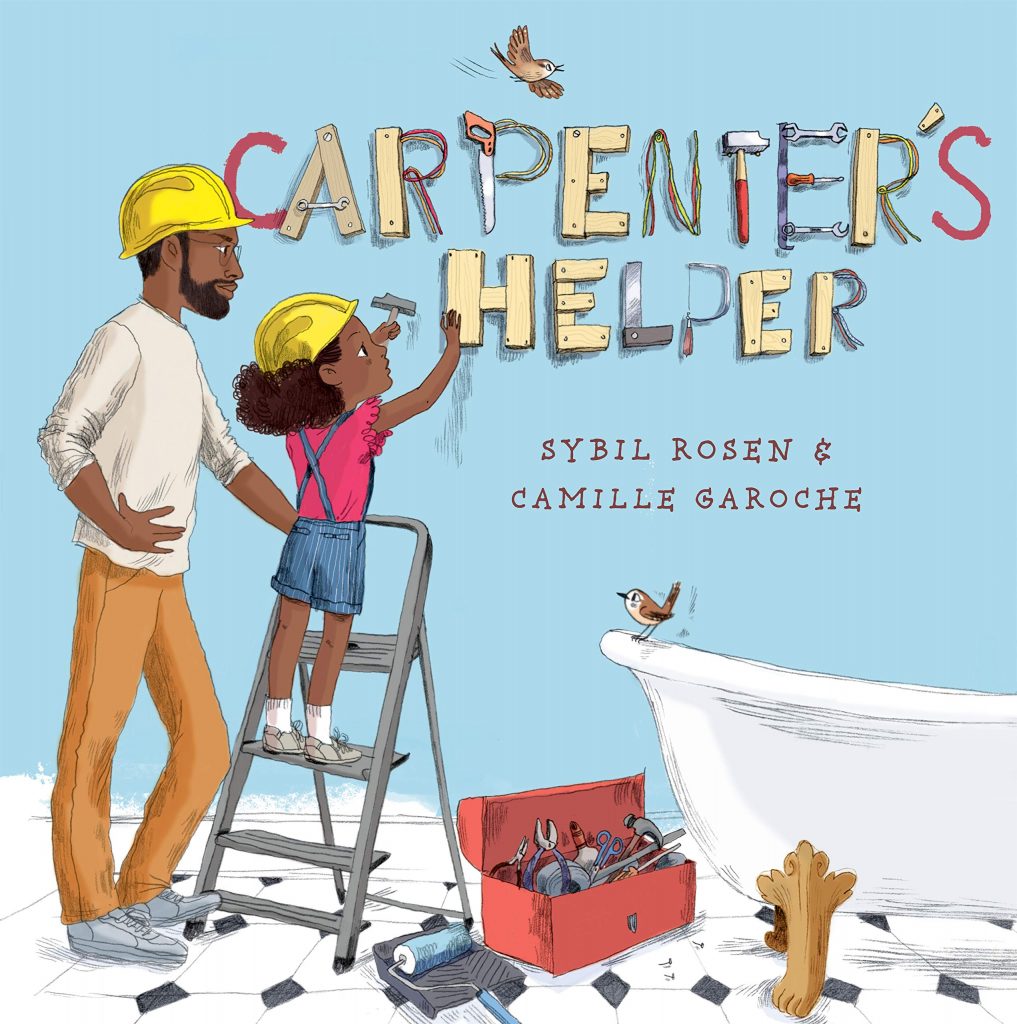 Renata and her Papi are hard at work at renovating their bathroom. Renata can't wait to build castles of bubbles in the deep, old-fashioned bathtub. But one morning, she finds dried leaves and pine needles heaped on a shelf in the corner. How did they get there? She soon realizes that a bird has built a nest on the shelf, and inside it are four rosy eggs! Weeks pass, and Renata watches as the wrens come and go, building a home in her bathroom… until, one day, with a little help from Renata, the birds are ready to fly.
The Electric Slide and Kai by Kelly J. Baptist, Darnell Johnson Ages 4 – 8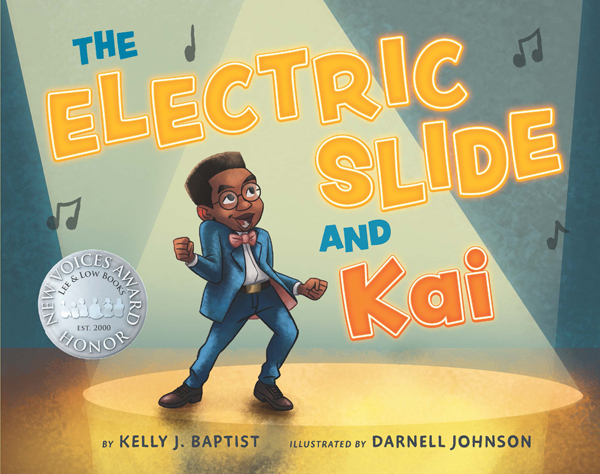 Everyone in the Donovan family can dance–and has a dance nickname–except Kai, but his family helps him practice his moves to prepare for his aunt's wedding reception.
My Day with the Panye by Tami Charles, Sara Palacios Ages 5 – 9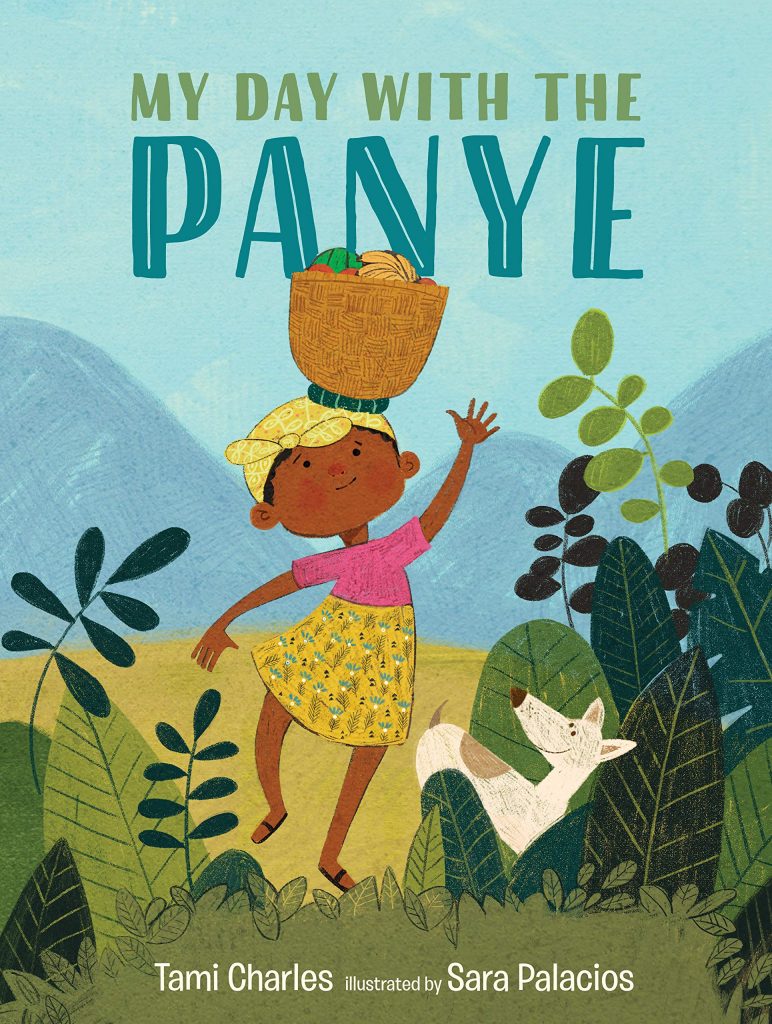 In the hills above Port-au-Prince, a young girl named Fallon wants more than anything to carry a large woven basket to the market, just like her Manman. As she watches her mother wrap her hair in a mouchwa, Fallon tries to twist her own braids into a scarf and balance the empty panye atop her head, but realizes it's much harder than she thought. BOOM! Is she ready after all? Lyrical and inspiring, with vibrant illustrations highlighting the beauty of Haiti, My Day with the Panye is a story of family legacy, cultural tradition, and hope for the future. Readers who are curious about the art of carrying a panye will find more about this ancient and global practice in an author's note at the end.
In My Mosque by by M. O. Yuksel, Hatem Aly Ages 4 – 8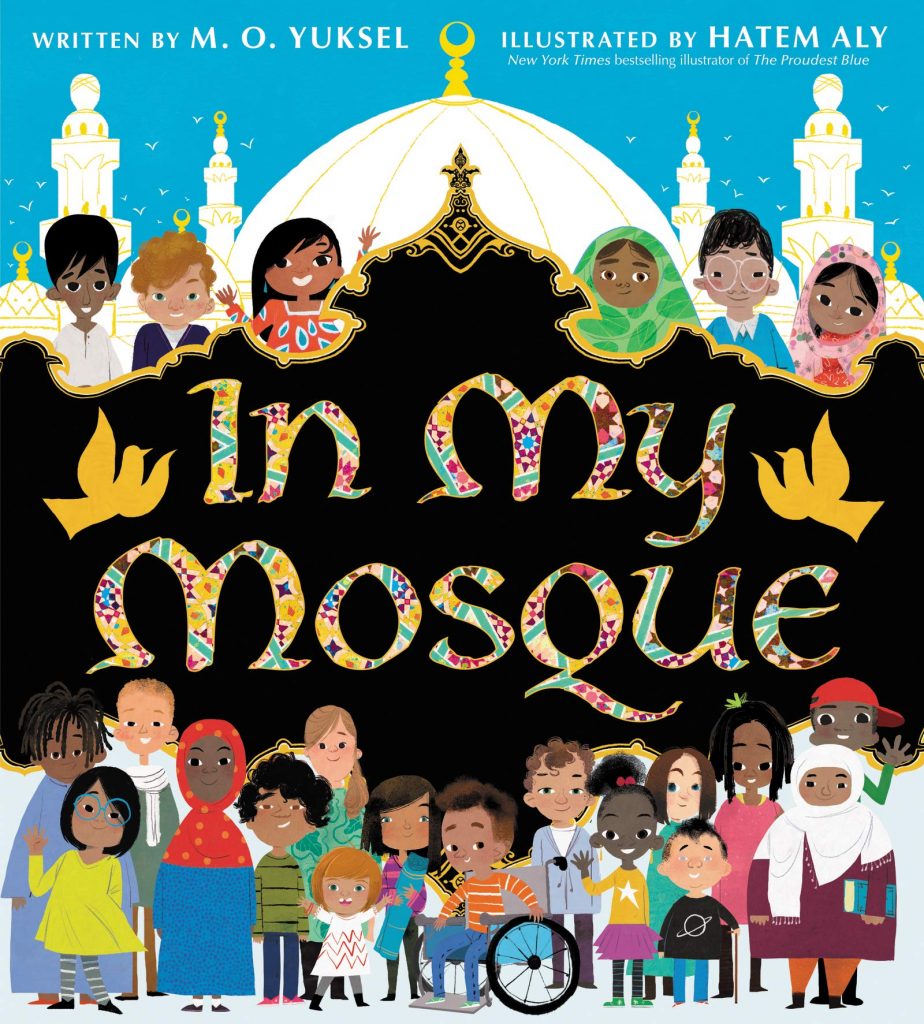 No matter who you are or where you're from, everyone is welcome here. From grandmothers reading lines of the Qur'an and the imam telling stories of living as one, to meeting new friends and learning to help others, mosques are centers for friendship, community, and love.
The Water Lady: How Darlene Arviso Helps a Thirsty Navajo Nation by Alice B. McGinty, Shonto Begay Ages 4 – 8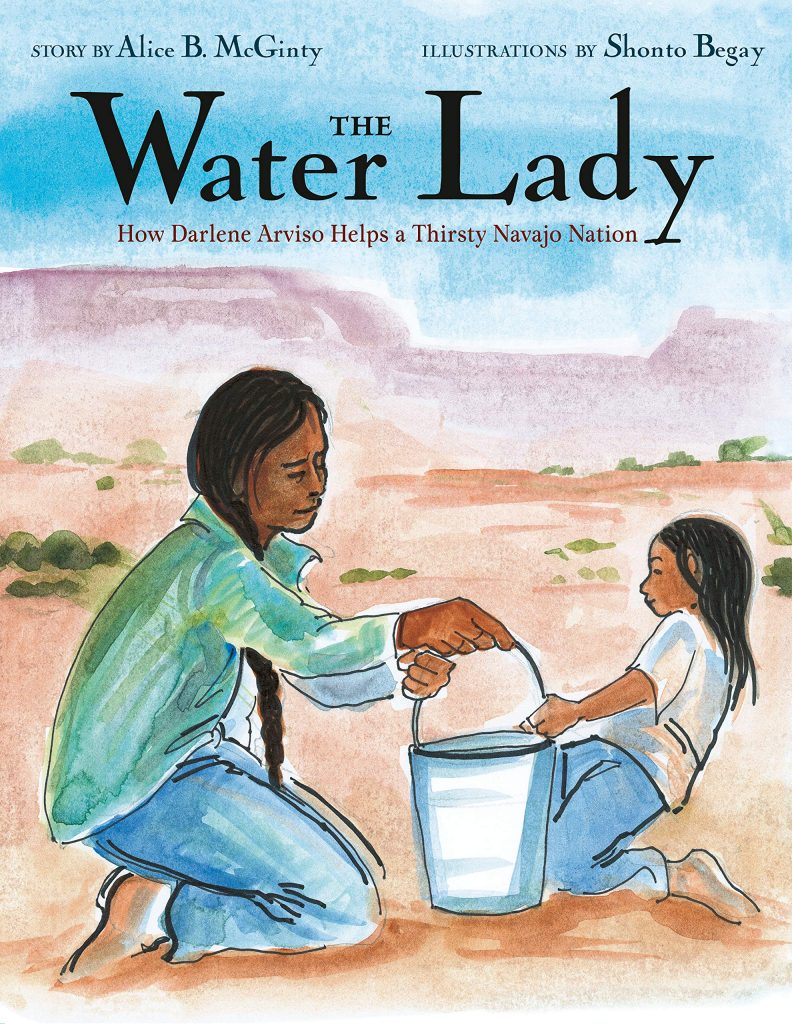 Underneath the New Mexico sky, a Navajo boy named Cody finds that his family's barrels of water are empty. He checks the chicken coop– nothing. He walks down the road to the horses' watering hole. Dry. Meanwhile, a few miles away, Darlene Arviso drives a school bus and picks up students for school. After dropping them off, she heads to another job: she drives her big yellow tanker truck to the water tower, fills it with three thousand gallons of water, and returns to the reservation, bringing water to Cody's family, and many, many others. Here is the incredible and inspiring true story of a Native American woman who continuously gives back to her community and celebrates her people.
Zonia's Rain Forest by Juana Martinez-Neal Ages 4 – 8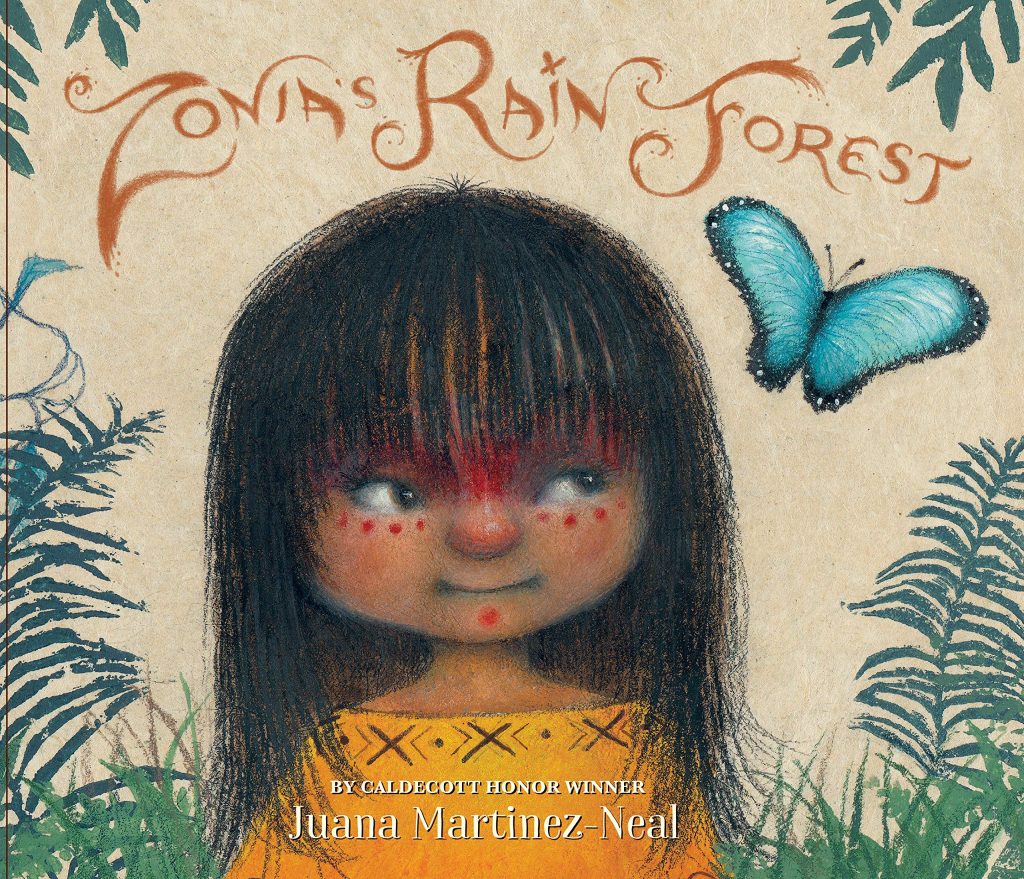 A heartfelt, visually stunning picture book from Caldecott Honor and Robert F. Sibert Medal winner Juana Martinez-Neal illuminates a young girl's day of play and adventure in the lush rain forest of Peru.
Zonia's home is the Amazon rain forest, where it is always green and full of life. Every morning, the rain forest calls to Zonia, and every morning, she answers. She visits the sloth family, greets the giant anteater, and runs with the speedy jaguar. But one morning, the rain forest calls to her in a troubled voice. How will Zonia answer?
Laxmi's Mooch by Shelly Anand, illustrated by Nabi H. Ali Ages 4 – 8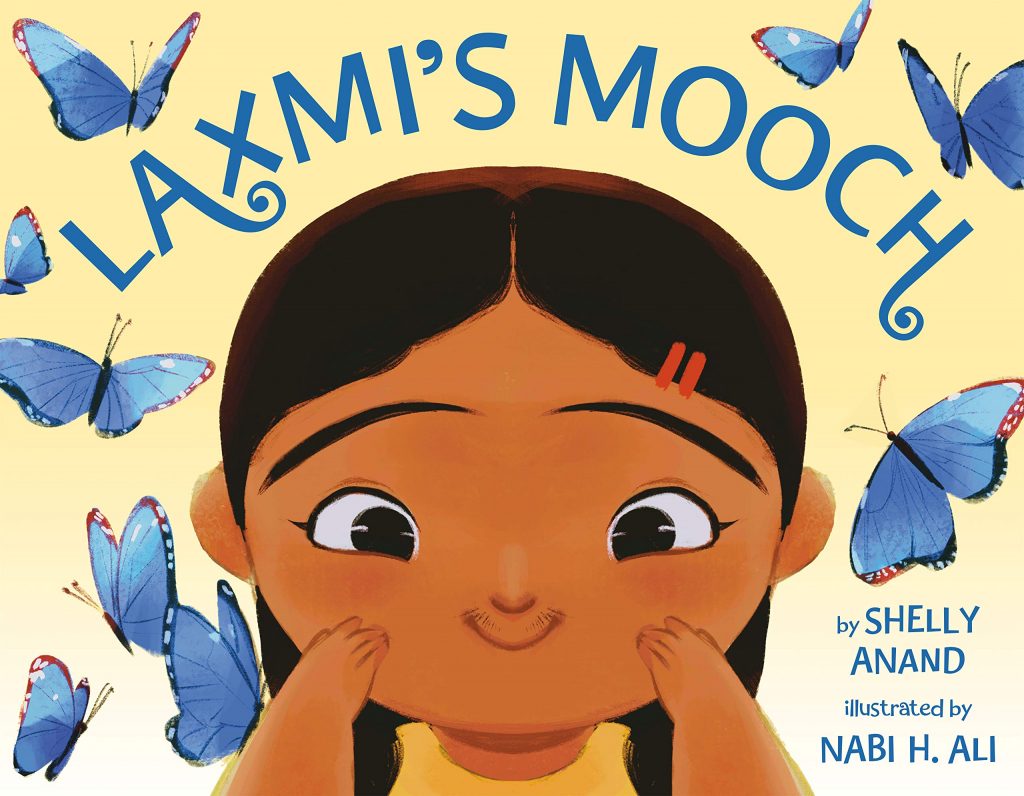 A joyful, body-positive picture book about a young Indian American girl's journey to accept her body hair and celebrate her heritage after being teased about her mustache.
Laxmi never paid much attention to the tiny hairs above her lip. But one day while playing farm animals at recess, her friends point out that her whiskers would make her the perfect cat. She starts to notice body hair all over–on her arms, legs, and even between her eyebrows.
With her parents' help, Laxmi learns that hair isn't just for heads, but that it grows everywhere, regardless of gender.
You Are Enough: A Book about Inclusion by Margaret O'Hair, Sofia Sanchez, illustrated by Sofia Cardoso Ages 4 – 8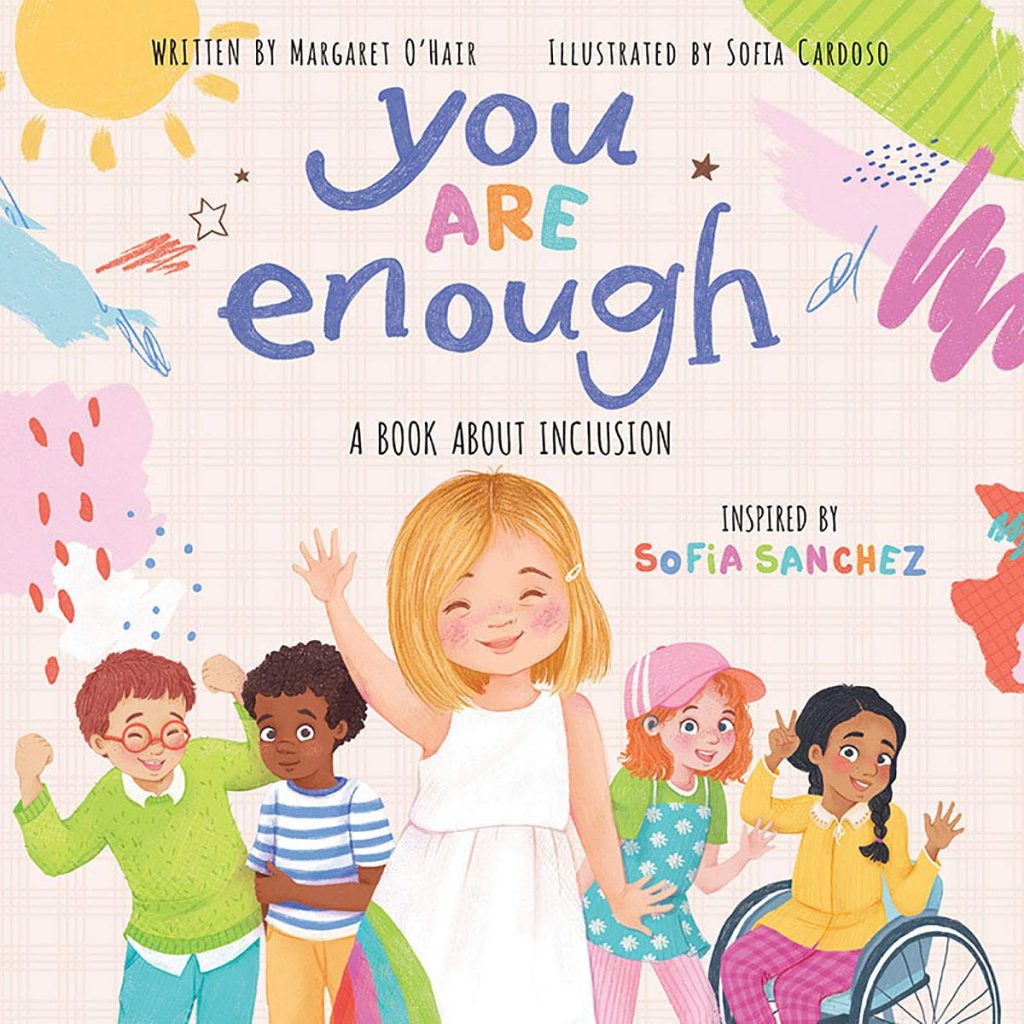 This inclusive and empowering picture book from Sofia Sanchez-an 11-year-old model and actress with Down syndrome-reminds readers how important it is to embrace your differences, be confident, and be proud of who you are. Imagine all of the wonderful things you can do if you don't let anyone stop you! You are enough just how you are.
Sofia is unique, but her message is universal: We all belong. So each spread features beautiful, full-color illustrations of a full cast of kid characters with all kinds of backgrounds, experiences, and abilities.
This book also includes back matter with a brief bio of Sofia and her journey so far, as well as additional information about Down syndrome and how we can all be more accepting, more inclusive, and more kind.
Big Feelings by Alexandra Penfold, Suzanne Kaufman Ages 4 – 8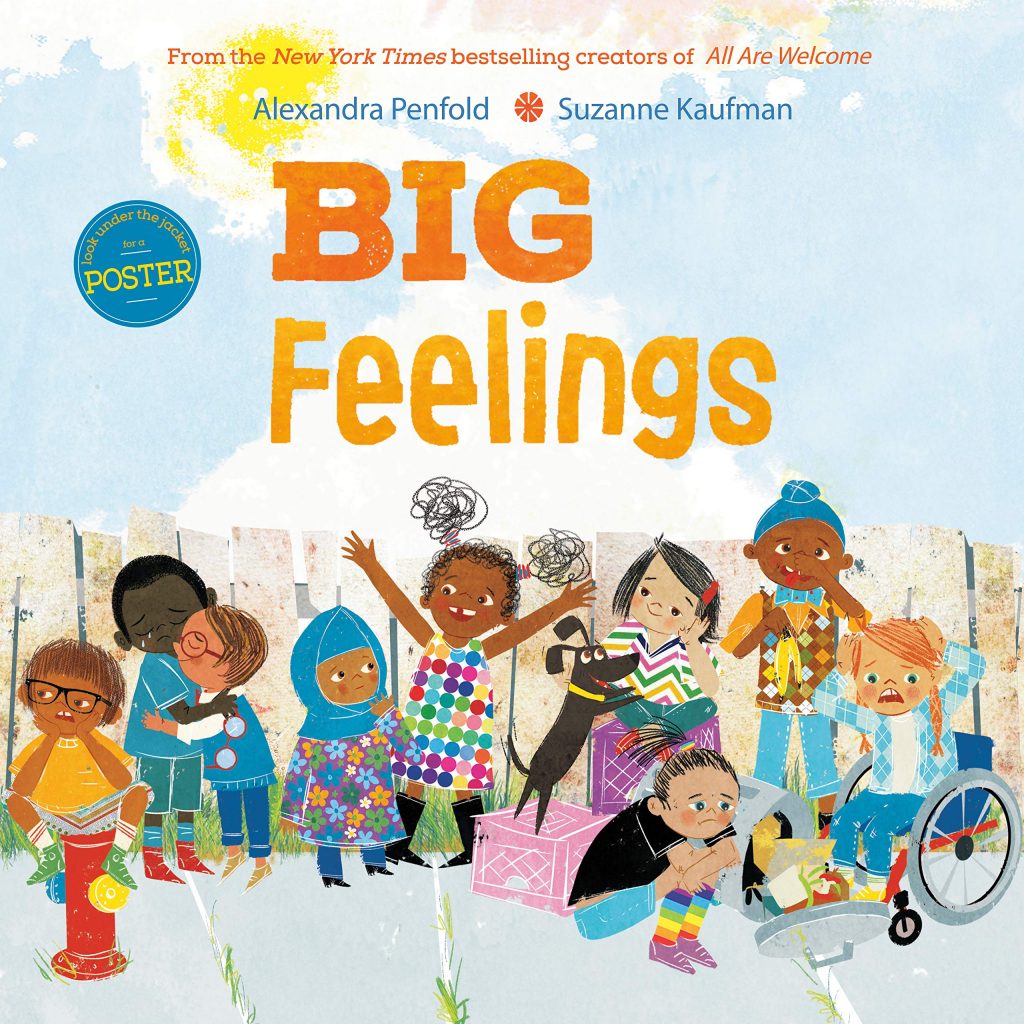 In their bestselling picture book All Are Welcome, Alexandra Penfold and Suzanne Kaufman celebrate kindness, inclusivity, and diversity. Now with Big Feelings, they help children navigate the emotional challenges they face in their daily lives. What should we do when things don't go to plan? We may feel mad, frustrated, or overwhelmed, but by talking it through, compromising, and seeing another point of view, we can start fresh, begin anew.
The Old Boat by Jarrett Pumphrey, illustrated by Jerome Pumphrey Ages 3 – 7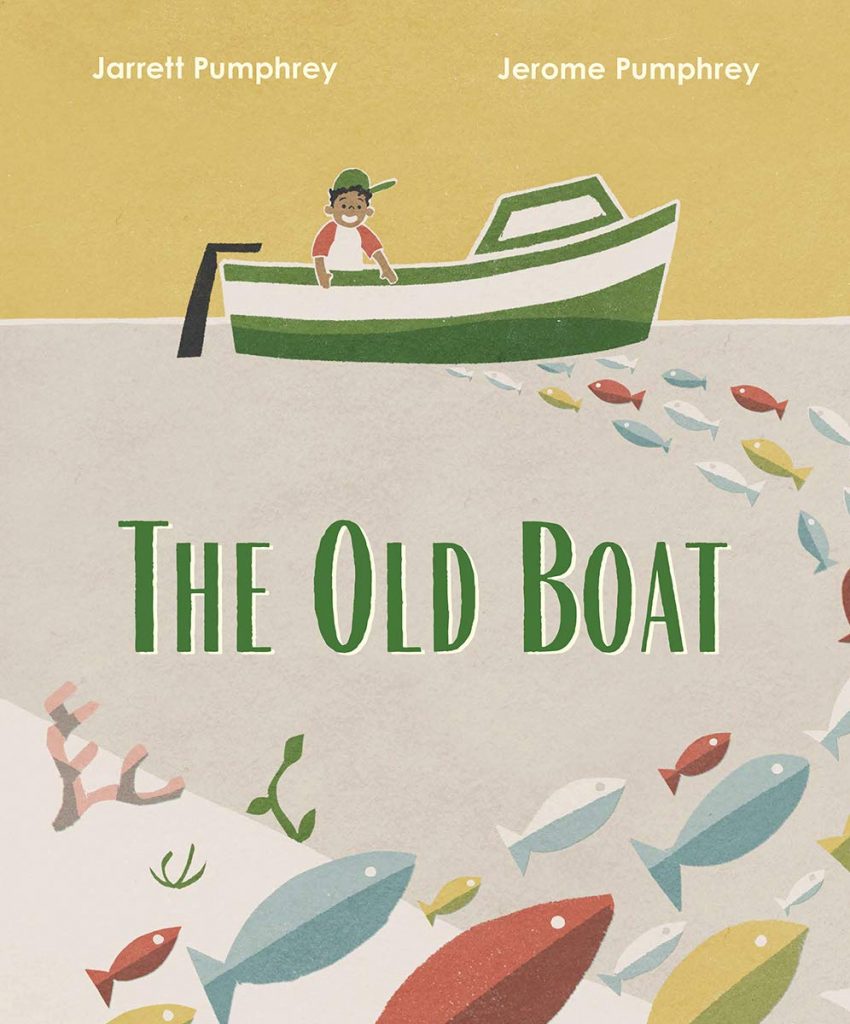 Off a small island, a boy and his grandmother set sail in their beloved fishing boat. They ride the waves, dreaming, catching fish, and seeing the wonders of the ocean. But soon the boy is sailing the boat himself, venturing further from shore as the waters grow dirty and polluted. When a storm washes him ashore and wrecks the old boat, he sees home in a new light. He decides to turn the tides of his fortune, cleaning the island's waters and creating a new life with a family to call his own.
It's Big Sister Time! by Nandini Ahuja, illustrated by Catalina Echeverri Ages 4 – 8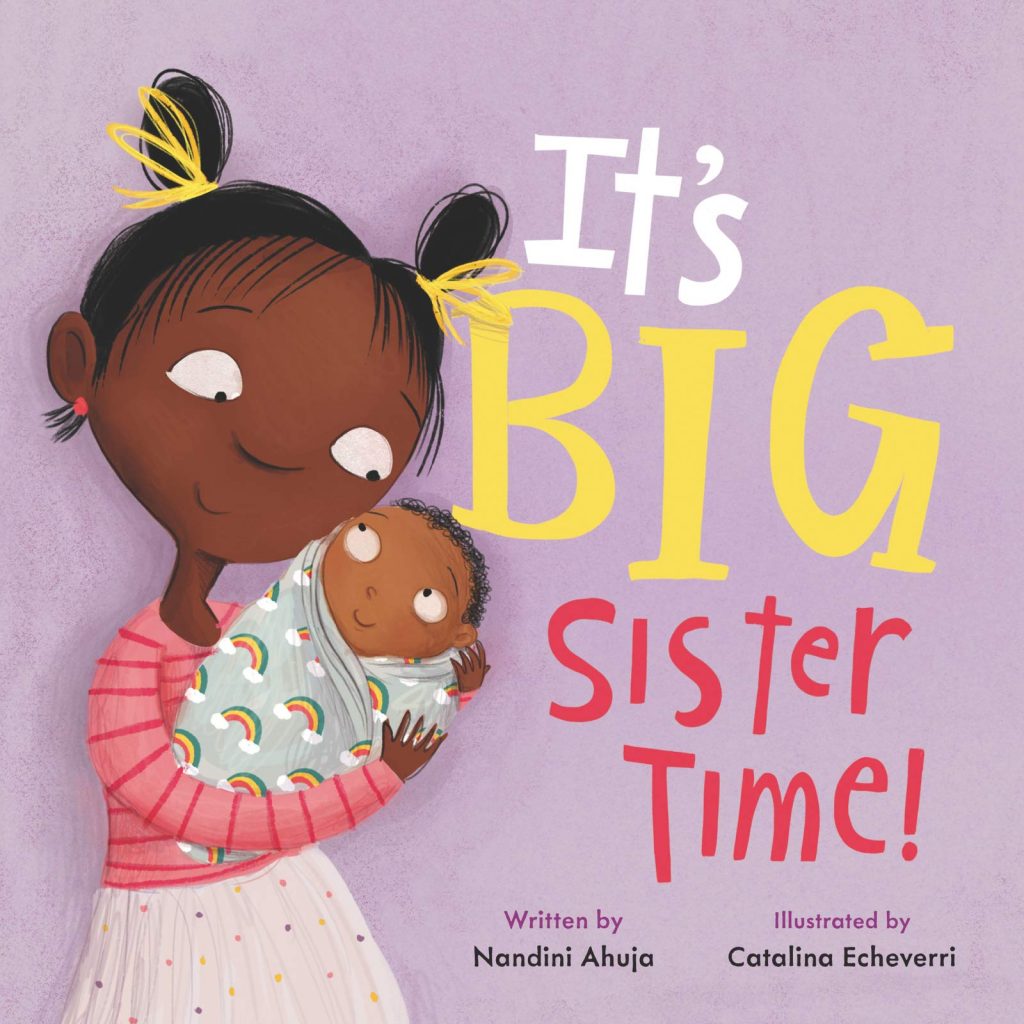 Told through the eyes of a big sister,this charming hardcover picture book empowers older siblings by showing them that they have very important roles to play in introducing their family's new baby to the world.
From cleaning up messes to learning to share, big sister will teach the new baby everything any baby needs to know. After all, big sister was a baby once, too—and she was really good at it. 

It's Big Brother Time! by Nandini Ahuja, illustrated by Catalina Echeverri Ages 4 – 8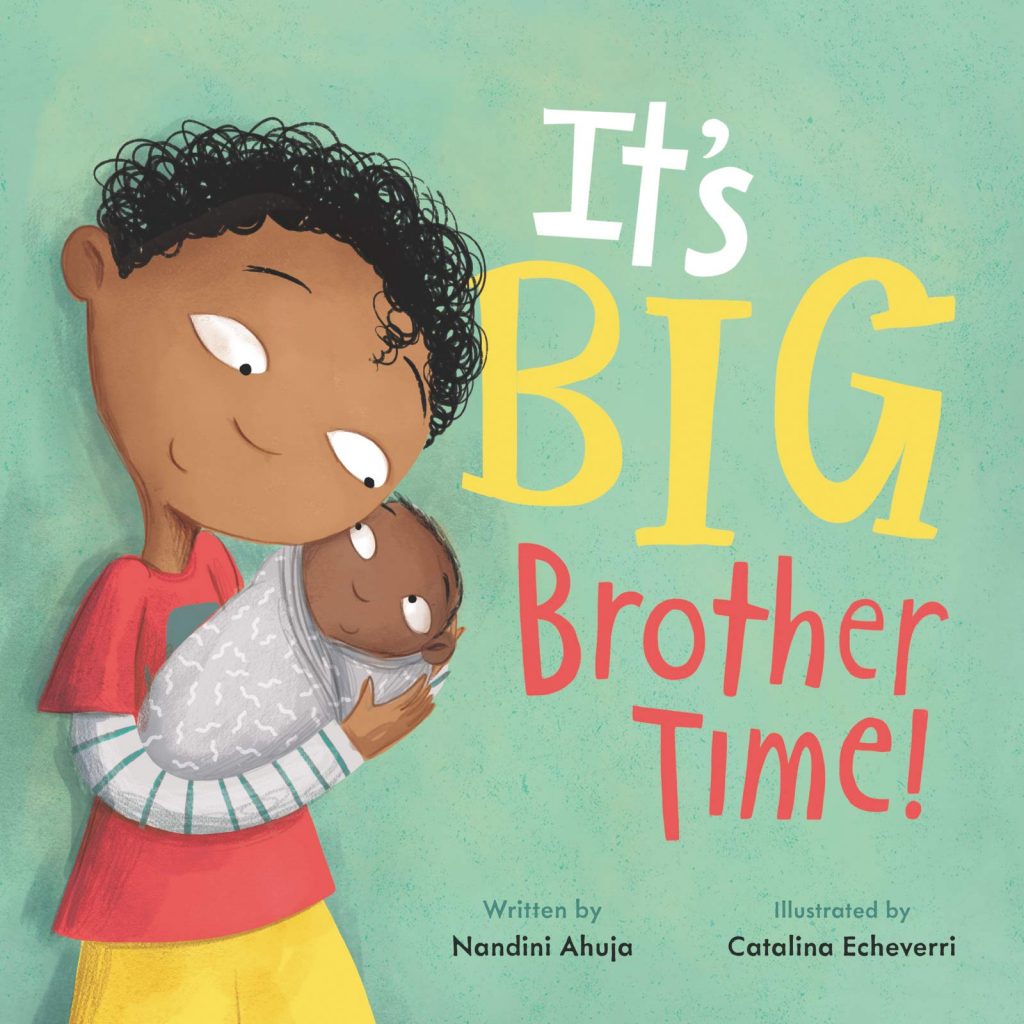 Told through the eyes of a big brother,this charming hardcover picture book empowers older siblings by showing them that they have very important roles to play in introducing their family's new baby to the world. 
From cleaning up messes to learning to share, big brother will teach the new baby everything. After all, big brother was a baby once, too—and he was really good at it.
Game, Set, Sisters! The Story of Venus and Serena Williams by Jay Leslie, illustrated by Ebony Glenn Ages 6 – 10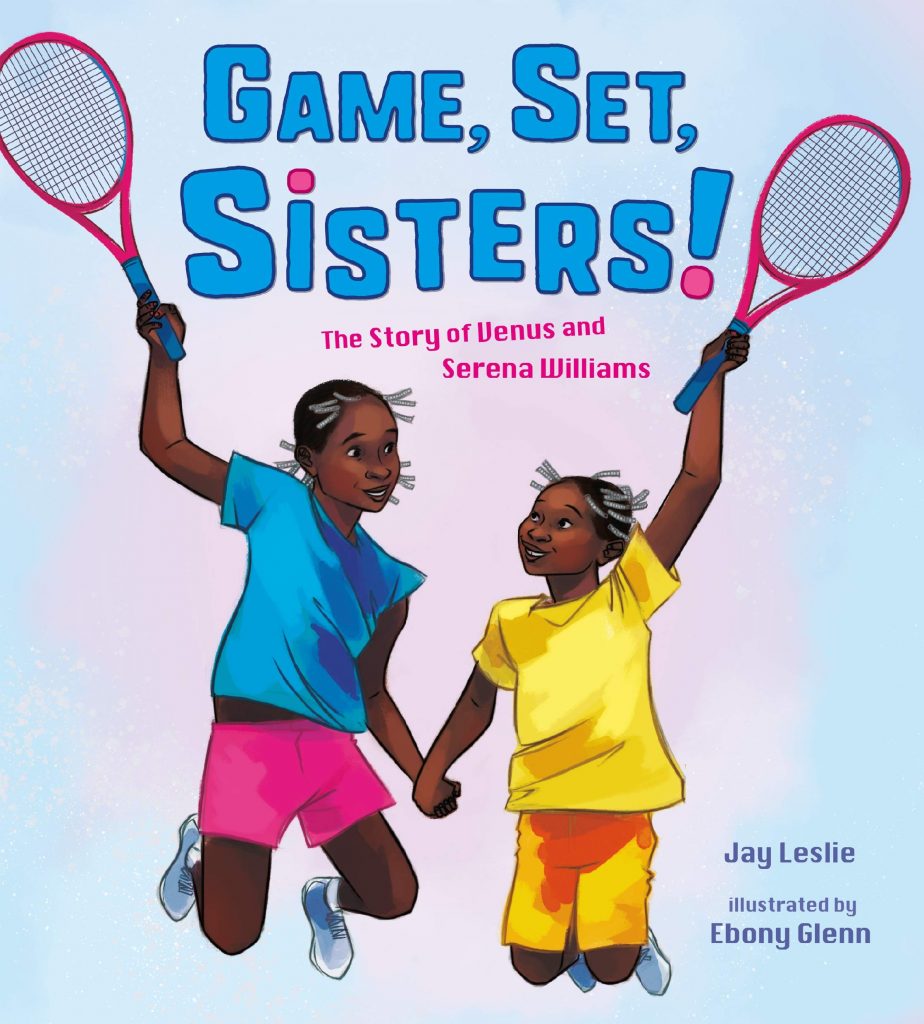 The Story of Venus and Serena Williams tells the inspirational story of two of the most beloved athletes in history. It takes us from their beginnings on a crumbling Compton tennis court to their shining achievements on the most prestigious stages and shows us that despite being served the most challenging hardships in life―illness, family, loss, racism―Venus and Serena always continued to swing back stronger.
The Floating Field: How a Group of Thai Boys Built Their Own Soccer Field by Scott Riley, Nguyen Quang and Kim Lien Ages 5 – 8 and up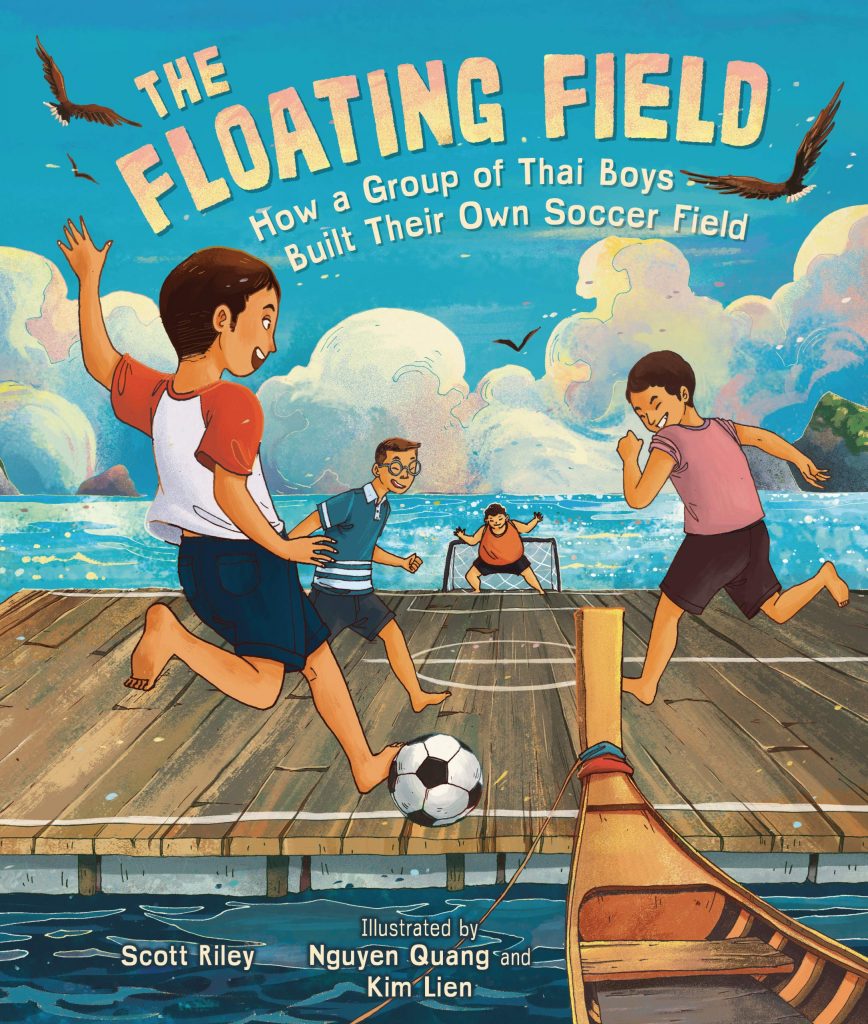 After watching the World Cup on television, a group of Thai boys is inspired to form their own team. But on the island of Koh Panyee, in a village built on stilts, there is no open space. The boys can play only twice a month on a sandbar when the tide is low enough. Everything changes when the teens join together to build their very own floating soccer field.
This inspiring true story by debut author Scott Riley is gorgeously illustrated by Nguyen Quang and Kim Lien. Perfect for fans of stories about sports, beating seemingly impossible odds, and places and cultures not often shown in picture books.
Kiyoshi's Walk by Mark Karlins, illustrated by Nicole Wong Ages 4 – 8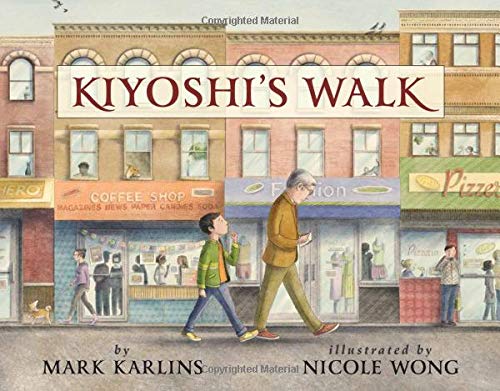 After Kiyoshi watches his grandfather, Eto, compose his delicate haiku, he wonders out loud: "Where do poems come from?" His grandfather answers by taking him on a walk through their city, where they see a cat perched on a hill of oranges; hear the fluttering of wings; imagine what's behind a tall wall; and discuss their walk, with each incident inspiring a wonderful new haiku from Eto. As Kiyoshi discovers that poems come from the way the world outside of us meets the world within each of us, he also finds the courage to write a haiku of his own.
Simon B. Rhymin' by Dwayne Reed Ages 8 – 12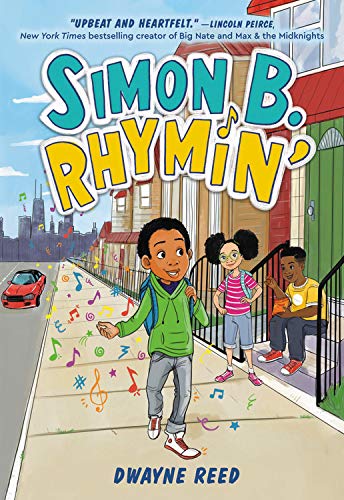 Eleven-year-old Simon Barnes dreams of becoming a world-famous rapper that everyone calls Notorious D.O.G. But for now, he's just a Chicago fifth grader who's small for his age and afraid to use his voice.
Simon prefers to lay low at school and at home, even though he's constantly spitting rhymes in his head. But when his new teacher assigns the class an oral presentation on something that affects their community, Simon must face his fears.
With some help from an unexpected ally and his neighborhood crew, will Simon gain the confidence to rap his way to an A and prove that one kid can make a difference in his 'hood?
Michelle's Garden: How the First Lady Planted Seeds of Change by Sharee Miller Ages 4 – 8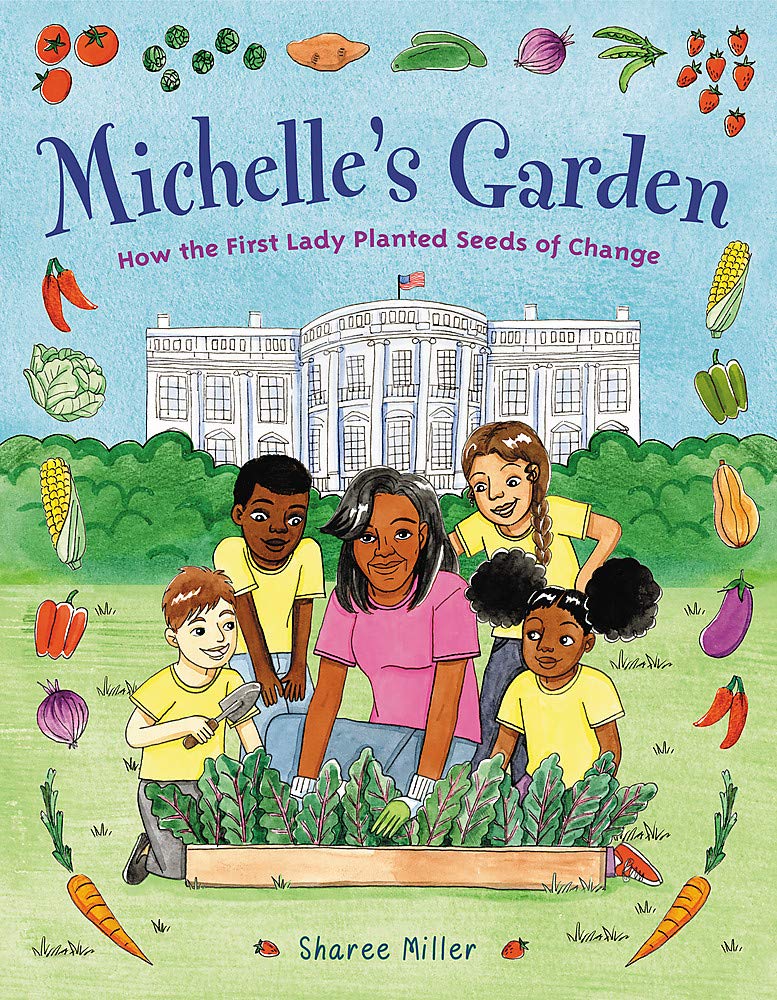 A tribute to Former First Lady Michelle Obama and her contributions in building a healthier future for all children.

Former First Lady Michelle Obama had an idea. A big, inspiring, and exciting idea She would grow the largest kitchen garden ever at the White House. This wouldn't be easy, since she'd never gardened before: Where should she start? What tools did she need? What would she plant?

Everyone needs help when they're learning something for the first time, even the first lady of the United States. So she gathered the help of local students, the White House staff, and even President Barack Obama. Together, they wouldn't just grow a garden — they would inspire a nation.
Classified: The Secret Career of Mary Golda Ross, Cherokee Aerospace Engineer by Traci Sorell, Natasha Donovan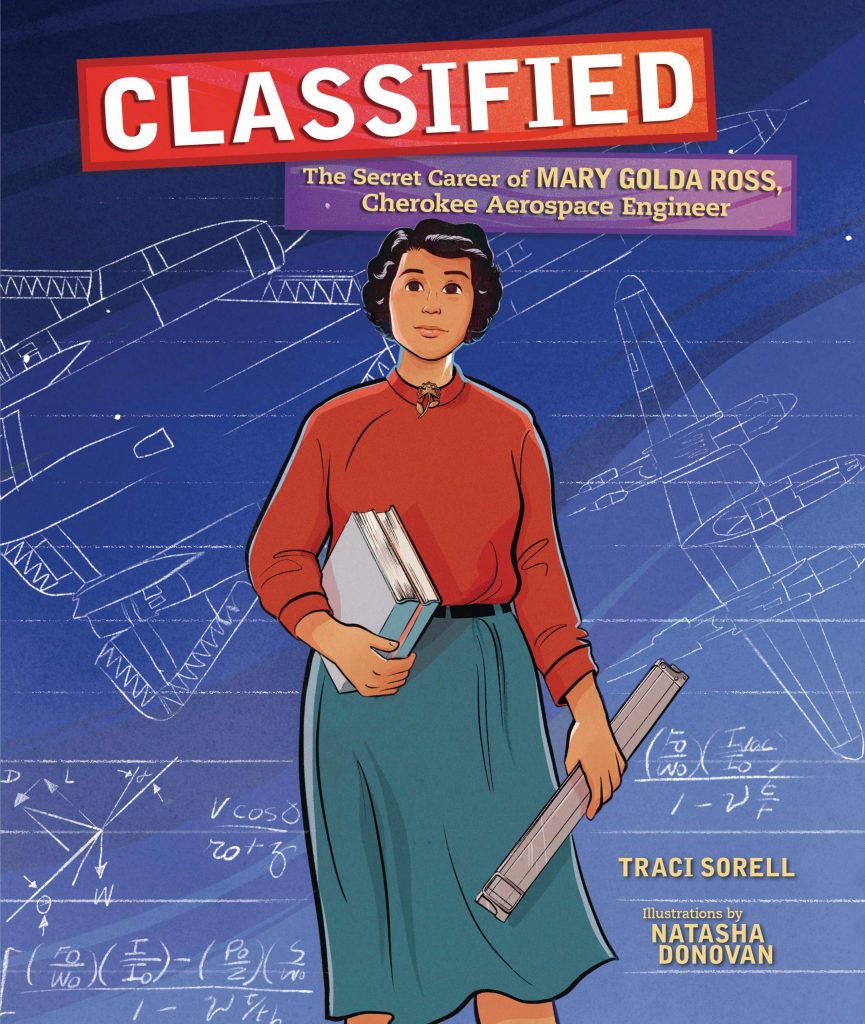 Mary Golda Ross designed classified airplanes and spacecraft as Lockheed Aircraft Corporation's first female engineer. Find out how her passion for math and the Cherokee values she was raised with shaped her life and work.
Cherokee author Traci Sorell and Métis illustrator Natasha Donovan trace Ross's journey from being the only girl in a high school math class to becoming a teacher to pursuing an engineering degree, joining the top-secret Skunk Works division of Lockheed, and being a mentor for Native Americans and young women interested in engineering. In addition, the narrative highlights Cherokee values including education, working cooperatively, remaining humble, and helping ensure equal opportunity and education for all.
Ninos: Poems for the Lost Children of Chile by Maria Jose Ferrada, Maria Elena Valdez Ages 7 and up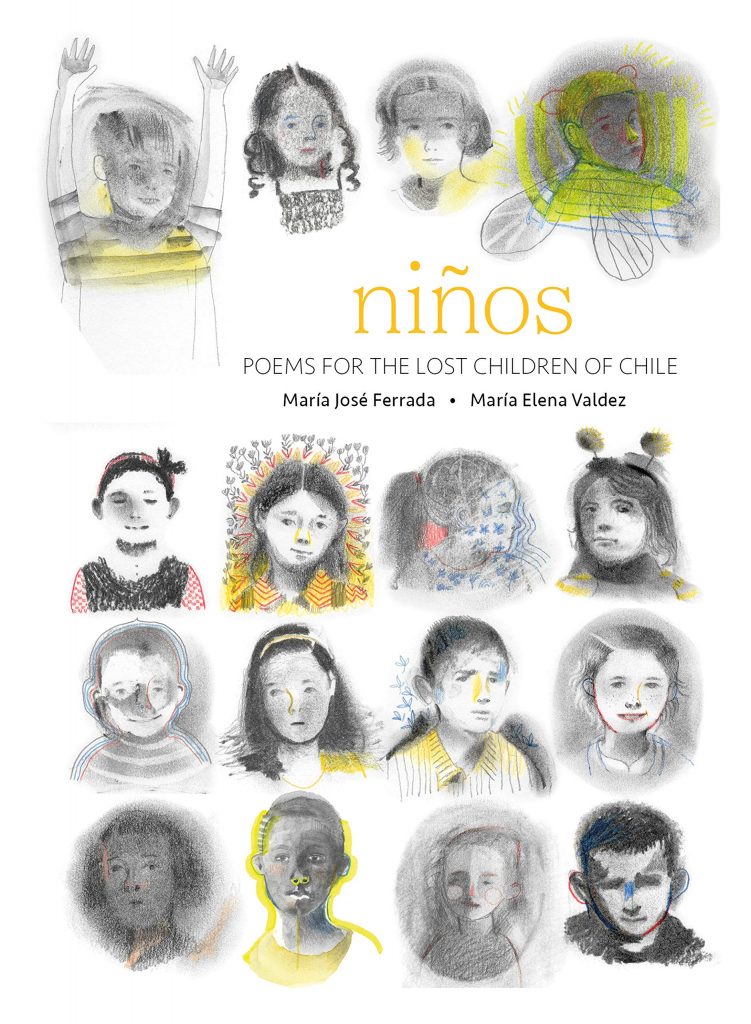 On September 11, 1973, a military coup plunged Chile into seventeen long years of dictatorial rule. Only the return of democracy could reveal the full horrors of Augusto Pinochet's regime: 3,197 people dead or disappeared—including thirty-four children under the age of fourteen.
This book is a stirring memorial to those victims and to the cost of extremism. Thirty-four poems—one for each child lost—consider the diverse hopes of these fragile young lives. From Alicia to Jaime, Héctor to Paola, Soledad to Rafael, they were brave and creative, thoughtful and strong. In these pages, some children watch for the changing seasons. Some listen for new sounds on rainy afternoons. And some can't wait for their next birthday.
Dreams for a Daughter by Carole Boston Weatherford, illustrated by Brian Pinkney Ages 4 – 8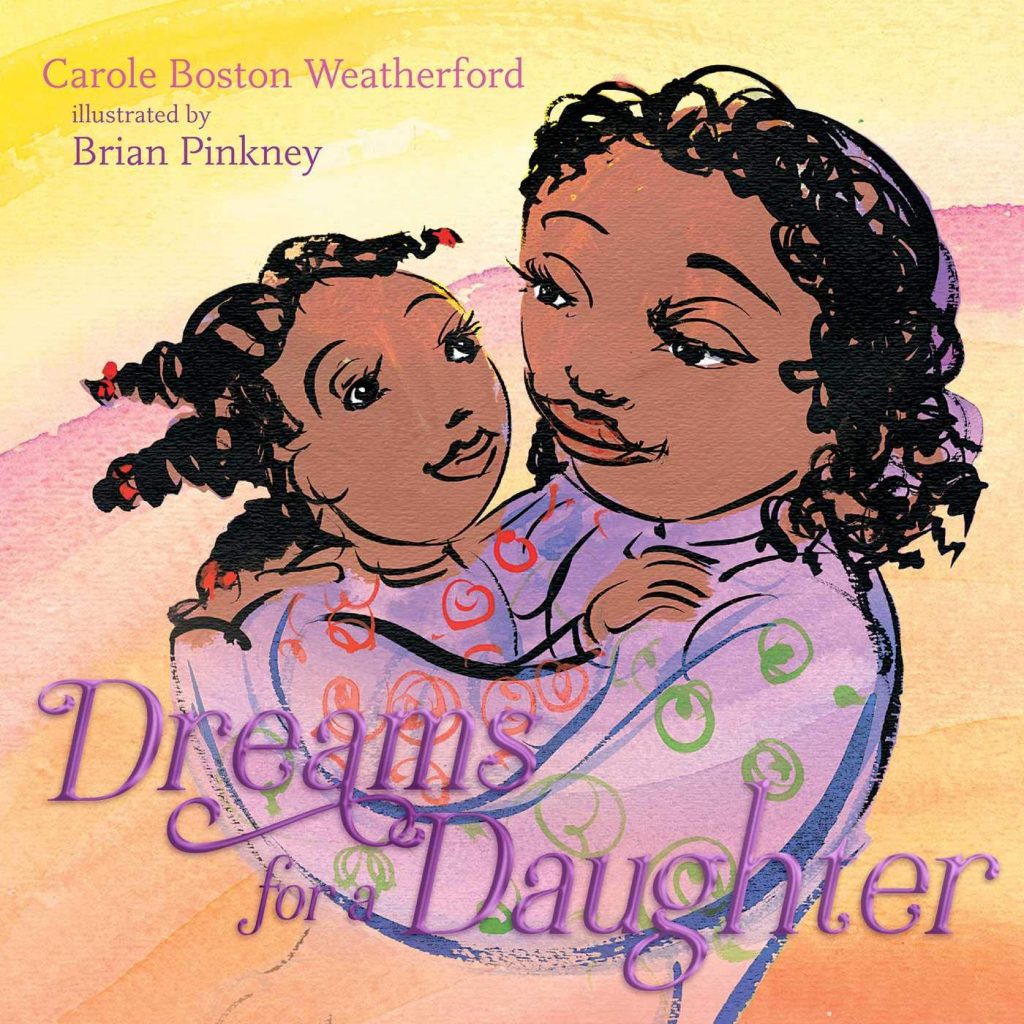 This love letter from mother to daughter inspires young girls to follow their dreams, no matter what challenges life may bring. Young readers will be reminded that love and support from home will follow them as they venture out into the world.
A Plan for the People: Nelson Mandela's Hope for His Nation by Lindsey McDivitt, Charly Palmer Ages 7 and up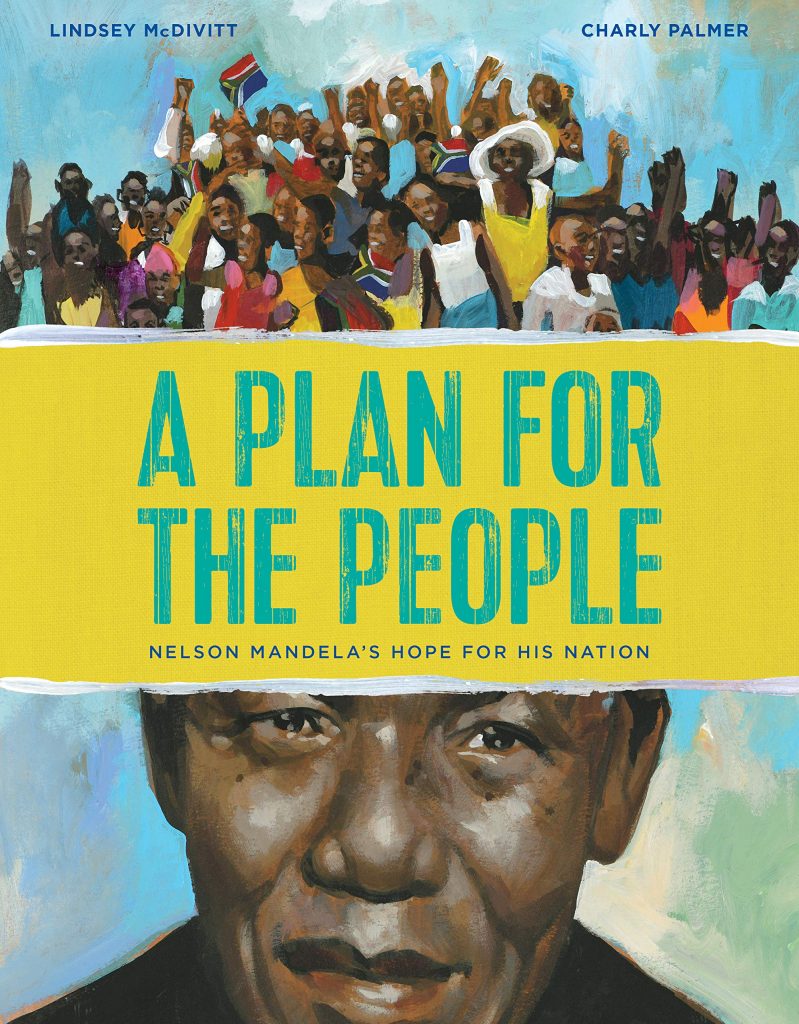 As Nelson Mandela lived and worked under the unjust system of apartheid, his desire for freedom grew. South Africa separated people by races, oppressing the country's non-white citizens with abusive laws and cruel restrictions. Every day filled Mandela with grief and anger. But he also had hope—hope for a nation that belonged to everyone who lived in it.
From his work with the African National Congress, to his imprisonment on Robben Island, to his extraordinary rise to the presidency, Nelson Mandela was a rallying force against injustice. This stirring biography explores Mandela's long fight for equality and the courage that propelled him through decades of struggle.
Send a Girl!: The True Story of How Women Joined the FDNY by Jessica Rinker, illustrated by Meg Hunt Ages 4 – 8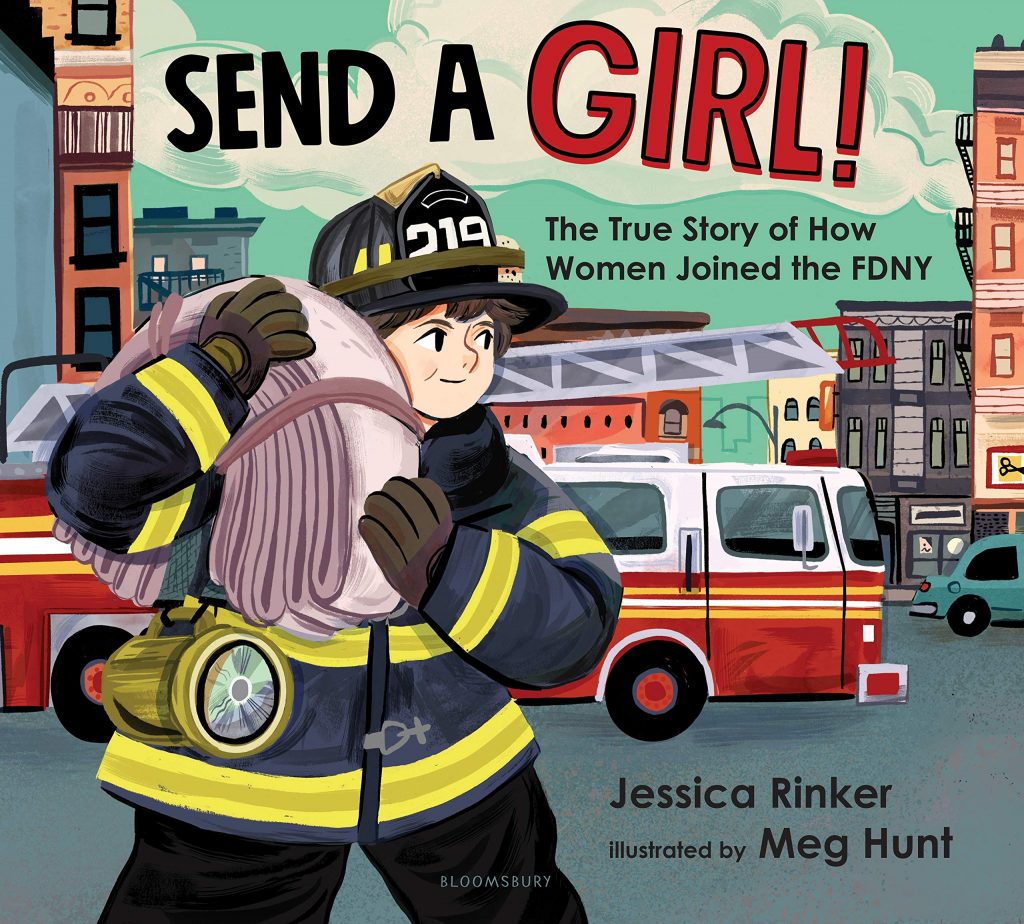 Brenda Berkman was often told that she couldn't do certain things because she was a girl. When she grew up, she longed for a job that was challenging, different every day, and required physical and mental strength. In 1977 when the New York City Fire Department finally complied with the Civil Rights Act (from 1964) by allowing women to take the FDNY exam, Brenda jumped at the chance.
But the FDNY changed the rules of the exam so women wouldn't be able to pass it. Even a lot of men couldn't pass this new exam.
So Brenda Berkman took the FDNY to court. In 1982, they finally made a fair test, and Brenda and 41 other women passed. Brenda went on to serve in the FDNY for 25 years, reaching the positions of Lieutenant and Captain, and was a first responder during the attacks on the Twin Towers on 9/11. After her retirement, Brenda founded the United Women Firefighters, an organization that helps train and prepare women to be firefighters. Send a Girl! is Brenda Berkman's inspiring story.
June Almeida, Virus Detective: The Woman Who Discovered the First Human Coronavirus by Suzanne Slade, Elisa Paganelli Ages 6 – 9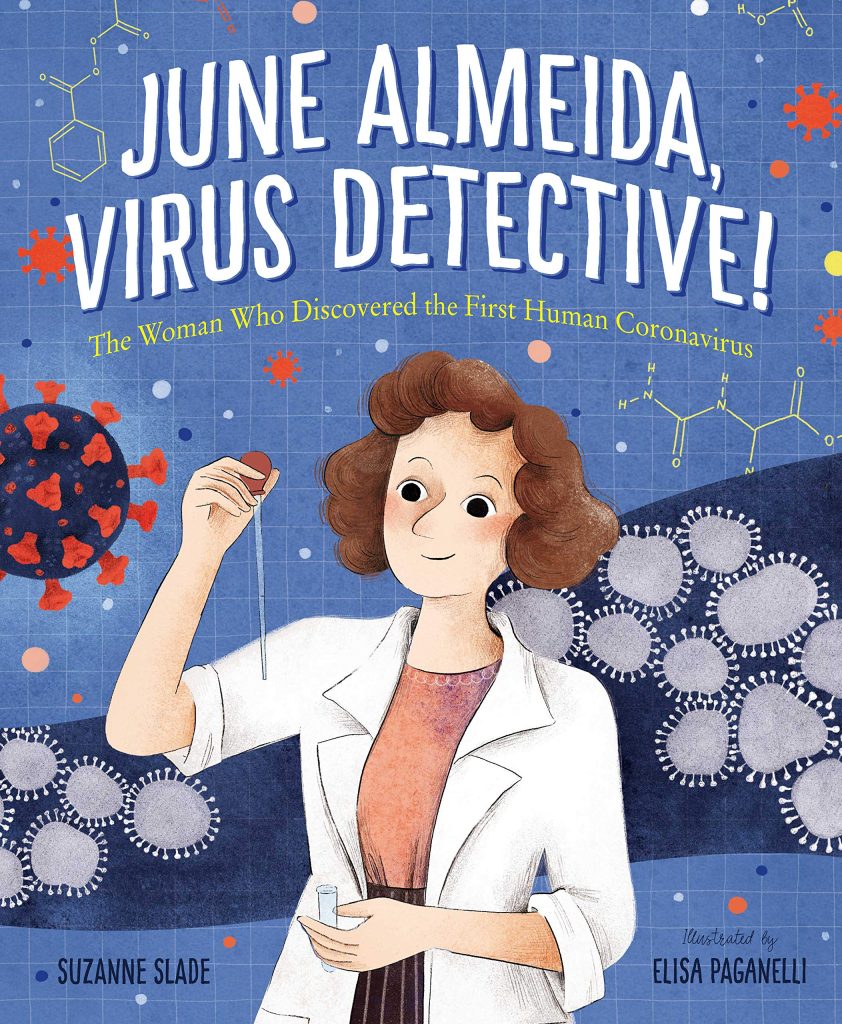 From an early age in Glasgow, Scotland, June Almeida loved learning about science and nature. A good student, she was especially interested in biology and won the top science prize at her school. Creative and observant, June noticed details that others often missed. She dreamed of attending university but economic hardships caused her to leave school at age 16. Still, June was determined to pursue her passion for science.
She was hired by a local hospital to work in its lab, using a microscope to magnify and examine cells. Her work helped doctors treat patients. June later worked in labs in London and in Toronto. Her skill in using the electron microscope to examine cells and help identify viruses earned her promotion and respect in the science community. When June was 34 years old, she discovered the first human coronavirus. Her groundbreaking work continues to help researchers today in the fight against illnesses caused by viruses, including COVID-19.
A Teacher Like You by Frank Murphy, Barbara Dan, Kayla Harren Ages 4 – 8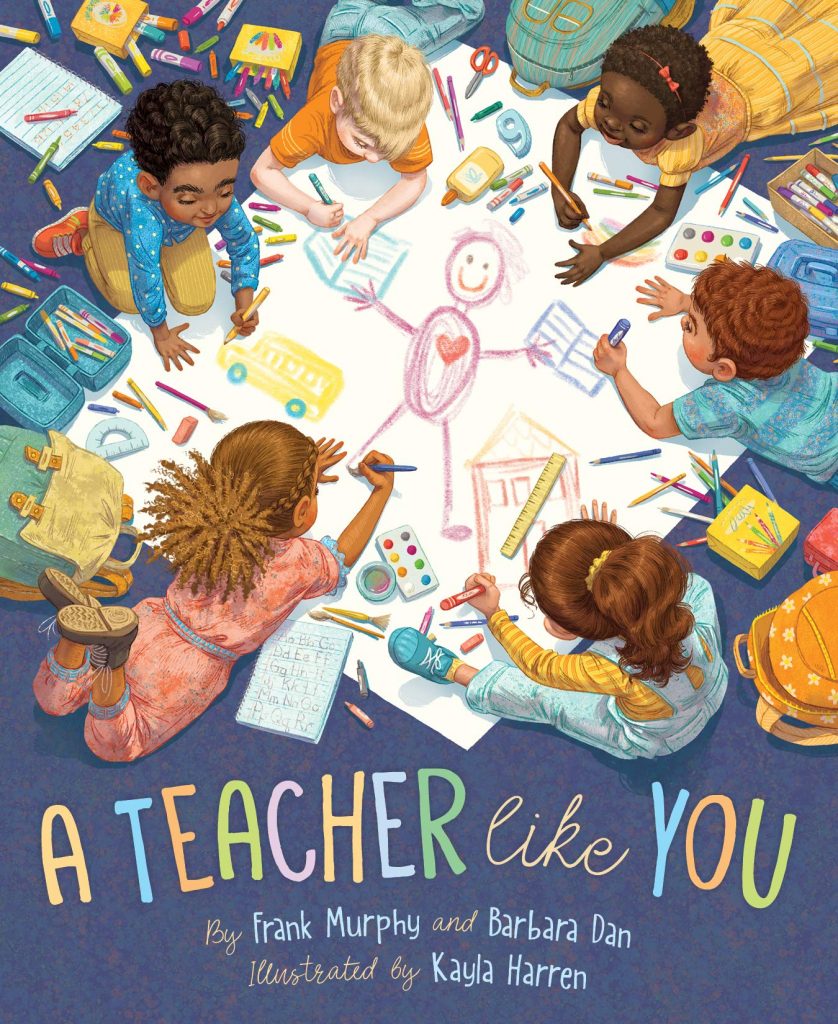 Watercress by Andrea Wang, Jason Chin Ages 4 – 8
Gathering watercress by the side of the road brings a girl closer to her family's Chinese Heritage.

Driving through Ohio in an old Pontiac, a young girl's parents stop suddenly when they spot watercress growing wild in a ditch by the side of the road. Grabbing an old paper bag and some rusty scissors, the whole family wades into the muck to collect as much of the muddy, snail covered watercress as they can.At first, she's embarrassed. Why can't her family get food from the grocery store? But when her mother shares a story of her family's time in China, the girl learns to appreciate the fresh food they foraged. Together, they make a new memory of watercress.
Fatima's Great Outdoors by Ambreen Tariq, illustrated by Stevie Lewis Ages 4- 8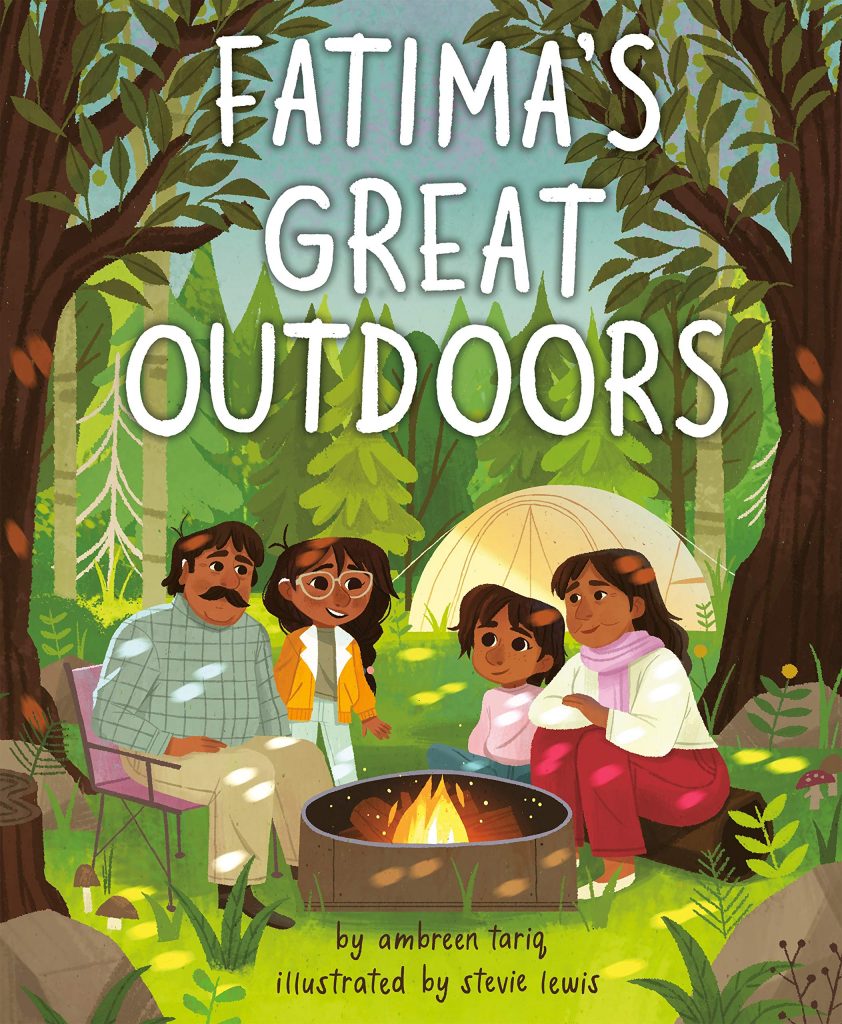 An immigrant family embarks on their first camping trip in the Midwest in this lively picture book by Ambreen Tariq, outdoors activist and founder of @BrownPeopleCamping

Fatima Khazi is excited for the weekend. Her family is headed to a local state park for their first camping trip! The school week might not have gone as planned, but outdoors, Fatima can achieve anything. She sets up a tent with her father, builds a fire with her mother, and survives an eight-legged mutant spider (a daddy longlegs with an impressive shadow) with her sister. At the end of an adventurous day, the family snuggles inside one big tent, serenaded by the sounds of the forest. The thought of leaving the magic of the outdoors tugs at Fatima's heart, but her sister reminds her that they can keep the memory alive through stories–and they can always daydream about what their next camping trip will look like.
Jayden's Impossible Garden by Mélina Mangal, Ken Daley Ages 4 – 9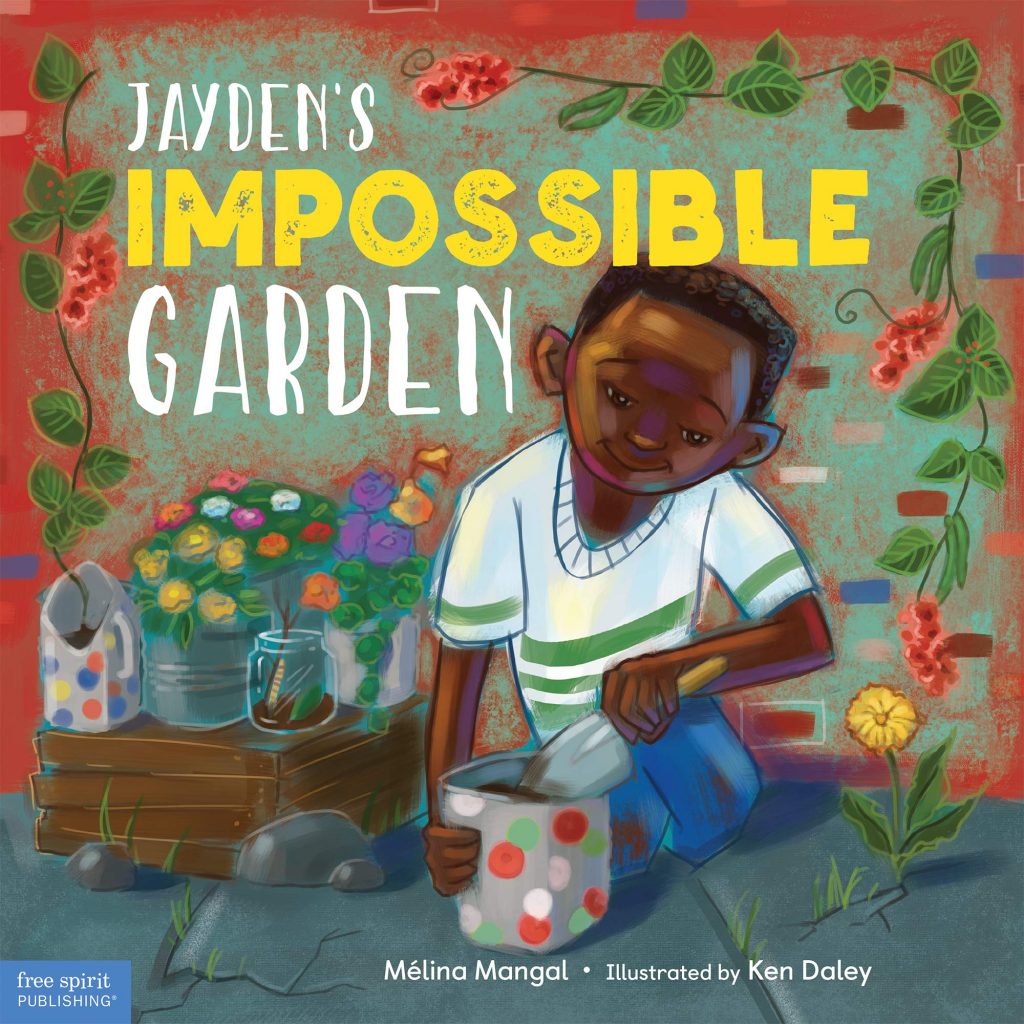 Amidst all the buildings, people, and traffic in his neighborhood, Jayden sees nature everywhere: the squirrels scrounging, the cardinals calling, and the dandelions growing. But Mama doesn't believe there's nature in the city. So Jayden sets out to help Mama see what he sees. With the help of his friend Mr. Curtis, Jayden plants the seeds of a community garden and brings together his neighbors–and Mama–to show them the magic of nature in the middle of the city.
Timeless and vibrant, this story highlights the beauty of intergenerational relationships and the power of imagination and perseverance in bringing the vision of a community garden to life. Jayden's love of nature will inspire readers to see their environment and surroundings as bursting with opportunities for growth and connection. At the back of the book, readers will find activities to make items found in the book, such as the milk jug bird feeder.
The Wonder of the World Leaf by Summer Edward, illustrated by Sayada Ramdial Ages 7 – 8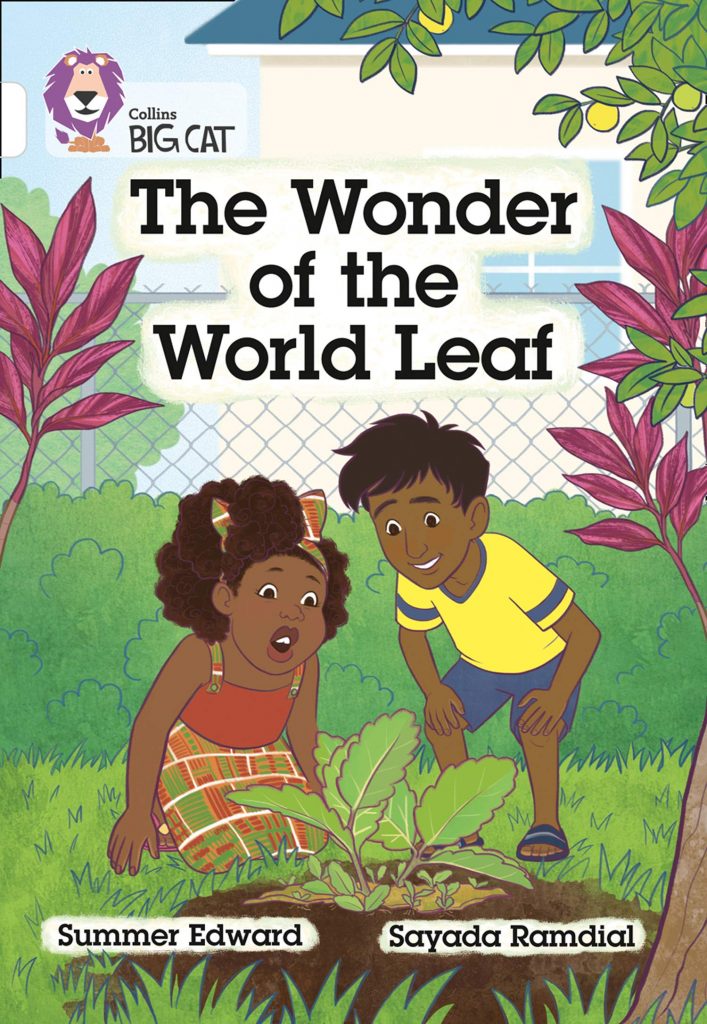 When her beloved Grannie falls ill, ten-year-old Wygenia feels lonely and helpless. Then she learns about a healing plant so powerful it's called 'Wonder of the World.' But will it really work? Set in the Caribbean island of Trinidad, this realistic fiction tale tells the story of Wygenia's quest to restore her Grannie to the high-spirited companion she used to know.
Teachers, parents and caregivers looking for familial, multicultural stories for children ages 7 and upwill appreciate this story that evokes Caribbean traditions and customs in a non-stereotypical way.
April
Keeping the City Going by Brian Floca Ages 4 – 8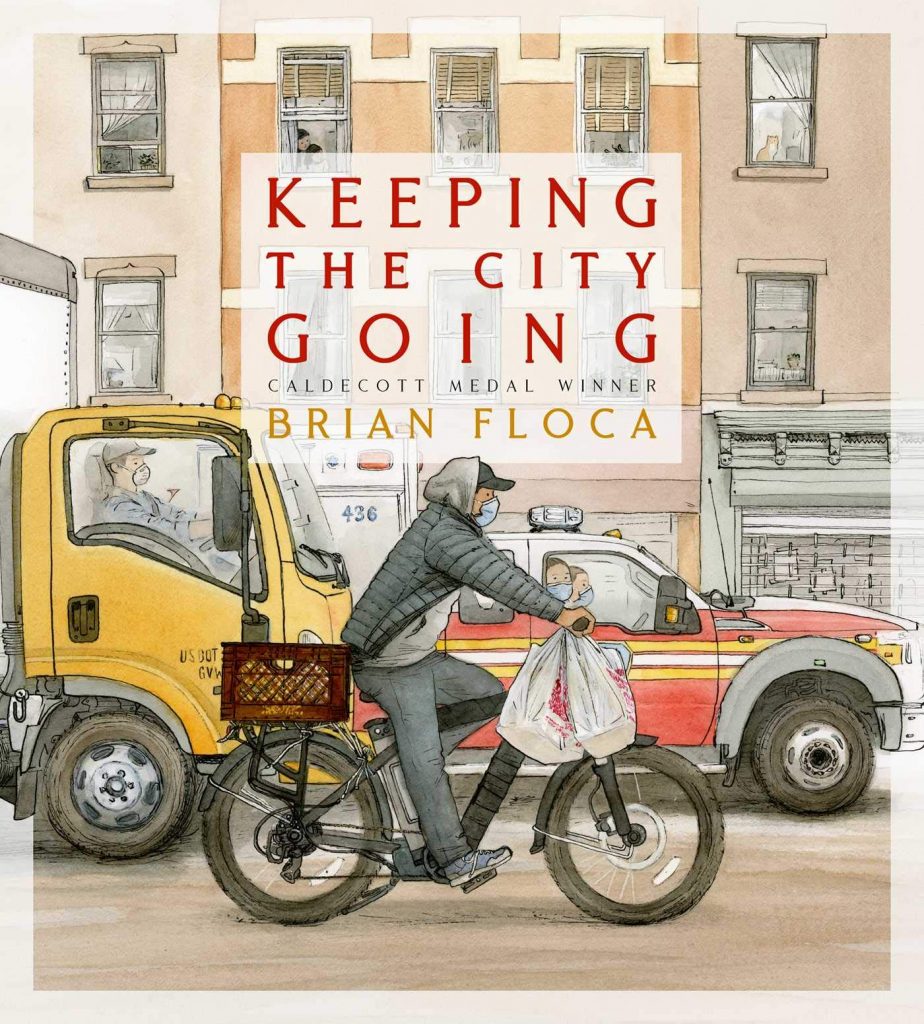 We are here at home now, watching the world through our windows. Outside we see the city we know, but not as we've seen it before. The once hustling and bustling streets are empty. Well, almost empty. Around the city there are still people, some, out and about. These are the people keeping us safe. Keeping us healthy. Keeping our mail and our food delivered. Keeping our grocery stores stocked. Keeping the whole city going. Brian Floca speaks for us all in this stirring homage to all the essential workers who keep the essentials operating so the rest of us can do our part by sheltering in place during the COVID-19 pandemic.
To Carnival: A Celebration in St. Lucia by Baptiste Paul, Jana Glatt Ages 4 – 7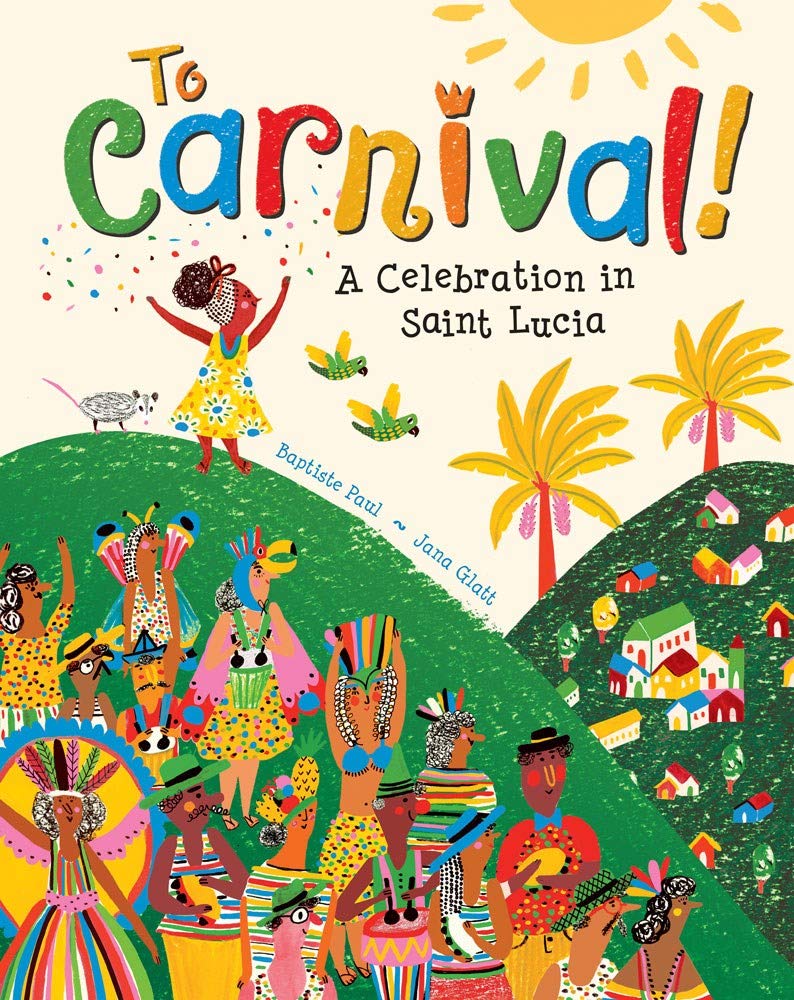 The sights, sounds and tastes of vibrant Saint Lucia come to life in this cumulative #OwnVoices tale of a girl's journey to Carnival. When a series of unexpected delays disrupts her journey to the big parade, Melba must adjust both her expectations and her route to the festivities. Who will she meet and what will she learn along the way?
Ways to Grow Love by Renée Watson, Nina Mata Ages 7 – 10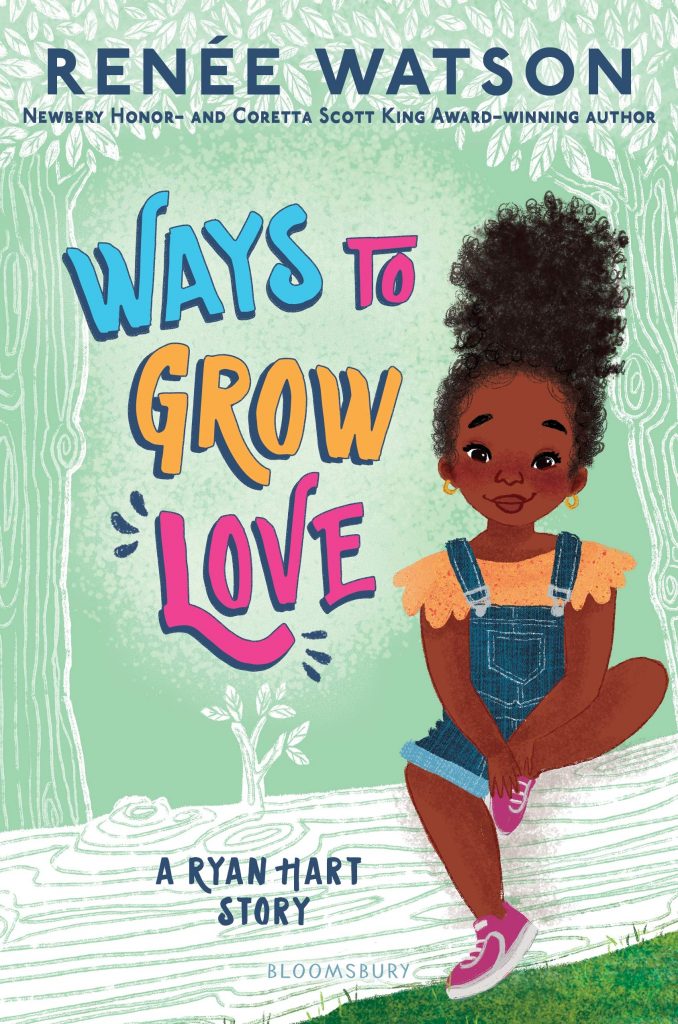 Ryan Hart and her family are back in another installment of stories about a Black girl finding her way and her voice as she grows through change and challenges. In this book, Ryan finds herself waiting on lots of things — like for her new sister to be born healthy, for her new recipes to turn out right, for that summer camp trip to go better than she fears! And of course Ryan is facing these new challenges and new experiences in her classic style — with a bright outlook and plenty of spirit!
The Singer and the Scientist by Lisa Rose, Isabel Muñoz Ages 5 – 11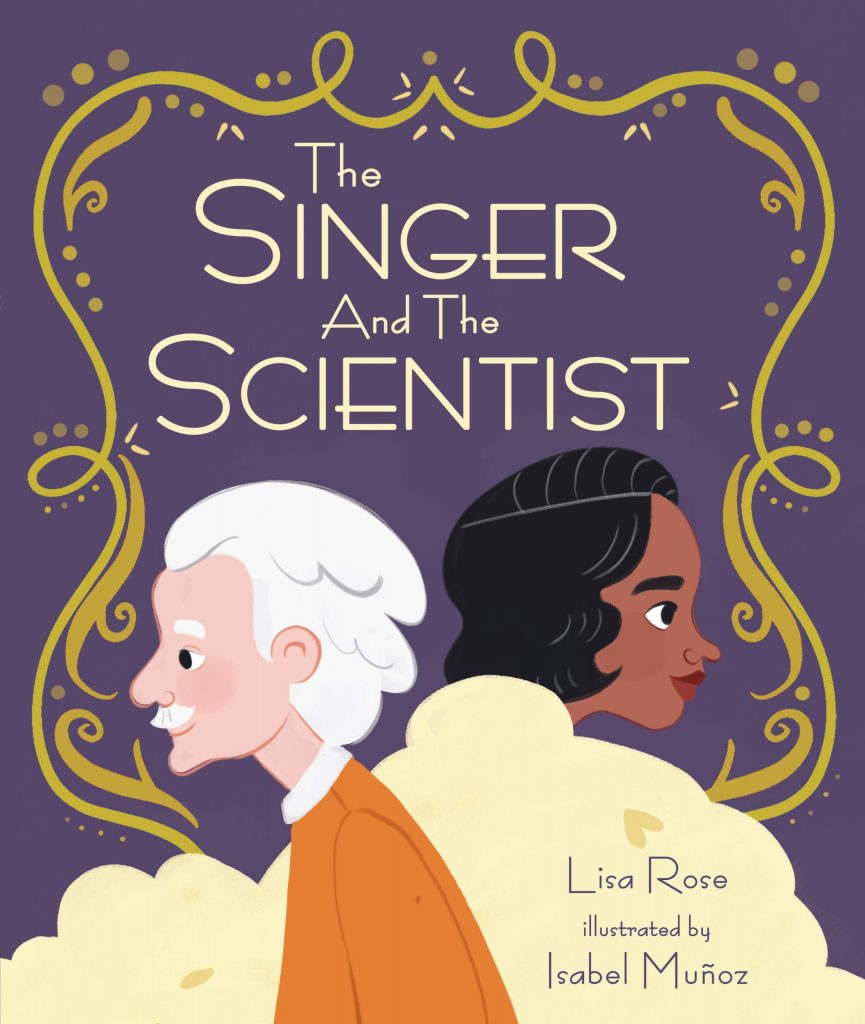 It's 1937, and Marian Anderson is one of the most famous singers in America. But after she gives a performance for an all-white audience, she learns that the nearby hotel is closed to African Americans. She doesn't know where she'll stay for the night.
Until the famous scientist Albert Einstein invites her to stay at his house. Marian, who endures constant discrimination as a Black performer, learns that Albert faced prejudice as a Jew in Germany. She discovers their shared passion for music―and their shared hopes for a more just world.
I Sang You Down from the Stars by Tasha Spillet Summer, Michaela Goade Ages 4- 8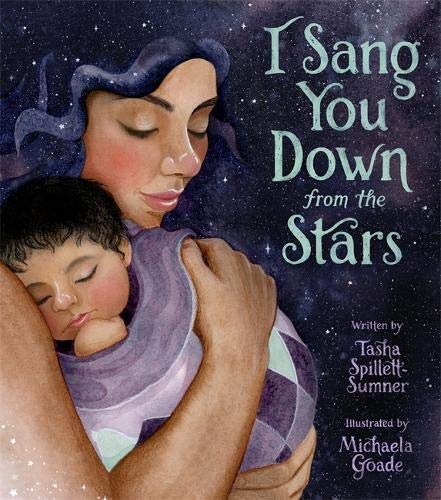 A unique baby book that sings with Native cultural detail, while striking a universal chord in its celebration of the blossoming of love that comes with expecting and welcoming a new baby.
As she waits for the arrival of her new baby, a mother-to-be gathers gifts to create a sacred bundle. A white feather, cedar and sage, a stone from the river.
Each addition to the bundle will offer the new baby strength and connection to tradition, family, and community. As they grow together, mother and baby will each have gifts to offer each other.
America, My Love, America, My Heart by Daria Peoples-Riley Ages 4 – 8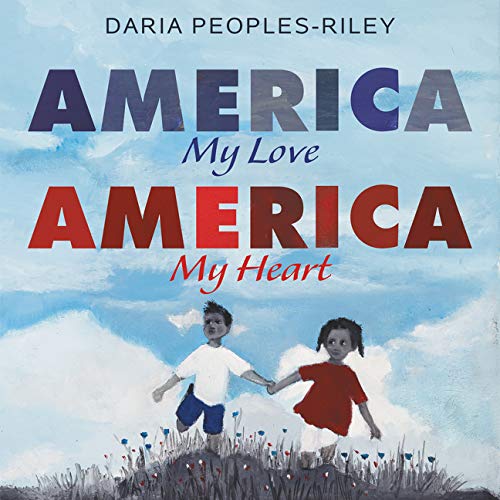 America, do you love me? My black. My brown. My pride. My crown.
What begins as a single question from a single child multiplies as America, My Love, America, My Heart sweeps across the country with every page turn, inviting in more and more children of color—and their questions. Does America love them when they speak? Or whisper? Or shout? When they stand? Does America love them just as they are?
Inspired by the questions of her own childhood, author and artist Daria Peoples-Riley has created a powerful and important book for Americans of all ages—an essential addition to every bookshelf and classroom. Her poetic text encourages readers to confront bias, prejudice, and discrimination and invites readers to reflect and respond with their own answers, while honoring the identities of black and brown children and people of color.
Hear My Voice: The Testimonies of Children Detained at the Southern Border of the United States by Warren Binford, Michael Garcia Bochenek Ages 8 and up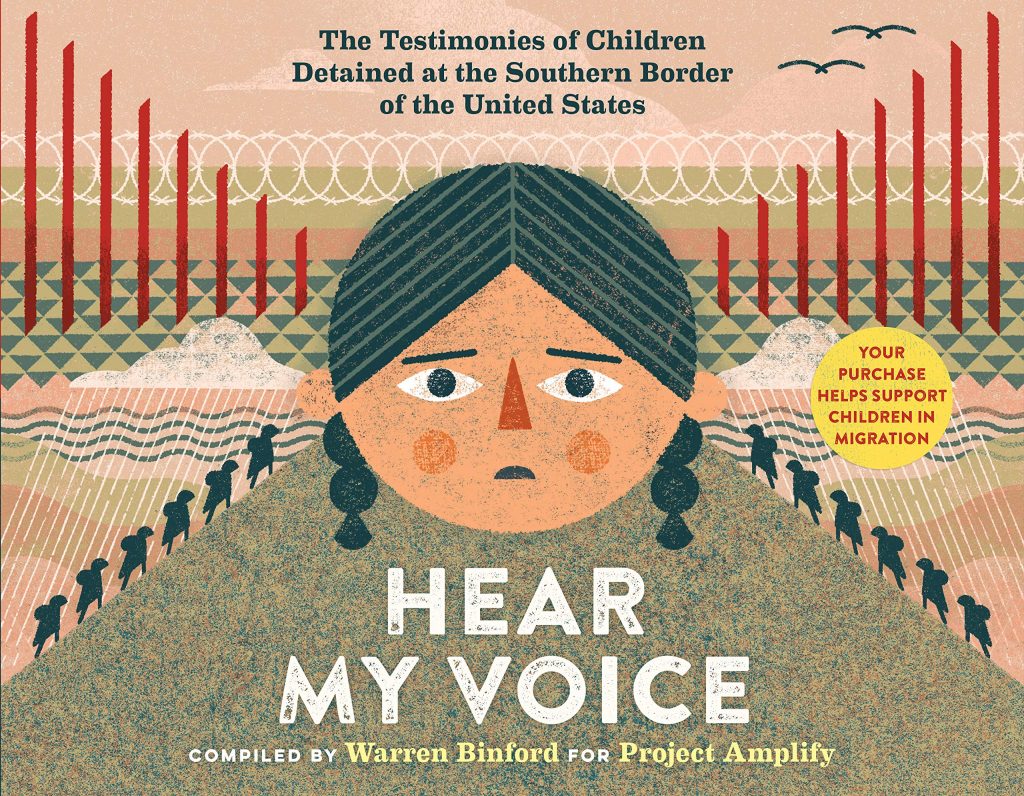 A moving picture book for older children and families that introduces a difficult topic, amplifying the voices and experiences of immigrant children detained at the border between Mexico and the US. The children's actual words (from publicly available court documents) are assembled to tell one heartbreaking story, in both English and Spanish (back to back). Each spread is illustrated in striking full-color by a different Latinx artist. A portion of sales will be donated to human rights organizations that work with children on the border.
Anita and the Dragons by Hannah Carmona, illustrated by Anna Cunha Ages 4 – 7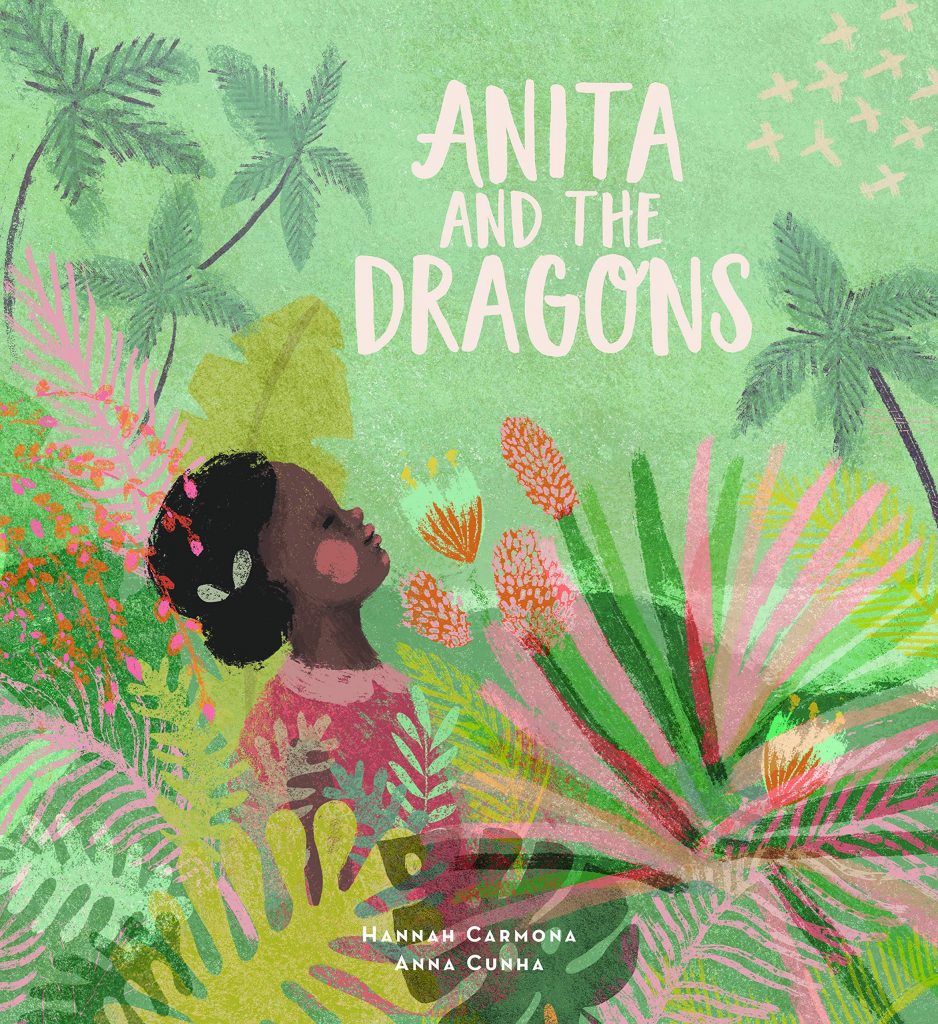 Anita watches the dragons high above her as she hops from one cement roof to another in her village in the Dominican Republic. But being the valiant princesa she is, she never lets them scare her. Will she be brave enough to enter the belly of the beast and take flight to new adventures?
Shaped by Her Hands: Potter Maria Martinez by Anna Harber Freeman, Barbara Gonzales, Aphelandra (Illustrator) Ages 4 – 9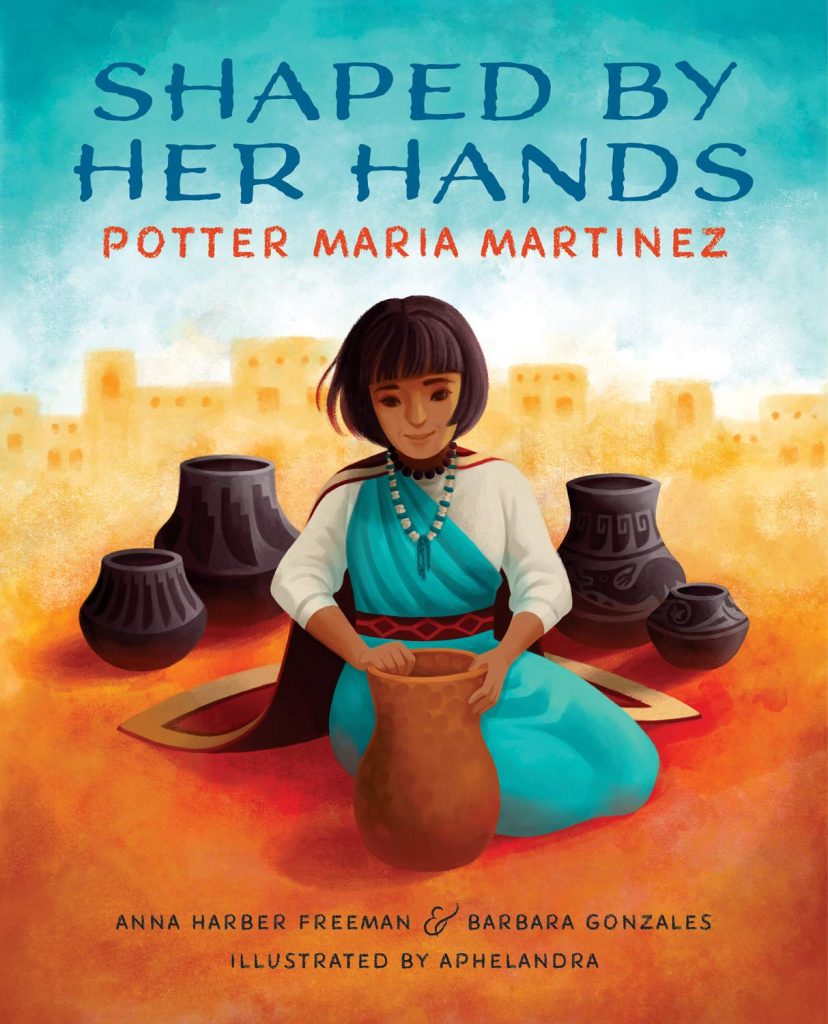 The most renowned Native American Indian potter of her time, Maria Povika Martinez learned pottery as a child under the guiding hands of her ko-ōo, her aunt. She grew up to discover a new firing technique that turned her pots black and shiny, and made them–and Maria–famous. This inspiring story of family and creativity illuminates how Maria's belief in sharing her love of clay brought success and joy from her New Mexico Pueblo to people all across the country.
A Neighborhood Walk, A Musical Journey by Pilar Winter Hill, Olivia Duchess Ages 4 – 7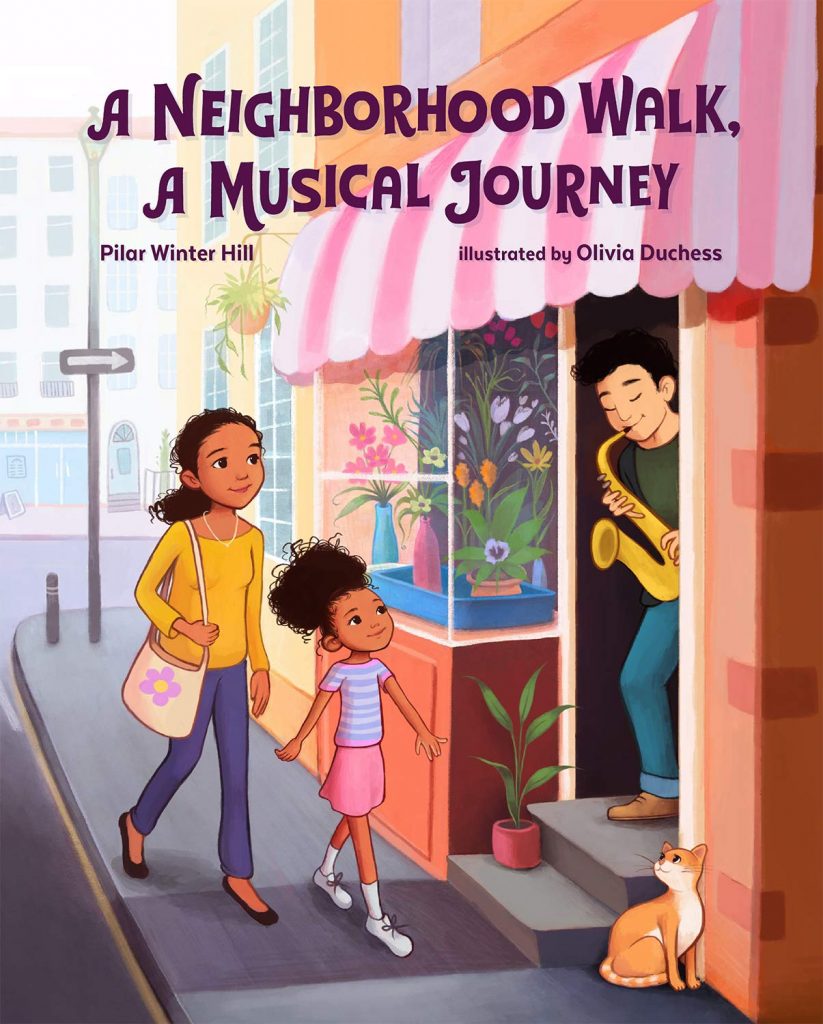 One bright city morning, Penelope and her mom make their way to the farmer's market. On street corners and train platforms, musicians and performers enchant Penelope, speaking to her through their floating, booming notes. The noise of the city keeps the pair moving–until Penelope hears a sound so magical she knows she has to play the instrument that makes it.
We Are Still Here!: Native American Truths Everyone Should Know by Traci Sorell, illustrated by Frane Lessac Ages 7 – 10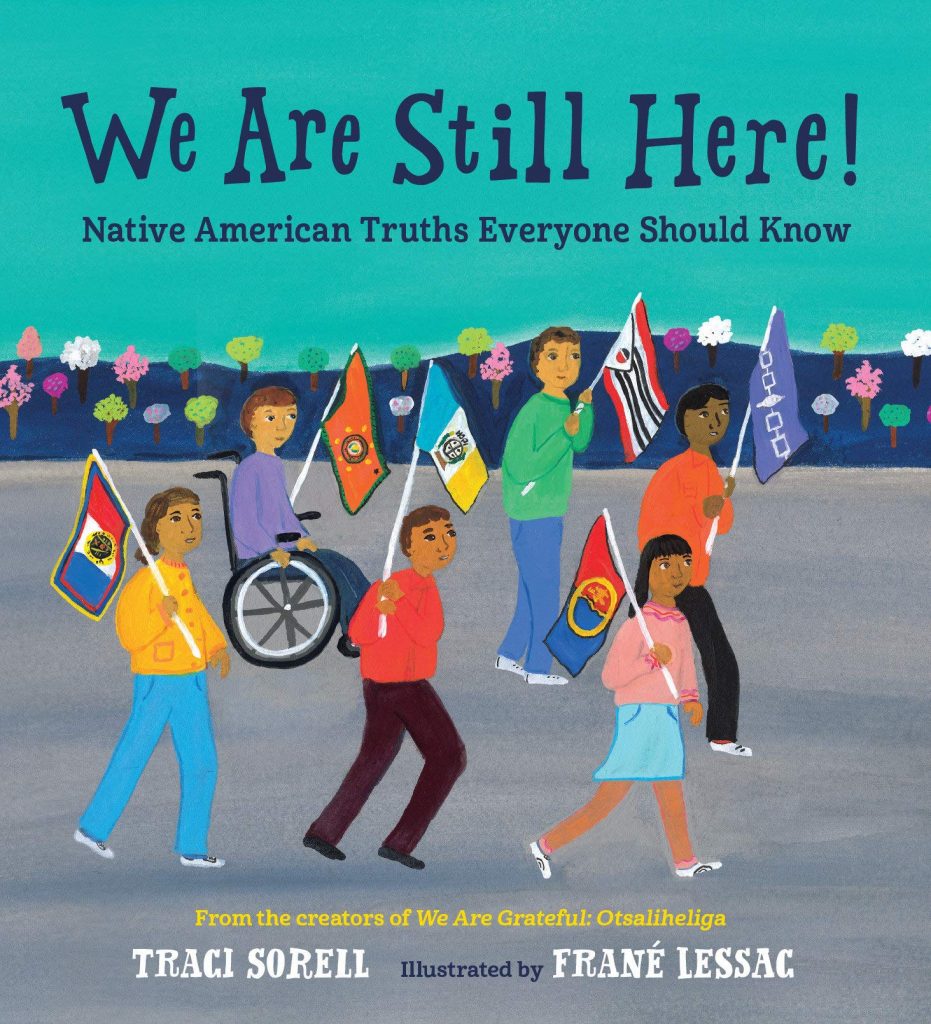 Too often, Native American history is treated as a finished chapter instead of relevant and ongoing. This companion book to the award-winning We Are Grateful: Otsaliheliga offers readers everything they never learned in school about Native American people's past, present, and future. Precise, lyrical writing presents topics including: forced assimilation (such as boarding schools), land allotment and Native tribal reorganization, termination (the US government not recognizing tribes as nations), Native urban relocation (from reservations), self-determination (tribal self-empowerment), Native civil rights, the Indian Child Welfare Act (ICWA), religious freedom, economic development (including casino development), Native language revival efforts, cultural persistence, and nationhood.
We Are a Garden: A Story of How Diversity Took Root in America by Lisa Westberg Peters & Victoria Tentler-Krylov Ages 4 – 8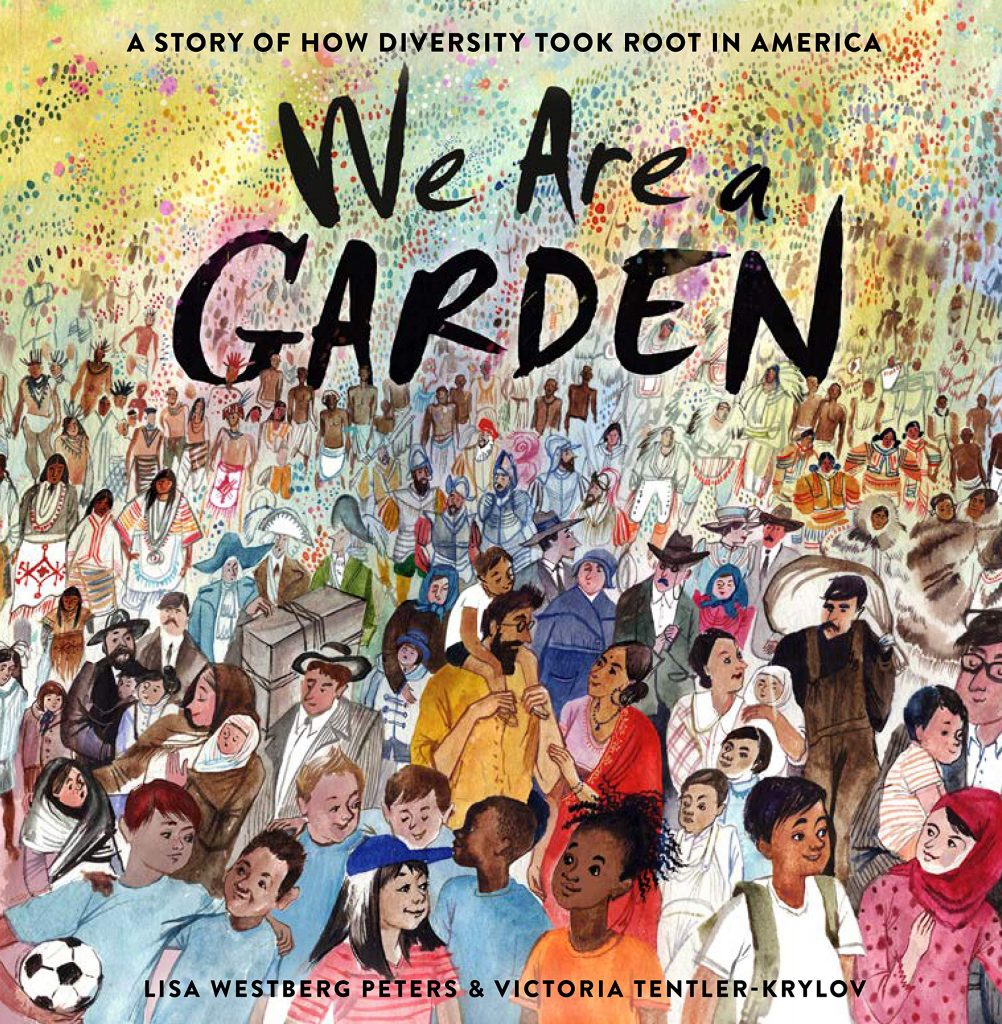 This lyrical and extremely timely picture book illuminates the many different migrants who have made their homes in North America through the centuries.
Long ago a strong wind blew. It blew people, like seeds, to a new land.
The wind blew in a girl and her clan, where herds of mammoths still wandered the frozen tundra. It later blew a boy and his family across frigid waters, and they spread across the new land. Over time, the wind continued to disperse newcomers from all directions. It blew in men who hoped to find gold, and slave ships, and immigrant families. And so it continued, for generations and generations. Here is a moving and tender picture book that beautifully examines centuries of North American history and its people.
The Little Blue Bridge by Brenda Maier, illustrated by Sonia Sánchez Ages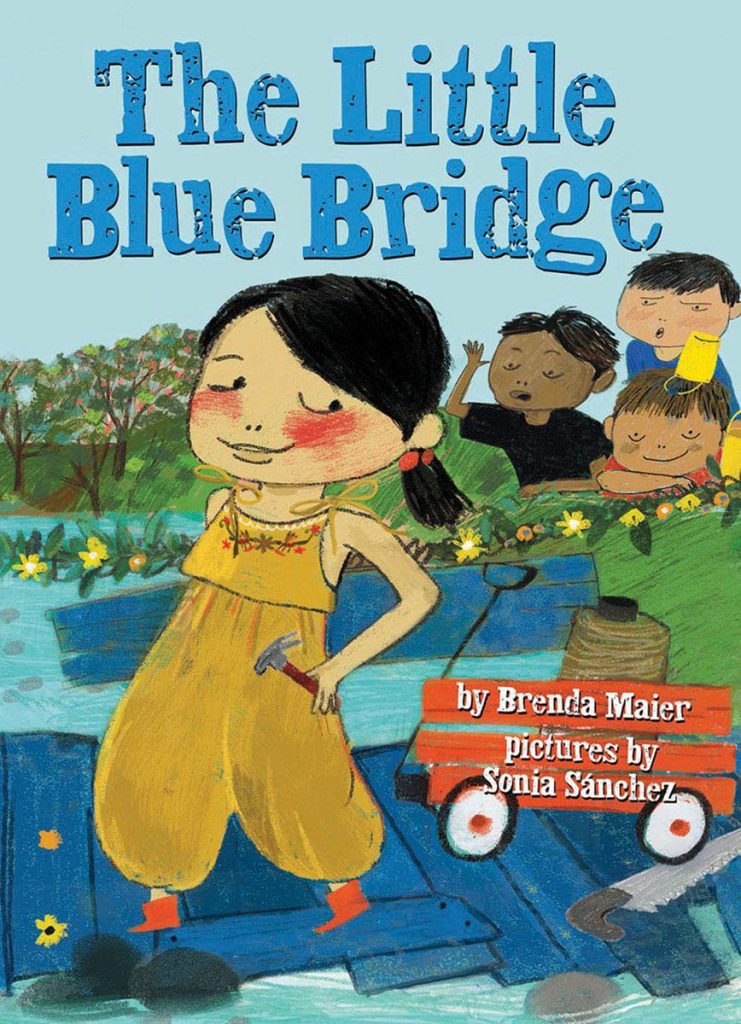 Ruby's mind is always full of ideas. One day, she spies some blueberries across the creek and invites her brothers to pick some. Unfortunately, the bridge is blocked by scary Santiago.
One by one, the brothers scamper across, promising Santiago that the next sibling has a better snack. When at last it's Ruby's turn, she refuses to be bullied and creates her own way to cross the creek.
This modern spin on a classic tale weaves folklore, feminism, STEM, and a Latinx cast into a delightful read-aloud that celebrates creativity and building bridges of friendship and community.
Lala's Words by Gracey Zhang Ages 4 – 8 and up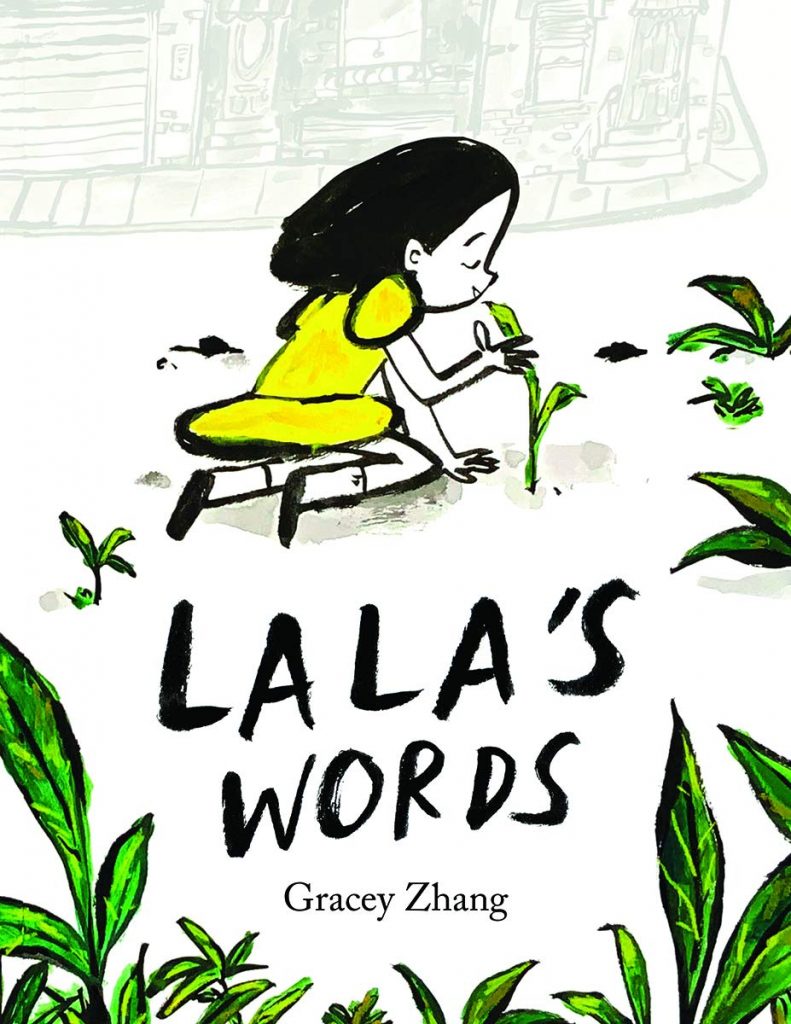 From debut author-illustrator Gracey Zhang comes a timeless and timely picture book that celebrates the unassuming power of kind words.
Oh, there goes Lala! She carries a pot of water around the corner, down the block, and over the fence, to a patch of dirt and concrete where tiny weeds sprout. "Hello, hello, friends!" she whispers. Lala waters the plants every day, but it is her kind words that make them sway and nod.
Lala's wild nature and quiet compassion enchant in this evergreen story about the power of kind words and the magic of being loved for who you are.
The Rice in the Pot Goes Round and Round by Wendy Wan-Long Shang, illustrated by Lorian Tu Ages 3 – 5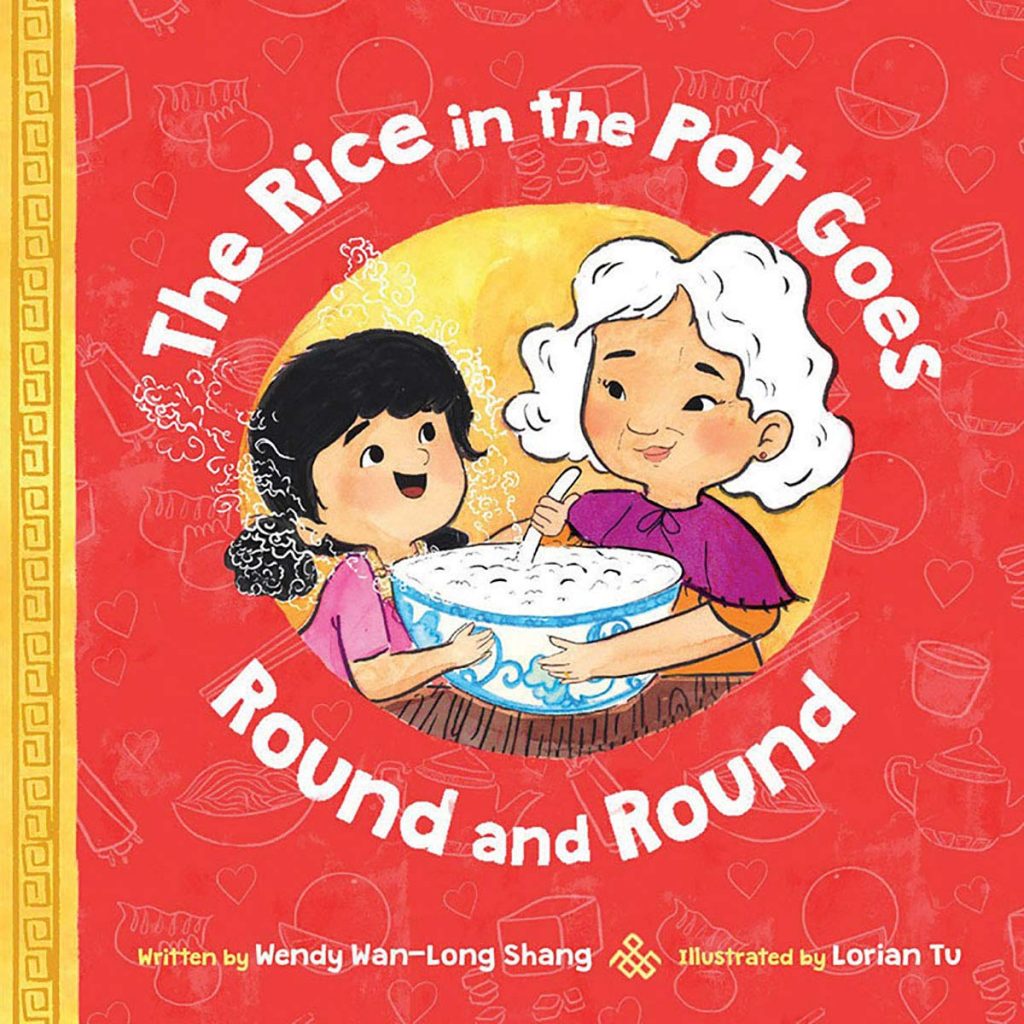 Sing along to this delicious twist on "The Wheels on the Bus" and celebrate the food, laughter, and love of a multigenerational family meal!
At the table where this family gathers, they share food, laughter, and, most of all, love. Readers of all ages are sure to delight in this joyful, expressive sing-along, slurping noodles, squishing tofu, and tapping chopsticks as they sing along to this familiar tune.
Your Mama by NoNieqa Ramos, illustrated by Jacqueline Alcantara Ages 4 – 8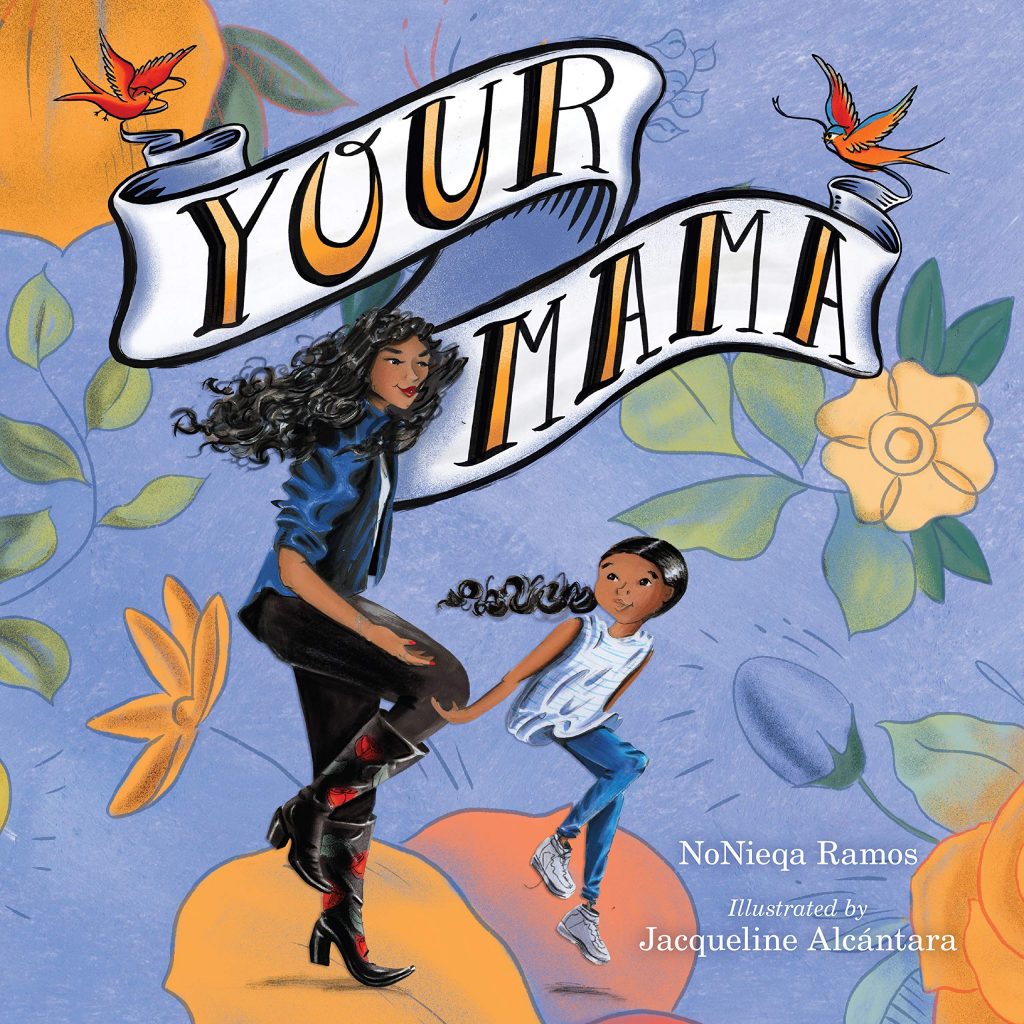 A sweet twist on the age-old "yo mama" joke, celebrating fierce moms everywhere with playful lyricism and gorgeous illustrations. Perfect for Mother's Day.

Yo' mama so sweet, she could be a bakery. She dresses so fine, she could have a clothing line. And, even when you mess up, she's so forgiving, she lets you keep on living. Heartwarming and richly imagined, Your Mama twists an old joke into a point of pride that honors the love, hard work, and dedication of mamas everywhere.
Born Ready: The True Stor of a Boy Named Penelope by Jodie Patterson, illustrated by Charnelle Pinkney Barlow Ages 4 – 8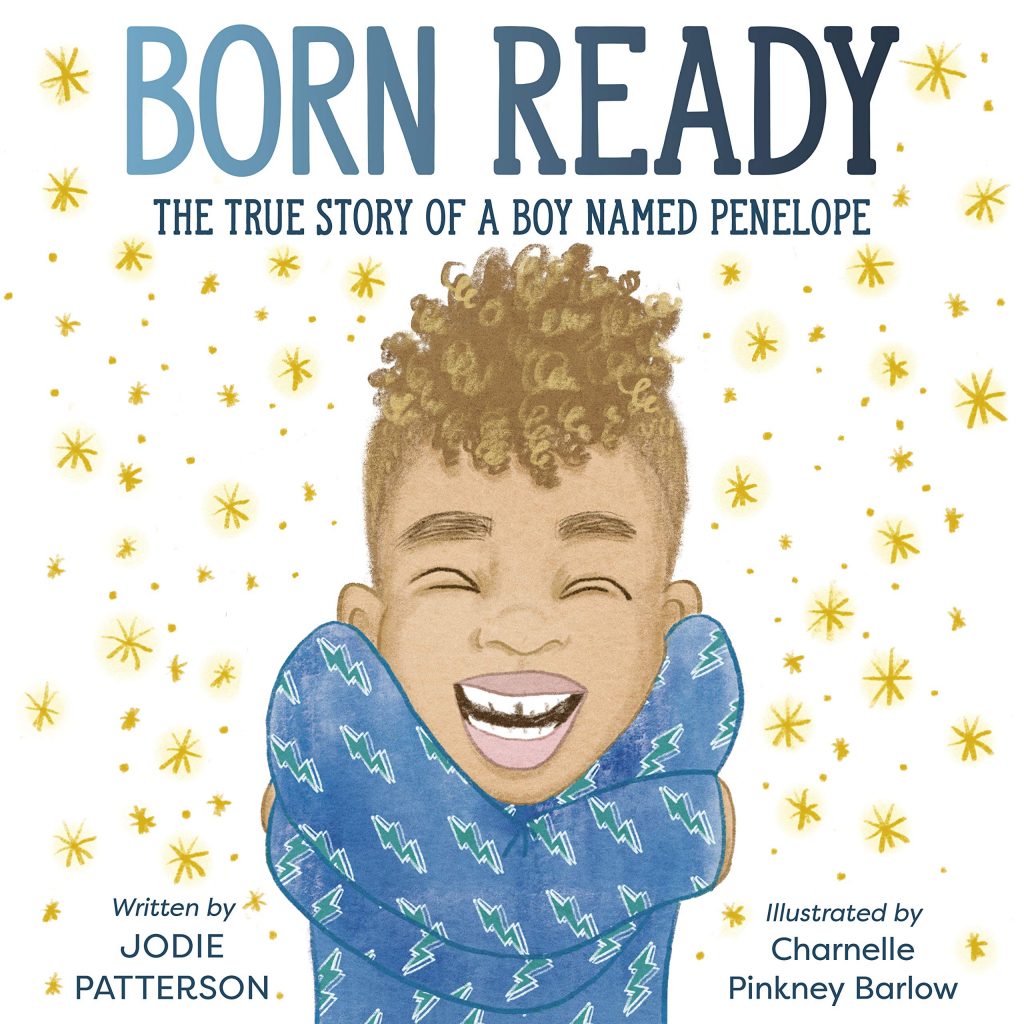 Jodie Patterson, activist and Chair of the Human Rights Campaign Foundation Board, shares her transgender son's experience in this important picture book about identity and acceptance.

Penelope knows that he's a boy. (And a ninja.) The problem is getting everyone else to realize it. In this exuberant companion to Jodie Patterson's adult memoir, The Bold World, Patterson shares her son Penelope's frustrations and triumphs on his journey to share himself with the world. Penelope's experiences show children that it always makes you stronger when you are true to yourself and who you really are.
Hannah and the Ramadan Gift by Qasim Rashid, illustrated by Aaliya Jaleel Ages 3 – 7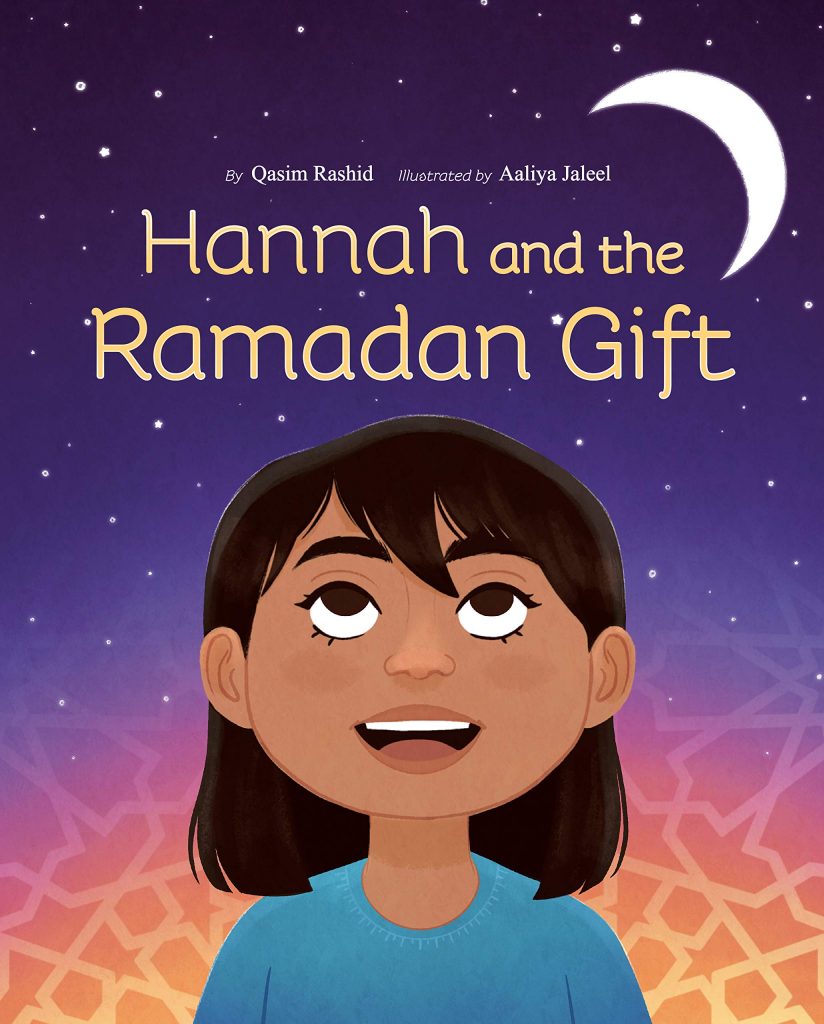 It's the first day of Ramadan and Hannah wants to be a part of this important month every way she can. But if she's too young to fast, how can she observe Ramadan? By saving the world, Dada Jaan tells her. And so Hannah learns that by helping her friends and neighbors and by showing kindness and generosity, she can make the world a better place.
Saving American Beach: The Biography of African American Environmentalist MaVynee Betsch by Heidi Tyline King, Ekua Holmes Ages 4 – 8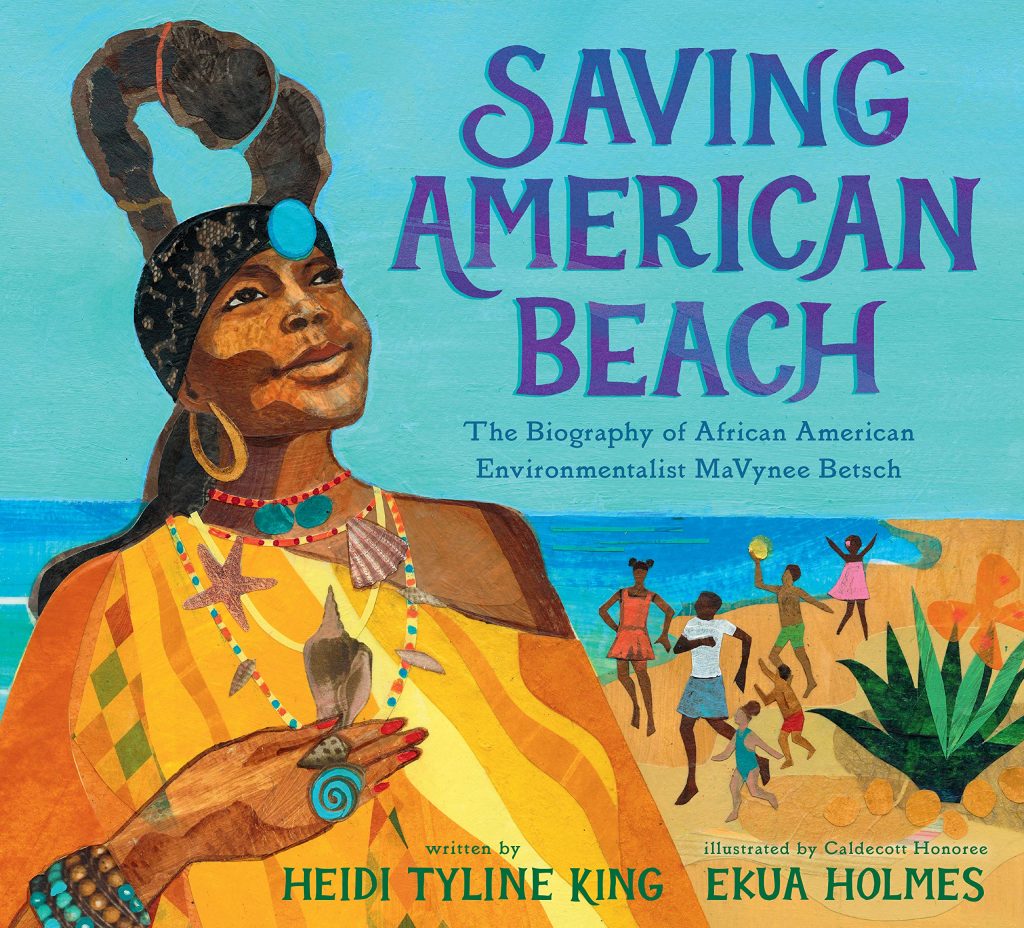 MaVynee loved going to the beach. But in the days of Jim Crow, she couldn't just go to any beach–most of the beaches in Jacksonsville were for whites only. Knowing something must be done, her grandfather bought a beach that African American families could enjoy without being reminded they were second class citizens; he called it American Beach. Artists like Zora Neale Hurston and Ray Charles vacationed on its sunny shores. It's here that MaVynee was first inspired to sing, propelling her to later become a widely acclaimed opera singer who routinely performed on an international stage. But her first love would always be American Beach.
Amira's Picture Day by Reem Faruqi, illustrated by Fahmida Azim Ages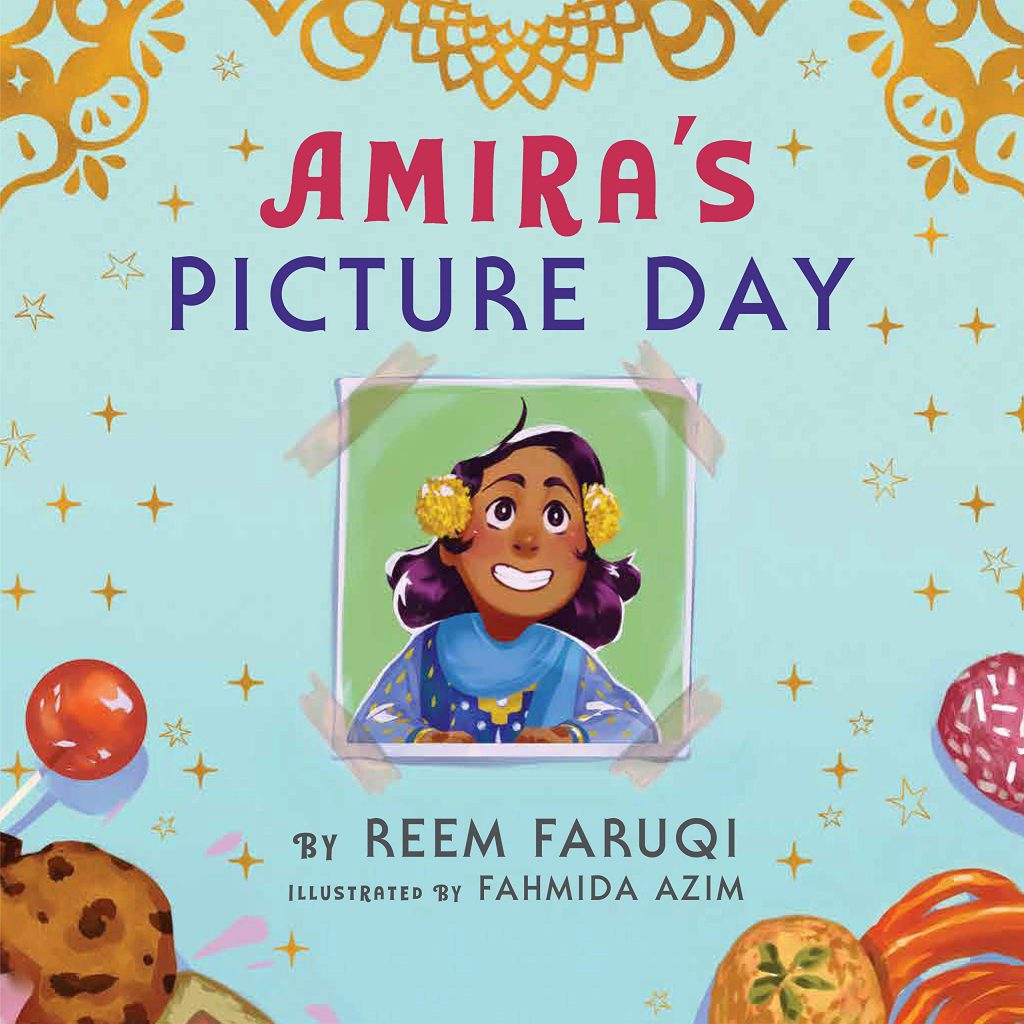 Just the thought of Eid makes Amira warm and tingly inside. From wearing new clothes to handing out goody bags at the mosque, Amira can't wait for the festivities to begin. But when a flier on the fridge catches her eye, Amira's stomach goes cold. Not only is it Eid, it's also school picture day. If she's not in her class picture, how will her classmates remember her? Won't her teacher wonder where she is?
We Laugh Alike by Carmen T. Bernier-Grand, illustrated by Alyssa Bermudez Ages 5 – 8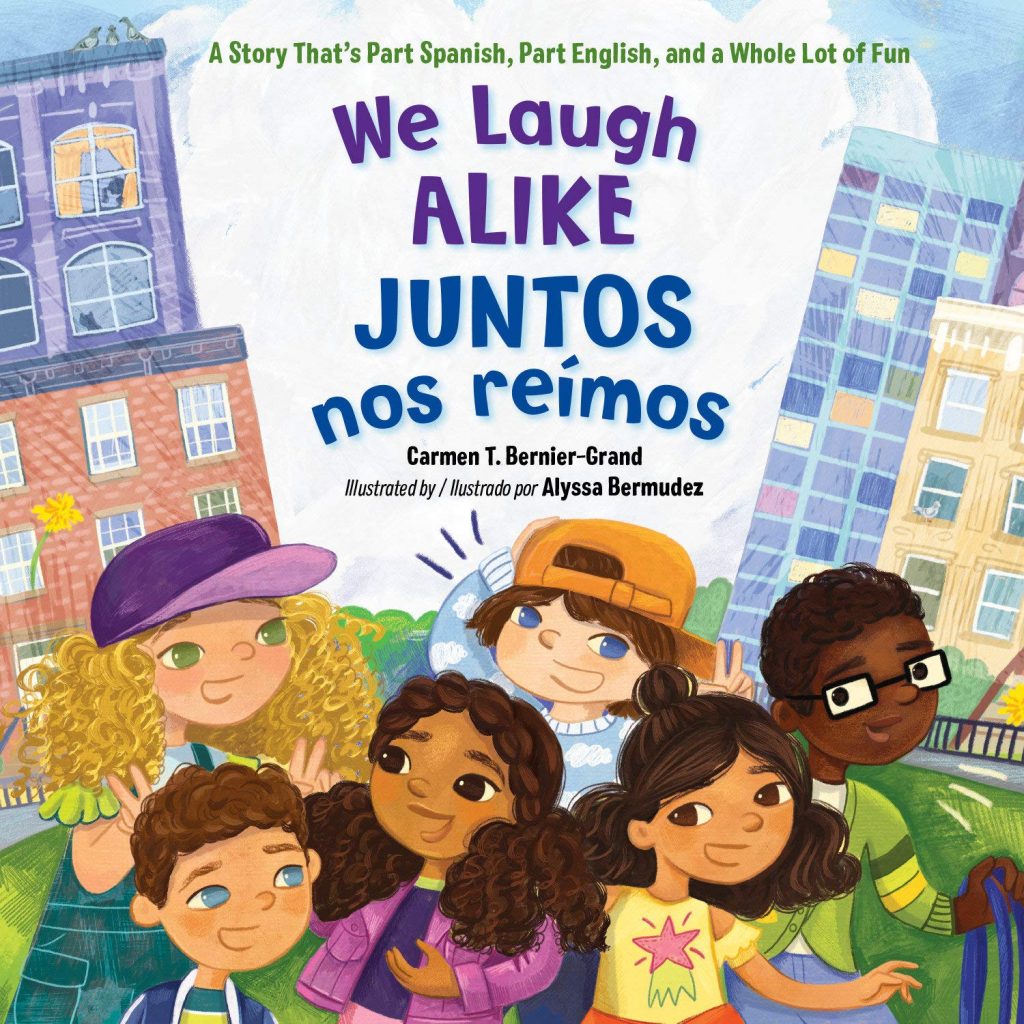 Six kids are ready to play: three speak English. Y tres hablan español [and three speak Spanish]. But all of them laugh alike and together! This clever playground adventure weaves together bilingual English and Spanish conversations, allowing two groups of children to express similar thoughts in their own languages.
Bracelets for Bina's Brothers by Rajani LaRocca, Chaaya Prabhat Ages 3 – 6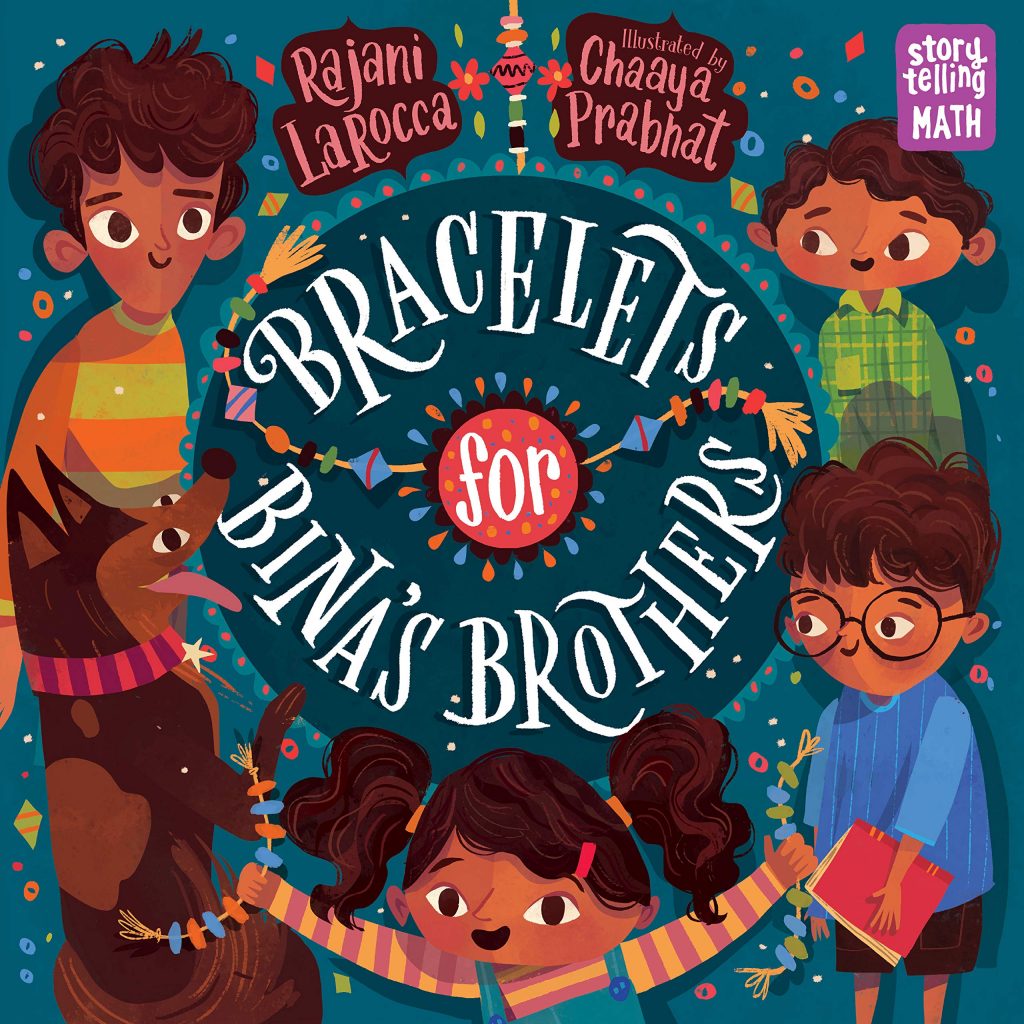 Celebrate diversity, math, and the power of storytelling!
For the Hindu holiday of Raksha Bandhan, Bina is determined to make beaded bracelets for her brothers all by herself. She finds out which colors her brothers like and dislike and sets to work. Working with her every-other-one beading pattern causes Bina to discover something new about patterns–and her brothers.
Storytelling Math celebrates children using math in their daily adventures as they play, build, and discover the world around them. Joyful stories and hands-on activities make it easy for kids and their grown-ups to explore everyday math together. Developed in collaboration with math experts at STEM education nonprofit TERC, under a grant from the Heising-Simons Foundation.
May
A Kids Book About Diversity by Charnaie Gordon Ages 5 – 9 and up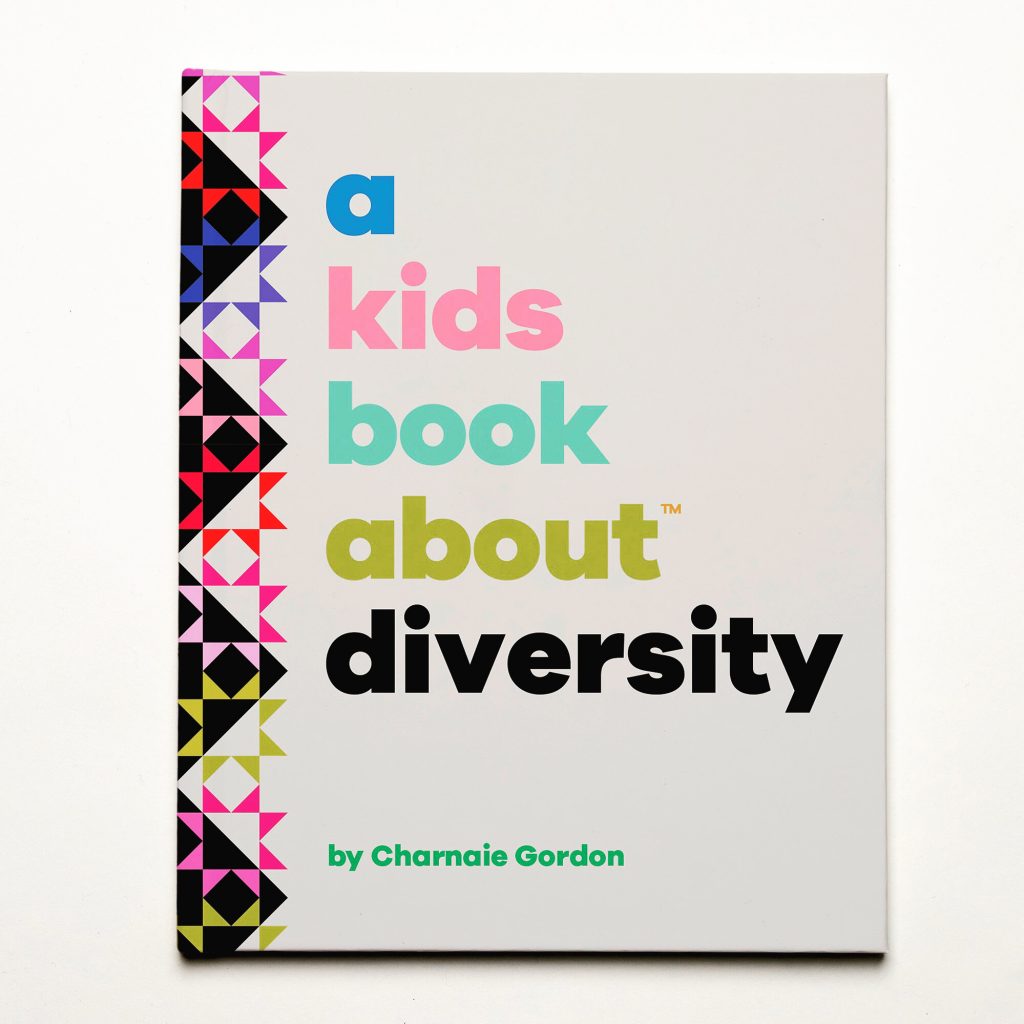 Diversity is what makes the world such a beautiful and interesting place. When you open your life to it, you learn to respect and celebrate those differences that make everyone special— including your own. This book was made to help kids understand what diversity is and how to actively embrace diversity in every aspect of their lives.
Race Cars by Jenny Devenny, edited by Charnaie Gordon Ages 6 – 9 and up
Race Cars is a children's book about white privilege created to help parents and educators facilitate tough conversations about race, privilege, and oppression.
Written by a clinical social worker and child therapist with experience in anti-bias training and edited by a diversity expert, Race Cars tells the story of 2 best friends, a white car and a black car, that have different experiences and face different rules while entering the same race.
Filled with bright, attention-grabbing illustrations, a notes and activities section at the back helps parents, guardians, and teachers further discuss these issues with children.
A Day for Rememberin': Inspired by the True Events of the First Memorial Day by Leah Henderson, Floyd Cooper Ages 7 – 10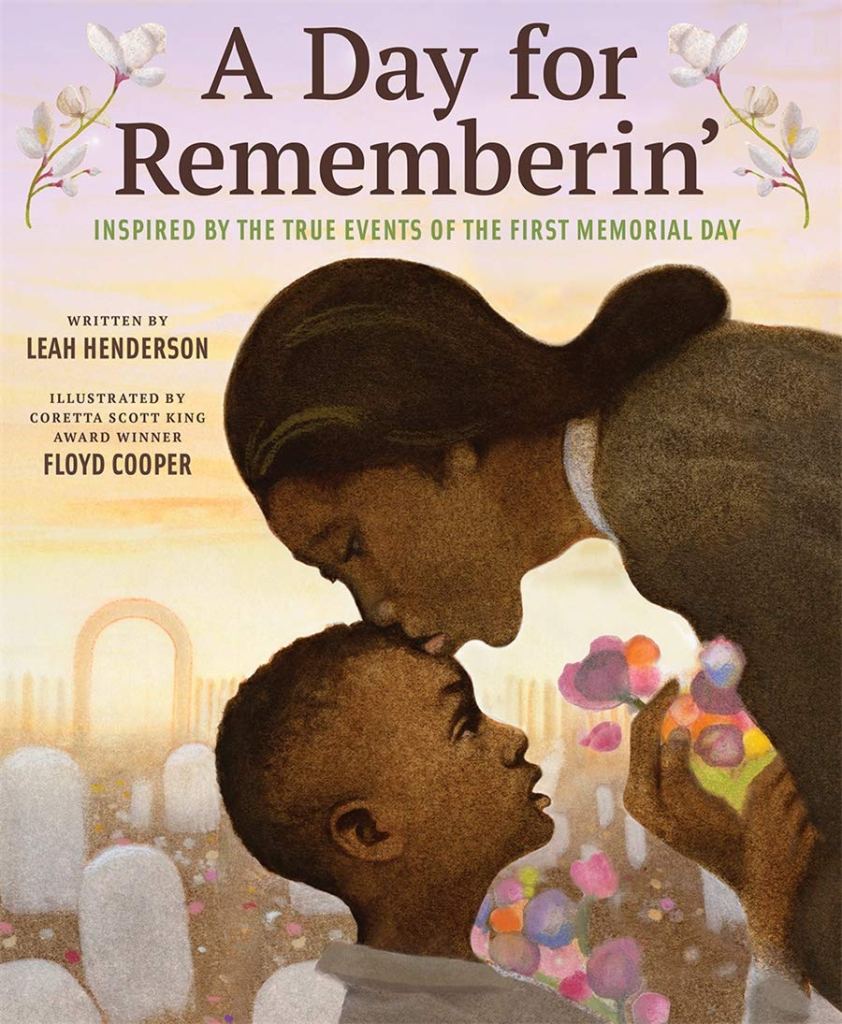 Inspired by true events and told through the eyes of a young boy, this is the deeply moving story about what is regarded as the first Memorial Day on May 1, 1865. Eli dresses up in his best clothes, Mama gathers the mayflowers, Papa straightens his hat, and together they join the crowds filling the streets of Charleston, South Carolina, with bouquets, crosses, and wreaths. Abolitionists, missionaries, teachers, military officers, and a sea of faces Black, Brown, and White, they march as one and sing for all those who gave their lives fighting for freedom during the Civil War.
Branches of Hope: The 9/11 Survivor Tree by Ann Magee, Nicole Wong Ages 4 – 7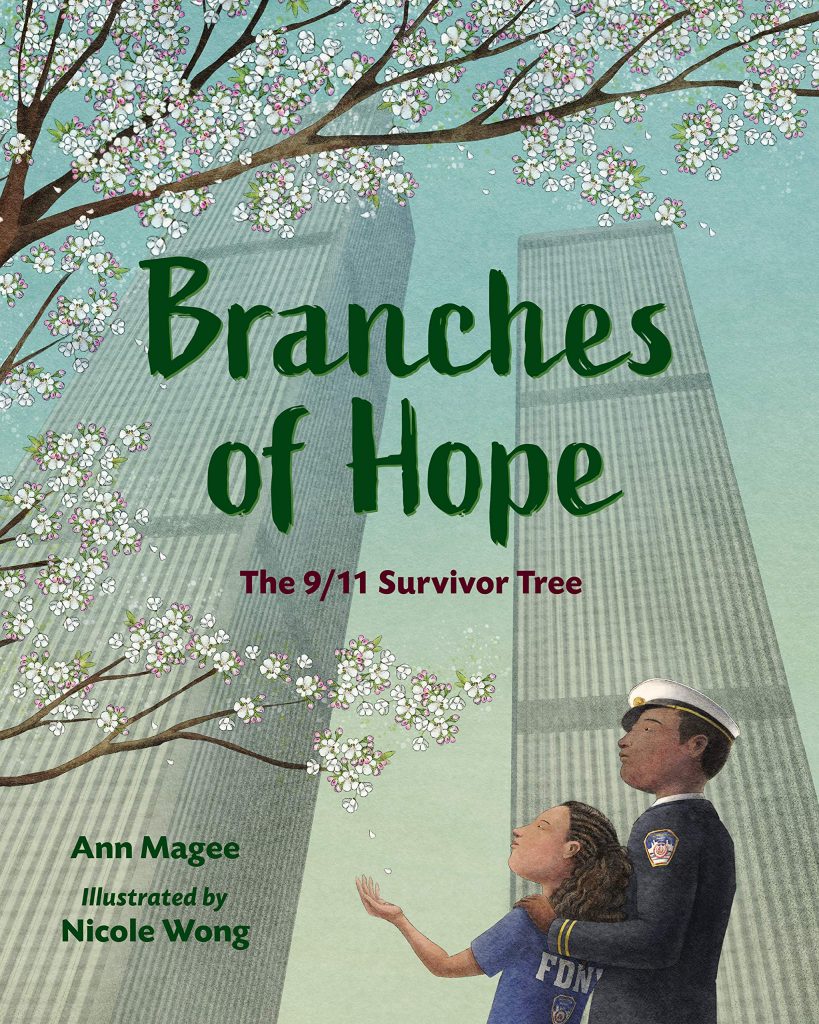 Remember and honor the events of 9/11 and celebrate how hope appears in the midst of hardship. The Survivor Tree found at Ground Zero was rescued, rehabilitated, and then replanted at the 9/11 Memorial site in 2011. This is its story.
In this moving tribute to a city and its people, a wordless story of a young child accompanies the tree's history. As the tree heals, the girl grows into an adult, and by the 20th anniversary of 9/11, she has become a firefighter like her first-responder uncle. A life-affirming introduction to how 9/11 affected the United States and how we recovered together.
Peace Train by Cat Stevens, Peter H. Reynolds Ages 4 – 8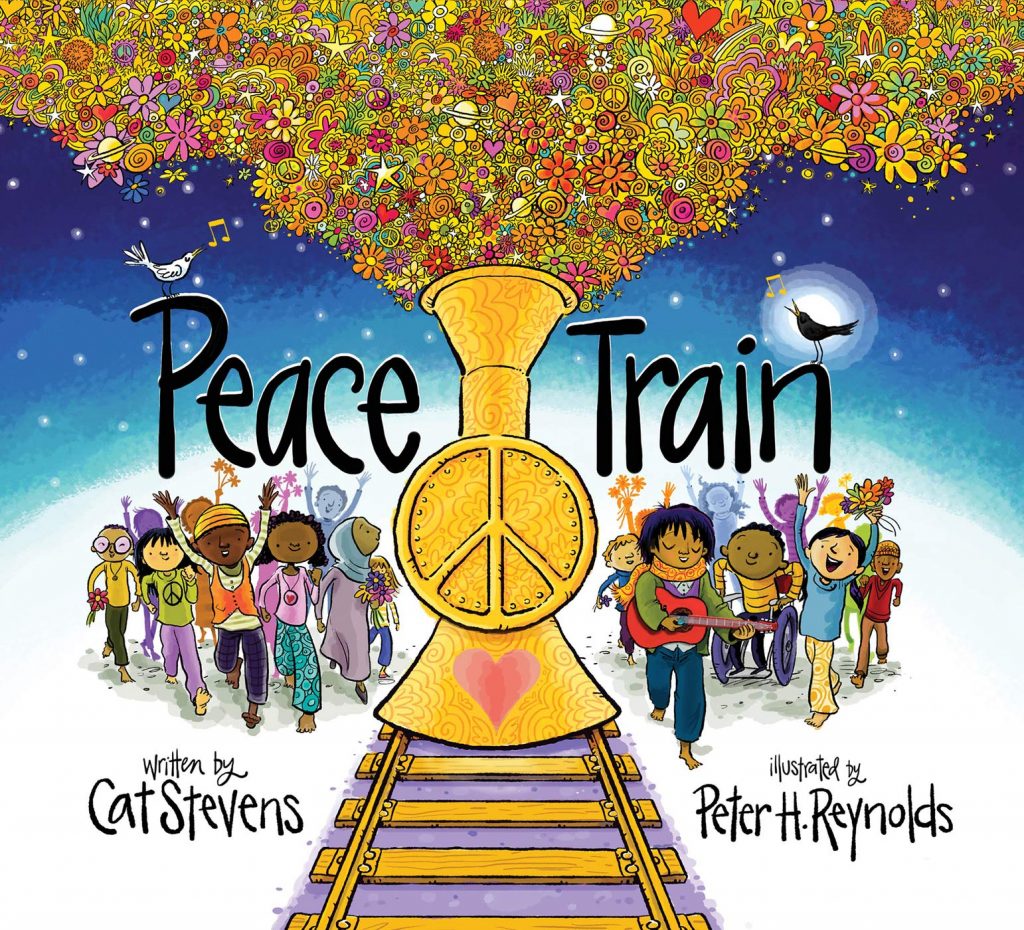 Readers are invited to hop on the PEACE TRAIN and join its growing group of passengers who are all ready to unite the world in peace and harmony.
Featuring the timeless lyrics of Cat Stevens's legendary song and illustrations by New York Times bestselling artist Peter H. Reynolds, this hopeful picture book inspires tolerance and love for people of all cultures and identities.
Family Reunion by Chad Richardson, Ashleigh Corrin Ages 4 – 8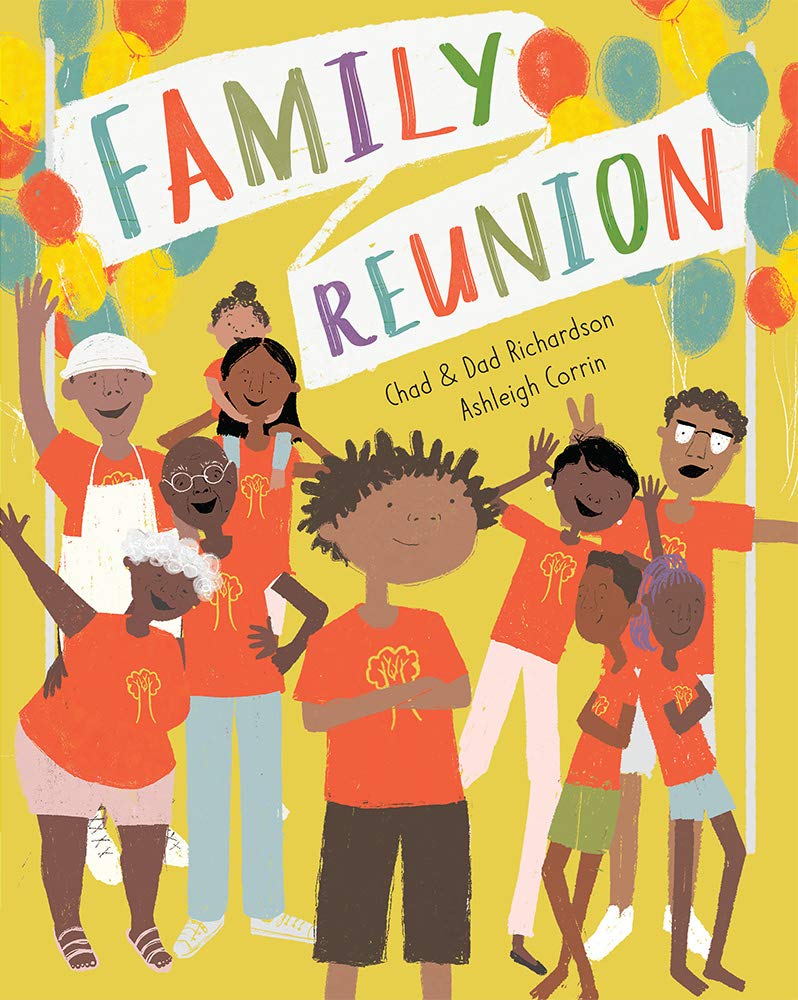 In this contemporary #OwnVoices tale, a boy is reluctant to go to his family reunion, which he's sure will be boring. Vivid, poetic language and rich illustrations bring readers along for the boy's emotional journey, as he ultimately finds himself enjoying the large and joyous gathering in spite of himself. This modern kid's-eye view depiction of a Black American extended family celebrates the importance of kinship and intergenerational ties.
When My Cousins Come to Town by Angela Shanté, Keisha Morris Ages 6 – 9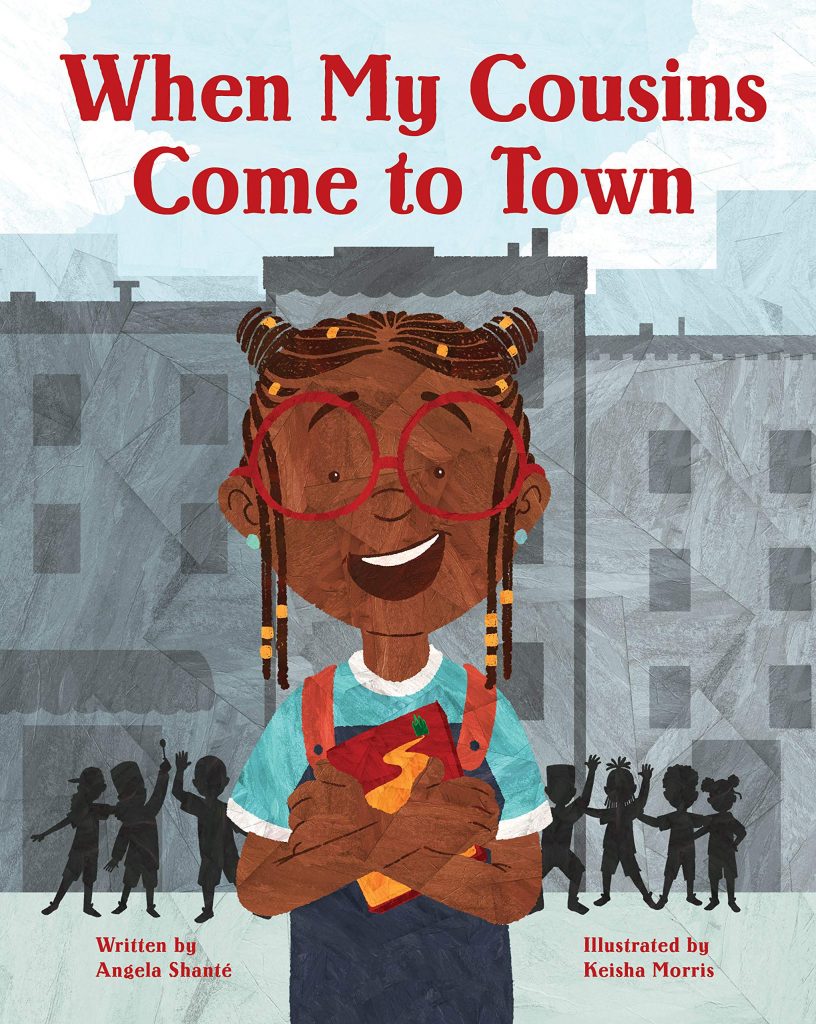 A fun, lively story of Black family and cousin culture that celebrates individuality and embraces differences.
Fitting in can be hard, but standing out isn't easy either!
Every summer a young girl eagerly waits for her cousins to come visit and celebrate her birthday. All her cousins are unique in their own ways and have earned cool nicknames for themselves… except for the girl. But this year things are going to be different. This year before summer ends, she's determined to earn her own nickname!
Wishes by Mượn Thị Văn, Victo Ngai Ages 4 – 8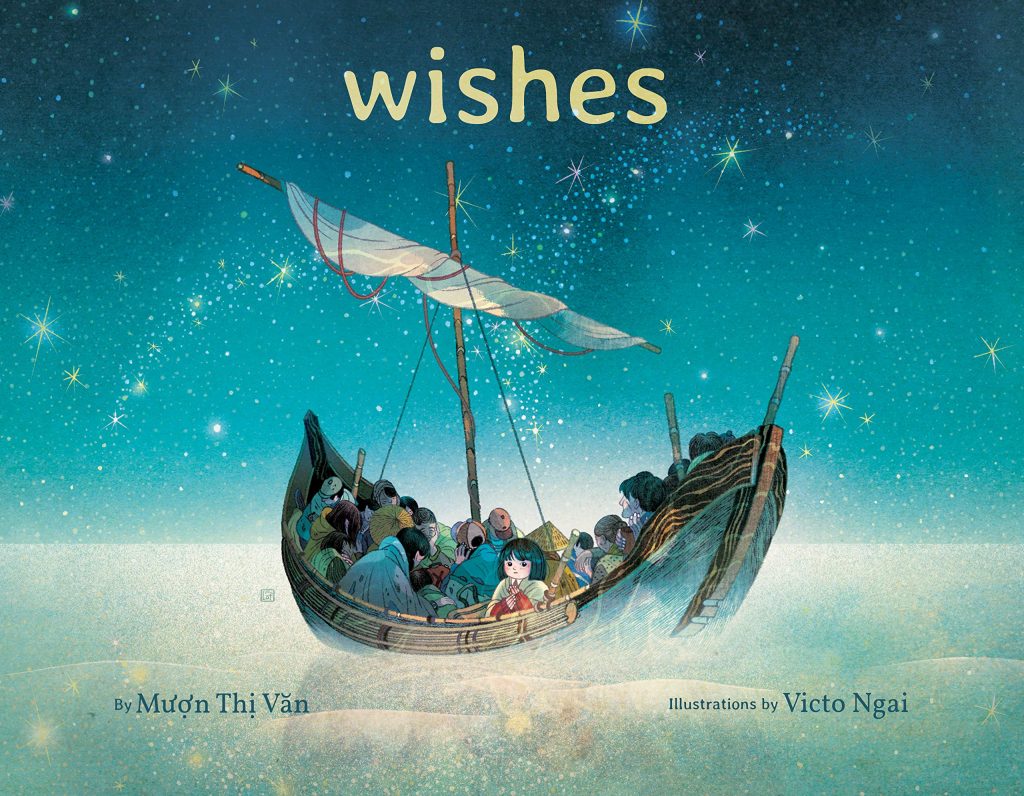 Wishes tells the powerful, honest story about one Vietnamese family's search for a new home on the other side of the world, and the long-lasting and powerful impact that makes on the littlest member of the family. Inspired by actual events in the author's life, this is a narrative that is both timely and timeless. Told through the eyes of a young girl, the story chronicles a family's difficult and powerful journey to pack up what they can carry and to leave their world behind, traveling to a new and unknown place in a crowded boat.
Sharice's Big Voice: A Native Kid Becomes a Congresswoman by Sharice Davids, Nancy K. Mays, Joshua Mangeshig Pawis-Steckley Ages 4 – 8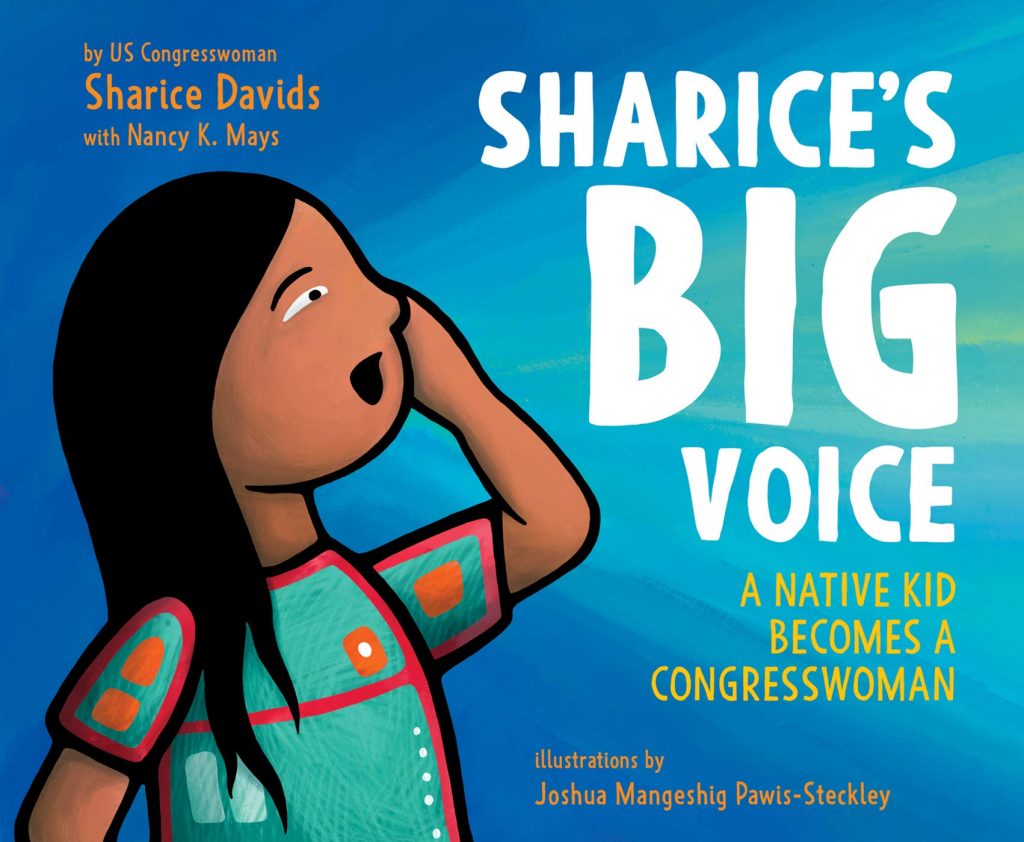 When Sharice Davids was young, she never thought she'd be in Congress. And she never thought she'd be one of the first Native American women in Congress. During her campaign, she heard from a lot of doubters. They said she couldn't win because of how she looked, who she loved, and where she came from. But here's the thing: Everyone's path looks different and everyone's path has obstacles. And this is the remarkable story of Sharice Davids' path to Congress.
We All Play by Julie Flett Ages 4 – 7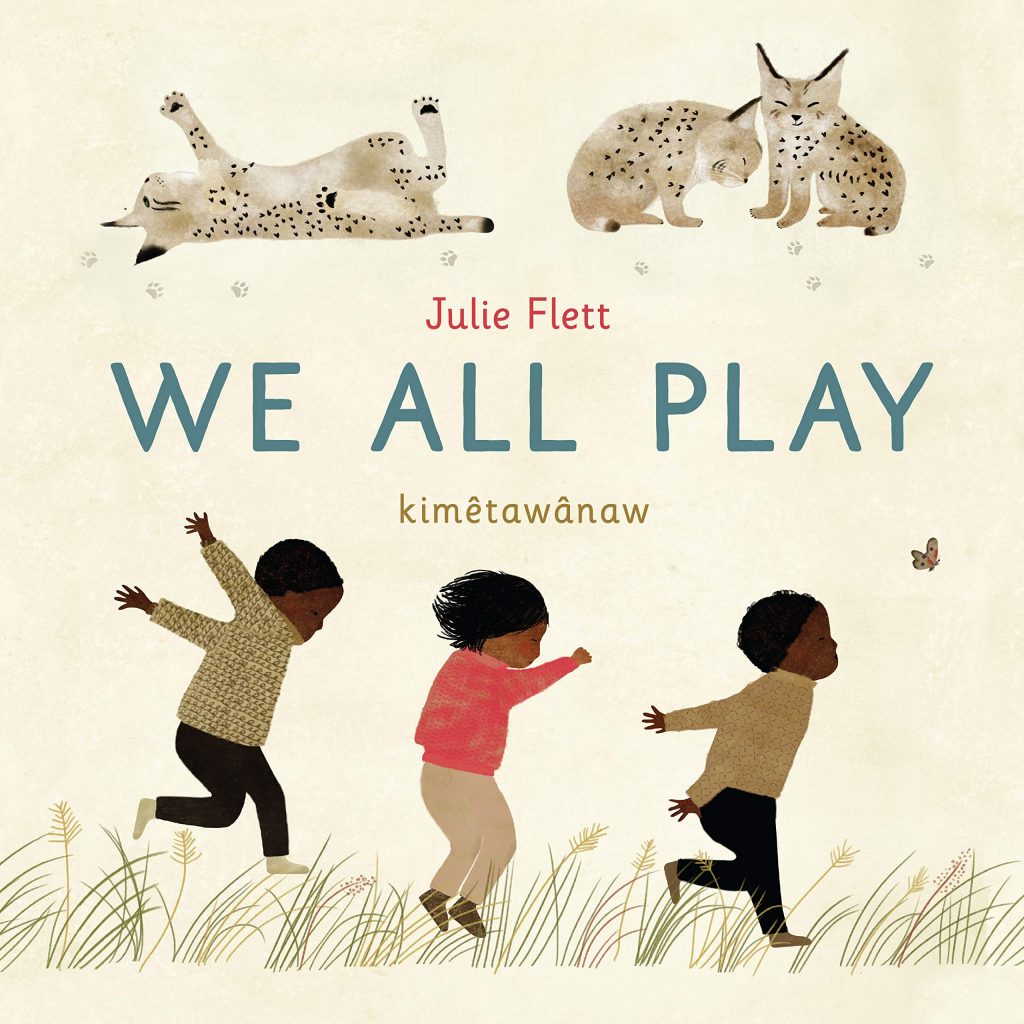 Animals and kids love to play! This wonderful book celebrates diversity and the interconnectedness of nature through an Indigenous perspective, complete with a glossary of Cree words for wild animals at the back of the book, and children repeating a Cree phrase throughout the book. Readers will encounter birds who chase and chirp, bears who wiggle and wobble, whales who swim and squirt, owls who peek and peep, and a diverse group of kids who love to do the same.
Glow by Ruth Forman, Geneva Bowers Ages 0 – 3
A joyfully poetic board book that delivers an ode to the beautiful light of African American boys.
This simple, playful, and elegant board book stars a young boy who joyfully celebrates his dark skin with a bright moon at the end of a perfect day.
Ty Travels: Beach Day by Kelly Starling Lyons, Nina Mata Ages 4 – 8
Ty turns an ordinary day in the sandbox into a fun beach day. He wiggles his toes in the sand, finds seashells, builds a castle, and splashes in the ocean. Splish, splash! When his neighbor's beach ball flies into his backyard, Ty learns that a beach day is even better with a friend.
Sakamoto's Swim Club: How a Teacher Led an Unlikely Team to Victory by Julie Abery, Chris Sasaki Ages 5 – 8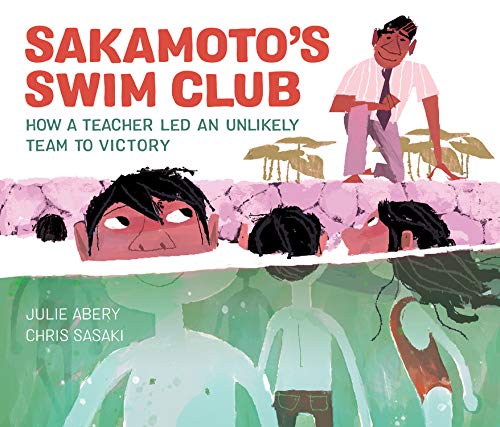 The inspirational and little-known story of a dedicated teacher who coached Hawaiian swimmers all the way to the Olympics, beautifully told in simple rhyme.
When the children of workers on a 1930s Maui sugar plantation were chased away from playing in the nearby irrigation ditches, local science teacher Soichi Sakamoto had an idea. He offered to take responsibility for the children — and then he began training them how to swim. Using his science background, Sakamoto devised his own innovative coaching techniques: he developed a strict practice regime for the kids, building their strength and endurance by using the ditch water's natural current. The children worked hard under the dedicated Sakamoto's guidance, and their skills improved. They formed a swim club and began to dominate in swimming events around the world. And then one day, the proud Sakamoto saw an impossible dream come true — Olympic gold!
Halal Hot Dogs by Susannah Aziz, illustrated by Parwinder Singh Ages 4 – 8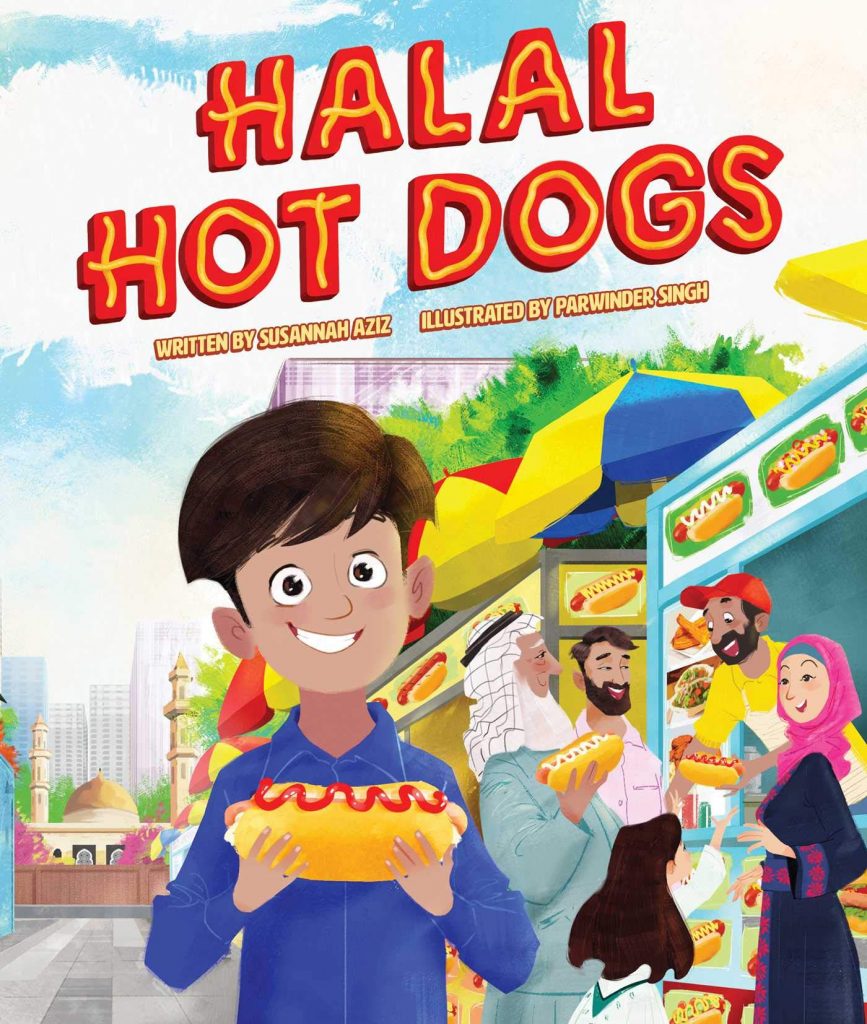 Every Friday after Jummah prayer at the masjid, Musa's family has a special Jummah treat. They take turns picking out what the treat will be, but recently the choices have been . . . interesting. Week one, Mama made molokhia. It's perfect for sharing, but gives us molokhia teeth for days! Week two, Baba burned the kufte kebabs on the grill. Week three, Seedi made his favorite riz b'haleeb-creamy rice pudding with pistachio sprinkled on top with an unexpected ingredient. Last week, Maryam brought jellybeans. . . . Finally, it's Musa's turn to pick, and he picks his favorite-halal hot dogs! But actually getting to eat this deliciousness turns into a journey riddled with obstacles. Will he ever get his favorite tasty treat?
I Affirm Me: The ABCs of Inspiration for Black Kids by Nyasha Williams, illustrated by Sóf'ya Glushkó Ages 4- 8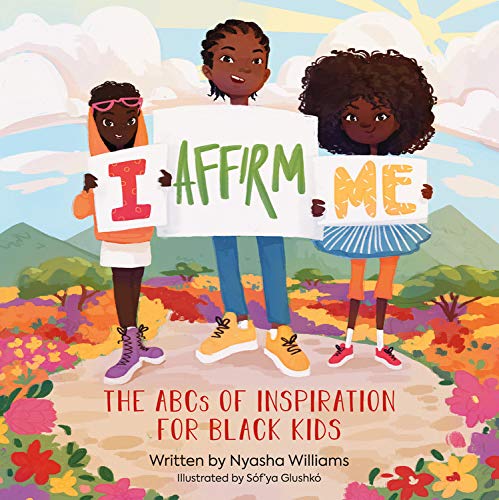 An empowering alphabet book of affirmations to inspire and remind black children of their inner power, strength, and worth.
From A is for Afro, to J is for Justice, to R is for Rally, this alphabet book offers affirmations featuring Black children and role models to help children nurture and embrace their authentic selves and to enjoy the magic of childhood.
Small Room, Big Dreams: The Journey of Julián and Joaquin Castro by Monica Brown, Mirelle Ortega Ages 4 – 8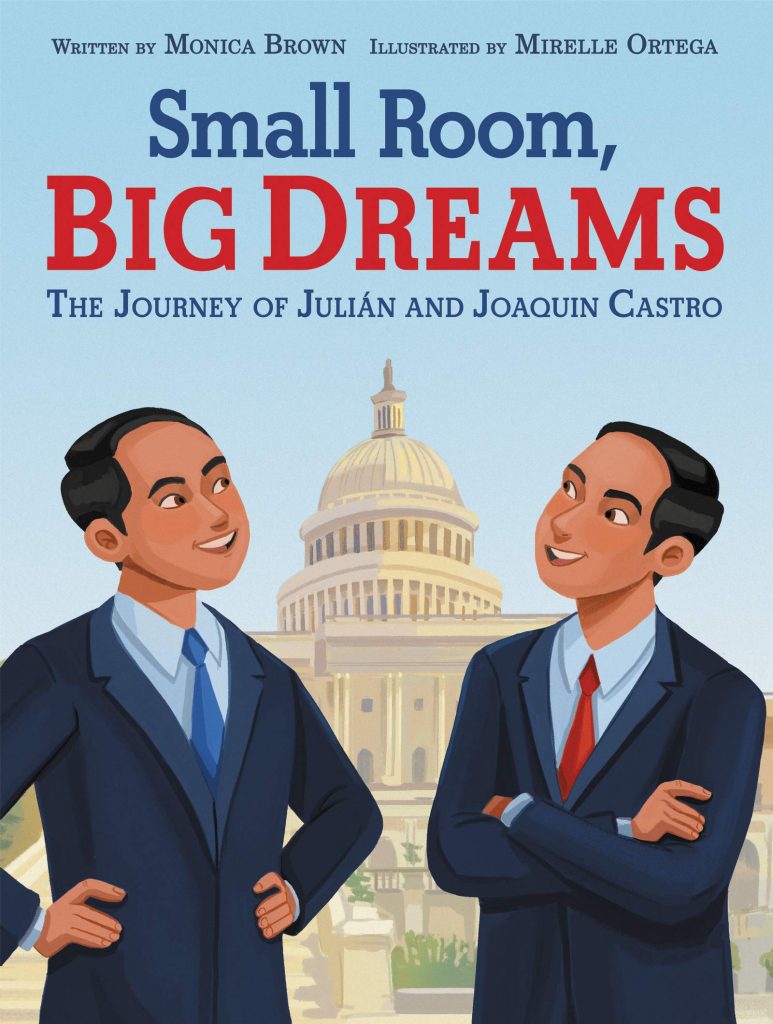 The story of political powerhouse twins Julián and Joaquin Castro began in the small room that they shared with their grandmother Victoriana in San Antonio, Texas. Victoriana crossed the border from Mexico into Texas as a six-year-old orphan, marking the start of the family's American journey. Her daughter Rosie, Julián and Joaquin's mom, was an activist who helped the barrio through local government.
The strong women in their family inspired the twins to get involved in politics. Julián and Joaquin have been working at the local, state, and national level—as a former presidential candidate, mayor and member of President Obama's Cabinet, and a U.S. Congressman, respectively—to make the country a better place for everyone.
Hair Twins by Raakhee Mirchandani, Holly Hatam Ages 4 – 8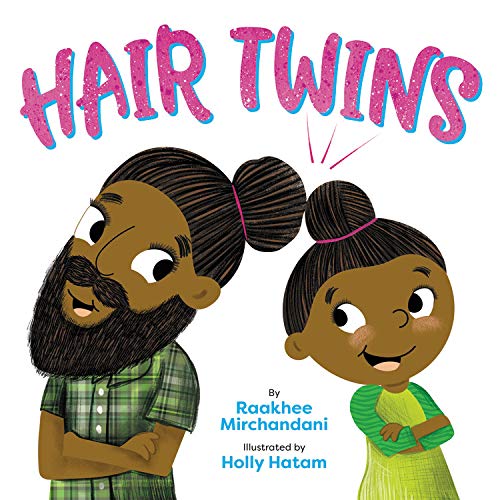 A charming story about the special hair bond between a Sikh father and daughter as they boldly celebrate and proudly share their family tradition.
Every morning Papa combs through his daughter's waves like he does his own — parting it down the middle, using coconut oil to get all the tangles out. Some days he braids her hair in two twists down the side of her face. Other days he weaves it into one long braid hanging down her back, just like a unicorn tail.
But her favorite style is when he combs her hair in a tight bun on the top of her head, just like the joora he wears every day under his turban. They call this their hair twin look!
What Will You Be? by Yamile Saied Mendez, Kate Alizadeh Ages 4 – 8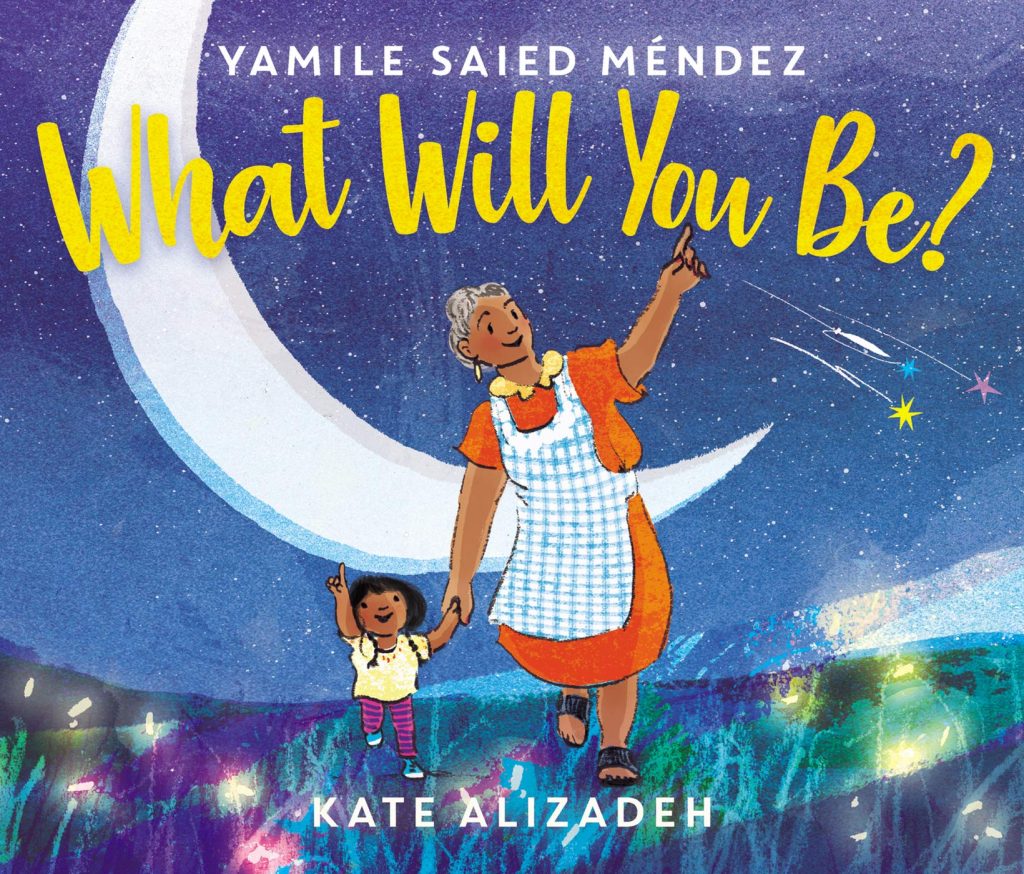 What will you be when you grow up?
A young girl dreams about all the endless possibilities, sparking a sense of wonder, curiosity, and growth. With her abuela's loving guidance, she learns her potential is limitless.
Ruby's Reunion Day Dinner by Angela Dalton, Jestenia Southerland Ages 4 – 8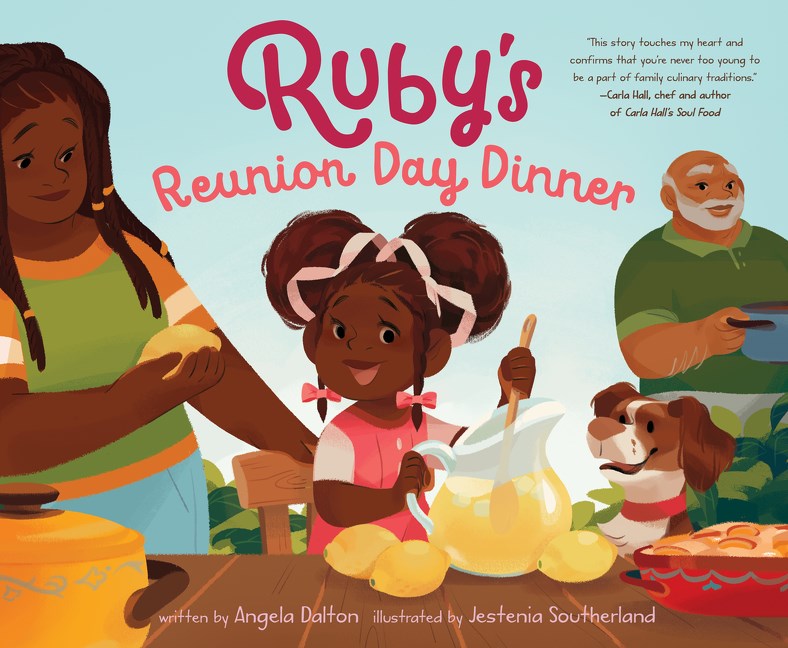 Once a year, each of Ruby's relatives prepares a special dish to share at their family reunion. Daddy calls it their "signature dish"–and Ruby wants one of her own. She wanders through the bustling kitchen looking for inspiration. As she watches Pop-Pop's chicken sizzling in the skillet, Uncle G slicing onions, and Auntie Billie cooking corn on the hot grill, she wonders if she's just too young to have a signature dish. That's when she finds it– the perfect solution.
Hold the Flag High: The True Story of the First Black Medal of Honor Winner by Catherine Clinton, Shane W. Evans Ages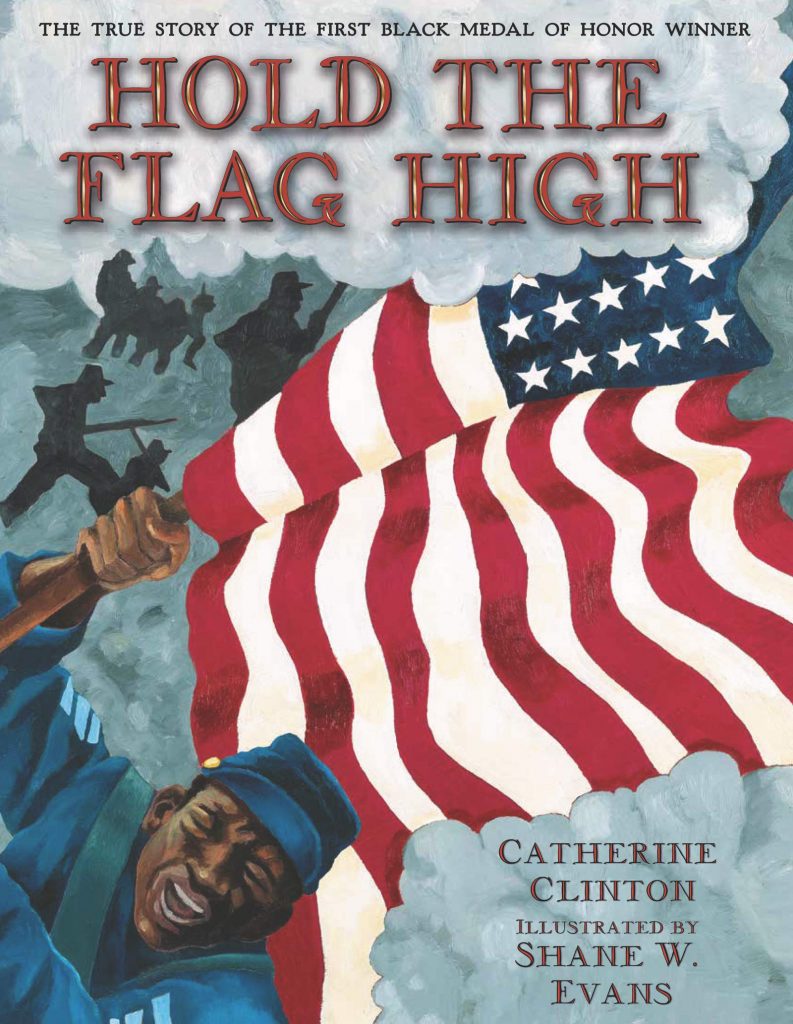 The true story of the first Black Medal of Freedom winner—a remarkable account of one of the most memorable battles in Civil War history.
Sergeant William H. Carney was one of the few Black officers of the newly formed Massachusetts Fifty-fourth Regiment—composed entirely of Black soldiers. In an important Civil War battle, Carney led his men over the ramparts of Fort Wagner, where Union soldiers charged the Confederates. As they fought, they gained strength from the stars and stripes of the American flag, Old Glory.
Ophie's Ghosts by Justina Ireland Ages 8 – 12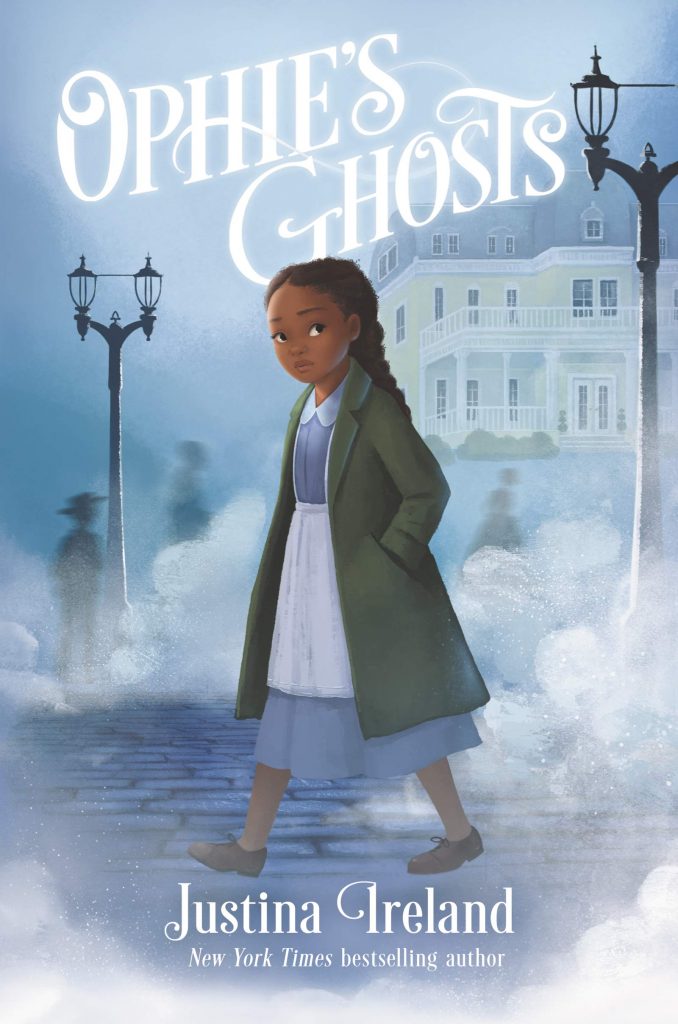 Ophelia Harrison used to live in a small house in the Georgia countryside. But that was before the night in November 1922, and the cruel act that took her home and her father from her. Which was the same night that Ophie learned she can see ghosts.
Now Ophie and her mother are living in Pittsburgh with relatives they barely know. In the hopes of earning enough money to get their own place, Mama has gotten Ophie a job as a maid in the same old manor house where she works.
Sculptor Woodrow Nash: How I Search for My Ancestors by Woodrow Nash, Shelley Fraser Mickle Ages 8 – 12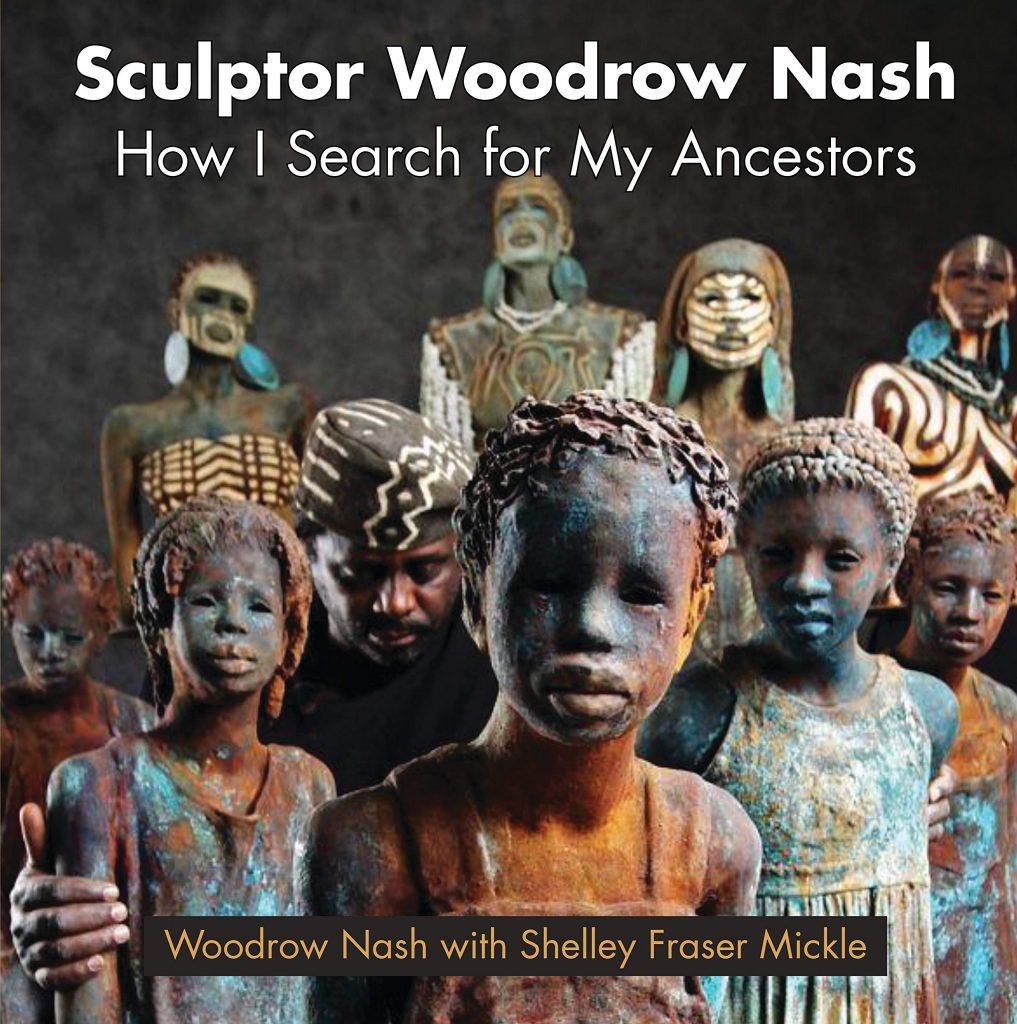 In a collection of biographies informed by historical documents, Nash and Mickle walk readers through his creation of proud statues celebrating African royalty and rough images of enslaved children still carrying the vestiges of their fierce heritage.
The research that binds the images to our reality is found in ship's manifests, post-Civil War cartes de visite, and a wealth of books and articles cited in the bibliography. A brief history of sculpture provides context for the art created by Nash–sculptures that illuminate the lives of Africans before their enslavement and reveal their resilience in their new existence. 
Like a Dandelion by Huy Voun Lee Ages 4- 8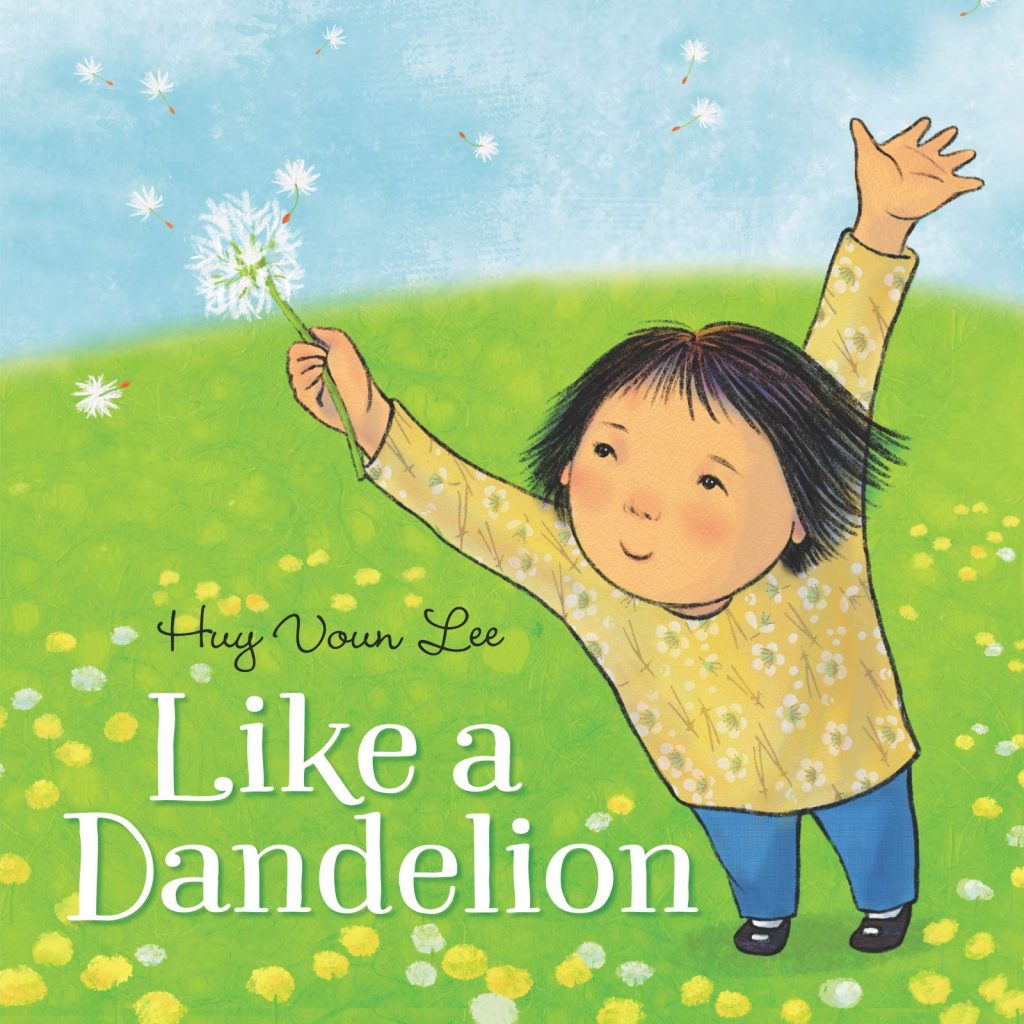 Like feathery seeds, a young girl and her mother take flight, putting down roots in an adopted country. Soon they blossom in their new home, strong and beautiful among hundreds of others just like them.
Huy Voun Lee's text is gentle and lyrical, making for an excellent storytime or bedtime read. The story is based on Huy's own childhood experience of moving to the US as a Cambodian refugee.
This Very Tree: A Story of 9/11, Resilience, and Regrowth by Sean Rubin Ages 4 – 8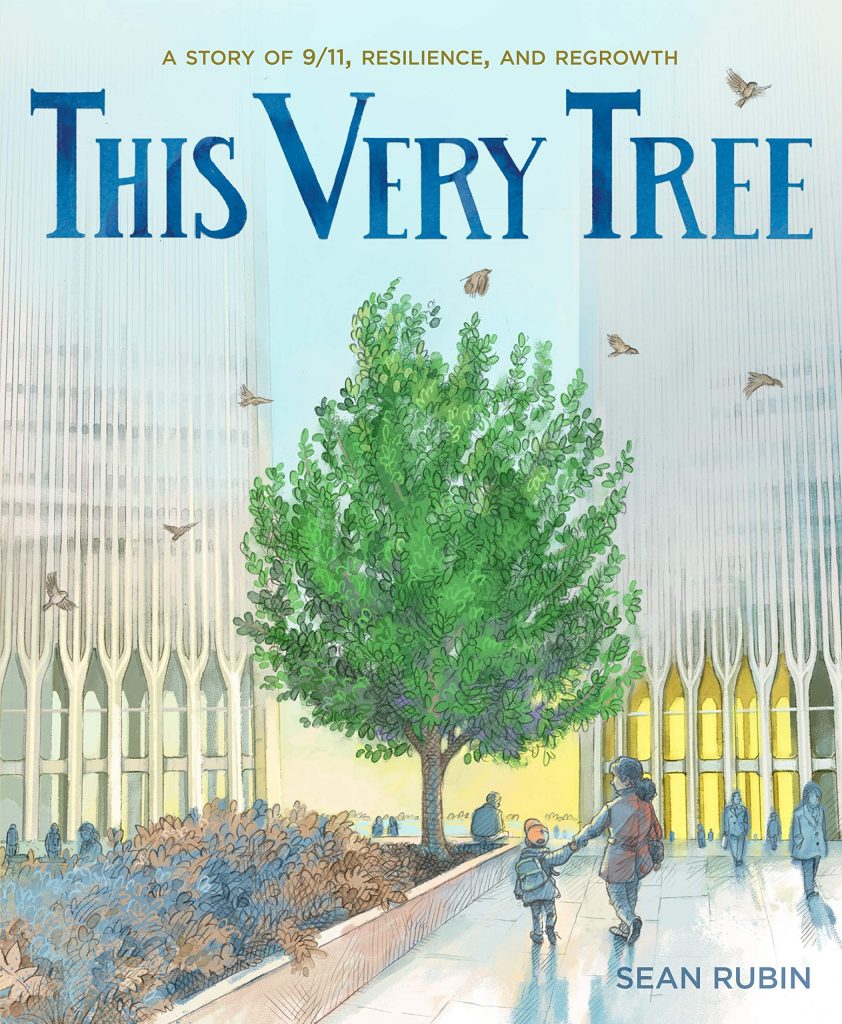 In the 1970s, nestled between the newly completed Twin Towers in New York City, a Callery pear tree was planted. Over the years, the tree provided shade for people looking for a place to rest and a home for birds, along with the first blooms of spring.
On September 11, 2001, everything changed. The tree's home was destroyed, and it was buried under the rubble. But a month after tragedy struck, a shocking discovery was made at Ground Zero: the tree had survived.
Dubbed the "Survivor Tree," it was moved to the Bronx to recover. And in the thoughtful care of the New York City Department of Parks and Recreation, the Callery pear was nursed back to health. Almost a decade later, the Survivor Tree returned home and was planted in the 9/11 Memorial to provide beauty and comfort…and also hope.
What Are Your Words? A Book About Pronouns by Katherine Locke, Anne Passchier Ages 4- 8 and up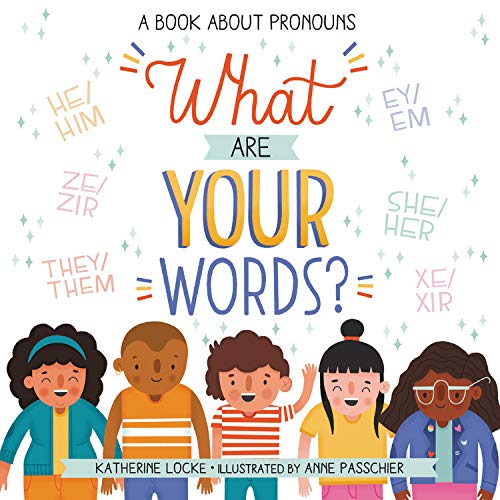 Whenever Ari's Uncle Lior comes to visit, they ask Ari one question: "What are your words?" Some days Ari uses she/her. Other days Ari uses he/him. But on the day of the neighborhood's big summer bash, Ari doesn't know what words to use. On the way to the party, Ari and Lior meet lots of neighbors and learn the words each of them use to describe themselves, including pronouns like she/her, he/him, they/them, ey/em, and ze/zir. As Ari tries on different pronouns, they discover that it's okay to not know your words right away–sometimes you have to wait for your words to find you.
Filled with bright, graphic illustrations, this simple and poignant story about finding yourself is the perfect introduction to gender-inclusive pronouns for readers of all ages.
June
Dumplings for Lili by Melissa Iwai Ages 6 – 8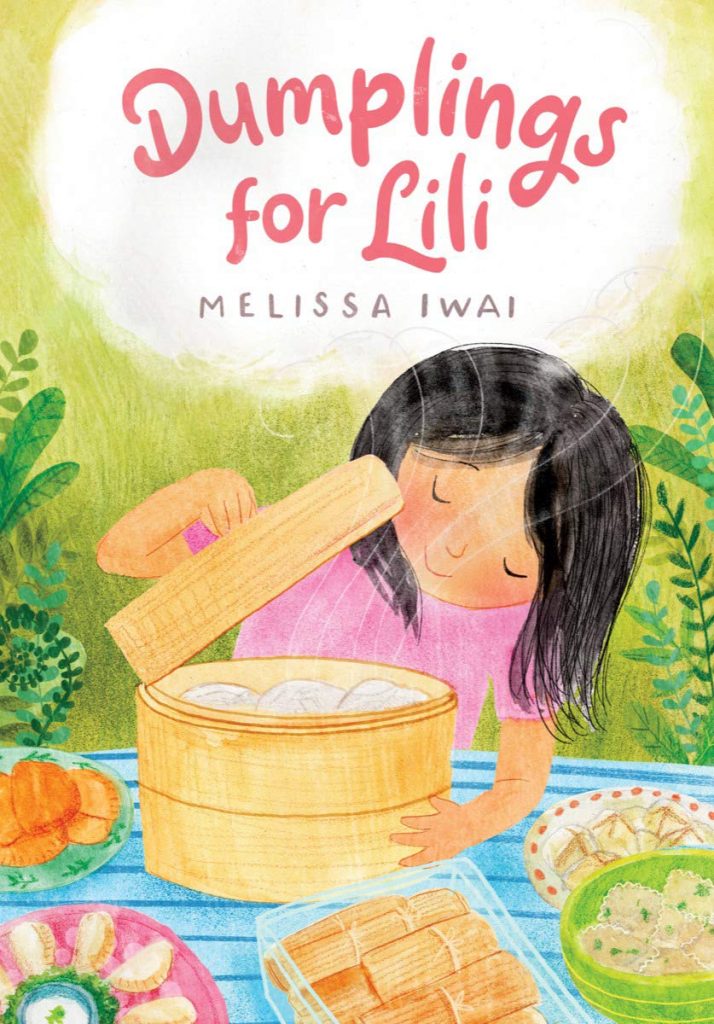 Lili loves to cook baos, and Nai Nai has taught her all the secrets to making them, from kneading the dough lovingly and firmly to being thankful for the strong and healthy ingredients in the filling. But when Nai Nai realizes that they are out of cabbage (Secret #8: line the basket with cabbage leaves!), she sends Lili up to Babcia's apartment on the sixth floor to get some. Babcia is happy to share her cabbage, but she needs some potatoes for her pierogi.
Mindy Kim and the Trip to Korea by Lyla Lee, Dung Ho Ages 6 – 9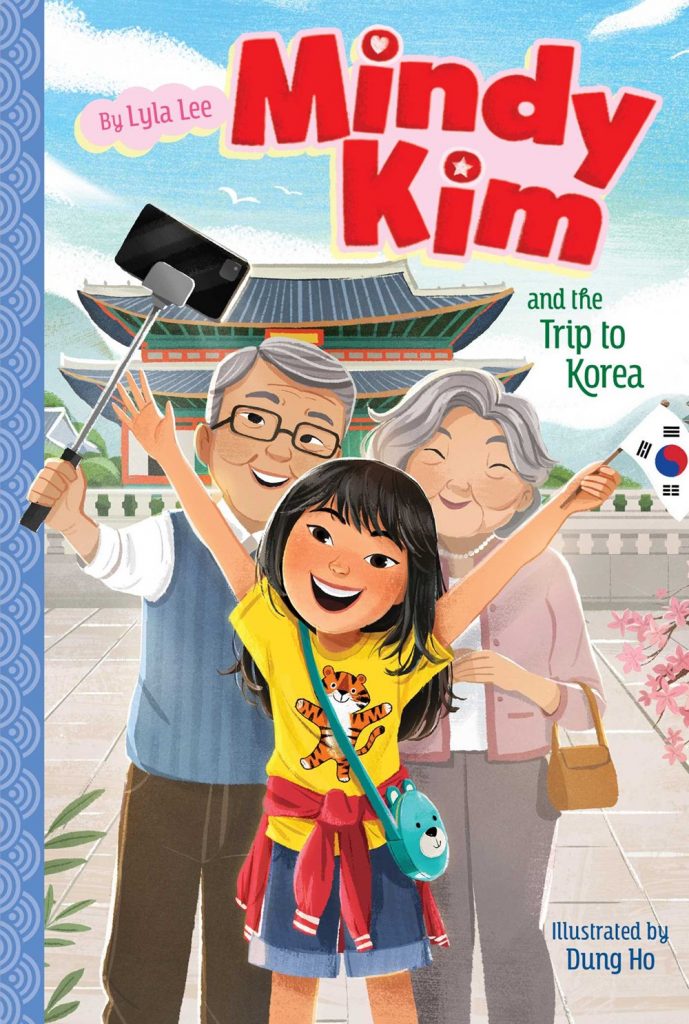 Mindy is super excited to go to South Korea to visit her grandparents! She has never taken such a big trip before, and she can't wait to see her family again. Plus, Dad's girlfriend, Julie, is also going to meet the family for the first time.
Mindy and Julie decide to make a traditional Korean meal for the family as a thank-you for hosting. But after a few mishaps, Mindy fears they are cooking up a big disaster in the kitchen! Can Mindy and Julie make sure their meal passes the most important taste test of them all?
Mia Mayhem Rides the Waves by Kara West, Leeza Hernandez Ages 5 – 9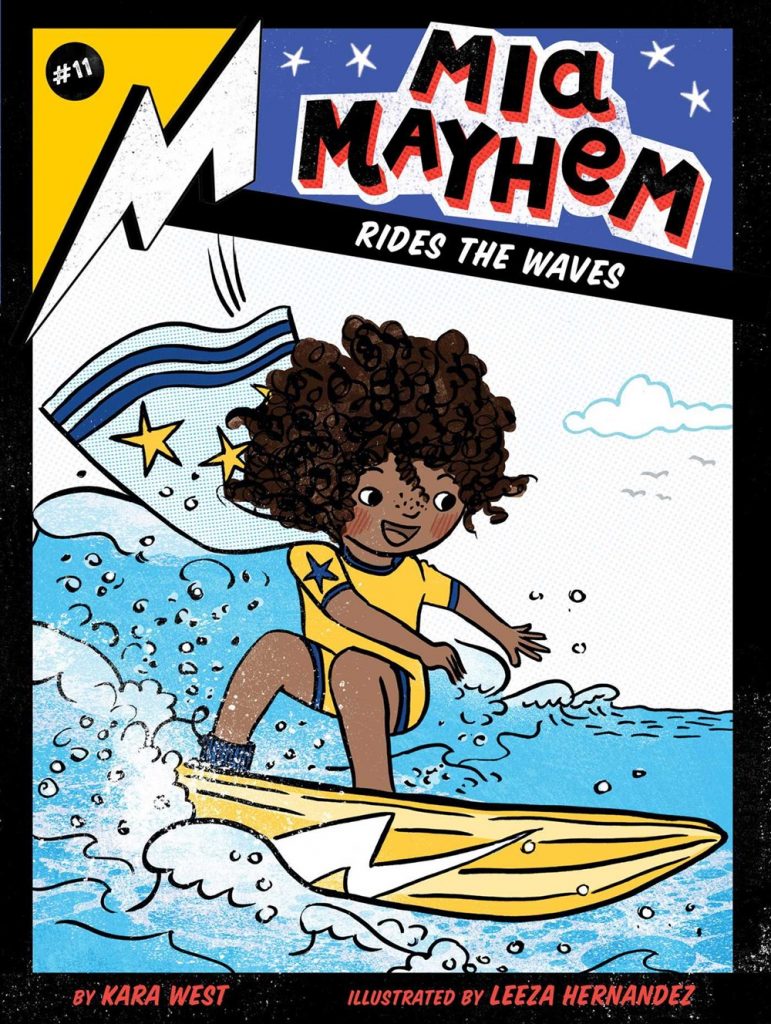 Mia goes on a super surfing family vacation in this eleventh adventure of the Mia Mayhem chapter book series!
With easy-to-read language and illustrations on almost every page, the Mia Mayhem chapter books are perfect for emerging readers.
Becoming Vanessa by Vanessa Brantley-Newton Ages 3 – 6 and up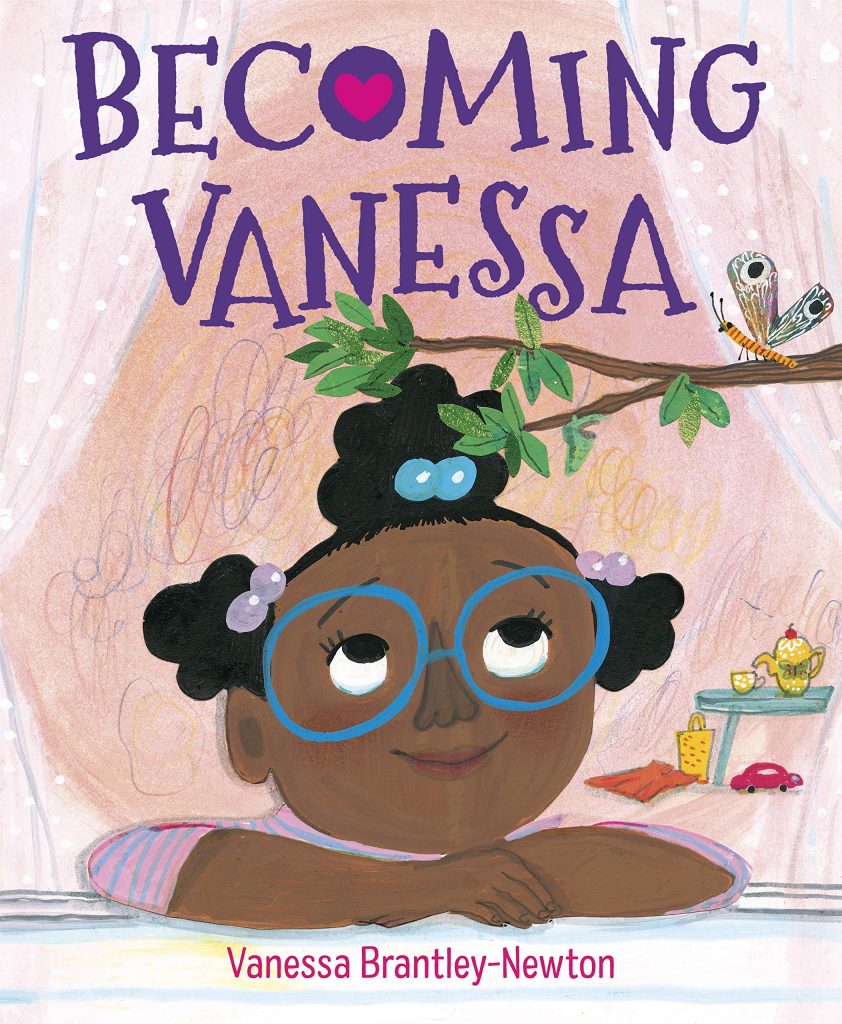 On Vanessa's first day of school, her parents tell her it will be easy to make friends. Vanessa isn't so sure. She wears her fanciest outfit so her new classmates will notice her right away. They notice, but the attention isn't what she'd hoped for. As the day goes on, she feels more self-conscious. Her clothes are too bright, her feather boa has way too many feathers, and even her name is too hard to write.
The next day, she picks out a plain outfit, and tells her mom that her name is too long. She just wants to blend in, with a simple name like the other girls–why couldn't her parents have named her Megan or Bella? But when her mother tells her the meaning behind her name, it gives her the confidence she needs to introduce her classmates to the real Vanessa
I is for Immigrants by Selina Alko Ages 4 – 8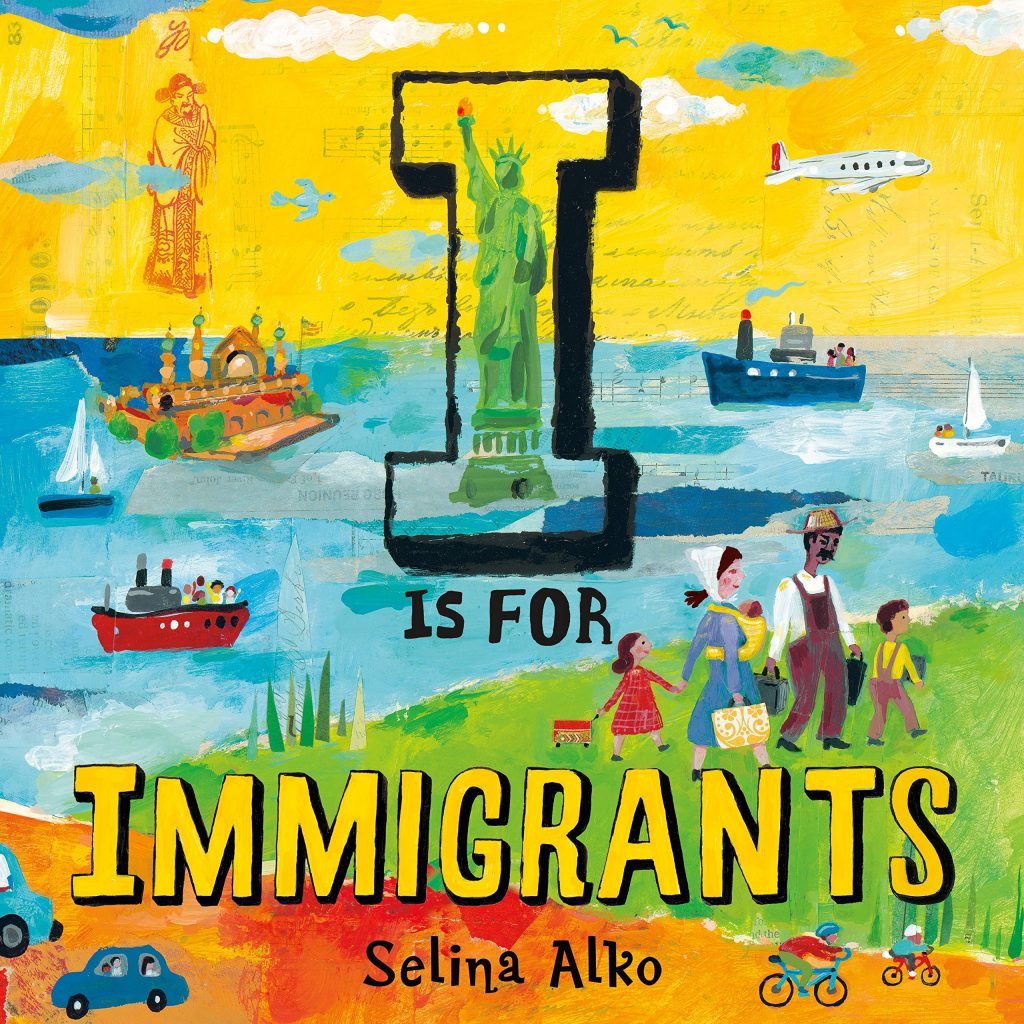 What do African dance, samosas, and Japanese gardens have in common? They are all gifts the United States received from immigrants: the vibrant, multifaceted people who share their heritage and traditions to enrich the fabric of our daily lives. From Jewish delis to bagpipes, bodegas and Zen Buddhism, this joyful ABC journey is a celebration of immigrants: our neighbors, our friends.
Zuri Ray Tries Ballet by Tami Charles, illustrated by Sharon Sordo Ages 4 – 8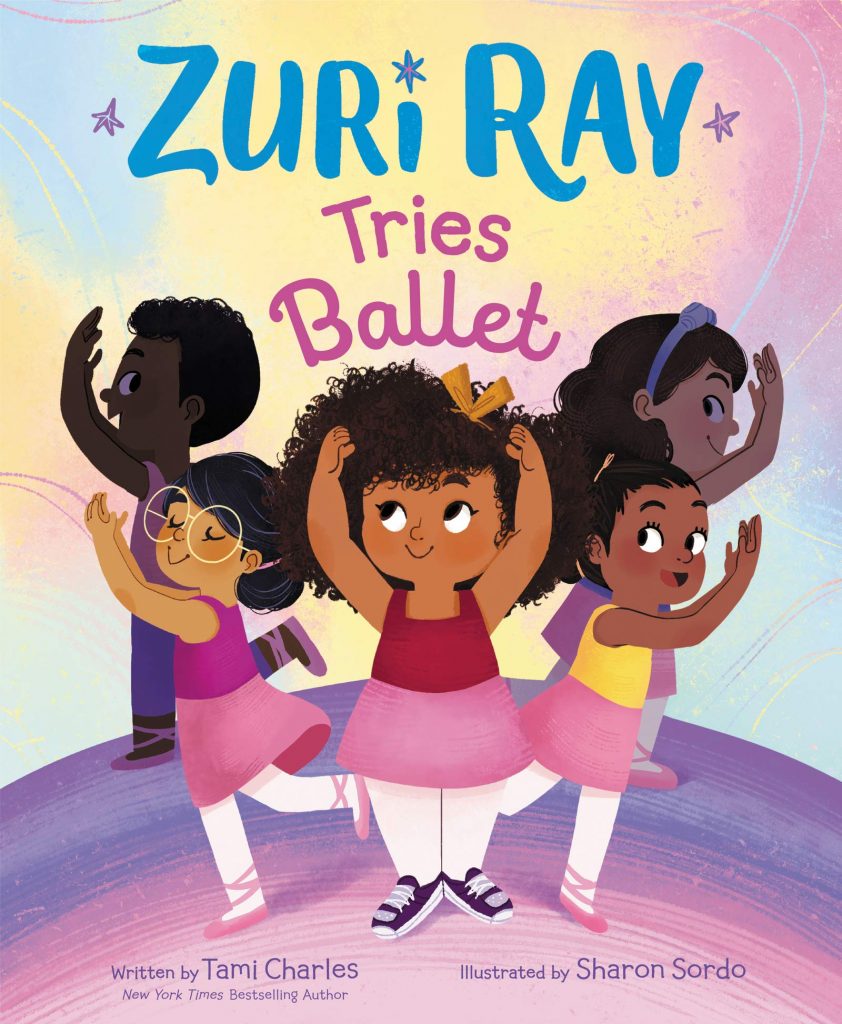 Meet Zuri Ray. She's always willing to go the extra mile for family and friends and is up for any challenge. At least, that was before her best friend, Jessie, asked her to join a ballet camp.
Now Zuri isn't sure if she's up for everything. While Jessie can't wait to chassé and plié while wearing tight hair buns and frilly tutus, that doesn't sound like Zuri at all! But she can't let her friend down. Maybe classical ballet just needs a new spin . . .
Making a Baby: An Inclusive Guide to How Every Family Begins by Rachel Greener, Clare Owen Ages 5 – 8 and up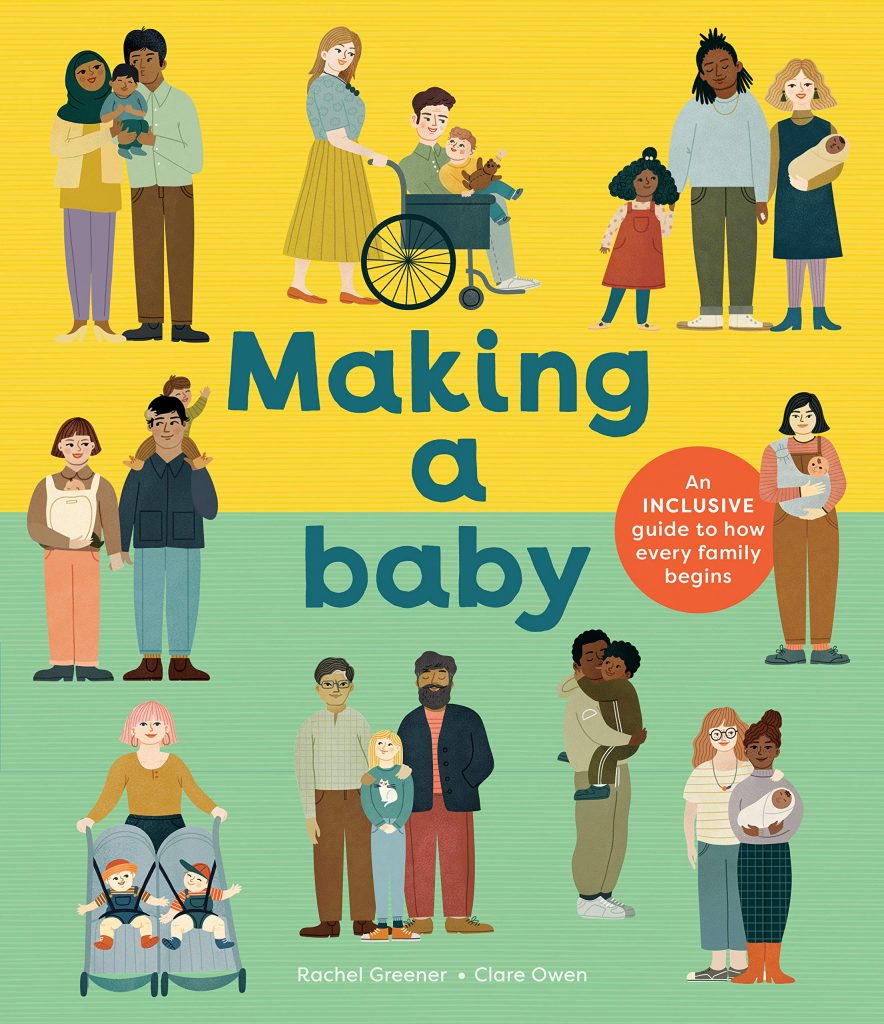 To make a baby you need one egg, one sperm, and one womb. But every family starts in its own special way. This book answers the "Where did I come from?" question no matter who the reader is and how their life began. From all different kinds of conception through pregnancy to the birth itself, this candid and cozy guide is just right for the first conversations that parents will have with their children about how babies are made.
How to Wear a Sari by Darshana Khiani, illustrated by Joanne Lew-Vriethoff Ages 4 – 8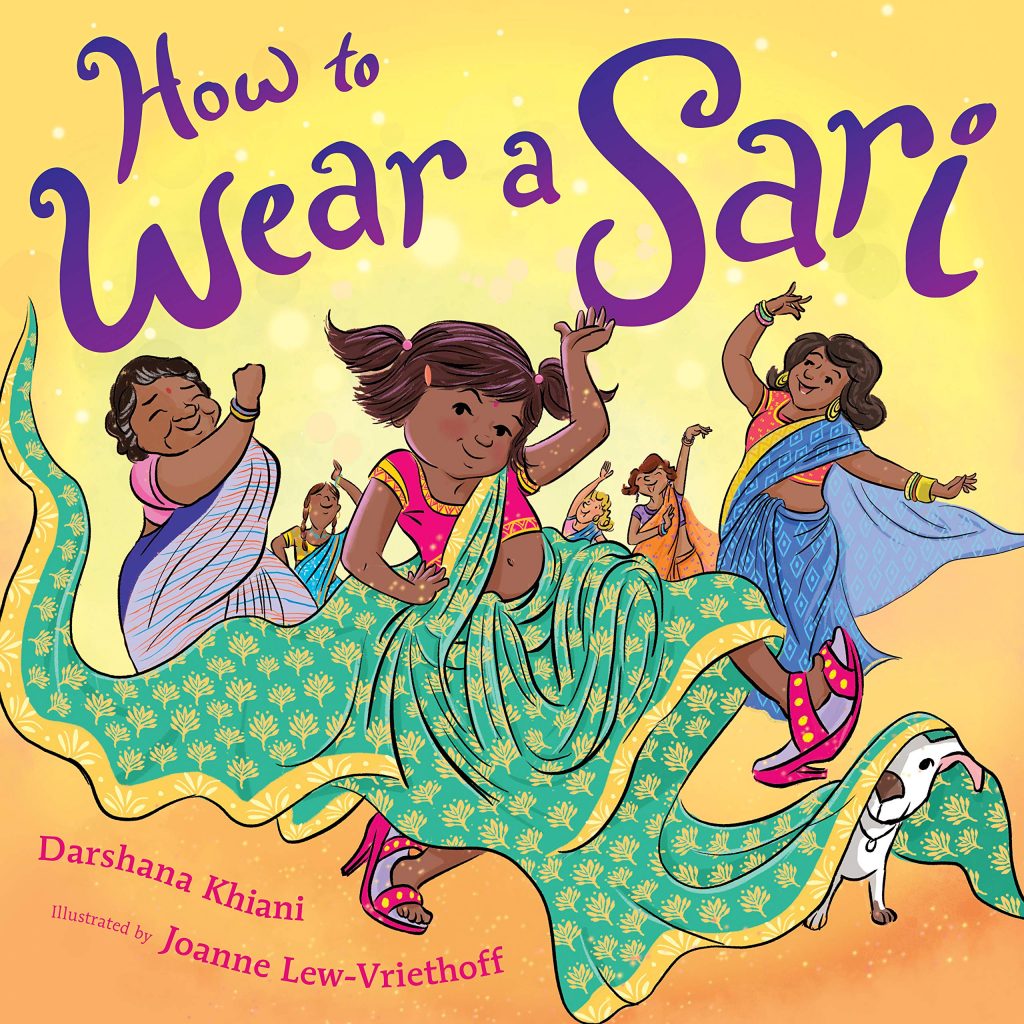 Being a little kid isn't always fun and games. Sometimes, it's downright annoying. When a little girl tires of being treated like she's TOO little, she sets out to prove to her family that she can do ANYTHING she puts her mind to . . .. . . including putting on a colorful, twinkly, silky sari. Sure, they're long and unwieldy–but that only means her family will be even more impressed when she puts it on all by herself. Naturally, there are some hiccups along the way, but she discovers that she's not the only one in her family who has set out with something to prove, with hilariously chaotic results. That's what photo albums are for!
Shirley Chisholm Dared: The Story of the First Black Woman in Congress by Alicia D. Williams, illustrated by April Harrison Ages 4 – 8 and up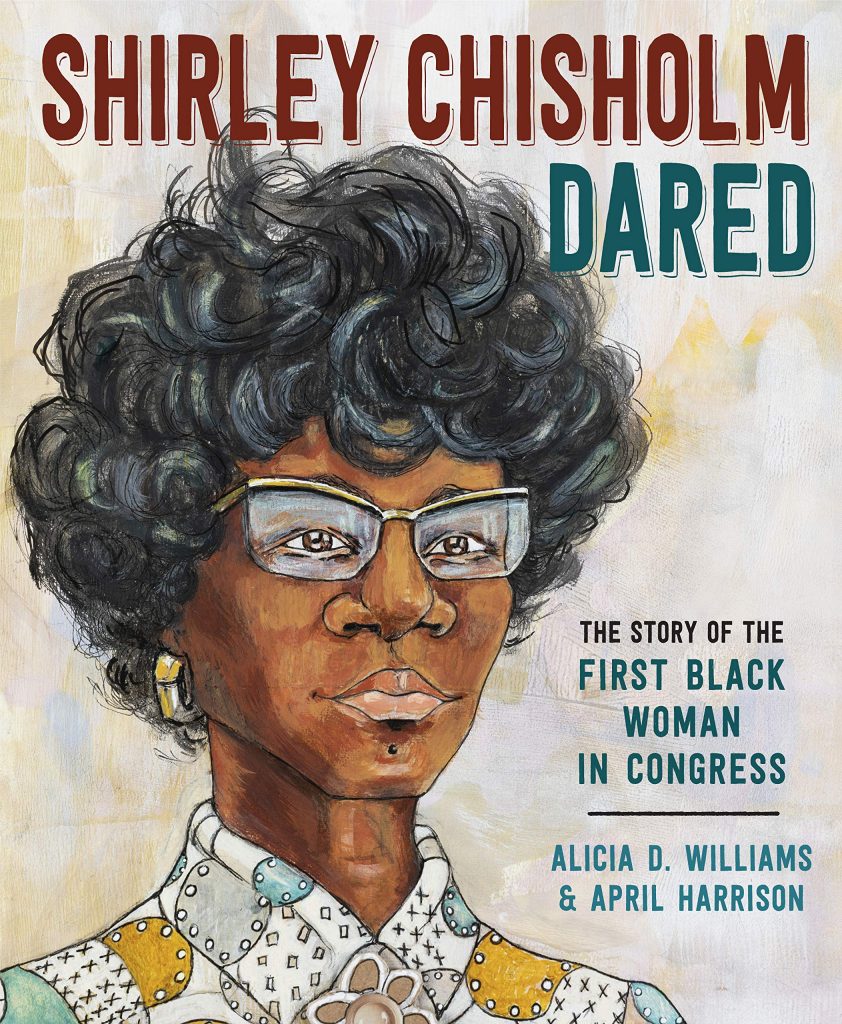 Meet Shirley, a little girl who asks way too many questions! After spending her early years on her grandparents' farm in Barbados, she returns home to Brooklyn and immediately makes herself known. Shirley kicks butt in school; she breaks her mother's curfew; she plays jazz piano instead of classical. And as a young adult, she fights against the injustice she sees around her, against women and black people. Soon she is running for state assembly…and winning in a landslide. Three years later, she is on the campaign trail again, as the first black woman to run for Congress. Her slogan? "Fighting Shirley Chisholm–Unbought and Unbossed!" Does she win? You bet she does.
I Want to be a…Teacher by Becky Davies, Richard Merritt Ages 0 – 3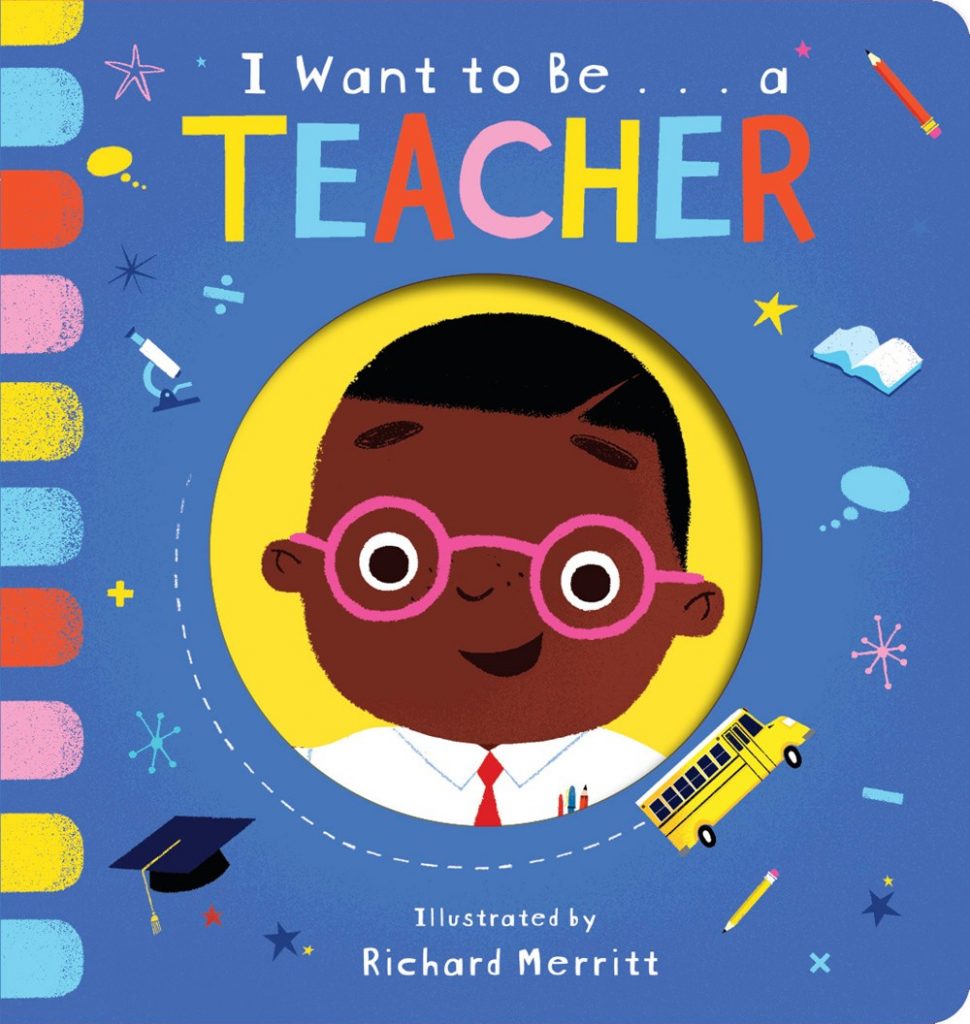 Do you want to be a teacher? Open this book to find out what adventures await!
This inspirational board book invites curious little ones to spend a day in a teacher's shoes, from getting ready for lessons to teaching art, science, and music classes. The surprise mirror at the end provides a fun, interactive bonus!
Paletero Man by Lucky Diaz, illustrated by Micha Player Ages 4 – 8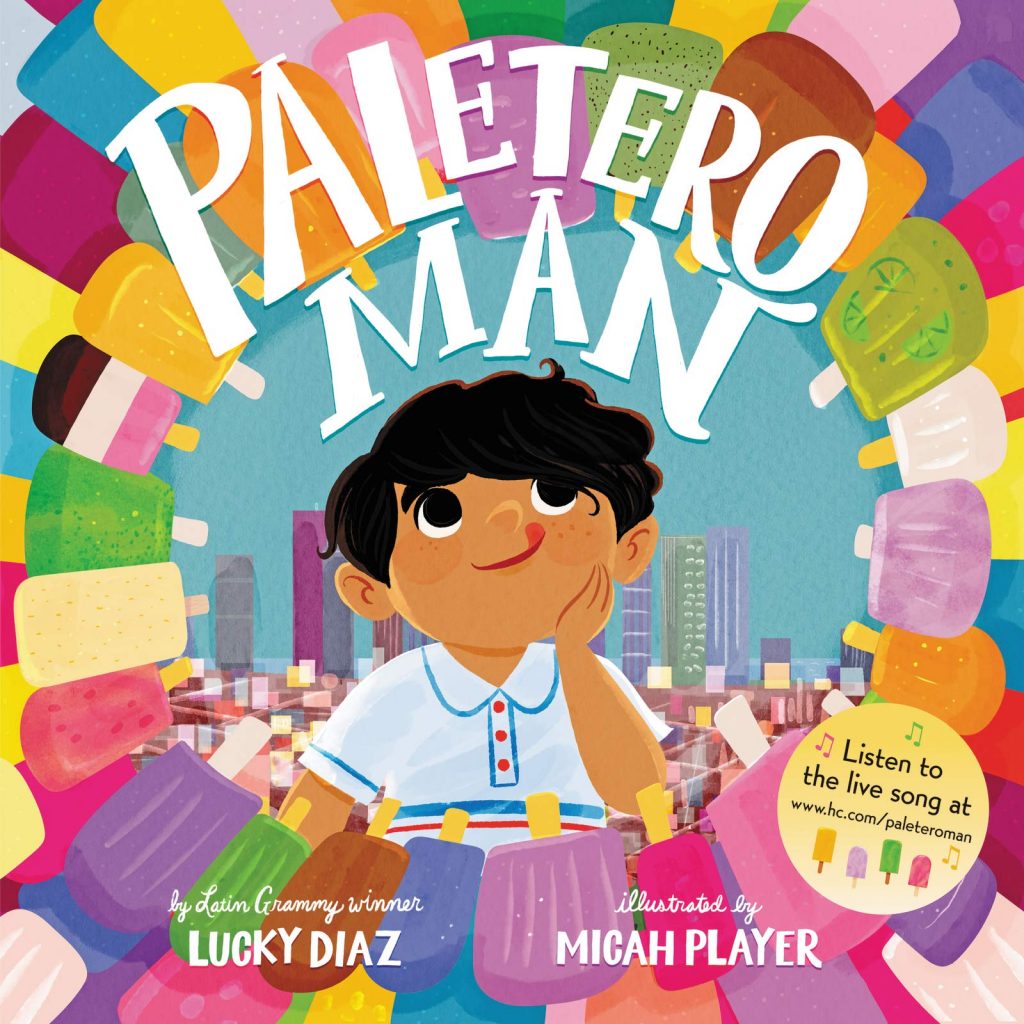 The debut children's picture book written by multi-Latin Grammy Award winner Lucky Diaz and illustrated by Micah Player. Paletero Man is a truly refreshing tale of determination, kindness, ice pops— and the true meaning of being part of a community.
A Boy Named Isamu: A Story of Isamu Noguchi Ages 3 – 7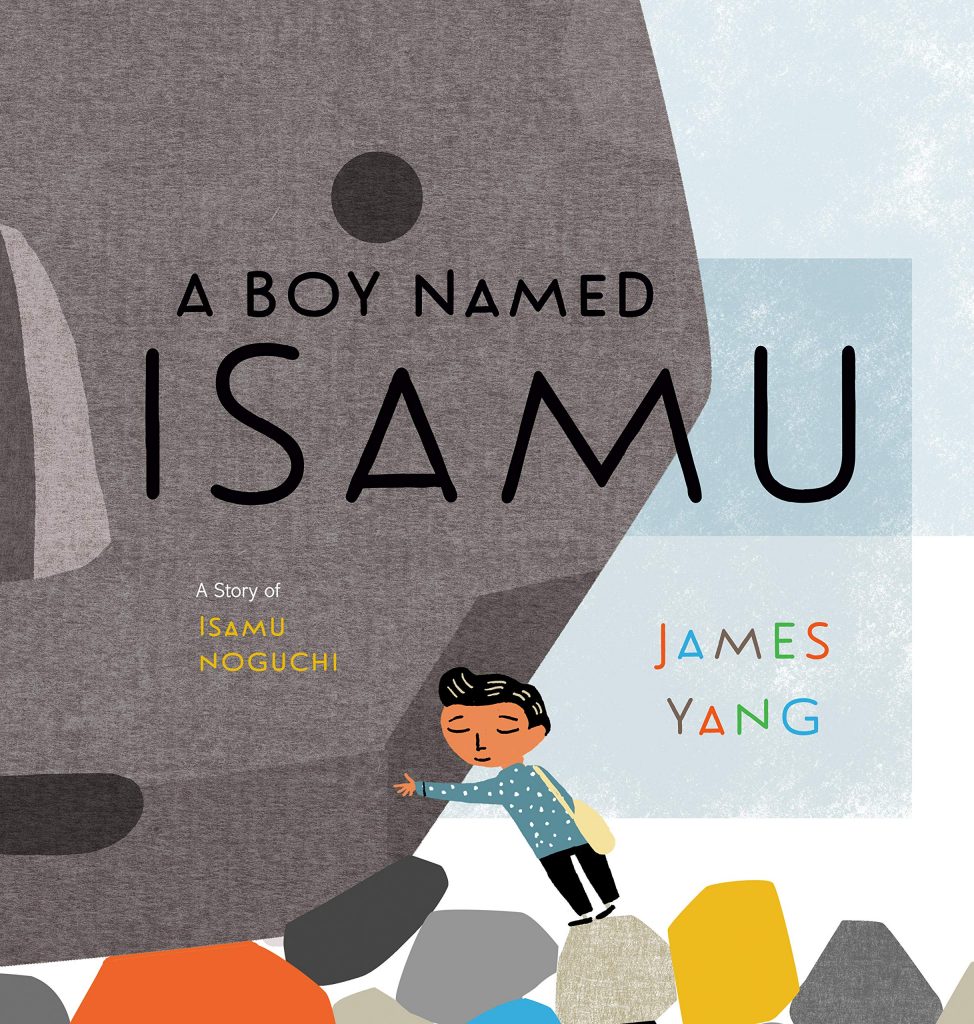 James Yang imagines a day in the boyhood of Japanese American artist, Isamu Noguchi. Wandering through an outdoor market, through the forest, and then by the ocean, Isamu sees things through the eyes of a young artist . . .but also in a way that many children will relate. Stones look like birds. And birds look like stones.
July
El Cucuy Is Scared, Too! by El Cucuy Is Scared, Too! by Donna Barba Higuera, Juliana Perdomo Ages 4 – 8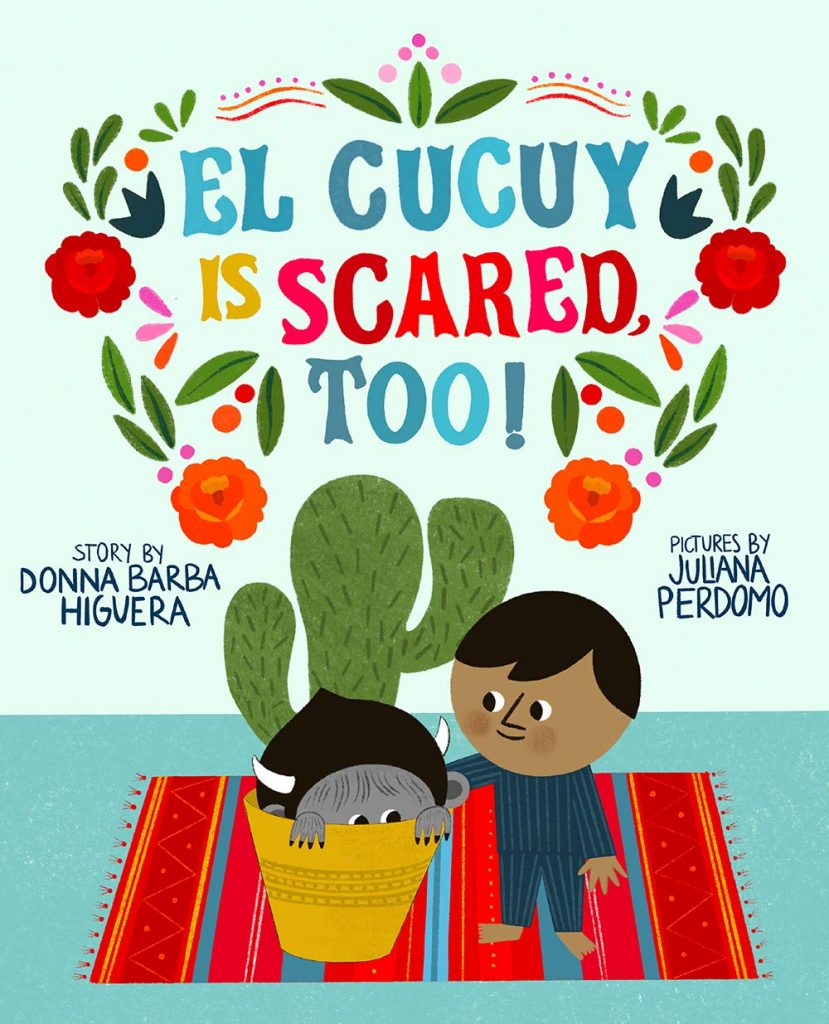 Ramón is a little boy who can't sleep. He is nervous for his first day at a new school. And El Cucuy is the monster who lives in Ramón's cactus pot. He can't sleep, either. It turns out that El Cucuy is scared, too!
This gentle, perceptive story explores the worries that can accompany moving to a new place and beginning a new journey—and reveals how comfort, bravery, and strength can be found through even the most unexpected of friendships.
Kalamata's Kitchen by Sarah Thomas, Derek Wallace, Jo Kosmides Edwards
Tomorrow is Kalamata's first day at a new school, and she's nervous! What if the kids aren't friendly? Or worse, what if they don't like alligators!? If only Kalamata and Al Dente could go to back to the Indian spice market they visited this summer, then maybe she'd remember how to feel brave when new experiences seem scary.
Luckily for Kalamata, all the magic required for her journey is right in her own kitchen! As Kalamata and her alligator friend, Al Dente, transport themselves to a magical land filled with tasty ingredients, she realizes being brave is exciting! And most importantly, she learns that when we're nervous about trying new things, food can comfort us and remind us to stay curious, courageous, and compassionate.
My Voice is a Trumpet by Jimmie Allen, Cathy Ann Johnson Ages 3- 7 and up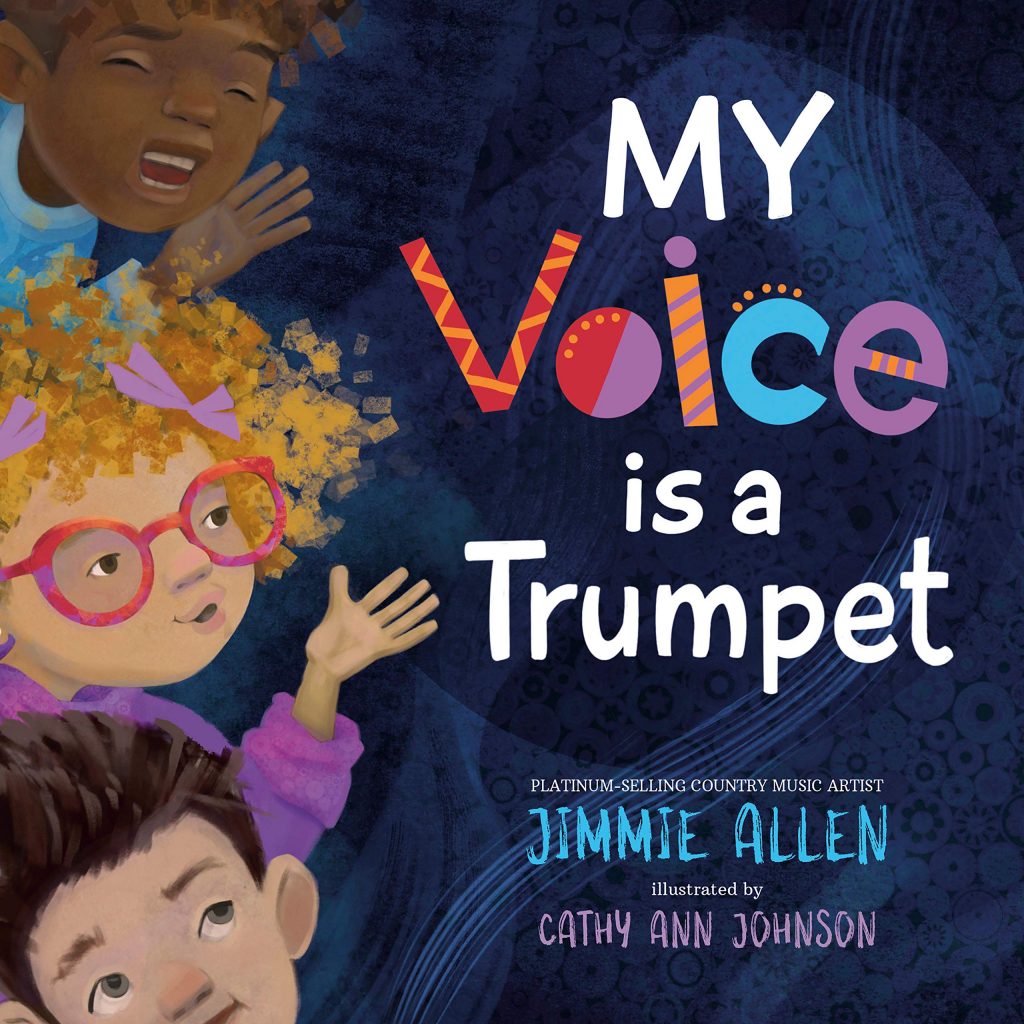 My Voice Is a Trumpet is a timely reminder about the importance of speaking up for what you believe in, even at a young age.
From rising country star Jimmie Allen comes a lyrical celebration of the many types of voices that can effect change. From voices tall as a tree, to voices small as a bee, all it takes is confidence and a belief in the goodness of others to change the world. Coming at a time when issues of social justice are at the forefront of our society, this is the perfect book to teach children that they're not too young to express what they believe in and that all voices are valuable.
Let's Go Trick-or-Treating by Lori Haskins Houran, Joanie Stone Ages 2 – 5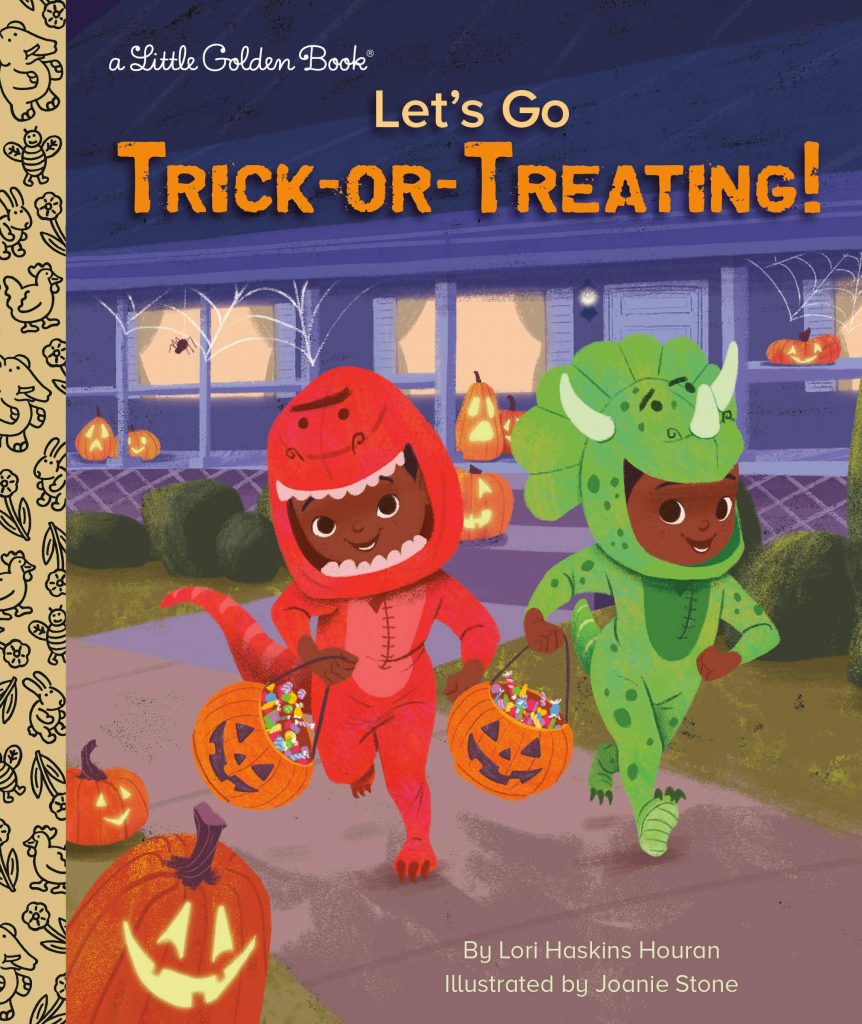 A fun Halloween Little Golden Book about young twin boys going trick-or-treating.
It's Halloween! Twin bothers Nick and Toby are excited to choose their own costumes and go trick-or-treating with their parents. This Little Golden Book is perfect for young boys and girls getting ready for their own Halloween fun because the story mentions what to expect and how to act–including only taking one candy when a whole bowl is left out, saying thank you, checking out a neighborhood haunted house, and, of course, sharing candy with your parents!
August
Gloria's Porridge by Elizabeth Laird Ages 4 – 8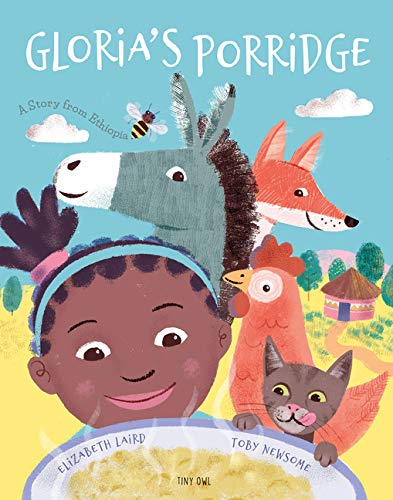 Gloria is making a delicious porridge, but she's too hungry to share it with the cat. When Gloria goes to fetch some water, cat eats all the porridge . Angry Gloria shakes her spoon at the cat, and the scared cat runs away, starting a chaos around her. A retelling of an Ethiopian folktale by acclaimed author, Elizabeth Laird.
A Song of Frutas by Margarita Engle, Sara Palacios Ages 4 – 8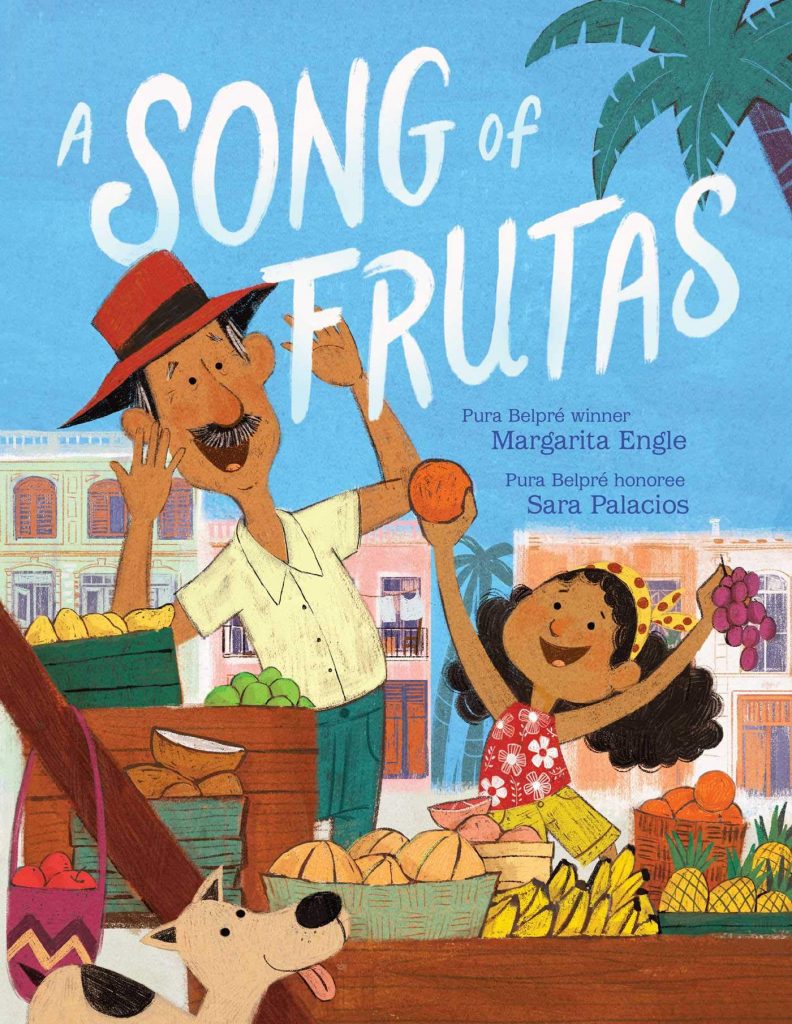 The little girl loves visiting her grandfather in Cuba and singing his special songs to sell all kinds of fruit: mango, limón, naranja, piña, and more! Even when they're apart, grandfather and granddaughter can share rhymes between their countries like un abrazo—a hug—made of words carried on letters that soar across the distance like songbirds.
The First Blade of Sweetgrass: A Wabanaki Story by Suzanne Greenlaw, Gabriel Frey, illustrated by Nancy Baker Ages 6 – 8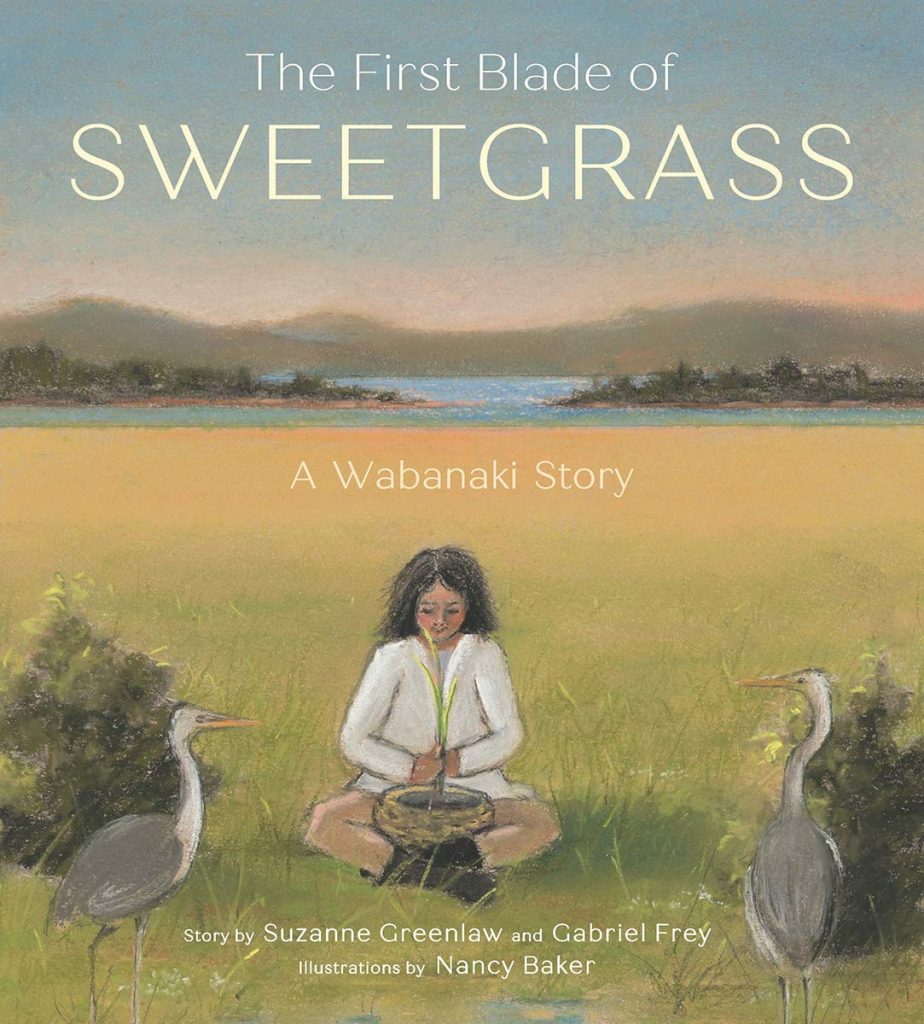 In this Own Voices Native American picture book story, a modern Wabanaki girl is excited to accompany her grandmother for the first time to harvest sweetgrass for basket making.

Musquon must overcome her impatience while learning to distinguish sweetgrass from other salt marsh grasses, but slowly the spirit and peace of her surroundings speak to her, and she gathers sweetgrass as her ancestors have done for centuries, leaving the first blade she sees to grow for future generations. This sweet, authentic story from a Maliseet mother and her Passamaquoddy husband includes backmatter about traditional basket making and a Wabanaki glossary. 
Boogie Boogie Y'all by C. G. Esperanza Ages 4 – 8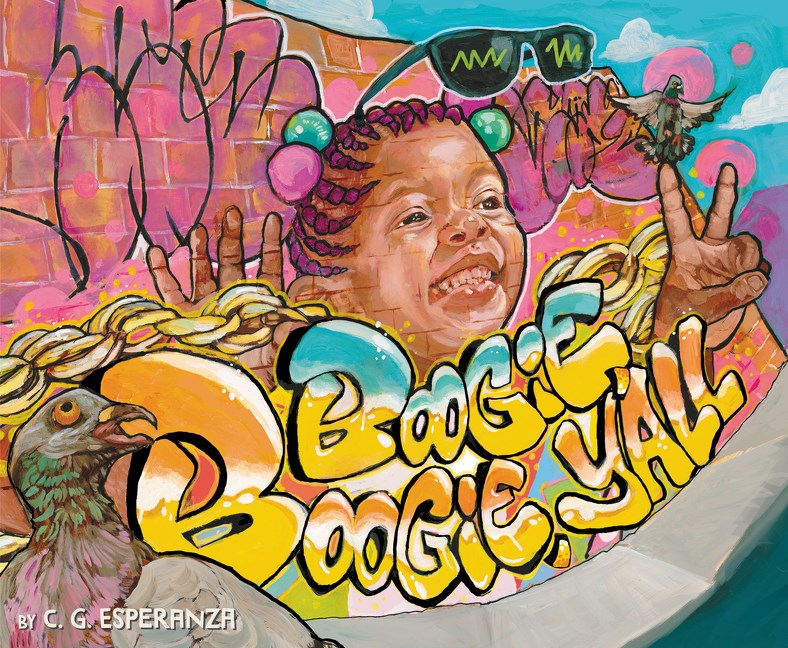 The city is alive with vibrant art in every corner of the parks, the shops, the trains. But most people are too busy to see it—or worse, choose to ignore it! When three children stop to marvel at the art around their community, they realize it's up to them to show everyone else how truly special it is when art and reality dance together so seamlessly.
King of Ragtime: The Story of Scott Joplin by Stephen Costanza Ages 4 – 8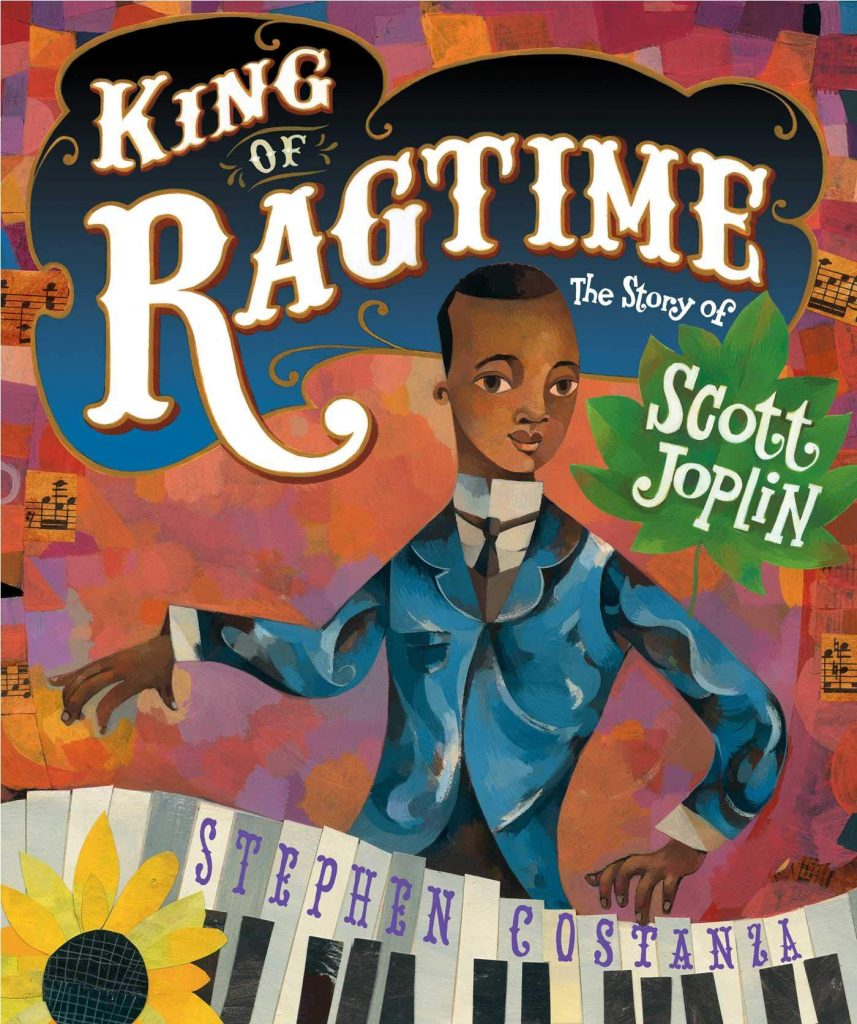 There was something special about Scott Joplin…
This quiet kid could make a piano laugh out loud.
Scott, the son of a man who had been enslaved,
became a king—the King of Ragtime.
This celebration of Scott Joplin, whose ragtime compositions paved the way for jazz, will captivate audiences and put a beat in their step, and the kaleidoscope-like illustrations will draw young readers in again and again.
Pedro's Yo-yos: How a Filipino Immigrant Came to America and Changed the World of Toys by Roberto Peñas, Carl Angel Ages 4 – 8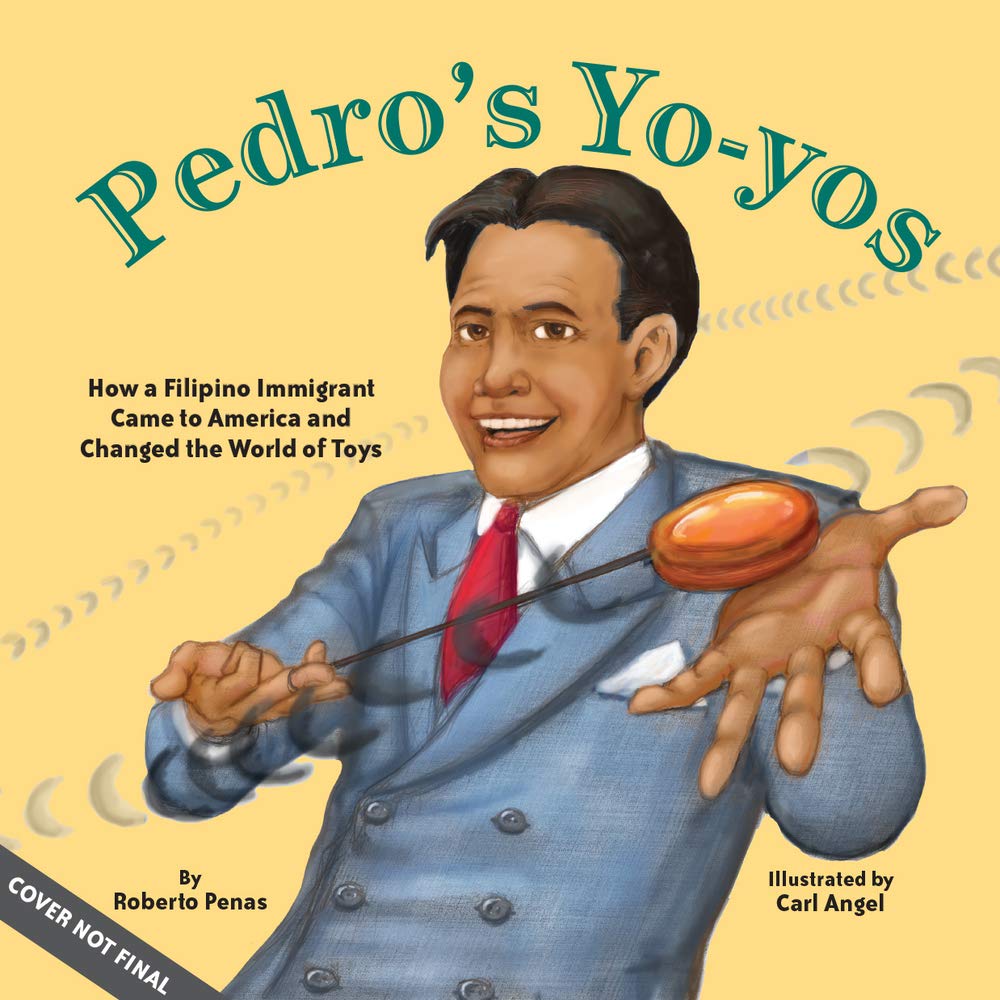 Pedro Flores was born in the Philippines in 1896, when Spain still ruled his country. After the US took over, Pedro traveled to California, received an education, and looked for ways to go into business for himself. Then he remembered a toy from his childhood called the yo-yo, which means come back in Tagalog. With a couple blocks of wood and a little string, Pedro created his first model yo-yo and practiced tricks to show it off.
My Two Border Towns by David Bowles, Erika Meza Ages 4 – 8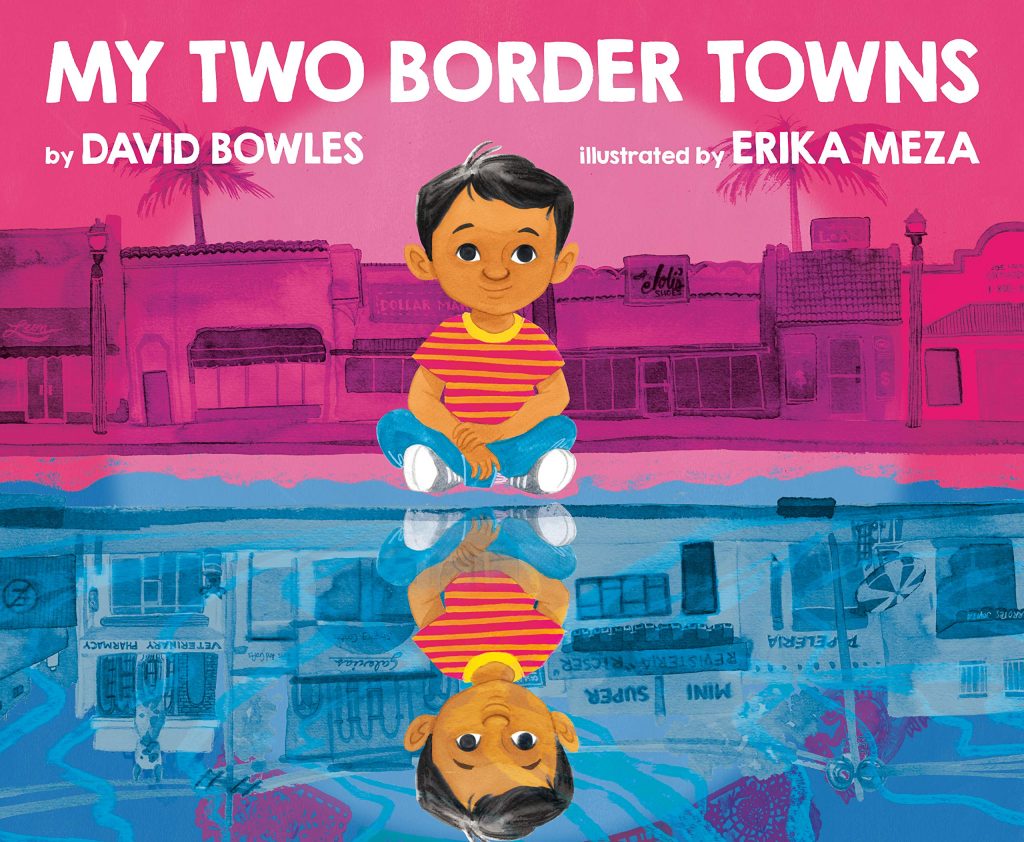 A picture book debut by an award-winning author about a boy's life on the U.S.-Mexico border, visiting his favorite places on The Other Side with his father, spending time with family and friends, and sharing in the responsibility of community care.
Early one Saturday morning, a boy prepares for a trip to The Other Side/El Otro Lado. It's close–just down the street from his school–and it's a twin of where he lives. To get there, his father drives their truck along the Rio Grande and over a bridge, where they're greeted by a giant statue of an eagle. Their outings always include a meal at their favorite restaurant, a visit with Tío Mateo at his jewelry store, a cold treat from the paletero, and a pharmacy pickup. On their final and most important stop, they check in with friends seeking asylum and drop off much-needed supplies.
September
Change Sings: A Children's Anthem by Amanda Gorman, Loren Long Ages 4 – 8 and up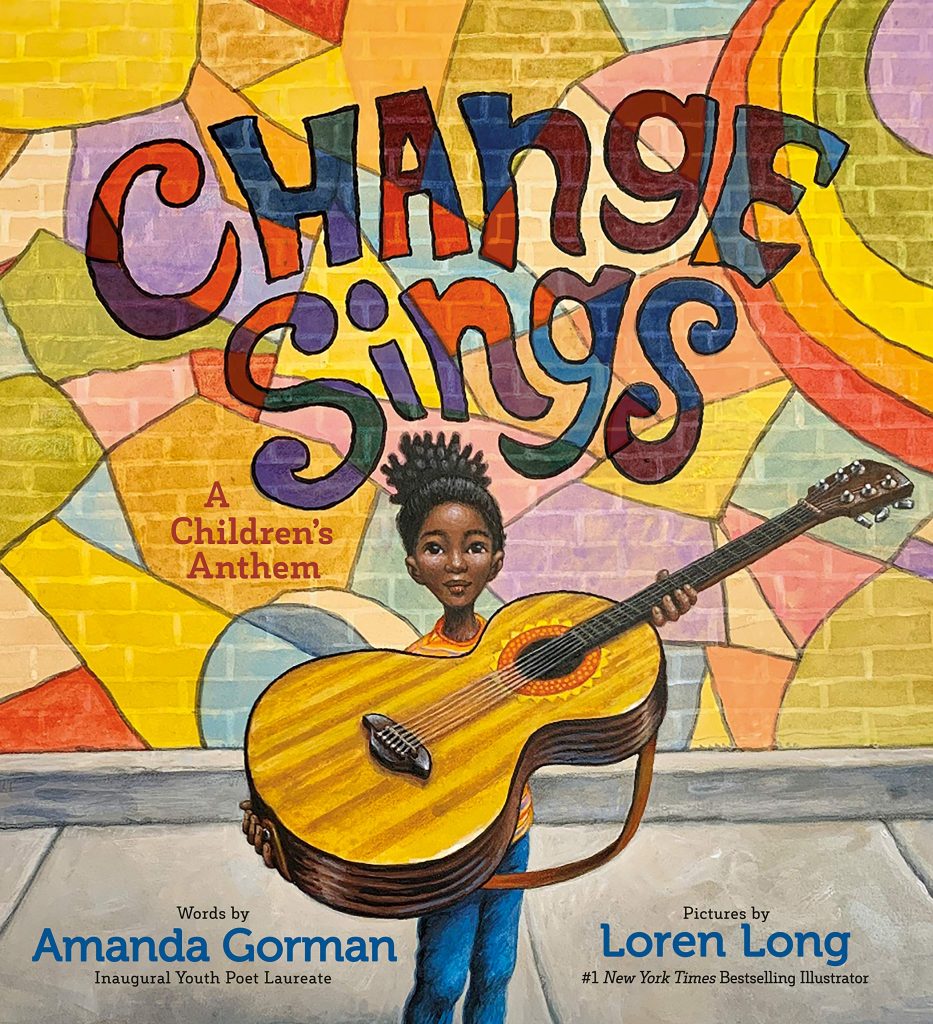 In this stirring, much-anticipated picture book by inaugural Youth Poet Laureate and activist Amanda Gorman, anything is possible when our voices join together. As a young girl leads a cast of characters on a musical journey, they learn that they have the power to make changes–big or small–in the world, in their communities, and in most importantly, in themselves.
With lyrical text and rhythmic illustrations that build to a dazzling crescendo by #1 New York Times bestselling illustrator Loren Long, Change Sings is a triumphant call to action for everyone to use their abilities to make a difference.
The Me I Choose to Be by Natasha Anastasia Tarpley, Regis and Kahran Bethencourt Ages 4 – 8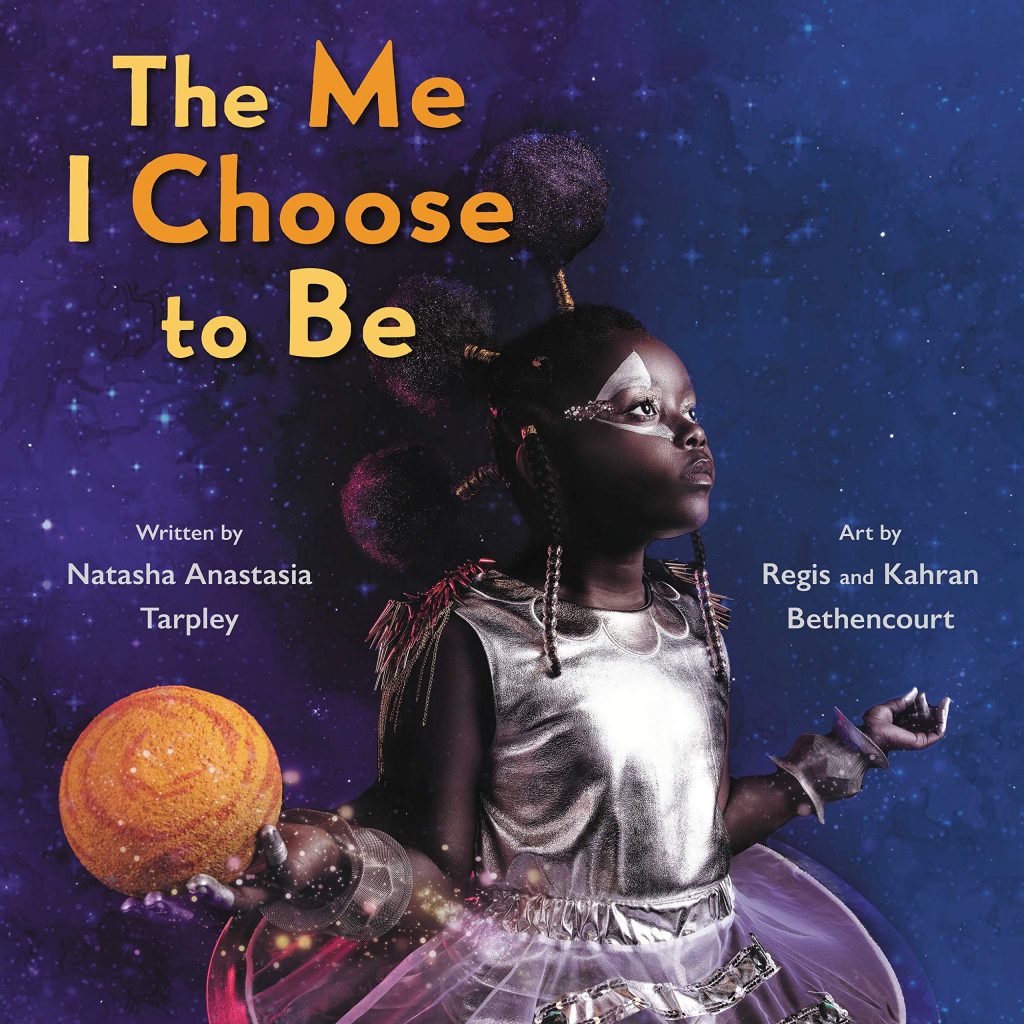 What will you choose to be? 
A free spirit? 
A weaver of words? 
A star dancing across the night sky? 
A limitless galaxy? 
The possibilities are endless in this uplifting ode to the power of potential. With lyrical text by bestselling author Natasha Anastasia Tarpley and images by Regis and Kahran Bethencourt—the team behind CreativeSoul Photography—each page of The Me I Choose To Be is an immersive call for self-love and highlights the inherent beauty of all Black and brown children. 
Hello, Star by Vashti Harrison Ages 4 – 8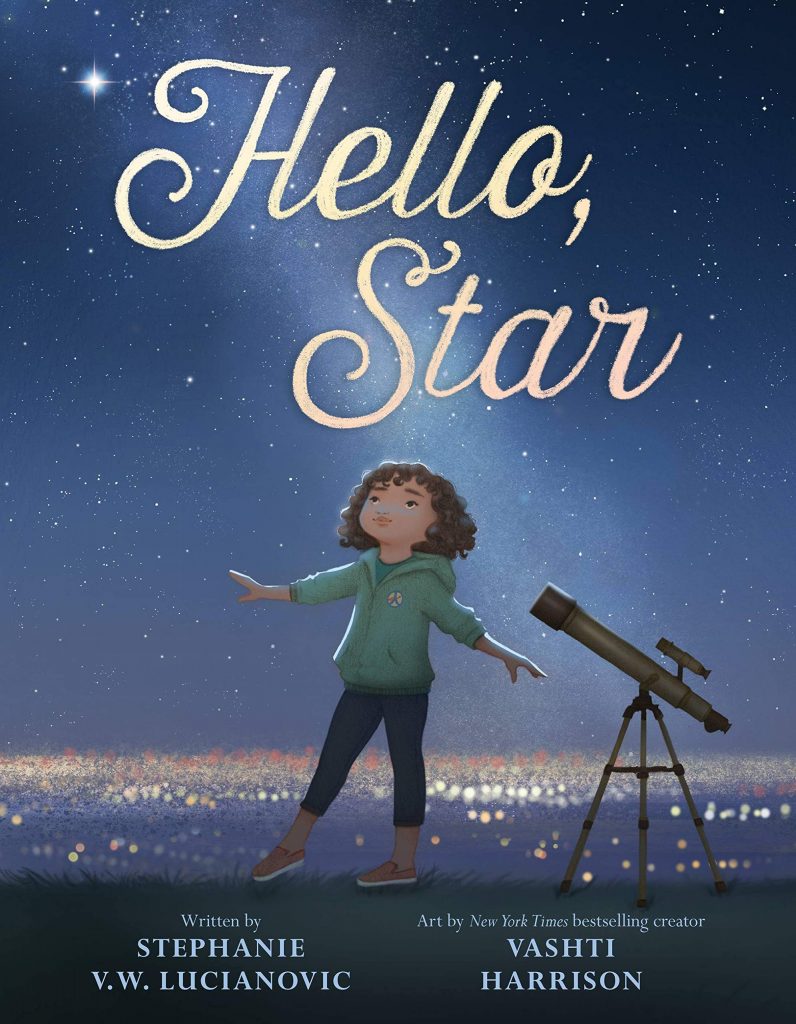 When a young girl learns that a bright light in the sky is coming from a dying star, she promises to keep it company until the light goes out. Every night the girl reassures her friend that she is still there.
As the years pass, the girl learns everything she can about planets, space, and the universe, inspired by her dimming friend—until she realizes she needs to do something more.
This touching tribute to stars, space, and science celebrates how a small act of compassion can flourish into a life full of meaning and wonder.
Niki Nakayama: A Chef's Tale in 13 Bites by Jamie Michalak & Debbi Michiko Florence, illustrated by Yuko Jones Ages 4 – 8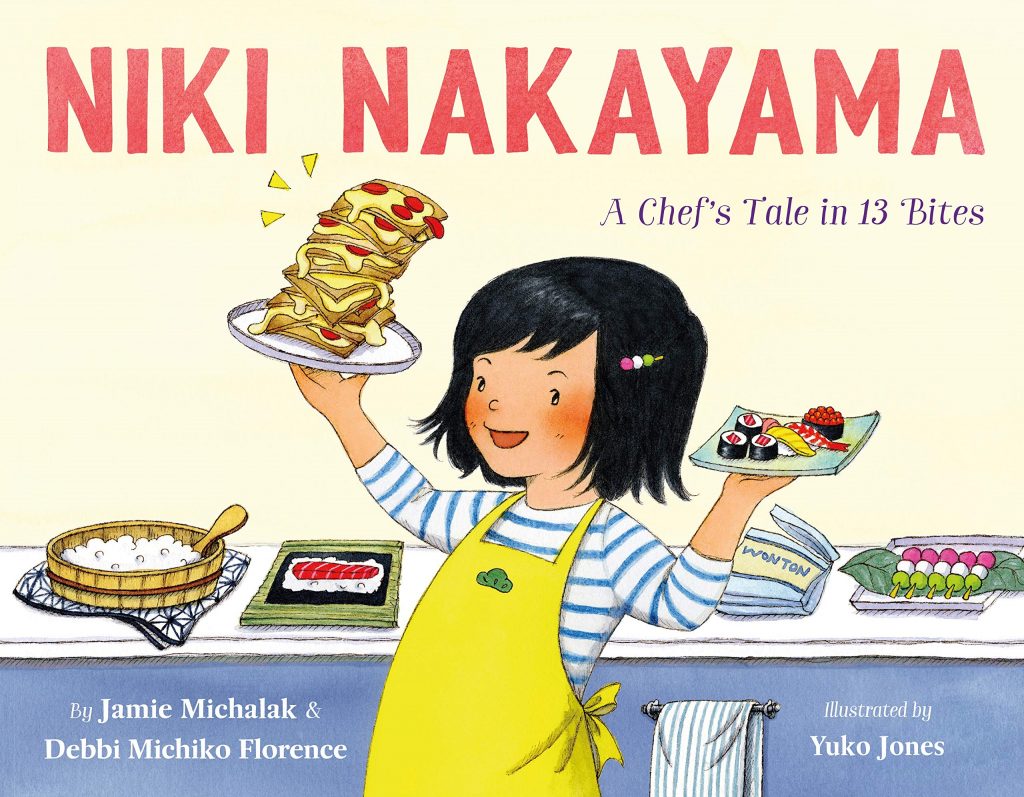 To anyone who tells her a woman can't be a master chef, Niki lets her food do the talking. And oh, does it talk. Niki was featured on the first season of Netflix's culinary documentary series Chef's Table. And Chrissy Teigen proclaimed that Niki's restaurant was one of her absolute favorites.A smart, strong woman with starpower, Niki is only just getting started — like the young readers who will devour this book.

Right Now! Real Kids Speaking Up for Change by Miranda Paul, Bea Jackson Ages 4 – 7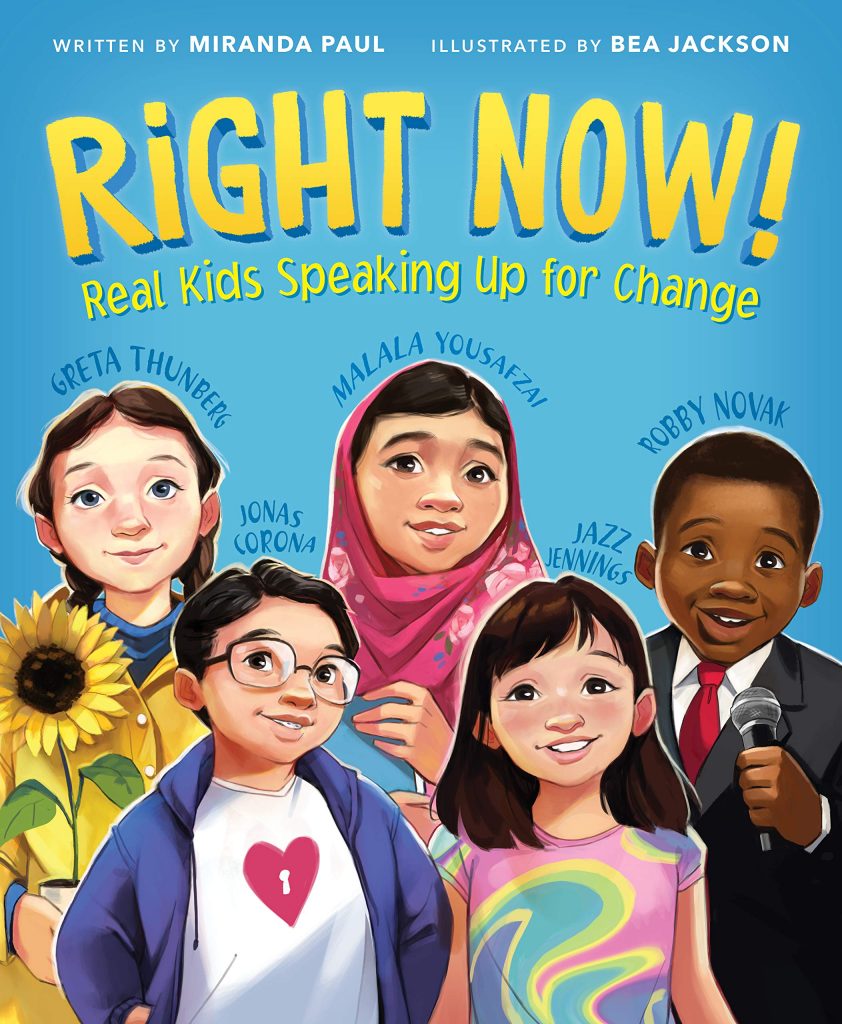 A joyful, inspiring picture book that introduces readers to eleven young people from around the world who didn't wait until they were grown to speak up about things that matter to them and change the world for the better, from an award-winning author and New York Times best-selling illustrator.
Because of You, John Lewis by Andrea Pinkney, Keith Henry Brown Ages 4 – 8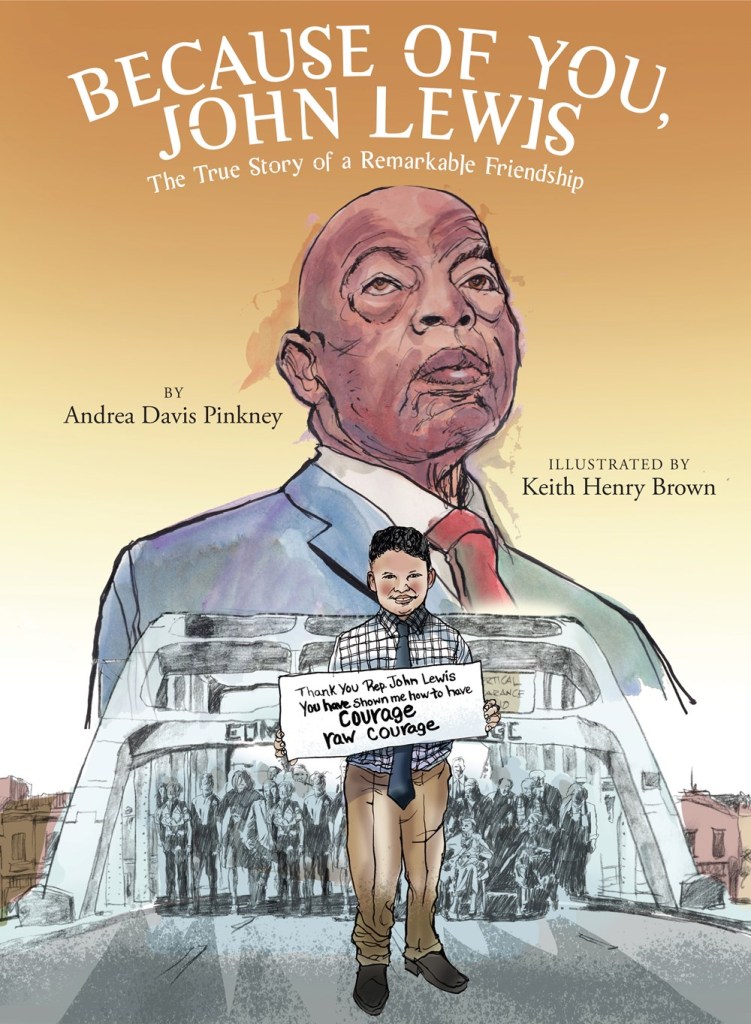 An inspiring story of a friendship between Congressman John Lewis and ten-year-old activist, Tybre Faw by New York Times bestselling and Coretta Scott King Award-winning author Andrea Davis Pinkney!
Ten-year-old Tybre Faw is obsessed with history and the civil rights movement, and he devours every book he can find on the subject. When he learns of Congressman John Lewis's harrowing and heroic march across the Edmund Pettus Bridge in the fight for the right to vote, Tybre is determined to meet him.

Tybre's two grandmothers take him on the seven-hour drive to Selma. And as the two meet and become fast friends, Tybre joins Lewis for the annual walk across the Edmund Pettus Bridge!
When John Lewis is laid to rest, Tybre is invited to read Lewis's favorite poem, Invictus, at the funeral service. Pinkney weaves this story of a boy with a dream–with the story of a true-life hero (who himself was inspired by Martin Luther King when he was a boy). Both John Lewis and Martin Luther King, Jr. have left indelible marks on future generations. Will Tybre be next to carry the mantle?
Help Mom Work from Home by Diana Murray, Cori Doerrfeld Ages 4 – 8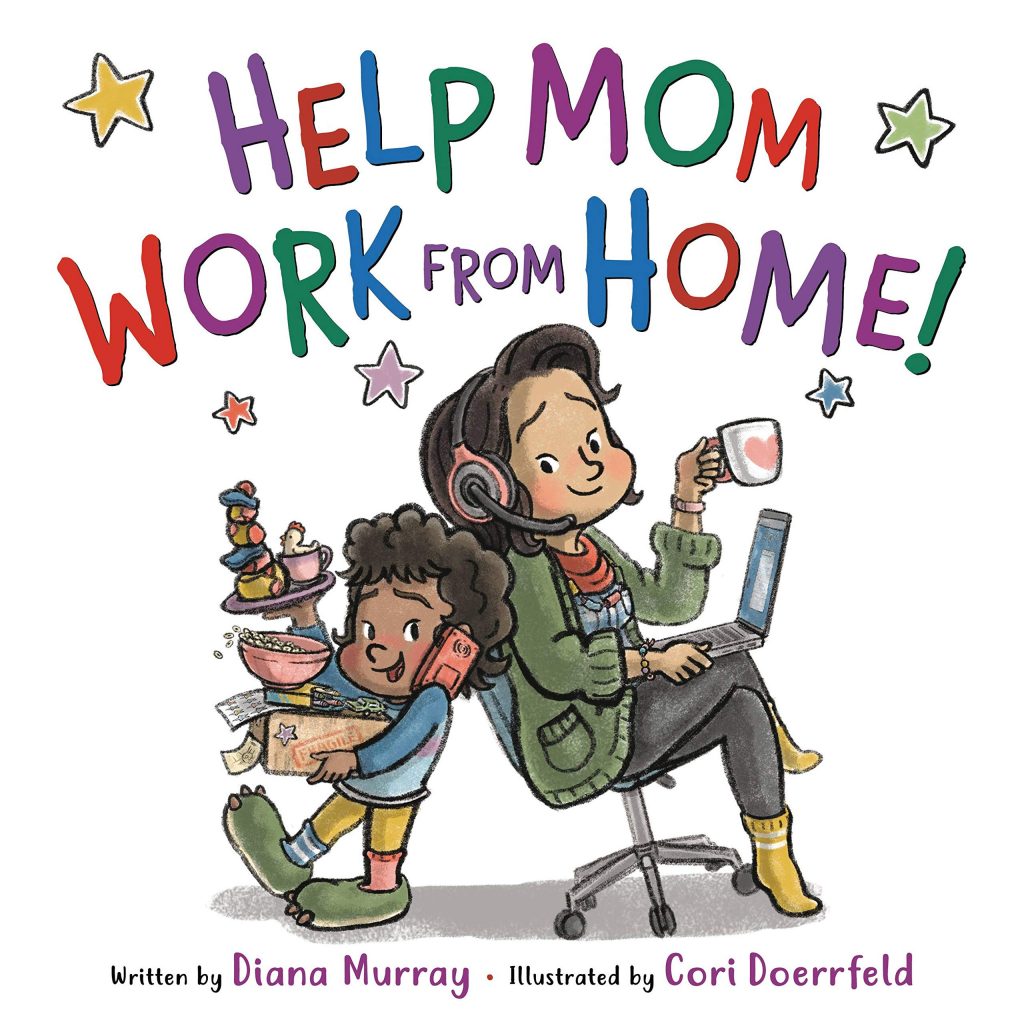 Mom works at home all week long, and her little one is right by her side. After all, she's a natural boss at organizing, leading meetings, and making calls—or so it seems. But when Mom starts looking frazzled, her little helper knows just how to make it all better.
October
Why? A Conversation About Race by Taye Diggs, Shane W. Evans Ages 3 – 6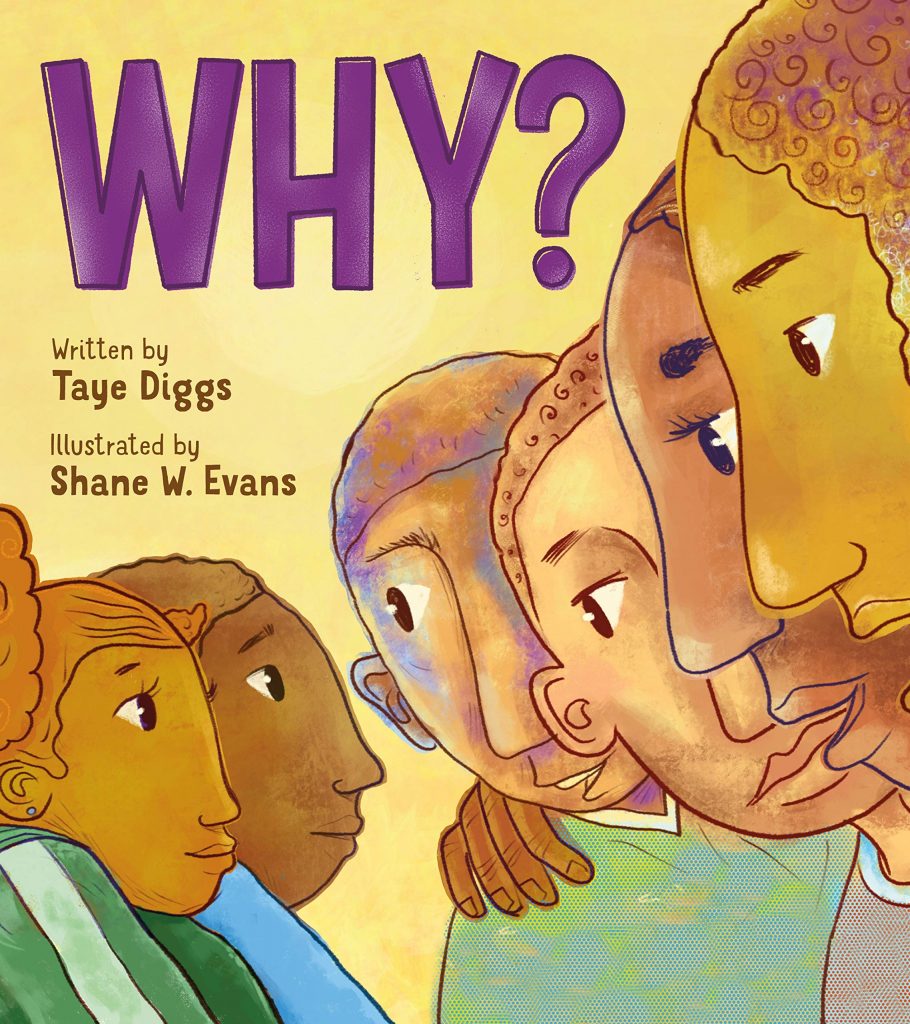 Why? is a question asked by children daily, and in this stirking and timely story, it begins a straightforwardand challenging conversation between children of color and the adults in their lives.Why are the buildings burning? Why are people marching? Why are they crying?

Taye Diggs has written a beautiful, powerful, and poignant story that peers through the eyes of a child as they struggle to understand why these events are happening.

Why? distills the conversations many children and adults are having about race, injustice, and anger in communities throughout our country, and gives them context that young readers can connect with. Heartfelt and deeply piercing illustrations from Shane W. Evans will leave a lasting impact on readers of any age. One that will hopefully lead to more conversations, change, and peace within our own communities and the world.
Our Table by Peter H. Reynolds Ages 4 – 8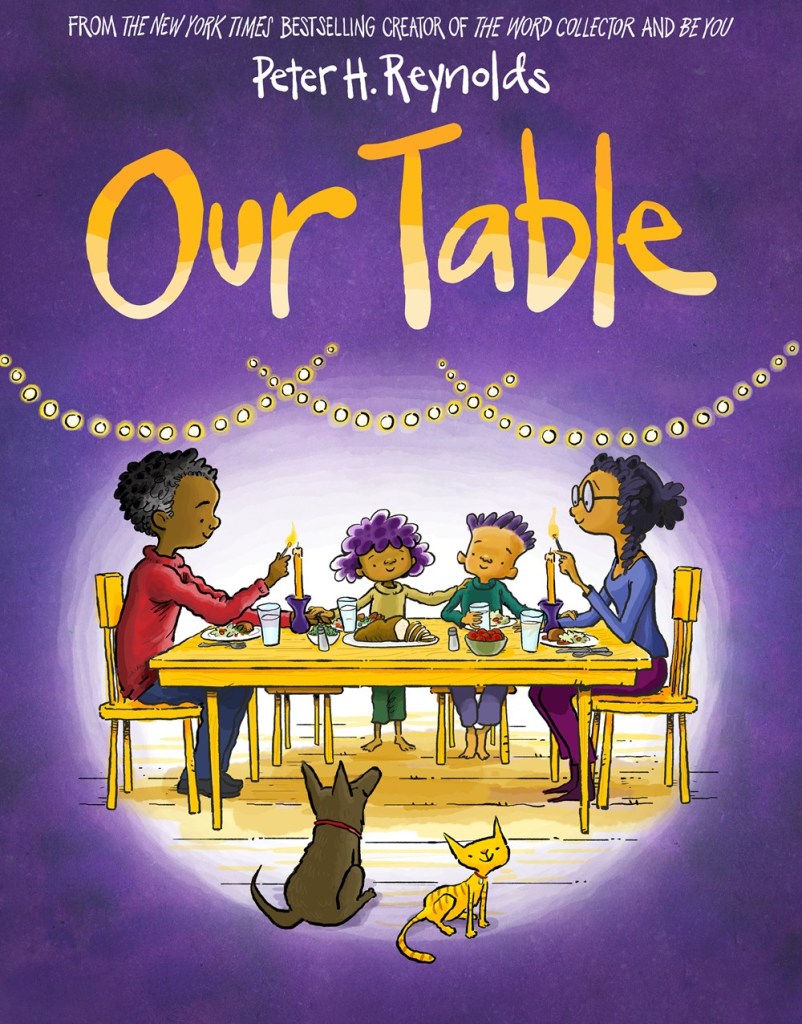 Celebrated, bestselling creator Peter H. Reynolds brings his signature touch of love and kindness to this special, timely picture book, as families now, more than ever, are rediscovering and reevaluating what means the most: time together with one another.
Violet longs for the time when her family was connected: before life, distractions, and technology pulled them all away from each other. They used to gather at the table, with food and love, to make memories, share their lives, and revel in time spent together. But now her family has been drifting apart, and with nobody to gather around it, the table grows smaller and smaller.
Can Violet remind her family of the warmth of time spent together, and gather around the table once more?
November
We Shall Overcome by Bryan Collier Ages 4 – 8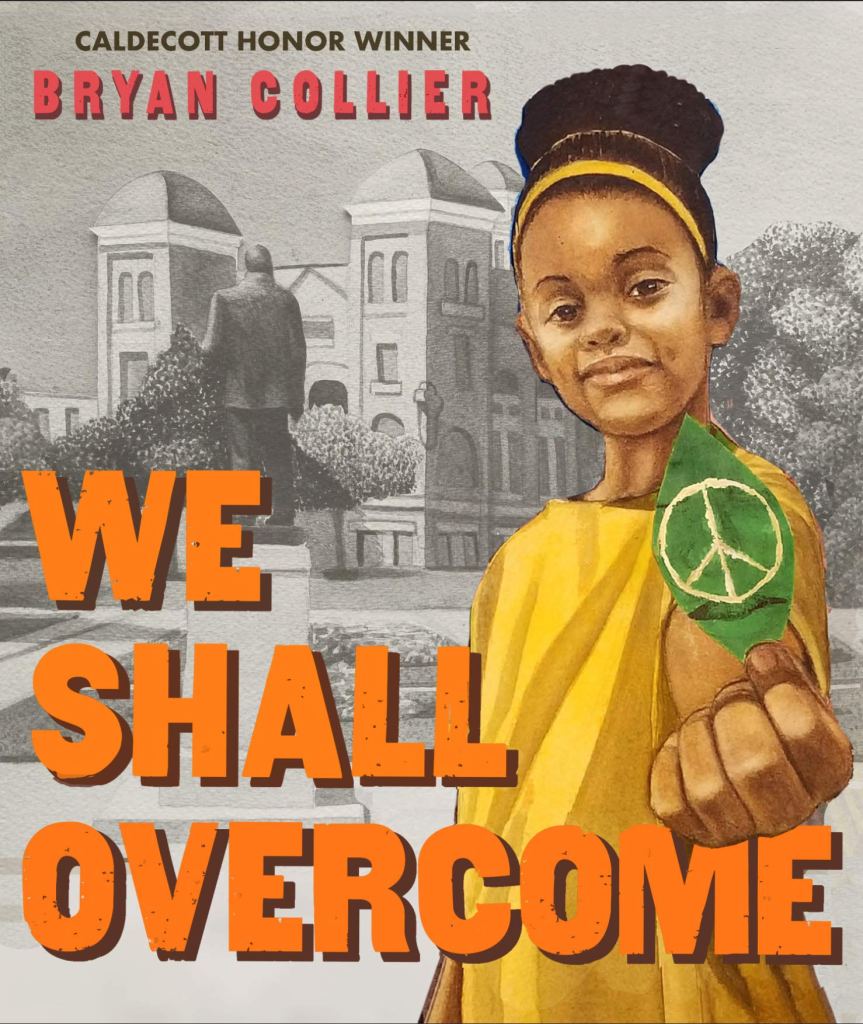 We Shall Overcome is one of the most recognizable anthems of the Civil Rights movement, widely performed at protests and rallies to promote nonviolent civil rights activism. Now, these inspirational, empowering, legendary lyrics are brought to life with the stirring, evocative, and breathtaking illustrations from multi-award winning talent Bryan Collier. Powerfully imagined for the present moment, Collier's illustrations meld the most emblematic moments of the twentieth century Civil Rights movement with the present day, depicting the movements, protests, and demonstrations-big and small-as the fight for justice continues. 
December
Stacey's Extraordinary Words by Stacey Abrams, Kitt Thomas Ages 4 – 8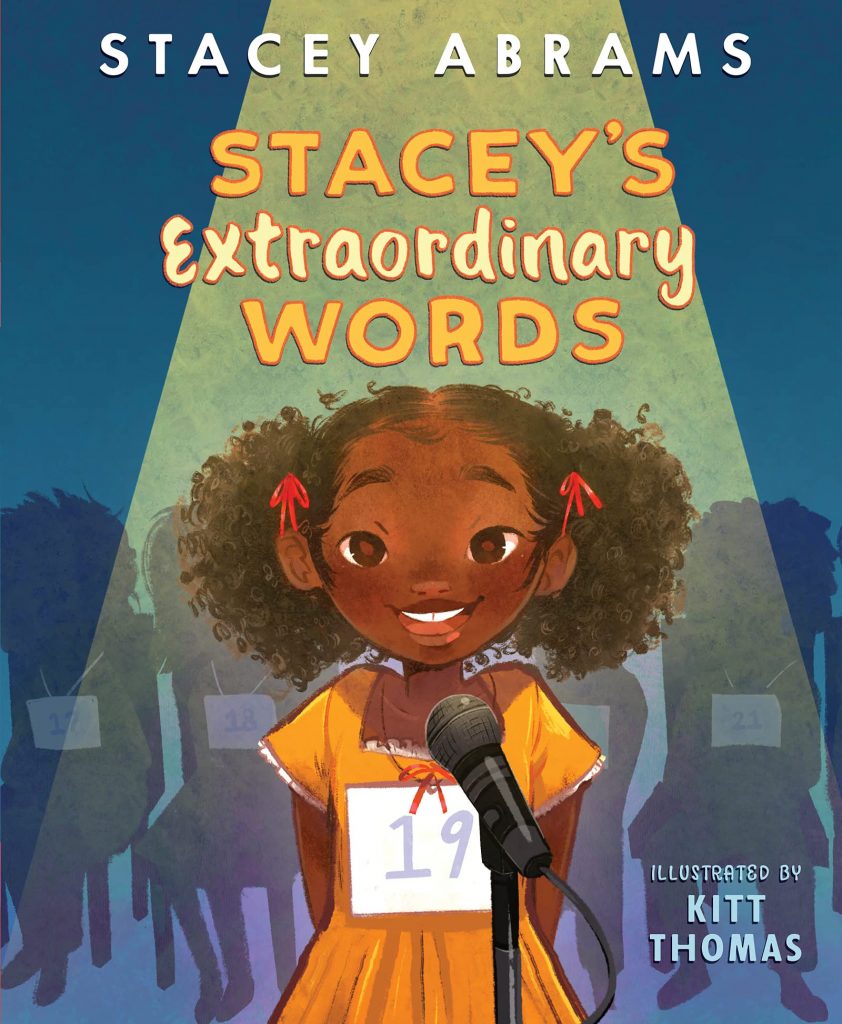 Amazon
Bookshop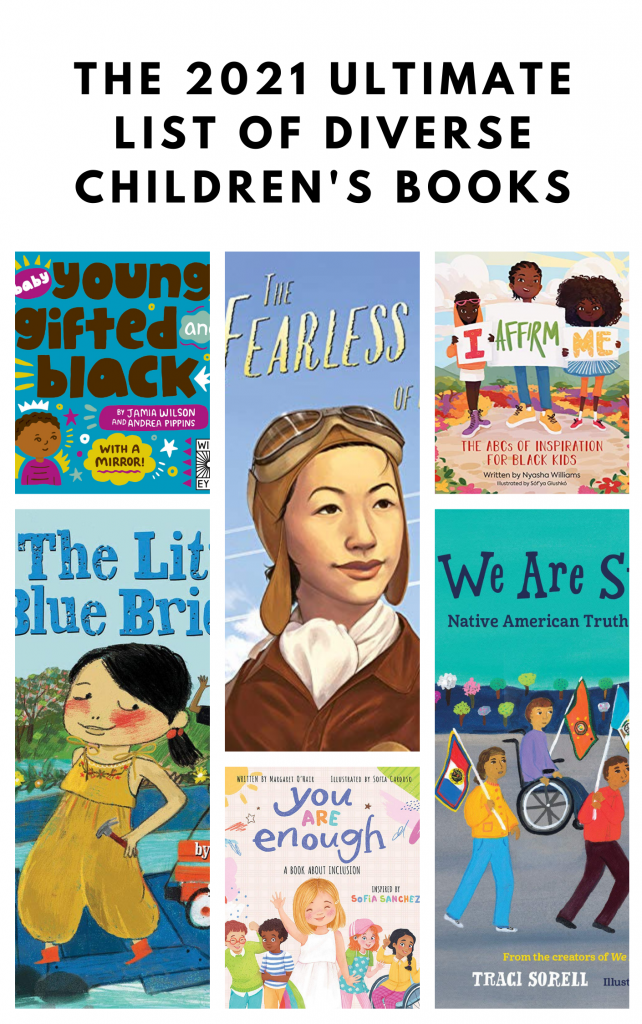 Did you enjoy this list?  Feel free to subscribe to my mailing list if you're not already.  Let's stay in touch!
Your turn:  What books from this list are you most looking forward to?  What books should I add to the list?  Feel free to share in the comments.