Libba: The Magnificent Musical Life of Elizabeth Cotten by Laura Veirs, illustrated by Tatyana Fazlalizadeh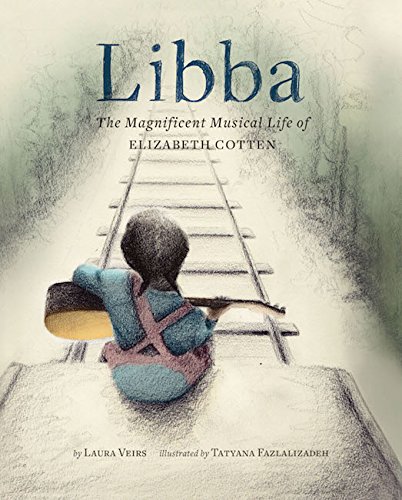 Publisher: Chronicle Books
Format: Hardcover
Pages: 40
Age Range: 5 – 8
Grade Level: Kindergarten – 3
Synopsis
Elizabeth Cotten was only a little girl when she picked up a guitar for the first time. It wasn't hers (it was her big brother's), and it wasn't strung right for her (she was left-handed). But she flipped that guitar upside down and backwards and taught herself how to play it anyway. By age eleven, she'd written "Freight Train," one of the most famous folk songs of the twentieth century. And by the end of her life, people everywhere—from the sunny beaches of California to the rolling hills of England—knew her music.
Reflection
Prior to reading this book, I had never heard of Elizabeth Cotten before.  Born near Chapel Hill, North Carolina in 1893, Grammy Award Winner Elizabeth "Libba" Cotten (born Elizabeth Nevills) was an African-American blues guitarist who invented "cotten picking." At age 11, she picked up her brother Claude's guitar and picked the strings with the instrument upside down and backwards (because she was left-handed), and kept the sound in perfect pitch.  It's no surprise though since she was constantly surrounded by music and she came from a musical family.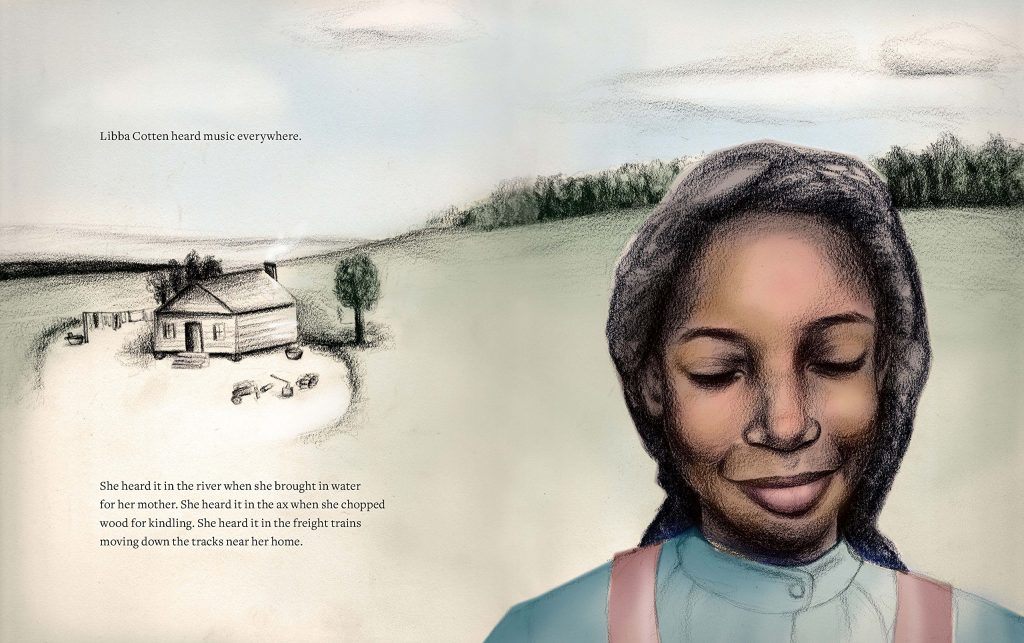 Soon after her first encounter with the guitar her brother moved out to go find a job, taking his guitar with him.  But little Libba didn't let that stop her.  She was determined to work odd jobs and earn enough money to buy her own guitar.  That's how much she loved music – it was in her bones.  She wrote her own songs like her most popular one "Freight Train" before she was even thirteen years old.
But soon, Libba would have to go to work for a living as a maid. Times were tough in the 1900's in the segregated South especially for poor Black females like her.  So Libba put down the guitar and put her musical days behind her.  As the years went on, she married and had children, not returning to the guitar again until she was 60 years old.
Years later, while working as a maid for the Seeger family, who were musicians, Libba started playing the guitar again and the Seeger family recorded her music at home.  The Seeger family truly believed in her talent and helped spread the word about her music.  Libba played shows with big names like Muddy Waters and performed at prestigious cathedrals in London and Rome.  She played until she was well into her 80's. In 1984, she finally got her big break and won the Grammy Award for "Best Ethnic or Traditional Recording".  Libba spent her last days in Syracuse, New York until she died in 1987.  Fans of her music might be inspired to visit the park called "Libba Cotten Grove" in Syracuse, New York which still exists today.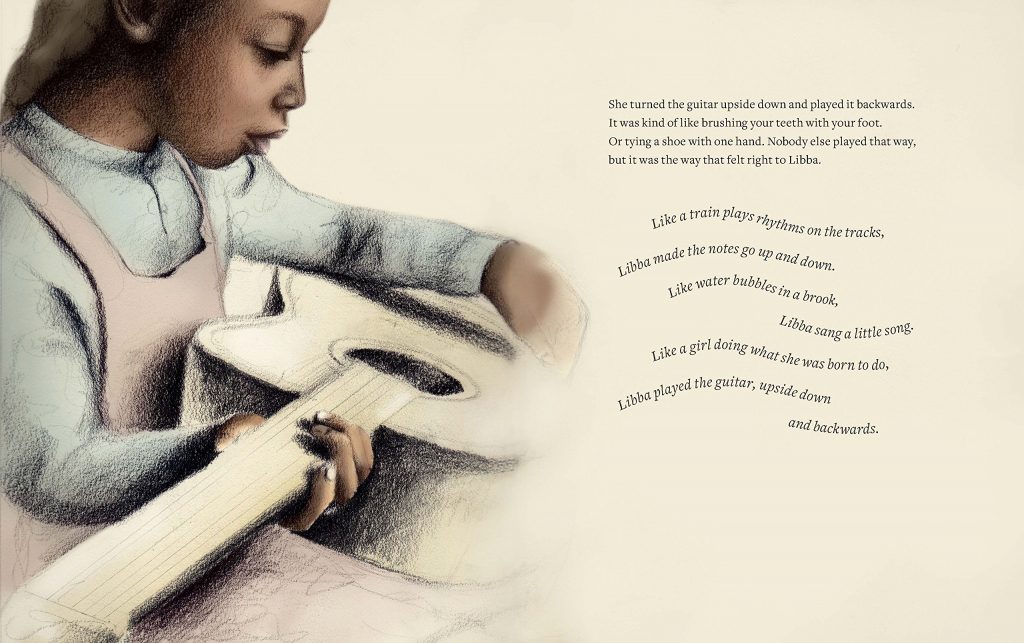 I thoroughly enjoyed reading this picture book biography and learning about the life of Elizabeth Cotten.  I am inspired by her skills, talent and determination at such a young age.  The story is not only informative, but the plot is very engaging and it flows well.  The gorgeous graphite illustrations and color palette complement the time period of the book so well.  I truly felt like I stepped back in time to the country South in the 1900s.
It was so interesting to see how Libba's musical life came full circle.  From her early days of sneaking into her brother's room to play his guitar to winning a Grammy award.  How serendipitous of her to eventually become a live in maid working for such a musical family like the Seegers!  It's clear Libba's musical genius deserved to shine in the spotlight even if her career didn't take off until well into her adulthood.
The back matter includes an author's note and links to different websites, videos, interviews and recordings of Elizabeth Cotten's music and her story.  I'd recommend this book for music lovers of all ages who want to learn about a lesser-known African-American female who made a huge impact on the music world.  This would also be a great book to read during Black History Month or Women's History Month.
Your turn: Have you ever heard of Elizabeth Cotten and shared her story with your little readers?  Feel free to share in the comments.