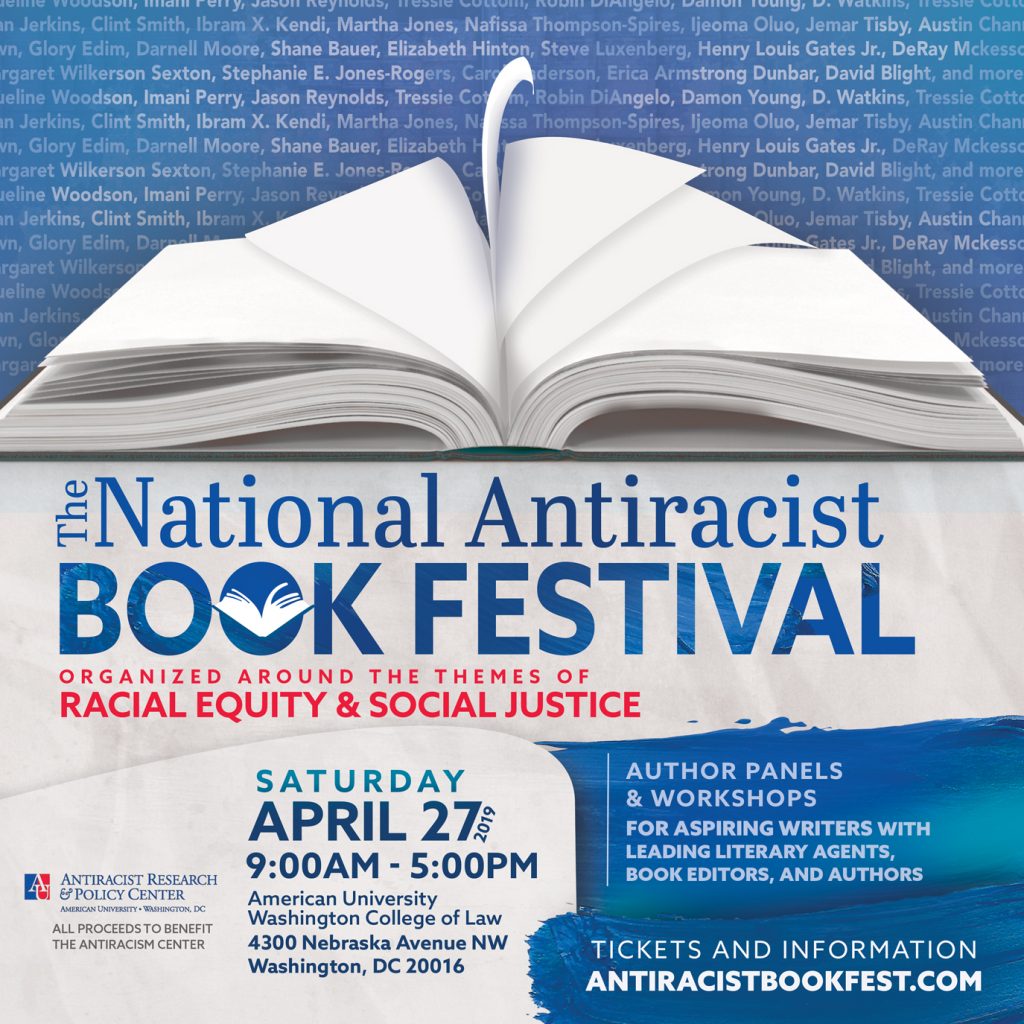 Have you heard all of buzz about the inaugural 2019 National AntiRacist Book Festival yet?  This ticketed event will be taking place on Saturday April 27, 2019 on AU's Washington College of Law campus in the neighborhood of Tenleytown, Washington, D.C.  The event is hosted by American University's Antiracist Research and Policy Center.
Along with nationally renowned writers, journalists, poets, and scholars who have recently published critically acclaimed books, the festival will include workshops for aspiring writers with leading literary agents and book editors. This year's inaugural festival primarily features authors of anti-black racism and its intersections.  There will also be free workshops for educators and youth, and workshops on photography and self-care.
"The inaugural Antiracist Bookfest will offer one of the most distinguished lineups of anti-racist authors ever assembled for a book festival," said National Book Award-winning author Ibram X. Kendi, the founding director of the Antiracist Research and Policy Center at American University. "We are making history with this incredible collection of bestselling, award-winning and popular authors, who often headline events. We are delighted they each agreed to come together and launch the Antiracist Bookfest, while supporting our work in the Antiracist Research and Policy Center."
Sample of authors in attendance:
National Book Critics Circle Award-winning historian Carol Anderson
National Magazine Award-winning reporter Shane Bauer
Bancroft Prize-winning Yale historian David Blight
New York Times bestselling-author Robin DiAngelo
National Book Award Finalist Erica Armstrong Dunbar
Award-winning Harvard professor and filmmaker Henry Louis Gates
New York Times bestselling-author Morgan Jerkins
Pulitzer Prize-winning poet Tyehimba Jess
Award-winning Washington Post editor Steve Luxenberg
Nationally renowned Campaign Zero Co-Founder DeRay McKesson
New York Times bestselling author Ijeoma Oluo
New York Times bestselling author Jason Reynolds
Award-winning poet and writer Clint Smith
PEN Open Book Award winner Nafissa Thompson-Spires
New York Times bestselling author D. Watkins
National Ambassador for Young People's Literature Jacqueline Woodson
Very Smart Brothas Cofounder Damon Young
Ticketed portions of the festival will include author panel discussions and workshops for aspiring writers.  All proceeds from ticket sales for the Antiracist Bookfest will go to the work of the Antiracist Research and Policy Center, started at AU in fall 2017. The center is based on a new vision of change that's grounded in historical revelation and focuses on policy change.
To purchase tickets click here!
Media members are required to RSVP with Rebecca Basu, American University Communications, 202-885-5950, basu@american.edu.  For more information about this event click here.
Your turn: Are you planning to attend this event?  Feel free to share in the comments.