Have you ever noticed Instagram is flooded with female bookstagrammers?  I wanted to find out who some of the men are who also share and read books on Instagram.  This ongoing series will feature some of the most well read men on Instagram who also share a passion for all things BOOKS.  Let's get up close and personal with: Ryan from Dad Suggests.
What is your name and Instagram handle?
My name is Ryan Billingsley and I'm the dad behind @dadsuggests on Instagram.
When did you start your Instagram account and what was your motivation for starting it?
We actually started DadSuggests and our Instagram page in the summer of 2018, so we just celebrated our 1 year anniversary. Basically, I really just wanted a way to share with other parents and teachers the things that our family loves. I wanted to help people find really high-quality content for some meaningful family time.
After writing about a few of our favorite books and games and putting up pictures of them on Instagram, I realized how much I love advocating for things like empathy and imagination – and how important it is to read and play with your kids. My articles and my posts often drift into reflections on parenting and our role in providing a magical childhood for our kids. I might be writing about books and board games – but in my head I'm often contemplating how to make happy kids and other bits of the meaning of life.
Have you always enjoyed reading?
Yes! I was lucky enough to have parents who sat by the side of my bed at night and read me stories that I'll never forget – like classic tales from the Brothers Grimm. And I had a very cool bunk bed growing up with a built-in bookshelf. It was the perfect size to store all of my Goosebumps books – which I very often stayed up late reading.
And, of course, I was tremendously lucky to grow up during the era of Harry Potter – basically being the same age as Harry through the whole series. I consider myself incredibly fortunate to be a kid during that craze – attending the midnight releases and trying to read the whole book before the sun came up.
Where do you currently live?
I have lived in beautiful Fayetteville, AR for my entire life.
Name 1-2 recent books you've really enjoyed reading this year.
For picture books, I've already shortlisted Imagine That by Jonathan D. Voss and All the Ways to Be Smart by Davina Bell as favorites for 2019. I can't recommend them highly enough. Both books do a tremendous job celebrating the child's imagination – and that is of course a real soft spot for me.
Imagine That leaves me with the same happy feelings I get when I read Winnie the Pooh, and I'm actually tempted to label All the Ways to Be Smart the most important, if not the very best, picture book ever made. (Sidenote: Wow, I need to check this one out ASAP since we haven't read it yet!)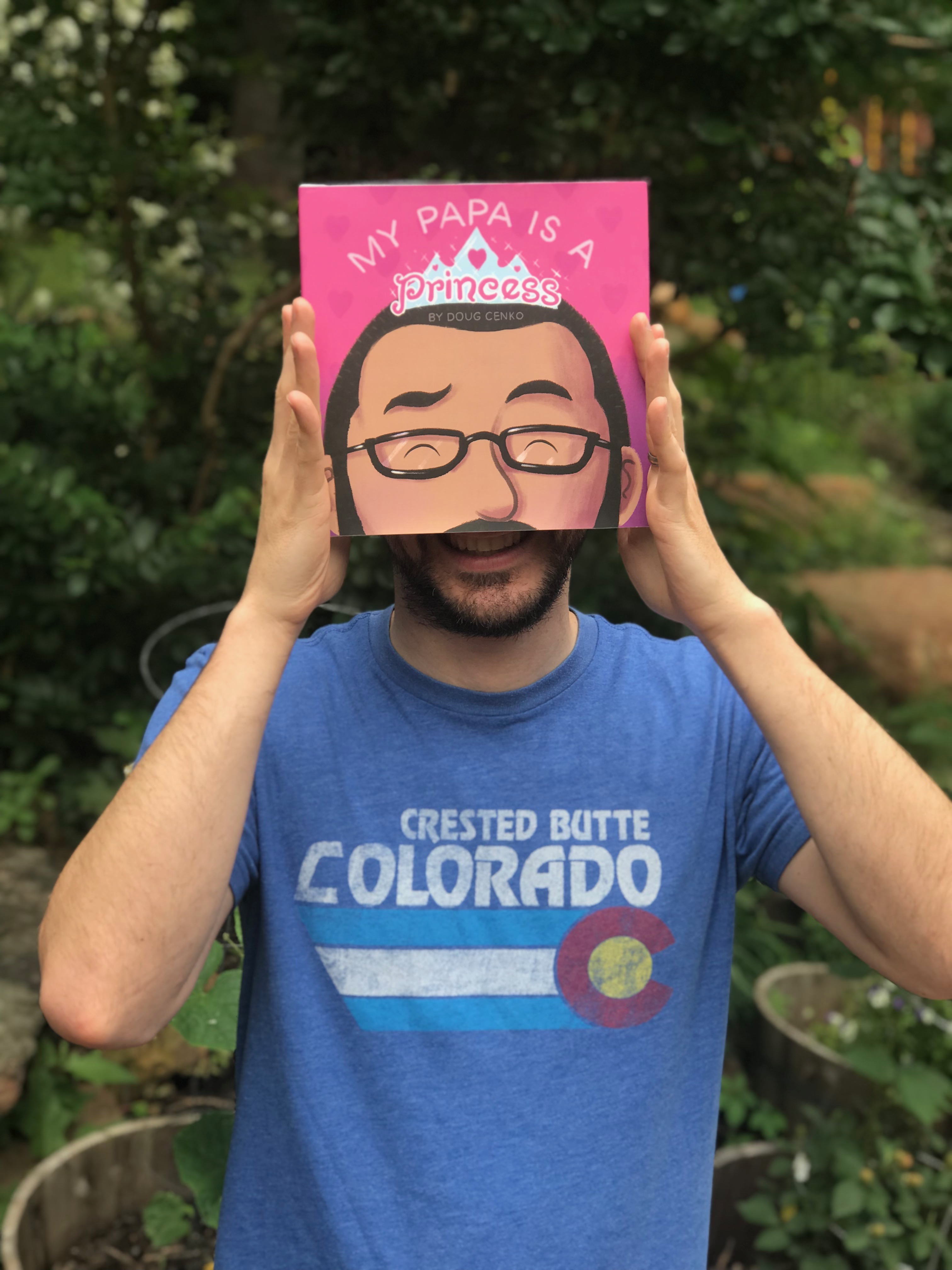 Are you currently in a relationship? It's okay to plead the 5th if you prefer not to answer!
Haha! No need for mysteries here! My wife and I just celebrated our 8th anniversary!
Do you have children? If so, do they love to read as well?
We have a 6-year-old boy and a 3-year-old girl. They've been read to literally every single day of their lives – particularly at bedtime. Reading has always been cherished family time and a part of our soothing going-to-sleep process. Books have simply always been a part of the routine since day one.
After all that exposure to stories – our son has caught on with independent reading really nicely, and he really loves reading fantasy books. Some of his favorites early chapter books are The Kingdom of Wrenly and Moongobble and Me. And we really love doing interactive books and Choose Your Own Adventure together.
What advice would you give to parents of children who may have reluctant readers or kids who don't enjoy reading?
The best case scenario is that you're able to start early and make reading a part of the family routine from day one. There's no better predictor for growing up to love reading than spending your childhood on Mom and Dad's lap reading picture books together every night.
But assuming it's too late for that and we're talking about older kids now – it's still important to note that it's never too late to discover a love for stories. Step one as a parent is to ensure that you're being a reading role model. If all children see is their parents watching TV or looking at their phone, odds are pretty good that's what they'll choose to do too.
And, speaking as a teacher, don't forget that turning reading into a chore is the absolute kiss of death. Avoid that at all costs. Instead, expose them to a wide variety of materials they might like – graphic novels, magazines about video games, Choose Your Own Adventure, scary stories, audio books, etc.
In my experience, reluctant reading often has strong correlations with reading struggles. And their struggles feed their reluctance, and their lack of practice makes it harder to grow. So you have to start somewhere to start building vocabulary, prosody, and a positive relationship with stories – and even the most reluctant readers still really love relaxing and being read to.
What books are on your nightstand right now?
Right now I have an awesome stack of picture books that I'm writing about for our next article on DadSuggests.com – The Best Picture Books About Imagination. The stack includes This is Sadie by Sara O'Leary and Ocean Meets Sky by The Fan Brothers. I have twelve of our favorite picture books here for this list, and they all do a great job celebrating creativity and promoting a magical childhood. I also have the new novelization of Pan's Labyrinth from Guillermo del Toro and Cornelia Funke sitting on my nightstand. It's amazing!
Why do you think it's important to read either on your own or with children?
Quite frankly, reading to your kids is the second-best gift you can give them – finishing in a close second place to your unconditional love. Reading to your kids will obviously prepare them for a better life academically, but it's so much more than that. Reading grows imagination and empathy as well – along with a plethora of other social skills. Books open up a window into the world, and they have the ability to impart invaluable wisdom. On the deepest level, exposing your kids to that art and that wisdom will help them find meaning in life.
And you can never be too old to benefit from stretching your imagination and widening your understanding of the world. Whether you're reading to educate yourself or just to escape for a little while – the benefits to the brain are numerous. Personally, I find that reading a good novel clears my mind the same way that meditating or playing chess does – and my brain always appreciates those calm moments.
Hard cover, paperback, or e-book when reading a book on your own?
I've always preferred hardcover editions. With picture books that's always important because it ensures that they will include the often beautiful end papers. And hardcovers may not always be the most convenient choice for reading or traveling with novels – but they're certainly my favorite.
Name 1-2 of your favorite authors.
One or two is too hard! But I can give you a very condensed version of just some of our favorites: Bruce Coville, Mac Barnett, Jon Klassen, Sara O'Leary, Trudy Ludwig, Philip C. Stead, Shel Silverstein, Chris Van Allsburg, and Ben Hatke.
Does your family have any story time or reading rituals to share?
After dinner time and shower time comes book time – every single night. And we never miss a night. We take books on vacations with us, and nothing about the ritual changes. Typically the reading consists of a stack of picture books, but sometimes that's replaced with a longer reading from a chapter book. It's a beloved ritual, and I plan on reading aloud with the family indefinitely.
How do you choose which books to share on your Instagram page?
We only write about books that we love on DadSuggests.com, and we put a lot of thought into books that we put onto any of our lists. Typically, those are the books that we take pictures of and share on Instagram as well, and occasionally we'll throw in some new purchases or library finds that we're really excited about too. And I try to get into the spirit of Throwback Thursday and pull out books from my childhood. Basically, if we love it, we'll recommend it to others.
It's important to me that our social media accounts and our website always remain a source for our personal recommendations. That's why we make it a point to inform publishers and authors that we only recommend the things we love, and we simply have no interest in doing negative reviews.
Anything else you'd like to share?
I just want to say thank you so much for taking the time to interview me. It was a lot of fun, and I appreciate you and what you do on Here Wee Read.
I also wanted to say thank you to every single person who took the time to read this interview. I hope that you found a few new interesting picture books to look up – and I hope that I've been able to inspire you to help me spread this message to others: it's so incredibly important to read and play with your kids! It's our noble duty and it's our privilege as parents to build a magical childhood for our kids – full of imagination and creativity and wonder.
You can follow me at @DadSuggests on Instagram, Twitter, Facebook, and Pinterest – and you can catch all of my new fatherly thoughts on picture books, board games, and more on DadSuggests.com.
Your turn: Did you enjoy this feature?  Tell us your thoughts in the comments.  Also, please let me know what other men of Bookstagram I should feature in this series.
If you enjoyed this post, you may also want to read: 10 Male Bookstagrammers to Follow on Instagram If You Love Books.
Also, be sure to check out our other interviews with Rod Kelly and Reggie Reads.
Find all of the men we feature in this series by searching the hashtag #themenofbookstagram on Instagram!