Have you ever noticed Instagram is flooded with female bookstagrammers?  I wanted to find out who some of the men are who also share and read books on Instagram.  This ongoing series will feature some of the most well read men on Instagram who also share a passion for all things BOOKS.  Let's get up close and personal with: Rod Kelly.
What is your name and Instagram handle?
Hello! My name is Rod Kelly, aka @read_by_rodkelly on Insta-, excuse me, Bookstagram.
When did you start your Instagram account and what was your motivation for starting it?
I had a standard-issue Instagram account for years, but I properly entered the Bookstagram sphere in January of 2018.
Have you always enjoyed reading?
I would say yes, absolutely! However, I can't say I was a reader, a serious one, until around five years ago. I had no discernible taste in books, it was a total dart-throwing activity until I finally hit bull's eye with Their Eyes Were Watching God by Zora Neale Hurston. That was my true literary baptism and I haven't looked back since!
Why do you think we don't see more men, (specifically Black men), reading or sharing about books they read?  Do you think reading is perceived to be "uncool" in the Black community?
I can't say for sure why that is. Black men, in my generation especially, are most certainly reading. Living in New York, being on the subways, I've shared many a cramped space with other chocolate men, head buried in the pages of our myriad lit. I think, perhaps, that hybridizing the activity into a social media platform could be seen as pointless and/or tiresome to many black men, and men in general, perhaps. I cannot speak for a whole community of men. It is, after all, a hobby, and quite the time-consuming one, when you think about the quintessential features of booksta accounts: reviews, lists, tags, hauls, giveaways, etc. What about the pleasure of simply reading?
Perhaps instead of posting daily, hourly, and by-the-minute, they're actually holding a book rather than a phone. (The same could probably be said for many women as well, but because women dominate bookstagram, the question isn't very relevant.) And sure, it was probably once considered to be "uncool", but I don't think that's at all true today. I think black men and women of my generation and younger now want to be educated, want to be well-read and well-rounded. And anyway, I cannot imagine a grown ass man (bleep me if there are no curses allowed haha), in this day and age, in the times we're living in, to criticize another for reading. This isn't a time to sit around being stupid, or, I'll be nicer, mentally lazy. Pick up a book!
Name 1-2 recent books you've really enjoyed reading this year.
This is hard, because it's been an incredible reading year so far. Off the top of my head I'm going to shout out The Nickel Boys by Colson Whitehead and Lot by Bryan Washington. Both are five-star, top-tier literary works from formidably talented, and imaginatively soulful writers.
Are you currently in a relationship?  It's okay to plead the 5th if you prefer not to answer!
Okay, that went left, haha! But, no… I am happily single.
Do you have children?  If so, do they love to read as well?
N/A
What advice would you give to parents of children, (specifically parents with boys), who may have reluctant readers or kids who don't enjoy reading?
I'm not a parent, but my mother, grandmother, and other elders placed books in front of me from a very early age. It's important for kids to know that there is power in language, in the written word. Children will understand and receive that if it's taught very early on in their development.
What books are on your nightstand right now?
The books on my figurative nightstand: Lost Children Archive by Valeria Luiselli, Ta-Nehisi Coates's forthcoming novel, The Water Dancer, and The Source of Self-Regard by our dearly departed God of literature, Toni Morrison.
Do you think male bookstagrammers are perceived differently than female bookstagrammers?  If so, in what way(s)?
I don't think there's any conspicuous difference in perception. Bookstagram is obviously a more woman-centered space, but within my own community of followers and followed, though women dominate, it is a variegated, prismatic mix of people of all colors, gay, straight, cis, trans, non-binary, old, young, trash readers, high-brow snobs, etc. I accept that most people's flocks may be mostly white, mostly female, which, fine for them, but I like a multiplicity of voices and views in my own space. I think I answered a question you didn't ask, but my point is that I don't believe male/female perception is really a thing at all.
Hard cover, paperback, or e-book when reading a book on your own?
Paperback preferably, but I've become less snobby about these things the more I read; whatever I have on hand when I'm ready to read a certain book is what I go with. For big, long books, sometimes it's convenient to have both the digital and hard copy.
Name 1-2 of your favorite authors.
Easy: Toni Morrison & James Baldwin. No one better. And for a younger pair: Zadie Smith & Marlon James.
How do you choose which books to feature on your Instagram account?
I don't make a huge to-do out of it, I simply share the things that give me pleasure. I review when I'm moved to review, I post when I feel I have something to say. Otherwise, I like to keep things very random and organic, mostly located within the stories feature, which is my favorite thing about IG.
Anything else you'd like to share?
I just want to thank you for thinking of me for this series! I can't wait to read about all of the other lovely booksta-men that you feature! Much love!
Connect with Rod Kelly!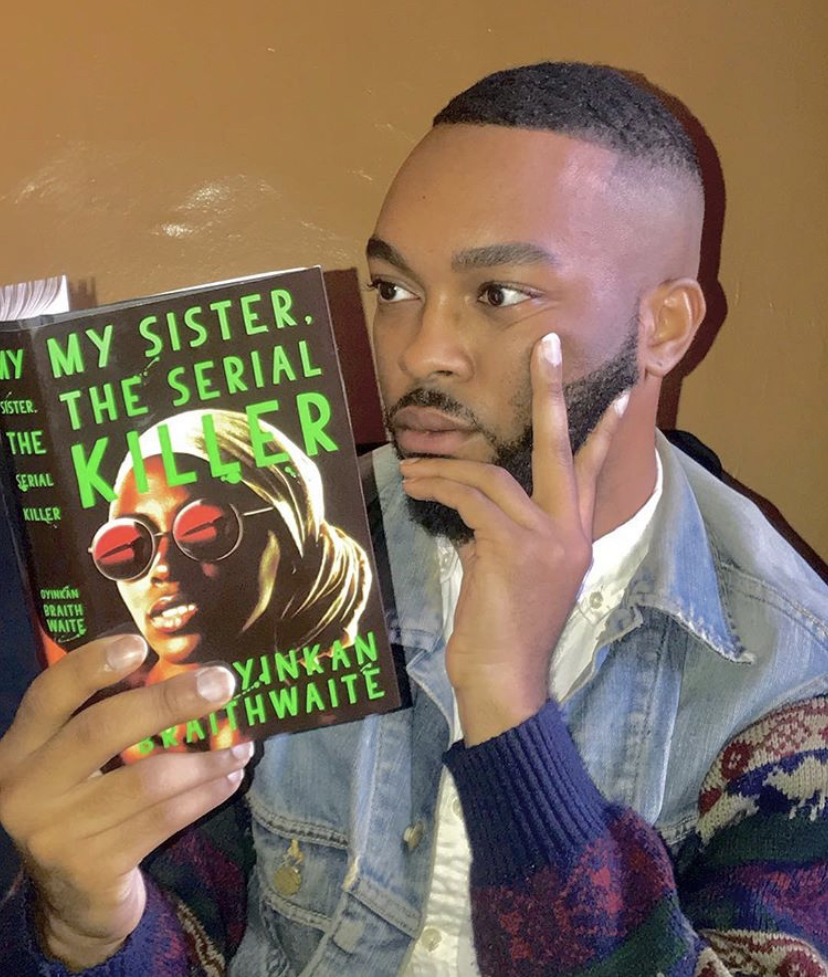 Your turn: Did you enjoy this feature?  Tell us your thoughts in the comments.  Also, please let me know what other men of Bookstagram I should feature in this series.
If you enjoyed this post, you may also want to read: 10 Male Bookstagrammers to Follow on Instagram If You Love Books.
Find all of the men we feature in this series by searching the hashtag #themenofbookstagram on Instagram!