Dream Builder: The Story of Architect Philip Freelon by Kelly Starling Lyons COVER REVEAL!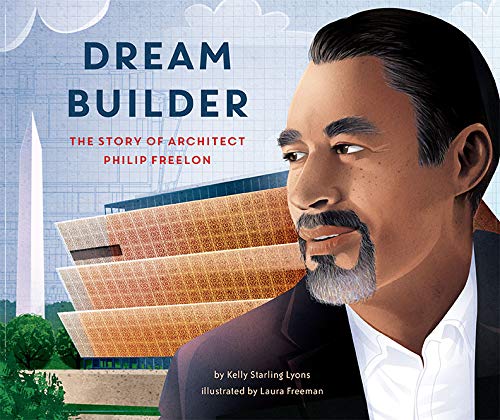 In partnership with Lee & Low, I am excited to be revealing the cover for the forthcoming January 2020 book Dream Builder: The Story or Architect Philip Freelon by Kelly Starling Lyons.  The cover is illustrated by Laura Freeman.
Total Pages: 40 pages
Publisher: Lee & Low Books
Publication Date: January 14, 2020
Recommended Ages: 9 – 12 and up
Pre-Orders: Available for Pre-Order Now!
Synopsis

Philip Freelon's grandfather was an acclaimed painter of the Harlem Renaissance. His father was a successful businessman who attended the 1963 March on Washington. When Phil decided to attend architecture school, he created his own focus on African American and Islamic designers. He later chose not to build casinos or prisons, instead concentrating on schools, libraries, and museums–buildings that connect people with heritage and fill hearts with joy. And in 2009, Phil's team won a commission that let him use his personal history in service to the country's: the extraordinary Smithsonian National Museum of African American History and Culture.
Dream Builder: The Story of Architect Philip Freelon celebrates a contemporary black STEAM role model, a man whose quiet work enabled the creation of an iconic building reflecting America's past and future. With a stirring text by Kelly Starling Lyons, vibrant pictures by Laura Freeman, and an afterword from Philip Freelon himself, it is sure to inspire the next generation of dreamers and builders.
Check out Dream Builder when it publishes in January 2020!
About the Author
Kelly Starling Lyons is the author of numerous books for young readers including One More Dino on the Floor, Hope's Gift, Ellen's Broom, and the Jada Jones series.
About the Illustrator
Laura Freeman received her BFA from the School of Visual Arts in New York City and began her career illustrating for various editorial clients, including the New York Times Book Review, the National Law Journal, and New York magazine, and previous titles include Fancy Party Gowns: The Story of Fashion Designer Ann Cole Lowe and Hidden Figures. Laura now lives in Atlanta, Georgia, with her husband and their two children. Find out more about Laura at lfreemanart.com.