Disclaimer: Abrams Books sent me the book to check out and is partnering with me for a giveaway!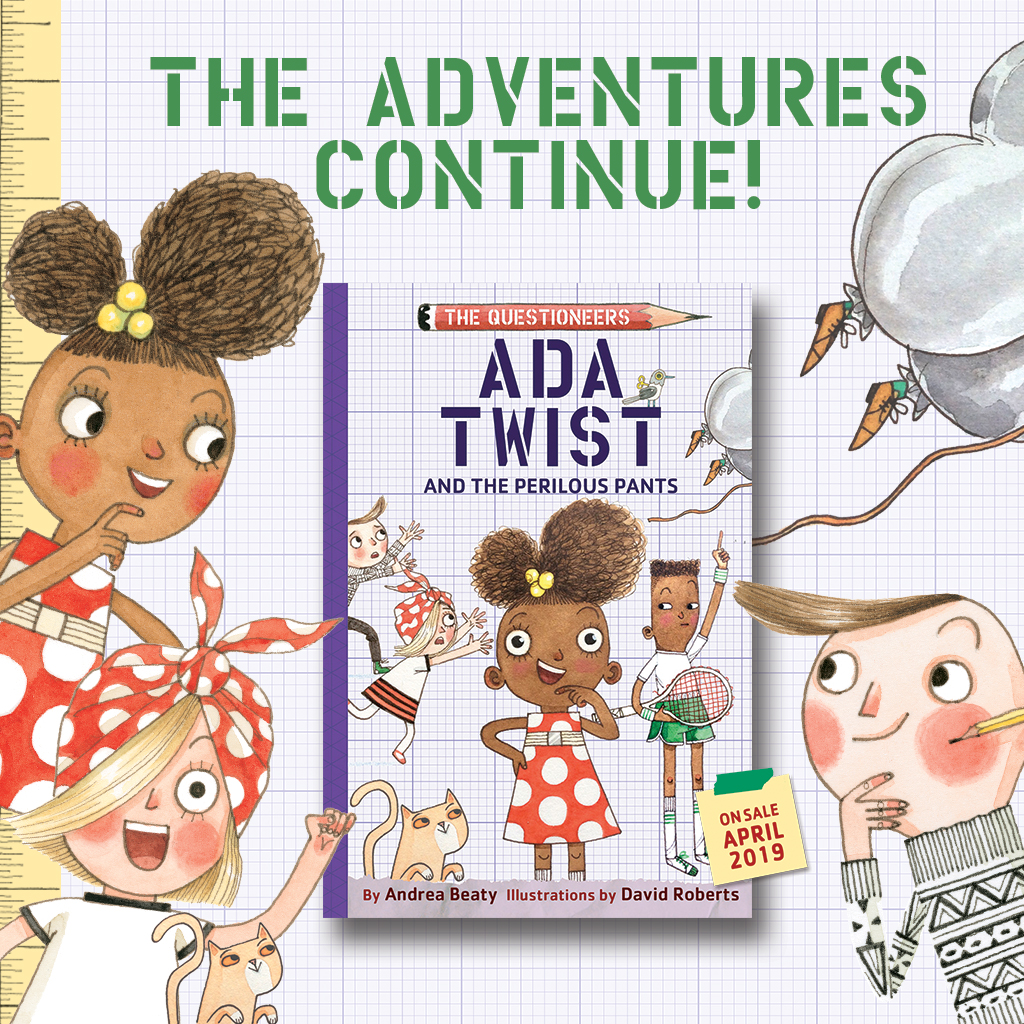 by Andrea Beaty, Illustrations © David Roberts

Ada Twist and the Perilous Pants: The Questioneers Book #2 by Andrea Beaty, illustrated by David Roberts
Release date: April 16th, 2019
Recommended for ages 6-9
Published by Abrams Books
About the Series
A mystery! A riddle! A puzzle! A quest!  The Questioneers are the best!
If you're already a fan of Ada Twist, Iggy Peck, and Rosie Revere, get ready for a new Questioneer! Sofia Valdez, Future Prez joins the class Election Day 2019. More info.
About the Book
Ada Twist is the queen of questions. Like, why does hot coffee smell stronger than cold? What kind of birds live in her backyard? And, especially, why does her brother Arthur get so cranky when she borrows his stuff for experiments?  But Ada's questions really come in handy when her friend Rosie Revere needs help. Rosie's Uncle Ned has gotten carried away in his famous helium pants, and Ada needs some answers—fast!
How high can Uncle Ned float? Will he fly off into outer space? And, most important, how can they get him down? With the help of her fellow Questioneers Iggy Peck and Rosie Revere, her brother Arthur, and some new friends, Ada Twist is ready to save the day!
We are huge fans of the books Iggy Peck, Architect, Rosie Revere, Engineer and Ada Twist, Scientist.  We also thoroughly enjoyed reading the first book in The Questioneers chapter book series, a spin-off of the popular bestselling picture books.  You can read my full review of that book here in case you missed it.
The second book stars our favorite curious STEM loving character, Miss Ada Twist.  In true Ada fashion, she asks a myriad of never-ending questions and performs several science experiments.  This is a fun, engaging and entertaining chapter book for children ages 6-9.
The Giveaway!  Ready to Enter?


One (1) winner receives:
Ada Twist and the Perilous Pants
plus Ada Twist's Big Project Book for Stellar Scientists.
Giveaway open to US addresses only.
Prizing and samples provided by Abrams Books.
Ada Twist and the Perilous Pants

About the Author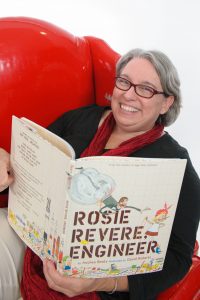 Andrea Beaty is the author of Iggy Peck, Architect; Rosie Revere, Engineer; and Ada Twist, Scientist; among other children's titles. She is an advocate for STEM and her books have been read around the globe and in space on board the International Space Station. She lives just outside Chicago. Visit her online at andreabeaty.com and on Twitter.
About the Illustrator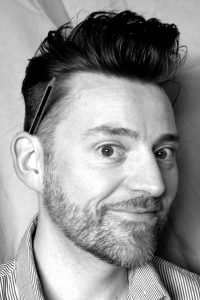 David Roberts has illustrated many children's books, including Iggy Peck, Architect; Rosie Revere, Engineer; and Ada Twist, Scientist. He lives in London where, when not drawing, he likes to make hats. Visit him online on Tumblr and Instagram.
For more information about The Questioneers visit the Official Site
Connect with Abrams Kids on Social Media!
Twitter, Facebook and Instagram