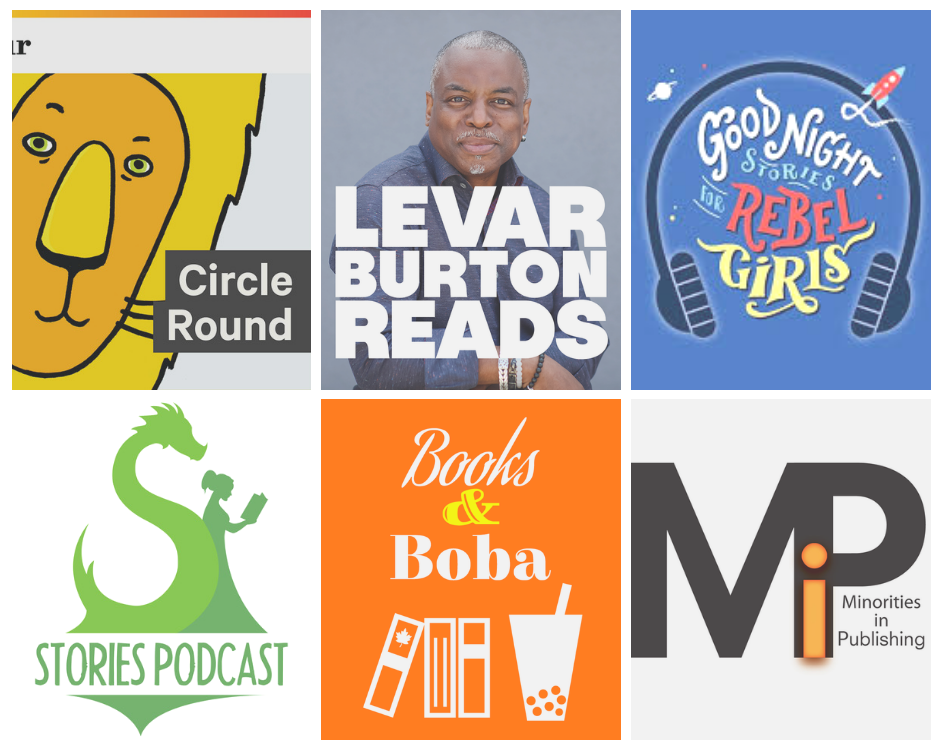 Are you a book lover looking for a new literary podcast to listen to?
I love listening to podcasts instead of watching tv or mindlessly surfing social media.  I usually listen to podcasts while folding laundry, commuting or when I'm washing dishes.
I think podcasts have so much to offer people of all ages.  The ones I like to listen to have exciting stories, interesting facts, and lively sound effects.  That's basically everything you need for an entertaining listening experience.  The best part?  There are podcasts for every member of your family to enjoy!
Below I've rounded up some of my current favorite literary podcasts for kids, tweens/teens, young adults and adults.  I hope you'll find at least one podcast that resonates with you or other members of your family.  Happy listening!
Oh, and just in case you never listened to a podcast and don't know how to do it, I've included some of the most popular options for listening:
Once you find your favorite app or website, search its library by topic and start exploring. And don't forget to subscribe if you'd like to.  Subscribing lets the app push new episodes directly to your device as soon as they're available, so you'll always have the latest update at your fingertips.  You're welcome!
Kids
All the Wonders
Weekly interviews with Authors, Illustrators, Award Winners, Up-And-Comers, and Everyone In Between
Book Club for Kids
The place where young readers meet to talk about books. The show includes a celebrity reader and an interview with the author.
Books Between
A Podcast to help connect kids between 8-12 to books they'll love.
Circle Round is a storytelling podcast for kids ages 3 to 10.  The show features folktales from around the world with an eye towards inclusivity. Stories are 10 to 20 minute diverse episodes that delve into topics such as kindness, persistence and generosity.
Goodnight Stories for Rebel Girls
Based on the popular book, Good Night Stories for Rebel Girls, the global best-selling book series written by Elena Favilli and Francesca Cavallo, inspiring millions of girls and women around the world to dream bigger, aim higher and fight harder.
Here Wee Read: A Bookish Podcast with Charnaie Gordon
A podcast dedicated to celebrating diverse and inclusive books for kids and adults.  In addition to interviewing kid lit and adult writers and illustrators on occasion, you'll be updated on the latest bookish headlines and hear 30-second book reviews.  This podcast is especially good for parents, caregivers, homeschoolers, librarians, and educators who have the desire to diversify their bookshelves.
Little Stories for Tiny People
A podcast featuring original kids' stories and poems that will delight the tiny people in your life.
Lu and Bean Read
Join Lu, Bean and friends as they hear stories read by children's picture books authors and interview the authors about their books.  Writer and blogger Tracy Babler and daughters Lu and Bean share their favorite children's books and stories.
Picturebooking
A podcast that showcases the authors and illustrators of some of your favorite children's books.
The perfect kids podcast for imaginative families. Whether you're driving with your children or just want to limit your kids' screen time, Stories Podcast delivers entertainment that kids and parents alike will love.
Storynory
A podcast offering  a mixture of original stories, fairy tales, poems and myths from around the world.
Story Pirates
Story Pirates is a group of world-class actors, comedians, improvisers and musicians who adapt stories written by kids into sketch comedy and musical theater.
Story Time
Story Time is a free fortnightly audiobook podcast for children ages 2-13.  Each story is usually less than 20 minutes long, just long enough to keep toddlers, preschoolers, and little ones engaged.
Talking About Books for Kids
A podcast that explores diverse books for kids and teens through conversations with authors and those that love reading children's literature.
The Yarn
A narrative adventure. The Yarn takes listeners behind the scenes of children's literature, and lets them look at all the threads that must be weaved together to create a book.
Adults / Young Adults
All the Books! Podcast
A weekly book podcast of recommendations and discussions about the most interesting and exciting new book releases.
Am Writing
In conversations between us and guests like David Sedaris, best-selling romance author Sarina Bowen, Jennifer Weiner, Alan Alda, Anna Quinlan, Cal Newport and many, many more, the podcast gives you all we can about getting started and keeping going in all aspects of the writing business.
Black Chick Lit
A podcast that talks books by and about black women.
Black & Read
A book club podcast hosted by Terry Brown. Each week Terry and his guest will discuss a piece of literature from the unique perspectives of a person of color.
Books and Boba
A book club dedicated to books written by authors of Asian and Pacific Islander descent.
Currently Reading Podcast
A podcast dedicated to the love of books and reading. Two bookish friends discuss what's on their nightstands, in their earbuds, and on their Kindles right now, in addition to books they've loved forever, and a variety of other readerly topics.
The Guardian Books Podcast
A weekly look at the world of books, poetry and great writing presented by  Claire Armitstead,  Richard Lea, & Sian Cain
Hey YA
A literary podcast for book lovers who enjoy YA (young adult) books.
Kidlit Women Podcast
A podcast of interviews and essays focusing on women's and gender issues, including non-binary and gender fluidity, in the children's literature community and all its intersectionality.
Levar Burton Reads
In every episode, host LeVar Burton (Reading Rainbow, Roots, Star Trek) invites you to take a break from your daily life, and dive into a great story.
Lit Up
A literary podcast that beyond the book and ask the writers and thinkers what they're reading and what they are thinking, and the truth about who they really are.
Literary Disco
A podcast where writers talk about reading.
The brain child of publishing professional Jenn Baker, MiP is a podcastdiscussing diversity (or lack thereof) in the book publishing industry with other professionals working in-house as well as authors and those in the literary scene.
The Bookstore Podcast
A podcast for book news, reviews, and discussion hosted by two former booksellers.
The Stacks
Host Traci Thomas chats with a wide array of guests from film and television stars to community leaders, publishing professionals, and best-selling authors.
A podcast to equip and inspire adults to make meaningful and lasting connections with children through stories.
Reading Women Podcast
A podcast discussing books by or about women.
What Should I Read Next?
Hosted by Anne Bogel, of the popular blog Modern Mrs Darcy, this podcast features interviews with readers about the books they love, the books they hate, and the books they're reading now. Then, Anne she makes recommendations about what to read next.
Your turn:  What are your favorite literary podcasts to listen to?  Feel free to share in the comments.  I'd love to hear your suggestions!