There are so many fantastic books on my TBR list from last year I still haven't read yet.  Can anyone else relate?  Nevertheless, in true bookworm fashion I've rounded up some new and forthcoming books I'm most looking forward to tackling this spring and summer…because…books!
If you're looking for a reason to get back into reading, or if you're a book lover like me looking for some book recommendations, I hope you'll enjoy this list.  If you have any book recommendations for me please shout them out in the comments.  Not that I need to add any more books to my TBR list!
Now, on to the books (in no particular order)!
This book sounds so intriguing to me…I can't wait to dive into this thriller!  Bonus points for it being written by a Black woman and being called one of the most anticipated suspense reads of the year.
From the Publisher:
It was supposed to be the trip of a lifetime.
Delighted by a surprise invitation, Miriam Macy sails off to a luxurious private island off the coast of Mexico with six other strangers. Surrounded by miles of open water in the gloriously green Sea of Cortez, Miriam is soon shocked to discover that she and the rest of her companions have been brought to the remote island under false pretenses―and all seven strangers harbor a secret.
Danger lurks in the lush forest and in the halls and bedrooms of the lonely mansion. Sporadic cell-phone coverage and miles of ocean keeps the group trapped in paradise. And strange accidents stir suspicions, as one by one . . .
They all fall down
I loved the books The Wedding Date and The Proposal by Jasmine Guillory, so I'm looking forward to reading this one too.  Anyone else?
From the Publisher:
Maddie and Theo have two things in common:
1. Alexa is their best friend
2. They hate each other

After an "oops, we made a mistake" night together, neither one can stop thinking about the other. With Alexa's wedding rapidly approaching, Maddie and Theo both share bridal party responsibilities that require more interaction with each other than they're comfortable with. Underneath the sharp barbs they toss at each other is a simmering attraction that won't fade. It builds until they find themselves sneaking off together to release some tension when Alexa isn't looking, agreeing they would end it once the wedding is over. When it's suddenly pushed up and they only have a few months left of secret rendezvouses, they find themselves regretting that the end is near. Two people this different can't possibly have a connection other than the purely physical, right?
But as with any engagement with a nemesis, there are unspoken rules that must be abided by. First and foremost, don't fall in love.
I've been seeing this one all over Instagram and have heard great things about it.
From the Publisher:

The Butler family has had their share of trials—as sisters Althea, Viola, and Lillian can attest—but nothing prepared them for the literal trial that will upend their lives.
Althea, the eldest sister and substitute matriarch, is a force to be reckoned with and her younger sisters have alternately appreciated and chafed at her strong will. They are as stunned as the rest of the small community when she and her husband, Proctor, are arrested, and in a heartbeat the family goes from one of the most respected in town to utter disgrace. The worst part is, not even her sisters are sure exactly what happened.
As Althea awaits her fate, Lillian and Viola must come together in the house they grew up in to care for their sister's teenage daughters. What unfolds is a stunning portrait of the heart and core of an American family in a story that is as page-turning as it is important.
4. Queenie by Candice Carty-Williams

This book has been getting lots of buzz so far this year.  I just had to add it to my TBR list to see what everyone is talking about.
From the Publisher:

Queenie Jenkins is a 25-year-old Jamaican British woman living in London, straddling two cultures and slotting neatly into neither. She works at a national newspaper, where she's constantly forced to compare herself to her white middle class peers. After a messy break up from her long-term white boyfriend, Queenie seeks comfort in all the wrong places…including several hazardous men who do a good job of occupying brain space and a bad job of affirming self-worth.
As Queenie careens from one questionable decision to another, she finds herself wondering, "What are you doing? Why are you doing it? Who do you want to be?"—all of the questions today's woman must face in a world trying to answer them for her.
With "fresh and honest" (Jojo Moyes) prose, Queenie is a remarkably relatable exploration of what it means to be a modern woman searching for meaning in today's world
5. The Dreamers by Karen Thompson Walker

From the Publisher:
One night in an isolated college town in the hills of Southern California, a first-year student stumbles into her dorm room, falls asleep—and doesn't wake up. She sleeps through the morning, into the evening. Her roommate, Mei, cannot rouse her. Neither can the paramedics, nor the perplexed doctors at the hospital. When a second girl falls asleep, and then a third, Mei finds herself thrust together with an eccentric classmate as panic takes hold of the college and spreads to the town. A young couple tries to protect their newborn baby as the once-quiet streets descend into chaos. Two sisters turn to each other for comfort as their survivalist father prepares for disaster.
Those affected by the illness, doctors discover, are displaying unusual levels of brain activity, higher than has ever been recorded before. They are dreaming heightened dreams—but of what?
I'm almost finished with this book and it definitely lives up to all the hype.  It's by far THE best book about habits I've ever read.  I'm devouring every word of it and applying the tips mentioned.  This is a true GEM – seriously!
From the Publisher:
No matter your goals, Atomic Habits offers a proven framework for improving–every day. James Clear, one of the world's leading experts on habit formation, reveals practical strategies that will teach you exactly how to form good habits, break bad ones, and master the tiny behaviors that lead to remarkable results.
If you're having trouble changing your habits, the problem isn't you. The problem is your system. Bad habits repeat themselves again and again not because you don't want to change, but because you have the wrong system for change. You do not rise to the level of your goals. You fall to the level of your systems. Here, you'll get a proven system that can take you to new heights.
Clear is known for his ability to distill complex topics into simple behaviors that can be easily applied to daily life and work. Here, he draws on the most proven ideas from biology, psychology, and neuroscience to create an easy-to-understand guide for making good habits inevitable and bad habits impossible. Along the way, readers will be inspired and entertained with true stories from Olympic gold medalists, award-winning artists, business leaders, life-saving physicians, and star comedians who have used the science of small habits to master their craft and vault to the top of their field.
Learn how to:
*  make time for new habits (even when life gets crazy);
*  overcome a lack of motivation and willpower;
*  design your environment to make success easier;
*  get back on track when you fall off course;
…and much more.
Atomic Habits will reshape the way you think about progress and success, and give you the tools and strategies you need to transform your habits–whether you are a team looking to win a championship, an organization hoping to redefine an industry, or simply an individual who wishes to quit smoking, lose weight, reduce stress, or achieve any other goal.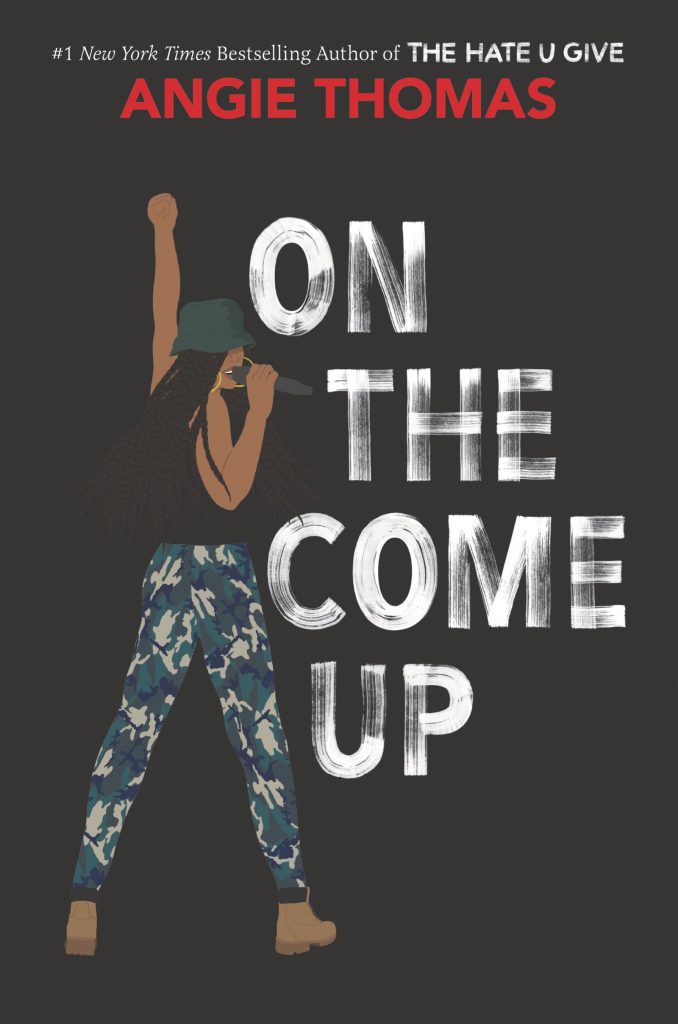 From the sound of the synopsis, I think I'm going to enjoy this one as much as I did The Hate You Give.
From the Publisher:
Sixteen-year-old Bri wants to be one of the greatest rappers of all time. Or at least win her first battle. As the daughter of an underground hip hop legend who died right before he hit big, Bri's got massive shoes to fill.
But it's hard to get your come up when you're labeled a hoodlum at school, and your fridge at home is empty after your mom loses her job. So Bri pours her anger and frustration into her first song, which goes viral…for all the wrong reasons.
Bri soon finds herself at the center of a controversy, portrayed by the media as more menace than MC. But with an eviction notice staring her family down, Bri doesn't just want to make it—she has to. Even if it means becoming the very thing the public has made her out to be.
I love reading books about men told from the male perspective.  Do you?
From the Publisher:
We hear it all the time. Men cheat. Men love power. Men love sex. Men are greedy. Men are dogs. But is this the truth about men?
In this groundbreaking book, DeVon Franklin dishes the real Truth About Men by making the compelling case that men aren't dogs but all men share the same struggle. He uses the metaphor of a dog that needs training as a way to explore why behavior persists in men that can lead them to act against their vows, their integrity and even their character.
DeVon provides the manual for how men can change, both on a personal and a societal level by providing practical solutions for helping men learn how to resist temptation, how to practice self-control and how to love. He argues the same discipline that drives men in their professional lives needs to be applied to their private lives. DeVon is also transparent about the challenges he faces daily as he endeavors to "Master the Dog" within.
But The Truth About Men isn't just for men. DeVon tells female readers everything they need to know about men. He offers women a real-time understanding of how men's struggle affects them, insights that can help them navigate their relationships with men and information on how to heal from the damage that some misbehaving men may have inflicted.
Your turn: Have you read any of these yet?  What other books should I add to my TBR list?  Feel free to let me know in the comments.