Looking for some fabulous Christian picture books for children ages 4-8? Be sure to check out the picture books on this list!
Since our family is of the Christian faith, it's important for me to read high-quality faith-building books with my children.  In the list below, I've rounded up some fantastic Christian picture books with excellent illustrations that put God at the focus of the story.   If you're looking to instill positive faith values in children or just want to read a fantastic Christian-themed picture book about everyday kids being kids, I hope you'll find something in this list.  Happy Reading!
The Creation by James Weldon Johnson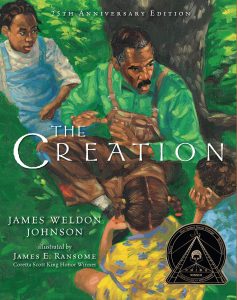 Set in the Deep South, The Creation alternates breathtaking scenes from Genesis with images of a country preacher under a tree retelling the story for children. The exquisite detail of James E. Ransome's sun-dappled paintings and the sophisticated rhythm of the free verse pay tribute to Black American oral traditions of country sermonizing and storytelling.
Who Will I Be, Lord? by Vaunda Micheaux Nelson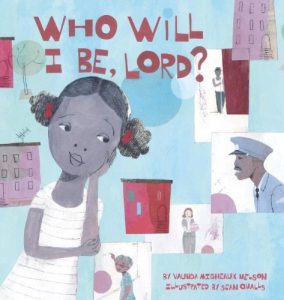 A young girl thoughtfully considers her family tree and the vibrant ancestors who populate it. As each family member's story is revealed, her quiet meditation—about what kind of person she'll be when she grows up—transforms into a testament to the importance of sharing family stories.
Come Sunday by Nikki Grimes


Softly, quietly begins the day of the week that, for LaTasha, is always full of glorious sounds: the pipe organ, tambourine, and drum; the footfalls of ushers marching down the aisle of the sanctuary; the sweet harmonies of the choir; and the rich vibrato of the preacher's voice. LaTasha sings along with the congregation, confident that Heaven hears each joyful note.  A book of beautiful poems related to going to church on Sunday.
Psalm Twenty-Three by Tim Ladwig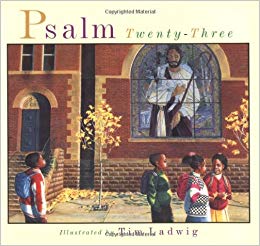 The text of the familiar psalm comparing God to a loving shepherd accompanies illustrations which shows the world of love and fear faced by an urban African American family.
He's Got the Whole World in His Hands by Kadir Nelson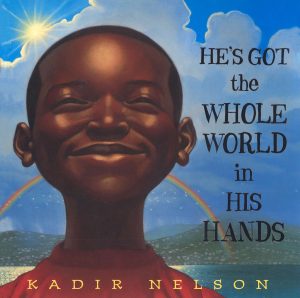 Through sublime landscapes and warm images of a boy and his family, Kadir has created a dazzling, intimate interpretation, one that rejoices in the connectedness of people and nature.
The Lord's Prayer by Tim Ladwig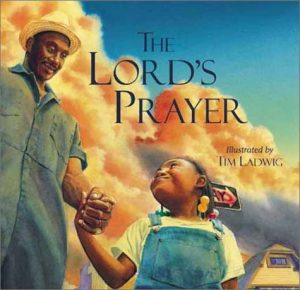 A young girl and her father spend a day together helping an elderly neighbor. The love and guidance the child experiences in her relationship with her dad reflect the heart and will of our Heavenly Father in concrete ways children of all ages will understand.
Early Sunday Morning by Denene Millner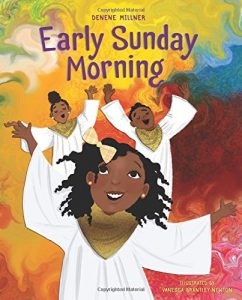 It's almost little June's big day to sing her first solo in the youth church choir and she couldn't be more excited! But when it's time to practice at choir rehearsal, June gets a little stage fright. As a result, her voice starts to tremble when she sings.  She overhears her friends making fun of her which hurts her feelings and makes her even more nervous and scared. With the help of her supportive family and community members, June gains back her confidence. But will she be ready to sing her big solo on Sunday morning in front of the whole congregation?
Sunday is for God by Michael McGowan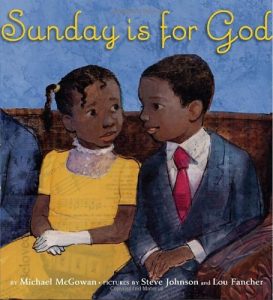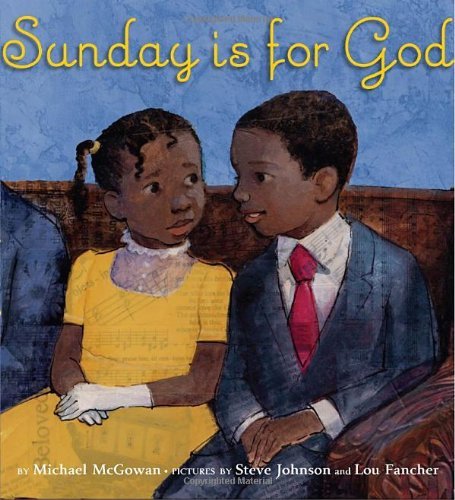 A boy longs to play in the river on this hot summer day, but instead he has to sit quietly in a pew. His collar itches and his tie's too tight—why does the Lord care whether people get dressed up for church, anyway? But as hymns and prayers fill the room, he begins to appreciate the simple beauty of a day set aside for family and prayer.
The World is Awake by Linsey Davis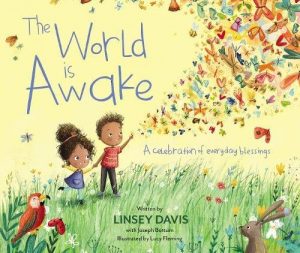 The World Is Awake, A celebration of everyday blessings, written by Emmy Award winner and ABC News correspondent Linsey Davis with Joseph Bottum, is a lyrical, rhyming story for young children intended to make them feel safe and joyful, cradled in the hands of God.
When God Made You by Matthew Paul Turner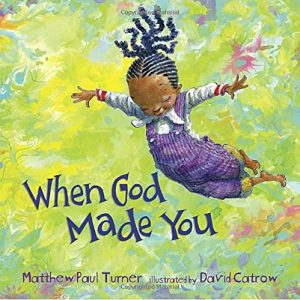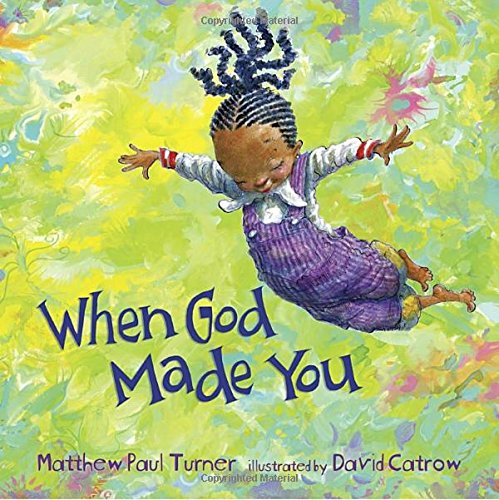 Told in rhyming and playful text with beautiful illustrations, When God Made You inspires young readers to learn about their own special gifts and how they fit into God's divine plan as they grow, explore, and begin to create for themselves.
Beautiful Moon: A Child's Prayer by Tonya Bolden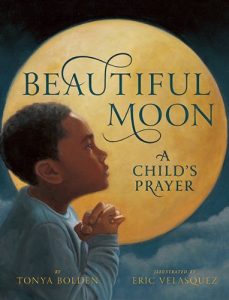 A young boy wakes. He has forgotten to say his prayers. Outside his window, a beautiful harvest moon illuminates the city around him and its many inhabitants. As the moon slowly makes its way across the heavens, the boy offers a simple prayer for the homeless, the hungry, and others.
The Watcher by Nikki Grimes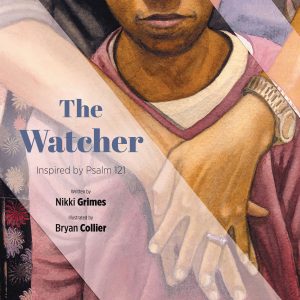 Jordan lives in fear of Tanya, the class bully. But Tanya has worries of her own, no matter how much she tries to ignore them. It seems impossible that Jordan and Tanya could be anything other than enemies, but the Lord is watching over them, guiding each of them along a path that might just help them to understand one another.
Sing a Song: How Lift Every Voice and Sing Inspired Generations by Kelly Starling Lyons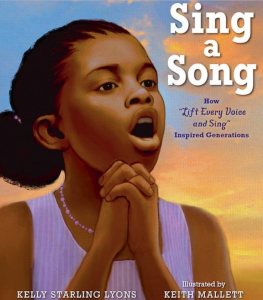 In 1900, in Jacksonville, Florida, two brothers, one of them the principal of a segregated, all-black school, wrote the song "Lift Every Voice and Sing" so his students could sing it for a tribute to Abraham Lincoln's birthday. From that moment on, the song has provided inspiration and solace for generations of Black families. Mothers and fathers passed it on to their children who sang it to their children and grandchildren. It has been sung during major moments of the Civil Rights Movement and at family gatherings and college graduations.
Lift Every Voice and Sing by James Weldon Johnson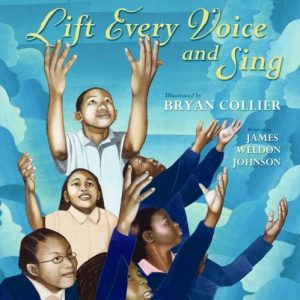 From award-winning illustrator Bryan Collier, a stunning new picture book version of the well-known song that has become known as the African-American National Hymn
We've Got the Whole World in Our Hands by Rafael Lopez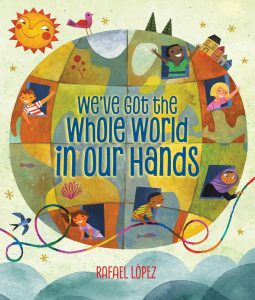 Come and read along and sing along as we celebrate the magic of unity. From the rivers to the mountains to the oceans and to the sea — we've got the whole world in our hands.
As an added bonus the sheet music is included in the back of the book for piano, guitar, and recorder for classroom, library, and home sing-alongs.
I Am: God's Affirmations for Little Girls by Belinda N. Mays


This reflection of God's truth includes memory versus paired with empowering poetry and breath-taking illustrations to help elementary aged girls build the confidence and courage to live by God's standards.
God's Dream by Archbishop Desmond Tutu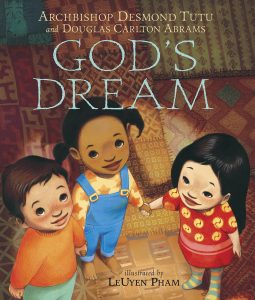 It's a wish that everyone will see they are brothers and sisters, no matter their way of speaking to God, no matter the size of their nose or the shade of their skin. Aided by vibrant artwork evoking such images as a rainbow and a sharing circle, Tutu offers the essence of his ubuntu philosophy, a wisdom so clear and crystalline that even the smallest child can understand.
When Daddy Prays by Nikki Grimes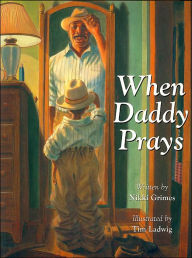 In this collection of new poems by Nikki Grimes, a child learns about prayer from his father, whose prayers carry the family through each day — no matter what the circumstances.
When I Pray for You by Matthew Paul Turner


Do you pray over your children and family? If so, this is a definite must add to your collection. It's SO beautifully written and is the perfect alternative for the book Oh, The Places You'll Go…for praying families.
It's filled with all the hopes and dreams I have for my children as I raise them to be responsible adults.
Your turn: What books would you add to this list?  Feel free to share in the comments.