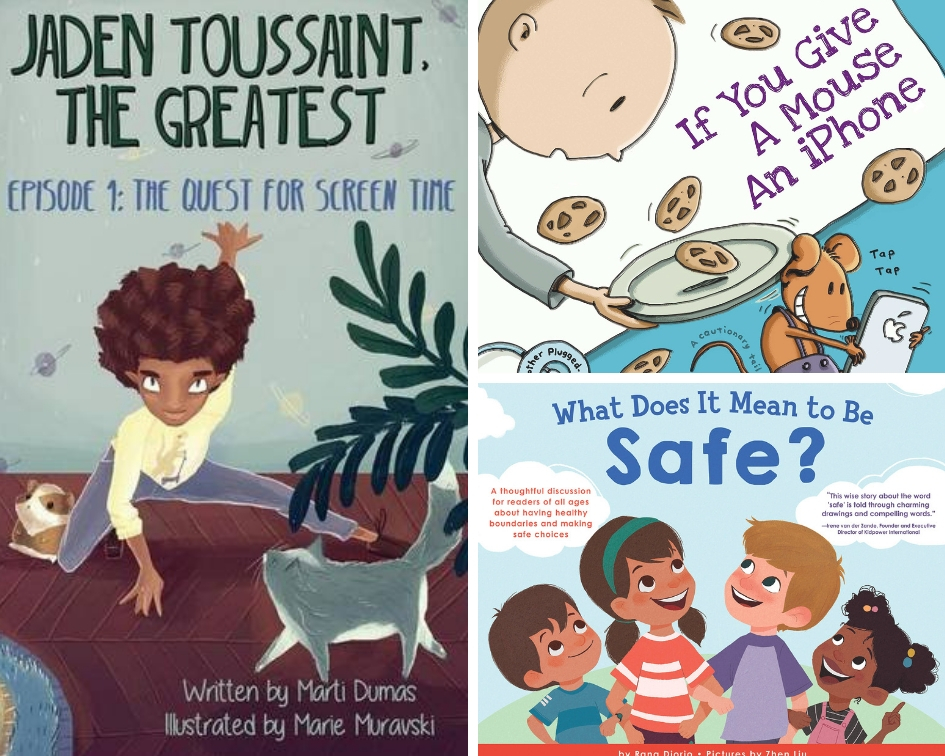 Are you looking for Screen-Free Week book recommendations for readers of all ages?  We've got you covered!
Every year during screen-free week, thousands of people participate and commit to unplug from screen-based entertainment for an entire week.  Are you up for the challenge?  You can visit the screenfree.org website to find out more information, discover local screen-free week events and find great resources to help you.
What is Screen-Free Week?
From the Screen-Free website: Screen-Free Week is an annual invitation to play, explore, and rediscover the joys of life beyond ad-supported screens.  Each year, thousands of families, schools, and communities around the world will put down their entertainment screens for seven days of fun, connection, and discovery.  Even though it's about turning off screens, Screen-Free Week isn't about going without – it's about what you can get! An hour once dedicated to YouTube becomes an hour spent outside; ten minutes wiled away on social media turn into ten minutes spent doodling; a movie on a rainy afternoon is replaced by time spent reading, chatting, or playing pretend!  You can celebrate Screen-Free Week at home, in your school, in your community, or anywhere – just put down those entertainment screens and do literally anything else! You might be surprised at what you find.
Below are a few book recommendations for members of your whole family to enjoy during screen-free week.  These books are all related to the themes of living life unplugged or technology.  Happy Reading!
Kid/Teen Recommendations
Unplugged by Steve Anthony (Ages 3-5)
One day, Blip becomes unplugged after a blackout and discovers the outside world beyond screens.  Blip explores the outdoors and also makes new friends.  A fun story with a timely message that shows kids it's possible to have fun without electronic devices.
When Grandma Gives You a Lemon Tree by Jamie L.B. Dennihan, illustrated by Lorraine Rocha (Ages 4-8)
"When life gives you lemons, make lemonade." In this imaginative take on that popular saying, a child is surprised (and disappointed) to receive a lemon tree from Grandma for her birthday. After all, she DID ask for a new gadget! But when she follows the narrator's careful—and funny—instructions, she discovers that the tree might be exactly what she wanted after all. This clever story, complete with a recipe for lemonade, celebrates the pleasures of patience, hard work, nature, community . . . and putting down the electronic devices just for a while.
Blackout by John Rocco (Ages 4-8)
This is a wonderful story about how a power outage brings families and neighbors together by turning off all the distractions. I like reading this one with the kids Enjoy in the dark with a flashlight under the covers.
If You Give a Mouse an iPhone: A Cautionary Tale by Ann Droyd (Ages 4-8)
A funny and lighthearted parody of the book If You Give a Mouse a Cookie.  Shows kids the good and bad consequences of too much screen time.
No More Screen Time by Patti Price (Ages 4-8)
A cute an informative book about unplugging from devices, playing outside and spending time with family and friends.
Goodnight iPad by Ann Droyd (Ages 4-8)
"In a bright buzzing room, in the glow of the moon-and iPhones and Androids and Blackberries too-it is time to say goodnight…"  A whimsical parody about living a life filled with technology and screens.
How to Code a Sandcastle by Josh Funk (Ages 4 – 8)
All summer, Pearl has been trying to build the perfect sandcastle, but out-of-control Frisbees and mischievous puppies keep getting in the way! Pearl and her robot friend Pascal have one last chance, and this time, they're going to use code to get the job done.
What Does it Mean to Be Safe? by Rana DiOrio (Ages 4-8)
What Does It Mean To Be Safe? explores physical, emotional, social, and cyber safety in unthreatening ways that spark meaningful conversations between adults and children.
Jaden Toussant, The Greatest Episode 1: The Quest for Screen Time by Marti Dumas (Ages 5-7 )
Jaden Toussaint, 5 year-old scientist and all around cool dude, is on a mission to convince the grown-ups that he needs more SCREEN TIME. His only weapons are science, ninja dancing, and his super-powered brain power. Can Jaden Toussaint get the grown-ups to change their minds?
But I Read It on the Internet by Toni Buzzeo (Ages 8 – 12)
Hunter and Carmen disagree whether George Washington really had wooden teeth, and Mrs. Skorupski encourages them to research the story on the internet and use her "Website Evaluation Gizmo" to evaluate websites and come up with the correct answer.
The Teen's Guide to Social Media… and Mobile Devices: 21 Tips to Wise Posting in an Insecure World by Jonathan McKee (Ages 12 – 18)
The Teen's Guide to Social Media & Mobile Devices will help you navigate the digital world with 21 refreshingly honest and humorous tips that will not only inform, but that also just might change the way you think about your social media interaction.
Adult Recommendations
Raising Humans in a Digital World by Diana Graber
This book is packed with at-home discussion topics and enjoyable activities that any busy family can slip into their daily routine. Full of practical tips grounded in academic research and hands-on experience, today's parents finally have what they've been waiting for—a guide to raising digital kids who will become the positive and successful leaders our world desperately needs.
Digital Minimalism: Choosing a Focused Life in a Noisy World by Cal Newport
Drawing on a diverse array of real-life examples, from Amish farmers to harried parents to Silicon Valley programmers, Newport identifies the common practices of digital minimalists and the ideas that underpin them. He shows how digital minimalists are rethinking their relationship to social media, rediscovering the pleasures of the offline world, and reconnecting with their inner selves through regular periods of solitude.
Reset Your Child's Brain: A Four-Week Plan to End Meltdowns, Raise Grades, and Boost Social Skills by Reversing the Effects of Electronic Screen-Time by Victoria L. Dunckley, MD
Follow the steps outlined in this four-week plan to end meltdowns, raise grades and boost social skills.
The Art of Screen Time: How Your Family Can Balance Digital Media and Real Life by Anya Kamenetz
Finally, an evidence-based, don't-panic guide to what to do about kids and screens.
Screenwise: Helping Kids Thrive (and Survive) in Their Digital World by Devorah Heitner
Screenwise helps parents recognize that the social wisdom they have gained throughout their lives is a relevant and urgently needed supplement to their kid's digital savvy. These skills can help set kids up for a lifetime of success in a world fueled by technology.
The Tech-Wise Family: Everyday Steps for Putting Technology in Its Proper Place by Andy Crouch
Drawing on in-depth original research from the Barna Group, Andy Crouch shows readers that the choices we make about technology have consequences we may never have considered. He takes readers beyond the typical questions of what, where, and when and instead challenges them to answer provocative questions like, Who do we want to be as a family? and How does our use of a particular technology move us closer or farther away from that goal?
Screen-Free Fun: 400 Activities for the Whole Family by Shannon Philpott-Sanders
Screen-Free Fun offers over 400 ideas to disconnect from tech devices and reconnect with our families in a healthier way. You can pick from DIY activities to games to weekend outings. Since many of the activities work well for kids at various ages, your family will be able to grow along with the different projects and make plans for both younger and older siblings alike. You can try indoor projects, outdoor activities, or learn more about your favorite destinations with activities like a scavenger hunt in your neighborhood or an i-spy game at the zoo. There is also space for your family to add your own favorite activities so you never forget a great idea or memory! From summer vacation to holiday breaks and every rainy day in between, with this book you and your family will always have something fun to do together—without ever having to resort to a tablet, phone, or computer.
Your turn: Are you planning to participate in screen-free week?  What other books would you add to this list?  Feel free to share in the comments.