Last month I had the pleasure of reviewing Anna McQuinn's latest book entitled Lola Gets a Cat.  You can read my review here.  Lola Gets a Cat will be released on February 14, 2017 (Valentine's Day & International Book Giving Day), but it's available for pre-order now.
I also had the opportunity to interview Anna McQuinn and ask her a few questions.  Check it out!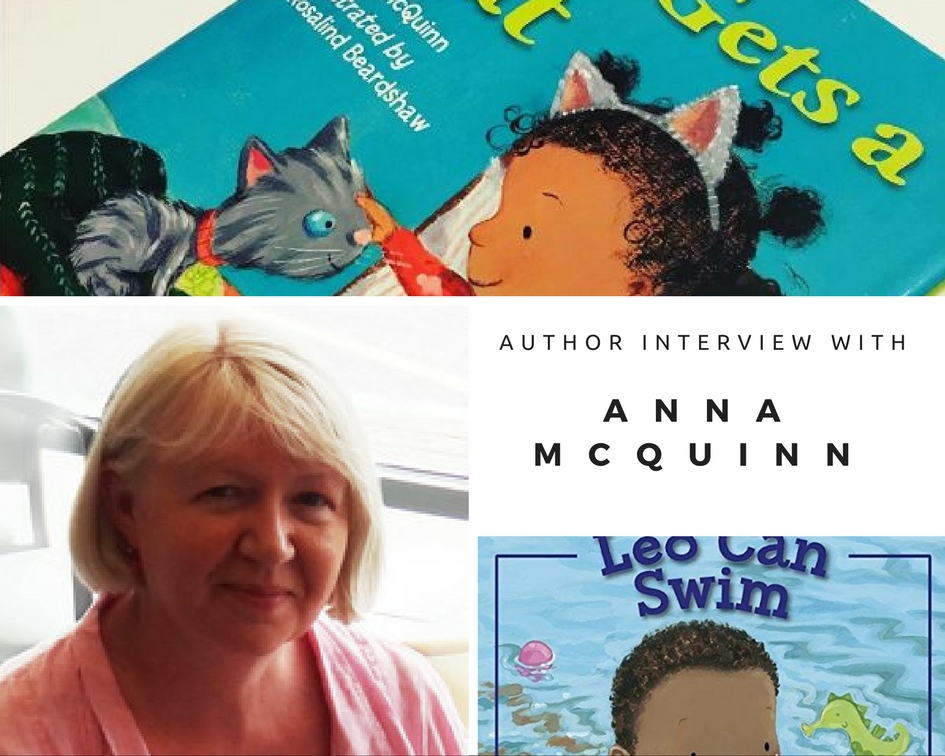 How did you come up with the characters Lola and Leo?
The characters kind of developed organically. With Lola I sent out to write about a little girl having some new experiences and the first story I wrote had her go to the library. Well, in the course of writing (and also based on readers' reactions to her) I realized she'd developed into a little book-loving girl.
This shouldn't have come as a surprise and I devoured books as a little girl myself – but I don't think you are always conscious of this kind of thing as you write. To be honest, it wasn't until Charlesbridge Publishing began writing back cover copy, that it dawned on me!
Leo was a little bit more considered. Of course I wanted him to be a book lover too, but I wanted him to have his own personality. So I thought about his characteristics quite a bit more at the outset. I see him as a little adventurer, having new experiences and being quite fearless.
Do you plan to start a new series of books with new characters in the future?
I'm not sure about a series, but I have just begun work on a nursery rhyme book. I must admit that with all the changes in both the US and UK recently, I have found it quite hard to concentrate on writing – though I have been inspired to pull out a story I'd been working on and given up on about a little ferret who is bullied… watch this space!
Besides your own, what were some of your favorite children's board, picture, or chapter books you've read or come across within the past year?
I was about to say, this is easy – but then you said within the past year. I don't feel I'm that up to date… I'm a huge fan of Suzanne Bloom and excited about anything new from her; I think the Baby Loves books from Charlesbridge are super cute; and I read Rat Runners by Oisin McGann recently – fabulous story! Did you know that I have a Goodreads page where I review books I read?  You can check it out here. The character Lola also has her own Goodreads page too which can be found here.
What are some of your must-have children¹s books for a home library?
Ok, this is easy. Here are my favorites:
Lilly's Purple Plastic Purse – Kevin Henkes
Please, Baby, Please – Spike Lee & Kadir Nelson
Crispin, the Pig Who Had it All–  Ted Dewan
Whistle for Willie (and anything else by) Ezra Jack Keats
What About Bear? – Suzanne Bloom
Feeding Friendsies – Suzanne Bloom
You Are Not Small – Anna Kang
It's a George Thing by David Bedford
Global Babies (the whole series of books)
Always and Forever by Alan Durant
I had a Favorite Dress by Boni Ashburn
One Word From Sophia by Jim Averbeck and Yasmeen Ismail
Do you have any literacy rituals that you practice in your family or practiced in the past?
My Dad was a great bed-time storyteller (there's a nod to that at the end of Lola Loves Stories).  I especially loved his stories about when he was a small boy. However, when he'd told me a few and then I begged for 'just one more' he would begin a story "there was once a little girl called Anna" and for some reason I never wanted these – perhaps because it signaled the last story of the night.
Besides reading, what are some other things parents can do to set their children up for literacy success?
Talk! And sing! With very young children, I advise parents to just describe what the child is doing. It feels funny until you get used to it, but it really helps children to learn words to describe what they are doing. You can extend it to emotions too. Sometimes when a child is upset, saying "Oh that really upset you now, didn't it, you thought it was unfair (or whatever)…" is better than trying to fix something and gives children a vocabulary of words to describe their emotions. Finally I would say READ! Children really notice if a parent encourages them to read, but is never seen reading themselves.
If you could give parents one piece of advice about reading with children, what would it be?
Never give up and never EVER decide 'this child just isn't into books'.  By never give up I mean trying – be ready to abandon any book that's not working or just let go mid-way through if your child is getting wriggly.
Your child may have enough in 2 pages and that's OK – there's no obligation to finish every story in one sitting.
The Irish Children's Laureate has a lovely piece of advice here.
Hardcover, Paperback or e-book (when reading a book on your own)?
Paperback
Fiction, non-fiction or some other genre (when reading a book on your own)?
Oh, I often have one of each on the go. I'm currently reading Silk Roads a non-fiction book by Peter Frankopan, and I've just finished The Storyteller by Jodi Piccoult. I often have one 'deep and meaningful' book on the go alongside a more pacey thriller so I can read depending on my mood.
Name an adult book that:
a) Inspired you Always Outnumbered, Always Outgunned (Walter Mosley)
b) Made you laugh out loud We Are all Made of Glue or The Faster I Walk, the Smaller I am
c) You recommend to others often
Always Outnumbered, Always Outgunned (Walter Mosley)
Room by Emma Donoghue
Orange Mint and Honey by Carlene Brice
The Binding Vine by Shashi Deshpande
A Fine Balance by Rohinton Mistry
Just Like Tomorrow by Faiza Guene
The Butcher Boy by Patrick McCabe
What books are on your nightstand or e-reader right now?
Like a Mule Bringing Ice Cream to the Sun , Silk Roads and Swing Time
Are you working on any special projects that you want to share with others?
I'm writing a new Leo book – he goes for a check-up. The illustrator, Ruth Hearson has just sent me the first few rough drafts which is SO exciting!
How can people get in touch with you on social media or on your website?
On my Facebook page or here on my website.
Your turn: Did you enjoy this interview?  What other authors would you be interested in learning more about?  Feel free to share in the comments.