The Hopping Bloggers is hosting a mega Valentine's Day giveaway blog hop called P.S. I Love You.  I'm so excited to be a part of it and to sponsor a copy of the book Ladies Drawing Night by Julia Rothman as my personal contribution.
About the Book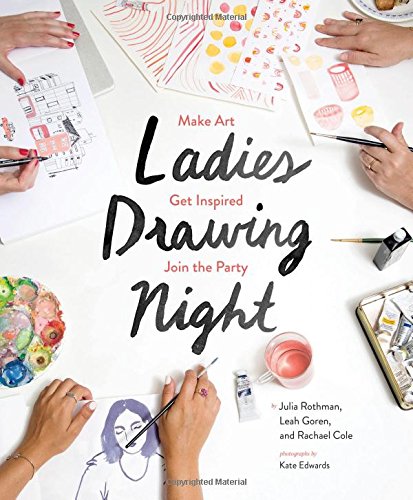 Speaking directly to today's explosion of creativity, Ladies Drawing Night is for women looking to deepen their creative connections and expressions. Join rock star illustrators Julia Rothman, Leah Goren, and Rachael Cole for ten evenings of fun and art-making. The nights are led by two talented guest artists and themed around a particular topic, from large-scale ink painting to making art with kids. Samantha Hahn, Mary Kate McDevitt, Joana Avillez, and many more share their expertise. Each chapter includes loads of exciting artwork, insights about drawing, and instructions for that night's project. A rare peek into the minds and sketchbooks of some of the best female illustrators working today, this inspiring volume is an irresistible invitation to host your own Ladies Drawing Night!
Enter the giveaway here!

Ladies Drawing Night Book Giveaway

Also, be sure to enter for your chance to win the grand prize and visit some of the other amazing bloggers involved in the giveaway blog hop!
****************************************************************************************
Welcome to the P.S. I Love You Giveaway Hop brought to you by The Hopping Bloggers!
Hosted By: Mama Smith's and Women and Their Pretties
Co-Hosted By: Everyday Life, Crazy Busy Family Life, Life with 5 Monkies, & The Robin's Nest Designs
Sponsored By: Teach My
CLICK THE ABOVE IMAGE TO ENTER TO WIN THE GRAND PRIZE.
GRAND PRIZE: Two Teach My Deluxe Learning Kits
Choose between Teach My Baby, Toddler, Preschooler, and Kindergartener Deluxe Learning Kits
Teach My are makers of award winning learning tools that help your child get a head start! Their products teach babies, toddlers and preschoolers the basic skills, things like; the alphabet, colors, shapes, numbers, reading and even math! Their aim is to encourage early learning, parent child interaction, self-esteem and help children to develop fine motor skills and excellent hand eye coordination. Bond. Teach. Play… 20 minutes a day! Purchase here.
Each giveaway has a value of a minimum of $15, however some are worth much more. Be sure to enter to win all of them because there is no limit to how many you can win. GOOD LUCK!
Are you a blogger looking to connect with brands? Join The Hopping Bloggers database and get started today!
Are you a brand looking to connect with a network of over 1,000 professional bloggers? Click here to see all that we have to offer and get your personalized quote!