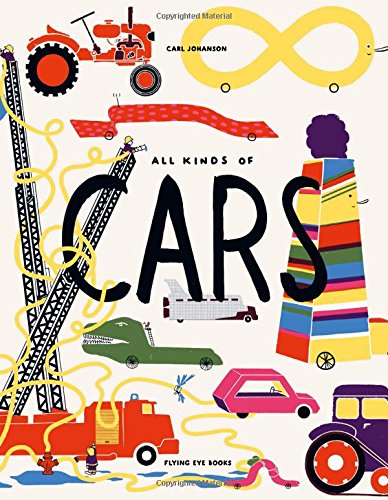 Synopsis
From Swedish illustrator Carl Johanson, this partly true, partly fictitious book is a fantastic visual collection of cars and other wacky forms of transportation. Johanson's book identifies the ordinary along with the extraordinary – from fire engines and snow plows to galactic buses and guitar cars.  All Kinds of Cars is a playful mix of existing and imaginary enjoyed by adults and children alike.
Reflection
My son adores this bright and vivid oversized book! It's filled with an interesting mix of existing and imaginary cars and trucks; from tow trucks to sausage cars to cloud transporters.  This book doesn't have an actual storyline, but we love looking at all of the colorful illustrations and differentiating the real cars from the imaginary ones.  My son's favorite cars are: the dinosaur car, the guitar car, the hat car, the rainbow car, the book car, the rocket car, the chewing gum car, and I can't forget the poo car!  The poo car cracks all of us up!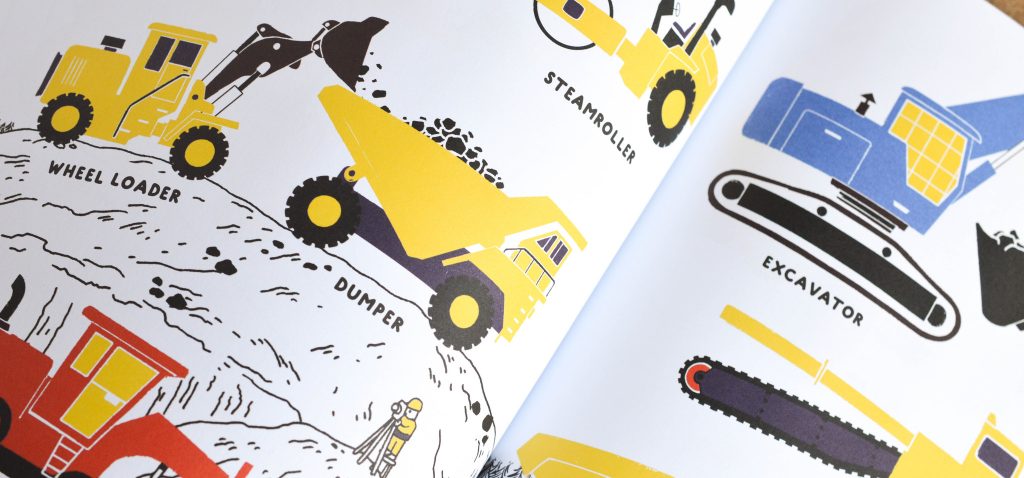 Kids will likely get a kick out of all the zany types of cars, but may also like seeing some of the more familiar modes of transportation like police cars, fire engines, excavators, and dump trucks.  The back matter contains an index of all the cars listed throughout the book.  A visual treat for car lovers of all ages that's creative, informative and highly imaginative. Recommended for ages 3-5 and up.
All Kinds of Cars publishes in the US on March 14, 2017 from Flying Eye Books!
About the Author
Carl Johanson is an illustrator living and working in Bretagne, France.  He studied graphic design and illustration at Konstfack in Stockholm, and has since focused mainly on illustration and creating books for children.  All Kinds of Cars is his first children's book, and he is currently working on a second project.