As a participant in the 4th annual Multicultural Children's Book Day, I had the pleasure of receiving an amazing array of multicultural books from our friends at Capstone Young Readers to read with my children and share with all of you. Thank you, Capstone for your generosity and for sending so many wonderful picture books, early readers and chapter books!
Capstone Young Readers creates entertaining and informative reading experiences that generate excitement and love for reading. Their products include board books, young readers, middle readers, graphic novels, nonfiction/reference, craft, how-to, drawing, and seasonal titles.  Be sure and check out their sister-site, CapstoneKids.com for tons of fun book-inspired games, quizzes and activities to keep young minds learning!
Below is a list of the books we received.  Enjoy!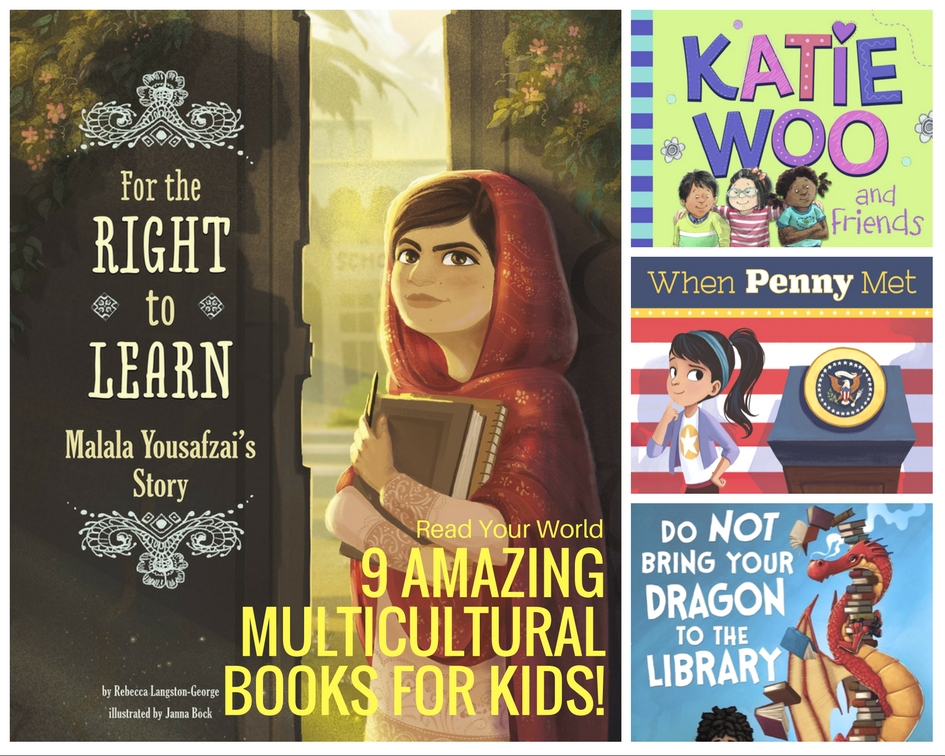 When Penny Met Potus by Rachel Ruiz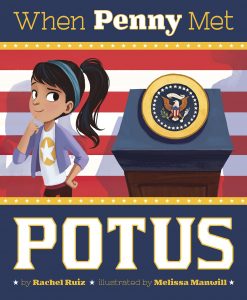 Little Penny couldn't be more excited! She's going to spend the day at work with her mom at the White House! Most importantly, she's finally going to meet POTUS (an acronym for President of the United States).  Penny has no idea who POTUS is, what POTUS looks like or what POTUS actually means. She imagines POTUS to be a blue furry monster surrounded by secret service agents. Penny has high expectations for when she finally meets this POTUS.
After wandering around the White House on her own in search of POTUS, Penny finally comes face-to-face with the President. She isn't surprised to find out that POTUS is a woman. She's surprised that she isn't a monster after all – she's a human who happens to be a lot like her.
I love how this book emphasizes the fact that we are all humans first regardless of our gender.  I think it's a great book to use for having discussions about presidential elections with many grade levels.  Also teaches children to always keep an open mind and don't be so quick to judge others.
Do Not Bring Your Dragon to the Library by Julie Gassman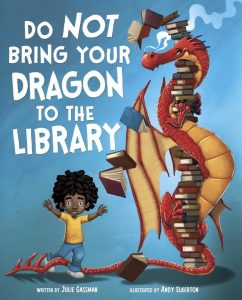 Have you ever thought about bringing your dragon to the library? Don't do it! You might have the best intentions, but that dragon will cause nothing but trouble. Using rhyming text and a diverse cast of characters, this charming picture book will provide some important and some not so important library etiquette in a very entertaining way. My kids and I really like this book…it's a fun and engaging read aloud!
For the Right to Learn: Malala Yousafzai's Story by Rebecca Langston-George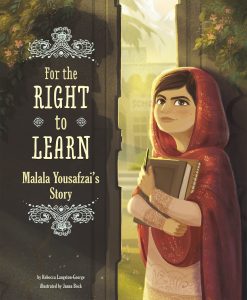 She grew up in a world where women were supposed to be quiet. But Malala Yousafzai refused to be silent. She defied the Taliban's rules, spoke out for education for every girl, and was almost killed for her beliefs. This powerful true story of how one brave girl named Malala changed the world proves that one person really can make a difference.
Museum Mysteries: The Case of the Missing Museum Archives by Steve Brezenoff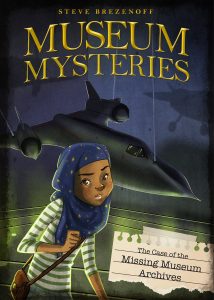 When the plans for the prototype of a failed flying machine go missing from the Air and Space Museum's archives, Amal's father, the assistant archivist, is blamed. No one suspects a crime has been committed ― except Amal and her friends. With her father's job on the line, it's up to them to track down the missing plans. Can Amal and her friends get to the bottom of the museum mystery before it's too late?
I recently announced this book to be our read aloud chapter book of the month for February!  Won't you join us and read this book aloud with your kiddos starting on February 1, 2017?  Read more about our diverse read aloud chapter book club here.
Katie Woo and Friends by Fran Manushkin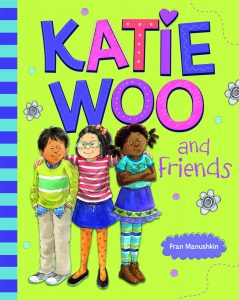 We just love Katie Woo, don't you?  Katie Woo loves playing with her friends JoJo and Pedro. They do everything together, from losing teeth to looking for ghosts. Even when they argue, they always make up in the end. After all, there's nothing like a good friend.
Dear Molly, Dear Olive: Molly Meets Trouble by Megan Atwood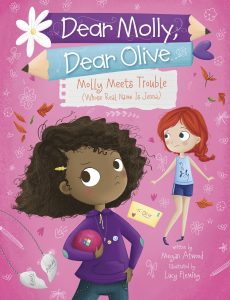 There's a new girl in the third-grade, and for some reason, she brings out the worst in Molly. If only Molly's cross-country pen pal, Olive, were there. But Olive's got her OWN set of troubles with her new gymnastics team. As both girls struggle to make new friends, their dishonest emails and letters to each other threaten their relationshp. First-person narratives that alternate point-of-view from chapter to chapter bring the main characters to life.
Sofia Martinez: My Vida Loca by Jacqueline Jules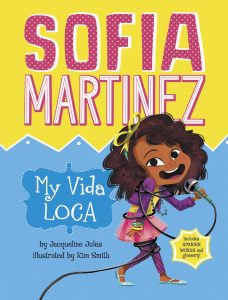 Even the most basic chores can be fun when Sofia is involved! From washing a car to cooking with grandma, this smart and funny 7-year-old knows how to make every moment count. Follow Sofia through three every day adventures in this early chapter book and find out why Sofia has such a crazy life!
Pedro, First-Grade Hero by Fran Manushkin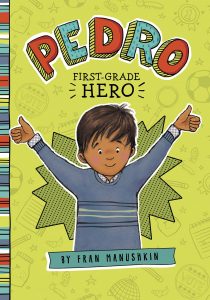 Spend some time with Pedro, Katie Woo's fun-loving friend. From a buggy disaster to a run for class president, Pedro has what it takes to be the hero of first-grade. No matter what he's doing, Pedro is always good for some laughs and adventure.
An Extra-Ordinary Girl (Ellie Ultra) by Gina Bellisario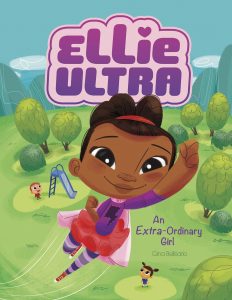 Ellie is super excited for first day at Winkopolis Elementary School. After spending her whole life being homeschooled by super-genius inventor parents, she can't wait to hang out with normal kids and learn normal things. But Ellie soon learns that her super powers make her stand out in a not-so-super way. Can she save the world and fit in with her new friends? Or is blending in the one thing this superhero can't do?
Connect with Capstone Young Readers on Facebook, Twitter, YouTube, Pinterest and  Instagram.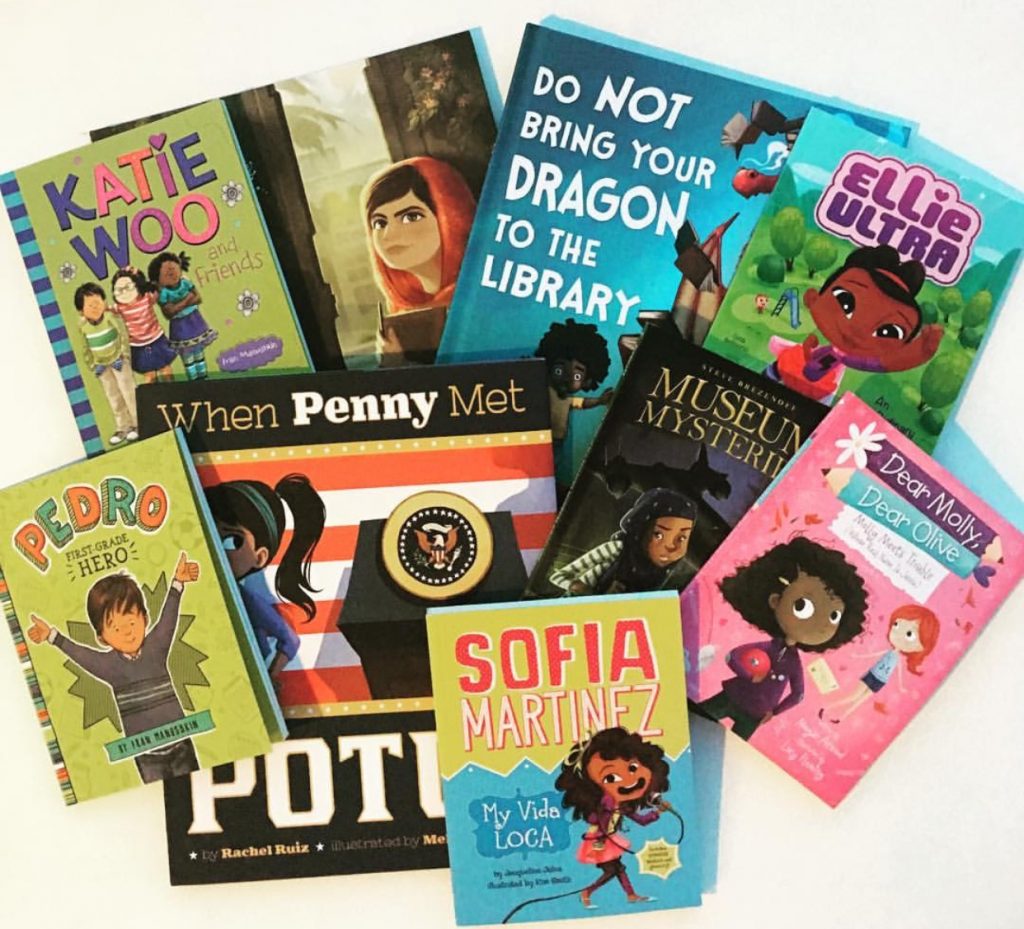 About Multicultural Children's Book Day
Multicultural Children's Book Day 2017 (1/27/17) is its fourth year and was founded by Valarie Budayr from Jump Into A Book and Mia Wenjen from PragmaticMom. Our mission is to raise awareness on the ongoing need to include kid's books that celebrate diversity in home and school bookshelves while also working diligently to get more of these types of books into the hands of young readers, parents and educators.
Despite census data that shows 37% of the US population consists of people of color, only 10% of children's books published have diversity content. Using the Multicultural Children's Book Day holiday, the MCBD Team are on a mission to change all of that.
Current Sponsors:  MCBD 2017 is honored to have some amazing Sponsors on board. Platinum Sponsors include Scholastic, Barefoot Books and Broccoli. Other Medallion Level Sponsors include heavy-hitters like Author Carole P. Roman, Audrey Press, Candlewick Press,  Fathers Incorporated, KidLitTV, Capstone Young Readers, ChildsPlayUsa, Author Gayle Swift, Wisdom Tales Press, Lee& Low Books, The Pack-n-Go Girls, Live Oak Media, Author Charlotte Riggle, Chronicle Books and Pomelo Books
Author Sponsors include: Karen Leggett Abouraya, Veronica Appleton, Susan Bernardo, Kathleen Burkinshaw, Maria Dismondy, D.G. Driver, Geoff Griffin,  Savannah Hendricks, Stephen Hodges, Carmen Bernier-Grand,Vahid Imani, Gwen Jackson,  Hena, Kahn, David Kelly, Mariana Llanos, Natasha Moulton-Levy, Teddy O'Malley, Stacy McAnulty,  Cerece Murphy, Miranda Paul, Annette Pimentel, Greg Ransom, Sandra Richards, Elsa Takaoka, Graciela Tiscareño-Sato,  Sarah Stevenson, Monica Mathis-Stowe SmartChoiceNation, Andrea Y. Wang
You can view the co-hosts here.
Connect with MCCBD!
Facebook: https://www.facebook.com/MulticulturalChildrensBookDay
Twitter: https://twitter.com/MCChildsBookDay
Official Hashtag:  #ReadYourWorld
Free Multicultural Books for Teachers: http://bit.ly/1kGZrta
Free Kindness Classroom Kit for Homeschoolers, Organizations, Librarians and Educators: http://multiculturalchildrensbookday.com/teachers-classroom-kindness-kit/
Free Diversity Book Lists and Activities for Teachers and Parents: http://bit.ly/1sZ5s8i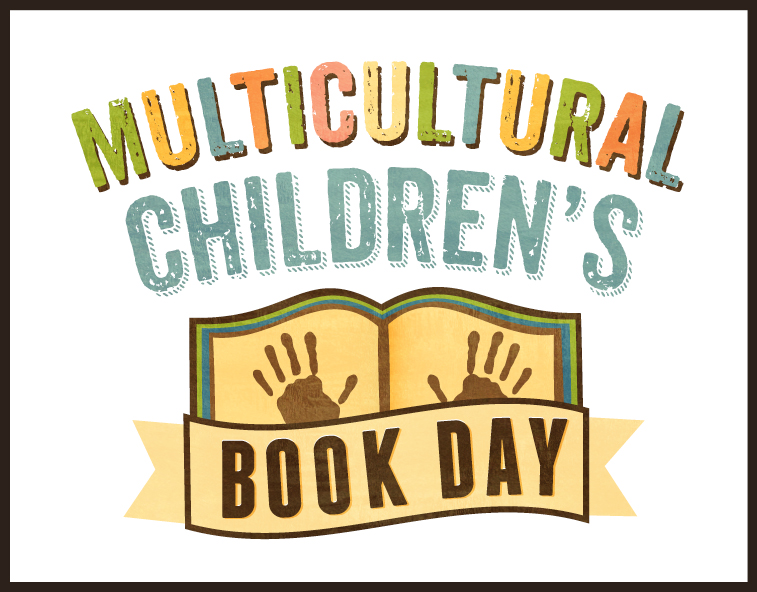 Your turn: Which of these books have you read with your little readers?  Feel free to share in the comments.