Love Is by Diane Adams, illustrated by Claire Keane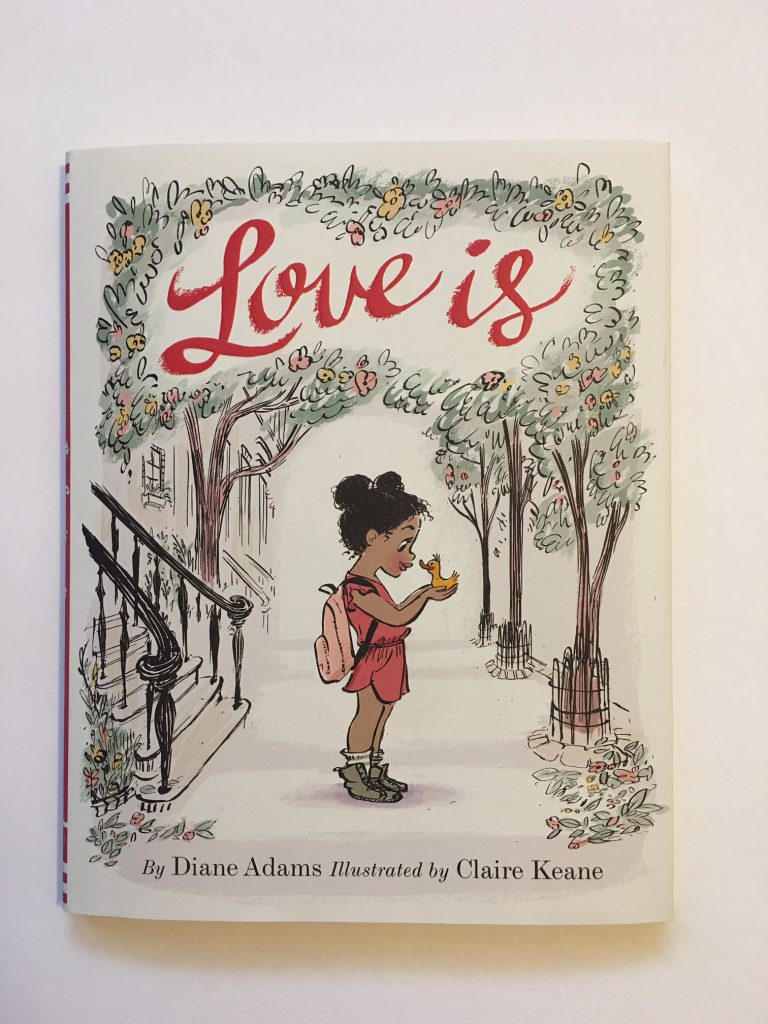 Publisher: Chronicle Books
Pages: 32
Format: Hardcover
Age Range: 2-5 years old
Grade Level: Preschool – Kindergarten
Available for Sale: January 24, 2017
Synopsis
Perfect for Valentine's Day—or any tender moment—this story of a girl and a duckling who share a touching year together will melt hearts old and young. In this tenderly funny book, girl and duckling grow in their understanding of what it is to care for each other, discovering that love is as much about letting go as it is about holding tight. Children and parents together will adore this fond exploration of growing up while learning about the joys of love offered and love returned.
Reflection
What exactly is love? How do you define it?  One definition I remember learning at a young age is: love is caring for others without any regard to what you get in return.
It seems most people have a different definition of the word love. And we are all correct in our own way, right?  I think Love Is does an amazing job teaching the smallest readers the meaning of the word love through playful text and whimsical illustrations.
You guys, I think this book is beyond adorable.  I am completely smitten with it!  After a little duckling follows a butterfly out of a park, a little brown-skinned girl sporting the cutest pom pom ponytails you ever did see, picks it up and brings it home to nurture it. As time goes on, you see the duckling grow and eventually moves on to go back out into nature with its family. In the end, the duck returns back to the girl with a new duckling family of its own.
The soothing rhyming text seems to flow so well throughout the book. I just love every single verse. This book truly touched me and even made me laugh and tear up in some parts because I think it's so beautifully done.
"Love is missing, reminiscing, wishing things could stay the same.  It's understanding even ducklings, like the seasons, have to change."

"It's peaceful sleeping, no more peeping, tucked in tightly, head to toes. Love is waking up together, side by side, and beak to nose."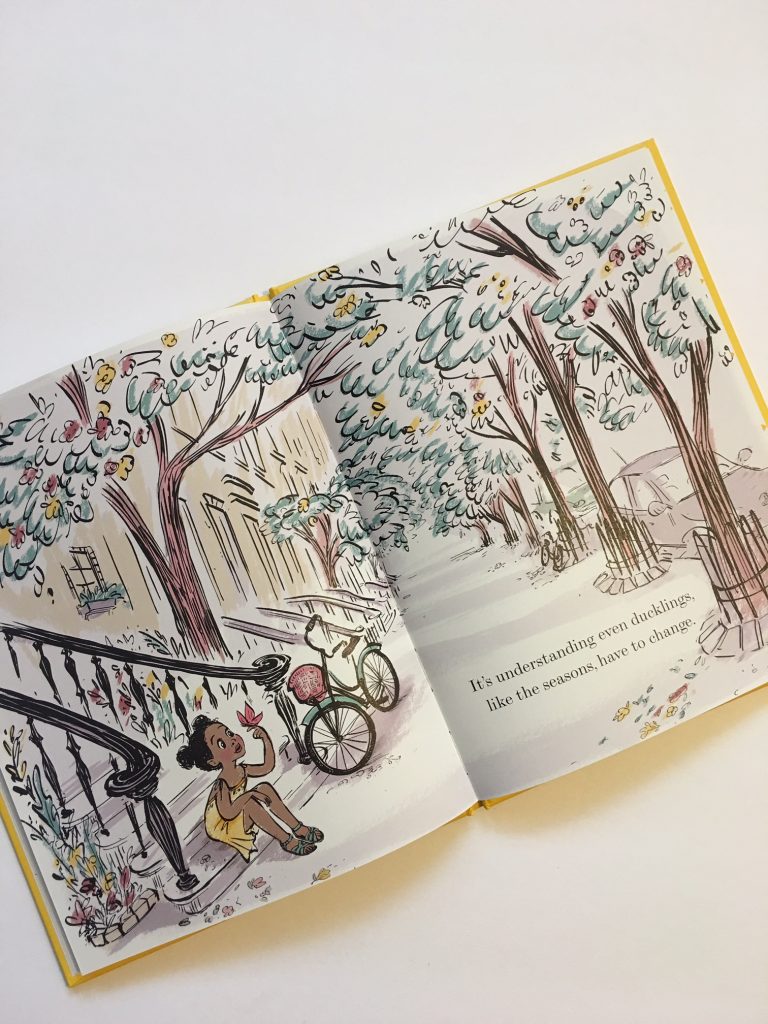 I also admire the loose, flowy lines and warm color palette the illustrator used for this book. There are gorgeous tones of: pink, red, yellow, purple and teal.  It's no surprise this talented illustrator did some artwork for the movies Tangled and Frozen.  I'm looking forward to seeing more work from her in future books.
I think the overall message of Love Is teaches children how to love, nurture and care for others.  There are also themes of: growing up, coping with change and learning to let go of things.  The popular saying "If you love something, let it go. If it comes back to you, it's yours forever." echos throughout.  I love how when the little girl sees the butterfly again later in the book she then sees a brood of ducklings being led by the same duckling she raised who is now all grown up.  It's a nice way to show things coming full circle.
After reading the book for the first time on my own, I sat quietly at the kitchen table and jotted down a few new thoughts on what love means to me. Here's what I came up with:
Love is an action – It's the way you talk and show your love to others and to God. It's how you express your love to your spouse/partner, your children, your friends/family, animals and nature. It's hugging, kissing and telling others how much you love them. It's helping others when they are in need. It's the way you take care of the things that mean the most to you.
Love is making sacrifices – I believe in order for true love to exist there must be some level of sacrifice involved. In my experience, becoming a wife and mother has taught me what true sacrifice and unconditional love is.
So again I ask, how do you define love?
I'd highly recommend reading this book with your little readers – especially around Valentine's Day or Mother's Day.  A fun extension activity might be to ask kids what love means to them and write out their answers on paper hearts.
Your turn: How do you define the word love?  Will you be reading this book with your little readers?  Feel free to share in the comments.