Lola Gets a Cat by Anna McQuinn, illustrated by Rosalind Beardshaw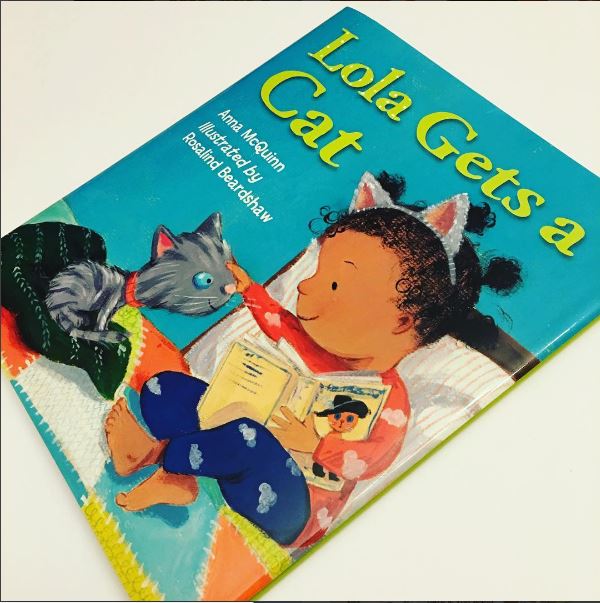 Publisher: Charlesbridge Publishing
Format: Hardcover
Pages: 28
Age Range: 2 – 5
Grade Level: Preschool – Kindergarten
Synopsis
Lola wants a cat, but Mommy says taking care of a pet is a lot of work. So Lola does her homework. At the library she finds books about cats and pet care and she and Mommy learn as much as they can. She pretends her stuffed kitty is real and practices taking care of it. When the time comes, Lola is allowed to pick out her new friend at an animal shelter. With patience and care, her kitten settles in at home.
Reflection
We absolutely adore every book in the Lola & Leo series by Anna McQuinn including this soon to be released one entitled Lola Gets a Cat.  So far we've seen Lola read stories to her little brother Leo, listen to stories with her dad, plant her own garden and visit the library.  Now Lola is ready to take on the responsibility of pet ownership by adopting a cat from a local animal shelter.
I love how Lola takes charge and does her own research by going to to the library to find books about cats and pet care.  I also appreciate the fact that they adopted a cat from an animal shelter.  Lola also makes the cat a special corner at home and goes shopping for supplies with her mom.  In the end, Lola is shown being so happy and content all snuggled up with her new furry friend who she names Makeda after an African queen.
The acrylic illustrations are just darling and so detailed throughout!  Oh, and is Lola's mom carrying an Orla Kiely handbag? Yes, she must be, right?  My kids love pretending Lola is my daughter, Lola's parents are me and my husband and Lola's friend Ty shown in this book is my son.  I love being able to read so many diverse books like this one with them that serve as mirrors so they can see themselves being reflected.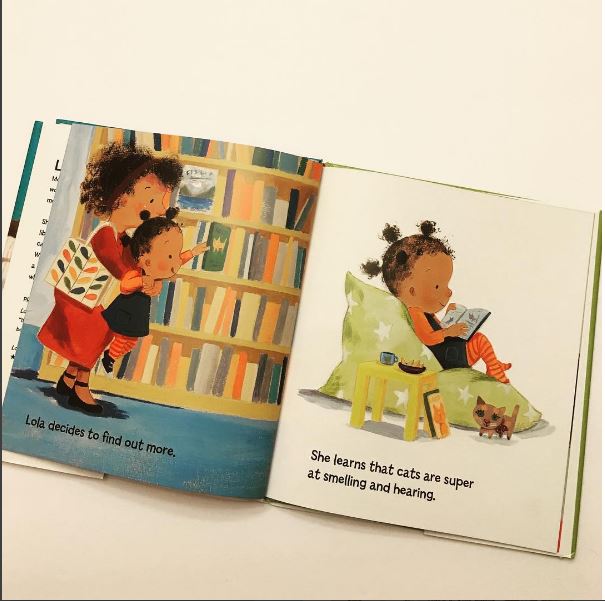 Although the plot of this story is quite simple, yet oh so sweet, I think it serves a much deeper meaning on many levels. Kids are easily influenced and their early experiences determine what they can be based on the examples around them. Not only does this book teach kids they can also own a pet like Lola, but it also teaches them about responsibility, feelings, adjusting to change, adoption, giving, love and family. But most importantly, it allows little girls and boys to see themselves reflected in a book surrounded by a loving and supportive family.  A great addition to Lola series and a treasure that is sure to be enjoyed again and again.
Feline lovers are sure to enjoy this one.  I think it's great for teaching kids about the responsibilities of pet ownership and would make a wonderful Valentine's gift for any little reader.  Lola Gets a Cat is available for pre-order now.
Your turn: Do you and your little readers enjoy the Lola & Leo book series by Anna McQuinn?  Which book in the series is your favorite?  Feel free to share in the comments.