Happy New Year, friends!
I hope you all had a wonderful holiday season!  I'm so excited it's a new year and can't wait to see all the great things in store for 2017.  I've been busy working on a few different projects behind the scenes and I can't wait to unveil them to you as the year goes on.
Here's the first project I'd like to introduce…a read aloud book club the whole family can join in on!  If you follow us on Instagram, you've likely already heard about this.
This year I made a goal to read aloud more easy reader chapter books with my kids in addition to reading lots of picture books. So instead of keeping it to myself, I thought it would be fun to have others who may be interested join us!
As the year goes on, I hope to expand this club with beyond the book activities and maybe a few other goodies. For now though, the goal is to just read aloud 1 easy reader chapter book per month.  This club will feature different easy to read diverse chapter books to read aloud each month with the younger children in your home. Are you up to the challenge? Do you have a goal to read aloud daily with your kids? Join us!
Here's the first diverse chapter book we'll be reading aloud:
The Great Cake Mystery by Alexander McCall Smith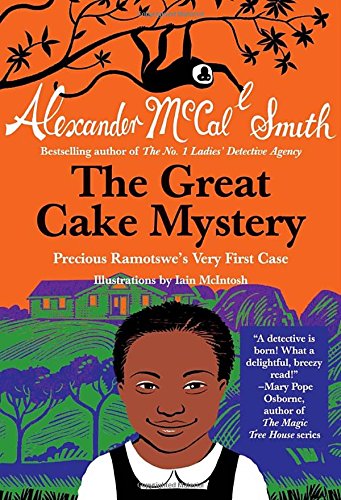 Fans around the world adore the bestselling No. 1 Ladies' Detective Agency series, the basis of the HBO TV show, and its proprietor Precious Ramotswe, Botswana's premier lady detective.
Have you ever said to yourself, Wouldn't it be nice to be a detective?  This is the story of an African girl who says just that. Her name is Precious.
When a piece of cake goes missing from her classroom, a traditionally built young boy is tagged as the culprit. Precious, however, is not convinced. She sets out to find the real thief. Along the way she learns that your first guess isn't always right. She also learns how to be a detective.
This book is a quick read.  The copy we have is only 73 pages long so it shouldn't take long to finish reading it.  Plus, it's part of a mystery series for young readers!  If you like this book you may want to check out the others in the series: Mystery of the Missing Lion and Mystery of Meerkat Hill.
I hope some of you will join us this month and read along with your little readers.
Happy Reading!
Your turn: What are some of your favorite easy reader chapter books for kids?  Feel free to share in the comments.