Yawning Yoga by Laurie Jordan, illustrated by Diana Mayo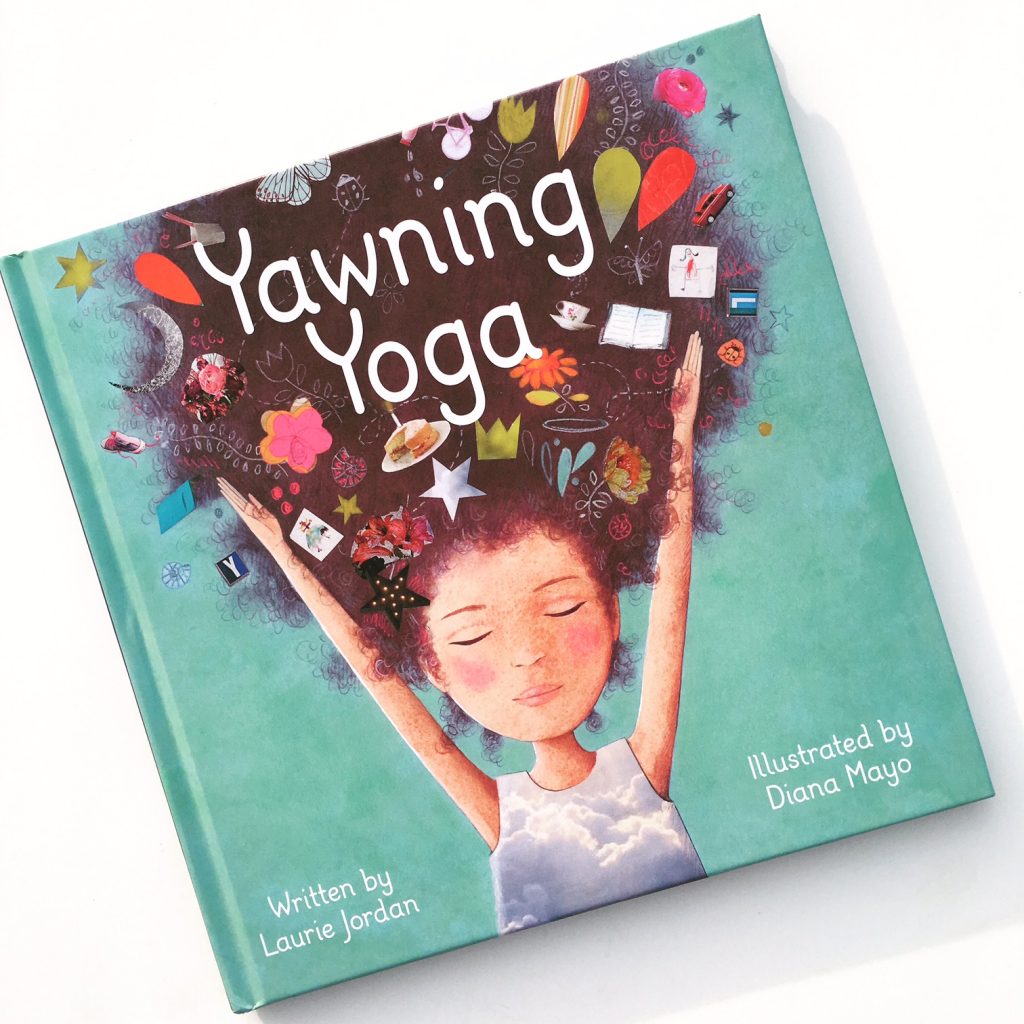 Publisher: Little Pickle Stories
Pages: 32
Format: Hardcover
Age Range: 4 – 8 years old, Preschool – Grade 3
Synopsis
Elements of yoga practice including stretching, posture, and breath work, are introduced through elegant artwork and poems like 'Mountain' (Tadasana) and 'Seashell' (Balasana), to help children — and their caring adults — ready their bodies for a restful sleep.
Reflection
Life.  It has a tendency to get pretty crazy no matter what we do or how much we try to control it. From our careers and our hobbies to our families and our relationships, it seems there is always something begging for our attention. Am I right? How is someone supposed to get any peace of mind when there are a million things happening at once?
For some, exercise like yoga or running do the trick; others find peace in writing or painting. For me, the best place to find inner peace is books, because what better way to channel inner peace than through a great read?  The physical act of reading has calming benefits in and of itself.
Over the past few months, the kids and I have been incorporating yoga into our bedtime routine right after story time.  It's not an elaborate exercise session, just a few yoga poses to stretch our bodies in preparation for a good night's sleep.  That's exactly the point of the book Yawning Yoga by Laurie Jordan: to calm little readers minds and get them ready for sleep.

You guys!  I am completely smitten by this beautiful book cover!  Isn't it gorgeous?  It makes it very hard for me to not judge this book by the cover alone.  You'll be happy to know this book doesn't just have a pretty cover, the content is amazing too – especially if you're a fan of yoga like me.  Little kids who practice yoga are also sure to love this book.
In her first picture book, yoga instructor Laurie Jordan, creator of the Kids Yoga Teacher Training program, offers rhyming gentle poems to guide young yogis through breathing and transitions.  Each yoga pose is first described in a poem and accompanied by its Sanskrit name.  There are also helpful tips that advise readers how they can get the most of of their yoga practice.
The opening page offers some helpful tips for little readers:
Try to hold each pose for three to five breaths.
Move through the poses at your own pace.
Do all the poses or choose a few different ones to do before bedtime.
Each exercise should feel good and get you ready for bed.
Little readers are then encouraged to begin doing some of the yoga poses starting with reciting an "Om" sound and holding it for as long as they can and then repeating it three times afterwards.  Several yoga poses are mentioned throughout this book including: mountain, hugs and kisses, dog-tired down dog, seashell, butterfly, bedtime bug, jelly belly, candlestick, catch and release, thankful and namaste.  Some of the poses were new to me so I ended up learning something new.
The back matter contains an afterward by Elena Brower, author of Art of Attention, and a glossary of terms referenced throughout.  The glossary is chock full of useful information and really helps to break down the meaning of each Sanskrit name.  For example, the word "Namaste" means "I bow to you."  Namaste is traditionally said at the end of yoga practice to honor those we have practiced with.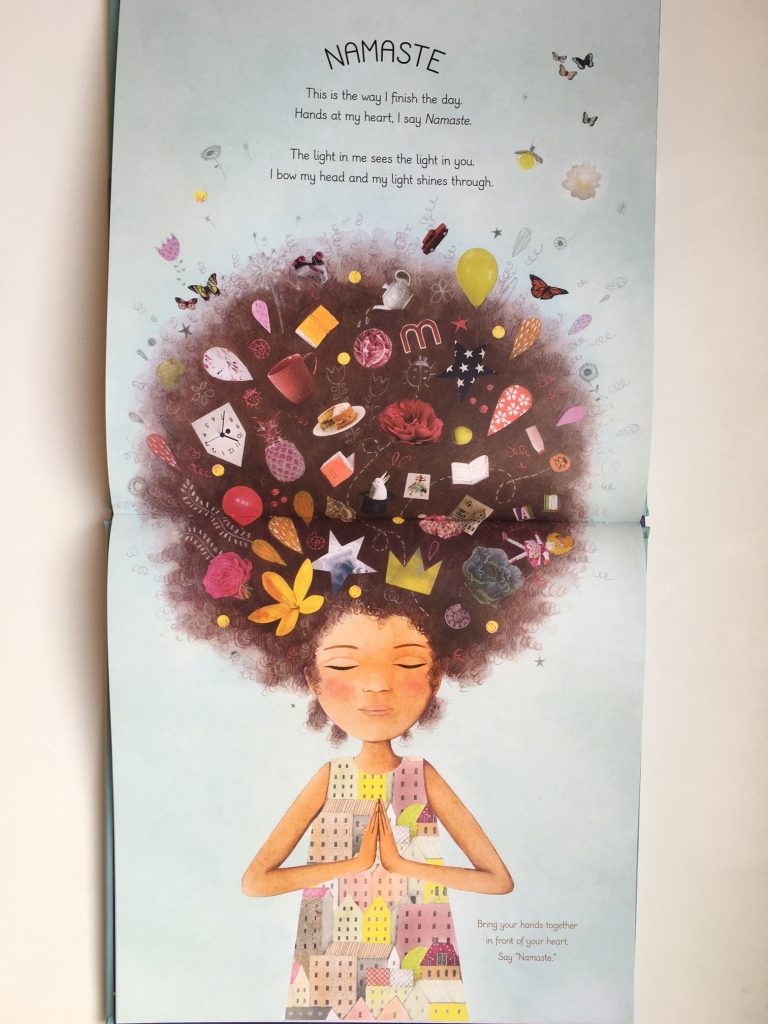 Oh, and I can't forget to mention the illustrations.  If you couldn't already tell from the cover they are amazing!  They are so dreamy, soothing and simply beautiful.  There are diverse characters represented doing the yoga poses.  I love the color palette chosen by the illustrator as well as the attention to detail.  Each scene seems to transcend you to a far off land and really helps to calm and relax your mind.
Like all well-written books, I think this one has the power to take little readers on their own personal, self-defined journey to wherever it is they need to be right before falling asleep.  They may imagine they are a warrior standing on top of a mountain, swimming underwater with sea creatures, or out in the garden becoming one with nature.  If your little reader is in need of finding their way to inner peace, I'd highly recommend this book to help them get there.  I'd also recommend this for yoga teachers or little readers who would like to start practicing yoga or mindfulness.
About Little Pickle Stories
Little Pickle Stories is dedicated to creating stories and products that foster kindness in young people – and doing so in a manner congruent with that mission.  Learn more on their website.
Connect with Laurie Jordan!
Website| Instagram | Twitter

Connect with Diana Mayo!
Website | Instagram | Twitter

Your turn: Are you looking forward to reading this book?  What are some ways you help your little readers relax and calm down before bedtime?  Feel free to share in the comments.