It's Black History Month again!
This year I decided to focus on a few board books, picture books and paperback books for the younger readers ages 3 – 5 (and up).  If you've been looking for good quality historical books about prominent Black people from the past and present, I hope you'll enjoy this list.  Perhaps you'll find something new or be reminded of some of your old favorites.
I recommend these books because they are not overly wordy and don't dwell strictly on Civil Rights, slavery or struggle. I think most are easily digestible for the younger crowd and great for reading aloud at home or with a preschool or Kindergarten class.
Remember, Black History shouldn't be limited to the month of February.  Make a commitment to read books about people of all different races with your children year round.  Enjoy!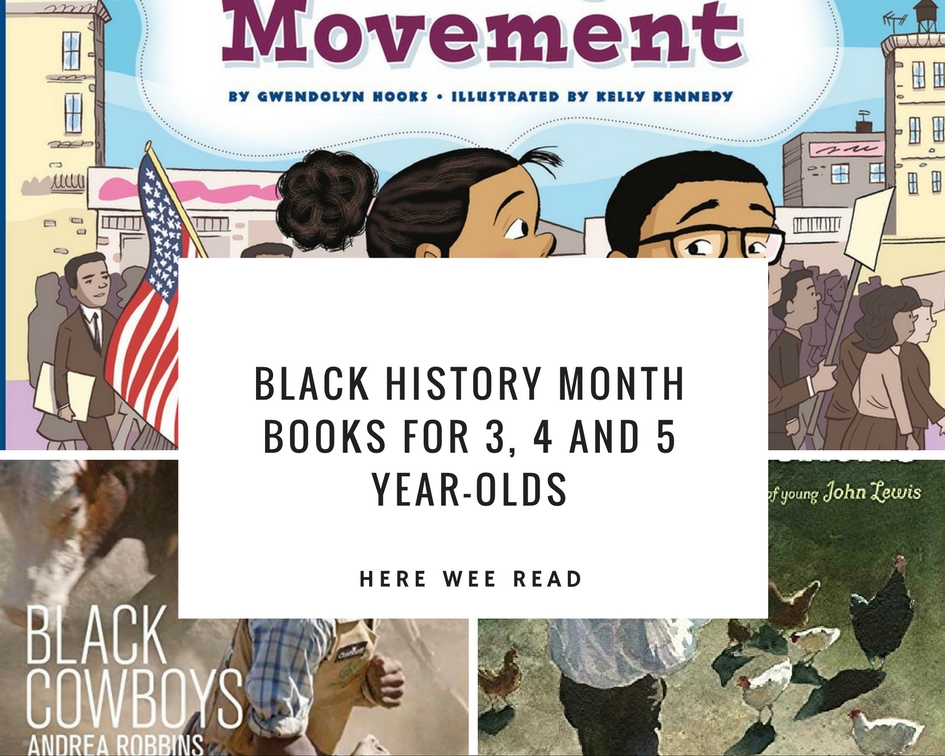 (This post contains affiliate links.)
Board Books & Picture Books for 3 Year-Olds & Up
Dream Big, Little One by Vashti Harrison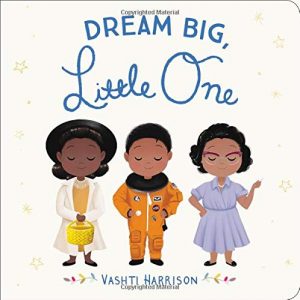 Featuring 18 trailblazing black women in American history, Dream Big, Little One is the irresistible board book adaptation of Little Leaders: Bold Women in Black History.  Among these women, you'll find heroes, role models, and everyday women who did extraordinary things – bold women whose actions and beliefs contributed to making the world better for generations of girls and women to come. Whether they were putting pen to paper, soaring through the air or speaking up for the rights of others, the women profiled in these pages were all taking a stand against a world that didn't always accept them.
A is for Activist by Innosanto Nagara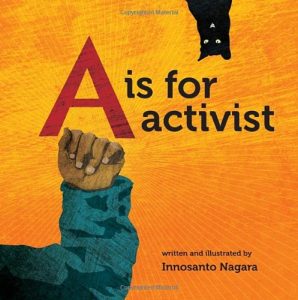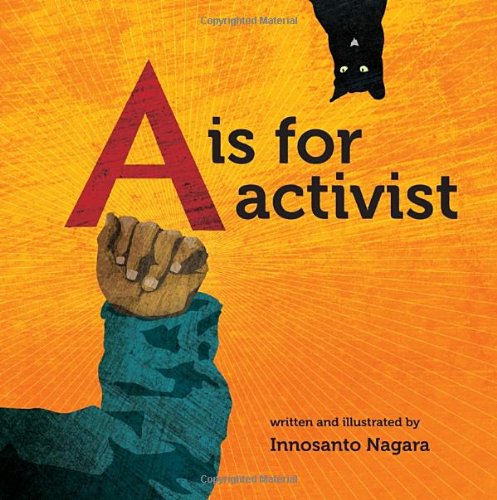 A is for Activist is an ABC board book written and illustrated for the next generation of progressives: families who want their kids to grow up in a space that is unapologetic about activism, environmental justice, civil rights, LGBTQ rights, and everything else that activists believe in and fight for.
The alliteration, rhyming, and vibrant illustrations make the book exciting for children, while the issues it brings up resonate with their parents' values of community, equality, and justice. This engaging little book carries huge messages as it inspires hope for the future, and calls children to action while teaching them a love for books.
Black Cowboys by Kyla Ryman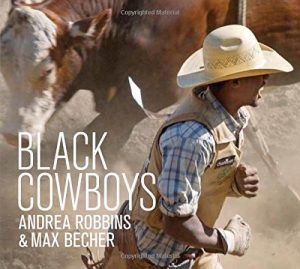 Black Cowboys explores a culture that has been largely written out of history, but is still thriving today all over the United States. In the photographs of Andrea Robbins and Max Becher, children will visit rodeos, trail rides, and meet many different Black Cowboys and Cowgirls. The engaging photographs will appeal to even the youngest of children, while the subject matter will encourage further thought and discussion in older readers.

Our Legendary Ladies: Harriet Tubman by Megan Callea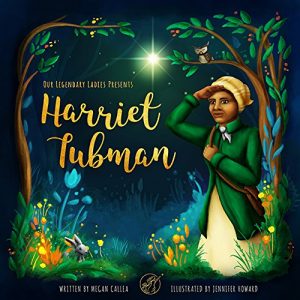 We're loving this simple and beautiful board book for the littlest readers ages birth to 3. Not only is it perfect for fitting into small little hands, it gives readers a nice overview of who Harriet Tubman was and what she stood for. Perfect for reading during Black History Month or any time of the year.
The Story of Martin Luther King Jr. by Johnny Ray Moore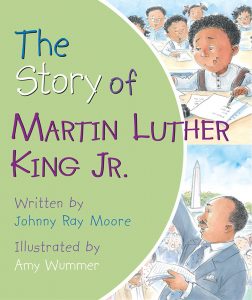 This little book tells the story of Martin Luther King Jr. in a way that even very young children will understand. This simple but accurate account of his life begins with King's childhood, making it easy for little ones to relate to his story. Children will learn that he excelled in school, became a minister, and worked to end segregation in America. This book, with only about 200 words accompanied by delicate watercolors, is a great way for parents to begin to teach their children about this inspirational historical figure. Ages 2-5.
The Story of Rosa Parks by Patricia A. Pingry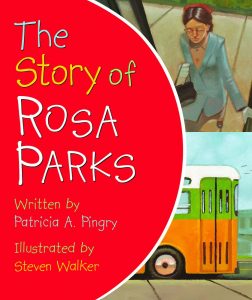 This little book of only about 200 words introduces Rosa Parks, called the mother of the civil rights movement. Here is the story of her courageous decision to remain on a bus in Montgomery, Alabama, an action that resulted in her arrest and, ultimately, a victory for civil rights. The rich oil paintings by artist Steven Walker contribute to the tension of the moment and the understanding of Rosa Parks. Ages 2-5.
Barack Obama 101: My First Presidential Board Book by Brad M. Epstein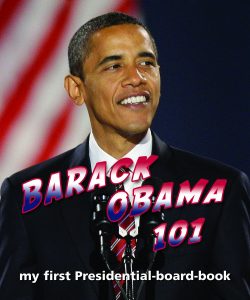 A board book for small hands to hold with colorful photographs about the first family's history, Denver Convention, office of President and even a picture frame for the child to insert his own photo. It ends with "Someday I can become President. Yes We Can."
I Look Up To…Michelle Obama by Anna Membrino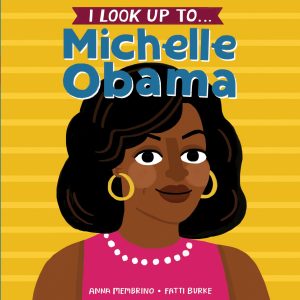 It's never too early to introduce your child to the people you admire! This board book distills Michelle Obama's excellent qualities into deliciously illustrated little baby-sized bites, with text designed to share and read aloud.
Each spread highlights an important trait, and is enhanced by a quote from Michelle herself. Kids will grow up hearing the words of this influential woman and will learn what YOU value in a person!
Be Bold Baby: Michelle Obama by Alison Oliver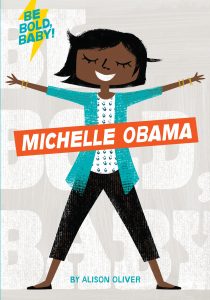 Celebrate Michelle Obama's most motivational and powerful moments, with quotes from the former First Lady, and vibrant illustrations by Alison Oliver.
Be Bold Baby: Oprah by Alison Oliver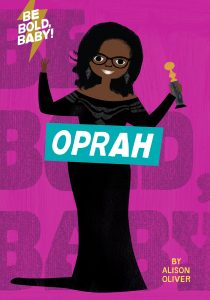 Celebrate Oprah Winfrey's most motivational and powerful moments, with quotes from the media mogul, and vibrant illustrations by Alison Oliver.
Shades of Black: A Celebration of Our Children by Sandra L. Pinkney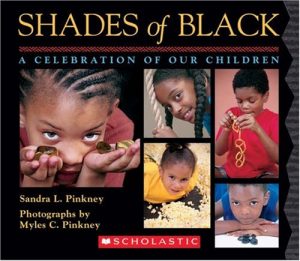 Using simple poetic language and stunning photographs, Sandra and Myles Pinkney have created a remarkable book of affirmation for African-American children. Photographic portraits and striking descriptions of varied skin tones, hair texture, and eye color convey a strong sense of pride in a unique heritage. A joyous celebration of the rich diversity among African-Americans.
Picture Books for 4 Year-Olds & Up
Brave Ballerina: The Story of Janet Collins by Michelle Meadows, illustrated by Ebony Glenn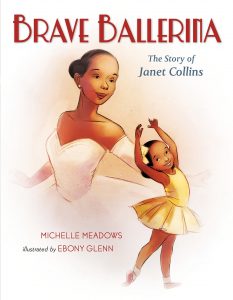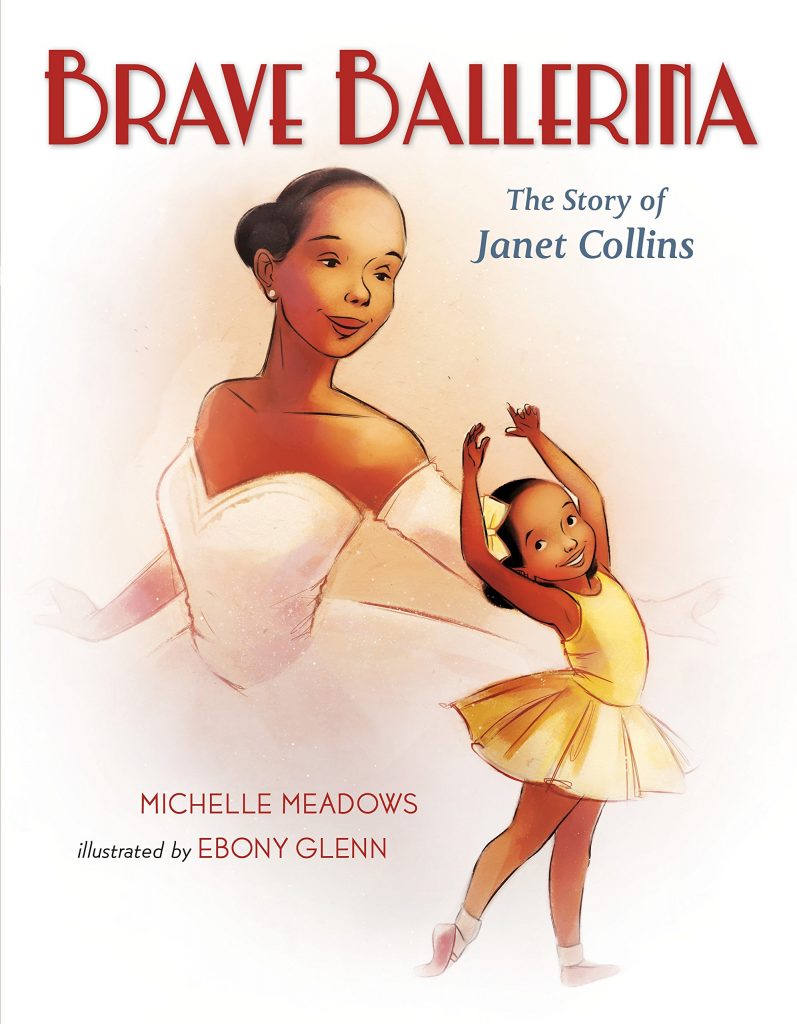 A lyrical picture book biography of Janet Collins, the first African American principal dancer at the Metropolitan Opera House.  Janet Collins wanted to be a ballerina in the 1930s and 40s, a time when racial segregation was widespread in the United States. Janet pursued dance with a passion, despite being rejected from discriminatory dance schools.
Fearless Mary: American Stagecoach Driver by Tami Charles, illustrated by Claire Almon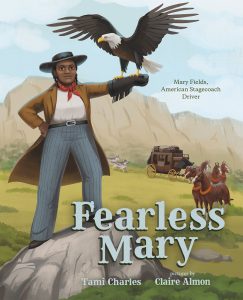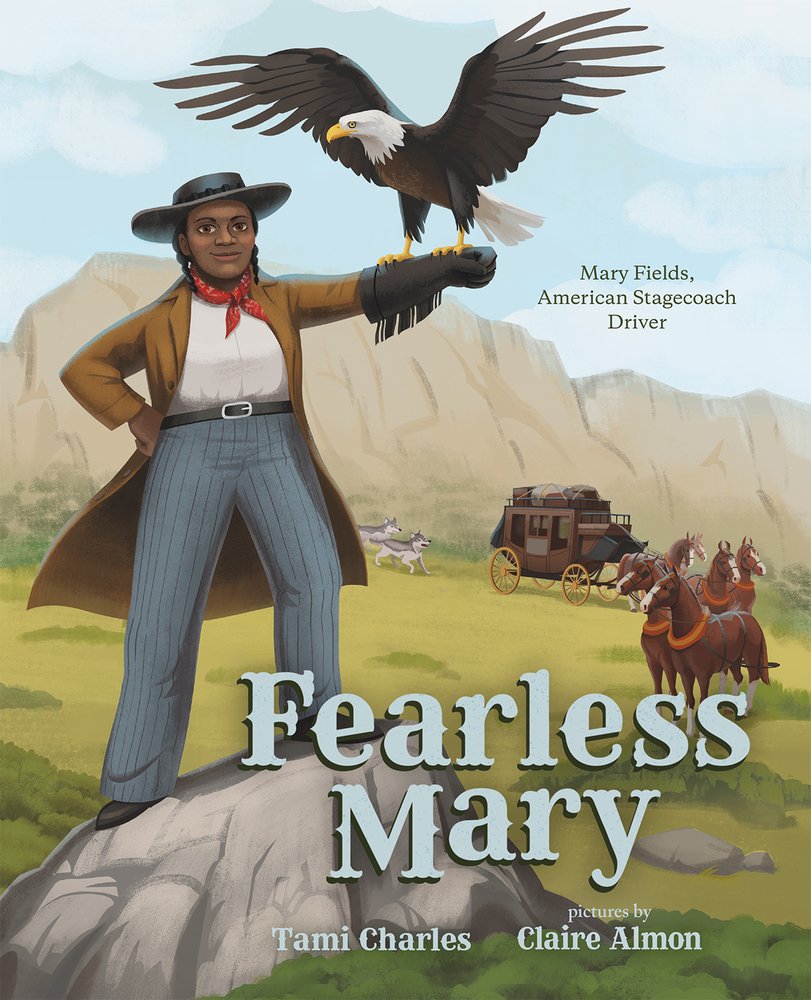 Mary Fields, also known as Stagecoach Mary and Black Mary, was the first African-American female star route mail carrier in the United States.  Born as a slave in Tennessee during the administration of Andrew Jackson, Mary was sixty years old in 1895 when she became the second woman and first Black person to ever work for the U.S. Post Office.
Fancy Party Gowns by Deborah Blumenthal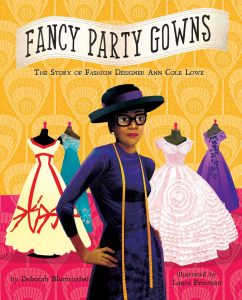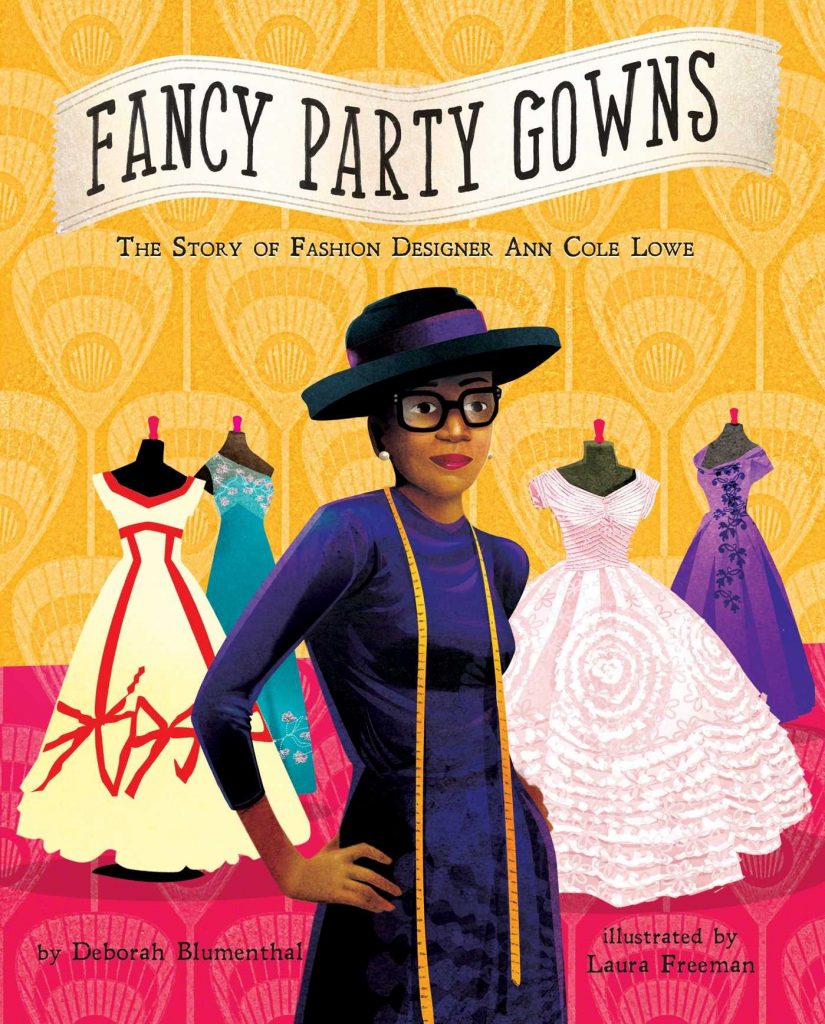 A beautiful picture book about Ann Cole Lowe, a little-known African-American fashion designer who battled personal and social adversity in order to pursue her passion of making beautiful gowns and went on to become one of society's top designers.
Sewing Stories: Harriet Powers' Journey from Slave to Artist by Barbara Herkert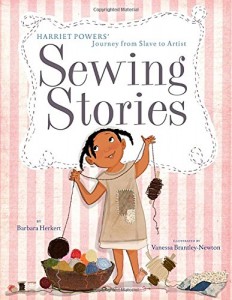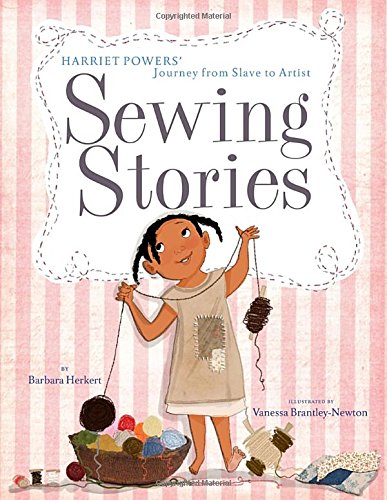 Harriet Powers learned to sew and quilt as a young slave girl on a Georgia plantation. She began making pictorial quilts, using each square to illustrate Bible stories and local legends. Harriet exhibited her quilts at local cotton fairs, and though she never traveled outside of Georgia, her quilts are now priceless examples of African-American folk art.
We March by Shane W. Evans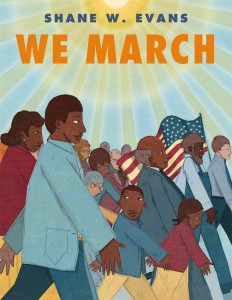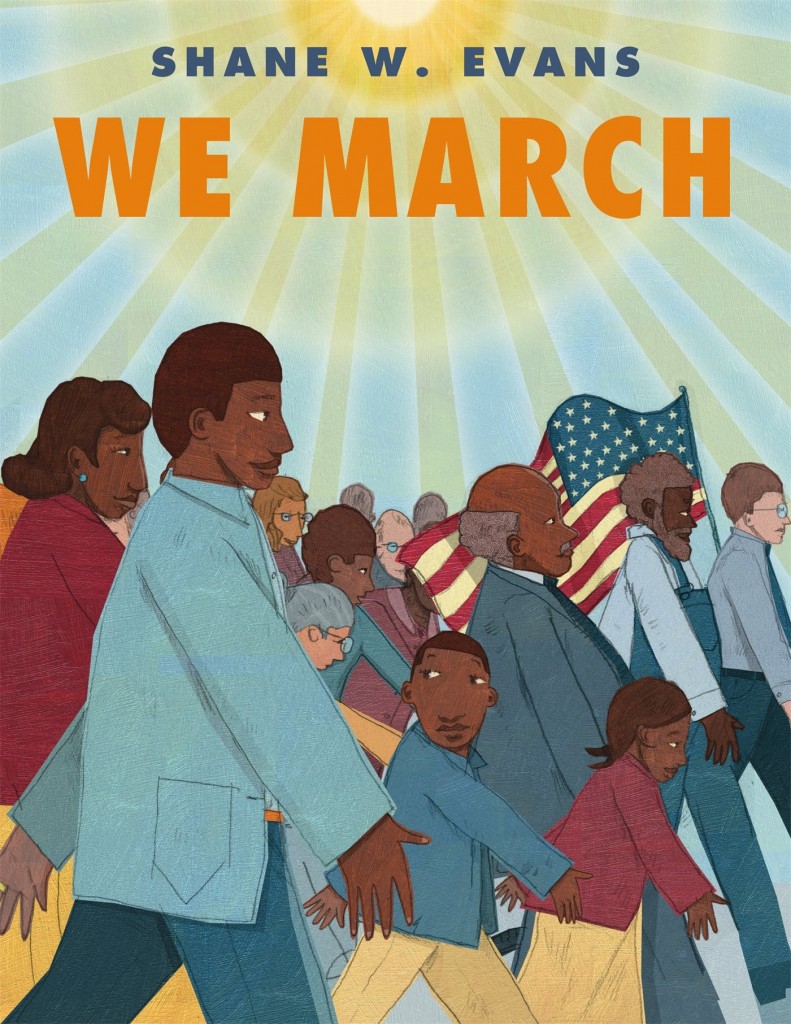 On August 28, 1963, a remarkable event took place–more than 250,000 people gathered in our nation's capital to participate in the March on Washington for Jobs and Freedom. The march began at the Washington Monument and ended with a rally at the Lincoln Memorial, where Martin Luther King Jr. delivered his historic "I Have a Dream" speech, advocating racial harmony.
Two Friends: Susan B. Anthony and Frederick Douglass by Dean Robbins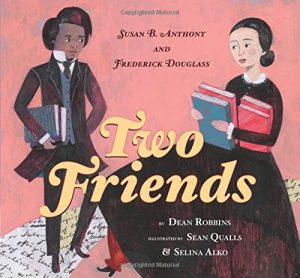 Two friends, Susan B. Anthony and Frederick Douglass, get together for tea and conversation. They recount their similar stories fighting to win rights for women and African Americans. The premise of this particular exchange between the two is based on a statue in their hometown of Rochester, New York, which shows the two friends having tea.
The Legendary Miss Lena Horne by Carole Boston Weatherford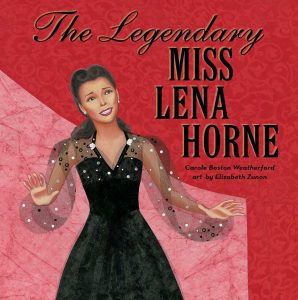 Lena Horne was born into the freedom struggle, to a family of teachers and activists. Her mother dreamed of being an actress, so Lena followed in her footsteps as she chased small parts in vaudeville, living out of a suitcase until MGM offered Lena something more—the first ever studio contract for a black actress.
Wilma Unlimited: How Wilma Rudolph Became the Fastest Woman by Kathleen Krull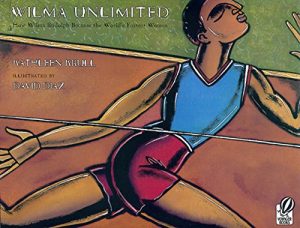 Before Wilma Rudolph was five years old, polio had paralyzed her left leg. Everyone said she would never walk again. But Wilma refused to believe it. Not only would she walk again, she vowed, she'd run. And she did run–all the way to the Olympics, where she became the first American woman to earn three gold medals in a single olympiad.
Bessie Smith and the Night Riders by Sue Stauffacher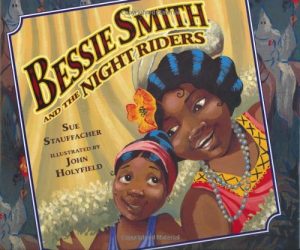 Even though she can't afford a ticket to see the great blues singer Bessie Smith perform, Emmarene listens outside Bessie's tent—that is, until she bursts into the show to warn the crowd:  The Night Riders have come!
Based on a true incident, Bessie Smith and the Night Riders is a powerful story of facing down danger and standing up for what's right. With John Holyfield's luminous paintings setting the stage, readers will be cheering for Bessie and Emmarene all the way to their final bow.
Muhammad Ali: A Champion is Born by Gene Barretta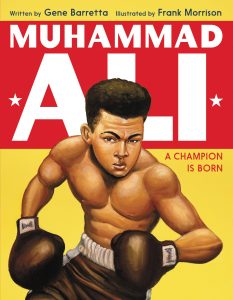 In this picture book biography of Muhammad Ali, author Gene Barretta and illustrator Frank Morrison tell the unforgettable childhood story of this legendary boxing champion and how one pivotal moment set him on his path to become the Greatest of All Time.  Back matter includes biographical overview, photos, bibliography, and more resources.  You can read my review of this book here.
She Loved Baseball: The Effa Manley Story by Audrey Vernick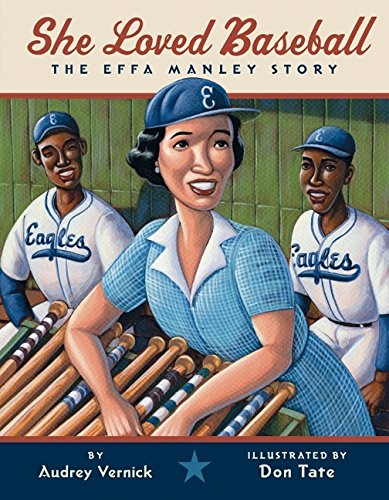 Effa always loved baseball. As a young woman, she would go to Yankee Stadium to see Babe Ruth. Effa never dreamed she would someday own a baseball team, yet alone be the first and only woman ever inducted into the Baseball Hall of Fame. An inspirational story for girls and boys who love baseball.
Nelson Mandela by Kadir Nelson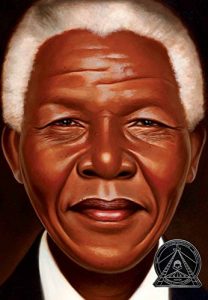 In this picture book biography, award-winning author and illustrator Kadir Nelson tells the story of Mandela, a global icon, in poignant free verse and glorious illustrations. It is the story of a young boy's determination to change South Africa, and of the struggles of a man who eventually became the president of his country by believing in equality for all people, no matter the color of their skin. Readers will be inspired by Mandela's triumph and his lifelong quest to create a more just world.  This Coretta Scott King Honor Book supports the Common Core State Standards.
Let the Children March by Monica Clark-Robinson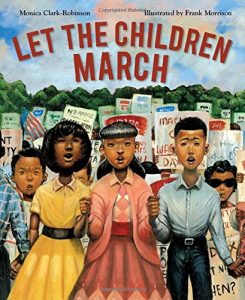 This beautifully written and illustrated book tells the story of the Birmingham Children's Crusade that took place in 1963 in Alabama. As many as 3,000 children and teens were arrested and put in jail before the event was over, but their marching made a difference. On May 10, 1963 desegregation ended all because the children marched and led the way.
Nothing But Trouble: The Story of Althea Gibson by Sue Stauffacher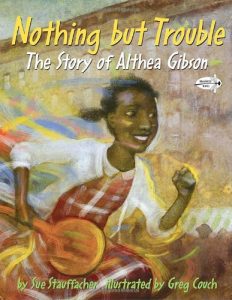 Althea is nothing but trouble! Everyone agrees: her mama, her daddy, her teacher, even the policeman. But when Buddy Walker, the play leader on Althea's street in Harlem, watches her play paddle tennis, he sees something more: pure possibility. Buddy buys Althea her very own stringed tennis racket, and before long, she's on her way to becoming a great athlete—and to proving that she's more than just trouble.
Althea Gibson was the first African American ever to compete in and win the Wimbledon Cup. Born in 1927, she was a spirited child and became an enormously talented athlete.
Hidden Figures: The True Story of Four Black Women and the Space Race by Margot Lee Shetterly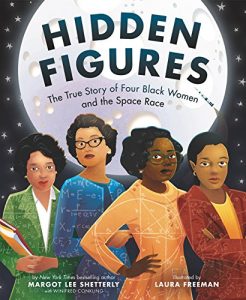 Explore the true story of four female African American mathematicians (Dorothy Vaughan, Mary Jackson, Katherine Johnson, and Christine Darden) at NASA, known as "colored computers," and how they overcame gender and racial barriers to succeed in a highly challenging STEM-based career.
Mae Among the Stars by Roda Ahmed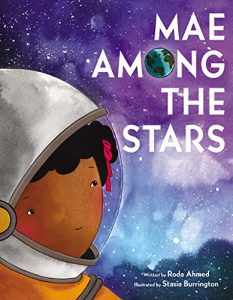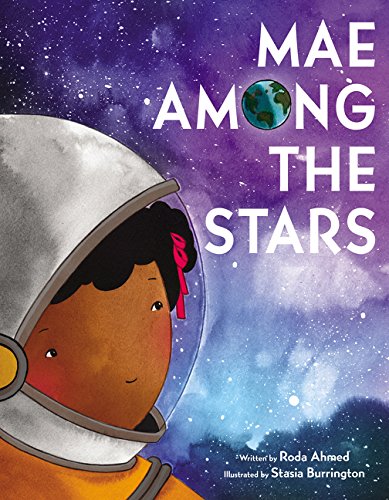 "If you can dream it, if you believe it and work hard for it, anything is possible."  This is the advice Dr. Mae Jemison received from both of her parents after telling them she wanted to be an astronaut when she grew up. Mae was ridiculed by her friends and discouraged by her teacher when she told them about her dreams of going to space.  On September 12, 1992, Mae's dream finally came true and she officially became the first African American woman to go to space.
Be a King: Dr. Martin Luther King Jr.'s Dream and You by Carole Boston-Weatherford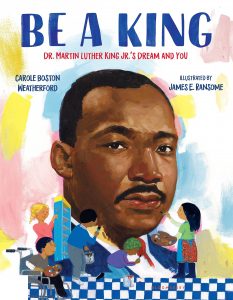 This picture book is perfect for teaching little readers ages 4-8 about some of the things Dr. King stood for like peace and equality.  It shows children how they too can be an agent of change by doing things like banding together against bullies, believing in your cause, learning as much as you can, and doing the very best at anything you do.
Mahalia Jackson: Walking with Kings and Queens by Nina Nolan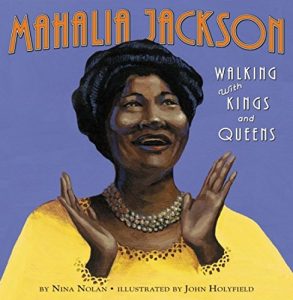 Read my full review here.
Accompanied by John Holyfield's gorgeous illustrations, debut author Nina Nolan's narrative wonderfully captures the amazing story of how Mahalia Jackson became the Queen of Gospel in this fascinating picture book biography.
Trombone Shorty by Troy Andrews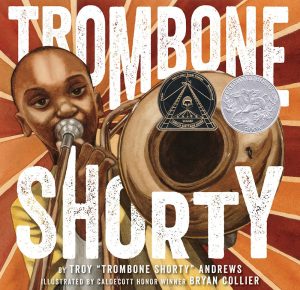 Along with esteemed illustrator Bryan Collier, Andrews has created a lively picture book autobiography about how he followed his dream of becoming a musician, despite the odds, until he reached international stardom. Trombone Shorty is a celebration of the rich cultural history of New Orleans and the power of music.
Dizzy by Jonah Winter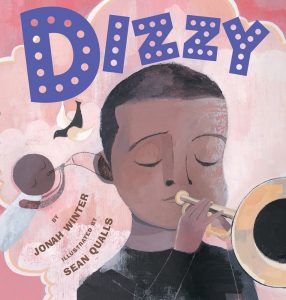 This is the story of Dizzy Gillespie, a real cool cat who must have been born with a horn in his hands, judging from the way he played the trumpet. Jazz was his ticket on a train to better days, and he left his hard life in a small town for New York City and the hottest band around. But did Dizzy stand straight and play right? NO! He was a clown. He hit high notes, low notes, never-been-heard notes, and before he knew it, Dizzy created a whole new music: BEBOP.
Molly by Golly!: The Legend of Molly Williams, America's First Female Firefighter by Dianne Ochiltree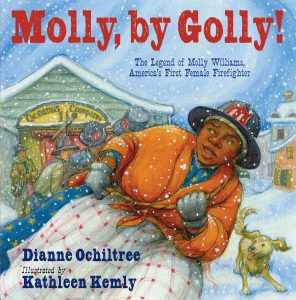 This legendary tale introduces young readers to Molly Williams, an African American cook for New York City's Fire Company 11, who is considered to be the first known female firefighter in U.S. history.
Gordon Parks: How the Photographer Captured Black and White America by Carole Boston Weatherford


Gordon Parks is most famous for being the first black director in Hollywood. But before he made movies and wrote books, he was a poor African American looking for work. When he bought a camera, his life changed forever. He taught himself how to take pictures and before long, people noticed. His success as a fashion photographer landed him a job working for the government.
My Daddy, Dr. Martin Luther King Jr. by AG Ford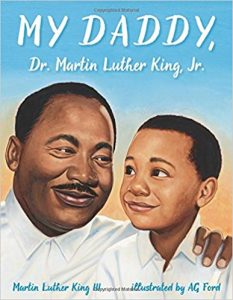 What was it like growing up as a son of Dr. Martin Luther King, Jr.? This picture book memoir, My Daddy, Dr. Martin Luther King, Jr. by Martin Luther King III, provides insight into one of history's most fascinating families and into a special bond between father and son.
Freedom Song: The Story of Henry "Box" Brown by Sally M. Walker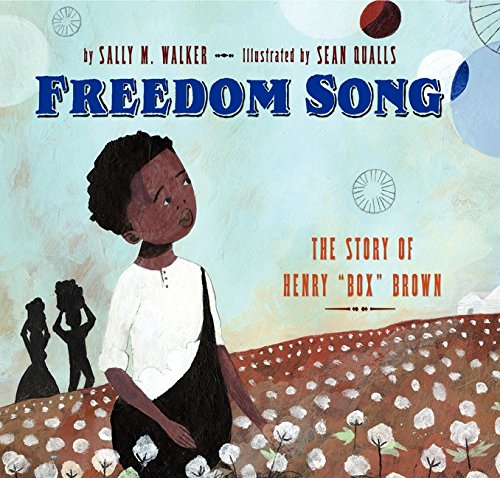 Henry "Box" Brown's ingenious escape from slavery is celebrated for its daring and originality. Throughout his life, Henry was fortified by music, family, and a dream of freedom. When he seemed to lose everything, he forged these elements into the song that sustained him through the careful planning and execution of his perilous journey to the North.
Harlem's Little Blackbird: The Story of Florence Mills by Renee Watson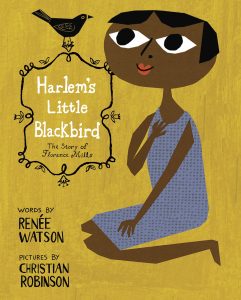 Born to parents who were both former slaves, Florence Mills knew at an early age that she loved to sing, and that her sweet, bird-like voice, resonated with those who heard her. Performing catapulted her all the way to the stages of 1920s Broadway where she inspired everyone from songwriters to playwrights. Yet with all her success, she knew firsthand how prejudice shaped her world and the world of those around her. As a result, Florence chose to support and promote works by her fellow black performers while heralding a call for their civil rights.
Paperbacks for 4 Year Olds & Up
Martin's Dream: Ready to Read by Jane Kurtz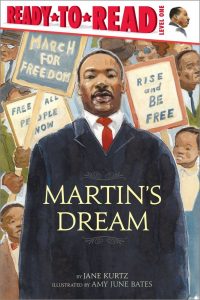 In 1963 Dr. Martin Luther King Jr. gave a speech that proclaimed that it was time – long overdue – for all men to be treated as equals. Today his beliefs are more important than ever, and author Jane Kurtz explains Dr. King's words in language even the youngest reader can understand.
Martin Luther King Jr. Day by Margaret McNamara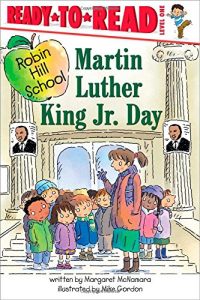 When Mrs. Conner's class learns about a great man, they discover their own dreams and hopes for a better world!
National Geographic Readers: George Washington Carver by Kitson Jazynka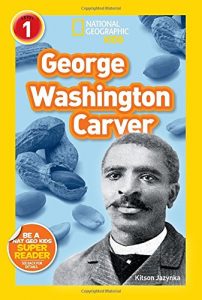 I love these National Geographic paperback books for young readers!  They are easy to read for young readers and they're affordable!  They have a wide range of biographies to choose from: Rosa Parks, Frederick Douglass, Barack Obama, Nelson Mandela and Martin Luther King Jr. just to name a few.  The back matter also includes additional facts, a quiz and a glossary.
Ruby Bridges Goes to School: My True Story by Ruby Bridges by Ruby Bridges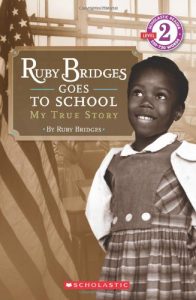 The extraordinary true story of Ruby Bridges, the first African-American child to integrate a New Orleans school–now with simple text for young readers!  In 1960, six-year-old Ruby Bridges walked through an angry crowd and into a school where she changed history.
This is the true story of an extraordinary little girl who helped shape our country when she became the first African-American to attend an all-white school in New Orleans. With simple text and historical photographs, this easy reader explores an amazing moment in history and the courage of a young girl who stayed strong in the face of racism.
My First Biography: Martin Luther King Jr. by Marion Dane Bauer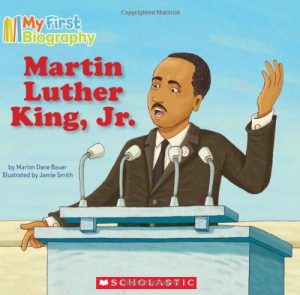 The MY FIRST BIOGRAPHY series brings the biggest life stories to the smallest readers.
Dr. Martin Luther King Jr. was a great man. His words changed the way people thought, and his actions spurred them on to change the world. With simple, lyrical text and bold, kid-friendly illustrations, this book introduces Dr. King to the youngest readers and inspires them to change the world.
Power in My Pen: A Snippet of the Life of Ida B. Wells by Louie T. McClain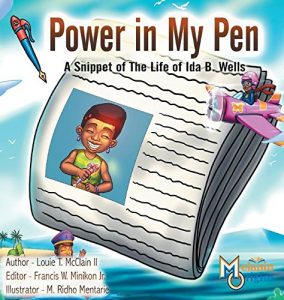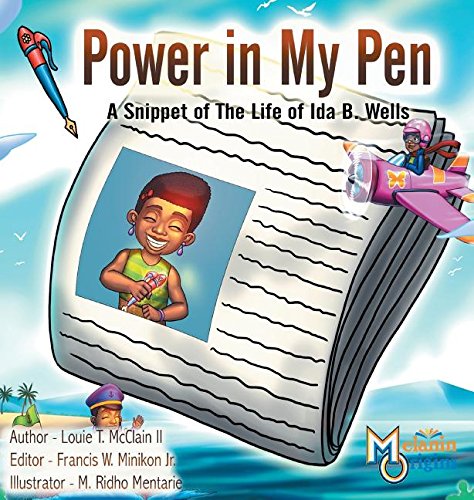 Step into the world of Ida B. Wells as she uses her life experiences and obstacles as motivation to achieve many firsts in editing and journalism in the United States of America and abroad. Read along as she flourishes in the wake of family tragedy and ever changing life situations. "Power in My Pen" encourages penmanship, free thought, and historical lessons from a highly influential leader in the early 1900's. The strong intelligent woman we know as Ida B. Wells proved, no matter who you are, you can share your message and your truth to the world through the power of the pen.  You can read my review of this book here.
If You Were a Kid During the Civil Rights Movement by Gwendolyn Hooks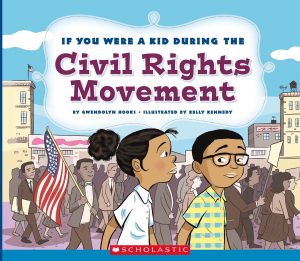 Joyce Jenkins has recently moved to a new town with her family, and she will soon be attending a segregated school for the first time. Meanwhile, Connie Underwood is trying to figure out what her twin brothers are planning in secret. Follow along with the two girls as they find themselves in the middle of a civil rights demonstration, and find out how the fight for equality changed the country forever. (Note: I'd recommend this one for kids ages 5 – 6 and up.)
Picture Books for 5 Year-Olds & Up
Lift Every Voice and Sing by James Weldon Johnson, illustrated by Elizabeth Catlett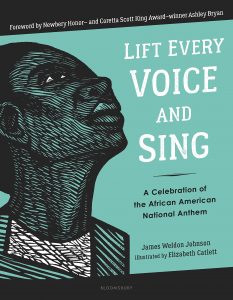 The original song Lift Ev'ry Voice and Sing was written for schoolchildren to sing at an Abraham Lincoln birthday celebration in 1900 and was named the official African-American anthem in 1949.  This beautiful book captures the struggles and achievements of the African-American experience. There is also a foreword written by Ashley Bryan, additional information about the history of the song and song lyrics in the back matter.
Hammering for Freedom by Rita Lorraine Hubbard, illustrated by John Holyfield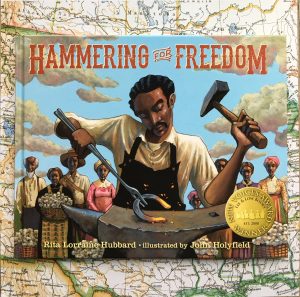 Hammering for Freedom introduces readers to William "Bill" Lewis, born into slavery in Tennessee. Bill learned the blacksmith trade as soon as he was old enough to grip a hammer.
Trailblazer: The Story of Ballerina Raven Wilkinson by Leda Schubert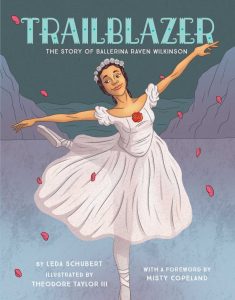 Read by full review here.
This beautiful picture book tells the little-known story of Raven Wilkinson, the first African American woman to dance for a major classical ballet company and an inspiration to Misty Copeland.
We Shall Overcome by Debbie Levy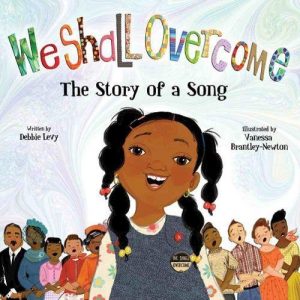 In this book, the theme song for the Civil Rights Movement is explained for children.  From the song's roots in America's era of slavery through to the civil rights movement of the 1960s and today, "We Shall Overcome" has come to represent the fight for equality and freedom around the world.
Little People Big Dreams: Maya Angelou by Lisbeth Kaiser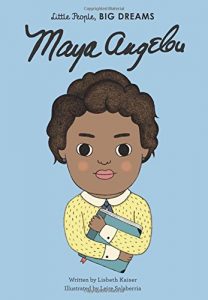 In the Little People, Big Dreams series, discover the lives of outstanding people from designers and artists to scientists. All of them went on to achieve incredible things, yet all of them began life as a little child with a dream. The book follows Maya Angelou, from her early traumatic childhood to her time as a singer, actress, civil rights campaigner and, eventually, one of America's most beloved writers. This inspiring and informative little biography comes with extra facts about Maya's life at the back.  P.S. There is a Rosa Parks version of this book too.
The Quickest Kid in Clarksville by Pat Zietlow Miller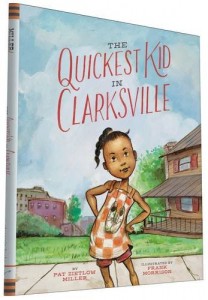 It's the day before the big parade. Alta can only think about one thing: Wilma Rudolph, three-time Olympic gold medalist. She'll be riding on a float tomorrow. See, Alta is the quickest kid in Clarksville, Tennessee, just like Wilma once was. It doesn't matter that Alta's shoes have holes because Wilma came from hard times, too. But what happens when a new girl with shiny new shoes comes along and challenges Alta to a race? Will she still be the quickest kid? The Quickest Kid in Clarksville is a timeless story of dreams, determination, and the power of friendship.
The Youngest Marcher: The Story of Audrey Faye Hendricks by Cynthia Levinson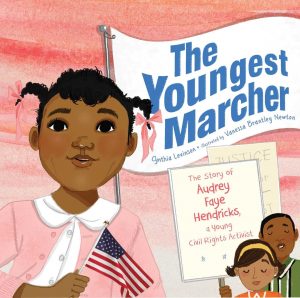 Meet the youngest known child to be arrested for a civil rights protest in Birmingham, Alabama, 1963, in this moving picture book that proves you're never too little to make a difference.  You can read my review of this book here.
Preaching to the Chickens: The Story of Young John Lewis by Jabari Asim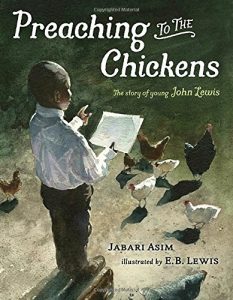 John wants to be a preacher when he grows up—a leader whose words stir hearts to change, minds to think, and bodies to take action. But why wait? When John is put in charge of the family farm's flock of chickens, he discovers that they make a wonderful congregation! So he preaches to his flock, and they listen, content under his watchful care, riveted by the rhythm of his voice.
Dream Big: Michael Jordan and the Pursuit of Excellence by Deloris Jordan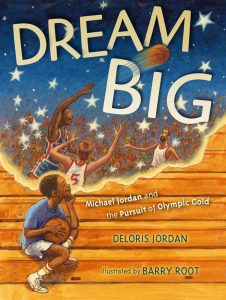 Long before he became a professional All-Star basketball player, Michael Jordan had dreams of winning an Olympic gold medal—and with dedication and perseverance, that's exactly what he did. This heartwarming picture book, written by Michael's mother and illustrated by Barry Root, gives a rare glimpse into a sports hero's childhood and emphasizes the role that good values play in success.
Alvin Ailey by Andrea Davis Pinkney


Describes the life, dancing, and choreography of Alvin Ailey, who created his own modern dance company to explore the black experience.
Firebird by Misty Copeland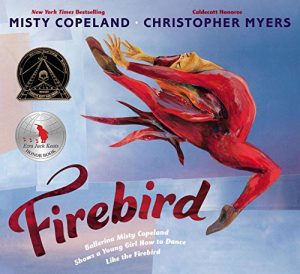 In her debut picture book, Misty Copeland tells the story of a young girl–an every girl–whose confidence is fragile and who is questioning her own ability to reach the heights that Misty has reached. Misty encourages this young girl's faith in herself and shows her exactly how, through hard work and dedication, she too can become Firebird.
Duke Ellington: The Piano Prince and His Orchestra by Andrea Davis Pinkney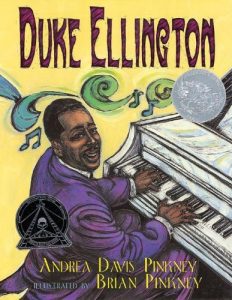 Another stunning picture book biography of a prominent twentieth-century African-American in the arts, from the creative team behind Alvin Ailey.
Sugar Hill: Harlem's Historic Neighborhood by Carole Boston Weatherford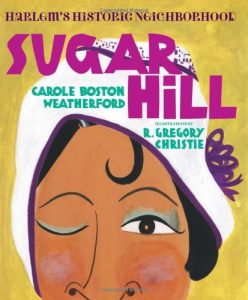 Take a walk through Harlem's Sugar Hill and meet all the amazing people who made this neighborhood legendary. With upbeat rhyming, read-aloud text, Sugar Hill celebrates the Harlem neighborhood that successful African Americans first called home during the 1920s.  Includes brief biographies of jazz greats Duke Ellington, Count Basie, Sonny Rollins, and Miles Davis; artists Aaron Douglas and Faith Ringgold; entertainers Lena Horne and the Nicholas Brothers; writer Zora Neale Hurston; civil rights leader W. E. B. DuBois and lawyer Thurgood Marshall.
Tea Cakes for Tosh by Kelly Starling Lyons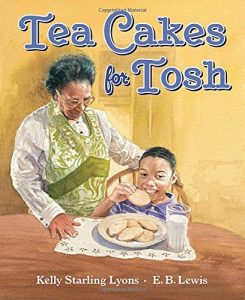 Tosh loves listening to Grandma Honey tell family stories. His favorite is about the special tea cakes that smell like vanilla and sunshine. They were great-great-great-great-grandma Ida's specialty when she was a cook in the big house of a plantation. Unlike Tosh, the slave children weren't allowed to have any of the treats, though Grandma Ida always found a way to put the sugary sweetness into their hands anyway. It was a promise and taste of freedom to come.
One Million Men and Me by Kelly Starling Lyons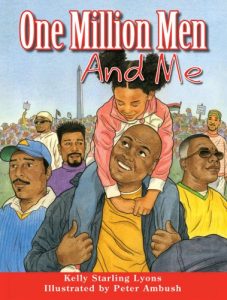 On October 16, 1995, Black men of all ages, religions and backgrounds gathered at the Lincoln Memorial in Washington, D.C. They were there on a mission – to mobilize and motivate, as part of what would become the largest event of its kind in U.S. history: the Million Man March. The Million Man March was a movement like no other. It brought together Black men who were committed to inspiring and empowering themselves and each other to make positive and lasting changes in their families and communities. The March was widely covered by news media across the country and the world. Now, this new picture book shares the story of the March in a new light: through the eyes of a little girl who was with her father the day Black men made history.
This is the Rope: A Story from the Great Migration by Jacqueline Woodson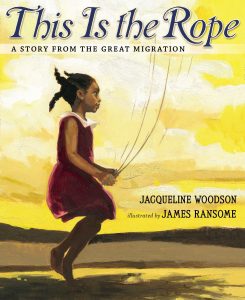 The story of one family's journey north during the Great Migration starts with a little girl in South Carolina who finds a rope under a tree one summer. She has no idea the rope will become part of her family's history. But for three generations, that rope is passed down, used for everything from jump rope games to tying suitcases onto a car for the big move north to New York City, and even for a family reunion where that first little girl is now a grandmother.
When the Beat Was Born: DJ Kool Herc and the Creation of Hip Hop by Laban Carrick Hill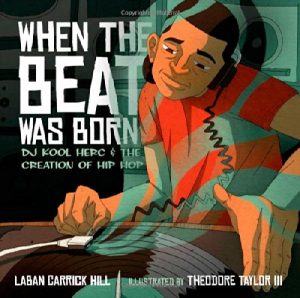 From his childhood in Jamaica to his youth in the Bronx, Laban Carrick Hill's book tells how Kool Herc came to be a DJ, how kids in gangs stopped fighting in order to breakdance, and how the music he invented went on to define a culture and transform the world.
Little Melba and Her Big Trombone by Katheryn Russell-Brown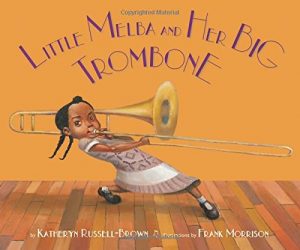 Melba Doretta Liston loved the sounds of music from as far back as she could remember. As a child, she daydreamed about beats and lyrics, and hummed along with the music from her family s Majestic radio. At age seven, Melba fell in love with a big, shiny trombone, and soon taught herself to play the instrument. By the time she was a teenager, Melba s extraordinary gift for music led her to the world of jazz.
Moses: When Harriet Tubman Led Her People to Freedom by Carole Boston Weatherford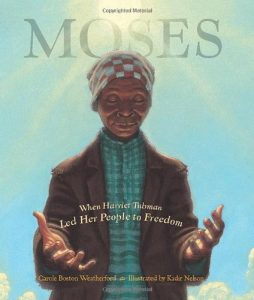 This poetic book is a resounding tribute to Tubman's strength, humility, and devotion. With proper reverence, Weatherford and Nelson do justice to the woman who, long ago, earned over and over the name Moses.
Brick by Brick by Charles R. Smith Jr.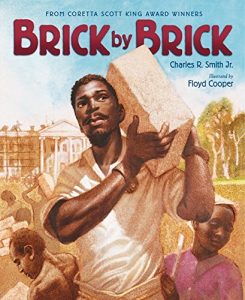 The compelling true story behind the building of the White House, a powerful part of history rarely taught. The home of the United States president was built by many hands, including those of slaves, who undertook this amazing achievement long before there were machines to do those same jobs.
Your turn: What other titles would you add to this list?  Feel free to share in the comments.  I'd love to hear from you!