I cannot believe today is the last day of 2015!  Where did the year go, seriously?  This morning I spent some time writing down my goals and dreams for the new year ahead in my new journal.  I also chose two words to help me focus and realize my goals.  I chose two words because it was really hard for me to narrow it down to just one.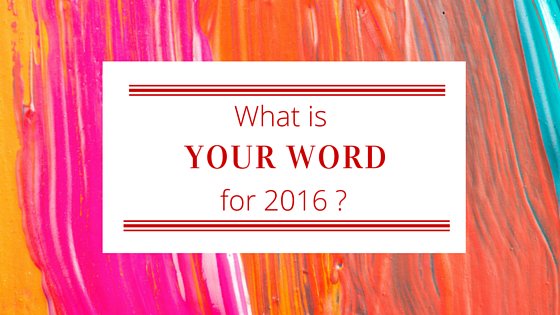 If you follow me on Instagram you may have noticed I posted my favorite adult book of 2015 a few days ago.  I chose The Life-Changing Magic of Tidying Up: The Japanese Art of Decluttering and Organizing by Marie Kondo.  In this book, the author suggests you should only be surrounded by things that spark joy in your heart.  Therefore, the first word I've chosen for 2016 is joy.
I want to create more joy daily in all areas of my life.  I'm only going to focus on each day one day at a time and those things that bring me joy right that very moment. Because I don't know how my life will be a day from now, 30 days from now or even 5 or 10 years into the future.
But I do know that waking up an hour earlier helps me prepare better for the day ahead. I do know that when I force myself to exercise before work I'm more productive.  I do know how I love seeing the look on my kids' faces when they learn something new or accomplish something on their own.  I do know how much I love having clean and organized spaces.  I do know that I love to eat delicious food.  I do know that I love technology (most of the time), writing code, and solving problems.  I do know that when I put my phone away at home I'm more focused, less distracted, more present to enjoy my husband, our home, and the kids.  I do know that reading, writing, and blogging bring me joy.  I do know how beautiful I feel when I let my skin breathe, free from the make-up, free from the grime. I do know that I love discovering and learning new things.  I do know that smiling at strangers and giving to others has never made me feel worse, only better.
I do know most of the things that bring me joy, but I'm sure there are others have have yet to be discovered.  So I'm hoping those things will be revealed to me next year.  Also, for 2016, I'm letting go of wondering when the joy of "success" will make it's way to me or when it'll be "my turn" to have or do certain things.  Because there's no joy in wondering.  There's no joy in trying to figure out the who, the when, the why and the how.
Really, the only joy is in the now. And that's where I choose to be.
I understand and acknowledge I've already had much success in many areas of my life, but I have other hopes and dreams that have yet to be realized.  I have faith they will come to pass, but I'm simply letting go and allowing them to happen in their due season (still keeping them on my list of dreams and goals though).
The other word I chose is reach.
Next year I want to reach above what I know I'm capable of, beyond even what I think I might be capable of and create some AMAZING things.  I also want to reach out to others more – build networks, create genuine, meaningful and lasting relationships both online and in-person.  I want to reach more people via my blog and social media.  I want to reach for my goals and actually achieve them – not just set them on January 1st and forget about them.  I want to reach above and beyond at work and not just be average or mediocre.  Simply put, I want to reach and stretch myself in all areas of my life knowing what my limitations are so I won't get burned out.
Cheers to an epic 2016!  Wishing you and yours a very Happy New Year.  See you in 2016!
Your turn:  What is your word(s) for the new year?  What are you most looking forward to?  Feel free to share in the comments.