As you may recall, the two theme words I've chosen for 2016 are: joy and reach.  If you missed the post where I mentioned why I chose those words, you can read all about it here.  In that post, I also told you my favorite book I read last year was  The Life-Changing Magic of Tidying Up: The Japanese Art of Decluttering and Organizing by Marie Kondo.  So, I was literally jumping up and down when I found out the follow-up to that book was being published this year!  The companion book is entitled Spark Joy: An Illustrated Master Class on the Art of Organizing and Tidying Up.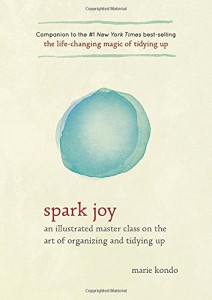 Synopsis (from Amazon)
Japanese decluttering guru Marie Kondo's The Life-Changing Magic of Tidying Up has revolutionized homes—and lives—across the world. Now, Kondo presents an illustrated guide to her acclaimed KonMari Method, with step-by-step folding illustrations for everything from shirts to socks, plus drawings of perfectly organized drawers and closets. She also provides advice on frequently asked questions, such as whether to keep "necessary" items that may not bring you joy. With guidance on specific categories including kitchen tools, cleaning supplies, hobby goods, and digital photos, this comprehensive companion is sure to spark joy in anyone who wants to simplify their life.
This year I have a goal to finally declutter and organize our basement and garage.  I'm talking a complete overhaul.  Our basement isn't finished so we've been using it as a storage area since we moved into our house over ten years ago.  It's a huge space and has lots of potential, but we need to get it cleaned out.  Same goes for our garage.
I'm really looking forward to reading this book since it includes actual illustrations on exactly how to do the KonMari method.  I'm a more visual person so most times, I'd prefer to see exactly how things are done rather than have someone tell me.  I remember reading the first book thinking, "how should I be folding my clothing"?  This book will provide the answer – yay!  Thanks, Marie!  I can't wait to dive into this book in the coming weeks!  Will you be reading?
To learn more about Marie Kondo or her books visit her website here.
Your turn:  Did you read Marie's first book?  Are you as excited as I am to read this companion book?  Feel free to share in the comments.