PumpkinHeads Book Series
written by Karen Kilpatrick
illustrated by Tara Louise Campbell and Matthew Wilson
Have you guys seen any of the adorable books in the new Pumpkinheads series?  These award-winning books focus on social and emotional development.  The series aims to help children build awareness of their feelings, along with learning from and interacting with others.
As stated on their website, the mission of the Pumpkinheads series is as follows:
*To support the positive growth and development of children through sharing and teaching messages of love, acceptance, kindness, perseverance, generosity, courage, and appreciation.
*To encourage and support early childhood literacy.
*To encourage acceptance of self and the celebration of unique strengths and talents.
*To relate to children on their level and create relatable, positive role models, with a focus on helping children develop positive emotional and social skills.
*To celebrate and encourage creativity, creative play, imagination, reading, and writing.
Here are the two books we read:
Peanut's Mistake by Karen Kilpatrick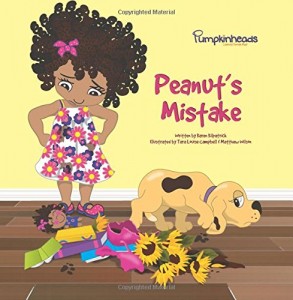 Imagine by Karen Kilpatrick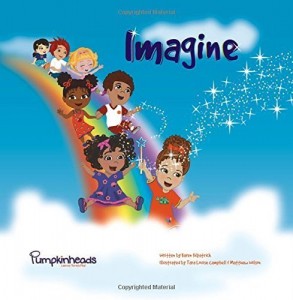 Currently, there are eleven different books in the series that takes little ones on a fun, new adventure.  Each book focuses on a different real-life moral or emotional lesson to be learned.  The books also feature a very diverse set of characters: Ella, Xavy, Sage, Cameron, Danza, Carmin, Lulu and Peanut the dog.  My daughter's favorite character is Carmin and my son's favorite is Cameron (although he likes Xavy dressed up as a superhero in the book Imagine).
There are so many things I adore about these books:
the bright and bold illustrations
the activity section for kids at the back of each book
the way they teach children problem solving skills and learning from their mistakes
the multicultural set of characters
the focus on social and emotional development
the rhyming patterns used throughout each book make them fun to read
the size of the books are perfect for little readers to hold on their own
Overall, the kids and I really enjoyed these books, especially Peanut's Mistake.  Look how cute that book cover is!  I think this book really does a fantastic job teaching kids that it's ok to make mistakes.  It also teaches them how to deal with mistakes, how to deal with their emotions, confronting problems, and even teaches kids how to clean up after themselves.  A win-win!
In addition to this award-winning book series, Pumpkinheads also features educational activity worksheets, videos, games, an early childhood education digital magazine, and a new FREE app!  Yes, I said free! (You can also pay for additional games/activities if desired.)
About the Author
Karen Kilpatrick is the author and co-illustrator of the award winning children's books series, Pumpkinheads®. Karen also writes adult short stories, and is a winning author in the Florida Writer's Association's collection contest, with her short story, The Envelope, published October 2014.  She lives with her husband and three children in Parkland, Florida.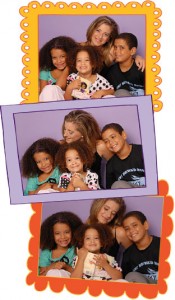 Connect with Pumpkinheads!
Website
Instagram
Facebook
Twitter
Pinterest
Your turn: Have you read any of the books in the Pumpkinhead series?  Feel free to share in the comments.