Calling all parents, teachers, and lovers of Black History and African/Caribbean geography!  There's a new kid on the subscription box block: Heritage Box!  Heritage Box is the first ever monthly subscription box specially curated to teach children ages 7 to 12 about Black History and African/Caribbean geography.  Exciting, right?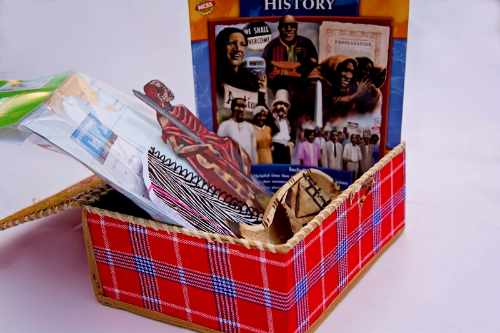 Heritage Box is the brainchild of Trish and Herbert Lewis.  Originally from Africa, Trish has always had a desire to raise her three children with a solid understanding of their history and an open-minded world view.  Her husband, Herbert Lewis, is a Black History buff, so naturally he too wanted their children to have a deeper understanding of Black History.
However, doing this consistently proved to be very challenging for the couple.  They are both working parents so between homework and after school activities their lives just got too busy.  They knew they had to do better and be consistent so they made a plan.  They came up with the Heritage Box to provide an engaging way for both parents and children to continuously learn about Africa, African American and Caribbean history and geography.
Trish and her husband were both aware that children who have a good understanding of their family history grow up to be confident adults.  They wanted their children to be excited about learning about themselves.
Heritage Box provides families a tool that will keep children engaged YEAR ROUND, not just in February during Black History Month.  Each box is designed to build self-pride and enhance children's understanding of their heritage.
What's Inside the Box?
The starter box comes with:
An authentic Masaai Box made in Kenya to store future African souvenirs
A world map
A journal to record their thoughts
A postcard album to store postcards from the different countries/places families will visit together
A book with an overview of African American history
a bookmark for the books they will receive
The second month they will receive a "Travel" package.  This box will focus on one country in Africa and provide a souvenir, games, a book and other fun surprises!
The third month will feature a theme/ person in Black history.
After the third month, they will alternate the box contents with Black History content and African geography content. Each box will come with a relevant book!
Heritage Box is sure to be a treasured item for your child!  Every month they will receive a special surprise of cultural value to store in their Masaai Box.  These boxes are made of traditional shuka cloth and they are lined with Ankara fabric.  They also have a banana fiber base and intricate beading for the lock.
How are the items selected?
For the Black History themed box , they consult with teachers and educators on the content.  They make sure games and books are age appropriate.  And of course they consult with a special focus group of children!
The African Travel box with will contain appropriate souvenirs  from the featured country.  Their Procurement Manager, Chris is based in Kenya and travels all over Africa in search for the perfect souvenirs and African authored books!
Ok, this all sounds great, but how much is it?
Great, I'm glad you asked!
Month-to-month plan: $29.99 per month
6-month prepaid plan: $23.33 per month (a one time cost of $140)
12-month prepaid plan: $20 per month (a one time cost of $240 – Best value!)
Heritage Box will officially launch on January 15, 2016, but you can visit their website to sign up for their mailing list or read more about the company.
Is there a discount?
Just for Here Wee Read subscribers and readers you can get 20% off your order!!  Just use coupon code "HereWeeRead" at checkout. This code will be available for use starting tomorrow, January 15th!
Note:  Initially, I listed the discount as 50%, not 20% in error.  The correct discount amount is 20%.
Connect with Heritage Box!
Website
Facebook
Instagram
Your turn:  How do you teach your children about their heritage and culture?  Feel free to share in comments.