December 14th will mark the three-year anniversary of the horrific mass shooting at Sandy Hook Elementary School in Newtown, Connecticut.  I've lived in Connecticut all my life so that particular shooting hit especially close to home for me.
Talking to your children about tragedies is a daunting task, but I think it's necessary especially as they get older.  When I think about all of the tragedies I've lived through prior to becoming a mom: Columbine, 9/11, Virginia Tech, University of Arizona, and countless others I can't help but think how different I feel now that I have children.  What am I supposed to tell my kids?  Has this become the "new normal"?  I certainly hope not.  Luckily, my kids are still young so they don't really understand.
If you're looking for books to read with your children in recognition of the Sandy Hook anniversary, may I suggest two books that bring messages of hope and renewal to children and families affected by the tragedy.
Good Dogs, Great Listeners: The Story of Charlotte, Lily and the Litter
by Renata Bowers with JoAnn and Joel Bacon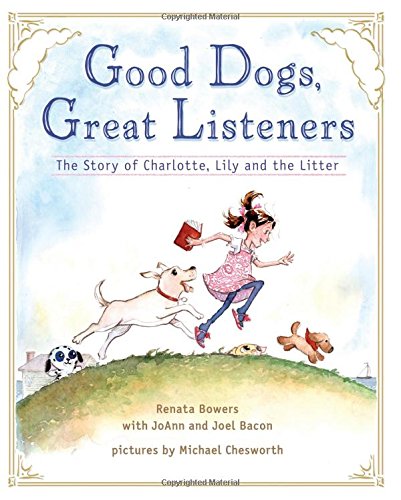 Book Synopsis
Charlotte loves dogs, especially her loving and loyal dog, Lily. And she loves adventure, especially with Lily and her Litter of six stuffed dogs in tow.  But, she doesn't love to read.
Charlotte has a pesky habit of abandoning a book in favor of a distraction. Paired with her dogs and her bold imagination, that distraction has a way of turning into a grand adventure. But when Lily gets hurt on one of their adventures, Charlotte relies on her imagination and her heart to find a way to love Lily back to health…and discovers a love for reading along the way – along with her beloved companions.
Book Background
This is a charming story from Joel and JoAnn Bacon, parents to 6 year-old Charlotte Bacon who was one of the children who lost their lives on December 14, 2012 in Sandy Hook, CT.  The family decided to focus on the things their daughter loved most, which was dogs.
Good Dogs, Great Listeners is a story of imagination, kindness and boldness, created to inspire the story – and the reader – in us all.  The book tells the story of Charlotte and how Charlotte's Litter was started.
Charlotte's Litter was founded following the 2012 Sandy Hook tragedy.  The organization supports therapy dog programs in educational and societal settings by connecting resources and experienced people, while providing input and guidance to parents and educators.  The Bacon family has founded and developed a number of projects to honor their spirited Charlotte, share her joy and beauty, and advocate for what has helped them most as they grieve.
Reflection
The kids and I truly enjoyed reading this book.  It's such a wonderful story with precious illustrations to match.  Even though little Charlotte doesn't like to read in the beginning she certainly has a vivid imagination and great sense of adventure.  In an effort to avoid reading books, Charlotte uses her imagination to go on elaborate adventures with her dogs.  Lily and the Litter faithfully follow Charlotte with each new "adventure" they go on until one day when Lily breaks her leg.  That's when Charlotte's love of reading begins as way to keep Lily company while she rested so her leg could heal.
I think this is a great book to read with children who may be reluctant to read.  I'd also recommend this for little readers who may want to become a veterinarian or those who love dogs.
The Dogs of Newtown
by Guy A. Bacon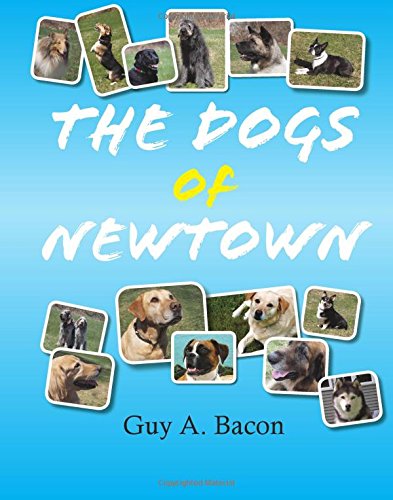 Charlotte's brother Guy Bacon also has his own book, "The Dogs Of Newtown" which describes the therapy dogs that greeted him when he went back to school.  Guy is an 11 year-old boy who is a student at Reed Intermediate School in Newtown, CT.  He dedicated this book to his sister, Charlotte Bacon who was one of the 20 children who lost their lives at Sandy Hook Elementary School.
Book Synopsis
The sadness in Newtown got a little bit better because of the therapy dogs that came to visit from around America. The Dogs of Newtown is packed full of beautiful photography is the product of long, snuggle-filled interview sessions, and the mutual love that was, and still is, shared by Guy and the dogs of Newtown.  A student at Reed Intermediate School in Newtown, Connecticut, Guy shares the story of some of the most special therapy dogs that visited him and his friends at school and helped lick the tears away.
Book Background
Following the tragedy, therapy dogs were brought to school to help comfort the grieving children, one being Charlotte's older brother, Guy. The dogs sat patiently as students read to them, petted them, and spoke to them, and provided a much-needed calming presence for both children and teachers. Once the Bacons witnessed the wonderful influence of the dogs, they knew Charlotte had something to do with it, as she had loved animals fiercely – especially dogs.  The Bacon family hopes to promote the use of therapy dogs to aid in both children's literacy as well as emotional support.
Reflection
I enjoyed reading about each one of the therapy dogs featured in this book, but the kids loved looking at the pictures the most.  We're just a dog loving family.  The Dogs of Newtown is a true story about each of the heroic therapy dogs who helped students to feel safe coming back to school.  The dogs and their owners spent every day for the rest of the school year in service to the staff and students of the school.  How awesome is that!
I never realized the wonderful effects therapy dogs could have on people prior to reading the foreward message written in this book.  It's so beautifully written that it actually made me tear up a bit.  The rest of the book includes photographs of the therapy dogs as well as a brief description about each one.
Overall, I think both of these books can help spark a conversation with your children about the Sandy Hook Elementary anniversary whether they are still in diapers or elementary school.
Please continue to hold our friends and neighbors here in Connecticut close to your heart, especially as we enter the holiday season.
For more information about both of these books, visit gooddogsgreatlisteners.com and charlotteslitter.org, and connect with Charlotte's Litter and Good Dogs, Great Listeners on Facebook.
Good Dogs, Great Listeners and The Dogs of Newtown can also be purchased on Amazon.
Your turn: Did you enjoy this post?  How do you talk to your children about tragic events that occur?  What are some of your go-to children's books to read?  Feel free to share in the comments.