The Name Jar by Yangsook Choi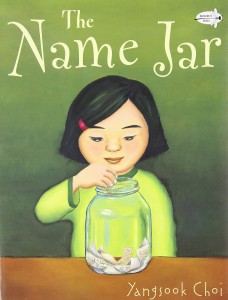 Summary:  Unhei (pronounced Yoon-Hey) is leaving all that she knows in Korea to move to the United States.  Before she leaves, her grandmother gives her a red satin pouch with her name engraved on a stamp written in Korean.  When Unhei comes to the United States she is very anxious about starting school.  Her first interaction with the other children on the bus isn't a good one as none of them can pronounce her name.  They start making fun of her name which makes Unhei feel terrible.
When Unhei arrives in her classroom she decides that she wants to give herself an American name.  So she tells everyone in the class she hasn't picked a name yet so the class starts a name jar.  The jar is filled with American names that the other children in the class have suggested.  She reads many of the names, but can't decide which name to choose.
During this time, a young boy, Joey, befriends Unhei and helps her to appreciate her name.  In the end, Unhei finally decides that she likes her name (which means grace) best of all and teaches the class about her name and how to pronounce it.  Joey truly shows great friendship throughout the story by accepting Unhei's name and wanting a Korean name and stamp for himself.
Reflection: I really enjoyed this book and the kids did too.  I could relate to little Unhei especially since growing up my first name was almost always butchered on the first day of school by the teachers and students when trying to pronounce it.  I don't recall anyone ever making fun of my name, they just couldn't say it until they got used to it.
I think this is a beautifully poignant story that all children can relate to.  I found Unhei's strength and courage at the end of this story to be very inspirational.  In addition, Yangsook Choi's illustrations are colorful, soft, and illuminate the story.
I believe this book will help children understand how Unhei felt and could even teach them about self love and acceptance of others.  This book also introduces topics like having respect for other cultures and friendship.  Overall, I think The Name Jar is a delightful story for preschoolers and young elementary students.  Definitely a great read aloud book to read to children during the first few days/weeks of school.
Your turn:  Have you ever read this book to your little ones?  Feel free to let me know in the comments.