Starting this month, I will be featuring a literacy expert on the blog each month!  Exciting, right?  This is one of the "secrets" I've been working on behind the scenes in an effort to keep bringing you fresh content and new literacy ideas.
For now, these posts will only last through the end of this year.  If they prove to be popular and if I'm able to feature more people I'll keep it going.
This month's literacy expert is Kathleen Odean, an expert on children's and adults books.   Kathleen has spent the last thirty years steeped in books for young people as a librarian, workshop presenter, reviewer, university instructor, and author of four guides to children's books. All her work is aimed at helping young people connect with books that will enrich their lives and add to their happiness.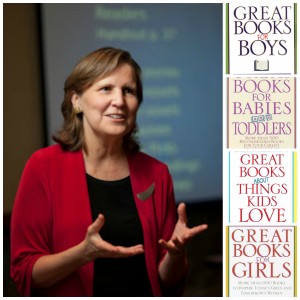 Q: Kathleen, please tell us a little about yourself.
A: I spent seventeen years as a children's librarian in public and school libraries. Now I give workshops to educators on new books for young people and do a lot of reviewing. My mission is to connect kids and teens with good books, whether I'm doing it directly or through their teachers and parents. I've written four guides to children's books, published by Random House: Great Books for Girls, Great Books for Boys, Great Books About Things Kids Love, and Great Books for Babies and Toddlers. I also had the wonderful privilege of chairing the 2002 Newbery Award Committee.
Q: Do you have any literacy rituals that you practice in your family?
A: Growing up, I was lucky enough to have a mother who read to me and took us five kids to the library a lot. My husband reads to me now when we have time, mostly nonfiction. He and I have been in a nonfiction book group with other adults for about 7 years, which is sheer pleasure.
Q: If you could give parents one piece of advice about reading with children, what would it be?
A: Make it fun. You don't have to teach your children to read, because that's what schools do. You need to give them positive associations with reading, which means having a good time together around reading and choosing books you both enjoy. Let them see you read for pleasure, too—that makes a big difference.
Q: What were some of the favorite children's board, picture, or chapter books you've read or come across this year?
A: A picture book I like a lot is A Poem in Your Pocket by Margaret McNamara with pictures by G. Brian Karas. I love Jerry Pinkney's new version of The Grasshopper and the Ants. I'm a big fan of Mo Willems' Elephant and Piggie books, the latest of which is I Will Take a Nap! All three are 2015 publications.
Q: What are some of your must-have children's books for a home library?
A: Two categories come to mind.  One is your children's favorite books that they will want to re-read and cherish. Another is poetry anthologies like The Random House Book of Poetry for Children selected by Jack Prelutsky, with pictures by Arnold Lobel. A love of poetry is a gift parents can give to their children, and having anthologies at home is a large part of that.
Q: Hardcover or e-book (when reading a book on your own)?
A: Actually, paperback is my favorite but I use e-books when I'm traveling.
Q: Fiction, non-fiction or some other genre (when reading a book on your own)?
A: Everything. I love fiction including literary fiction and mysteries, narrative non-fiction, and poetry.
Name an adult book that:
a) Inspired you: I am Malala by Malala Yousafzai with Patricia McCormick (a young adult memoir)
b) Made you laugh out loud: Anything by Terry Pratchett.
c) You recommend to others often: The Immortal Life of Henrietta Lacks by Rebecca Skloot.
Q: What books are on your nightstand or e-reader right now?
A: I give workshops to educators on new young adult books, so I'm busy reading the newest ones.
Q: How can people get in touch with you on social media or on your website?
I blog about YA (Young Adult) nonfiction at greatcommoncorenonfiction.com. I can also be reached through my website, kathleenodean.com.
Check out Kathleen's Books!
Great Books for Girls
Great Books for Boys
Great Books for Babies and Toddlers
Great Books about Things Kids Love
Your Turn:  Did you enjoy this post?  Are you interested in being featured?  Do you know someone who might want to be featured?  Feel free to let me know in the comments or send me an e-mail.