There are lots of promising new book releases coming out in the next few months for both children and adults.  I've rounded up some books to get excited about that you may want to pre-order or put on hold at your local library.  Read on.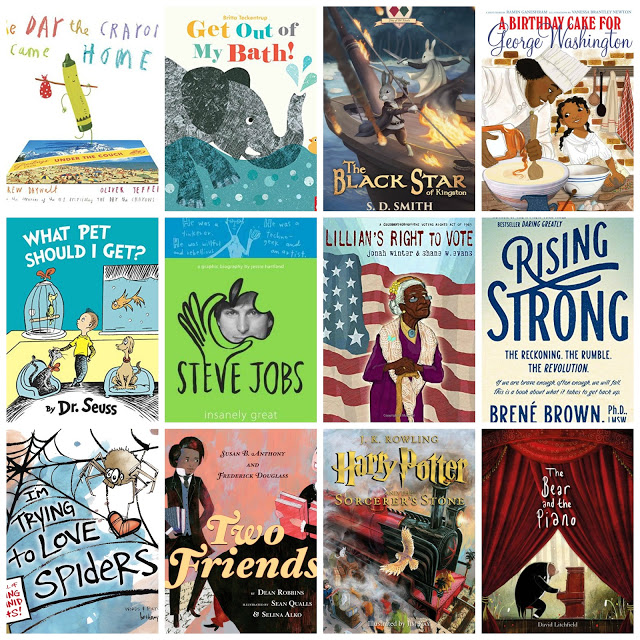 July 2015
I'm Trying to Love Spiders by Bethany Barton (Children's Book)
Release Date: July 7, 2015
I'm Trying to Love Spiders will help you see these amazing arachnids in a whole new light, from their awesomely excessive eight eyes, to the seventy-five pounds of bugs a spider can eat in a single year! And you're sure to feel better knowing you have a better chance of being struck by lightning than being fatally bit by a spider. Comforting, right? No? Either way, there's heaps more information in here to help you forget your fears . . . or at least laugh a lot!
Dad's First Day by Mike Wohnoutka (Children's Book)
Release Date: July 7, 2015
All summer Oliver and his dad played together, laughed together, sang together, and read together.  Now it's time for Oliver to start school!  On the first day, Oliver's dad isn't quite ready. . . . Suddenly he feels nervous. His tummy hurts, and he would rather stay home.
But Oliver isn't convinced. What if the first day is really fun? What if it's the start of an exciting year?
In this charming story of first-day jitters, acclaimed author and illustrator Mike Wohnoutka perfectly captures the mixed emotions felt by kids and their parents when big changes are afoot.
The Black Star of Kingston by S.D. Smith (Children's/Adult Book)
Release Date: July 13, 2015
Whitson Mariner and Fleck Blackstar face old fears and new enemies, forging a legend that will echo through the ages.  Old wars haunt. New enemies threaten. An oath is born.  A hero rises.
Granddaddy's Turn by Michael S. Bandy (Children's Book)
Release Date: July 14, 2015
Based on the true story of one family's struggle for voting rights in the civil rights–era South, this moving tale shines an emotional spotlight on a dark facet of U.S. history.
Life on the farm with Granddaddy is full of hard work, but despite all the chores, Granddaddy always makes time for play, especially fishing trips. Even when there isn't a bite to catch, he reminds young Michael that it takes patience to get what's coming to you. One morning, when Granddaddy heads into town in his fancy suit, Michael knows that something very special must be happening?—?and sure enough, everyone is lined up at the town hall! For the very first time, Granddaddy is allowed to vote, and he couldn't be more proud.
Wait by Antoinette Portis (Children's Book)
Release Date: July 14, 2015
As a boy and his mother move quickly through the city, they're drawn to different things. The boy sees a dog, a butterfly, and a hungry duck while his mother rushes them toward the departing train. It's push and pull, but in the end, they both find something to stop for.
Lillian's Right to Vote: A Celebration of the Voting Rights Act of 1965 by Jonah Winter (Children's Book)
Release Date: July 14, 2015
An elderly African American woman, en route to vote, remembers her family's tumultuous voting history in this picture book publishing in time for the fiftieth anniversary of the Voting Rights Act of 1965.
As Lillian, a one-hundred-year-old African American woman, makes a "long haul up a steep hill" to her polling place, she sees more than trees and sky—she sees her family's history. She sees the passage of the Fifteenth Amendment and her great-grandfather voting for the first time. She sees her parents trying to register to vote. And she sees herself marching in a protest from Selma to Montgomery.
Steve Jobs: Insanely Great by Jessie Hartland (Adult Book)
Release Date: July 21, 2015
This fast-paced and entertaining biography in graphic format is a perfect complement to more text-heavy books on Steve Jobs like Walter Isaacson's biography. Presenting the story of the ultimate American entrepreneur, who brought us Apple Computer, Pixar, Macs, iPods, iPhones and more, this unique and stylish book is sure to appeal to the legions of readers who live and breathe the techno-centric world Jobs created.
Jobs's remarkable life reads like a history of the personal technology industry. He started Apple Computer in his parents' garage and eventually became the tastemaker of a generation, creating products we can't live without. Through it all, he was an overbearing and demanding perfectionist, both impossible and inspiring.
8: An Animal Alphabet by Elisha Cooper (Children's Book)
Release Date: July 28, 2015
Explore the animal world, from aardvark to zebu!
Discover hundreds of animals, great and small. Lion and lizard, whale and wombat. Learn one wild fact about each animal. (Did you know that gorillas yawn when they are nervous?) Look carefully, because for each letter of the alphabet, one animal is pictured eight times. Why 8? Come inside and find out.
What Pet Should I Get? by Dr. Seuss (Children's Book)
Release Date: July 28, 2015
This never-ever-before-seen picture book by Dr. Seuss about making up one's mind is the literary equivalent of buried treasure! What happens when a brother and sister visit a pet store to pick a pet? Naturally, they can't choose just one! The tale captures a classic childhood moment—choosing a pet—and uses it to illuminate a life lesson: that it is hard to make up your mind, but sometimes you just have to do it!
Told in Dr. Seuss's signature rhyming style, this is a must-have for Seuss fans and book collectors.
August 2015
Get Out of My Bath! by Nosy Crow, Britta Teckentrup (Illustrator) (Children's Book)
Release Date: August 4, 2015
Ellie the elephant loves to have fun in the bath, but she's not the only one. Her fun is interrupted when a crocodile decides to join her, followed by a flamingo, then a mouse and even a tiger! Poor Ellie's bath is ruined. What can she do? She sucks all the water into her trunk, of course! Then she waits until all the uninvited animals have left before squirting it back. Finally she can enjoy her bath in peace!

The Day the Crayons Came Home by Drew Daywalt (Author), Oliver Jeffers (Illustrator) (Children's Book)
Release Date: August 18, 2015
The companion to the #1 blockbuster bestseller, The Day the Crayons Quit!
From Maroon Crayon, who was lost beneath the sofa cushions and then broken in two after Dad sat on him; to poor Turquoise, whose head is now stuck to one of Duncan's stinky socks after they both ended up in the dryer together; to Pea Green, who knows darn well that no kid likes peas and who ran away—each and every crayon has a woeful tale to tell and a plea to be brought home to the crayon box.
The Wonderful Things Will Be by Emily Martin (Children's Book)
Release Date: August 25, 2015
From brave and bold to creative and clever, the rhythmic rhyme expresses all the loving things that parents think of when they look at their children. With beautiful, and sometimes humorous, illustrations, this is a book grown-ups will love reading over and over to kids—both young and old. A great gift for any occasion, but a special stand-out for baby showers, birthdays, and graduation. The Wonderful Things You Will Be has a loving and truthful message that will endure for lifetimes.
Rising Strong by Brene Brown (Adult Book)
Release Date: August 25, 2015
Our stories of struggle can be big ones, like the loss of a job or the end of a relationship, or smaller ones, like a conflict with a friend or colleague. Regardless of magnitude or circumstance, the rising strong process is the same: We reckon with our emotions and get curious about what we're feeling; we rumble with our stories until we get to a place of truth; and we live this process, every day, until it becomes a practice and creates nothing short of a revolution in our lives. Rising strong after a fall is how we cultivate wholeheartedness. It's the process, Brown writes, that teaches us the most about who we are.
September 2015
The Girl in the Spider's Web by David Lagercrantz (Adult Book)
Release Date: September 1, 2015
This fall, Lisbeth Salander and Mikael Blomkvist return in the highly anticipated follow-up to Stieg Larsson's THE GIRL WHO KICKED THE HORNET'S NEST
In this adrenaline-charged thriller, genius-hacker Lisbeth Salander and journalist Mikael Blomkvist face a dangerous new threat and must again join forces.
Late one night, Blomkvist receives a phone call from a trusted source claiming to have information vital to the United States. The source has been in contact with a young female super hacker–a hacker resembling someone Blomkvist knows all too well. The implications are staggering.
The Bear and the Piano by David Litchfield (Children's Book)
Release Date: September 1, 2015
One day, a young bear stumbles upon something he has never seen before in the forest. As time passes, he teaches himself how to play the strange instrument, and eventually the beautiful sounds are heard by a father and son who are picnicking in the woods. The bear goes with them on an incredible journey to New York, where his piano playing makes him a huge star. He has fame, fortune and all the music in the world, but he misses the friends and family he has left behind. A moving tale of exploration and belonging from an exciting debut author-illustrator.
October 2015
Harry Potter and the Sorcerer's Stone: The Illustrated Edition by J.K. Rowling (Children's Book)
Release Date:  October 6, 2015
For the first time, J. K. Rowling's beloved Harry Potter books will be presented in lavishly illustrated full-color editions. Kate Greenaway-award winning artist Jim Kay has created over 100 stunning illustrations, making this deluxe format a perfect gift as much for a child being introduced to the series, as for the dedicated fan.
November 2015
Diary of a Wimpy Kid Old School by Jeff Kinney (Children's Book)
Release Date: November 3, 2015
Life was better in the old days. Or was it?
That's the question Greg Heffley is asking as his town voluntarily unplugs and goes electronics-free. But modern life has its conveniences, and Greg isn't cut out for an old-fashioned world.
With tension building inside and outside the Heffley home, will Greg find a way to survive? Or is going "old school" just too hard for a kid like Greg?
January 2016
Two Friends: Susan B. Anthony and Frederick Douglass by Dean Robbins (Children's Book)
Release Date: January 5, 2016
Two friends, Susan B. Anthony and Frederick Douglass, get together for tea and conversation. They recount their similar stories fighting to win rights for women and African Americans. The premise of this particular exchange between the two is based on a statue in their hometown of Rochester, New York, which shows the two friends having tea.
Is there anything more splendid than a baby's skin? For families of all stripes comes a sweet celebration of what makes us unique—and what holds us together.
Just savor these bouquets of babies—cocoa-brown, cinnamon, peaches and cream. As they grow, their clever skin does too, enjoying hugs and tickles, protecting them inside and out, and making them one of a kind. Fran Manushkin's rollicking text and Lauren Tobia's delicious illustrations paint a breezy and irresistible picture of the human family—and how wonderful it is to be just who you are.
A Birthday Cake for George Washington by Ramin Ganeshram (Children's Book)
Release Date: January 5, 2016 (Update: 1/18/2016 – Scholastic has pulled this book from publication.)
Everyone is buzzing about the president's birthday! Especially George Washington's servants, who scurry around the kitchen preparing to make this the best celebration ever. Oh, how George Washington loves his cake! And, oh, how he depends on Hercules, his head chef, to make it for him. Hercules, a slave, takes great pride in baking the president's cake. But this year there is one problem–they are out of sugar.
Your turn:  Which books from this list are you most looking forward to?  Did I miss any upcoming books?  Feel free to let me know in the comments.