In addition to being Father's Day, this Sunday is the official start of summer — the longest day of the year known as the summer solstice.
Summer is by far my favorite season and I look forward to it every year.  Did you know the June summer solstice date usually varies from June 20 – June 22nd?  For example, it's on June 21 this year, but on June 20 in 2016.  A June 22 solstice will not occur until 2203. The last time there was a June 22 solstice was in 1971 – wow!
In honor the longest day of the year, I picked up four books to read aloud to the kids this weekend.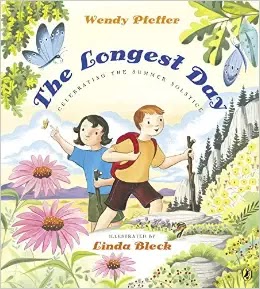 I think this is an awesome non-fiction book that has well-written explanations and vibrant illustrations.  The Longest Day provides answers to many questions about the summer solstice: its definition, how ancient cultures have interpreted and celebrated it, to current solemnizations.  This book also contains suggested readings and websites and activities for children to celebrate the sun's longest day of the year.  I believe it's best suited for children ages 6 – 10, but can be read aloud to children of all ages.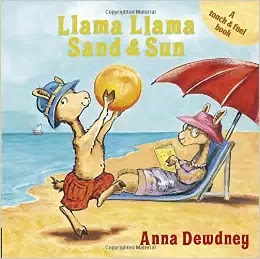 We are huge Llama Llama (and Nelly Gnu) fans so when this book came out a few weeks ago I had to snatch it up from the library.  It's a touch-and-feel tactile board book and quick read so not that advanced for older children.  Very cute book though about Llama Llama and his mama spending the day at the beach.
The Night Before Summer Vacation
 by Natasha Wing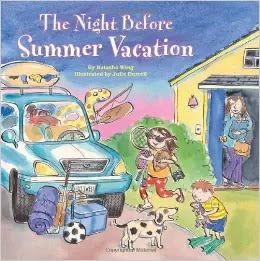 Ahhh…who doesn't love a summer vacation?  I know I do!  I could definitely use one right about now.  In this book, a little girl and her family are getting ready to go on vacation . . . or at least they are trying to.  In the effort to pack everything that will be needed, there's bound to be something overlooked.  The rhyming text and colorful illustrations make this a fun book to read aloud.  A cute twist on Clement Moore's classic book, The Night Before Christmas.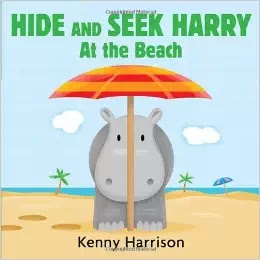 Harry likes to play hide-and-seek, but it's hard to hide a hippo!  When Harry and his friends are at the beach, they always play their favorite game, hide-and-seek. In a hammock, under a sand castle, or behind a palm tree — there are so many places for Harry to hide. Or try to, at least!  I think this is a cute book for babies and toddlers who enjoy a good game of peek-a-boo.
After you finish reading to your little ones, perhaps you'd like to do an activity to celebrate the summer solstice.  Below are a few ideas you may want to try.
Summer Solstice Extension Activities
Plant Sunflowers:  Planting on the solstice will remind you how essential the sun is for growth.
Draw/Paint Pictures of the Sun:  Creating sun prints invites you to capture beautiful images using the power of the sun.
Brew Sun Tea: Brewing sun tea gives you the taste of summer in a glass.  Drink up!
Happy Father's Day to all the dads out there and Happy Summer in advance!
Your turn:  Have you read any of these books to your children?  Feel free to let me know in the comments.