In our family, Sunday is reserved for Family Day.  It's the one day of the week we make it a point to spend quality time together doing family-friendly activities.  A few weeks ago, I started looking for different games we could play as a family and I stumbled upon Tenzi.  This gem is great for the entire family to play.  Yes, even daddy gets in on the fun – score!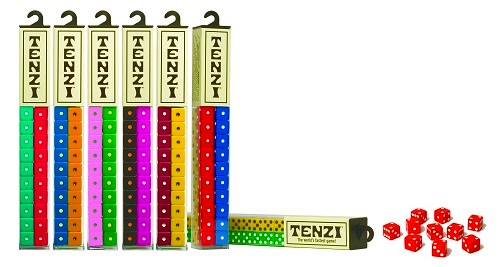 What Is Tenzi?
Tenzi is our absolute favorite family game right now.  It's is a fast paced dice game that can literally keep you entertained for hours. It's easy for kids of all ages to participate and our family has crazy fun when we play.  Sparkles seems to understand the concept of the game, but Mr. Tickles is too young to know what's going on.  He just gets a kick out of throwing his dice around!
Each player has their own set of colored dice.  When the game starts, everyone starts rolling their dice as fast as they can. With each roll, a player may choose to keep a certain number. Once they have all 10 dice on the same number, that player will shout "Tenzi!" declaring them the winner of the game. The other players continue rolling until they've all gotten 10 matching dice.  There are lots of variations, which are included in the instructions, and we enjoy all of them. It's a race against chance and everyone is dying to yell "Tenzi!" before anybody else does.
I know you're probably thinking – "That's it?!" Yes, that's it – sort of. Because the play is so fast and furious (and close), you find yourself wanting to play "just one more round". You can run through multiple rounds in just a few minutes.  Oh yeah, and once you've mastered Tenzi, there are a few other game options mentioned in the instructions, like "Splitzi" where you must now get five of one number and five of another to win.
Still confused?  Watch this video below to see Tenzi in action.
A very worthwhile addition to Tenzi is an expansion card deck 77 Ways to Play Tenzi.  I've read the games on the cards open up so many more creative ways to use the Tenzi dice!  We didn't purchase the expansion card deck, but we may if we ever decide to spice up the game a bit.
Sunday afternoons and game nights have been a lot more fun lately since we started playing Tenzi!
Your turn:  What are your family's favorite games? Have you ever played Tenzi before?  How and when does your family play together?  Feel free to let me know in the comments.