Ah, back to school, the smell of new clothes, crayons, scented markers, and the excitement of a new school year. For some children, September means starting anew with a clean slate.  For others it's a reunion of friends being united once again.
Soon many parents will be scouting libraries, websites and bookstores for the perfect "going to school" books.  I think the most popular topics for these books fall into a few different categories:
Making new friends
Separation anxiety
Dealing with new situations, routines and schedules
Helping children (and some parents) cope with feelings of anticipation, excitement and nervousness
Last year when my daughter started preschool in a program for two-year old toddlers, I discovered that starting a new school year is a big transition for the whole family.  Therefore, to help ease this transition for her I started reading books about school.  In addition, I took her to the school regularly to play in the playground so she became familiar with the outside environment.
I think both of those things helped tremendously although like many of her other classmates she suffered from separation anxiety the most.  It took most of the kids in her class about two weeks to fully adjust.
I believe reading a variety of books about school and school related topics can help children relate to various situations they might encounter.  And it may also help to spark conversations about their thoughts on a new school year.
My "Back to School" list includes books for toddlers preschoolers since that is the age range of my own children.  I hope you'll find these helpful and possibly a few to read to your little ones as well.  Enjoy! (Note: This post contains some affiliate links.)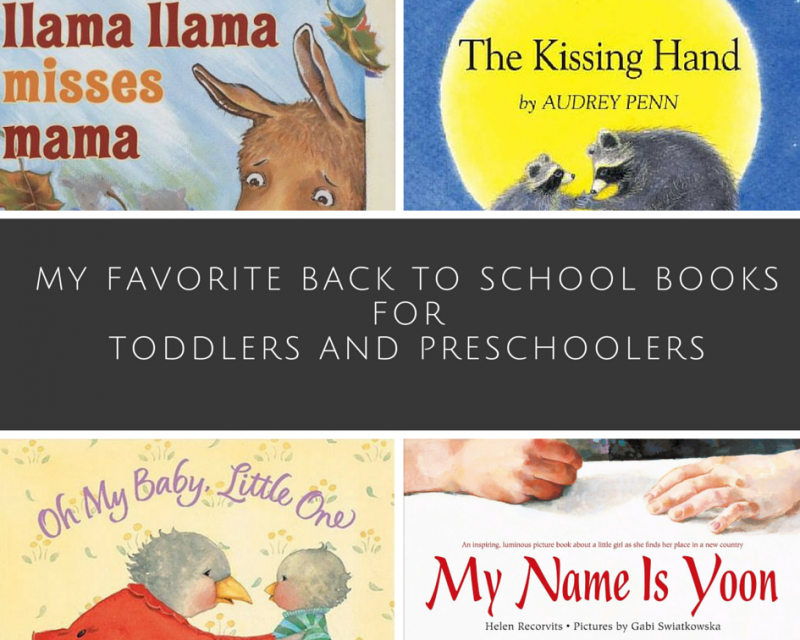 Llama Llama Misses Mama by Anna Dewdney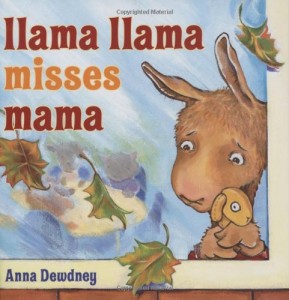 Reading this book to my daughter last year was by far the most helpful in helping with transitioning to school.
It's Llama Llama's first day of preschool! And Llama Llama's mama makes sure he's ready. They meet the teachers. See the other children. Look at all the books and games. But then it's time for Mama to leave. And suddenly Llama Llama isn't so excited anymore. Will Mama Llama come back?  Of course she will. But before she does, the other children show Llama Llama how much fun school can be!
Oh My Baby, Little One by Kathi Applet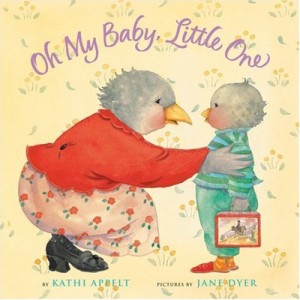 When Baby Bird says good-bye to his mama at school each morning, he feels sad. Mama Bird feels sad, too. Sometimes it's hard to be apart. But as Mama Bird says, the love they share is with them always, keeping them close until the best part of the day–when they are together again.
The Kissing Hand by Audrey Penn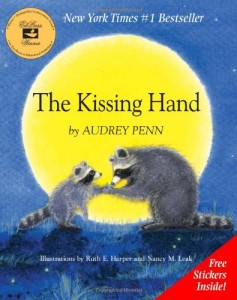 School is starting in the forest, but Chester Raccoon does not want to go. To help ease Chester's fears, Mrs. Raccoon shares a family secret called the Kissing Hand to give him the reassurance of her love any time his world feels a little scary.
My Name is Yoon by Helen Recorvits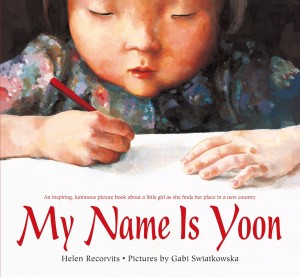 This book is similar to the book The Name Jar also featured below.  Such a great book for all children!
Yoon's name means "shining wisdom," and when she writes it in Korean, it looks happy, like dancing figures. But her father tells her that she must learn to write it in English. In English, all the lines and circles stand alone, which is just how Yoon feels in the United States. Yoon isn't sure that she wants to be YOON. At her new school, she tries out different names–maybe CAT or BIRD. Maybe CUPCAKE!
First Day Jitters by Julie Danneberg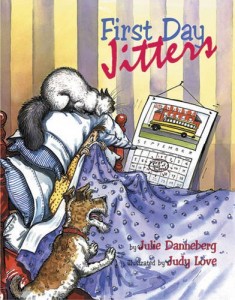 Everyone knows that sinking feeling in the pit of the stomach just before diving into a new situation. Sarah Jane Hartwell is scared and doesn't want to start over at a new school. She doesn't know anybody, and nobody knows her. It will be awful. She just knows it. With much prodding from Mr. Hartwell, Sarah Jane reluctantly pulls herself together and goes to school. She is quickly befriended by Mrs. Burton, who helps smooth her jittery transition. This charming and familiar story will delight readers with its surprise ending.
Dad's First Day by Mike Wohnoutka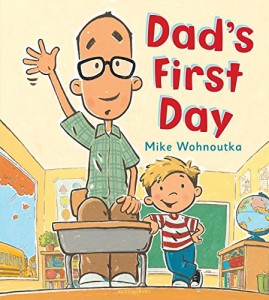 All summer Oliver and his dad played together, laughed together, sang together, and read together.  Now it's time for Oliver to start school!  On the first day, Oliver's dad isn't quite ready. . . . Suddenly he feels nervous. His tummy hurts, and he would rather stay home.  But Oliver isn't convinced. What if the first day is really fun? What if it's the start of an exciting year?
My Preschool by Anne Rockwell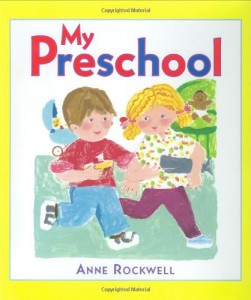 Join a happy little boy during a day at preschool, from cheerful hellos in circle time, to painting colorful pictures and playing at the water table before snack time. The best part of saying good-bye at the end of the day is that the little boy knows he will come back tomorrow.
Starting School by Janet and Allan Ahlberg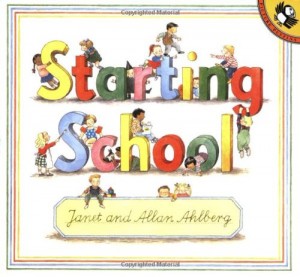 This wonderfully warm and humorous book will put any preschooler's jitters to rest. "The first four months of school for eight first graders are chronicled in wonderful watercolor detail.
Pete the Cat: Too Cool for School by Kimberly and James Dean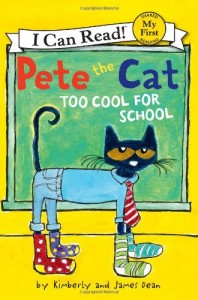 In this funny My First I Can Read Book, Pete just can't decide which outfit to wear to school! He has so many options to choose from. Fans of Pete the Cat will enjoy Pete's creativity in choosing the coolest outfit.
The Name Jar by Yangsook Choi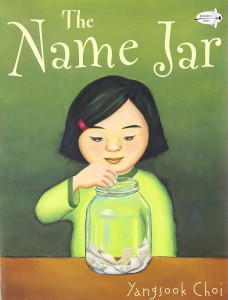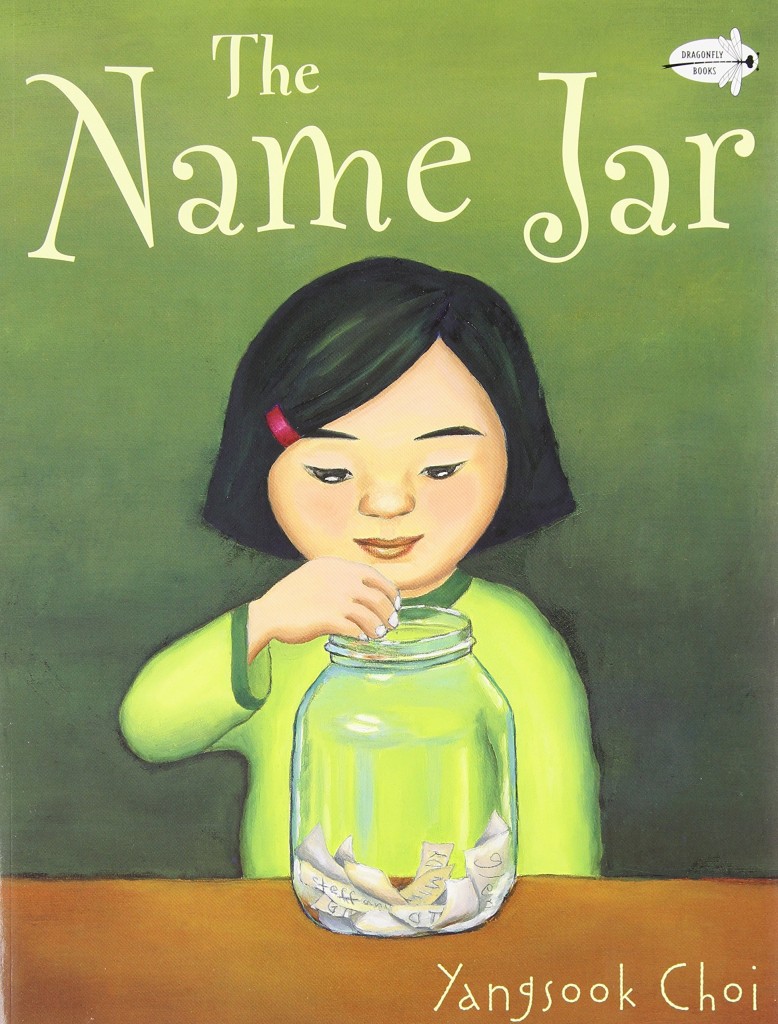 I recently wrote a review for this wonderful book.  You can read it here.
Being the new kid in school is hard enough, but what about when nobody can pronounce your name? Having just moved from Korea, Unhei is anxious that American kids will like her. So instead of introducing herself on the first day of school, she tells the class that she will choose a name by the following week. Her new classmates are fascinated by this no-name girl and decide to help out by filling a glass jar with names for her to pick from.
Miss Nelson is Missing! by Harry Allard


Ok, who else remembers reading this book as a child?  I used to love this one!
The kids in Room 207 were misbehaving again. Spitballs stuck to the ceiling. Paper planes whizzing through the air. They were the worst-behaved class in the whole school.  So begins this quirky classic, first published in 1977 and still relevant today as a lighthearted reminder to show our appreciation to those we value.
Maisy Goes to Preschool by Lucy Cousins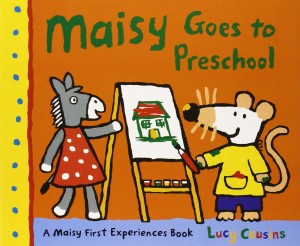 Preschool for Maisy means a day filled with friends and things to do, from the time she hangs her coat on a special peg to the time she says good-bye. There's painting and snack time, stories and nap time (and a bathroom break in between). Soon everyone is ready to haul out the instruments and make some noise, then head outside for a turn at the sandbox or slide.
Pete the Cat: The Wheels on the Bus by James Dean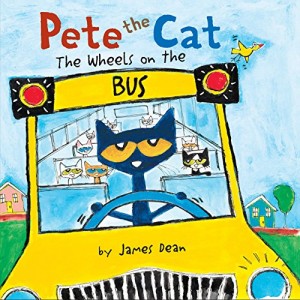 Join Pete as he rides on the bus to school with his friends and hears all the different sounds a bus makes as it drives. Fans of Pete the Cat will sing along with Pete in this rendition of a classic favorite children's song.
Froggy Goes to School by Jonathan London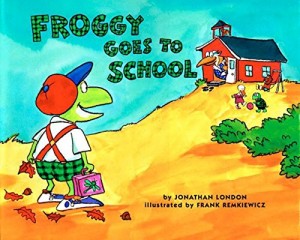 Froggy's mother knows that everyone's nervous on the first day of school. "Not me!" says Froggy, and together they leapfrog to the bus stop — flop flop flop. Froggy's exuberant antics, complete with sound effects, will delight his many fans and reassure them that school can be fun.
The Night Before Preschool by Natasha Wing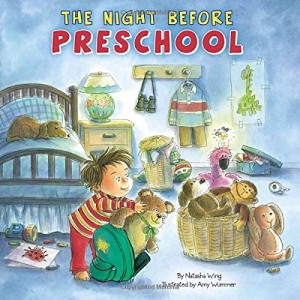 It's the night before preschool, and a little boy named Billy is so nervous he can't fall asleep. The friends he makes the next day at school give him a reason not to sleep the next night, either: he's too excited about going back! The book's simple rhyming text and sweet illustrations will soothe any child's fears about the first day of school.
Curious George's First Day of School by H.A. Rey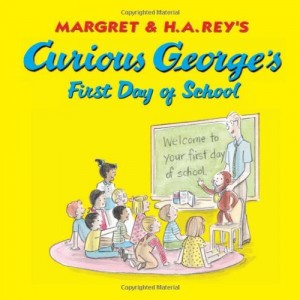 It's the first day of school, and Curious George has been invited to Mr. Apple's class to be a special helper! George is just the right monkey for the job—until he starts to wreak his usual havoc, that is. Red and yellow paint makes orange, yellow and blue makes green . . . and a mixture of all the paint colors makes a big mess!
Your turn: What are your favorite "going to school" books to read with your children?  Feel free to share in the comments.