Have you heard of Bookroo yet?  If not, please allow me to introduce you to this fabulous new children's book subscription box.
When Jane from Bookroo contacted me to ask if I'd be interested in writing a review for their subscription box I was so excited and I couldn't wait for our box to arrive in the mail!  Thank you for this wonderful opportunity, Jane and the rest of the Bookroo crew!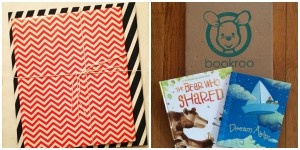 What is Bookroo?
Bookroo offers three different subscription types: month-by-month, three-month or six-month. Each month you receive either three board books (if you sign up for board books) or two picture books (if you sign up for picture books).  You are not allowed to select the books you receive, but you can be assured the books will be good quality.
I know you may be thinking, what makes this subscription box different from all the others out there?  I asked Jane this same question.  What makes Bookroo stand out is the experience they create and the value at which it is offered. While there are other book subscription boxes, by wrapping each book in quality and cute wrapping paper, and including a hand written note, Bookroo brings the excitement of unwrapping and gift giving to books! Also, in every box the retail of the books exceeds the subscription price, so Bookroo customers get the books plus the experience at a discount, rather than at a premium.  Oh yeah, they offer FREE shipping too.  Score!
In the event you receive books you already own simply take a picture of yourself or your child giving the book(s) to someone else and you'll get $5 off of your next subscription.  This is great for kids who already have lots of books in their home library collection.
When our Bookroo package arrived I was thrilled!  I waited until the kids came home from daycare so they could open up the box.  We signed up for picture books so there were two books in our box.  Each booked was individually wrapped by hand with quality wrapping paper and even tied together with twine.  I just love it when companies go the extra mile to make you feel special!
I wasted no time and read both books to the kids right away.  The book titles we received are: The Bear Who Shared by Catherine Rayner and Dream Away by Julia Durango and Katie Belle Trupiano.  The kids seemed to enjoy both books, but if we had to choose a favorite between the two it would be the book Dream Away.  My kids seem to love books with rhyming text, plus it's a good bedtime story.
Ready to find out how you sign up for your Bookroo subscription?  Remember, there are 3 different subscription types to choose from:
1 month – $19.99 with FREE shipping
 3 month – $55.99 with FREE shipping
6 months – $104.99 with FREE shipping
As a bonus: The Bookroo crew was gracious enough to provide an exclusive discount code to share with my readers.  This discount allows you to save $4 off your first order!  Get your Bookroo discount here!
And it gets even better!  Right now they are also offering a buy one, give one promotion.  Sweet!  More details can be found here.
Thanks again Bookroo for offering such a great, quality children's book subscription box to get kids excited about reading!
Want to connect with Bookroo?  Visit their website!
You can also find them on Social Media: Facebook Instagram

Disclaimer:  I did not receive financial compensation for this review.  I purchased the subscription box with my own money.  All opinions expressed are my own.