There is a new children's book, available nationwide August 1st, that describes how artists and volunteers worked to transform boarded up windows into messages of peace, hope and light.  Painting for Peace in Ferguson was written by Ferguson, Missouri native, Carol Swartout Klein.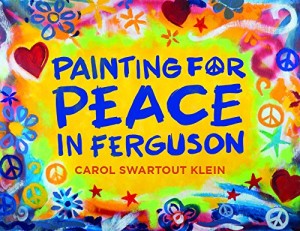 I had the pleasure of speaking with Carol during a telephone interview last week.
"This book was a labor of love for me and I had no idea how it was going to be received.  I wanted to put out a positive message for kids.  I wanted to show them what a community looks like when we're all working together.  I wanted to send the message that Ferguson can come out of this stronger," said Klein.
Summary:
Written in child-friendly verse, the book focuses on the way the community came together to begin the healing process through the art of the Paint for Peace effort. Using illustration and photographs of the art and the artists and volunteers–black and white, young and old–the book is a tool for beginning the conversation with children about how we all have something to contribute to healing our communities. As the last line in the book says, "The work is not finished, there's much more to be done. But this art shows the spirit of a new Ferguson."
Painting for Peace in Ferguson is being used in schools, around dinner tables, and around the globe.  The book opens doors and starts positive conversation about all of the issues around race in America, not only in Ferguson, but in Baltimore, New York, Cleveland, South Carolina, and across the country.
Reflection:
The first thing that caught my eye about this book is the cover.  It's so bright and vibrant!  Also, you notice right away the book has been recognized as the 2015 IPPY Outstanding Book of the Year from the gold sticker located at the bottom right corner.
Next, when you open up the book you then see one of my favorite quotes from Fred Rogers:  "When I was a boy and I would see scary things on the news, my mother would say to me, 'Look for the helpers. You will always find people who are helping'".  I repeat this quote to my own children whenever there is an unfortunate event that takes place.
The first time I read this book aloud to the kids they didn't seem too interested.  I think this was because I took too long to read it as I was really focusing on looking at the art instead of the words.  I noticed the kids started to get antsy after about 10 minutes into story time and started doing other things.  I should have read it on my own first to admire the art before reading it to the kids – lesson learned.
The next time I read the book to the kids I read it a lot faster only pausing briefly between each page to look at the pictures.  Now whenever I read it aloud the kids are attentive.  They really seem to like the rhyming text and can even recite a few lines of the poem from memory.
What I like most about this book is the simple, yet powerful message that reminds us we all have something we can do to help.  Everyone is equipped with a different set of skills…we all have our own "paint brush".  In good times and in bad, people of all races, ages and genders can come together to make a difference.  This message is expressed in a language that many toddlers and preschoolers can understand.
Another thing I liked about the book is that it doesn't go into the specifics of what caused the unrest in Ferguson, but rather focuses on the way the community came together to begin the healing process through the art of the Paint for Peace initiative.
I will be honest and say I didn't follow the events that led to the unrest that took place in Ferguson last year.  I was aware it was happening, but whenever I hear about racial tensions or devastating tragedies I am overcome with emotions and feel a sense of sadness.  Therefore, I choose not to follow stories like this in the media too closely.
Overall, I think this book would make a great addition to a children's home library, school library and public library.  From its beautiful illustrations to the engaging and rhyming verse, I see the value of it being used as a conversation starter to talk to children about different tragedies and events that take place around the world.  Other topics that can be touched upon with this book are: art, community, hope, friendship, healing, racial harmony, inspiration and volunteering.
Your turn: Have you read this book yet? How do you talk to your children about tragic events? Do you use books like Painting for Peace in Ferguson to help start conversations with your kids? Feel free to let me know in the comments.
For more information about the Painting for Peace in Ferguson book please visit:
Painting for Peace in Ferguson Website: http://www.paintingforpeacebook.com/
Painting for Peace in Ferguson Facebook Page: https://www.facebook.com/paintingforpeacebook