Last Stop on Market Street by Matt De La Pena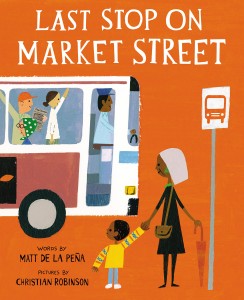 We received a free copy of this book back in February of this year.  I remember hearing about it from an interview on NPR radio so I was excited when there was a book reading taking place in my area.  Free copies of the book were given to all attendees so that's how we snagged our copy of this awesome book.
Even though we received this book months ago, it wasn't until recently that I really started reading it aloud to the kids.  Now it's in our rotation of books we read often.  I truly love this book as it reminds me of a lot of my childhood and my Nana.
Every Sunday, CJ and his grandmother (Nana) ride the bus together, but CJ wishes they had a car instead. That is, until Nana points out why riding the bus is so much better.
As he and his Nana take the bus across town, observant little CJ is full of questions and more than a little wishful thinking asking: "Nana, how come we don't got a car?" Nana gently chides him, really just planting seeds for how she sees the world. "Boy, what do we need a car for? We got a bus that breathes fire and old Mr. Dennis, who always has a trick for you."
You see, it's really how you look at the world, the magic you can see there, and the people you meet along the way. When CJ asks why a blind man on the bus can't see, Nana tells him, "Boy, what do you know about seeing? Some people watch the world with their ears."
Rather than telling CJ about what community means, his Nana shows him that he's a part of it. After an event-filled bus ride, they arrive at their destination, the soup kitchen. "I'm glad we came," CJ says looking at the familiar faces in the window of the soup kitchen where they both volunteer every Sunday.
I adore the fact that CJ's Nana helps him see beauty in his surroundings, whether it's on the bus or the soup kitchen they head to every Sunday afternoon. As Nana said, "Sometimes when you're surrounded by dirt, C.J., you're a better witness for what's beautiful."
In my opinion, this picture book has it all.  Wonderful descriptive writing, beautiful, rich illustrations and it's full of abundant, child-centered details.  I love it when picture books can capture a small moment–and help us hold onto the small moments in our own lives.
This book makes me smile and think of my Nana every single time I read it–it's so filled with love, friendship and an appreciation for life, in such a real way.  Many ideas are touched upon in this book: poverty, music, manners, volunteering, helping, caring, family and gratefulness.
I love the overall message of this book: being grateful for what you have.  Little CJ is so lucky to have a grandmother who teaches him to see things from a different perspective.  If only all children could be so fortunate to have someone like CJ's Nana in their lives.
Want to learn more? Check out the original NPR radio interview I listened to:
NPR Interview with Matt de la Peña and Christian Robinson
Your turn:  Have you read this book to your little ones before?  Feel free to let me know in the comments.