Here's a roundup of the books I'll be reading aloud to the kids this month.  We're exploring everything from colors to animals and bugs to chocolate!  What's on your reading stack?
Dog's Colorful Day by Emma Dodd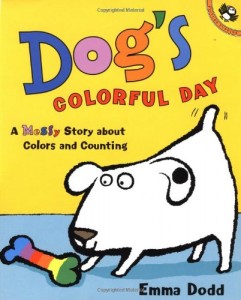 Dog starts off the day with one black spot on his left ear. But it seems that wherever he goes, he runs, rolls, and trots right into colors. As he wanders around town, Dog collects spots made of red jam, blue paint, pink ice cream, and more. When he finally arrives back home, Dog has ten different colored spots. And then it's bath time for this colorful canine, who makes learning colors and numbers easy, messy, and fun!
You Are My Baby: Ocean by Lorena Siminovich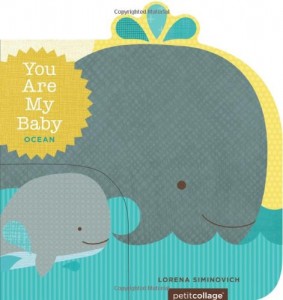 This board book is adorable!  It's part of a series written by the author Lorena Siminovich.
Readers will find a little book nestled inside a bigger one: Turn the pages to match the baby animals to their parents, and learn some early concepts along the way.
You Are My Baby: Safari by Lorena Siminovich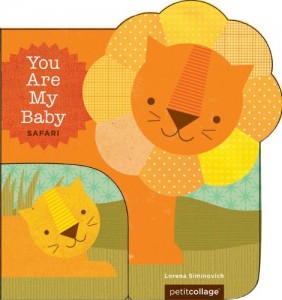 This book is from the same series of board books as the one mentioned above except it's all about safari animals. So cute!
The Doorbell Rang by Pat Hutchins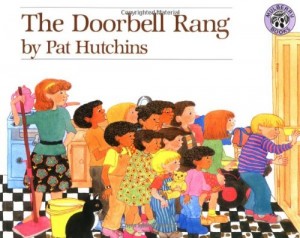 Each ring of the doorbell brings more friends to share the delicious cookies Ma has made. This terrific and suspenseful read-aloud picture book about friendship, sharing, and cookies can also be used to introduce basic math concepts to young children.
Bug detective : amazing facts, myths, and quirks of nature by Maggie Li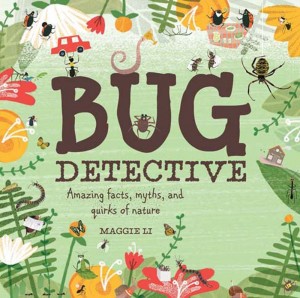 This book is so fun and interesting! The kids have really taken an interest in nature and bugs this summer so this book is perfect for helping them to learn more about bugs. From creepy-crawly beetles and scary spiders to beautiful butterflies, this playful guide will reach out and grab bug-crazy kids! Funny, picture-packed pages provide tons of information on bug habitat, feeding rituals, predators, and more, while each spread focuses on one creature-like bees or centipedes—with a brief introduction and facts scattered brightly everywhere. Plus, the book comes with a magnifying glass embedded in the cover, so budding "detectives" can complete the "missions" they'll find throughout, along with additional activities in the back.
The Chocolate Touch by Patrick Skene Catling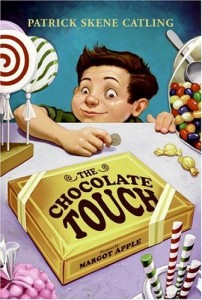 This book came highly recommended so we're reading it. In a laugh-out-loud hilarious twist on the legend of King Midas, a boy acquires a magical gift that turns everything his lips touch into chocolate. Can you ever have too much of your favorite food? John Midas is about to find out….
First published in 1952, The Chocolate Touch was an instant classic—and has remained a timeless favorite with kids, teachers, and parents.
Egg: Nature's Perfect Package by Steve Jenkins and Robin Page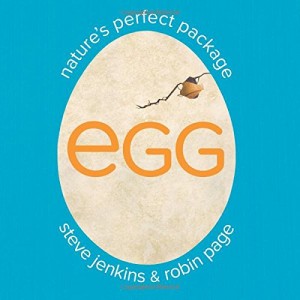 Hatching a plan for survival isn't always easy in the wild. And how animals lay, protect, and even use each other's eggs as a food source help reveal the life cycle of the natural world. Eggs come in all shapes and sizes. The ostrich's is the largest, but some are so small, you need a microscope to spot them. Animals hide them and disguise them in smart and surprising ways, too. Some abandon their eggs, while others protect them fiercely and carry them wherever they go. There are as many kinds of eggs as there are animals that depend on them, because in the animal kingdom, the fight for survival begins with the simple, but extraordinary, egg.
Where Does Kitty Go in the Rain? by Harriet Ziefert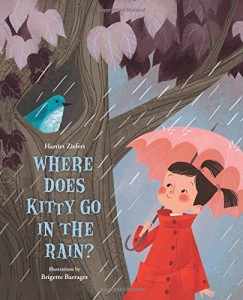 A lilting kitty mystery combines with rain-centered facts to create an utterly charming fiction/nonfiction picture book. As kids are invited on the search for Kitty, they'll also discover what different animals do to enjoy, or avoid, a rainy day. Harriet Ziefert's rhyming couplets pair beautifully with Brigette Barrager's lush art to make a combination that is sure to please young readers and adults alike.
What makes a duck waterproof? Where do butterflies hang out to stay dry? What serves as a built-in umbrella for a squirrel? Created especially for younger readers, here's a unique title that's part mystery, part science, and all curiosity-inspiring fun!
Alphabet Adventure by Audrey Wood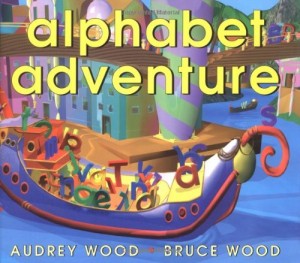 I love finding great alphabet books to read!  After working hard all summer with their teacher, "Capital T," the lower case letters of the alphabet are on their way to the first day of school. But they're held up when the letter i loses her dot. The letters come up with a plan, and race around to find a substitute for Little i to wear s offers a star, h a heart but at the last moment the mischievous dot returns (anxious about being replaced).
One Too Many: A Seek & Find Counting Book by Gianna Marino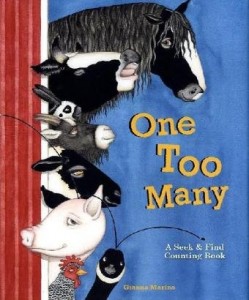 In this boisterous barnyard, the fun grows with each turn of the page. One bouncing flea is joined by two cows, then three horses, and so on, all the way up to twelve swooping bats. Children will delight in following the shimmering path of the flea, counting each bounce along the way to find the new arrival. Older readers can take the challenge further, counting all the animals on the page, or hunting for their favorite. And a surprise ending reveals which animal is just one too many!
Time to Eat by Steve Jenkins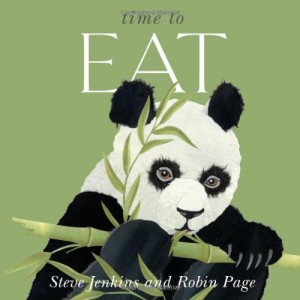 It's time to eat! Which animals eat bamboo, can gulp down a whole deer, or swallow rocks to help them eat?
Frindle by Andrew Clements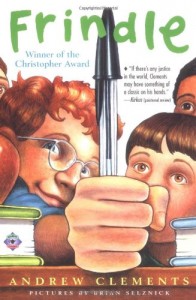 I recently started a 'Summer Stories' story time for kids that live in my neighborhood. We read books outside two nights a week for half an hour and then have a brief discussion afterwards. The kids are really enjoying it! I let the older kids alternate who reads the books and then we all listen while eating our snacks. This is one of the longer chapter books we'll be reading aloud during our 'Summer Stories' story time this month.
Is Nick Allen a troublemaker? He really just likes to liven things up at school — and he's always had plenty of great ideas. When Nick learns some interesting information about how words are created, suddenly he's got the inspiration for his best plan ever…the frindle. Who says a pen has to be called a pen? Why not call it a frindle? Things begin innocently enough as Nick gets his friends to use the new word. Then other people in town start saying frindle. Soon the school is in an uproar, and Nick has become a local hero. His teacher wants Nick to put an end to all this nonsense, but the funny thing is frindle doesn't belong to Nick anymore. The new word is spreading across the country, and there's nothing Nick can do to stop it.
Your turn:  What are your kids reading this month?  Have you read any of these books?  Feel free to let me know in the comments.