In creating the Ty's Travels series, author Kelly Starling Lyons wanted to make something that in her words "embodied Black Boy Joy."

This is the first I Can Read series that features a Black family. These Guided Reading Level I books are great early readers ages 4 – 8 learning to read. They contain basic language, adorable illustrations, simple sentences and word repetition. Readers will enjoy Ty's first train adventure and his first race car adventure. I think this is such a delightful series showing kids being everyday kids and having joyful experiences. We're looking forward to reading the forthcoming books in the series as they are released.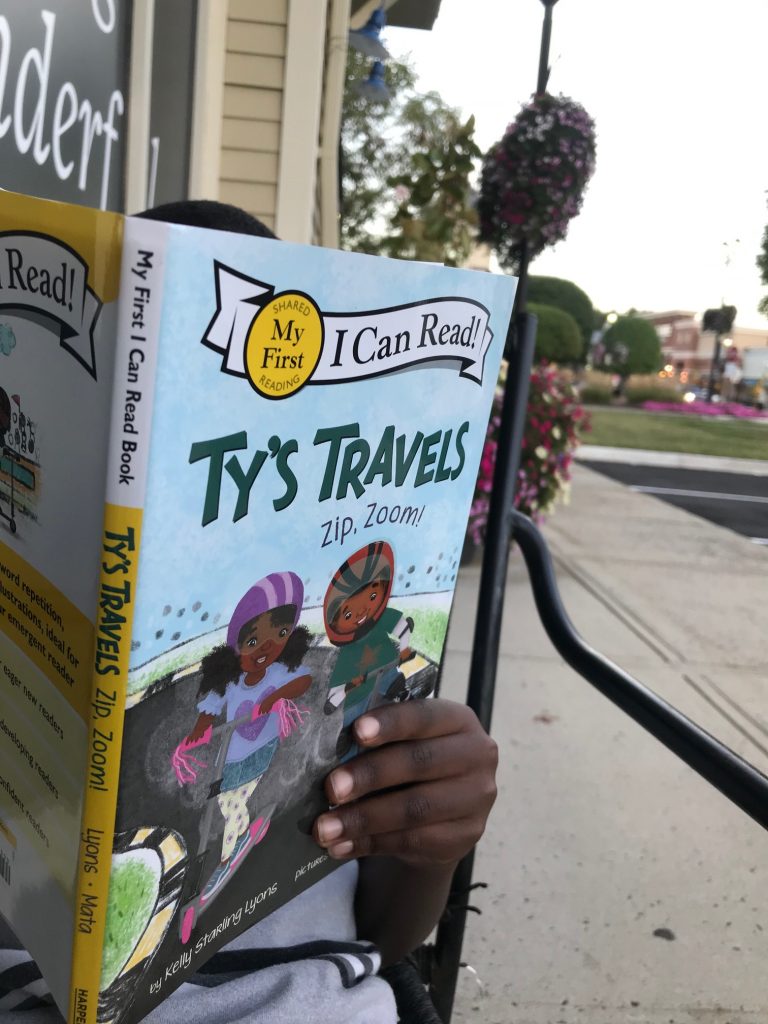 Join Ty on his imaginative adventures in Ty's Travels: All Aboard!, a My First I Can Read series by acclaimed author and illustrator team Kelly Starling Lyons and Nina Mata. Family time and imagination and play are highlighted in this fun story, perfect for sharing with children 3 to 6.
Ty wishes his family would play with him, but everyone is too busy before dinnertime. Luckily, Ty knows just what to do… Time for fun. Celebrate the power of imagination in All Aboard!
Ty can't wait to ride his brand-new scooter at the park. Other kids zip and zoom by like race cars, but all Ty can do is wobble! Ty wants to give up, but a new friend helps Ty give it another try.
Celebrate imagination and the power of persistence in Ty's Travels: Zip, Zoom! by the acclaimed author and illustrator team Kelly Starling Lyons and Nina Mata.
About the Author & Illustrator
Kelly Starling Lyons is a founding member of The Brown Bookshelf (thebrownbookshelf.com). Her acclaimed picture books include Ellen's Broom, Going Down Home with Daddy, and Sing a Song: How "Lift Every Voice and Sing" Inspired Generations.
Nina Mata is a New York Times bestselling illustrator and received her degree from the Fashion Institute of Technology in New York City. She has illustrated many books, including American gymnast Laurie Hernandez's She's Got This, NBA superstar LeBron James's I Promise, and the Ty's Travels I Can Read series. Nina currently lives in New Jersey with her husband, their daughter, and Tabitha, their cat. Visit her online at beautifique.org.
The Giveaway!
One (1) lucky winner will win 1 copy of Ty's Travels: Zip, Zoom! AND 1 copy of Ty's Travels: All Aboard!. Must be a US resident age 18 and over to enter. Good Luck!
Ty's Travels Early Reader Series Giveaway