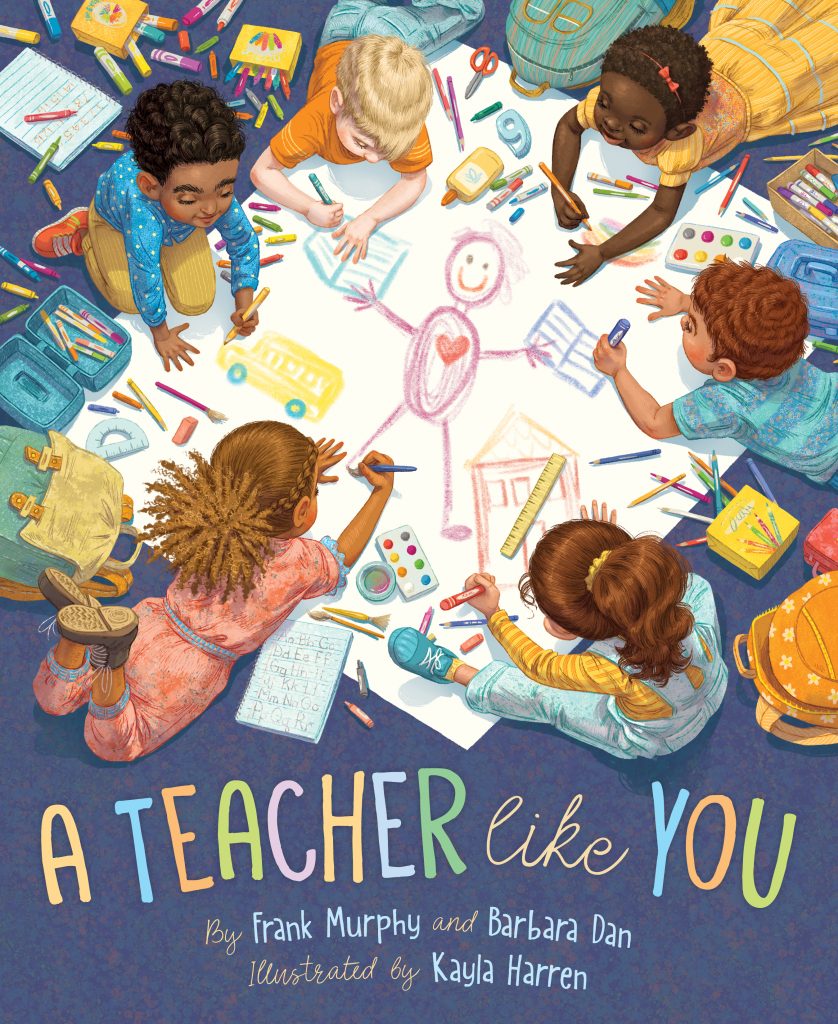 Following the success of A Boy Like You and A Girl Like You comes the next book in series that celebrates teachers. This time, Frank Murphy teams up with experienced educator Barbara Dan.

I already knew how important teachers were, but COVID-19 made us all take a step back and really understand just how vital teachers are to our society. Like many others, I now have an overwhelming appreciation of teachers and what their job actually involves.

Teachers have always been the heart of the learning process for children. That's never been more true than it is now, as teachers strive to implement remote learning plans and support families on how to guide at-home learning for kids. Today, teachers must balance their own childcare and household needs while also connecting with each of their students to maintain growth and progress. That is no small task.

Teachers, we salute you! The forthcoming picture book, A Teacher Like You is dedicated to you and all you do to educate and nurture the children of our future.
Publisher: Sleeping Bear Press
On-sale Date: March 15, 2020 available for pre-orders now!
Written by Frank Murphy & Barbara Dan illustrated by Kayla Harren
Reading Level: 5 – 7 years
Grade Level: Kindergarten – 2

Synopsis
Teachers have the power to change the life of a child with every new school day. Whether they're discovering math or reading, practicing a new instrument or a new sport, or learning about our wonderful, diverse world, students can count on the kindness, innovation, and patience of a teacher. This is a wonderful celebration of all the ways teachers help their student's bloom.
Mark your calendars for this March 2021 release!
About the Authors

Frank Murphy is a teacher who writes and a writer who teaches. He has taught a wide variety of grades at the elementary for more than 27 years. A history buff, former basketball coach & Sixers fan, and popular speaker, Frank is the author of many fun historical fiction/biography books for young readers, including several popular Random House Step into Reading History Readers – including the Oppenheim Toy Portfolio 2006 Best Book Award Winner Ben Franklin & the Magic Squares. As a teacher and father, Frank is committed to creating children's books that expand readers' knowledge of history and help inspire discussions about kindness, leadership, citizenship, growing up, and more.

Barbara Dan is an elementary school teacher with over 15 years of experience. She strives to expose her students to a diverse collection of books. Discussions in her classroom with students cover topics such as: perseverance, kindness, acceptance, failure, family structure, exploration, emotions, diversity and different abilities.
About the Illustrator
Kayla Harren graduated from the School of Visual Arts (SVA) in New York City with a BFA in illustration. Books she has illustrated include A BOY LIKE YOU (winner of the 2019 EUREKA gold award) and THE BOY WHO GREW A FOREST (winner of the EUREKA silver award.) Her work has been featured in the Society of Illustrators, American Illustration, Communication Arts, 3×3 Magazine, and she won the Highlights for Children Pewter Plate Award.
Kayla love animals, playing volleyball, hiking, and eating cookies with frosting. She lives in Minnesota with her husband, Peter Harren, and their adorable dogs. Visit Kayla's website by clicking here.