Reflection
Fry bread.  Of all the foods most commonly associated with Native American culture, fry bread has long been at the center of the table.  It is a food that was born out of desperation and survival that no one could have predicted it would be the become a touchstone of Native American culture.  I think in order to truly understand and appreciate the beauty of the book Fry Bread: A Native American Family Story, you must first learn about the complicated history of fry bread.
Fry bread is a flat dough bread, fried or deep-fried in oil, shortening, or lard. It is tradition to the Navajo people, who are the largest federally recognized Native American Indian tribe in the United States.  Frybread was first used in 1864 using the flour, sugar, salt and lard that was given to the Navajo tribe by the United States government when the Navajo, who were living in Arizona, were forced to make the 300 mile journey known as the "Long Walk" and move to Bosque Redondo, in New Mexico, onto land that could not be farmed with their traditional foods, which were vegetables and beans.
The Navajo had been forced to move because of the pioneers who came to the southwestern area where the Navajos lived. The pioneers wanted the land and resources to themselves, so they drove the Navajos out of their homes violently, and, as is said, forced them to walk 300 miles to where they would be held in camps.  The camps they were put into had meager supplies, so the U.S. government sent them supplies to make the food that is now known as fry bread.  Since the Navajos no longer had access to fresh meats, fruits, and vegetables, they used what they had in order to survive.  And that is how fry bread came to be.   Fry bread is important to Native American culture, because it represents the perseverance,  and pain the Navajo people went through.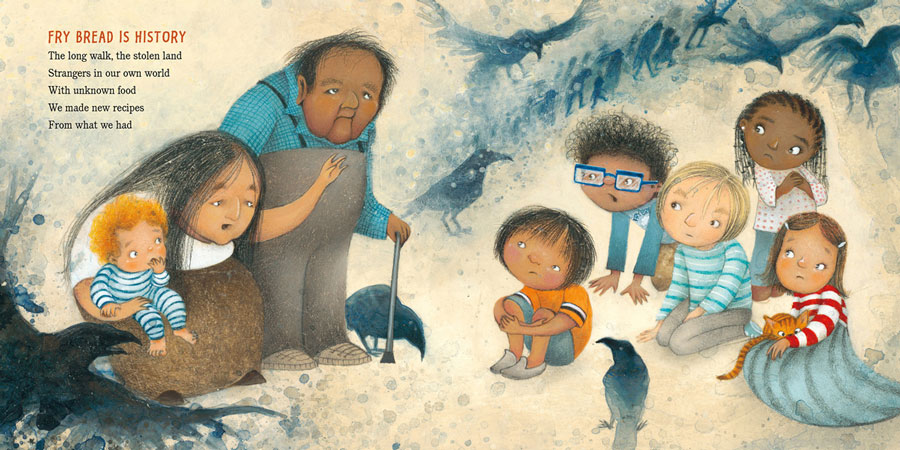 Now that you know this history, let me tell you about this book that I've now included in my list of Top 10 picture books of 2019.  Yes, it's that great…trust me!
Fry Bread: A Native American Family Story is so much more than a story about food.  From the illustrations to the end papers to the back matter, this is a simple, yet phenomenal story about food, history, culture, diversity, resourcefulness, perseverance, family and community.
As soon as you open up the book,  you are immediately drawn in with the mesmerizing end papers.  The end papers list the 573 federally recognized Native American tribes in the United States.  This is so powerful to me as I honestly had no idea there were so many tribes in the United States.
The story is told in simple, lyrical text.  Readers learn that fry bread is a food, it's a shape, it's sound, it's history and more.  In short, readers learn that fry bread is an important symbol of the Native American culture.  At the end of the book, readers are invited into the story with the simple phrases, "Fry bread is you.", "Fry bread is us."  The back matter has a recipe for fry bread, an author's note and more detailed information about fry bread.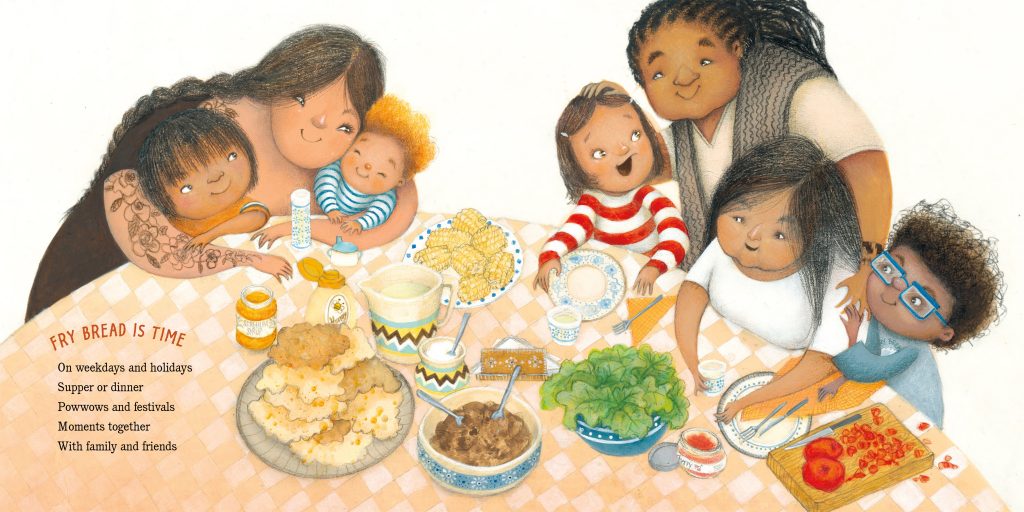 This book shows us that food helps to bring people together.  Food has the power to connect people.  Sometimes, sharing a meal together gives us a safe space to talk about our days, our ups and downs, our fears and anxieties, our joys and successes.  Food also allows us to learn and share about different cultures.  Not only does cultural expression through food allow us to be exposed to new flavors, but it also allows us to become more aware of each other's cultural background and the food that comes with it.  In essence, food gives us comfort.  Although the Navajo people were only given meager supplies by the pioneers, they found comfort in eating fry bread.  It helped fuel and nourish their bodies and allowed them to keep going despite the odds they faced.
Coming together and sharing a meal is the most communal and binding thing in almost every place in the world.  As witnessed so beautifully in this story, being able to make a dish and share it with the people you love is one of the most universal concepts because it's at the root of survival.  Fry Bread: A Native American Family Story shows as that even when times are tough and painful, the urge to survive and persevere endures.
After reading this book, I learned some modern Native Americans have a troubled relationship with fry bread.  While it is symbolic of their people's darkest time, it is also viewed as their ingenuity and ability to survive despite the odds.  Whatever the larger cultural agreement is, among Native Americans I still think this is an amazing story that should be be on children's bookshelves' in homes and schools worldwide.
Your turn: What are your thoughts on the history of fry bread?  Feel free to share in the comments.