Disclaimer: I received a free advanced copy of You're Strong With Me from the publisher to review and enjoy with our family in exchange for an honest review.  As always, all opinions expressed are my own.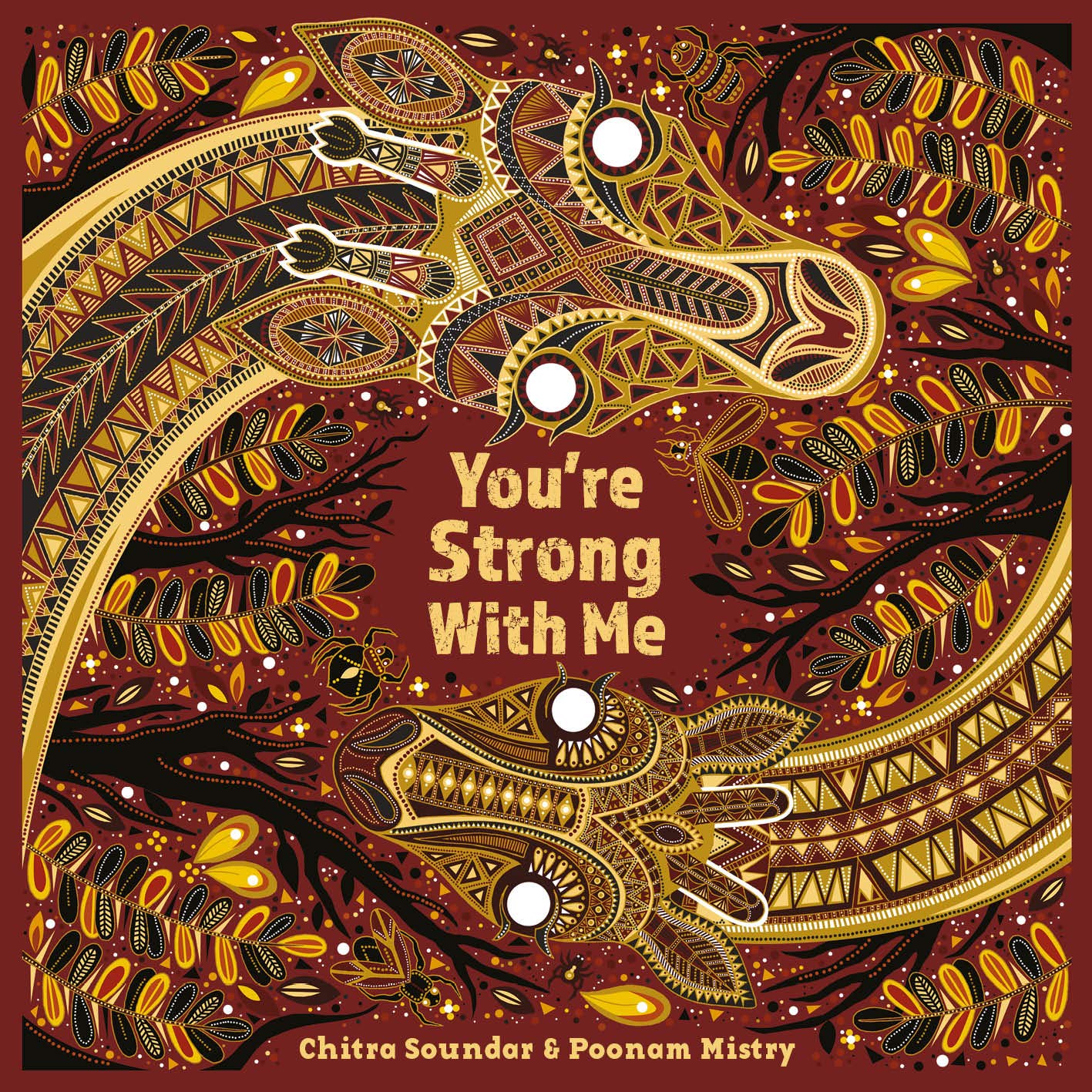 Reflection
Throughout human and animal history, mothers and their babies have been known to be connected in beneficial ways. By staying close to their mothers, infants receives protection, warmth, emotional reassurance, and breast milk – in just the forms and quantities that nature intended.
In the book, You're Strong With Me, readers are introduced to a mother and baby giraffe.  The baby giraffe questions different things like an oxpecker that flies onto her mother's back and birds flying towards a fire in the tall grass.  Each time baby giraffe asks a question, her mother says, "Until then, you're strong with me."  This reassures the baby giraffe and seems to give her the confidence to keep exploring and learning from her mother.
After reading this book, I immediately thought about a video I recently saw that featured a mother giraffe giving birth.  It was unlike any birth I had ever seen!  The baby giraffe fell from its mother's womb, about 5-8 feet above the ground.  The baby was shriveled up lying still on the ground, still too weak to move.  Then the mother giraffe lovingly lowered her neck as if to kiss the baby giraffe. And then something incredible happened!  She lifted her long leg and kicked the baby giraffe, sending it flying up in the air and tumbling down on the ground. The mother continued to do this over and over again until the baby giraffe learned to stand on its feet.  Baby giraffes must learn quickly to stand and run with the pack.  Otherwise, they will have no chance of survival.  Most humans are not quite as lucky as baby giraffes. No one teaches us to stand up every time we fall. When we fail, when we are down, we just give up. No one kicks us out of our comfort zone to remind us that to survive and succeed, we need to learn to get back on our feet.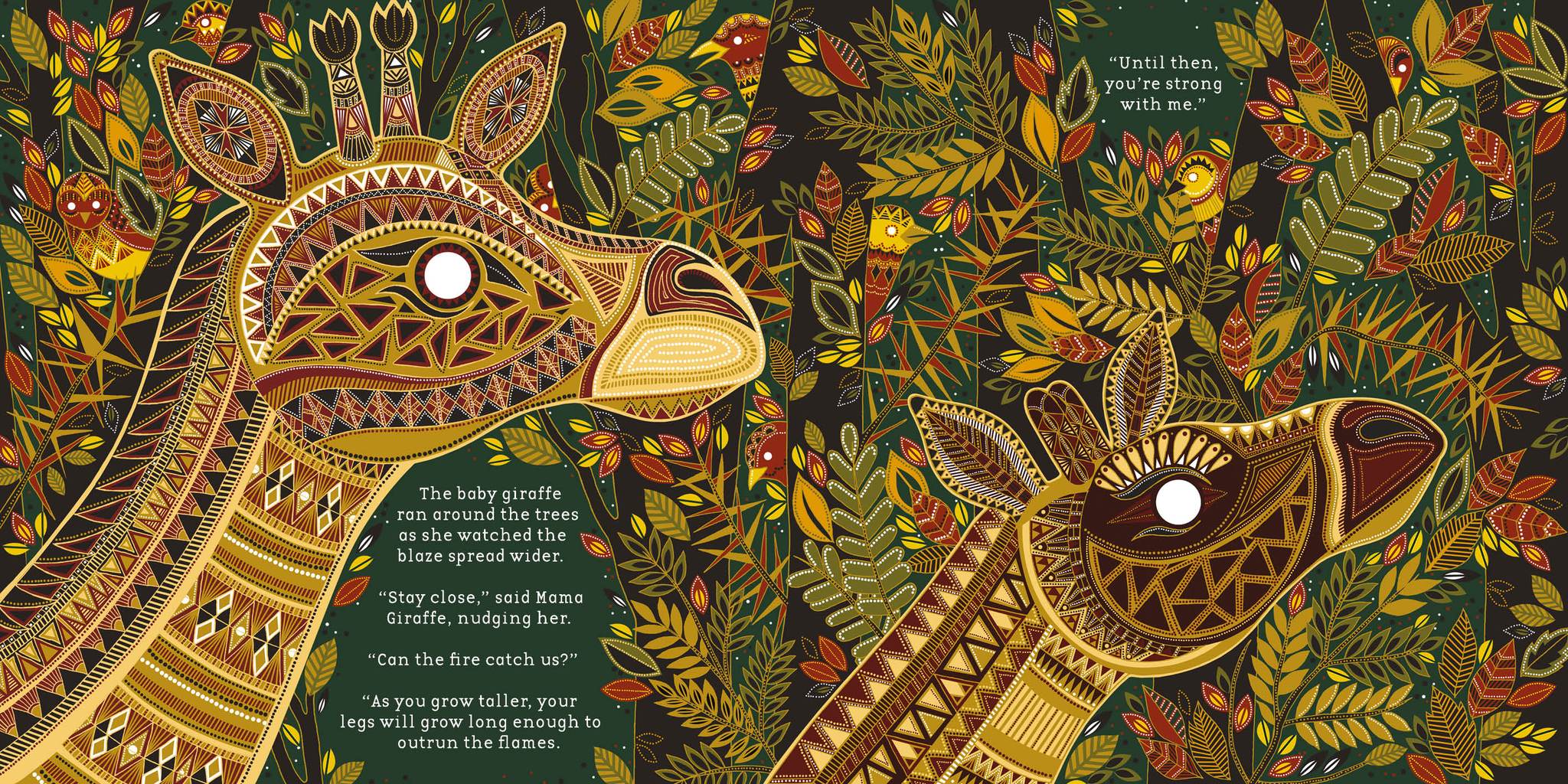 You're Strong With Me is a beautifully illustrated story about mother giraffe teaching her daughter about having instincts for survival in the wild.   Under her mother's guidance, the baby giraffe begins to understand she must learn to be kind to certain animals, how to handle forest fires and how to pay attention to noises and quiet in their environment.  Ages 4-8 and up.
A Word from the Illustrator Poonam Mistry + FREE Coloring Sheets to Download!
Creating the artwork for 'You're Strong With Me' was actually the hardest of the three to illustrate. The first two books from the series were very different.  I really wanted to create something that almost was a combination of the two: something that showcased how incredibly beautiful the African Savanna is, but also focused on the closeness of the relationship of the calf and her mother.
Patterns and Research
My Dad was born in Kenya and so around my parent's house they have a lot of ornaments and wall art inspired by Africa. This really helped at the beginning stages of the book when I first received the manuscript for the story.  For this book in the series, I researched a lot of patterns found on African textiles and art. I really wanted to make sure (like I had done with the previous two books) that the patterns I was using reflected the origins of where the story was set. I used a lot of zigzags, diamonds, triangles and squares in the artwork, adding finer details later on in PhotoShop.
Process
This book involved at lot more drawing and sketching at the planning stage.  After the initial sketches, I drew out the final images in pencil around 1/3 larger than the actual size. I transferred these onto thicker cartridge paper and began to draw the final designs using ink pens (0.5mm minimum). I prefer using ball tip pens just because I find the ink glides on better and creates more pigmented lines. Then, using the bank of patterns I had researched, I selected the patterns I thought would work best and applied them to the drawing.  After these were completed, I scanned them onto the computer and used PhotoShop to apply colour and adjust the composition.  It took a long time to get the shape and proportions of the giraffe correct. Originally, I was going to cover them in giraffe print, but I wanted to do something a little different with them. In the end, I decided on creating individual patterns for the giraffe and her calf using triangles.
Colours
Usually I pick a small palette of colours to work on throughout the whole book before I have even begun drawing. For 'You're Strong With Me', I really wanted to make sure the palette was warm with lots of golden oranges, yellows and browns to reflect and capture the hot climate there. As the story features a creek I selected a small set of tortoise blues too but only added accents of them throughout the book where needed.
Hidden gems
The African Savanna is full of the most amazing wildlife and insects. I really wanted to highlight this in the book so many of the pages have hidden birds or insects in them. With this specific book they are particularly camouflaged with their surroundings. I hope this will give further opportunities for little ones to spend more time exploring the art and discovering something new.
Download the FREE giraffe coloring sheets designed by illustrator Poonam Mistry HERE and HERE!
'You're Strong With Me' is available for purchase in North American bookshops on October 1, 2019 and in UK bookshops on October 3, 2019.  For every book purchased on the website, Lantana Publishing donates a book to children's hospitals via Read for Good UK.