Disclaimer: My family received a free Family Fun Chess set from Brainblox to review and enjoy with our family in exchange for an honest review.  All opinions expressed are my own.
If you're like me and have little to no experience playing the game of chess, you may be wondering how to teach kids to play chess when you don't even know how to play yourself! Thankfully, Brainblox is here to help! They recently introduced a beautiful Family Fun Chess set to their product line and it's so great.
If you follow me on Instagram, you may have seen me talking about it recently in my Instagram stories.  I also hosted a giveaway in partnership with Brainblox where we gave away one chess set to a lucky winner.
What is Family Fun Chess?
It's a color-coded, FUN, learn-as-you-play game for kids and adults to learn chess!
When it's your turn, simply roll the Chess Cube to see which piece to move! The Reference Cards make it easy to learn-as-you-play, while the full-color Instruction Book and videos tell you everything else you need to know.
The chess set includes:
a folding wooden chess board
32 wooden chess pieces
2 reference cards
a full color chess book
a wooden cube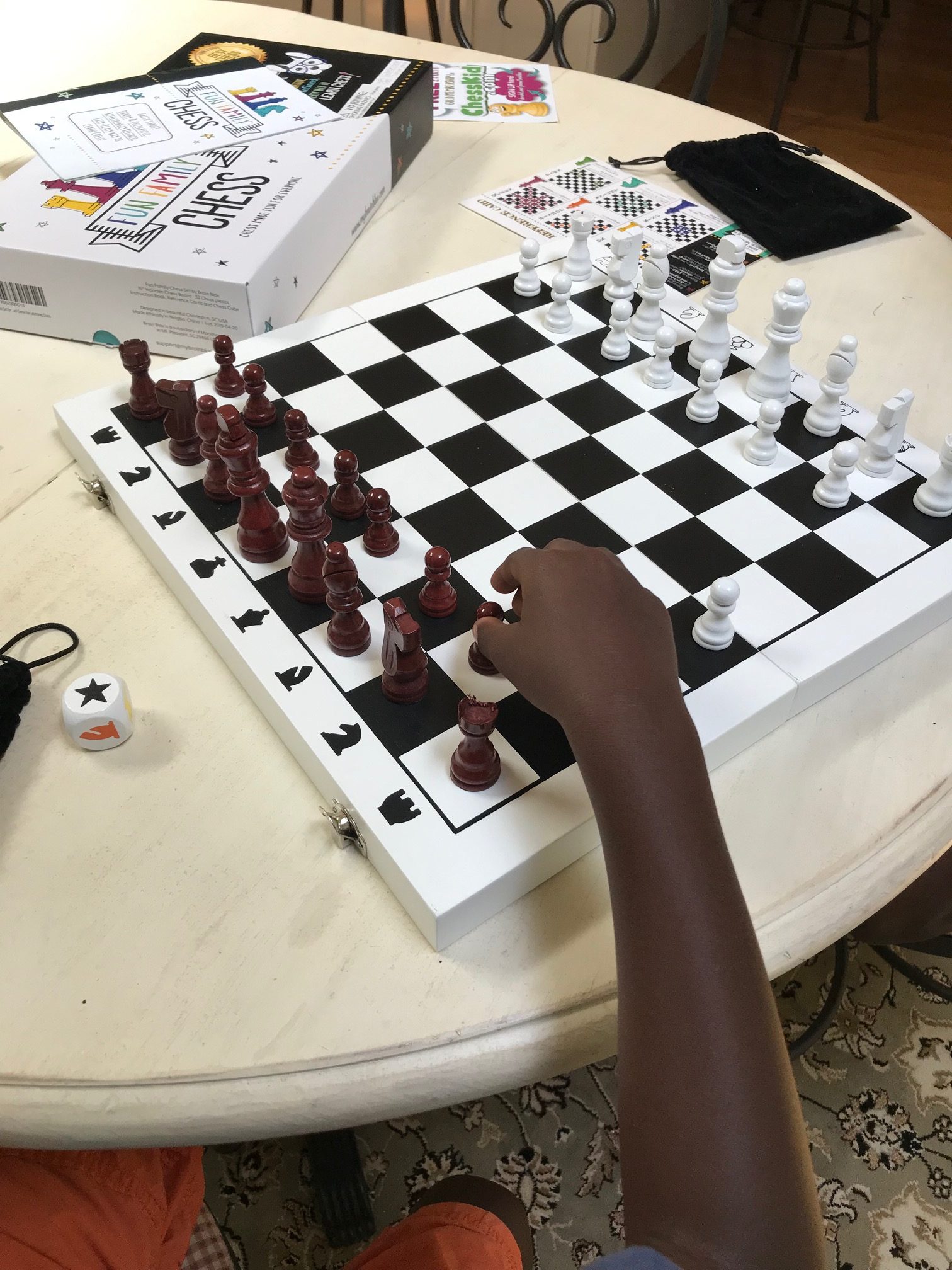 Learning how to play chess the "Family Fun" way was very easy to understand for me and my kids.  We found the reference cards to be super useful in helping us all understand how each of the chess pieces are able to move on the board during the game.  I also appreciate the fact that Brainblox included instructions for playing chess the standard way too.  This will come in handy once we've fully grasped the rules of chess and are ready to move on to learning how to play standard chess.
The thing I love most about learning to play chess and teaching my kids to play is all of the benefits associated with understanding the game.
Here are just a few of the benefits of playing chess:
increases concentration and memory
helps with paying attention to detail and strategic thinking
improves problem-solving and spatial skills
exercises both sides of the brain
Even more importantly, I find learning to play chess alongside my children to be much more meaningful because offers quality time and experiences that we will remember for a lifetime. If you're sold on learning to play chess with your little ones, you'll first need to get your family a chess set.  If you can't already tell, I'd highly recommend the Family Fun Chess set from Brainblox.  It makes a great holiday or anytime of the year gift for ages 5 – 105!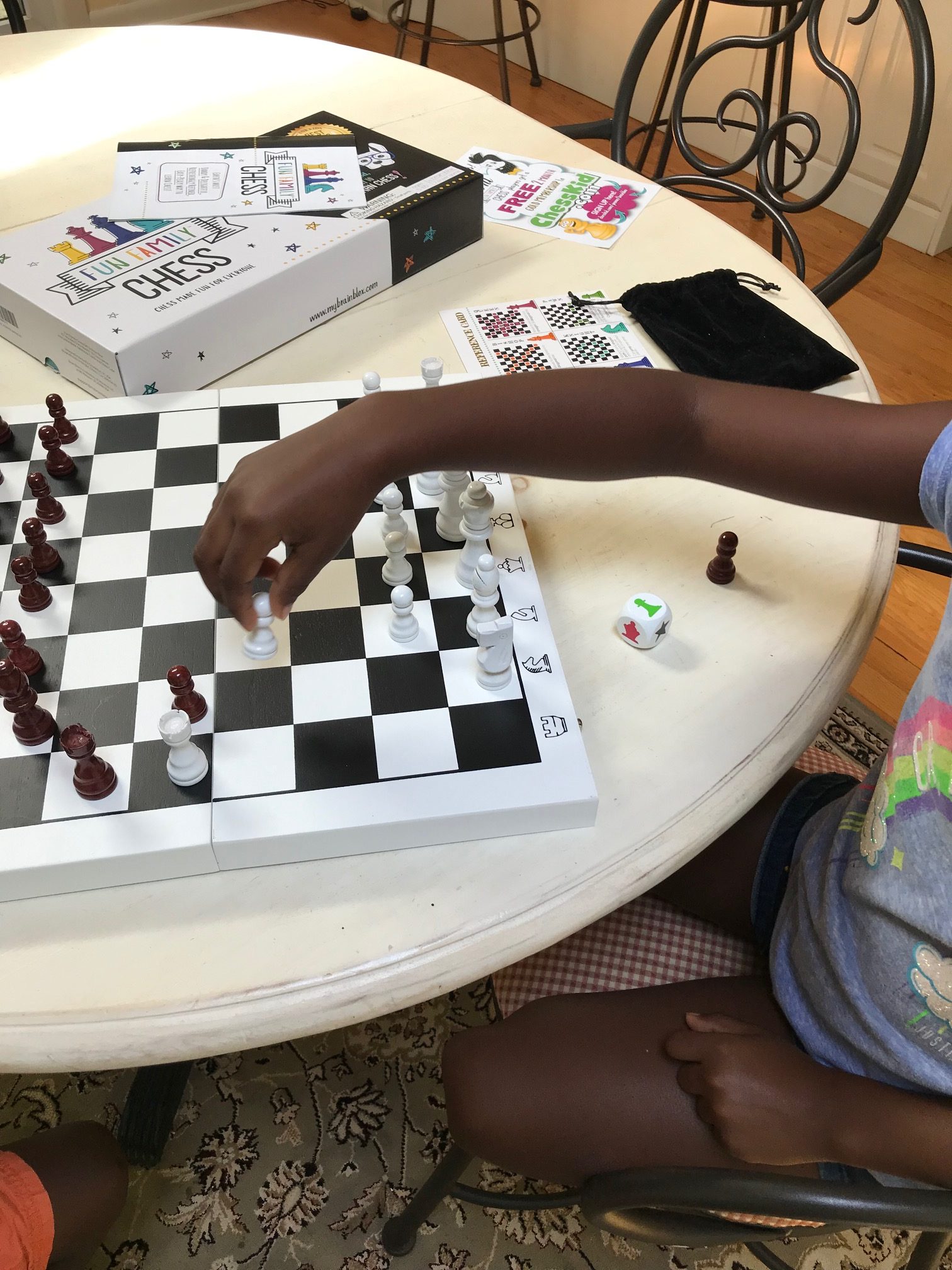 Not ready to invest in a chess set of your own yet?  You can also look into local chess clubs for kids in your area.  Find out if your child's school or your local library has a Chess Club. That's a great place to start, so kids can get basic instruction and have peers to play with.  There are also many online resources and apps available to use too.  You can choose to play against friends, connect with other players at your level, or get live or virtual tutoring.
Your turn:  Do you or your children know how to play chess?  Are you excited to learn about the Family Fun Chess set from Brainblox?  Feel free to share in the comments.