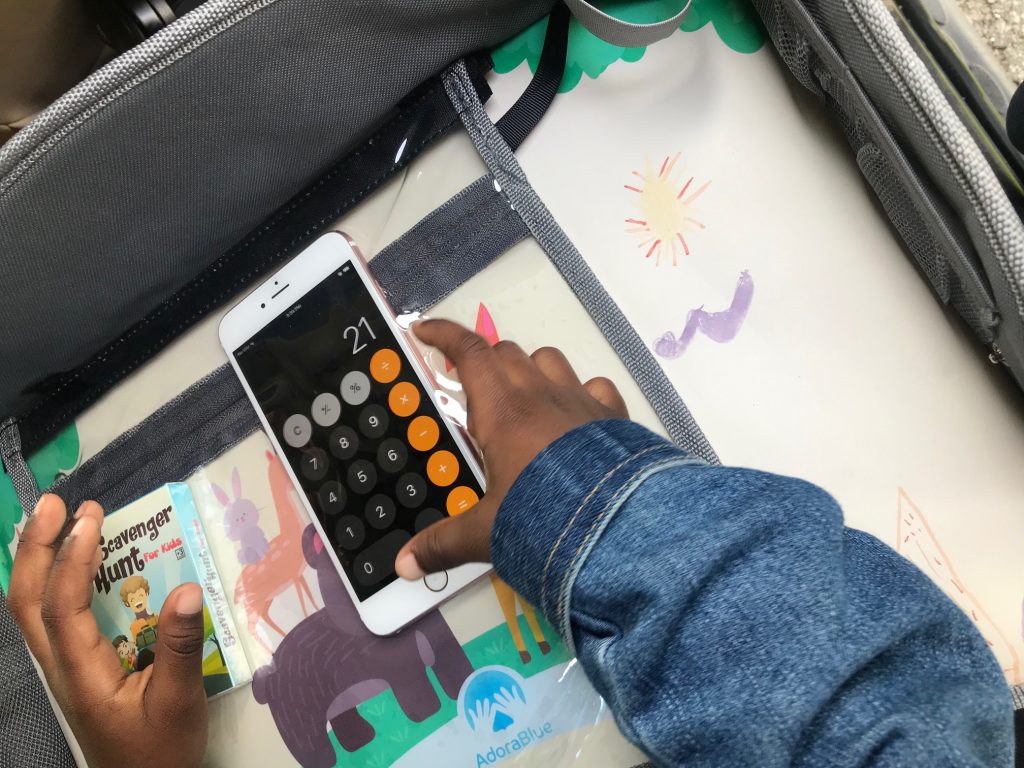 Have you ever wondered how your child can make better use of their downtime while traveling on road trips or running daily errands in the car?  Don't get me wrong, sometimes it's okay to just look out the window and watch cars or people pass by.  However, if you're looking for a travel tray to help keep kids entertained, I'd highly recommend the one made by AdoraBlue.  It's convenient for kids to eat, draw, watch movies and most importantly it helps keep things organized.
On one side of the tray, there is a station for kids to eat, play with toys (like the AdoraBlue Scavenger Hunter game) read books, or to watch/play on the iPad/tablet at eye level.  The erasable side is for drawing, writing and creating.  Yes, it's reversible!
I love the media tablet holder being secured by a zipped plastic pocket to keep it protected from accidental spills.  We all know how messy life can get with kids, right? I also like how versatile and portable the travel tray is.  You can either use it as a lap desk in the car/stroller, on a plane for various fun activities, or use it indoors sitting on the couch or in a restaurant.  The custom design appeals to boys and girls alike.  It also has easy access to a large storage with zippers and a built-in bumper to keep your space mess-free whether your child is creating a masterpiece or munching on snacks.

Here are some of the features:

Made of a vegan leather surface that is is easy to clean and soft to the touch.
It buckles either around the child's car seat or stroller.
It has large mesh storage pockets on the side and a 2 inch wall to stop food, toys, markers or crayons from falling.
It is ideal for short and long trips.
It's portable!  It can also be used indoors at home on your couch or in a restaurant.
Fits most car seats and boosters.
Comfortable, safe and 100% waterproof.
Includes cup holders for baby bottles, water bottles or sippy cups
Erasable board for drawing and expressing creativity.
Contains 3 different stations to play, eat, draw or use the iPad/tablet in a zipped, waterproof casing.
The best part?  Our friends over at AdoraBlue were gracious enough to sponsor an Instagram giveaway for one (1) travel tray.  In addition, for a limited time, our audience can get 40% off a travel tray as part of a Mother's Day promotion.  Click here to get a travel tray using the 40% discount (discount applied at checkout).
Connect with AdoraBlue!

Website | Instagram | Facebook