Disclaimer: I was provided with a complimentary copy of this book from the publisher in exchange for an honest review.  As always, all opinions expressed are my own.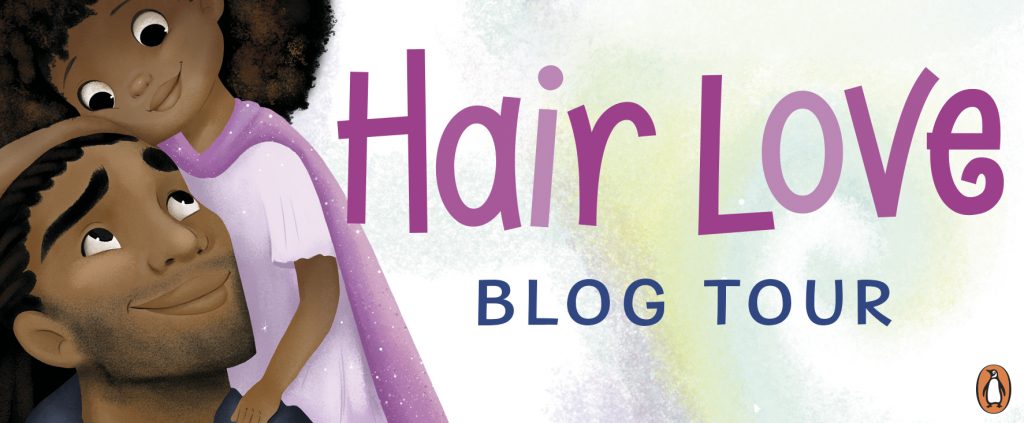 Hair Love by Matthew A. Cherry, illustrated by Vashti Harrison
Publisher: Kokila, an imprint of Penguin Young Readers
Format: Hardcover
Pages: 32
Age Range: 4 – 8
Grade Level: Preschool – 3
Synopsis
It's up to Daddy to give his daughter an extra-special hair style in this ode to self-confidence and the love between fathers and daughters, from former NFL wide receiver Matthew A. Cherry and New York Times bestselling illustrator Vashti Harrison.
Zuri's hair has a mind of its own. It kinks, coils, and curls every which way. Zuri knows it's beautiful. When Daddy steps in to style it for an extra special occasion, he has a lot to learn. But he LOVES his Zuri, and he'll do anything to make her — and her hair — happy.
Reflection
Twist outs. Braid outs. Wash and Gos. Bantu knots. Locs. Afros. Braids. Top Knots. Ponytails.  Today's natural haired beauties are embracing their kinks, coils and curls more than ever before to express their style.  Just ask little Zuri.  She wants to have the perfect hairstyle to welcome her mother home.  Armed with an iPad, hair products and her dad, she ends up finding the perfect look.
I adore this book for so many reasons.  First, it showcases a Black father in a positive light bonding with his daughter doing her hair.  We don't see this enough, especially in the Black community.  I personally think a father caring for his daughter's hair isn't a loss of masculinity.  In fact, I think women admire men even more who take the initiative to learn how to do hair.  I love how Zuri's dad steps up to the plate and figures out what needs to be done to do his daughter's hair in his wife's absence.
With the help of social media, Zuri's father learns how to comb, part, oil, twist, and style Zuri's hair.  This experience allowed Zuri to bond with her dad in an entirely new way, and likely instilled a deep pride about the heritage in her hair.
One thing I notice with my husband is he likes to bond with our kids by playing, roughhousing, teaching them a skill or a sport.  But Hair Love shows that fathers talking to their daughters about their hair is an entirely new way to bond. Just like my daughter, many girls love to see and spend time with their dad.  So when a father actually does a good job on his daughter's hair she'll likely respond with, "Yeah, my daddy did my hair!"…now that's bonding.
I also love how Zuri's dad tells her that her hair is beautiful.
Daddy tells me it is beautiful.  That makes me proud.  I love that my hair lets me be me!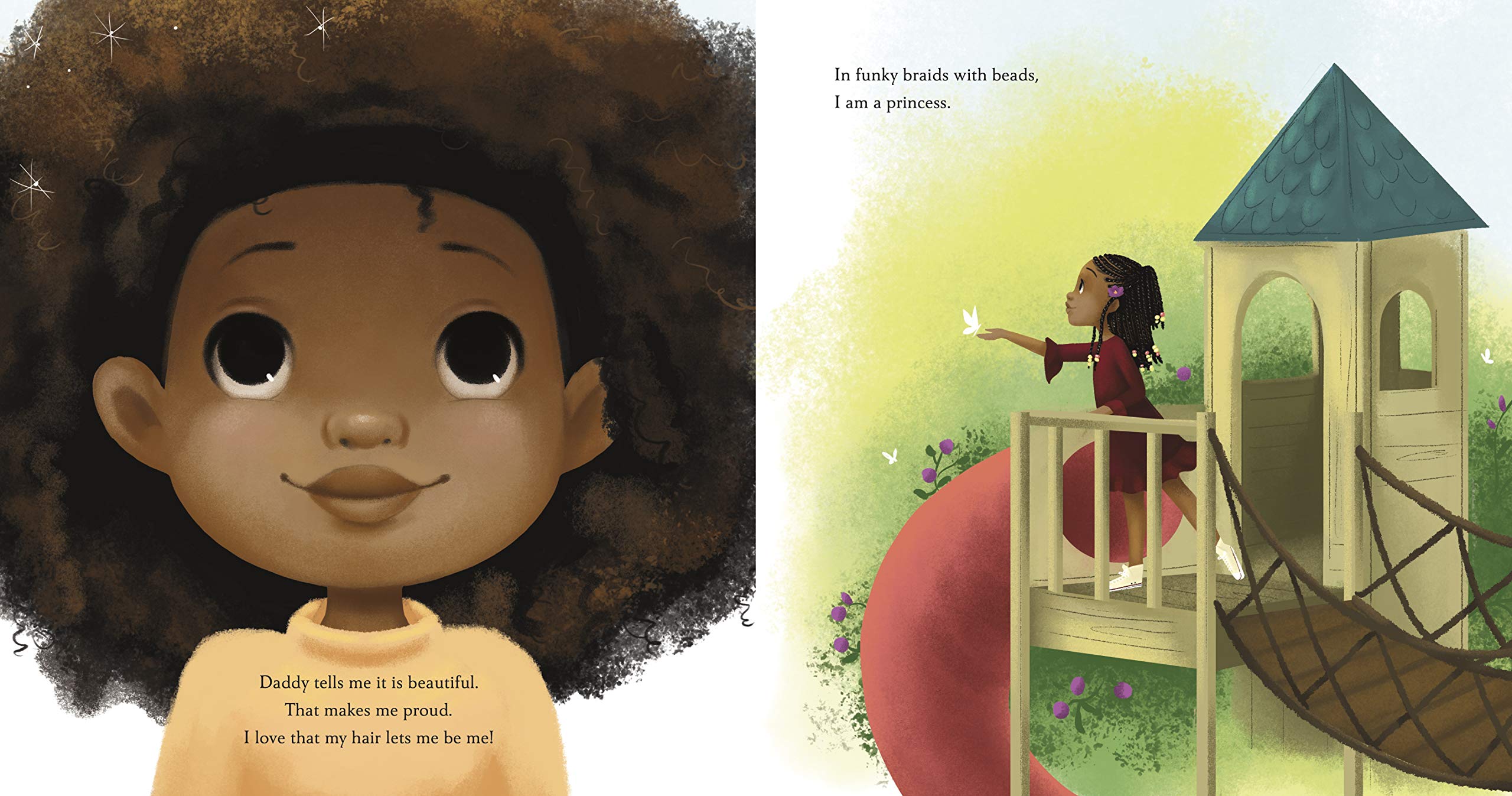 When I was younger I remember people used to always use the word "nappy" to describe natural Black hair.  That word was thrown around a lot during my childhood by children and grown-ups and I never liked it.  Since becoming an adult and embracing my own natural hair, I no longer use that word to describe my hair or anyone else's natural hair.  You have to be mindful of the things you say to children and teach them about self-love at an early age like Zuri's dad.
I also think Hair Love does a great job showing readers that being a father is much more than being able to provide for a family financially.  Fatherhood sometimes encompasses: cooking, cleaning, AND doing hair.  It may also involve showing your daughter how to love herself completely inside and out, how to appreciate her natural beauty, and love everything about herself. Those are things that sometimes men (and women) really don't think about as being a father.
Lastly, the adorable illustrations by Vashti Harrison make this book a ten on the cuteness scale.  Just look at how adorable the front cover is!  As always, Vashti does an outstanding job telling the story through her stunning illustrations.  A winner!
Hair Tips & Techniques
Learn your daughter's hair type and what will work best in styling her hair.
Create or find a regimen that works your daughter's hair and lifestyle. Once you find what works KEEP DOING IT.  Consistency is key to growing beautiful, natural hair.
Find people within your family and friends and talk to them about maintenance if you're unsure.
Utilize social media when necessary.  There is a wealth of information online.  You can find easy, child-friendly tutorials as well as product reviews.
Browse the hashtag #naturalhair or #naturalhairkids on any social media platform and all kinds of helpful information will be in the palm of your hand.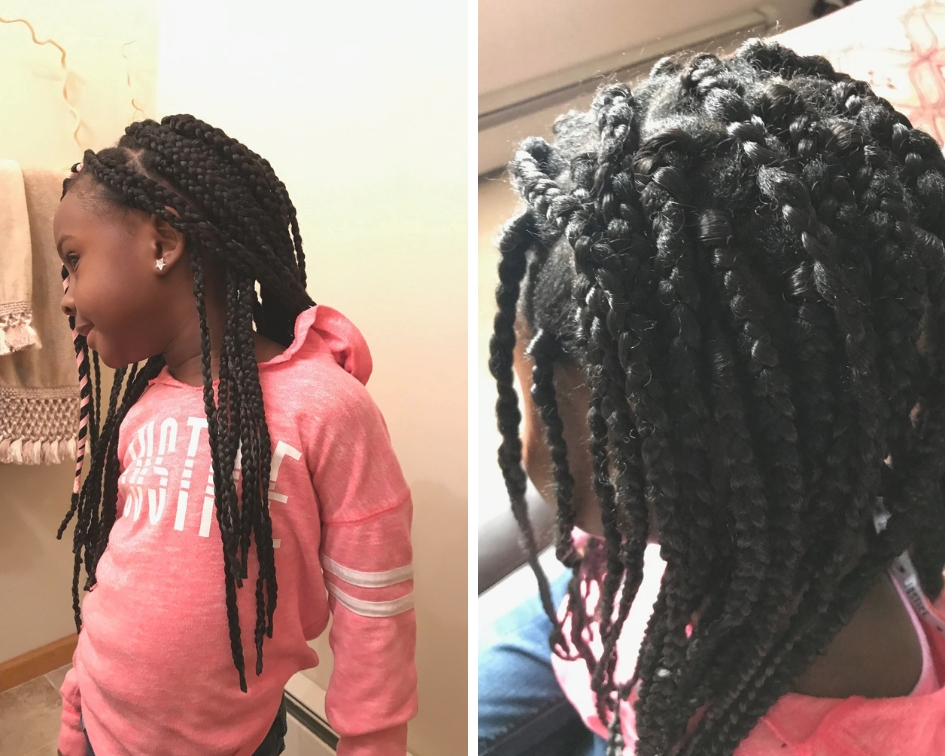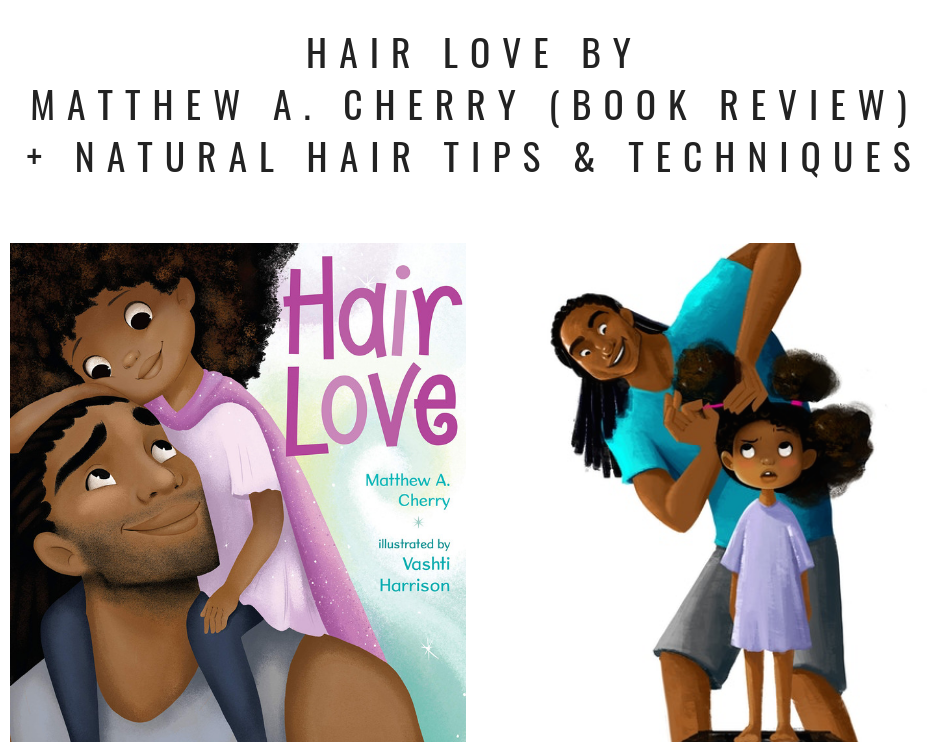 About the Author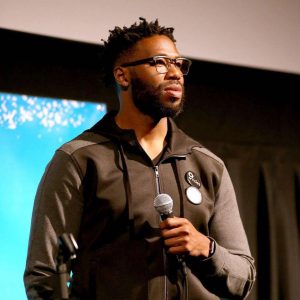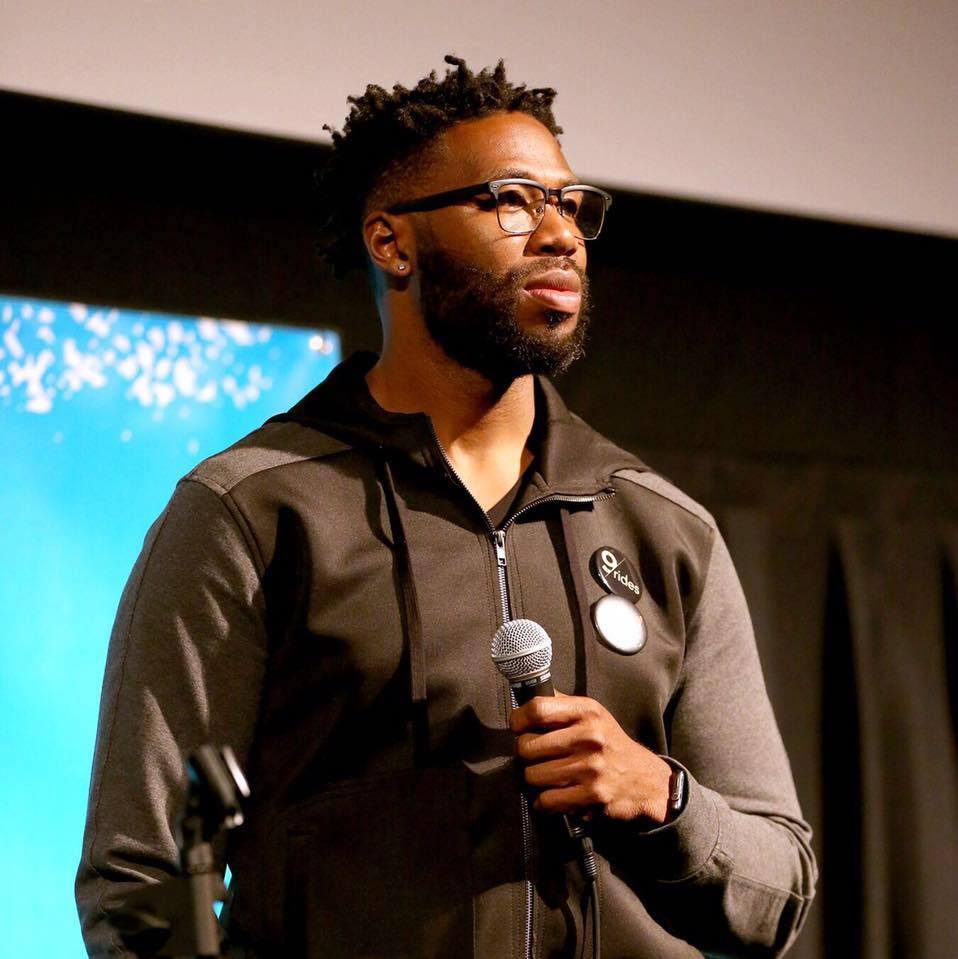 Chicago native Matthew A. Cherry is a former NFL wide receiver turned filmmaker who played for the Jacksonville Jaguars, Cincinnati Bengals, Carolina Panthers, and the Baltimore Ravens. In 2007 he retired and moved to LA to pursue a career in entertainment. Now, he directs music videos and short films, including "Hair Love," the animated short film on which this book is based. Matthew was named to Paste Magazine's list of Directors to Watch in 2016.
About the Illustrator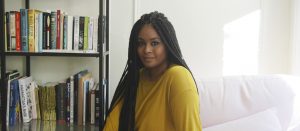 Vashti Harrison is the author-illustrator of the New York Times bestselling picture book Little Leaders: Bold Women in Black History, which is also a NAACP Image Award winner. She earned her BA from the University of Virginia with a double major in Media Studies and Studio Art, and received her MFA in Film and Video from CalArts where she snuck into Animation classes to learn from Disney and Dreamworks legends. There she rekindled a love for drawing and painting. Now, utilizing both skill sets, she is passionate about crafting beautiful stories in both the film and picture book worlds.

Your turn: How do you teach your children to love their hair?  What natural hair tips and techniques would you add to this list?  Feel free to share in the comments.