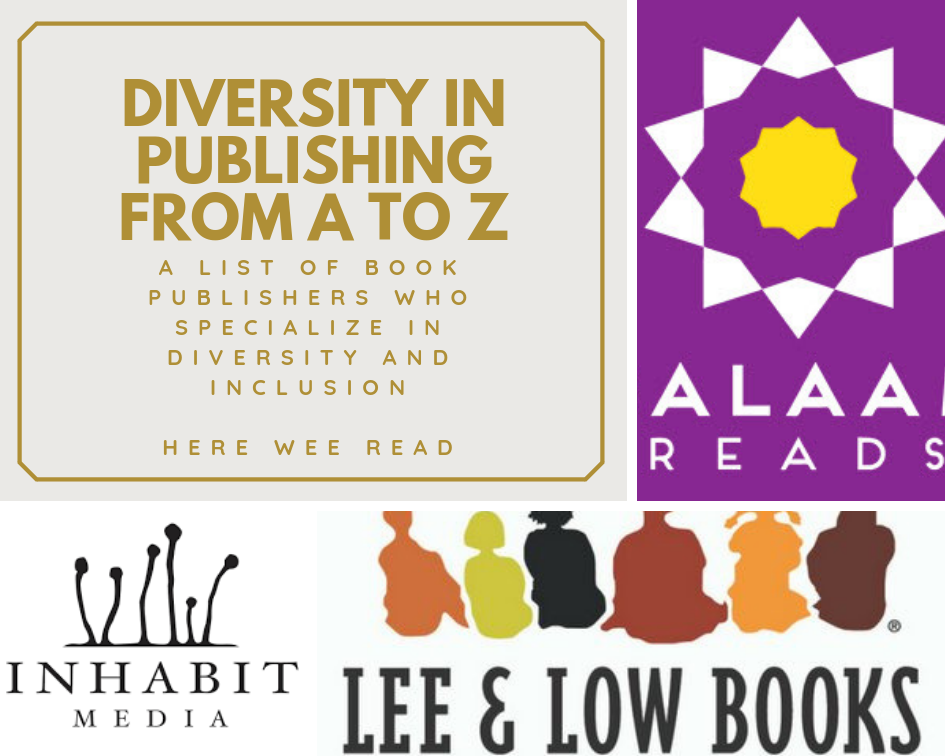 While diversity in publishing has been at the forefront of some conversations in the publishing industry as of late, there is still a lot of work that needs to be done.  It's no secret the publishing remains a majority White middle-class dominated industry.  For example, according to Lee and Low's Diversity Gap in Children's Books annual survey, Black, Latinx, and Native authors combined wrote just 7% of new children's books published in 2018.
So the question remains, what can we (the general public) do to help?
One of the most important things we can do is support, read and help promote minority voices and diverse/inclusive books and the publishers who create them.  This includes purchasing books from independent bookstores or online and borrowing books from your local library.  If your bookstore or library doesn't have the book you are looking for request it so they know there is a demand. If you don't have the budget to buy books, use the library.
Oftentimes, I request my local libraries to order books, even if we already own it or I plan to buy a copy for our home collection.  This way it will be added to the library's collection and someone who can't afford it will have the chance to read it.  I think of it as a nice way to pay it forward to others and still support diverse literature.
Below I've rounded up a list of book publishers who support and specialize in publishing diverse and inclusive books.  While I'm aware many of the larger publishing houses also publish diverse books, this list focuses on: some larger publishers who exclusively publish diverse books, diverse imprints of larger publishing houses, and some smaller/independent publishers who publish diverse books.  You can find most of these publishers on social media including: Facebook, Twitter, Instagram, Pinterest and Twitter.  If you find a new publisher from this list, give them a follow!
Agate Bolden – Publishes adult and children's books that focus on African American writers, fiction and nonfiction.
Amistad – The oldest publisher dedicated to multicultural voices.  Publishes picture books through young adult works by and about people of African descent that discuss historical and cultural themes.  An imprint of HarperCollins.
Baobab Publishing – An independent publishing company that specializes in creating quality multicultural children's books.
Barefoot Books – Publishes books that "open windows to other cultures and perspectives, while also providing children of all backgrounds and abilities with a much-needed mirror of their own experiences."
Beach House Publishing – Publishes board, picture and chapter books that caters to Hawaiian children
Bharat Babies – Publishes children's books about India with a story for everyone.
Brown Girls Books – Publishes adult and children's books written by Black female authors. Black owned.
Caribbean Reads – Publishes children's and adult books that feature Caribbean authors and/or Caribbean themes.
Cassava Republic Press – Publishes fiction and non-fiction books for adults and children specializing in catering to African writing.
Cinco Puntos – With roots on the U.S./Mexico border, Cinco Puntos publishes great books which make a difference in the way you see the world.
Denene Millner Books – An imprint of Agate Publishing that publishes books specifically for children of color
Con Todo Press – Con Todo Press publishes books that reflect a more balanced representation of women, Latinos, and people of color.
Feminist Press – Publishes books to amplify women's rights and feminist perspectives
Flamingo Rampant – Publishes feminist, racially-diverse, LGBTQ+ positive children's books
Greystone Kids – Greystone Books is a trade book publisher that focuses on high-quality non-fiction books that appeal to regional, national, and international readers.  They publish a wide range of thought-provoking and gifted Canadian and international authors.
Groundwood Books – A publisher committed to publishing books for and about children whose experiences of the world are under-represented elsewhere.
Highwater Press – Publishes a broad range of authentic Indigenous-authored stories. A rich mix of novels, graphic novels, and children's books, these captivating and exceptional award-winning titles will challenge and engage readers of all ages.
Inhabit Media – An inuit-owned publishing company that aims to promote and preserve the stories, knowledge and talent of northern Canada.
Interlude Press – An award-winning boutique publisher of LGBTQ+ general and romantic fiction.
Just Us Books – Publishes books for children of color
Kamehameha Publishing – Publishes adult and children's books that amplify Hawaiian perspectives, culture and language.
KitaabWorld – A publishing company passionate about making South Asian children's literature more accessible and easily available in the US.  They advocate to spread awareness about South Asian culture, and provide resources for teachers, librarians and parents.
Kokila – An imprint of Penguin Random House that brings together an inclusive community of authors and illustrators, publishing professionals, and readers to examine and celebrate stories that reflect the richness of our world.  They publish children's and young adult books.
Lantana Publishing – Publishes award-winning diverse and inclusive children's books that celebrate children in the UK school system who identify as Black, Asian or Minority Ethnic (BAME).
Lee and Low Books – The largest publisher of award-winning diverse board, picture and chapter books for children.  Lee and Low makes a special effort to work with unpublished authors and illustrators of color.
Lil' Libros – Promotes bilingualism and Latin American culture through picture board books.
Make Me a World – A forthcoming 2019 imprint that will publish books that "open up new worlds, possibilities, and pathways for young readers of all ages. Focused on bringing voices of diverse thinkers and artists from all walks of life" into the limelight.
Marimba Books – A multicultural children's book imprint of Just Us Books dedicated to publishing titles that reflect America's diversity
Melanin Origins – Publishes quality educational materials which inspire young minds to aspire for excellence while embracing their heritage.  Black owned.
Nothing But the Truth Publishing – An independent publishing house specializing in books written by diverse female authors.
Orca Book Publishers – An independently owned Canadian children's book publisher who publishes award-winning diverse books
Penny Candy Books – A small publishing house that honors diversity and fosters big conversations.
Piñata Books – A publisher dedicated to the realistic and authentic portrayal of the themes, languages, characters and customs of Hispanic culture in the United States.
Plum Street Press – A New Orleans based publisher that publishes books for children of color just being everyday kids
Red Bone Press – Publishes work celebrating the cultures of black lesbians and gay men, and work that further promotes understanding between black gays and lesbians and the black mainstream.
Read and Glow Books – A publishing company specializing in helping to empower and inspire children "to take pride in their individuality, and to see the beauty of their true selves".  Black owned.
Saffron Press – Publishes diverse books specializing in inspiring citizens of change
Salaam Reads – A Muslim children's book imprint from Simon & Schuster
Sankofa Books – An imprint of Just Us Books dedicated to publishing out of print diverse children's books
Second Story Press – Publishes feminist-inspired books for young readers and adults
Shade Mountain Press Specializes in literature written by women — particularly women of color, women with disabilities, women from working-class backgrounds, and women who identify queer/lesbian/bisexual.
Stone Bridge Press – Publishes books about Asians with an emphasis on Japanese culture.
The Road Runner Press – A publisher dedicated to publishing juvenile + adult titles by Native Americans.
Third World Press – Publishes books for African-American children, young adults and adults. Black owned.
Tiny Owl Publishing – Publishes high quality picture books promoting cultural diversity. Based in the UK.
Tu Books – An imprint of Lee and Low Books that publishes diverse middle grade and YA books.
Versify – An imprint of HMH books started by Newbery Award–winning author Kwame Alexander. Features diverse books for children and young adults.
Yali Books – An independent publisher of picture books, young adult books and graphic novels with a focus on South Asian cultures.
Your turn: Did you learn about any new publishers after reading this list?  What publishers would you add to this list?  Feel free to share in the comments.