Have you ever been on a babymoon?  Do you even know what a babymoon is?
ba·by·moon
/ˈbābēˌmo͞on
noun
a relaxing or romantic vacation taken by parents-to-be before (or after) their baby is born.
The term Babymoon was first coined in a 1996 book, The Year After Childbirth, by childbirth educator Sheila Kitzinger.
Essentially, a babymoon is sort of like a honeymoon, only it happens after you confirm that you are pregnant and expecting a baby, and before (or after) the baby arrives.
My husband and I didn't go on a babymoon before or after having either of our children.  Why?  Because I had no idea this was even a THING!  Now that I know the definition of what a babymoon is and especially after reading this beautiful book, it ALMOST makes me want to go and make another baby!  Seriously though, as far as I'm concerned, my baby making days are over, but thanks to Babymoon I can live vicariously through these gorgeous illustrations and imagine what a babymoon might be like.
In this rhyming book, readers meet a sweet family (a biracial family of color) who decide to go on a secluded babymoon with their newborn baby.  The baby is gender neutral which was a purposeful decision.  I love that the family chose to take their babymoon AFTER baby arrived along with their pet cat and dog in tow as a way for them all to bond as a family.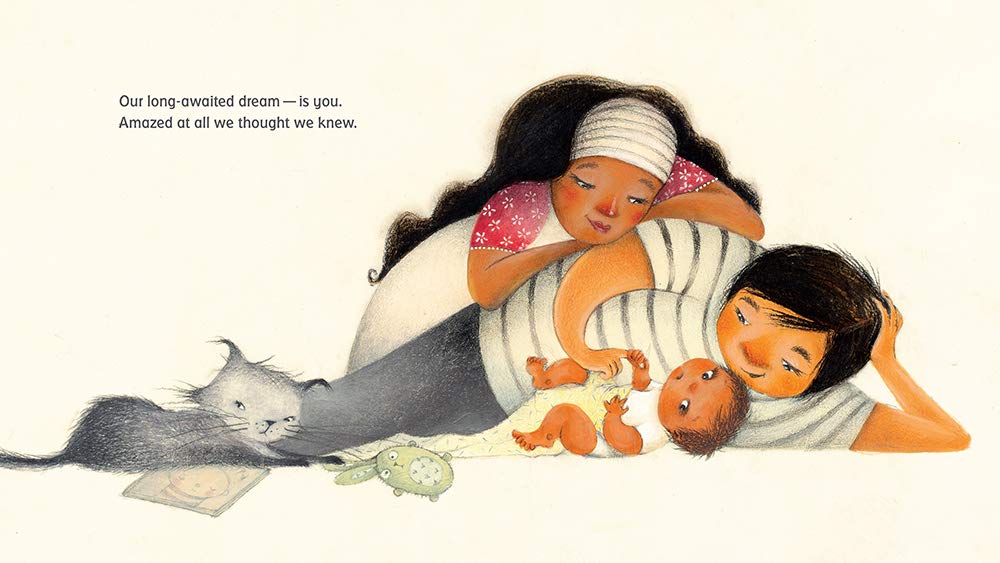 As first-time parents, they have so much to learn about caring for a new baby.  From changing diapers to nursing to building trust.  If you are a parent then you know having a child changes the family dynamic dramatically.  The baby becomes the center of attention from the moment he/she arrives.
I like how the parents in this book are investing time and space to be together as a family unit away from home.  It gives me hope these parents will walk into parenthood more connected than ever.
Newborns should be spending the vast majority of their time in the arms of their mothers and fathers and that's exactly what this book shows.  And since they were away from their home, they won't have to worry about being their baby bombarded with the smells of other family members, friends or neighbors.  All of that can be confusing to a new baby, especially when they are still learning to nurse. Babies are primal little creatures and rely on their nose to guide them.
Although this babymoon getaway is blissful, it is peppered with a bit of anxiety as the parents look like they're trying to decipher baby's cries.  This shows the reality of parenthood and how tough it can be at times having a newborn.
Here together.  So much to learn.  We muddle through each new concern.
The illustrations in Babymoon will take your breath away and make you feel the love these parents have for their baby.  I think this is some of Juana Martinez-Neal's best work to date.  Each illustration is so tranquil infused with gentle and loving tenderness.  A definite must-have for newborn parents or parents-to-be.  Add this one to your baby shower gift giving list!
Your turn: Seasoned parents, what tips or advice would you offer a new family to help them get through the first couple of weeks? Please share your wisdom in the comments below!
About the Author
Hayley Barrett wrote BABYMOON to encourage growing families to take time together to rest and fall in love. Once an aspiring nurse-midwife, she honors the arrival of any child, whether newborn or older, by birth or by adoption, as a momentous event.  Hayley lives in eastern Massachusetts.
About the Illustrator
Juana Martinez-Neal is the author-illustrator of Alma and How She Got Her Name
 and the Pura Belpré Award–winning illustrator of La Princesa and the Pea
 and of La Madre Goose: Nursery Rhymes for los Niños
, both by Susan Middleton Elya
. Juana Martinez-Neal was born in Lima, Peru, but currently resides in Arizona.