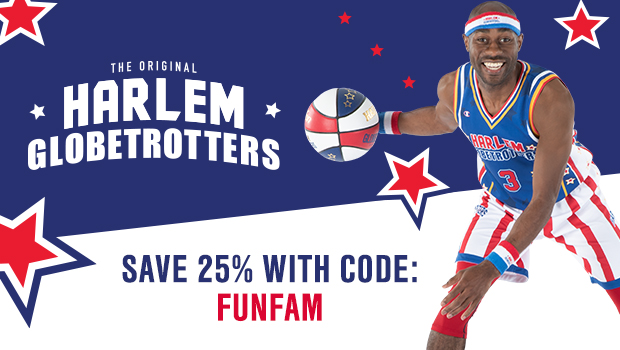 Formed in 1926 by Abe Saperstein, The Harlem Globetrotters are legendary worldwide and famous for their one-of-a-kind family entertainment.  Throughout their history, the Original Harlem Globetrotters have showcased their iconic talents in 122 countries and territories on six continents, often breaking down cultural and societal barriers.
This weekend we're taking our kids to have their first-ever basketball experience with the Harlem Globetrotters.  I couldn't be more excited to go since it will be our family's first Harlem Globetrotters basketball game.  I've always wanted to go witness their one-of-a-kind basketball artistry live in person and now we have the opportunity to go.
I'm ready to see all of the dribbling, the dunking, and the comedy that will be on full display.  It is sure to be a family-fun experience for us all and I love that we're going to a game during Black History Month.  What better time to go and support and all Black basketball team!  Not only will it be exciting, but also a learning experience to teach the kids about the tremendous impact the Harlem Globetrotters have had on the world both on and off the court.
Does your family also want to pay homage by seeing this one-of-a-kind family entertainment experience live?
Visit the Harlem Globetrotters Tickets & Schedule Page to see when they'll be in a city near you!
Our readers can SAVE 25% for ALL Harlem Globetrotters Games with promo code FUNFAM.