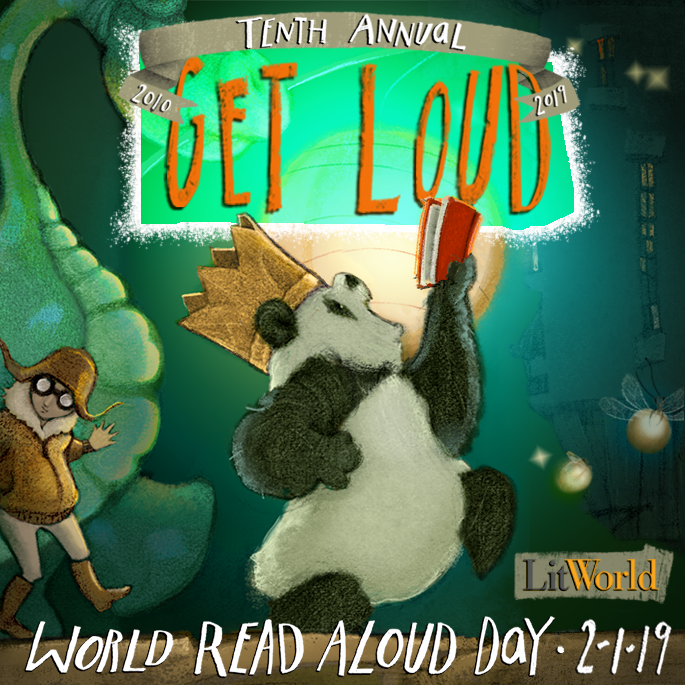 February 1st is World Read Aloud Day.  It's a day that motivates children, teens, and adults worldwide to celebrate the power of words and creates a community of readers taking action to show the world that the right to literacy belongs to all people. Each year World Read Aloud Day is celebrated by millions of people in more than 100 countries thanks to people like you who participate and spread the word across the globe!  World Read Aloud Day is presented by global literacy nonprofit LitWorld and sponsored by Scholastic.
Why Reading Aloud Matters
There have been countless studies that have proven the many benefits of reading.  When it comes to children, the ideal time to begin sharing books with children is during infancy, even as young as six weeks old (or sooner). From early on, children should own books, be read to often and see others reading and writing.  Children are rapidly learning language.  They often quadruple the number of words they know between the ages of 1-2.  Therefore, as parents and caregivers it's crucial to read aloud with them often to increase their vocabulary.
Have you ever noticed children who aren't as articulate as others when they reach the age of 2 or 3?  From that alone, I can usually tell the kids who are being read to at home versus the ones who aren't.  Either they are being read to OR they have frequent back and forth interaction with a loving caregiver.
Fun Fact: Reading 15 minutes per day exposes children to over 1,000,000 words per year!  Reading 15 minutes every day for 5 years is 27,375 minutes.  Daily reading is enough to make a difference.  That's why reading aloud matters especially now in a world where so many kids are exposed to screens on a daily basis.
Fun Ways to Celebrate World Read Aloud Day
One of the great things about World Read Aloud Day is connecting with other like-minded book lovers globally across the world.  It's so interesting to follow the hashtag #WorldReadAloudDay to see how other libraries, educators, parents and children are celebrating the day.
Here are a few ways you can celebrate and participate:
If you're an educator or librarian, arrange to have a Skype session or in-person visit with an author or illustrator
Educators can arrange a Skype session with another classroom in a different state or country.  Both classes can take turns reading aloud a book (or a short chapter from a book)
Make your own Reading Crown using a brown paper bag.  So cute and fun!
Print and color your own Bookmarks!
Organize a book drive and donate collected books to a local organization or school in need
Make a monetary donation to LitWorld or another organization that promotes the importance of reading
Attend a read aloud event in your community or at a local library or bookstore!
Donate books you no longer want or need to a local organization, pediatric office, Little Free Library or shelter
Read aloud a stack of 2 – 5 picture books at home with smaller kids or read aloud a couple of chapters together with older kids
Incorporate technology and use read aloud apps like: Epic, One More Story, and Storyline Online
Follow along on Twitter, Facebook or Instagram using the hashtags #wrad19 or #WorldReadAloudDay
You can join in the fun of the World Read Aloud Day movement by registering on litworld.org/wrad.  On the website you'll also find some helpful resources including a book list and activity packet to use at home or in your classroom.  To learn more about World Read Aloud Day visit litworld.org/wrad and scholastic.com/WorldReadAloudDay.  On social media, join the conversation and post videos or pictures using #WorldReadAloudDay.  Connect with LitWorld on Instagram, Twitter, and Facebook.