Disclaimer: I was sent a copy of this book from the author to share my review as part of Multicultural Children's Book Day 2019.  As always, all opinions expressed are my own.  Thank you to the Multicultural Children's Book Day Team for selecting me as a reviewer and a co-host!
Sweet Dreams, Sarah: From Slavery to Inventor by Vivian Kirkfield, illustrated by Chris Ewald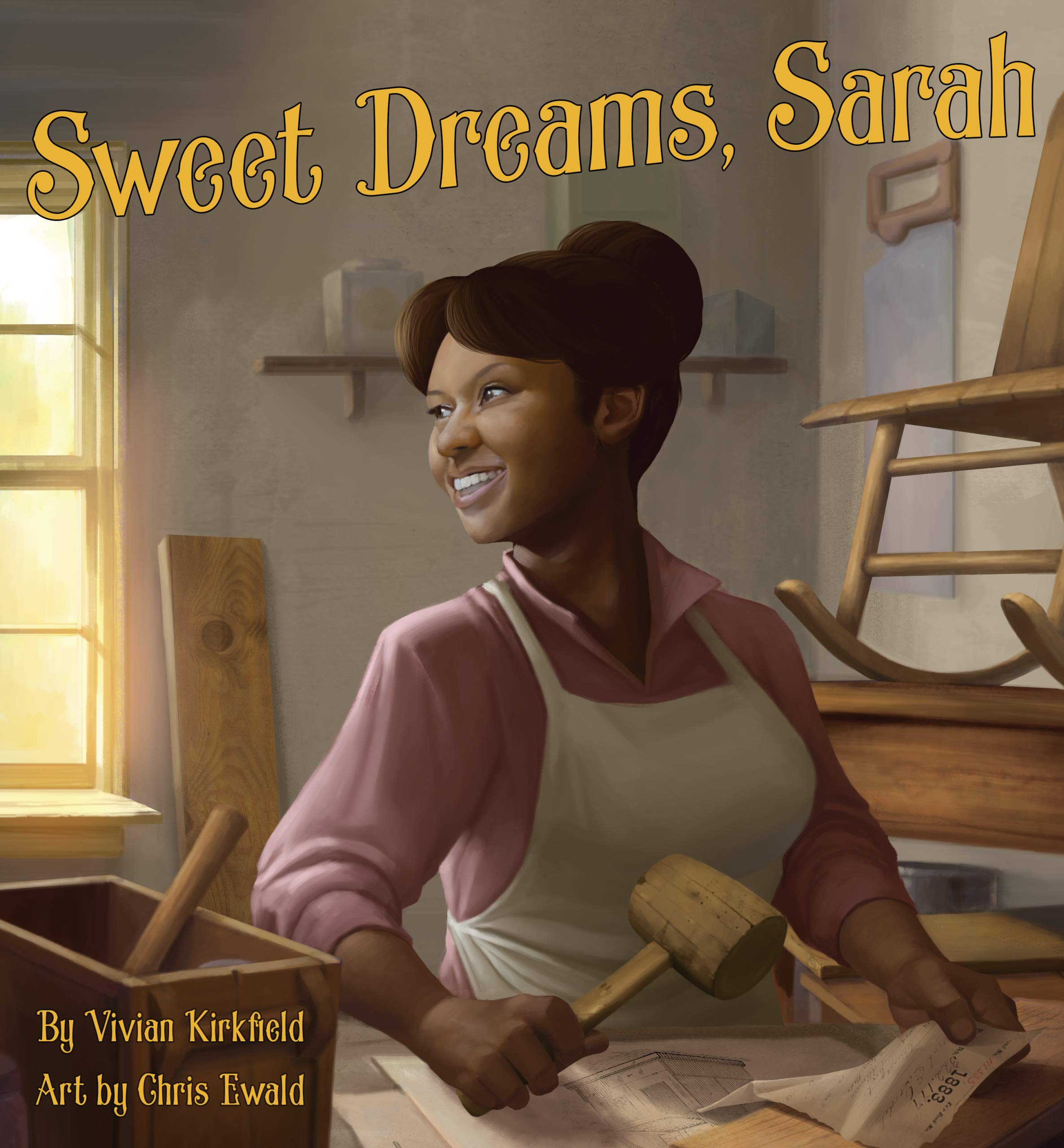 Publisher: Creston Books
Format: Hardcover
Pages: 32
Age Range: 5 – 9
Grade Level: Kindergarten – 4
Synopsis
Sarah E.Goode was one of the first African-American women to get a U.S. patent. Working in her husband's furniture store, she recognized a need for a multi-use bed and through hard work, ingenuity, and determination, invented her unique cupboard bed. She built more than a piece of furniture. She built a life far away from slavery, a life where her sweet dreams could come true.
Reflection
Prior to reading Sweet Dreams, Sarah: From Slavery to Inventor I had never heard of Sarah E. Good before.  I can honestly say I was blown away to learn about this woman.  Why didn't I learn about her and countless other inventors in school when I was growing up?  It just goes to show there are a myriad of inventions created by Black people that are still unbeknownst to many.  I'm so glad author Vivian Kirkfield decided to write this book and understands the importance to highlight contributions of African-Americans as inspiration for our present and our future.
Born into slavery, inventor and entrepreneur Sarah E.Goode was the first African-American woman to be granted a patent by the U.S. Patent and Trademark Office, for her invention of a folding cabinet bed on July 14, 1885.  When Sarah moved to Chicago later in life, that's where she met her husband, Archibald Goode.  Her husband worked as a stair case builder and an upholsterer, and Sarah was the owner of a furniture store.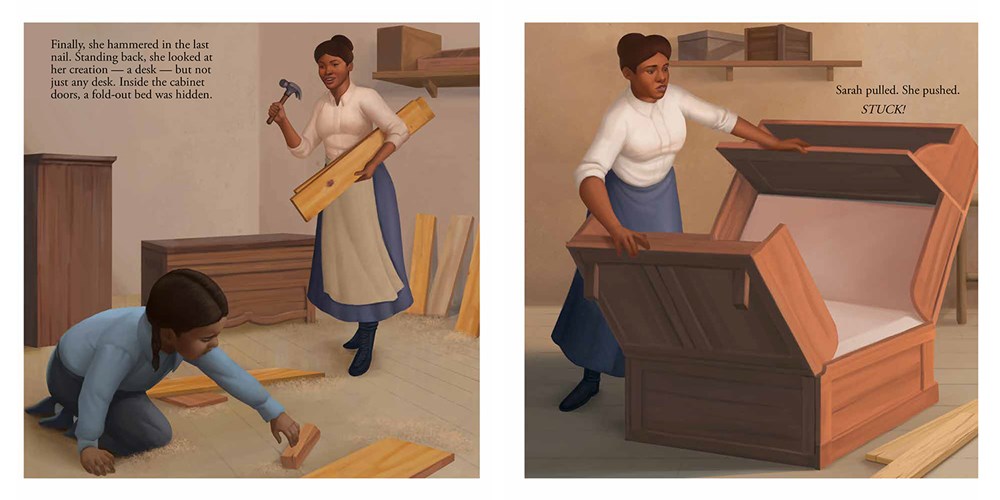 Most of Sarah's customers lived in very small houses or apartments with cramped spaces.  As a result, they couldn't buy a lot of furniture since they complained that their homes couldn't accommodate too many items.  This is what drove Sarah Goode to invent the folding cabinet bed.  She put on her thinking cap and went to work putting her masterful carpentry skills into full action.  The bed that Sarah invented doubled as both a desk and a bed.  Most importantly, it was compact which was exactly what her customers needed.
I truly enjoyed reading about Sarah Goode's story!  Not only was the story well written accompanied by vivid and lively illustrations, it was also engaging and highly inspiring too.  I loved Sarah's drive and determination to press on in spite of the obstacles she faced and rejection letters she received.  I can only imagine how proud she must have felt to be the first Black woman to receive a U.S. patent for something that she created.  Glory!  Her idea filled a void in the lives of many, it was practical and many people appreciated it.  Kudos to Sarah for opening up the doorway for many women to come after her and obtain their own patents!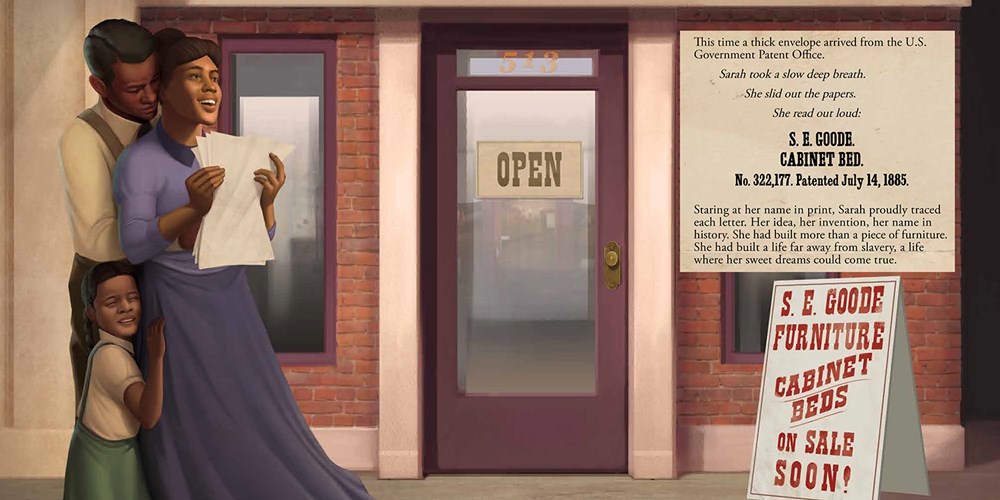 The back matter of this book contains an author's note, additional information about what a patent is, a timeline of Sarah Goode's life and a handy timeline of Black women patent holders.
Aspiring entrepreneurs, inventors and lovers of history are likely to be just as inspired by Sarah's story as I was.  I'm thrilled to be able to share this story with my children and so many others in honor of Multicultural Children's Book Day.  Look for Sweet Dreams, Sarah: From Slavery to Inventor when it publishes in May 2019.
Your turn:  Have you ever heard of Sarah E. Goode prior to reading this review?  If you're curious about other items invented by Black inventors, you might enjoy reading this blog post.
Multicultural Children's Book Day 2019 (1/25/19) is in its 6th year and was founded by Valarie Budayr from Jump Into A Book and Mia Wenjen from PragmaticMom. Our mission is to raise awareness of the ongoing need to include kids' books that celebrate diversity in homes and school bookshelves while also working diligently to get more of these types of books into the hands of young readers, parents and educators.
MCBD 2019 is honored to have the following Medallion Sponsors on board!
*View our 2019 Medallion Sponsors here: https://wp.me/P5tVud-
*View our 2019 MCBD Author Sponsors here: https://wp.me/P5tVud-2eN
Medallion Level Sponsors
MCBD 2019 is honored to have the following Author Sponsors on board
We'd like to also give a shout-out to MCBD's impressive CoHost Team who not only hosts the book review link-up on celebration day, but who also works tirelessly to spread the word of this event. View our CoHosts HERE.
Co-Hosts and Global Co-Hosts
A Crafty Arab, Agatha Rodi Books, All Done Monkey, Barefoot Mommy, Biracial Bookworms, Books My Kids Read, Crafty Moms Share, Colours of Us, Discovering the World Through My Son's Eyes, Descendant of Poseidon Reads, Educators Spin on it,  Growing Book by Book, Here Wee Read, Joy Sun Bear/ Shearin Lee, Jump Into a Book, Imagination Soup,Jenny Ward's Class, Kid World Citizen, Kristi's Book Nook, The Logonauts, Mama Smiles, Miss Panda Chinese, Multicultural Kid Blogs, Raising Race Conscious Children, Shoumi Sen, Spanish Playground
TWITTER PARTY Sponsored by Make A Way Media: MCBD's super-popular (and crazy-fun) annual Twitter Party will be held 1/25/19 at 9:00pm.E.S.T. TONS of prizes and book bundles will be given away during the party. GO HERE for more details.
FREE RESOURCES From MCBD
Free Multicultural Books for Teachers: http://bit.ly/1kGZrta
Free Empathy Classroom Kit for Homeschoolers, Organizations, Librarians and Educators: http://multiculturalchildrensbookday.com/teacher-classroom-empathy-kit/
Hashtag: Don't forget to connect with us on social media and be sure and look for/use our official hashtag #ReadYourWorld.