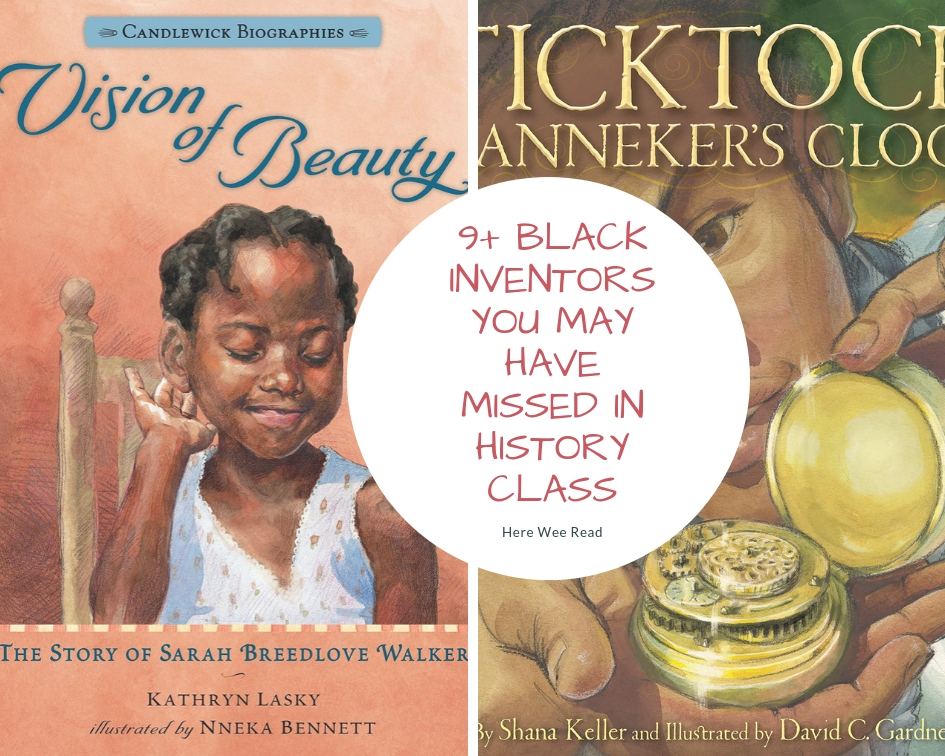 We have all heard of Alexander Graham Bell, Charles Goodyear, Thomas Edison and other famous American inventors.  Right?  But you may not know that throughout American history, hundreds of Black inventors have also made significant contributions to almost every facet of life through their creations.  Many of the inventions we still use today!
While researching different inventions for this blog post, I was shocked to discover some of the many incredible things that African Americans have invented, including the ice cream scoop, the ironing board, the lawn mower, and the mailbox!  Who knew?
That's right, for more than three centuries, Black inventors have been coming up with ingenious ideas that have changed the world for the better.  I hope this blog post helps brings their stories to life and shines a light on these courageous inventors and discoverers.
Black shampoos and other hair care products (including the Straightening Comb)
Inventor: Sarah Breedlove Walker a.k.a. Madam CJ Walker
Picture Book Recommendation: Vision Of Beauty : The Story Of Sarah Breedlove Walker (Ages 8 – 12)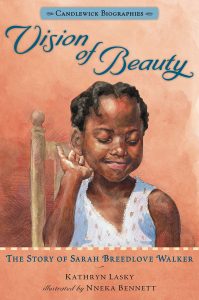 Madam C.J. Walker was one of the first Black millionaires in the United States. She is commonly known for her Black beauty and Hair-care Empire and invention.
Clock
Inventor: Benjamin Banneker
Picture Book Recommendation: Ticktock Banneker's Clock (Ages 6-9)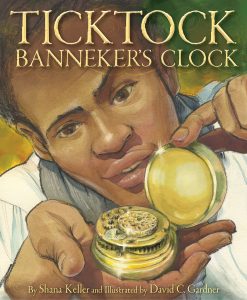 Did you know Benjamin Banneker a mathematician, and astronomer, taught himself mathematics through textbooks he borrowed?  As an adult, Benjamin used mathematics and astronomy to predict the weather and write his own almanac, which was used by farmers.  He also invented America's first clock made of wood in 1753.
Laserphaco Probe (for cataract treatment)
Inventor: Dr. Patricia A. Bath
Picture Book Recommendation: The Doctor with an Eye for Eyes: The Story of Dr. Patricia Bath (Ages 5 – 10)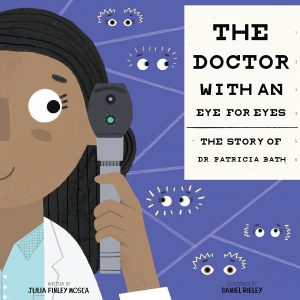 Did you know Dr. Patricia E. Bath, an Black doctor and inventor, invented the Laserphaco Probe that helps treat cataracts, a common cause of blindness?
Lawn Mower
Inventor: John Albert Burr
Picture Book Recommendation: The Man Who Invented the Lawn Mower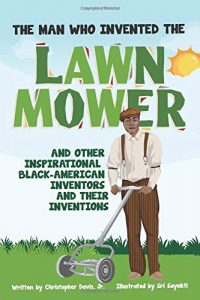 On May 9, 1899, John Albert Burr patented an improved rotary blade lawn mower. Burr designed a lawn mower with traction wheels and a rotary blade that was designed to not easily get plugged up from lawn clippings. John Albert Burr also improved the design of lawn mowers by making it possible to mow closer to building and wall edges.
Helped to Popularize Peanut Butter
(also developed hundreds of products using the peanut, sweet potatoes and soybeans. )
Inventor: George Washington Carver
Picture Book Recommendation: Who Was George Washington Carver? (Ages 8 – 12)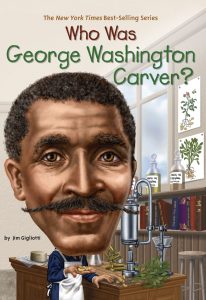 George Washington Carver was an American agricultural chemist, agronomist and botanist who developed various products from peanuts, sweet potatoes and soy-beans that radically changed the agricultural economy of the United States.  George Washington Carver did not invent peanut butter, but he made it more popular.  The Aztec were known to have made peanut butter from ground peanuts as early as the 15th century. Canadian pharmacist Marcellus Gilmore Edson was awarded U.S. Patent 306,727 (for its manufacture) in 1884, 12 years before Carver began his work at Tuskegee.
Potato Chips
Inventor: George Crum
Picture Book Recommendation: George Crum and the Saratoga Chip (Ages 6 – 10)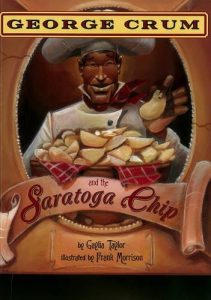 The son of an African-American father and a Native American mother, George Crum was working as the chef in the summer of 1853 when he incidentally invented the chip. It all began when a patron who ordered a plate of French-fried potatoes sent them back to Crum's kitchen because he felt they were too thick and soft.
Pull Out Bed/Convertible Bed/Folding Cabinet Bed
Inventor: Sarah E. Goode
Picture Book Recommendation: Sweet Dreams, Sarah: From Slavery to Inventor (Ages 5 – 9)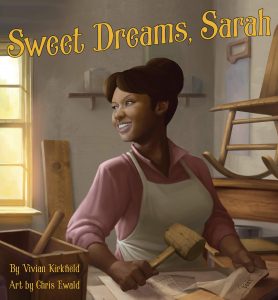 Born into slavery in 1850, inventor and entrepreneur Sarah E. Goode was the first African-American woman to be granted a patent by the U.S. Patent and Trademark Office, for her invention of a folding cabinet bed in 1885. She died in 1905.
Super Soaker Water Gun
Inventor: Lonnie G. Johnson
Picture Book Recommendation: Whoosh: Lonnie Johnson's Super-Soaking Stream of Inventions (Ages 7-10)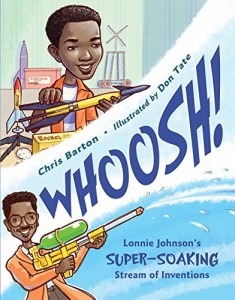 Lonnie Johnson is an American inventor and engineer who holds more than 120 patents. He is the inventor of the Super Soaker water gun, which has been among the world's bestselling toys every year since its release in 1982.
Gas Mask, Traffic Light
Inventor: Garrett A. Morgan
Picture Book Recommendation: To the Rescue! Garret Morgan Underground (Ages 5-8)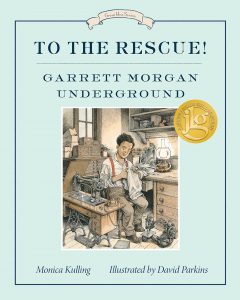 Garrett Morgan was an inventor and businessman from Cleveland who is best known for inventing a device called the Morgan safety hood which is now called a gas mask.  He also invented the 3 light traffic signal which is still used today.   After receiving a patent in 1923, the rights to the invention were eventually purchased by General Electric.
Your turn: Check out this list of other items invented by Black inventors.  Which ones did you know about and which ones are you surprised to learn?  What Black inventors/inventions would you add to this list?  Feel free to share in the comments.
3-DVG Glasses –  Kenneth J. Dunkley
Farmer's Almanac – Benjamin Banneker
Automatic Elevator Doors – Alexander Miles
Blood Bank – Dr. Charles Richard Drew
Clothes Dryer – George T. Sampson
CompuRest Keyboard Stand – Joanna Hardin (1993)
Disposable Underwear – Tanya Allen (1994)
Door Knob & Door Stop – Osbourn Dorsey (1878)
Dry Cleaning Process – Thomas L. Jennings (He was also the first Black person to hold a U.S. patent)
Dust Pan (improved version) – Lloyd P. Ray
Egg Beater – Willis Johnson (1884)
Fitted Bedsheets – Bertha Berman (1959)
Folding Chair – John Purdy
Gas Heating Furnace – Alice Parker
Golf Tee – Dr. George Grant
Guitar (modern) – Robert Fleming
Hairbrush – Lyda A. Newman
Home Security System – Marie Van Brittan Brown
IBM Computer – Mark E. Dean (He was a co-creator)
Ice Cream Scoop – Alfred L. Cralle (1897)
Ironing Board – Sarah Boone
Lawn Sprinkler – Joseph A. Smith
Light Bulb (Improved version) – Lewis Latimer
Mail Box – Phillip A. Downing (1891)
"Monkey" Wrench – Jack Johnson (1922) (Nicknamed a "monkey" wrench because it was invented by a Black man)
Mop – Thomas W. Stewart (1893)
Pacemaker (improved version) – Otis Boykin
Pastry Fork – Anna M. Mangin (1892)
Portable Pencil Sharpener – John Lee Love
Rain Hat – Maxine Snowden (1983)
Refrigerating Apparatus – Thomas Elkins
Reversible Baby Stroller – William H. Richardson
Sanitary Belt – Mary Beatrice Davidson Kenner
Street Sweeper – Charles B. Brooks
Suitcase with wheels and transporting hook – Debrilla Ratchford (1978)
Thermostat and Temperature Control – Frederick Jones
Toaster (with a digital timer)– Ruane Jeter
Touch Tone Telephone (improved) – Dr. Shirley Ann Jackson (Dr. Jackson conducted breakthrough basic scientific research that enabled others to invent the portable fax, touch tone telephone, solar cells, fiber optic cables, and the technology behind caller ID and call waiting.)
Toilet Tissue Holder (improved version) – Mary Beatrice Davidson Kenner
Video Game Console/Cartridge – Gerald "Jerry" Lawson
Windshield Wipers – Mary Anderson (1903)